This Sherry Affogato recipe is an incredibly simple yet elegant dessert to make. Try adding a few sherry soaked raisins & prunes or a few chunks of chocolate brownie to elevate this stylish affogato dessert further.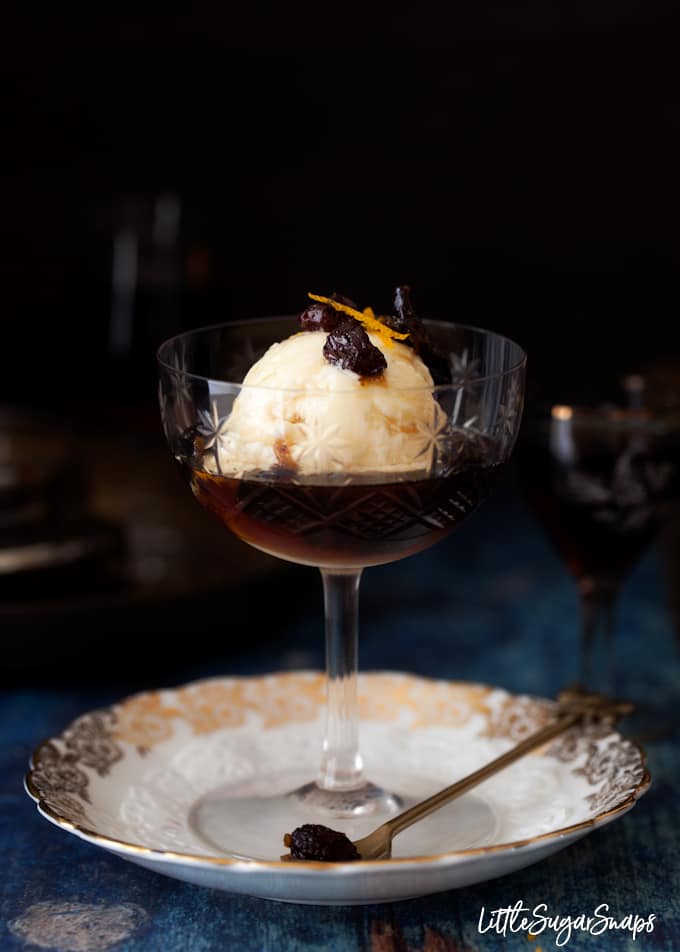 THIS POST CONTAINS AFFILIATE LINKS. AS AN AMAZON ASSOCIATE I EARN FROM QUALIFYING PURCHASES.
Whatever the time of year, it's always handy to have a few ideas on standby for desserts that require very little effort and can be thrown together in a flash. This sherry affogato dessert recipe fits the bill perfectly.
Why Make this Dessert?
This simple affogato dessert requires very little hands-on time yet the end result is a cool glassful of delight. At the most basic level, top-quality ice cream is topped with intensely sweet & rich Pedro Ximénez sherry.
Since raisins are so prominent in Pedro Ximénez, I decided to soak some raisins and dried prunes in a little sherry for 24 hours. A few of these boozy nuggets scattered on top of this boozy affogato dessert take this semi-frozen treat to another level.
For a change, I like to scatter a few tiny chunks of chocolate brownie into the glass instead of the fruit. The combination of cool ice cream, mellow sherry and chocolate is sublime.
In a nutshell, my sherry affogato recipe is even easier to prepare than the classic coffee affogato dessert. Unlike the espresso, which must be brewed, the sherry comes ready to be poured. Hurrah!
Whichever way you chose to serve this dessert, you can't fail to be impressed by its simplicity and flavour.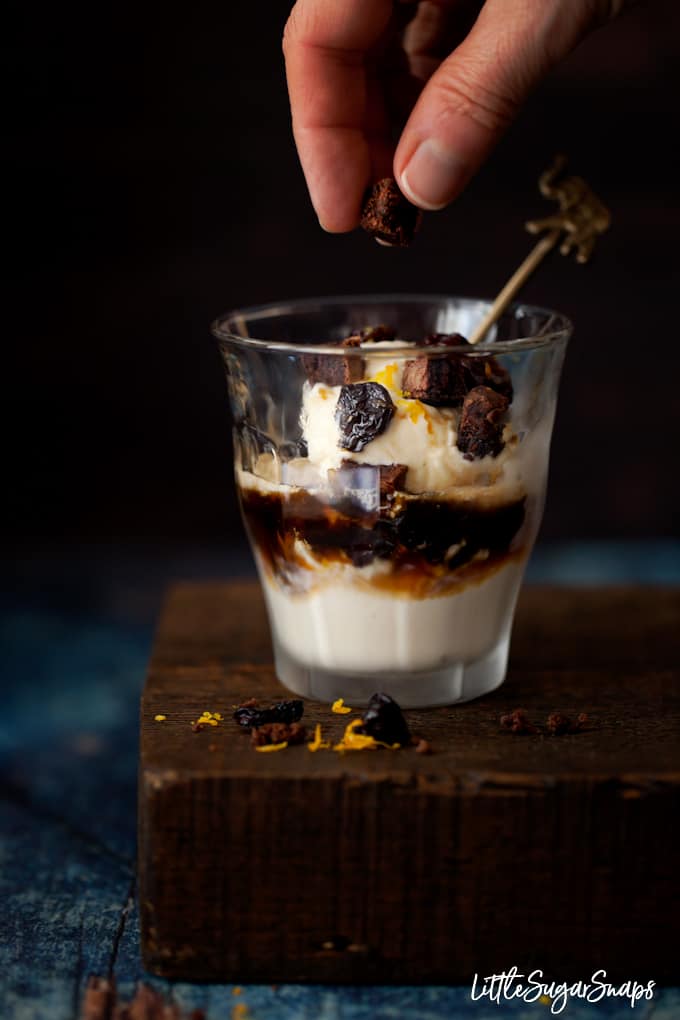 What is Affogato?
A classic Italian affogato recipe comprises two ingredients – vanilla ice cream and espresso coffee. This sophisticated treat is usually served by scooping a firm ball of quality vanilla ice cream into a chilled glass and then pouring the hot espresso over it at the table.
This dessert has got quite a reputation for being a simple sensation and as such, it has also acquired quite a fan base.
Incidentally, affogato means drowned in Italian. Since the coffee drowns the ice cream, it's a very fitting name for this delectable concoction.
Ingredients for the Sherry Version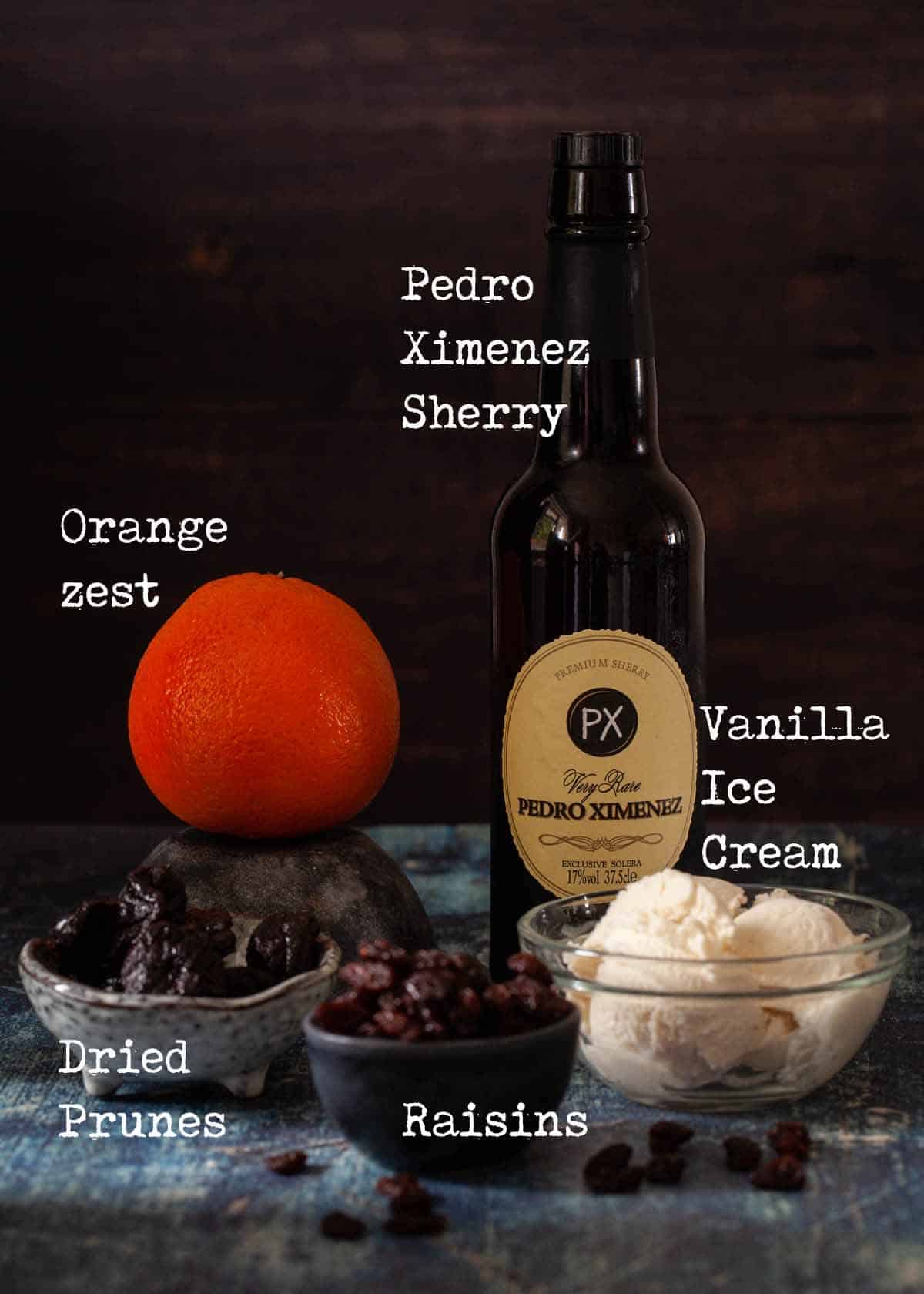 I've used Pedro Ximénez in my boozy twist on the classic affogato dessert.
This sweet dessert sherry is laden with intense fruity and smooth flavours. Dried raisins and sweet grape juice feature strongly in the taste and bouquet of this sherry.
It is the only sherry worth considering for this affogato dessert recipe in my view.
How to Make Sherry Affogato
Just keep a tub of ice cream in your freezer and the Pedro Ximenex at room temperature and you are good to go whenever the craving takes hold. In it's very simplest form, this affogato dessert can be ready in 2 minutes flat:
Put a large scoop of ice cream into a glass
Pour a shot of sherry over the top & serve
Of course, I do also recommend that you try the full version of this sherry affogato recipe with raisins and prunes too:
Just chop the prunes up, mix in with the raisins, add a little orange zest and top with sherry. After 24 hours the dried fruits will have plumped up sufficiently to make an uplifting impact on your affogato dessert – scatter a little over the top before serving
The boozy fruit keeps for weeks in the fridge, so make a double batch and enjoy this speedy dessert for a while to come.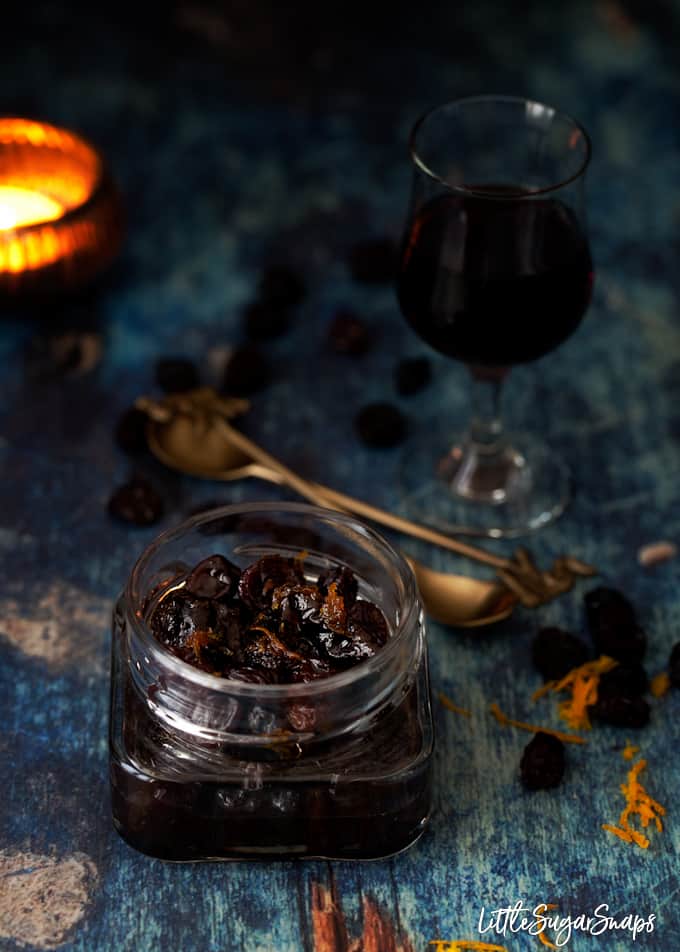 Expert Tips & FAQs
Tips
For best results, give some thought to your glassware. For the coffee version, it is essential to chill the glass so that the ice cream doesn't melt too quickly.
Here, though it is less imperative, I still suggest chilled serving glasses to allow the diners to linger over their unbelievably tasty sherry affogato dessert.
Oh and small spoons are most definitely the order of the day when eating this luxurious treat.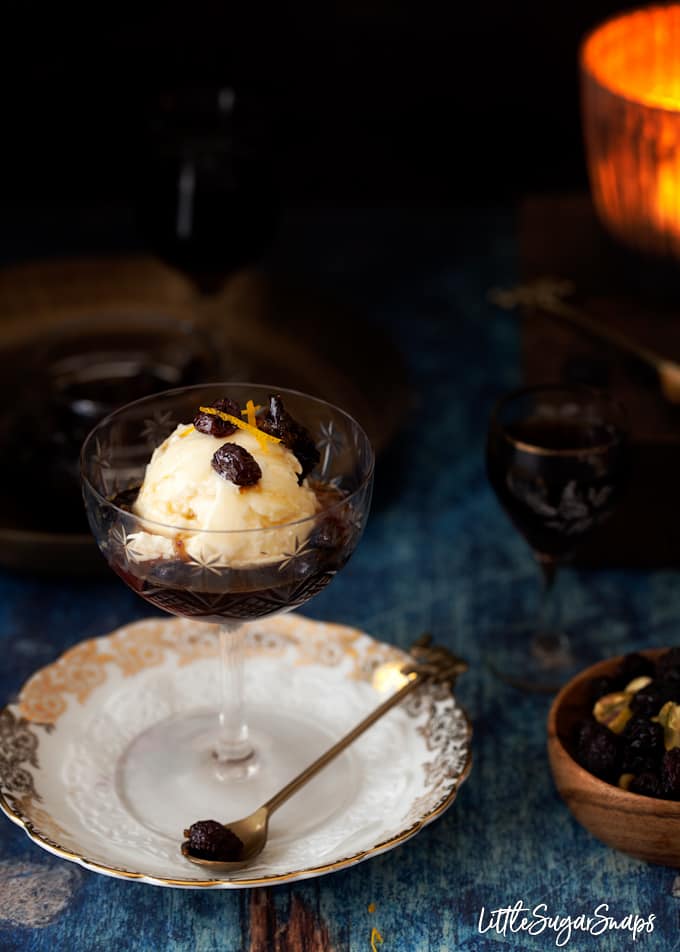 Frequently Ask Questions
Can I use a different type of sherry?
Honestly, I cannot recommend this. Pedro Ziménez is quite a unique flavour. It partners so well with the other ingredients here. I'd stick to it.
I forgot to soak the fruit, what can I do?

Chop the dried fruit as instructed, pour over the sherry and heat in the microwave on a low power setting for 10-20 seconds until everything feels warm (but not boiling hot). Add the zest, stir, cover loosely and leave to cool. The longer you can leave the fruit the better.

Avoid serving whilst still warm as this will melt the ice cream.
Can I use vegan ice cream?

Yes, you certainly can. Double check that the sherry you are using is also vegan as not all versions are.
Sherry Affogato Variations
Where to start. There are so many ways this simple sherry affogato recipe can be varied.
First of all, the choice of ice cream can be played with. Top-quality vanilla is a safe and favourite option for many. But chocolate ice cream can add a new dimension to both the classic and sherry affogato. Personally, I love the idea of a nutty ice cream too – especially pistachio or hazelnut.
Try adding a few tiny chunks of chocolate brownie. With or without a few boozy raisins alongside, this flavour combination is heavenly
Serve topped with an undecorated Christmas Pudding Chocolate. The blend of juicy pudding and chocolate will do down a storm with this dessert
If this affogato dessert is a little too smooth for your likely, serve it with something crunchy – biscotti would be great
Not so keen on sherry but want to keep the alcohol? No problem. Try a coffee or chocolate liqueur, Baileys or even Amaretto. Just drown that ice cream in something boozy
Need a kid-friendly version? It has to be hot chocolate – make a rich & thick hot chocolate, pour on a shot and watch those small faces light up with joy
If you are planning on using sherry, do, however, make sure it is suitably sticky and sweet. There are so many varieties of sherry available and not all are suited to this recipe. Pedro Ximénez is best… just sayin'.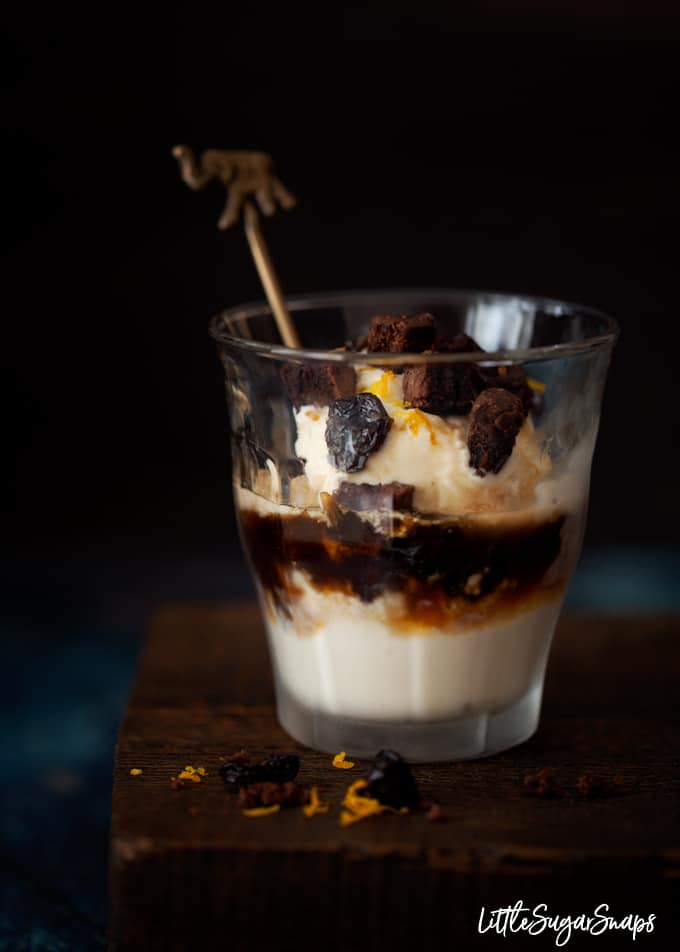 More Boozy Desserts:
Have you made my sherry affogato dessert recipe? Let me know how you got along by leaving a rating or comment. I always love to hear from my readers.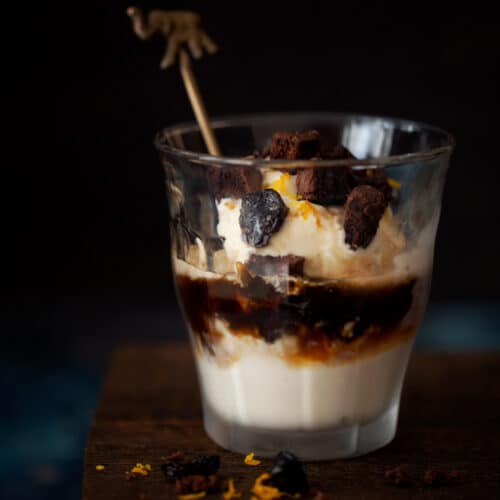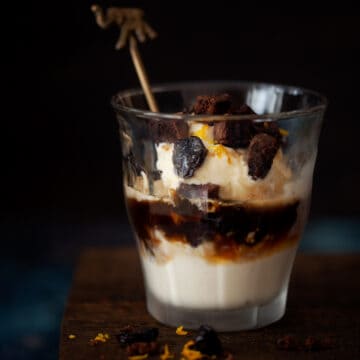 Sherry Affogato Recipe with Raisins & Prunes
This Sherry Affogato recipe is an incredibly simple yet elegant dessert to make. Try adding a few sherry soaked raisins & prunes or a few chunks of chocolate brownie to elevate this stylish dessert further.Click the Toggle for US weights & measures.
Print
Pin
Rate
Ingredients
For the Boozy Fruit
30

g

Raisins

2

Dried prunes

pitted

30

ml

Pedro Ximénez sherry

½

teaspoon

Orange zest
For the Sherry Affogato
4

Scoops vanilla ice cream

Hard – not soft serve

100

ml

Pedro Ximénez sherry
Instructions
Make the Boozy Fruit
Chop the prunes into pieces the same size and the raisins

Put all ingredients into a small sealable jar and mix

Seal and set aside for at least 24 hours, but longer doesn't hurt. Stir a few times

Store in the fridge for up to 1 month
Make the Sherry Affogato
Chill the serving glass for 15 minutes

When ready to serve put a scoop if ice cream into each glass

Top with ¼ of the Pedro Ximénez sherry

Divide the fruit between the glass and serve

Serve straight away with small spoons
Optional extra
Chop the brownie into small chunks and add to the glasses in place of the fruit
Notes
Expert Tips
For best results, give some thought to your glassware. For the coffee version, it is essential to chill the glass so that the ice cream doesn't melt too quickly. Here, though it is less imperative, I still suggest chilled serving glasses to allow the diners to linger over their unbelievably tasty sherry affogato dessert
Use only Pedro Ximénez sherry – it's unique and the only sherry suitable for this recipe in my opinion
Vegan ice cream can also be used. If serving to vegan diners ensure that your sherry is also vegan – not all are
Nutrition Per Serving (Approximate)
Calories:
272
kcal
|
Carbohydrates:
38
g
|
Protein:
3
g
|
Fat:
10
g
|
Saturated Fat:
5
g
|
Cholesterol:
31
mg
|
Sodium:
104
mg
|
Potassium:
256
mg
|
Fiber:
1
g
|
Sugar:
25
g
|
Vitamin A:
334
IU
|
Vitamin C:
1
mg
|
Calcium:
90
mg
|
Iron:
1
mg
(Visited 840 times, 4 visits today)