Limoncello Lemon Sorbet with Mint manages to be both sweet & tart and it is incredibly refreshing. Enjoy it as it is, in a cone or Sgroppino style topped with Prosecco.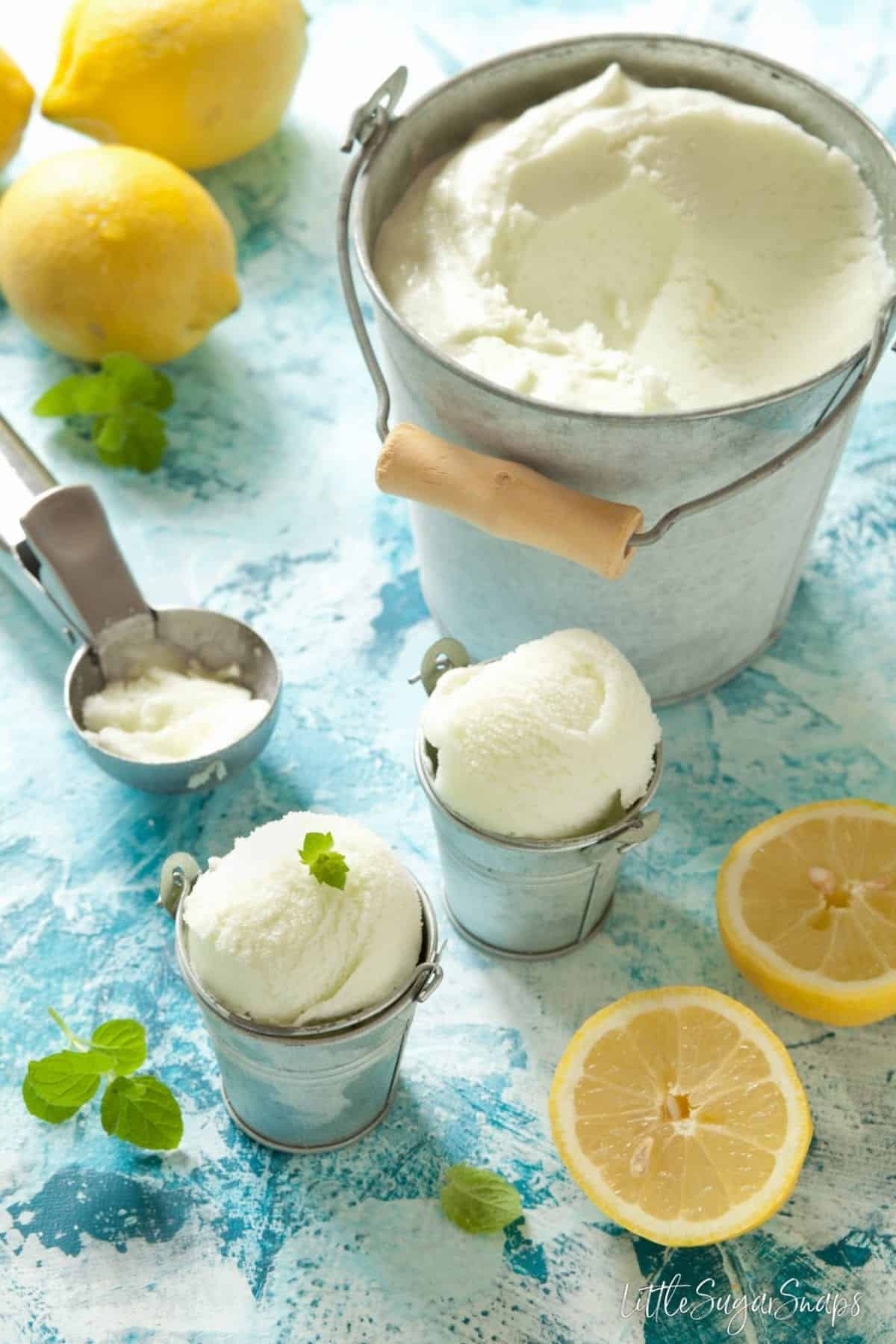 Phew. The annual heatwave has arrived. It won't last long which is why the UK remains ill-equipped to cope with the soaring temperatures and why, unbelievably, we Brits start moaning about too much sunshine and not enough rain. We are never satisfied, are we?
I'm just patting myself on the back for failing to get around to talking about this Limoncello Lemon Sorbet last summer when I had the photos and the recipe ready. It's a stroke of luck really because there is no way I would contemplate aiming my camera at ice cream or sorbet in the current temperatures, so my planned recipes for summer 2018 are on hold. Maybe I'll get around to photographing them in September and be well prepared for next year. That sounds like a cunning plan to me.
When temperatures crackle I generally go off mainstream food. I could happily live off salads for days on end. But my favourite treat is anything frozen. Usually that entails ice cream, but every so often, when it gets really sizzling (like now) then only lemon sorbet will do. I like the clean, refreshing taste that it delivers. There's no milk or cream to weigh it down, lemon sorbet delivers a sweet, tart buzz of refreshment that I welcome with gratitude to stop myself from wilting like a flower in the heat.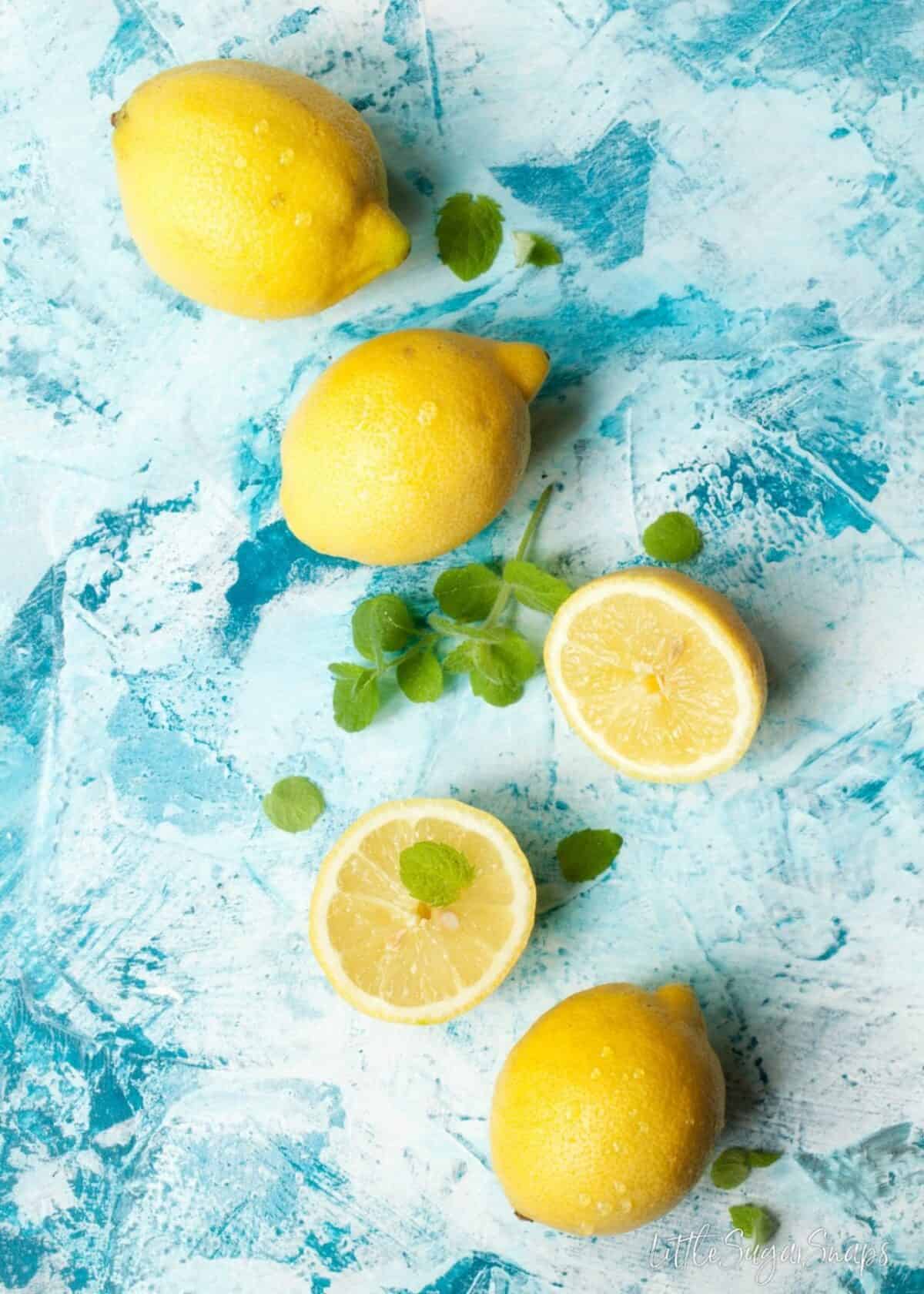 Limoncello Lemon Sorbet with Mint is a perfect example of lemon sorbet. It is everything I expect from a sorbet – light, soft, fresh and tangy. It's also wonderfully smooth and the addition of both lemon liqueur and mint add a little thrill to the flavour.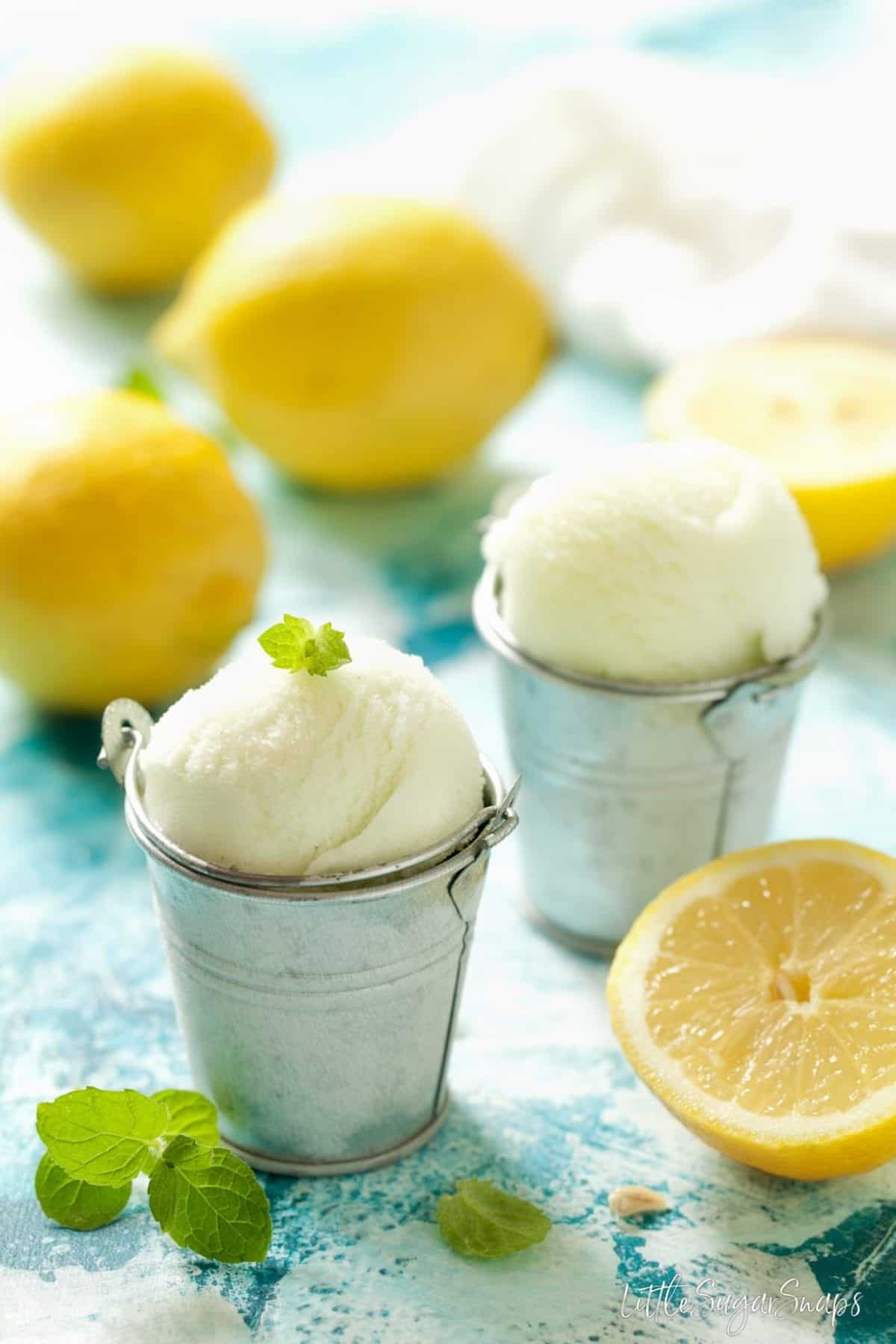 Homemade sorbet is notorious for turning coarse and grainy quickly because it does not contain the preservatives that factory produced sorbet generally includes. To get around this problem, I've included whipped egg white. It acts as a natural stabiliser and slows down the unavoidable deterioration of the sorbet's structure. Though egg white helps, it's not a foolproof solution – even with this preservative, homemade sorbets are best eaten within a few weeks. In the current climate, I don't really see that as a problem.
This Limoncello Lemon Sorbet is so soft and yielding that it can be scooped directly from the freezer. We can thank the slug of booze I've added for that, since alcohol reduces the freezing point of the sorbet base. That's great news, but there are a couple of points to bear in mind when using alcohol in sorbets:
don't be tempted to ramp up the booze too much – if added in large quantities, alcohol will prevent the sorbet from setting at all. Moderation is key – that's the general rule with alcohol anyway, so it's easy to remember
Alcoholic sorbets are less stable than regular sorbets – they melt faster and have a tendency to re-freeze harder and icier than when they were first churned. After serving up, put any remaining sorbet back in the freezer quickly
I like to serve this sorbet just as it is, in a bowl, while my kids like it in a cone. If you want to go the extra mile, put a scoop into a glass and top with Prosecco, to enjoy it Sgroppino style.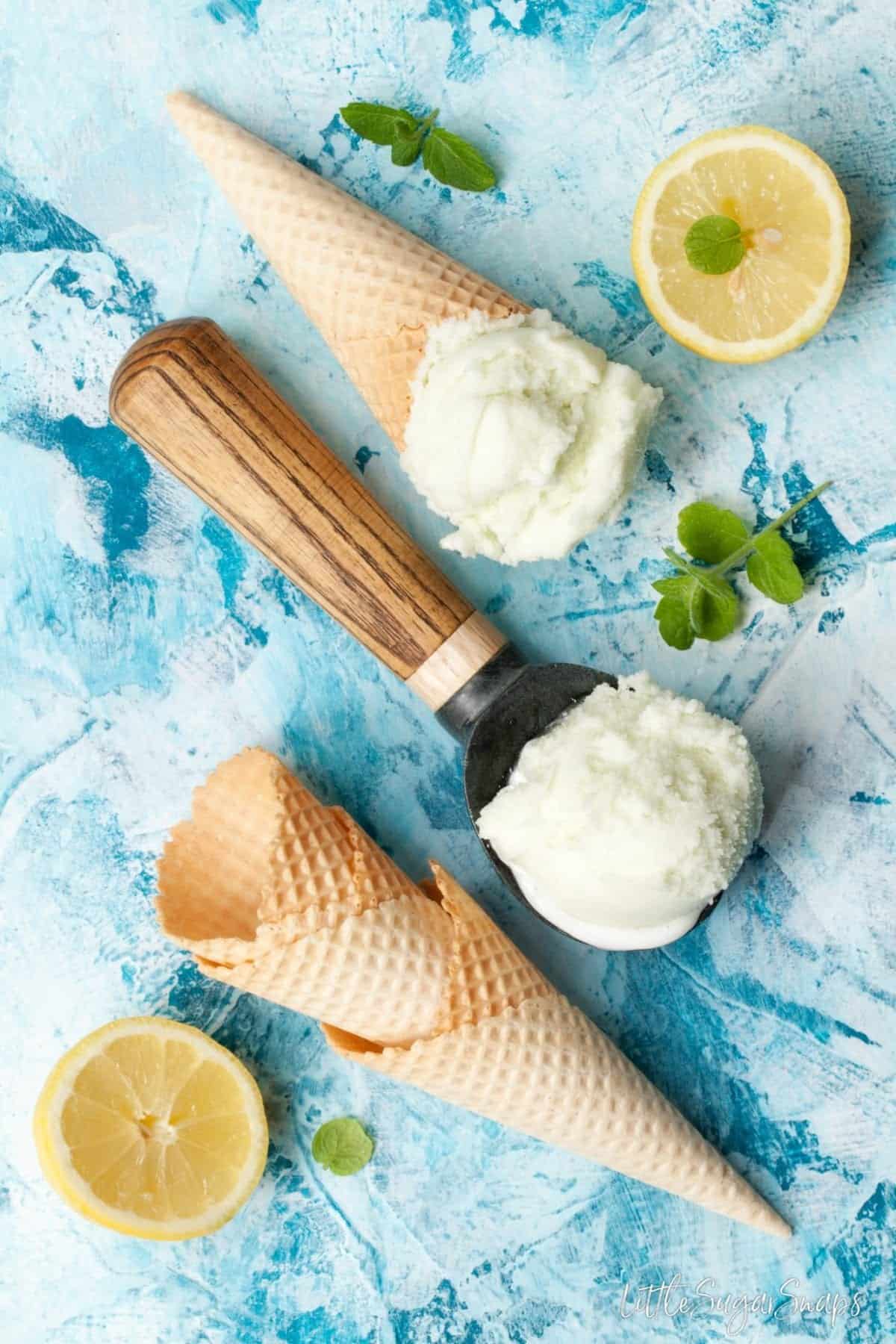 More Frozen treats:
And if you're wondering what you could possibly serve to drink with this lemon sorbet, try out my limoncello spritz or my limoncello martini. They will be enchanting partners in indulgent crime.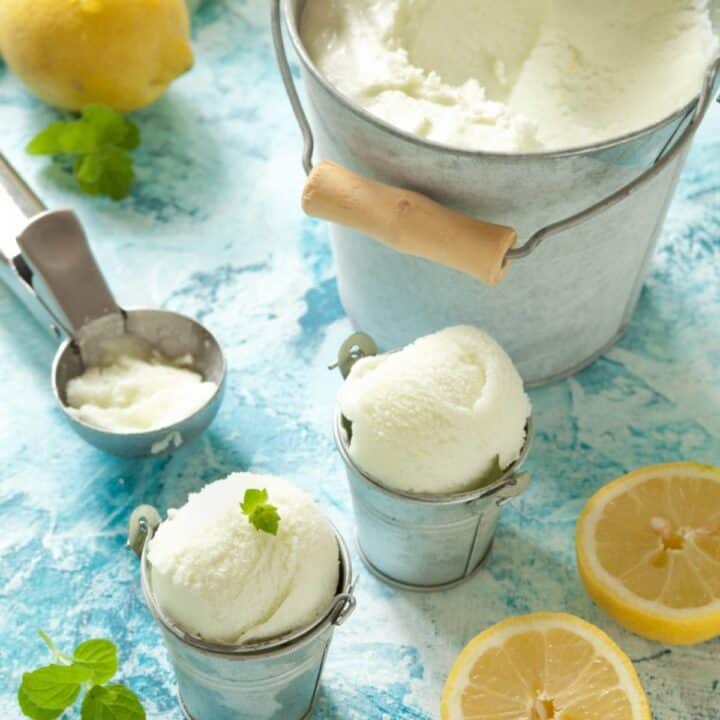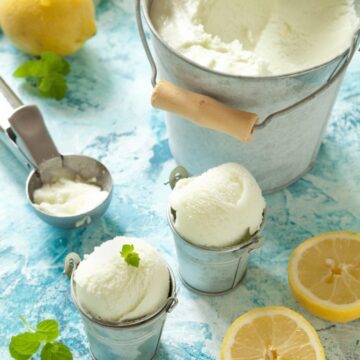 Limoncello Lemon Sorbet with Mint
Limoncello Lemon Sorbet with Mint is sweet, tart and incredibly refreshing. Enjoy it as it is, in a cone or Sgroppino style topped with Prosecco.
Print
Pin
Rate
Ingredients
250

g/ 1 ¼ cup

White sugar

400

ml/ 1 ⅔ cup

Water

140

ml/ ½ cup + 4 tsp

Lemon juice

Zest from 2 lemons (1 grated finely, 1 peeled in chunks)

20

Mint leaves

3

tablespoon

Limoncello Liqueur

1

Egg white (see notes)
Instructions
Put the water and sugar into a medium-sized heavy-based pan and heat moderately to dissolve the sugar

Turn up the heat, bring to the boil and drop in the lemon zest. Boil for 2 minutes

Allow to cool then remove the chunks of lemon zest (you can pass the syrup through a sieve to remove the finely grated zest too if desired), cover and chill the liquid for several hours

Meanwhile, blitz the lemon juice and mint leaves in a blender (optional: strain through a sieve to remove the mint pulp). Chill

Stir the juice and the Limoncello into the syrup and churn in an ice cream maker. When the sorbet is beginning to hold it's shape whisk the egg white until just beginning to firm up and pour into the mix. Continue to churn until firm

Decant into a freezer-proof container, cover with parchment and freeze for several hours
Notes
The British Lion is the UK's most successful food safety scheme, responsible for a drastic reduction in the presence of salmonella in UK eggs. I recommend always buying eggs that have the lion stamp. If you have concerns about using raw egg whites, consider purchasing a tub of pasteurised egg whites from the supermarket. You will need 40g.
(Visited 1,331 times, 7 visits today)