Upgrade the classic British Cream Tea with these Blueberry Lemon Scones. Fruity & zesty with a soft, tender crumb and a tangy sugared lemon crust. Pile high with lemon curd and clotted cream for a lusciously indulgent summertime treat.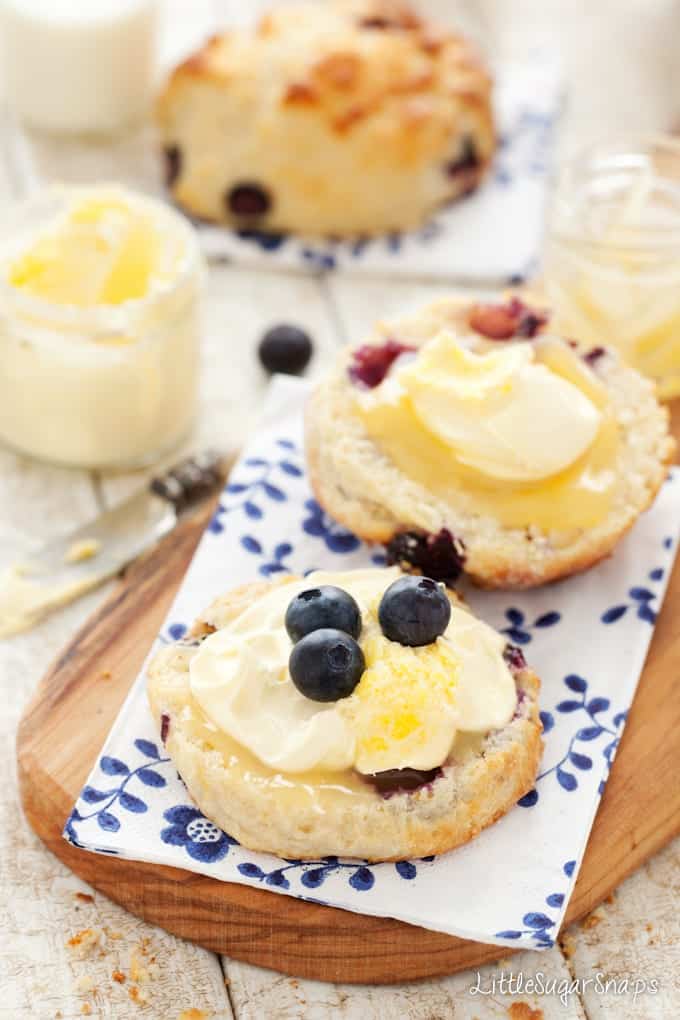 When it comes to summertime baking, British scones are hard to beat. They are speedy to make, require only a few store cupboard ingredients and are sure to liven up tea time. The added bonus is that they can be piled high with jam and clotted cream and nobody will so much as raise an eyebrow. It goes with the territory – summertime and scones are made for each other.
These Blueberry Lemon Scones are a simple adaptation of the traditional scone. They are made in just the same way, but I've added a scattering of sweet, juicy blueberries and some tart lemon to them to make them extra fruity and refreshing. And here's the clincher. I've topped these Blueberry Lemon Scones with a sugared lemon crust that is sweet & citrussy and takes these scones beyond first-class.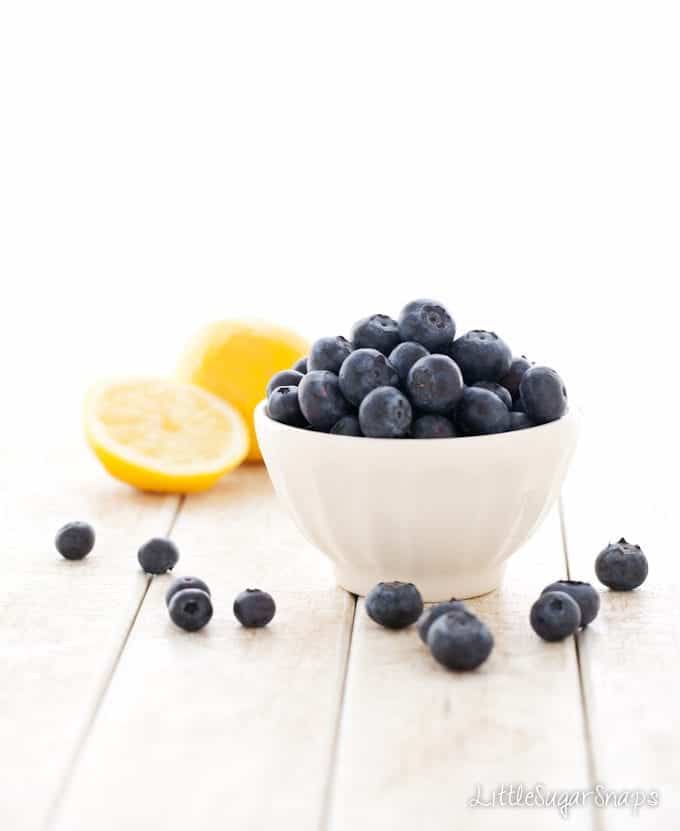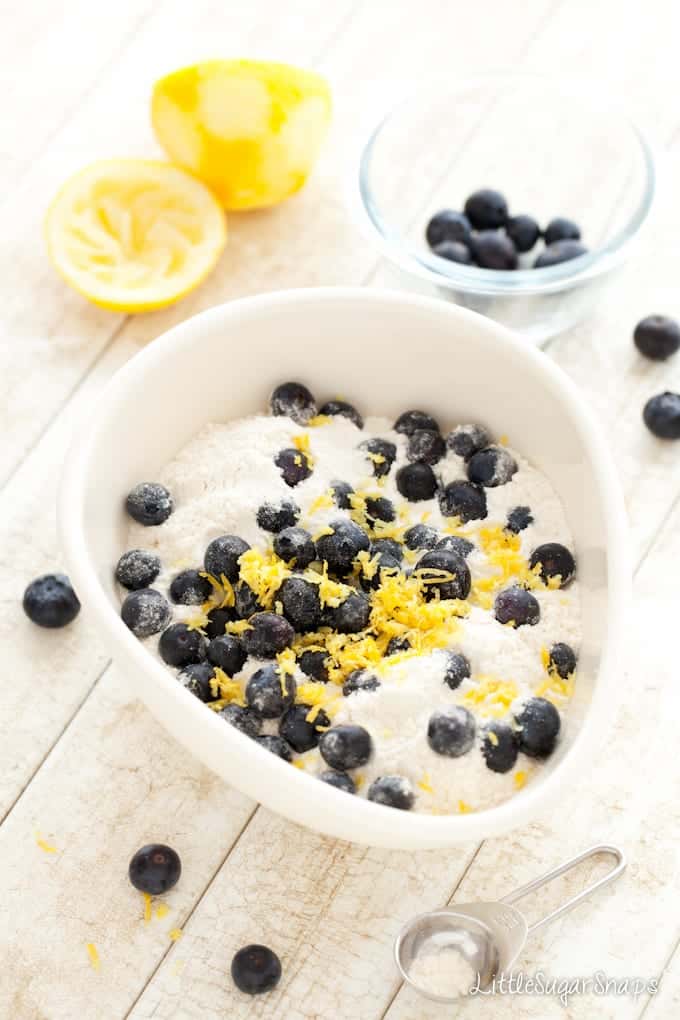 Bonus: you don't even have to wait until they are cold to get stuck in. Warm will do.
My favourite way to serve these Blueberry Lemon Scones is with some zesty lemon curd and copious amounts of clotted cream.
I'm making no excuses.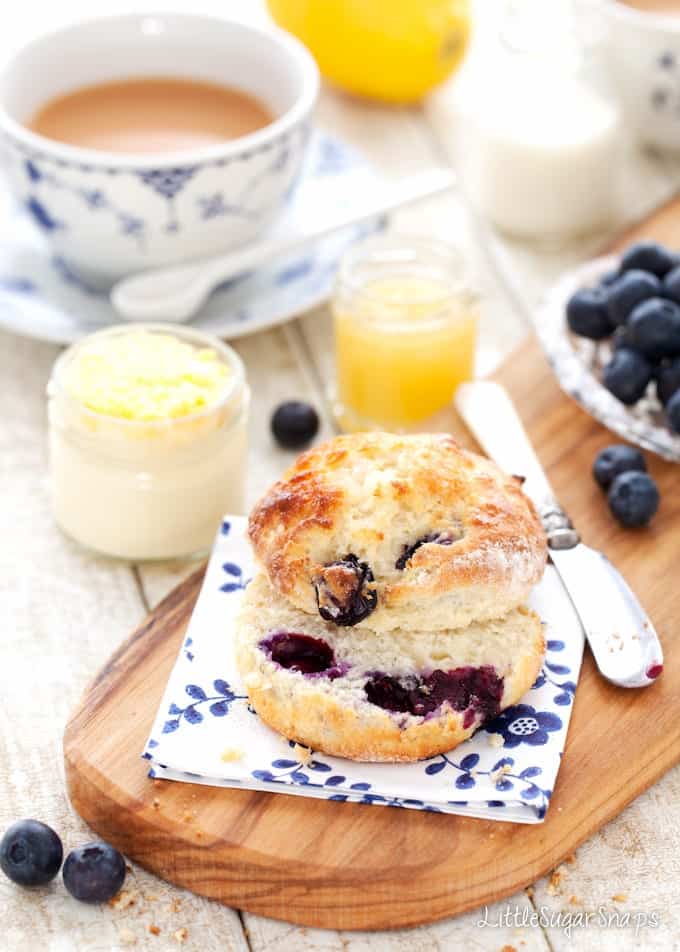 And of course, I have a lemon curd recipe to hand. Its small batch and can be made with or without vanilla. It's also really quick to make.
I have a few of these Blueberry Lemon Scones floating around in my freezer. I think it's time to pull them out and give them the Five Star treatment with some homemade lemon curd. Oh, and maybe a scoop or two of clotted cream.
British scones are generally less sweet than American scones but no less tasty. They really are great vessels for whatever you choose to top them with. If you can't get hold of clotted cream then whipped cream would be a great substitute, or for a less sweet treat, a generous slick of butter. Whatever you decide to spread on top of these scones, my advice is to splurge shamelessly.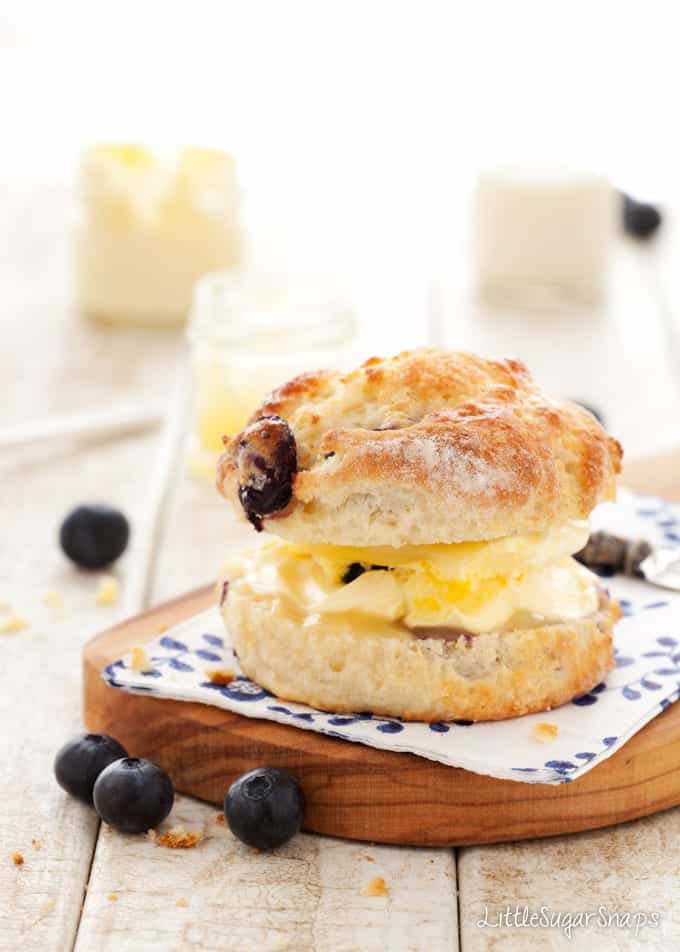 Did you know I also have a recipe for chocolate chip scones and chocolate cream tea? Tempted to take a peek?
More Citrus Fruit Treats to Make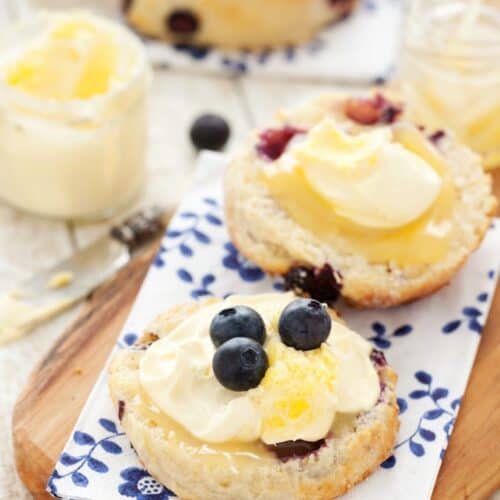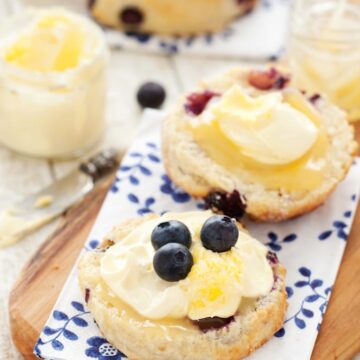 Blueberry Lemon Scones
Upgrade the classic British Cream Tea with these Blueberry Lemon Scones. Fruity & zesty with a soft, tender crumb and a tangy sugared lemon crust. Pile high with lemon curd and clotted cream for a lusciously indulgent summertime treat

These scones can be frozen once completely cooled. Thaw out and refresh in a moderate oven for 10 minutes
Print
Pin
Rate
Ingredients
275

g/ 9 ½ oz

Plain (all purpose) flour

3

teaspoon

Baking powder

¼

teaspoon

Salt

50

g/ 2oz

Unsalted butter

(softened)

40

g/ 1.5oz

Caster sugar

100

g/ 4oz

Fresh blueberries

Zest 1 lemon

2

tablespoon

Lemon juice

1

Wgg

200

ml/ ¾ cup + 1 tablespoon

Buttermilk
For the Glaze
½

teaspoon

Lemon juice

4

teaspoon

Caster sugar

A little beaten egg
Instructions
Preheat the oven 220°C/ 425°F/ GM7 and lightly grease 2 baking sheets (or use non-stick ones)

Put the flour, baking powder and salt into a large basin & mix. Add the butter and rub in

Stir the caster sugar through the flour mix, then add the lemon zest and blueberries. Toss briefly

Put the egg, buttermilk and 2 tablespoon of lemon juice into a jug and beat well. Reserve about 2 tablespoon of the liquid and add the rest to the mixing bowl. Stir, as gently as you can, with a blunt knife, to form a sticky dough. Try not to damage the blueberries too much. Add a little more liquid if necessary – it is better to have a wet dough than a dry dough

Once combined, turn onto a floured worktop and, using your hands, press the dough out to a thickness of around 2.5 cm (1 inch)

Use a straight edged circular cutter (6cm diameter) to stamp out scones from the dough. Dip the cutter in flour and plunge it straight down into the dough without twisting. This helps the scones rise evenly and hold their shape.Push the remaining dough together, knead lightly and use to press out a few more circles. You should get around 10 scones cut from the dough

Place the scones on the baking sheets and brush the tops with a little beaten egg

Quickly stir the caster sugar and lemon juice for the sugar glaze together. It will form a thick paste. Divide the mixture between the scones, placing a little on the top of each one. There is no need to spread it out

Bake for 10-15 minutes until well risen and golden

Allow to cool on a wire rack then serve with clotted cream and lemon curd or a lick of butter

Store in an airtight tin. Best eaten within 24 hours – preferably on the day of baking
(Visited 277 times, 1 visits today)