These Spelt Cheese Scones are light and fluffy with a robust cheese flavour. English mustard powder and paprika give additional complexity to the mix.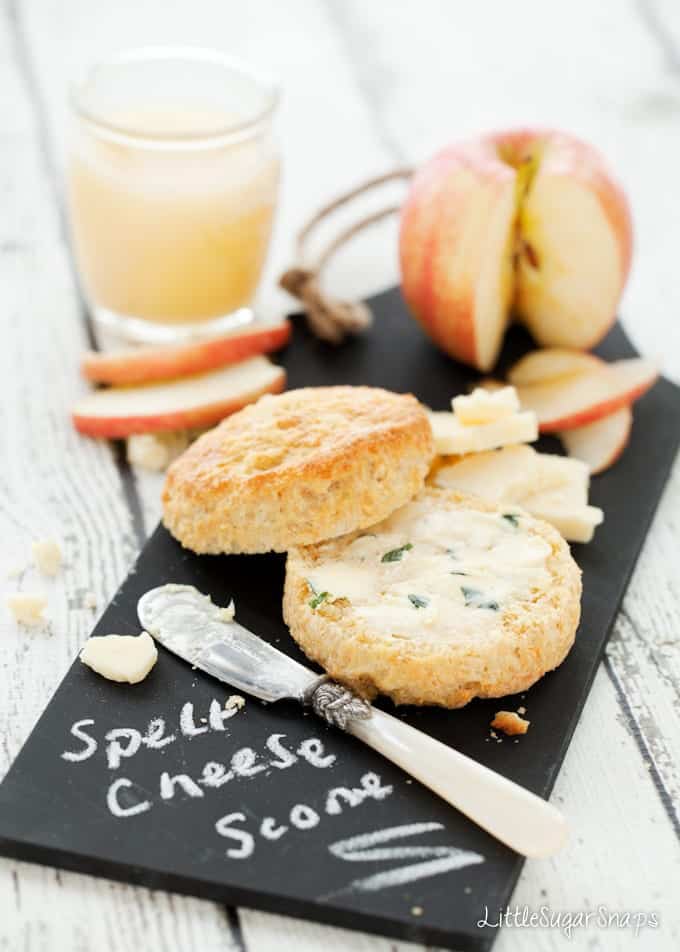 I was planning on giving you a fresh, delicious salad recipe this week, but then I made another batch of these Spelt Cheese Scones and knew I had to give you the recipe immediately as they are: the bee's knees; the cat's pyjama's; the elephant's instep… I think you get the picture.
These Spelt Cheese Scones are light and fluffy with a robust cheese flavour. Really, just topping them with butter makes a great lunch, but if you want to go a step further, they are fantastic served ploughman's style on a platter with cheese & ham, lettuce, tomato, cucumber, apple and pickles.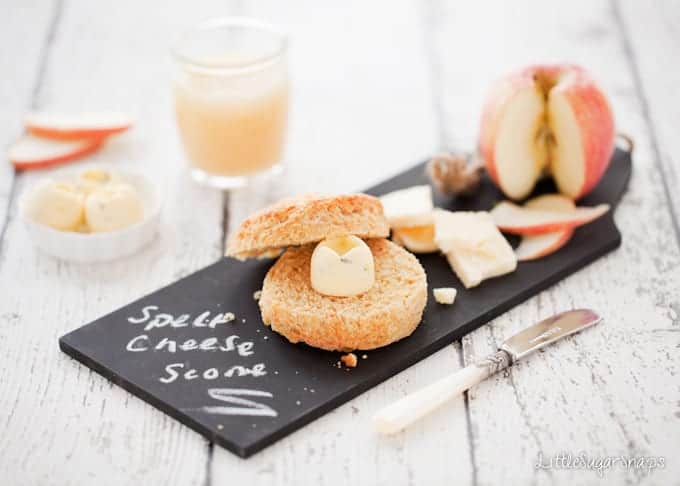 You're probably wondering why I'm using spelt in my scones – what's wrong with normal flour? Absolutely nothing and believe me, I'm not one for having 101 varieties of anything in my store cupboards – mainly because I don't have the room. I also like to keep my cupboards and my recipes real. I must have a clear idea what I'm going to do with an ingredient before I commit cupboard space to it. Using a small amount of a product and leaving the rest to fester is both food waste and space waste – annoyance twice over.
I was drawn to spelt flour after reading the blurb on the pack in the supermarket one day. It mentioned sweet, nutty tones – my heart-strings went 'twang'.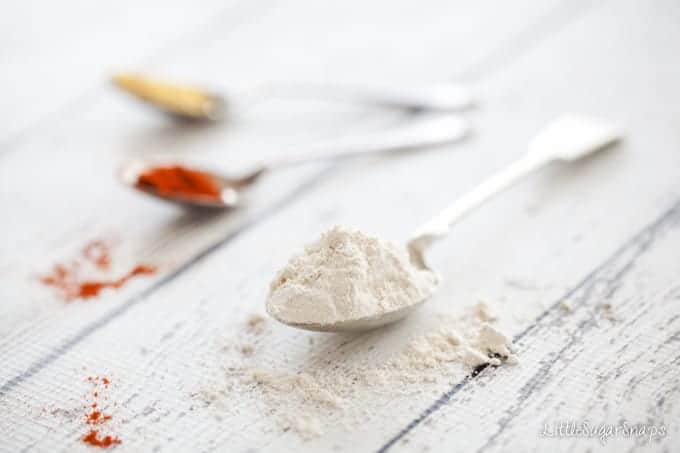 After a long debate with myself about spelt flour and whether I realistically had enough intended uses for it, I eventually bought some. Good investment. I absolutely, wholeheartedly recommend you try spelt flour if you haven't already. Here's a little bit of information to entice you:
Spelt is actually an ancient grain, commonly used in Roman times. It is currently enjoying a bit of a revival
Spelt flour has a lovely, sweet, nutty flavour which lends itself to breads, cakes and biscuits very well
It is naturally high in fibre
It has higher protein levels, B complex vitamins and both simple & complex carbohydrates than traditional wheat flour
Although spelt is not wheat or gluten-free, it is easier to digest and contains less gluten than modern wheat. In fact, some people, who suffer only mildly from wheat and/ or gluten allergies, are able to tolerate spelt in small quantities
Celiac sufferers should avoid spelt flour though. Just like other forms of wheat, spelt is just not safe for them
Anyway, back to my Spelt Cheese Scones and what makes them so special. Well, a large part of the magic is the spelt flour. It imparts that wonderful underlying nutty quality to the mix. I've also added both English mustard powder and paprika to boost the complexity. What surprises me most about this bake is how light they turn out each and every time I make them. And that's despite the massive quantity of cheese that's in there. I thought this would really weigh them down, but no – fluffy, cheesy pillows of joy in every bite.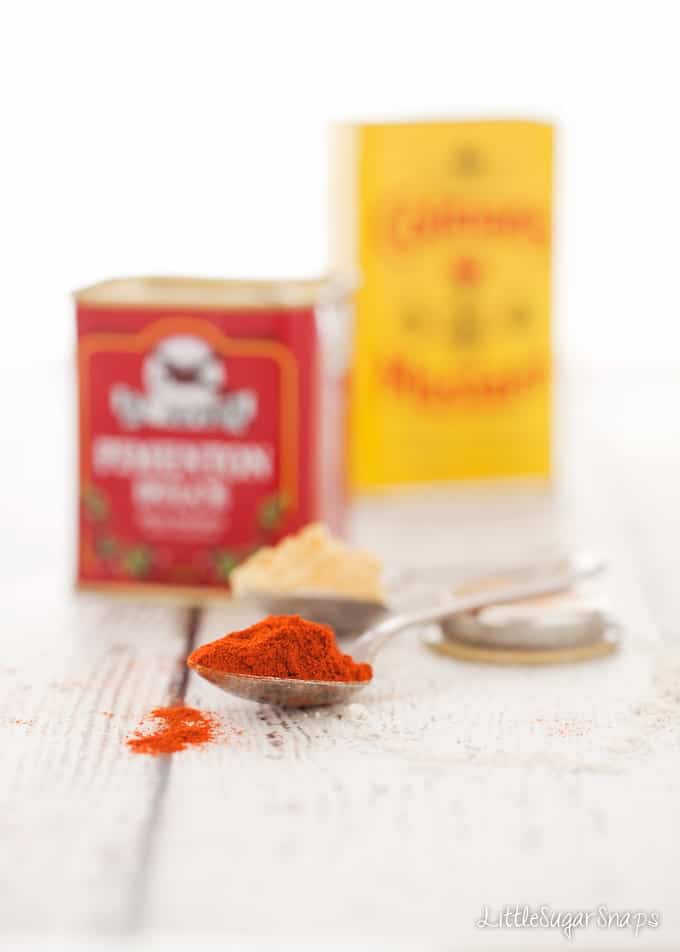 The herb butter simply adds an extra luxury onto the fantastically cheesy base, but it's purely optional – regular butter is fine. I went with tarragon, as I got excited seeing the first ⚘ sprigs ⚘ of the year coming up earlier this week. Thyme or chives would work equally well.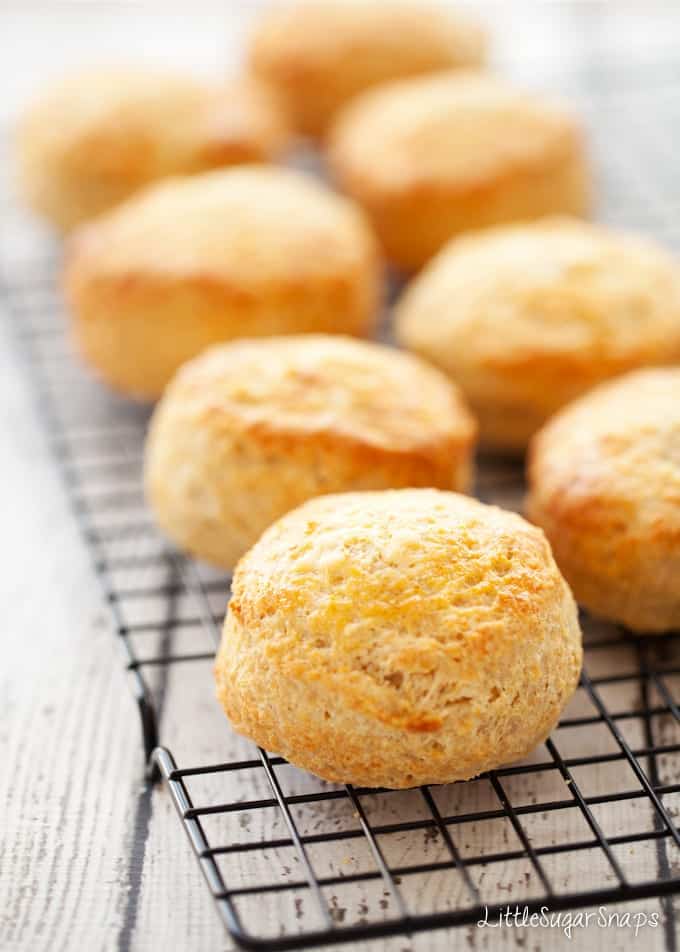 In all this giddy talk of mine about Spelt Cheese Scones and how much I love spelt flour, I nearly forgot to follow-up on last week's news – the competition…. Dah… dah…. dahhhhhh. I got second place in my category – yay.
The image that beat my entry was excellent, and the overall winning image was nothing short of outstanding.
We took the girls into London at the weekend to see the exhibition. Milly is a bit young to truly appreciate so many photos all at once and which one could possibly be the most amazing. She was, however, loyal and proclaimed that mine was the best (in a very loud voice). Hannah on the other hand appeared to be a bit inspired – maybe next year she might enter the children's category. Anyway, if you like food photos have a look at all of the Pink Lady finalist entries and my entry on my Facebook page.
Oh, and don't forget to make yourself a batch of these Spelt Cheese Scones this weekend. I bet you they'll be gone by Sunday night.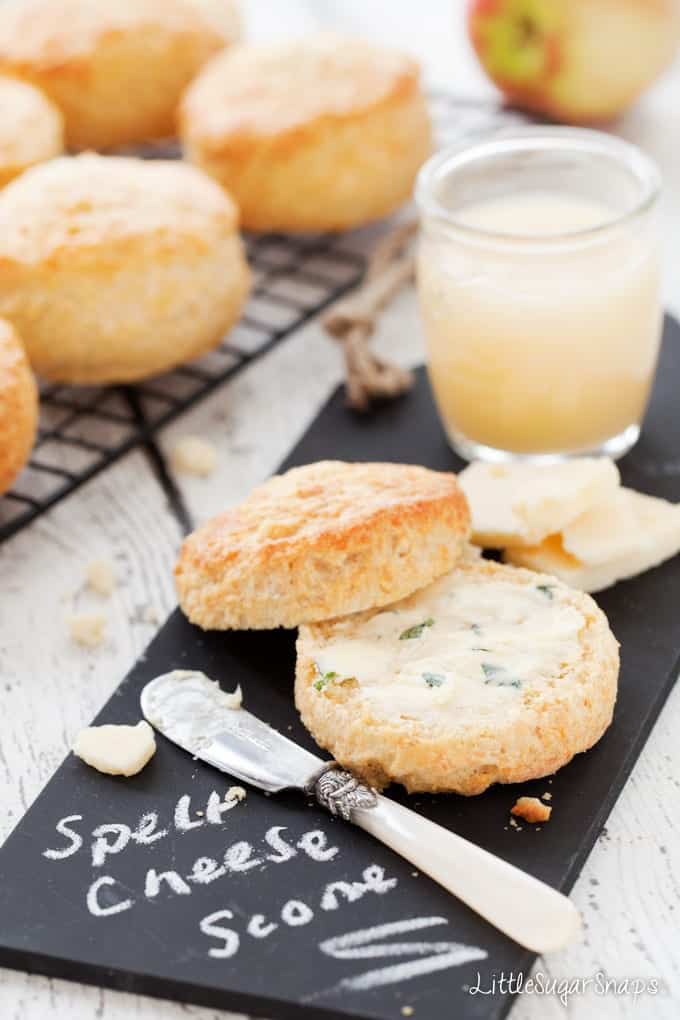 Have you spotted my Brummie bacon cakes? They're very similar to savoury scones, I think you should definitely take a look at them if cheese scones in generaly set your heart on fire.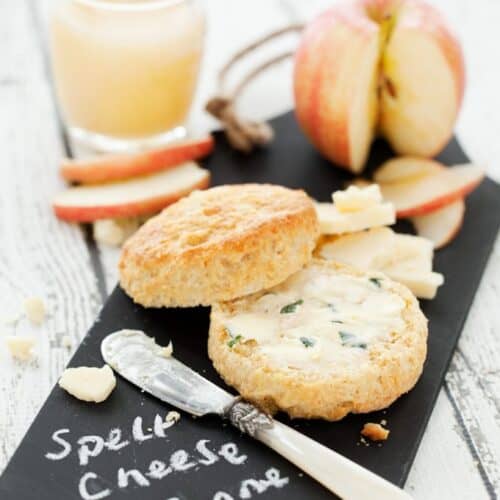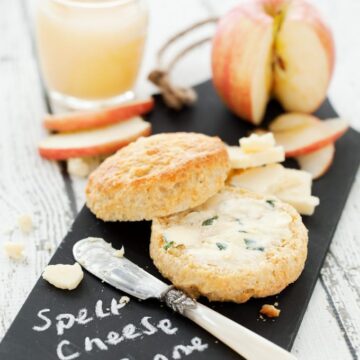 Spelt Cheese Scones with Herb Butter
These Spelt Cheese Scones are light and fluffy with a robust cheese flavour. English mustard powder and paprika give additional complexity to the mix.
Print
Pin
Rate
Ingredients
For the Spelt Cheese Scones:
225

g/ 1½ cups

Spelt flour

(white)

¼

teaspoon

Salt

¾

teaspoon

English mustard powder

¼

teaspoon

Mild paprka

2

tsp (rounded)

Baking powder

40

g/ 3 tablespoon

Unsalted butter – room temperature

100

g/ 1 cup

Mature Cheddar cheese

(sharp cheese) – grated

50

g/ ½ cup

Gruyere cheese – grated

1

Large egg

(see notes) beaten with enough full fat milk to make up to 175ml liquid volume

Extra egg to wash the scone tops

Extra cheddar to sprinkle on top
For the Herb Butter:
100

g/ ½ cup

Butter – very soft

10

g/ ½ cup

Fresh herbs

(e.g. tarragon, chives, thyme)
Instructions
To make the herb butter: put the softened butter into a bowl and gently squash it with the back of a wooden spoon. Chop the herbs, add to the bowl and mix well, then shape into a log. Wrap in clingfilm and store in the fridge until required.

Pre-heat the oven to 180°C/ 350°F/ GM 4. Weigh out the dry ingredients (flour, salt, mustard, paprika & baking powder) and mix together in a medium sized bowl

Cube the butter and add to the bowl. Gently rub in the butter until no large lumps are left then add the cheese and stir through

Make a well in the centre of the flour mix. Pour in the egg and milk and, using a knife, gentle stir the ingredients together. Once they are well combined, remove from the bowl onto a lightly floured surface and roll out to around 2 cm thick

Using a 6cm, straight edged cutter, press out the scones. You can gather up the scraps after cutting and gently press them back together in order to cut out additional scones (8 or 9 in total). Please, do not squish the dough too much though, or re-roll it – scone mixture is sensitive stuff and over-handling will result in tough, heavy scones

Place on a non-stick baking tray, brush with the extra beaten egg and top with a small amount of grated cheese. Bake for approximately 12 minutes. The scones should double in height and be nicely golden when they are baked.

Let cool on a baking tray before serving with the herb butter. Best eaten within 24 hours
Notes
1. These scones are best enjoyed within 24 hours of baking. However, you can freeze them and defrost at room temperature as and when required. 2. A large egg weighs approx 58g out of the shell in the UK. This may differ in other countries.
(Visited 95 times, 1 visits today)