Cheesy Olive Pastries are your must have party nibble for the coming festive season. Packed with Mediterranean flavours, these irresistible little bites will be gone in the blink of an eye.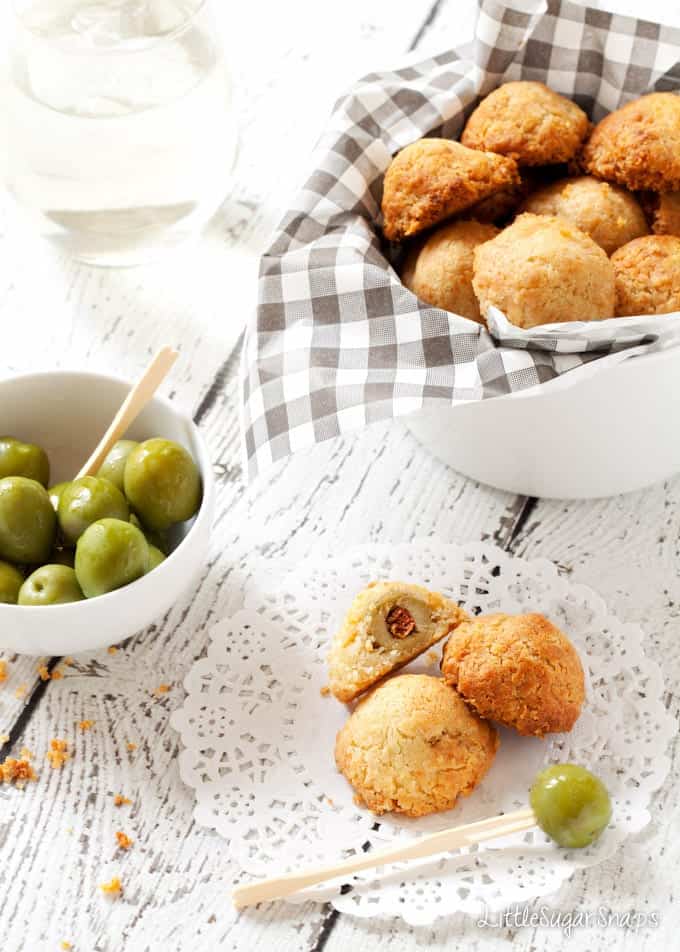 Back in 2007 I came across a recipe for olive pastries in a supermarket magazine. I tried it and instantly fell in love. As did the rest of my immediate family. And my wider family. And an army of friends. Back then I was able to pick up some tasty olives pre-stuffed with sun-dried tomatoes. But over the years, those olives have become harder to find and I've got a lot more creative. I've gradually tweaked the recipe so that I can always create this family favourite regardless of what the current trend on the supermarket olive counter is.
What I have on offer today is a light, crumbly and brazenly cheesy pastry, loaded up with Parmesan and Cheddar. Hidden inside this delectable cheesy crust are juicy green olives stuffed with sun-dried tomatoes that have been tossed in a smattering of green pesto.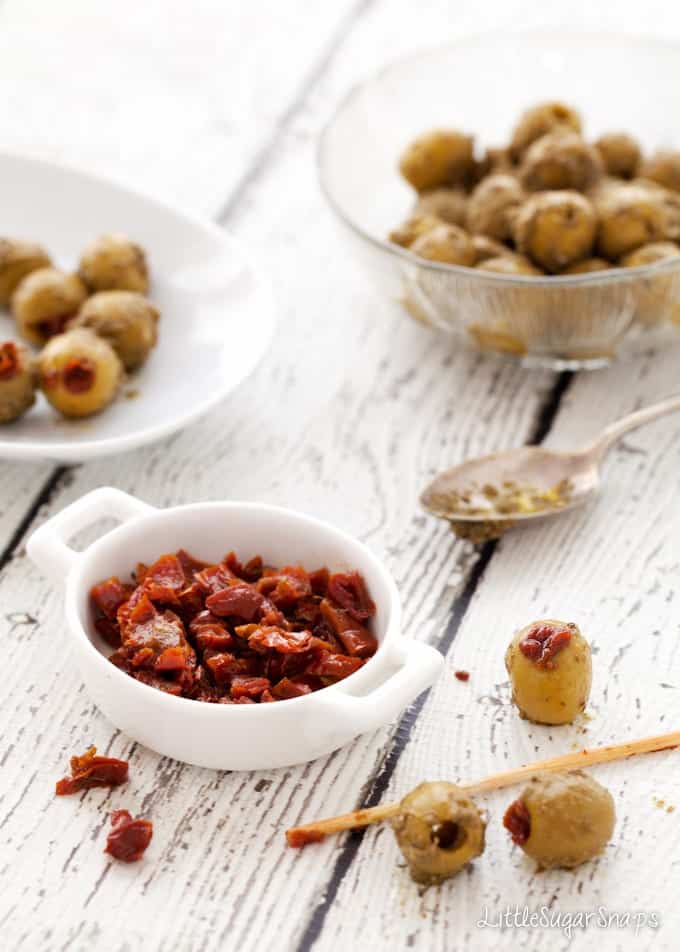 Sounds good doesn't it?
Confession: as soon as a freshly baked batch is cool enough for my mouth to handle, I have to eat one. Okay…. two. But then I stop.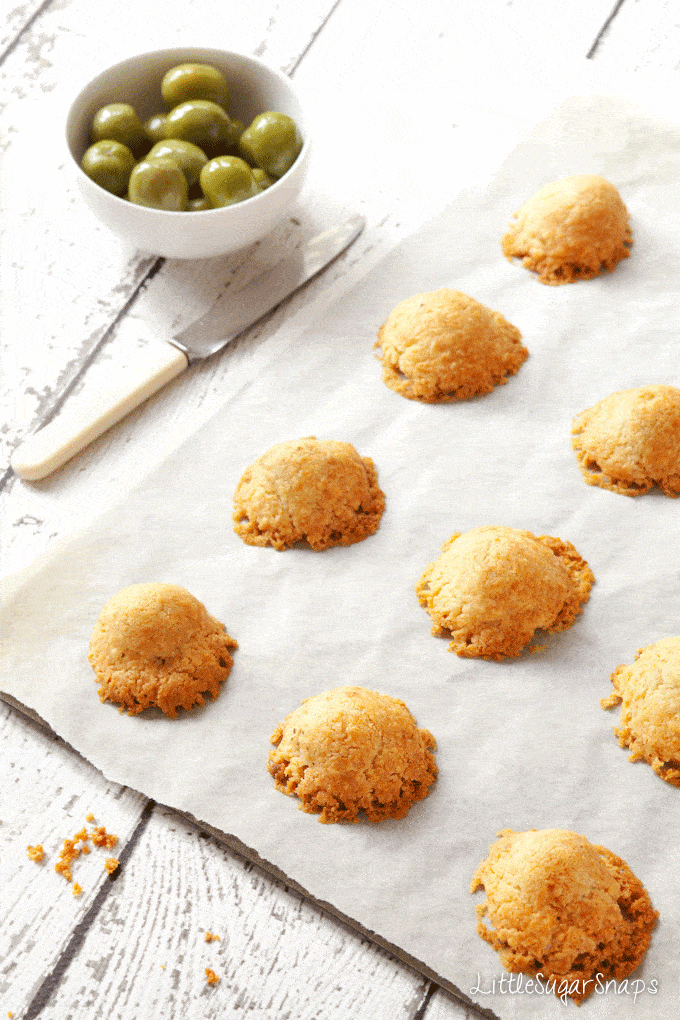 When I say that these are an established family favourite, I do not exaggerate. They are the item that we all cannot get enough of. I have to tell my girls to stop eating them after they have scoffed three each, in quick succession, thinking I haven't noticed. They are the item always requested by my Mum when we have a family party. Or when we're visiting at Christmas and I offer to take something with me – mince pies perhaps? My Mum politely redirects my innocent festive thoughts to the Cheesy Olive Pastries. Every time.
I can't blame her.
These Cheesy Olive Pastries do require a little patience, but the final result is well work the effort. First you'll need to spend a little time stuffing the olives and then wrap each olive up in the cheesy pastry. I like it best when I have a couple of assistants (eager to earn their share) to help me. Enlist helpers if you have them, but if not, stick a few of your favourite tracks on and tune out of life for 30 minutes.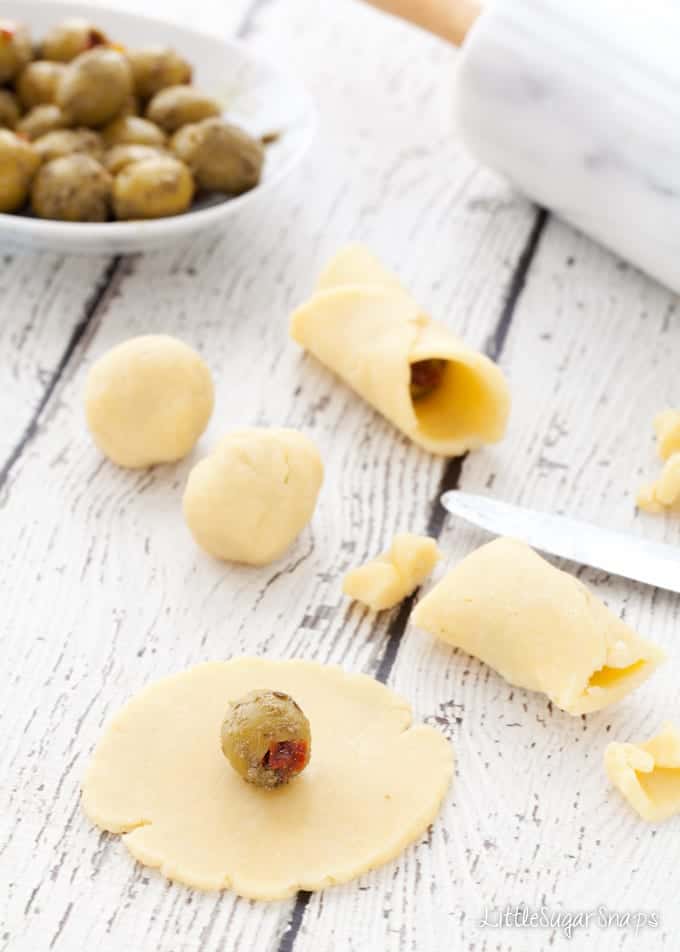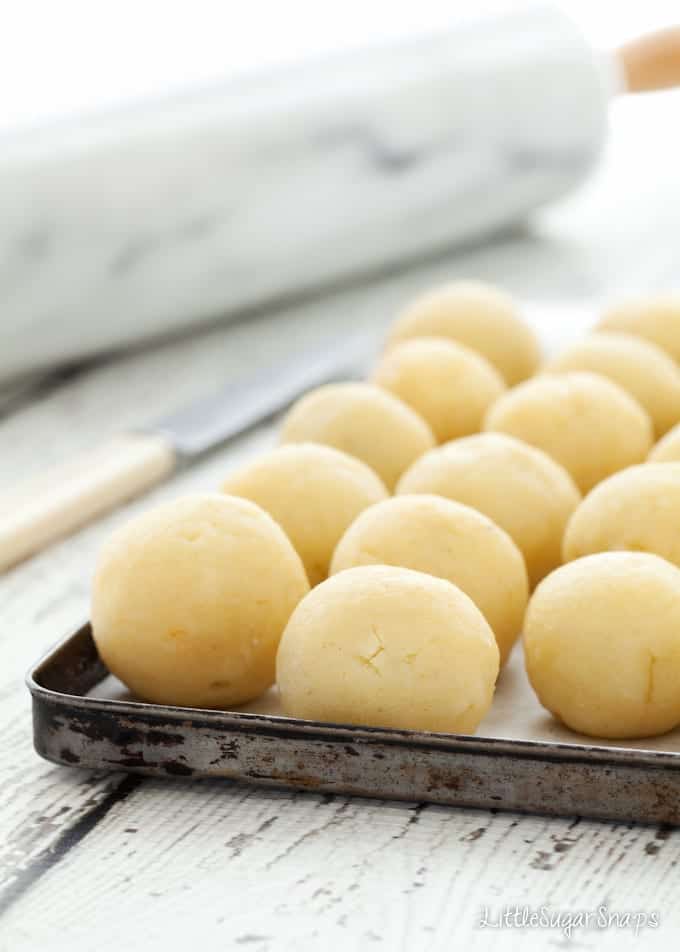 As I mentioned earlier, sadly my supple of olives pre-laden with sun-dried tomatoes disappeared several years ago. On the plus side, that got me to stuff my own and to think about incorporating pesto as well. Lucky for me, I have a good supplier of pesto and sun-dried tomatoes. I get both from a small Italian company located in Tuscany: Fattoria La Vialla. They make the best jarred pesto I've ever tasted.
You're welcome to use pre-stuffed olives if you can get them – it'll save you ten minutes stuffing them yourself. Alternatively, you could skip the sun-dried tomatoes altogether or try filling the olives with almonds instead. Both will be delicious.
These Cheesy Pastry Olives work well served warm or cold alongside drinks (especially sparkling wine) or on a party buffet. Allow at least 3 per guest and expect to get addicted.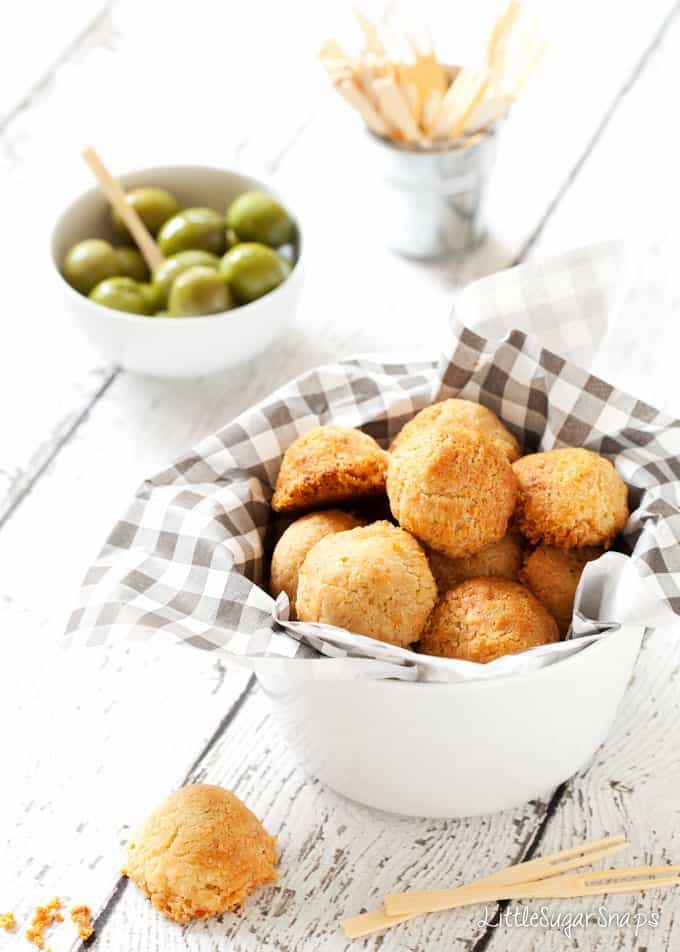 More Finger Food Recipes for Informal Parties: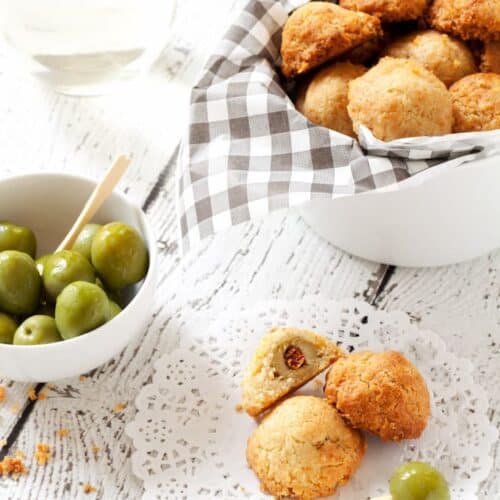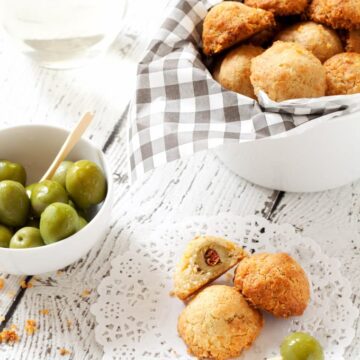 Cheesy Olive Pastries stuffed with Sun-dried Tomatoes
Cheesy Olive Pastries are your must have party nibble. Packed with pesto & sun-dried tomatoes, these irresistible little bites will be gone in a flash. Inspired by a recipe in Waitrose Food Illustrated, December 2007.
Print
Pin
Rate
Servings:
30
-40 pastires
Ingredients
150

g/ 1 ¼ cups

Plain (all purpose) flour

150

g/ ⅔ cup

Unsalted butter – room temperature

75

g/ 1 cup

Parmesan cheese – finely grated

75

g/ ⅔ cup

Mature (sharp) Cheddar cheese – finely grated

30-40

Pitted green olives (depending on size)

5

Sun-dried tomatoes – drained from the oil on kitchen paper

1

tablespoon

Green pesto
Instructions
Put the flour and butter into a medium bowl. Rub the butter into the flour using your fingertips until the mixture resembles breadcrumbs

Tip in the cheeses and briefly stir with your hands. Knead the mixture lightly with your hands to bring the pastry dough together

Shape into a ball, flatten and wrap in clingfilm. Leave to rest in the fridge for 20 minutes (do not let the dough get too cold as it will be difficult to work with)

Meanwhile chop the sun-dried tomatoes into small pieces and stuff the olives with one or two pieces. I used the blunt end of a wooden kebab stick to do this

Toss the olives in the pesto

Remove the pastry from the fridge and divide into 30 even sized pieces (approx 15g each)

Roll each piece of pastry into a ball, lay between 2 sheets of clingfilm and roll into a circle approx 1-2mm thick

Place an olive in the centre of the circle and fold one edge of the pastry over the olive, followed by the opposite edge. Trim a little pastry (½cm) from each end (see photograph). Discard any pastry scraps covered in oil, but save the rest

Gently roll the pastry around the olive using the palms of your hands. Make sure the olive is completely encased in the pastry. Repeat until all of the chunks of pastry have been used up

Scoop up the pastry off-cuts and reform into 15g chunks of pastry. Use to cover the remaining olives

VITAL STEP (see notes): Chill the pastries overnight (or for 2 hours) – place them on a baking sheet lined with parchment and cover with clingfilm before transferring to the fridge. At this point they can be stored close, but not touching each other

Preheat the oven to 220C/ 425F/ GM7

Using 2-3 baking sheets, lined with parchment, spread the pastry balls out, leaving 3-4cm between each ball

Bake for 12-15 minutes until golden brown

Allow to cool on the baking sheet

Serve warm or at room temperature

Best eaten within 24 hours, but can last up to 48 hours stored in an airtight container at room temperature
Notes
It is essential to chill the uncooked olive pastires prior to baking. Unless thoroughly chilled the dough will just slide off the olives during baking. Make ahead to step 11 and cook when ready to serve The exact number this recipe makes will depend on the size of olive used – mine were quite small I do not add salt to the pastry dough since the other ingredients are salty enough
(Visited 325 times, 1 visits today)