Rich, buttery and seasonally flavoured, this Pumpkin Spice Toffee would make a great Halloween or Bonfire Night treat. Make it in a tray and smash into chunks or pour into molds to make cute lollipops.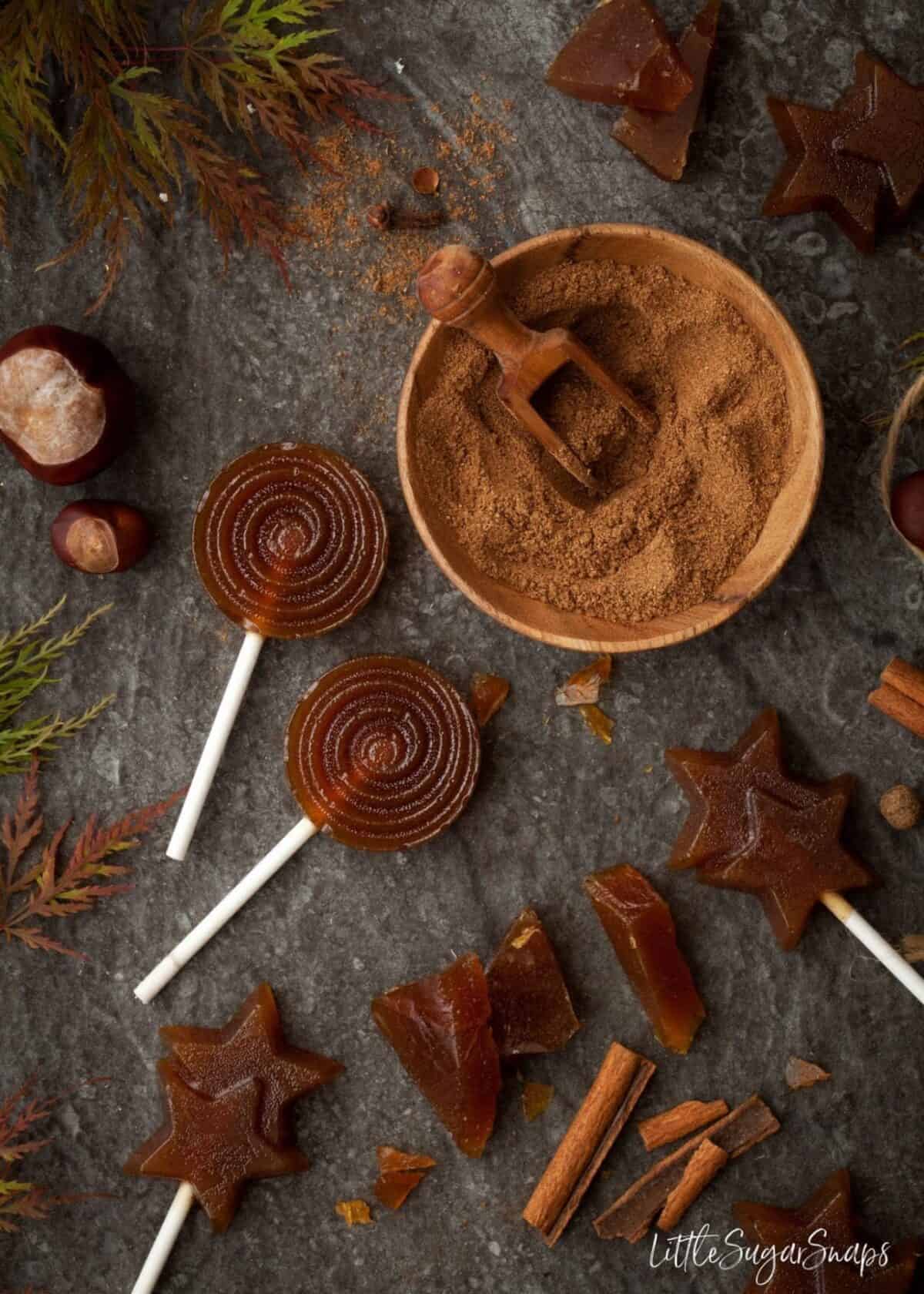 THIS POST CONTAINS AFFILIATE LINKS. AS A THERMAPEN & AMAZON ASSOCIATE I EARN FROM QUALIFYING PURCHASES.
I'm so pleased that I mastered making toffee a few years ago. For years I hankered after the stuff of my childhood, but I could never quite get it right. Well, I suppose the old saying practice makes perfect is true. Practice and a fair amount of googling to find out where I was going wrong.
My treat today is classic hard toffee with a seasonal, American twist. Yes, I've added that good old chestnut, pumpkin spice. It has all the qualities of traditional toffee, but with a hit of autumn attitude. This Pumpkin Spice Toffee is:
rich
sweet
buttery
laced with all the usual pumpkin spice suspects – cinnamon, ginger, nutmeg, allspice….
And it's hard… oh so hard.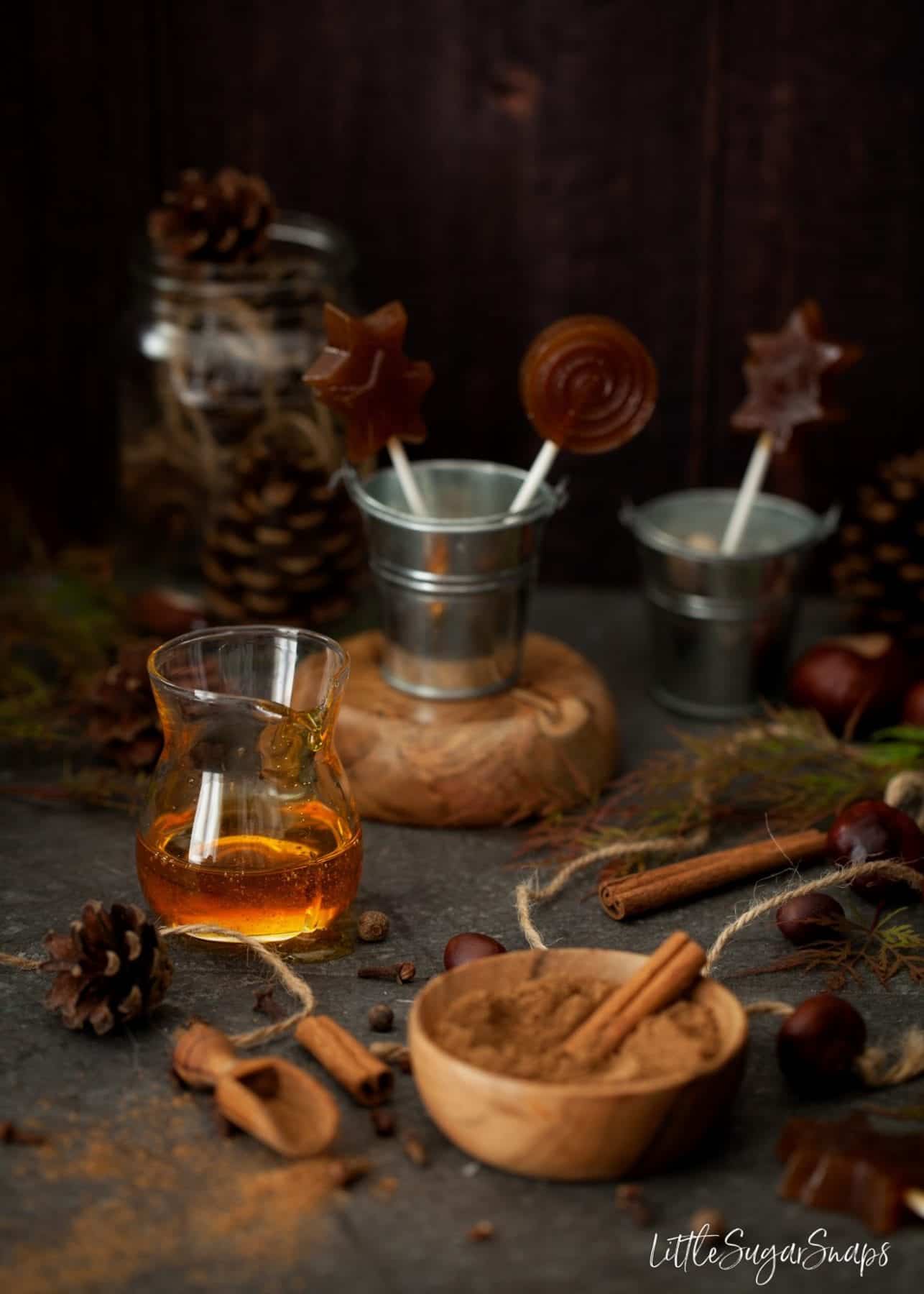 Confession: A few weeks back I promised several more chai spice recipes this autumn. It wasn't a lie, it's just that one of those recipes has landed on here with the title Pumpkin Spice Toffee. Sorry. Of course, if chai spice is more your kind of flavour, feel free to substitute it in. Believe me, it works just as well as the pumpkin spice in this recipe. Oh, and I'm still aiming to squeeze a chai dessert in before too many more weeks pass by.
Shifting back to the… a-hem… pumpkin spice, there are two ways to serve this toffee:
rustic style – in a slab, ready to attack with a toffee hammer
fancy pants style – poured into silicon molds to form beautiful toffee lollipops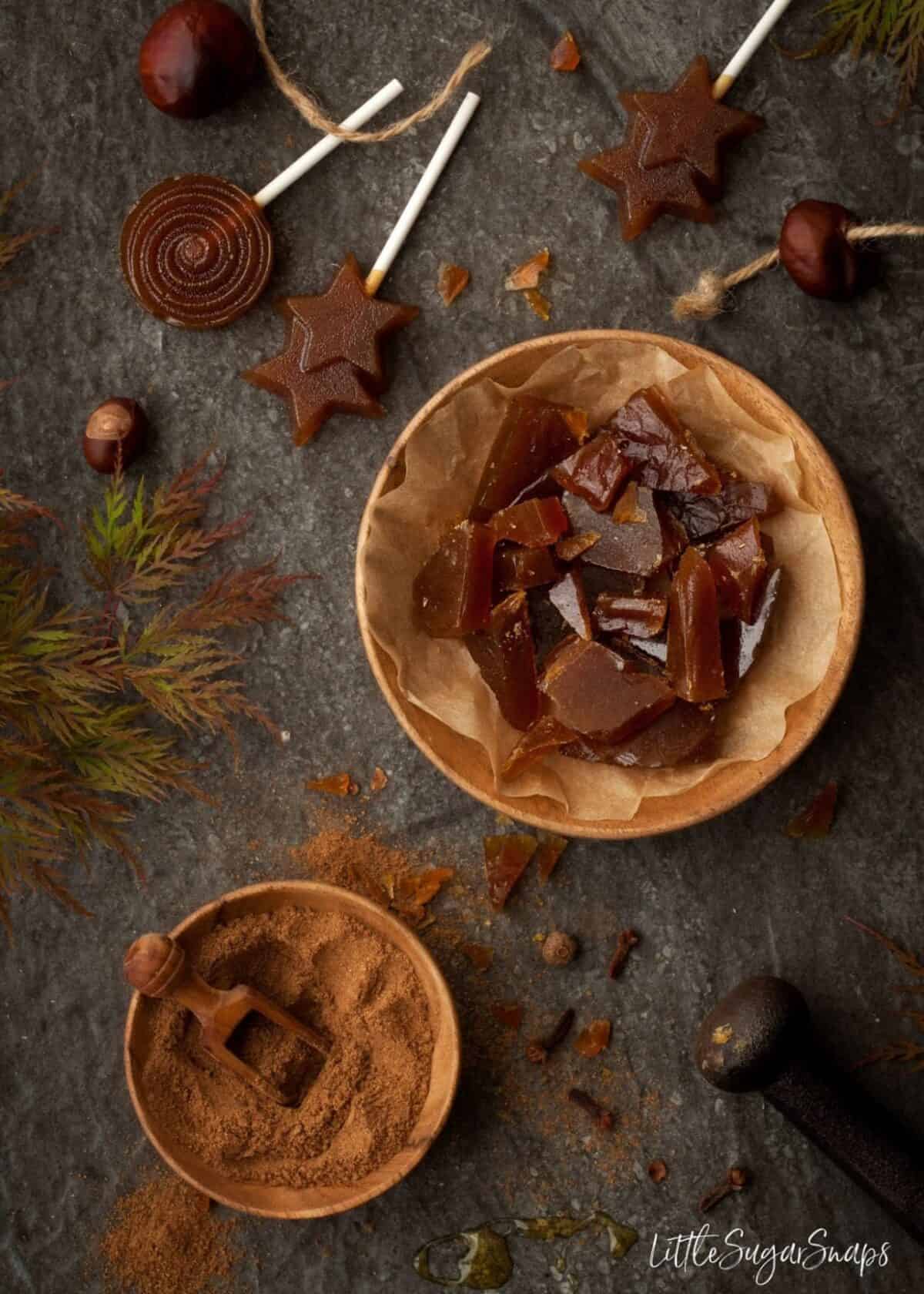 I think I lean more towards the rustic style, perhaps because it brings back happy memories from my own childhood, but my children definitely sway towards the lollipops. Fortunately, this recipe is sufficient to make a few pops and a slab, just follow my suggestions in my recipe notes for advice on tin sizes.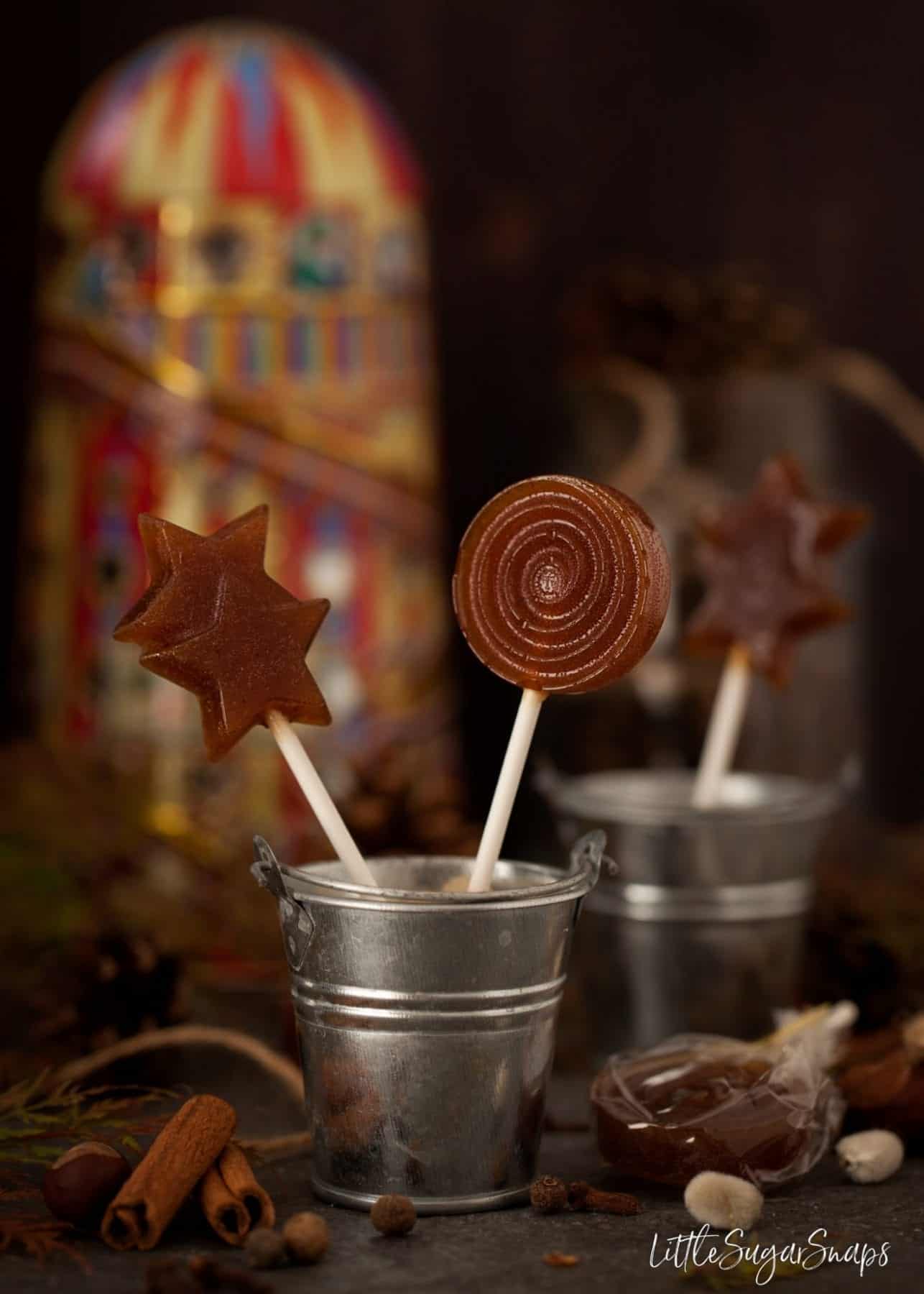 Last year I published the recipe for traditional Bonfire Toffee, along with a heap of practical tips and safety stipulations. If you are new to toffee making, or just fancy a refresh of the rules, hop on over for a quick read up. At the very least, ensure you read the recipe and notes detailed below fully before commencing the recipe. When it comes to toffee making, there is no such thing as too much information.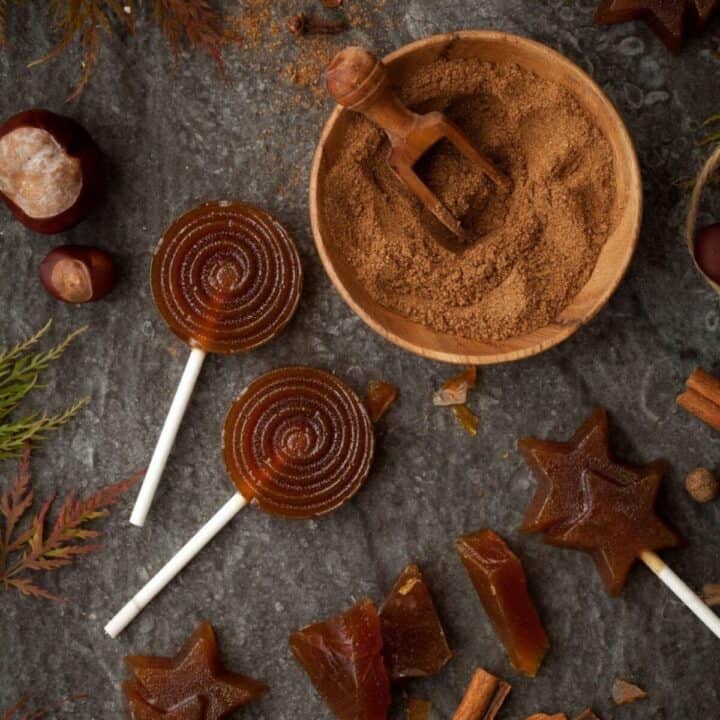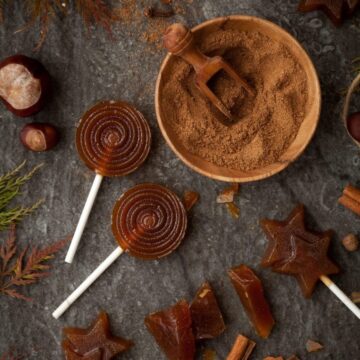 Pumpkin Spice Toffee/ Chai Spice Toffee
Rich & buttery with a seasonal flavour, this Pumpkin Spice Toffee would make a great Halloween or Bonfire Night treat. Make it in a tray and smash into chunks or pour into molds to make cute lollipops.
Print
Pin
Rate
Ingredients
450

g/ 1 lb

Light Brown Sugar

125

ml/ ½ cup

Water

250

g/ 9 oz

Golden Syrup (see notes on substitutions)

50

g/ 2 oz

Butter

Either 1 tablespoon White wine vinegar or ¼ teaspoon cream of tartar

2

teaspoon

Pumpkin spice powder (or chai spice)
Instructions
Before you make a start, read the recipe notes for all of my cooking tips

Grease & line a metal pan (see notes for size) with baking parchment and put on a flat, heatproof surface. Also lay any silicon lollipop molds on a flat, heatproof surface

Turn up the heat (medium-high) and boil, stirring frequently, until the liquid reaches the hard crack stage (150C/ 300F) on a food/ sugar thermometer such as Thermapen. This will take around 15 minutes – be patient and do not leave the pan unattended since it could boil over and/ or the toffee could overcook and burn

As soon as the toffee reaches 150C/ 300F, add the spice mix and stir with a wooden spoon until evenly distributed, then pour the toffee into your tin and/or molds and leave to cool completely

Once cool, give the toffee a few firm taps with a toffee hammer or the end of a rolling pin to break it up. If using silicon molds, the lollipops should unmold easily.

Store in an airtight tin, using baking parchment to keep layers of toffee separate
Notes
The size of tin required depends on your preference. If you like a thick toffee, go for a square or round tin approx 8 inches across. If you prefer a thinner toffee, use a rectangular tray approx 8 x 12 inches.
If you are making lollipops, then you will most likely have far too much toffee to fill your molds. Prepare a couple of tins of different sizes to pour the excess toffee into. As a guide: I made 8 lollipops, each measuring approx 1.5 inches using ¼ of the recipe listed here
If you cannot get hold of golden syrup, try using light corn syrup
More Tips
Some recipes suggest adding cream of tartar or white wine vinegar. This is to help prevent the formation of sugar crystals. You can use either. But watch the quantities – my recipe calls for 1 tbsp of vinegar or ¼ tsp cream of tartar – quite a difference
It is essential to use a reliable food thermometer that can withstand temperatures up to 150C/ 300F. I use a Thermapen.
I recommend lining your baking tins with baking parchment. Although some recipes suggest greasing the baking tin and pouring the toffee in, I have had mixed results. Lining the tin with parchment removes the risk that the toffee will weld itself to the tin and refuse to come out
Use a large heavy-based saucepan – the ingredients should come just ¼ up the side of the pan when added. As the toffee cooks it will bubble and boil, rising up the side of the pan significantly. If your pan is too small the toffee will take a long time to reach the required temperature. And, if it boils over, onto your hob, it will be nasty to clean up
The toffee is going to reach a very high temperature. Do not make this recipe with small children. Do not be tempted to taste the toffee as it cooks. Resist the temptation to multi-task. Keep your eye on the pan to avoid it bubbling over and to ensure you do not overcook the ingredients & end up with bitter, burnt toffee
If you are making the lollipops ensure you use

silicon molds

that can tolerate the high temperature of the cooked toffee. Do not use metal molds – remember, toffee can weld itself to metal. And no amount of teasing or bashing will shift these lollipops out.
Store the toffee as soon as it has cooled entirely in an airtight container. If you have already broken the toffee into chunks use baking parchment to separate the layers. Store at room temperature and avoid a humid environment. If left in the open this toffee will become sticky (but it will still be edible and delicious).
(Visited 355 times, 3 visits today)