This vegetarian rogan josh is packed with wholesome ingredients – it's healthy comfort food for chilly days. This aubergine curry is vegetarian/ vegan and a great way to satisfy a curry craving.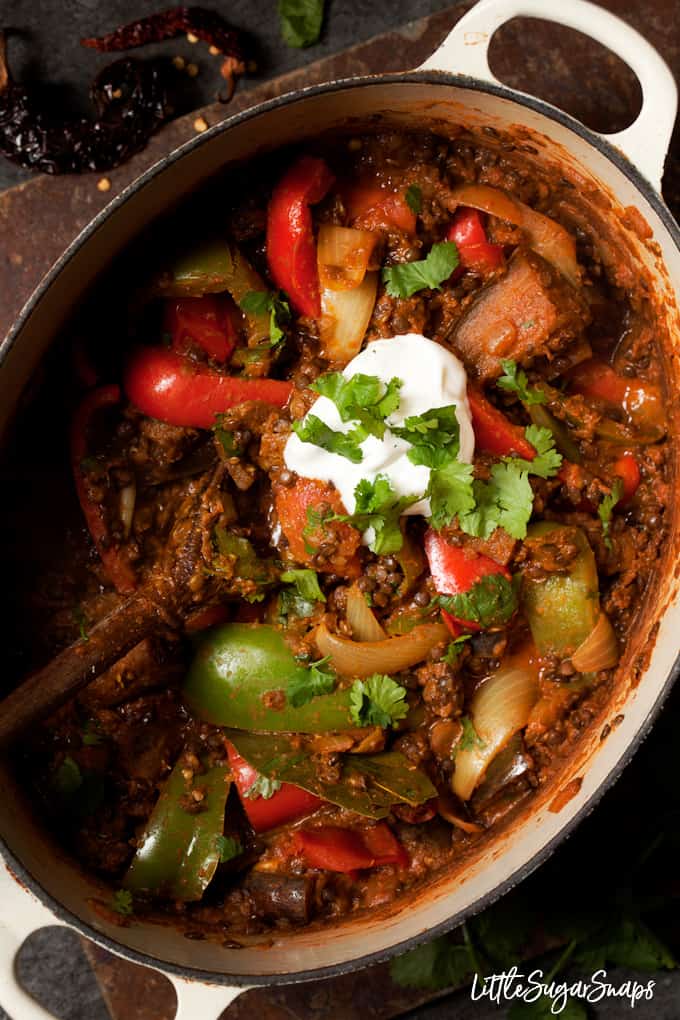 I was 19 when I had my first curry house experience. And yes, you guessed it, I ordered the korma – the mildest dish on the menu. I soon advanced to other dishes and I'm pleased to report that my family all enjoy a good curry. Lucky for me, the kids enjoy a healthy measure of aromatic spices in their food and a burst of heat so a feast of curries and sides dishes is often how we dine on a Saturday evening now, especially in the cooler months.
However, life is not all Saturday night eating extravaganzas. Weekdays are our time to be healthy and I do serve plenty of vegetarian meals from Monday to Thursday. One of our current favourite meat-free suppers is this vegetarian rogan josh and I'm pleased to be sharing it with you today.
This aubergine curry is pure heaven for vegetarians and it can also be made completely vegan. Black lentils make an excellent form of healthy protein in place of meat and they hold their shape really well without turning mushy. I've piled plenty of other chunky vegetables into this veggie curry to ensure that there is an abundance of texture and bite.
What is Rogan Josh?
Rogan josh originated in Kashmiri cuisine and has become very popular in British curry houses. Typically, rogan josh consists of pieces of lamb (or mutton) braised with a gravy flavoured with garlic, ginger and aromatic spices including: cloves, bay leaves, cardamom, and cinnamon.
Traditionally, whole dried Kashmiri chillies are de-seeded, soaked in water, and ground to a paste. This gives the curry a distinctive red appearance. I've taken a shortcut and used Kashmiri chilli powder (from Spice Mountain), although the redness of the curry is sadly downplayed by those black lentils. Kashmiri chillies add a milder heat and smokier flavour to dishes than typical chilli powder would.
In the absence of Kashmiri chilli, paprika and cayenne pepper occasionally appear in some western rogan josh recipes.
Whether or not an authentic rogan josh is a tomato-based curry is open to debate. The inclusion of tomatoes may well stem from a Punjabi version of the dish as opposed to a Kashmiri one. Similarly, onions and yoghurt appear in some recipes but not others.
My vegetarian rogan josh uses black lentils in place of the meat for protein. It does use onions and Kashmiri chilli powder. Although it uses only a small amount of tomato puree in the gravy, I have added a few wedges of fresh tomato to boost the vegetable content and provide an additional burst of vibrancy, since rogan josh is renown for being colourful.
The yoghurt is entirely optional – a little stirred through at the end can add a devilishly creamy and indulgent finish to this very healthy veggie curry recipe.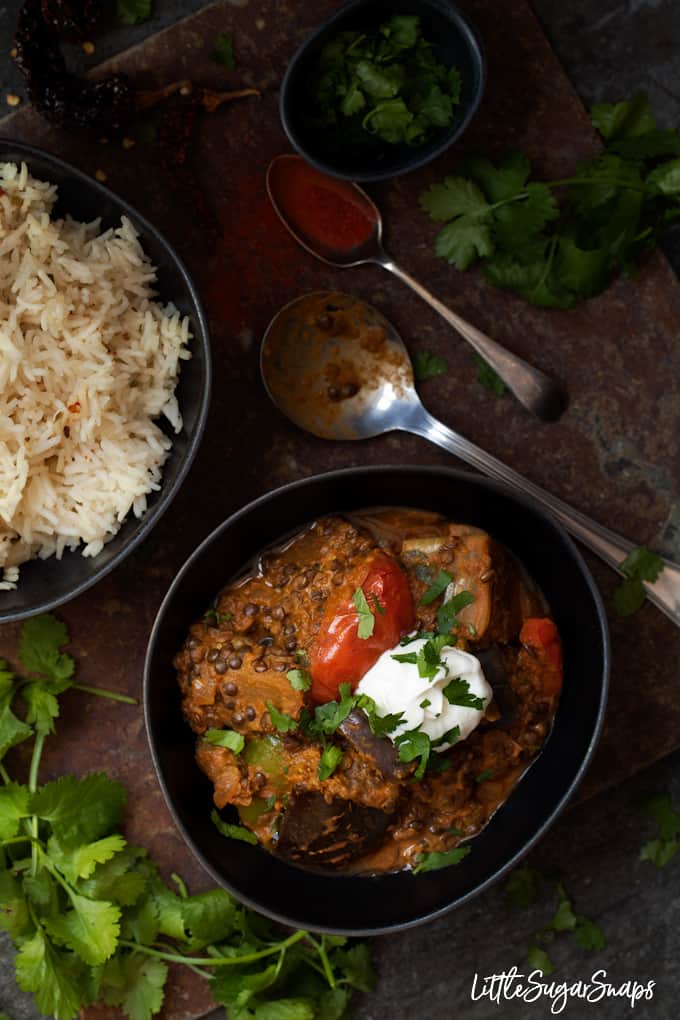 Heatwise, I would classify this aubergine curry as medium-mild. The spices all add a wonderful aromatic base but the Kashmiri chilli, although milder than most, still adds a hearty tingle of warmth as this dish is eaten.
How to Make Vegetarian Rogan Josh
This veggie curry takes around 45 minutes to make in one pan if using pre-cooked black lentils. Full instructions are in my recipe card below, but briefly, here's the deal:
Begin by cutting the aubergine into large chunks and frying in oil until browned
Next, cut the onion in half. Chop one half into thick slices and dice the other half. Fry until soft
Deseed and slice the peppers and fry for several minutes before adding the aubergine back into the pan
Peel the garlic cloves and ginger. Chop roughly and blitz along with the tomato puree and water using a stick blender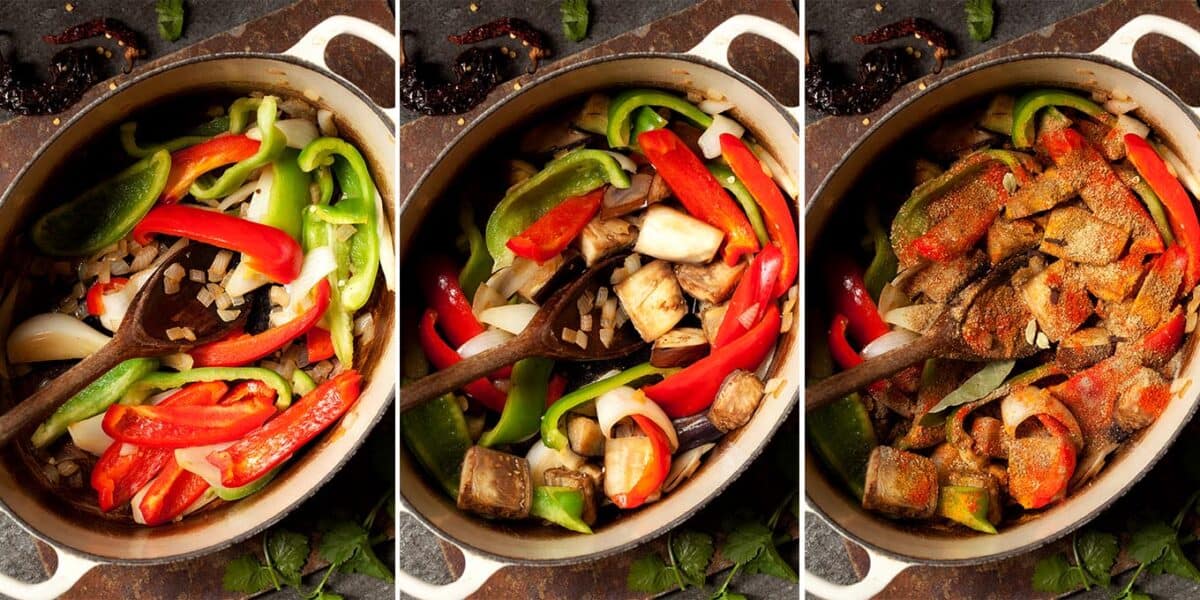 Add the spices to the pan, stir and cook until aromatic then add the liquid and black lentils
Simmer for 30 minutes, stirring occasionally to prevent sticking. Add a little more water if the sauce gets too thick
Once cooked, stir through fresh coriander & yoghurt, then serve with rice or naan bread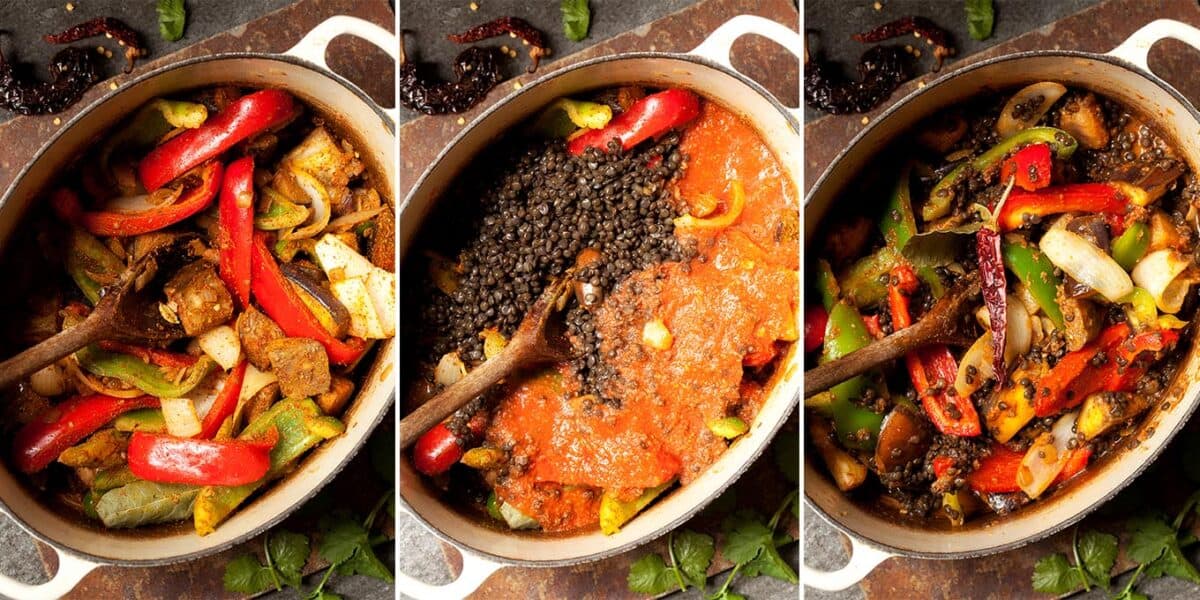 How do I Turn This Into a Vegan Curry?
It's very easy to make this veggie recipe into a vegan curry recipe.
Simply omit the yoghurt completely or replace with a non-dairy yoghurt (plain) that is suitable for cooking with.
Since yoghurt serves to add a creamier texture to the curry and temper some of the fiery heat in the recipe leaving it out will alter the final gravy and heat level. To thin the sauce just stir a little extra water through if it gets too thick. If you are concerned that the curry may be too hot without the yoghurt, consider toning down the chilli powder a touch the first time you make this recipe.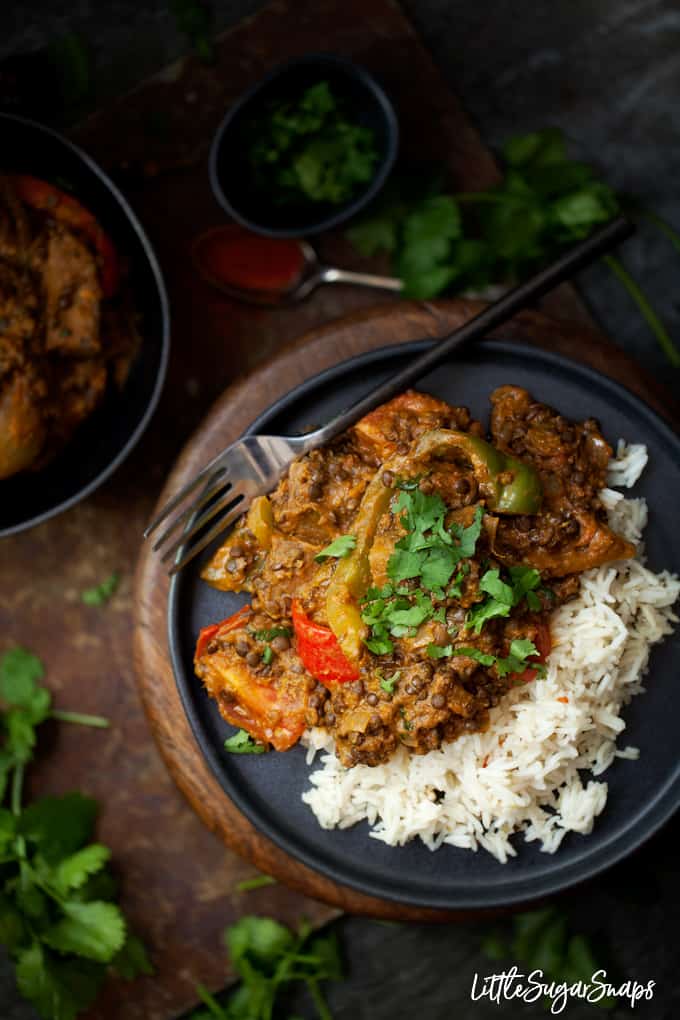 This aubergine curry is midweek comfort food at its best. This dish is ready in approximately 45 minutes, tastes fantastic and yet manages to remain wholesome. That's quite an achievement at suppertime.
Have you seen my other veggie main meals: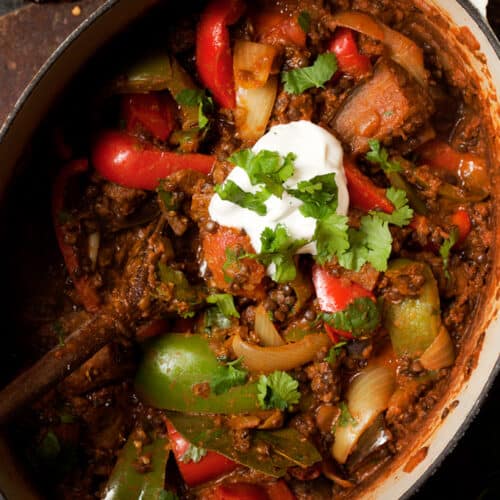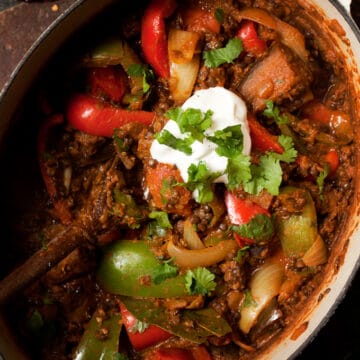 Vegetarian Rogan Josh with black lentils and aubergine
This vegetarian rogan josh curry is packed with wholesome ingredients – it's healthy comfort food for chilly days. This curry is vegetarian/ vegan and a great way to satisfy a curry craving.
Print
Pin
Rate
Ingredients
325

g/ 11 ½ oz

Black lentils (pre-cooked)

(or 120g/ 4 oz dried lentils – cook prior to starting the recipe)

1

white onion

1

Red pepper

(capsicum)

1

Green pepper

(capsicum)

2

Tomatoes

325

g/ 11 ½ oz

Aubergine (eggplant)

2

Garlic cloves

15

g/ ½ oz

Fresh ginger

2

tablespoon

Tomato puree

300

ml/ 1 ¼ cup

Water

1

teaspoon

Ground cumin

1

teaspoon

Ground coriander

(cilantro)

1

teaspoon

Garam masala

½

teaspoon

Ground turmeric

1

teaspoon

Kashmiri chilli powder

¼

teaspoon

Ground black pepper

¾

teaspoon

Salt

Adjust up/ down according to taste

4

Cloves

1

Cinnamon stick

(10cm)

1

Bay leaf

3

Green cardamom pods

1

Dried kashmiri chilli

15

g/ ½ oz

Fresh coriander

(cilantro)
Optional
3

tablespoon

Plain yoghurt (I used Greek)

(or use non-dairy alternative)
Instructions
This recipe calls for pre-cooked lentils to be added in step 6, so if you are using dried lentils you need to cook them until soft before starting this recipe – this is your first step (recipe times are calculated on the basis of the lentils already being cooked)

Begin by cutting the aubergine into large chunks and frying in 2 tablespoon oil until browned (5-8 minutes) – toss frequently. Remove from the pan and set aside

Next, cut the onion in half. Chop one half into thick slices and dice the other half. Fry until softened (about 5 minutes)

Deseed and slice the peppers, add to the pan and fry for several minutes before adding the aubergine back in

Peel the garlic cloves and ginger. Chop roughly and blitz along with the tomato puree and water using a stick blender

Measure the herbs, spices and salt into the pan, stir for 1 minute until aromatic then add the liquid and black lentils

Simmer for 20 minutes, stirring occasionally to prevent sticking. Add a little more water if the sauce gets too thick

Quarter the tomatoes and drop into the pan. Cook for 10 more minutes. By then all vegetables should be tender and the gravy not to loose

Once cooked, stir through the fresh coriander & yoghurt (if using), then serve with basmati rice or naan bread with a little extra yoghurt and coriander on top
Nutrition Per Serving (Approximate)
Calories:
339
kcal
|
Carbohydrates:
59
g
|
Protein:
23
g
|
Fat:
2
g
|
Saturated Fat:
1
g
|
Cholesterol:
2
mg
|
Sodium:
41
mg
|
Potassium:
619
mg
|
Fiber:
23
g
|
Sugar:
9
g
|
Vitamin A:
2114
IU
|
Vitamin C:
80
mg
|
Calcium:
117
mg
|
Iron:
8
mg
(Visited 386 times, 9 visits today)