This marzipan cake makes a fantastically easy last-minute Christmas cake. It requires minimum effort and tastes fantastic. It is bursting with fruity, festive flavour and there's no need for time-consuming decorations.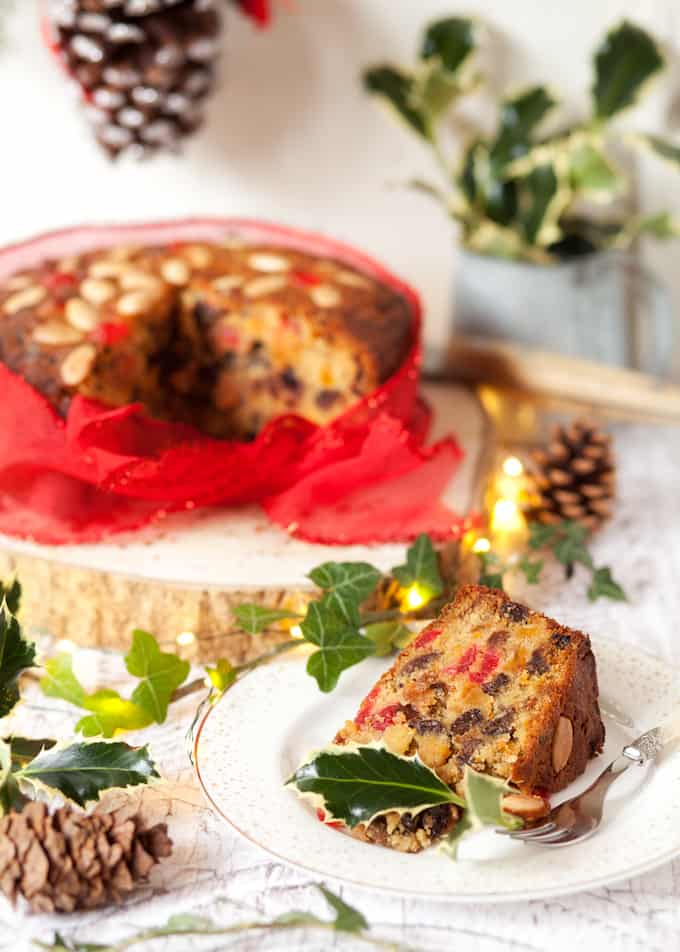 THIS POST CONTAINS AFFILIATE LINKS. AS AN AMAZON ASSOCIATE I EARN FROM QUALIFYING PURCHASES.
We all have times when our best-laid plans get sidelined. If you find yourself caught out and short of time in the lead up to Christmas, this last-minute Christmas cake is the answer to your time issues.
Forget about making a traditional cake until another year and make this quick & easy marzipan cake instead.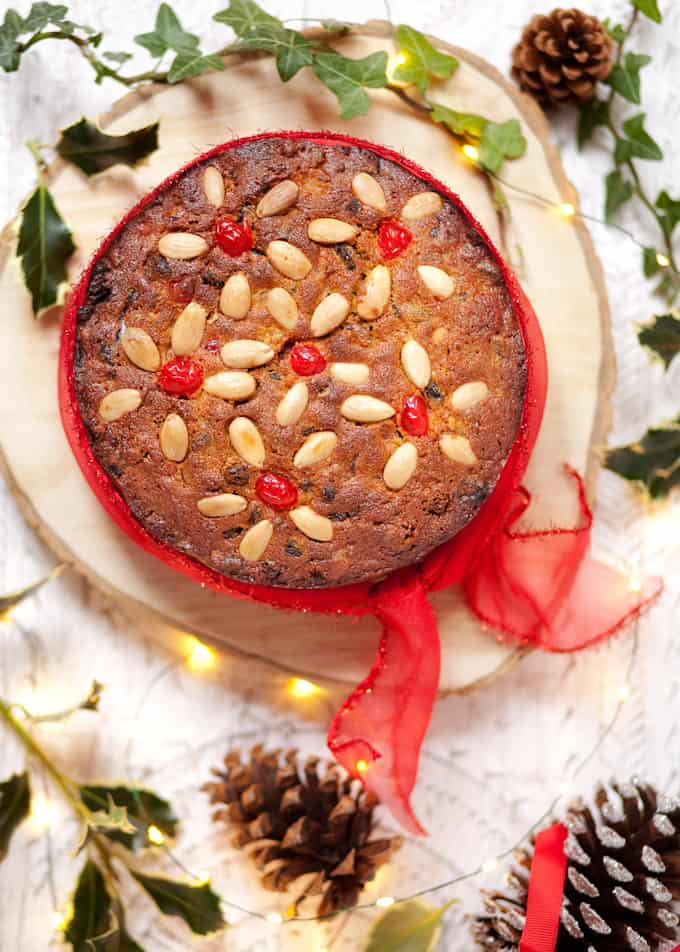 Why this Recipe is so Good
The best time to bake this marzipan cake is Christmas Eve since it requires no maturing or feeding time and it stays fresh for at least 1 week. So it really is an ideal last-minute Christmas cake recipe to have to hand.
Tinned pineapple and grated marzipan folded through the batter both help to give the bake a very soft and moist crumb. And the latter really does accentuate the festive flavours in this cake wonderfully well.
Of course, the additional benefit of making this recipe is that there really is no need to spend extra time covering the cake in almond paste and icing. The marzipan baked directly into the cake is plenty. Any more would be overpowering.
Simply adorning this marzipan cake with some nuts and cherries or a selection of candied fruit works a treat here and takes no time at all. Wrap a bright red ribbon around this last-minute Christmas cake to complete the festive look.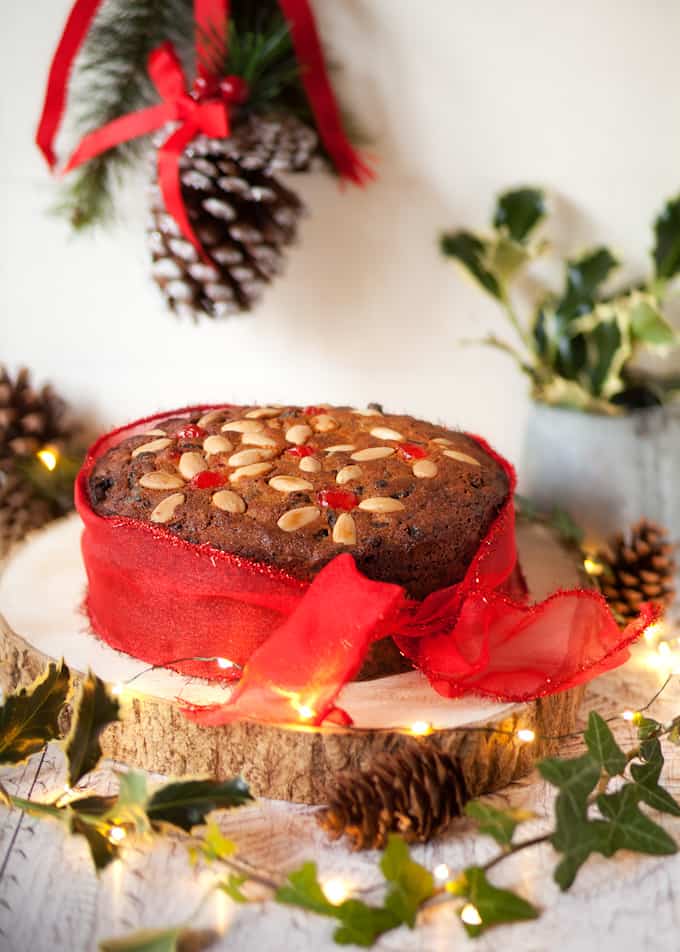 Ingredients Notes
Tinned pineapple in juice is by far the better option for this cake than fresh pineapple. It is easy to chop and breaks down well during cooking to create a wonderfully moist and tender cake.
You'll notice that I've used maraschino cocktail cherries in this bake. I love their juicy flavour in cakes and they add a gorgeous burst of colour. If you don't have any, feel free to add in extra glace cherries.
Step by Step Insructions
Honestly, this Christmassy marzipan cake requires just 30 minutes hands-on work and delivers a bake that is full of festive flavour in every bite. Let's get started:
Step 1: Prepare the fruit by roughly chopping the pineapple, cherries, apricots and prunes then put them in a large bowl with the sultanas and raisins. Add grated orange & lemon zest, chopped crystalised ginger, coarsely grated marzipan and the rum. Use your hands to mix everything together until everything is evenly mixed and coated in the alcohol. Set aside
Step 2: Make the cake batter. Begin by creaming the butter and sugar together with electric beaters then add the eggs, one at a time, beating well between each addition. Sift the flour, baking powder and spices into the bowl and beat until just combined
Step 3: Tip the fruit into the bowl and stir with a large metal spoon to combine
Step 4: Spoon the cake batter into a prepared baking tin. Spread it out and level the top. Arrange the almonds and cherries (chopped in half) in a neat pattern on the top, then bake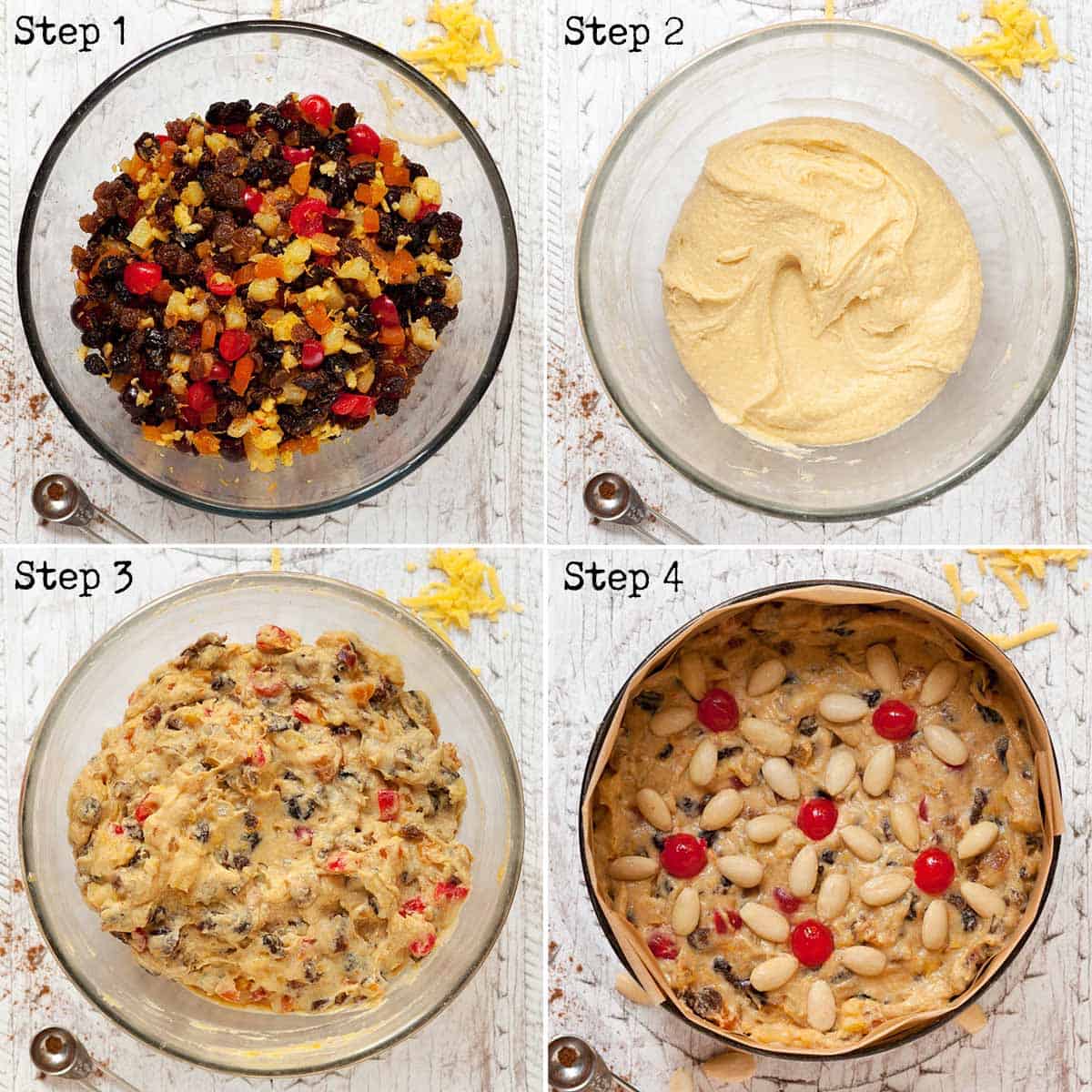 Tips and FAQs
Expert Tips
As always, I recommend greasing and lining your baking tin, regardless of whether or not it is non-stick. In this instance, since the bake is long, the lining helps to protect the outer edge of the cake from browning too much. I actually fold my parchment in half to create a double layer of protection around my cake
If you want to leave out the prunes or apricots, that's fine. Simply replace with an equal measure of alternative fruit
Soaking of fruit for an extended time (e.g. overnight) is not necessary for this last-minute Christmas cake recipe. However, it won't do any harm if you do soak the fruit before mixing and baking
Though I do enjoy a ripe and fragrant fresh pineapple, for best results use tinned pineapple (in juice) for this recipe
Check your cake 1 hour or so into the baking time and cover loosely with foil if the top looks as if it might brown too much
Hot marzipan can look a bit like cake batter – when checking if the cake is fully baked double check by poking the skewer in a few places – if some areas come out clean then the cake is ready to come out of the oven
Frequently Asked Questions
When do I Need to Make a Christmas Cake?
The answer to this question varies depending on whether you are making a traditional Christmas cake or a last-minute Christmas cake.

Traditional Christmas cakes should be made at least 4 weeks in advance. The cake needs time for the flavours to mature and it must be fed alcohol at least 3 times over the space of a few weeks to help ramp up the richness and those festive flavours.

If that all seems like too much hassle, then consider my easy marzipan Christmas cake recipe. It is a much simpler affair. There is no need for maturing or feeding. Instead, it can and should be eaten straight away, so make it on Christmas Eve. It will last easily for at least a week.
Can I leave the nuts out?
I've included whole nuts purely as decoration, so they can easily be replaced.

Try adorning the cake with candied fruits and if you are yearning for a shine on your cake, brush with a little warmed apricot jam.

Do remember that marzipan is made from almonds, so even if you leave the nuts off of the top of this cake, it is still not suitable for anybody with a nut allergy. I don't recommend leaving the marzipan out of this recipe.
Can I make this recipe alcohol free?
If you want to leave out the rum, use an equal quantity of orange juice. It will still be delicious.

The rum in this marzipan cake can alternatively be replaced with cherry brandy, brandy, orange liqueur (such as Cointreau) or Amaretto.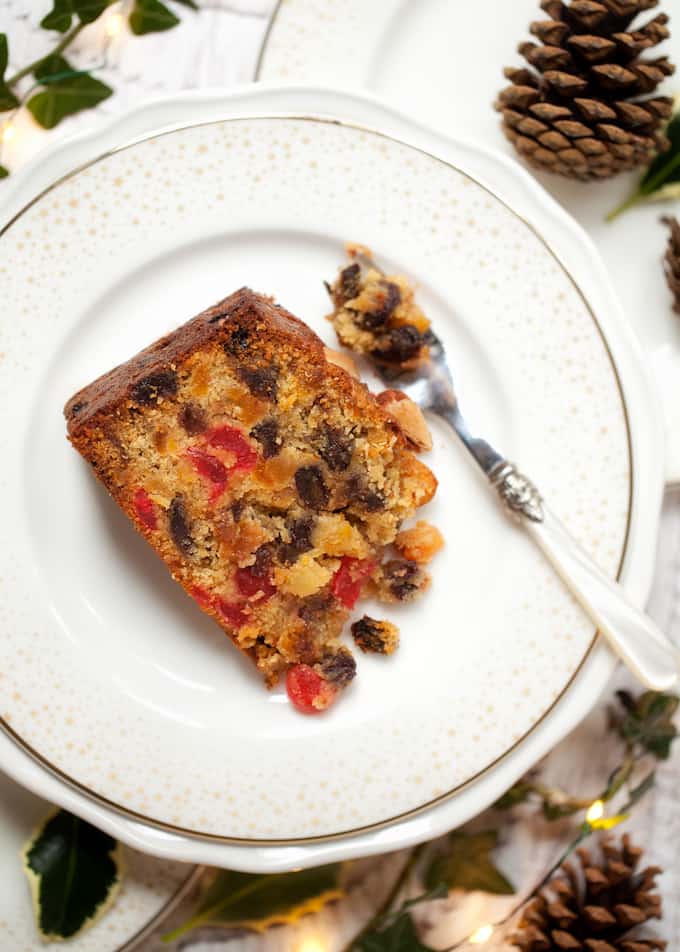 More Christmas Baking Ideas:
With such an easy marzipan cake under your belt, there's plenty of time for more festive baking. Take a look at my Christmas collection or get tempted by these reader favourites:
Have you made this last-minute Christmas cake? Did you enjoy it – let me know by leaving a comment and rating below. And I'd love to see how you decorated yours – post a picture on instagram and tag me #jane_littlesugarsnaps.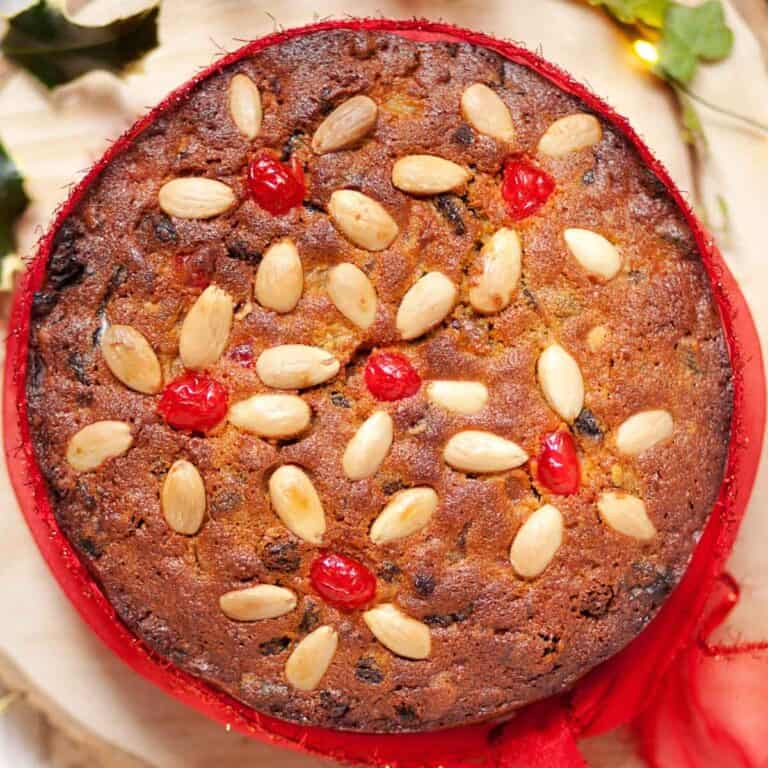 Marzipan Cake – A Last-Minute Christmas Cake
This easy Last-Minute Christmas Cake requires minimum effort and tastes fantastic. Marzipan is baked into the cake so there's no need for time-consuming decorations.HIT THE CONVERSION BUTTON FOR ALTERNATIVE MEASUREMENTS
Print
Pin
Rate
Equipment
1 x deep 8 inch cake pan (round)
Ingredients
180

g

Tinned pineapple

drained

150

g

Glace cherries

150

g

Maraschino cocktail cherries

see notes

180

g

Dried apricots

120

g

Raisins

120

g

Sultanas

75

g

Prunes

30

g

Crystalised ginger

8

teaspoon

Dark rum

100

g

Golden marzipan

Rind 1 lemon

Rind 1 orange

200g

g

Butter

softened

200

g

Golden caster sugar

4

Eggs – large, free range

200

g

Plain (all purpose) flour

1 ½

teaspoon

Baking powder

1 ½

teaspoon

Mixed spice

¼

teaspoon

Ground nutmeg
Garnish
30

Whole blanched almonds

3

Maraschino cherries
Instructions
Prepare the fruit
Begin by draining the pineapple from it's juice and patting dry on kitchen towel. Chop into small pieces. put into a large mixing bowl

Rinse the glace cherries, chop roughly and add to the bowl

Drain the maraschino cherries, blot on kitchen towel and chop roughly. Add to the bowl

Chop the apricots and prunes and weight out the sultanas and raisins and finely dice the crystalised ginger. Drop into the bowl too

Lastly, finely grate the orange and lemon zest and coarsely grate the marzipan. Add to the bowl with the rum. Using your hands mix everything together until everything is evenly mixed and coated in the alcohol. Set aside
Make the Cake
Preheat the oven to 150C/300F/ GM2 and grease and line a deep 8-inch round cake pan

Begin by creaming the butter and sugar together with electric beaters until light and fluffy

Add the eggs one at a time, beating well between each addition

Sift the flour, baking powder and spices into the bowl and beat until just combined – take cake not to overmix as this will result in a tough cake

Tip the fruit into the bowl and stir with a large metal spoon to combine

Spoon into the prepared baking tin, taking care to ensure the cake is spread to the edge of the tin. Level the top and arrange the almonds and cherries (chopped in half) in a neat pattern on the top

Bake for approx 1 hour then cover the top with parchment to stop it browning too much. Continue to cook for a further 50 minutes, then poke a skewer into the cake – if it comes out clean the cake is done. If it has cake batter on it, keep baking and test again after 10 more minutes. Note: marzipan can look a bit like cake batter – double check by poking the skewer in a few places.

Once baked take out of the oven and let cool completely in the tin. Unmold and store in an airtight container until ready to serve
Notes
I love the juicy flavour of maraschino cherries in cakes and they add a gorgeous burst of colour. If you don't have any, feel free to add in extra glace cherries
As always, I recommend greasing and lining your baking tin, regardless of whether or not it is non-stick. In this instance, since the bake is long, the lining helps to protect the outer edge of the cake from browning too much
Check your cake 1 hour or so minutes into the baking time and cover loosely with foil if the top looks as if it might brown too much
If you want to leave out the prunes or apricots, that's fine. Simply replace with an equal measure of alternative fruit
Soaking of fruit for an extended time (e.g. overnight) is not necessary for this last-minute Christmas cake recipe. However, it won't do any harm if you do soak the fruit before mixing and baking
Though I do enjoy a ripe and fragrant fresh pineapple, for best results use tinned pineapple (in juice) for this recipe
Hot marzipan can look a bit like cake batter – when checking if the cake is fully baked double check by poking the skewer in a few places – if some areas come out clean then the cake is ready to come out of the oven
Nutrition Per Serving (Approximate)
Calories:
445
kcal
|
Carbohydrates:
71
g
|
Protein:
6
g
|
Fat:
16
g
|
Saturated Fat:
8
g
|
Cholesterol:
77
mg
|
Sodium:
129
mg
|
Potassium:
452
mg
|
Fiber:
4
g
|
Sugar:
44
g
|
Vitamin A:
941
IU
|
Vitamin C:
2
mg
|
Calcium:
66
mg
|
Iron:
2
mg
(Visited 1,094 times, 20 visits today)