Naturally gluten free, this Black Forest Yule Log is the classic combination of chocolate, black cherries and Kirsch all wrapped up in rustic Christmas style.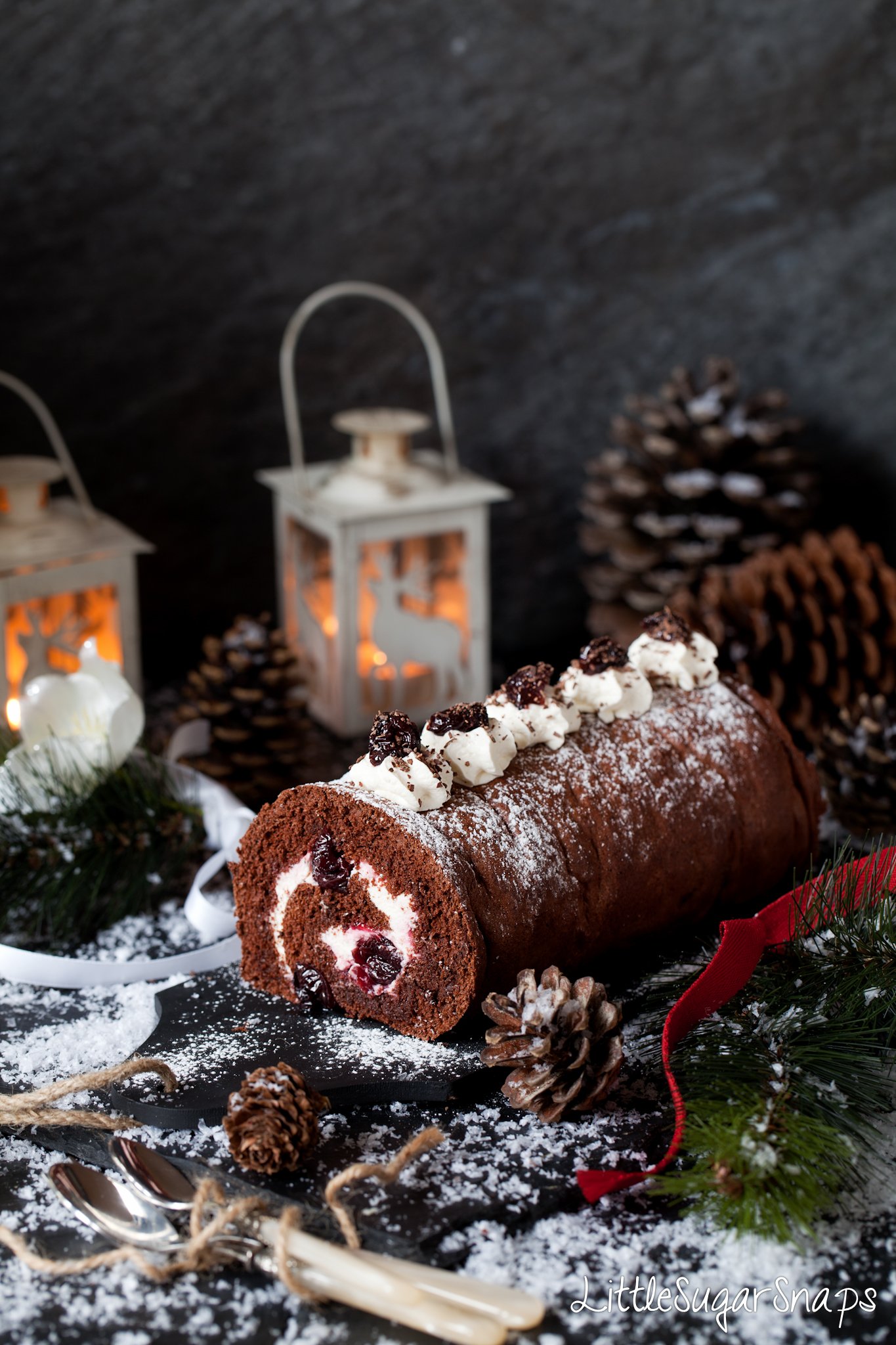 This post contains affiliate links. As an Amazon Associate, I earn from qualifying purchases.
I'm sitting here with fingers numb. This week the UK has seen some proper snow and temperatures have barely tipped above freezing. It's definitely starting to feel like Christmas, so it must be time to serve up this festive & rustic Black Forest Yule Log complete with a snowy forest inspired scene.
But first….
A confession: you've probably guessed that the snow in these pictures is fake. Despite all the real stuff that is still lingering in my garden. Snow in the UK is hit and miss and when it does hit then you'll find me whizzing down hills with my kids on sledges, not taking photos of cake. Actually, I prefer not to be the one on the sledge. But I don't like to be a total party pooper so attempt it at least a couple of times. You've probably heard me when it's my turn because I tend to scream. Alot.
Anyway, the cake. I don't know if Black Forest Gateau was designed with Christmas in mind, but I always think it's perfectly suited. All that intense, dark chocolate and the mysterious, sultry cherries nestled in with Kirsch and heaps of pillowy soft cream. It seems so well suited to winter, so I just had to bundle it all into a Christmas bake. The result is this Black Forest Yule Log.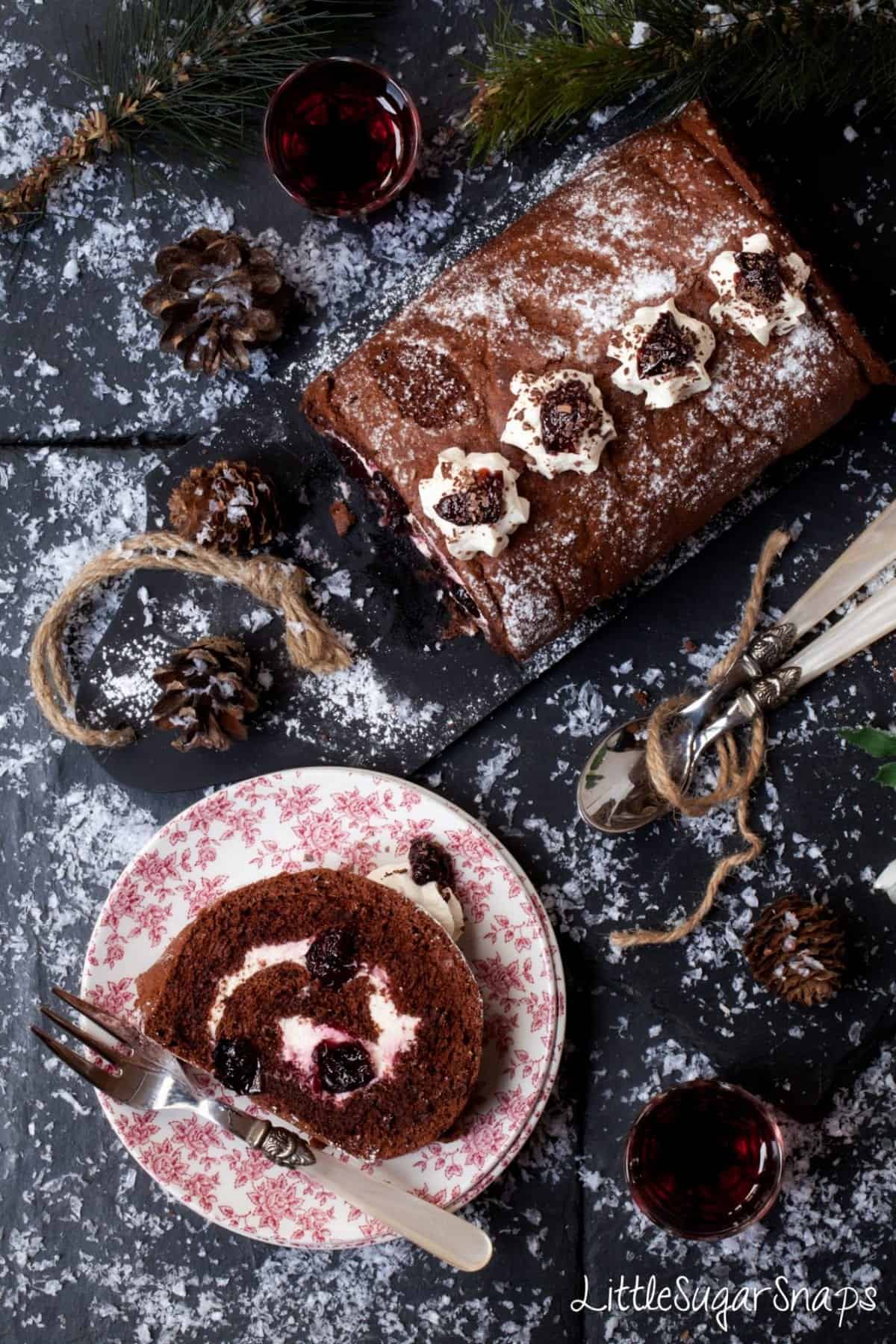 The great news is that it's not a fiddly job when it comes to decorating this cake either. The flavours are rich enough not to need any extra sweetness piled on top, so I've put aside the buttercream and ganache and left this cake virtually naked. That's also why I describe this cake as rustic. Just a scattering of icing sugar and a few rosettes of cream on top is all this log really needs to wear.
And since this Black Forest Yule Log oozes rustic style, it really doesn't matter if a few cracks appear along the way as it is rolled up.
The sponge cake is made without flour – just eggs, sugar and cocoa powder – so it is naturally gluten free. I've added a little cinnamon and a touch of coffee to the cake, just to add depth to the flavour. Either or both of these additions can be left out if you are a Black Forest purist, though I promise you the over-riding flavour of this cake is chocolate.
Cherry syrup, mixed with the Kirsch, is drizzled on top of this fat-free cake to keep it moist. Then it is filled with cherry jam, cream & cherries before it is rolled up.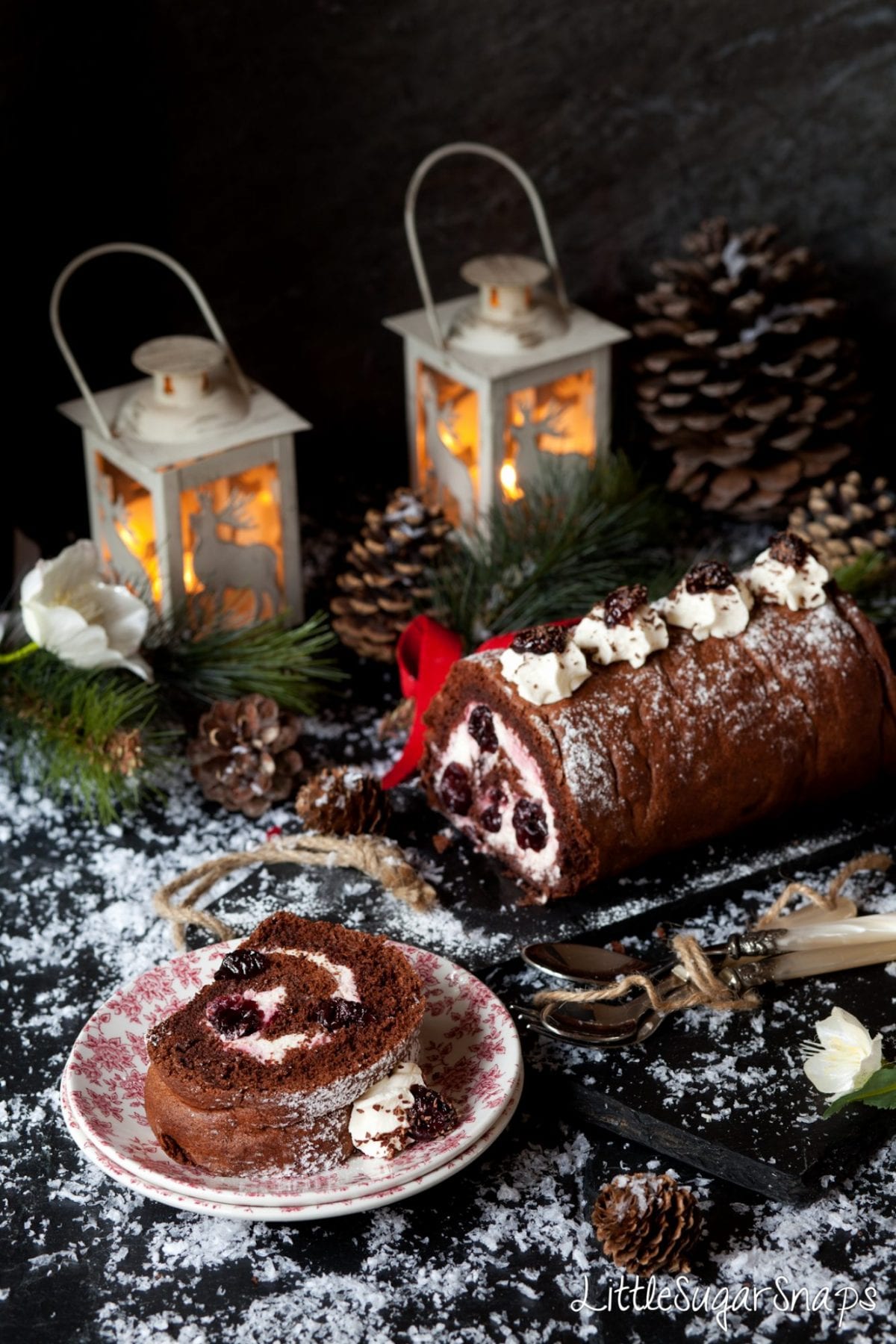 Another confession: I'm never sure which way a cake like this is meant to be rolled. Should we end up with a short and fat cake or a long thin cake?
I don't know if there is a right way or a wrong way. But I do know I like a generous serving of cake when I'm sneaking in a pudding. So, I rolled my cake short and fat. You may of course, try it the other way if you want to. Just don't be tempted to overfill the cake though as it will be difficult to roll whichever way you attempt it.
This Black Forest Yule Log can be made 48 hours in advance and stored in the fridge. So it's a great make ahead dessert for the party season. Serve it on its own or add a drizzle of single cream.
Oh, and for the adults, how about a Black Forest Martini served on the side? I think my job here is done.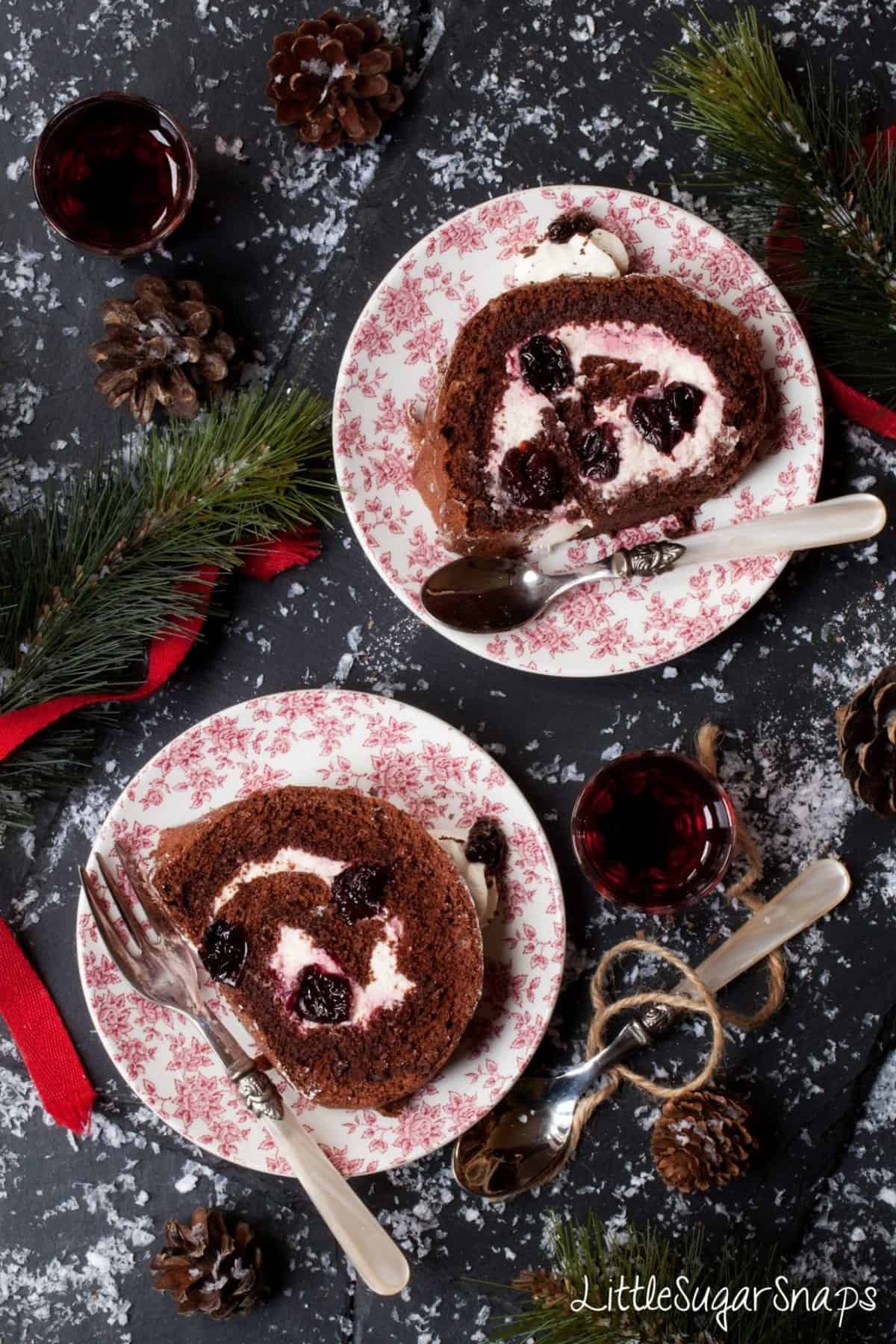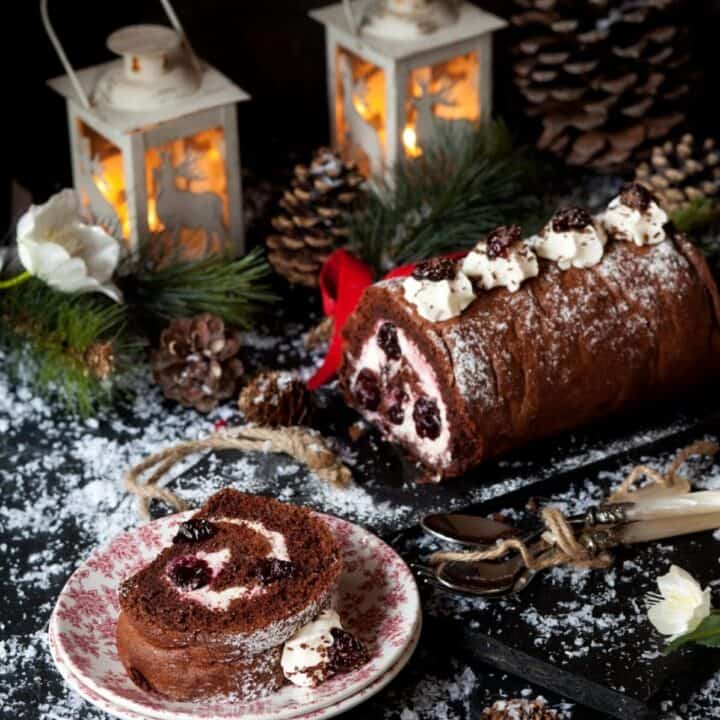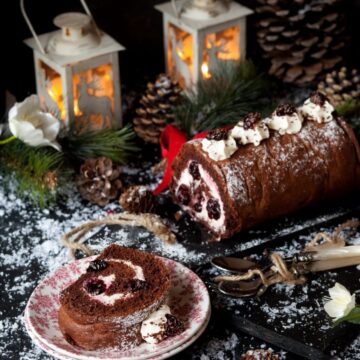 Black Forest Yule Log
Naturally gluten free, this Black Forest Yule Log is the classic combination of chocolate, black cherries and Kirsch all wrapped up in rustic Christmas style.
This recipe is for a 20cm x 30cm (12″ x 8″) cake pan
Print
Pin
Rate
Ingredients
For the Cake
4

Eggs – large

100

g/ ½ cup

Caster sugar

40

g/ ⅓ cup

Cocoa powder

see notes

½

teaspoon

Ground cinnamon (optional)

½

teaspoon

Finely ground espresso (optional)

1

tablespoon

Icing (confectionary) sugar
For the filling & Garnish
1 x

425g/ 15 oz

Tinned pitted black cherries in light syrup

2

tablespoon

Caster Sugar

1

tablespoon

Kirsch

3

tablespoon

Black cherry jam

200

ml/ ¾ cup + 2 tbsp

Double (heavy) cream

2

teaspoon

Icing (confectionary) sugar

1

teaspoon

Grated chocolate
Instructions
Make the Cherry Syrup
Drain the cherries and put the liquid in a small, heavy based pan along with 2 tablespoon sugar

Bring to a boil over a high heat and let bubble away until the liquid has reduced to ¼ of it's original volume. Meanwhile, cut the cherries in half

When the liquid has reduced, add the cherries (along with any extra juice) to the pan. Let boil for a further 5-10 minutes, stirring often, until the cherries have darkened and the liquid has reduced and thicken to create a cherry sauce

Take off the heat and drain. Take 2 tablespoon of the syrup and stir the kirsch into the it. Set this mix and the cherries aside to cool completely

NOTE: ensure these components are cold before using to fill the cake otherwise the cream will melt
Make the Cake
Separate the egg white and yolks – put both into medium sized mixing bowls

Add half of the sugar (50g) to the egg yolks

Whisk the egg whites until stiff, then gradually add the remaining half of the sugar – a spoonful at a time – whisking well each time

Using the same whisk (no need to wash it), whisk the egg yolks and sugar together on high speed for approx 5 minutes until pale, thick and creamy. The mixture should leave a thick ribbon-like trail when the beaters are lifted

Sift the cocoa powder, cinnamon and espresso (if using) over the mix and gently fold in

Fold in a large spoonful of the egg whites into the mixture to loosen the batter, then fold in the remaining egg whites using a large metal spoon

Gently pour into the baking tin and spread to the corners of the pan

Bake for 5 minutes at 200C/ 400F/ GM6 then reduce the heat to 180C/ 350F/ GM4 and cook for a further 12-15 minutes until firm and springy. Remove from oven and let cool in the tin for 5 minutes

Lay a large piece of baking parchment onto the worktop. Sieve 1 tablespoon icing sugar over the parchment. Carefully turn the cake out onto the parchment (I quickly flip the tin over). Remove the parchment from the cake (taking care not to damage the cake). Cover with a clean tea towel and leave to cool completely
Assembling the cake
Remove the tea towel. Turn the cake so the short edge is facing you and about 1.5cm/ ½ inch in cut a line about half the cake's depth right the way along this short side – DO NOT CUT RIGHT THROUGH THE CAKE

Drizzle the Cherry & Kirsch Syrup over the cake – either brush on with a pastry brush or drizzle it on using a dessert spoon.

Spread the cherry jam over the cake

Whip the cream until it holds it shape firmly but is not stiff. Set aside enough to pipe 5 rosettes on top of the cake (approx ¼) and spread the rest over the cake

Set aside 5 cherry halves and scatter the rest of the cherries over the cake

Using the parchment to help you, carefully roll the cake up as tightly as you can – the initial cut will help get things going. When finished, ensure the seam is to the side or underneath

Trim the ends of the cake if desired and pipe 5 rosettes of cream on top. Put a cherry half into the centre of each rosette and garnish with a little grated chocolate

Just before serving sieve the remaining icing sugar over the cake

Keeps in an airtight container for up to 48 hours in the fridge. Bring out 1 hour before serving to take the chill off the sponge
Notes
All pure, dark cocoa powders should be gluten-free. If unsure check the package label
(Visited 2,738 times, 27 visits today)