Rustic Fig Prosciutto Gorgonzola Crostini are quick and simple to prepare and taste superb. The classic combination of flavours is a winner and these treats make a great appetiser or party nibble.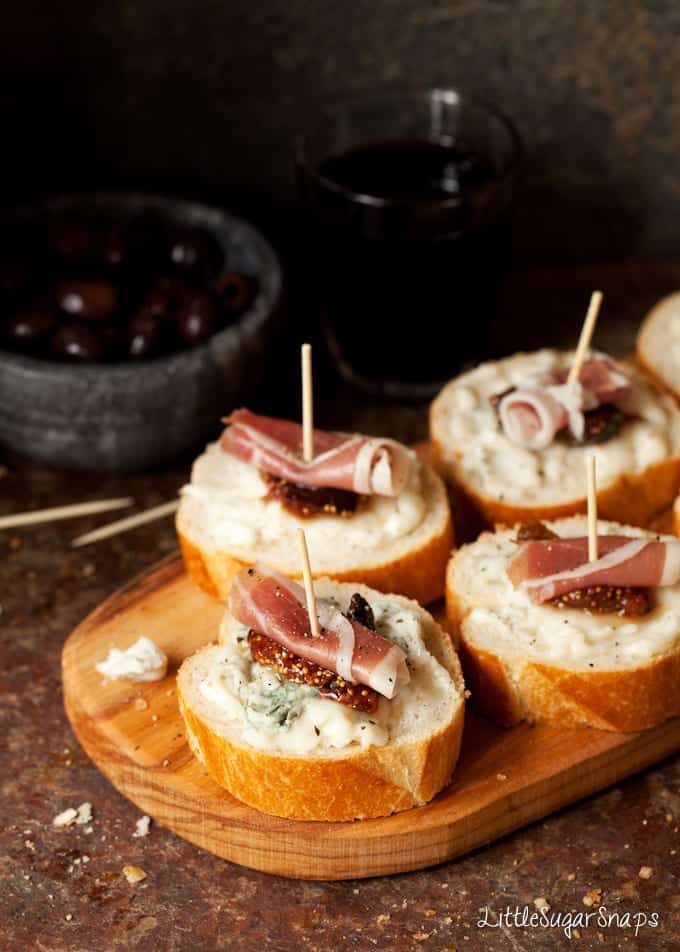 Italians definitely have snacking down to a fine art. Before I headed off to Venice for my summer holiday I noted down countless places to pick up a light bite ranging from the savoury wonder that is deep-fried arancini, to some sinfully sugary sweet batter balls be-jewelled with candied fruit.
Two things were clear from my holiday planning:
We were not going to go hungry
It may not be physically possible for us to eat all of the food I'd been drooling over in my guidebook
I was right on both counts. But one thing I'm so pleased we did manage to squeeze in were some crostini served in a small back street bar.
This bar was simple and homely. Along with a few local wines and quality spritz, the only food on offer was crostini – all laid out behind the counter for customers to pick-and-mix from. The selection was varied, and interesting but it was all simply presented. Some might say rustic. You could say it was nothing fancy, but that would be wrong because each crostini we tried tasted so good.
I've always thought that crostini should be served on toasted bread, but it seems I'm wrong on that count. The ones we devoured in Venice were served on untoasted bread. Despite the bar being small, it was busy, so the trays of crostini did not hang around for long – I suppose that's why the chef doesn't bother to toast them.
After stuffing our faces we wandered a few doors down and got drawn into a wine shop-cum-bar also serving crostini. Exactly the same format and not a toasted slice in slight.
Crostini is thought to originate from medieval times when it was typical for Italian peasants to eat their meals on slices of bread instead of using crockery. I thought I should capitalise on this crostini induced laziness, so I've skipping the toasting ritual. After all, if the peasants could bunk off the pot washing, surely I can skive the toasting. And it's clearly the modern Venetian way.
So today I'm giving you my quick and simple recipe for Fig Prosciutto Gorgonzola Crostini.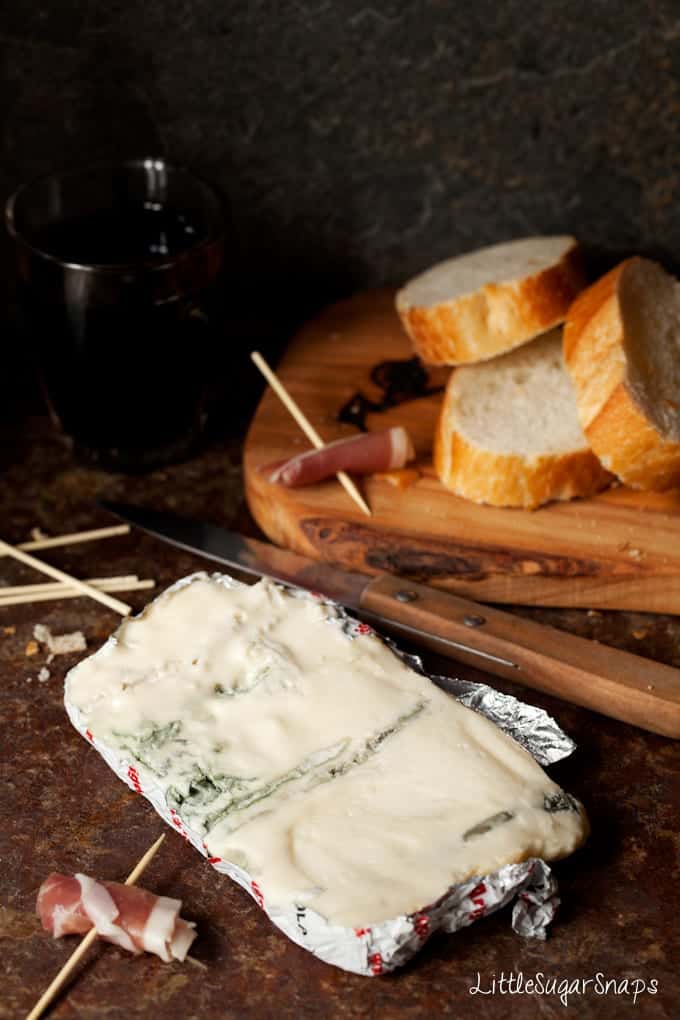 I do not toast the bread (I'm so far out). Instead I've used crusty baguette bread that serves up plenty of bite anyway. But I do take 3 minutes to make a speedy honeyed fig jam and that creates 1 pan to wash-up. (If making fig jam sounds too far removed from medieval times I have another option up my sleeve for you.)
The sweet figs, salty ham and slightly sour blue cheese play together as if they have been best friends forever. Maybe they have.
Whether you make the jam or not, a plateful of these Fig Prosciutto Gorgonzola Crostini can be ready in 15 minutes or less – washing up included.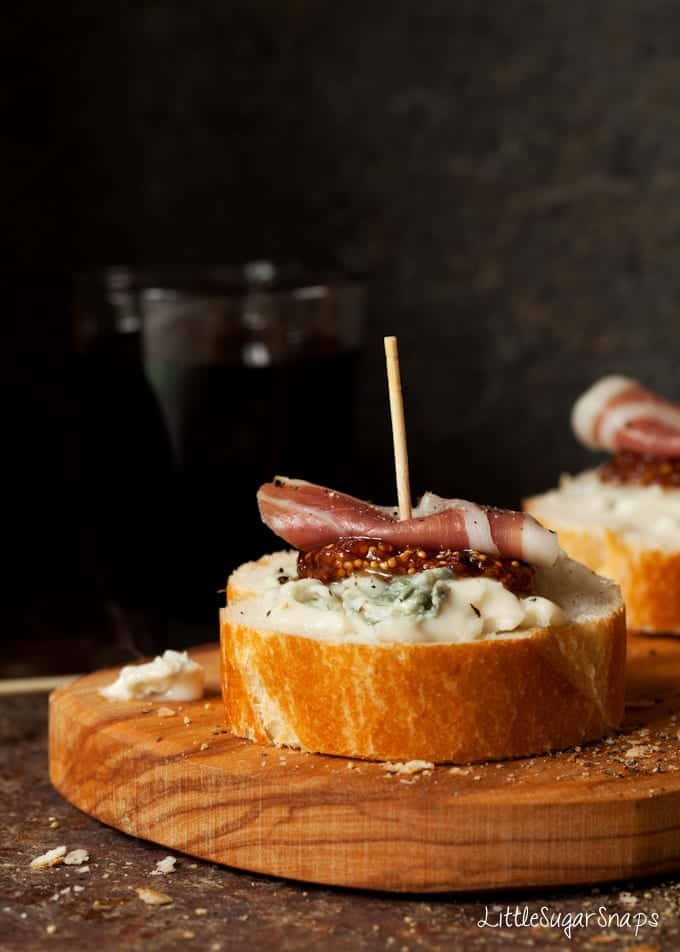 To finish up, last week, when I introduced you to the Venetian Aperol Spritz, I promised you another Venice photo from my family archives. Here it is. This time it's the view from the Rialto Bridge just before sunset (aka: Spritz o'clock).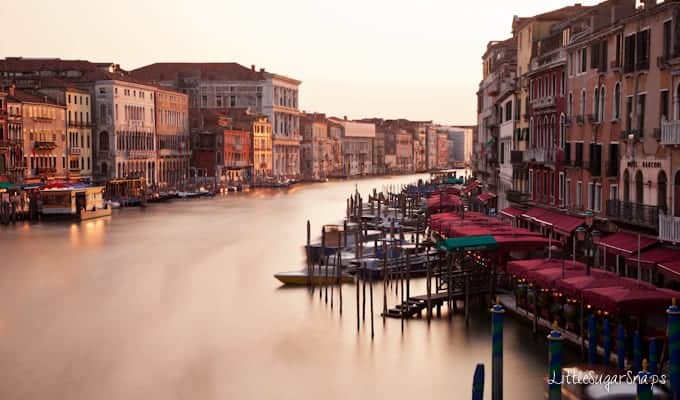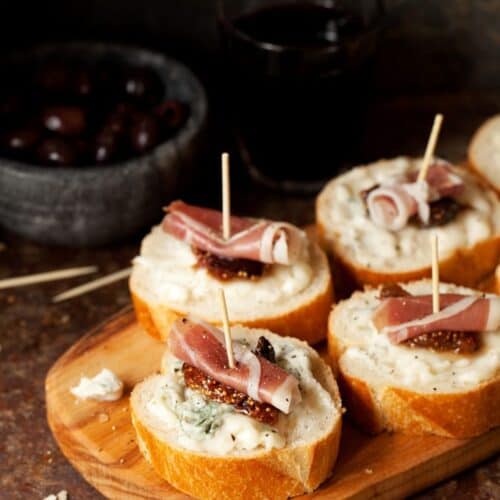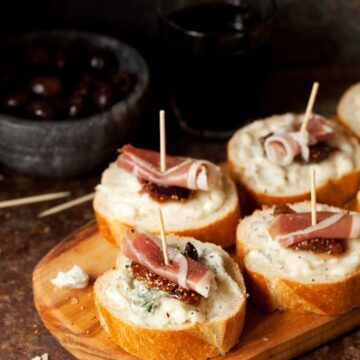 Fig Prosciutto Gorgonzola Crostini
Rustic Fig Prosciutto Gorgonzola Crostini are quick and simple to prepare and taste superb. The classic combination of flavours is a winner and these treats make a great appetiser or party nibble.
Print
Pin
Rate
Ingredients
For the quick fig jam (see notes)
2

Ripe figs

2

tablespoon

Honey

2

tablespoon

Water
For the crostini
16

Freshly cut slices white baguette bread

8

Thin slices Prosciutto ham

200

g/ 7 oz

Gorgonzola cheese

16

Cocktail picks
Instructions
Make the fig jam (see notes)
Slices each fig into 8 wedges and then cut each wedge in half

Put the honey and water into a small saucepan, add the fig and heat until the mixture begins to boil

Allow to boil, stirring frequently until the liquid has mostly evapourated and you are left with a thick jammy consistency. This should take around 3 minutes

Transfer to a small bowl and let cool while you prepare the crostini
Assemble the crostini
Cut each slice of ham down the middle (lengthways), roll up each length and thread onto a cocktail pick

Divide the gorgonzola between the bread slices and spread with a blunt knife

Top with a roll of ham, pushing the cocktail pick through the centre of the crostini

Grind a little black pepper onto the top of the crostini

Serve immediately
Notes
1. If you don't want to make the jam chop each fig into 8 slices and lay a slice on top of the gorgonzola, then drizzle with a small amount of honey. Top with the prosciutto roll and serve immediately.
(Visited 1,229 times, 1 visits today)