This roasted chickpea salad is a flavour-packed blend of herbs and spices, chickpeas, smoky chorizo, tangy tomatoes, soft spinach leaves & zesty lemon dressing. It's easy & delicious.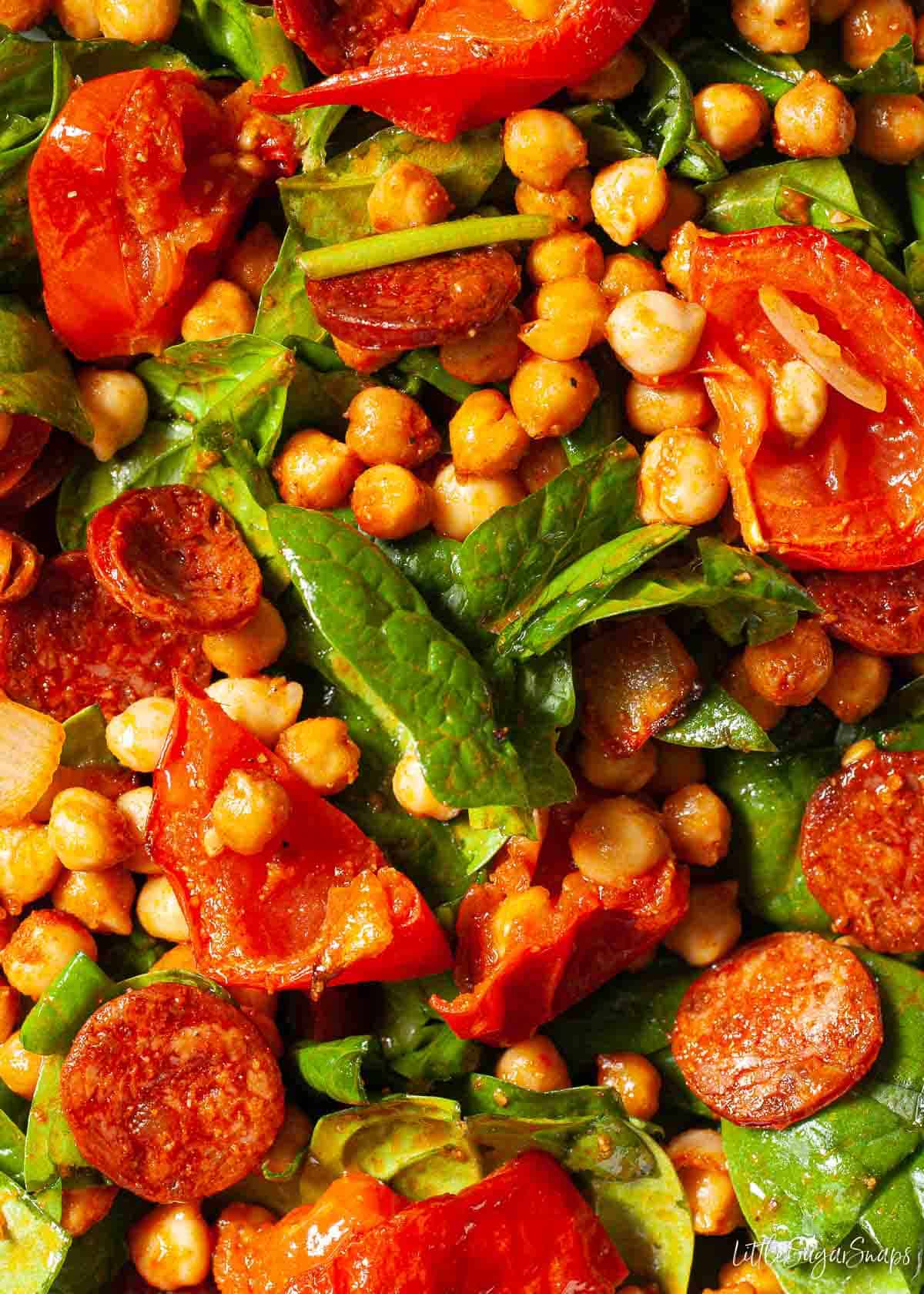 Not all salads are equal. This paprika spiced roasted chickpea salad is certainly a step away from a typical salad.
In this salad I've combined sweet & mild paprika with the earthy, nutty tones of cumin and used these spices to give the chickpeas a bit of a flavour boost. There's also smoky chorizo, tangy tomatoes and the lovely, zesty lemon dressing that caresses those spinach leaves and brings all the flavours together in style.
If you've never tried roasting chickpeas before, prepare to be delighted. They turn into crisp golden balls that compliment soft spinach wonderfully. And if you're already wise to this kitchen trick, you'll love my roasted chickpea sandwich.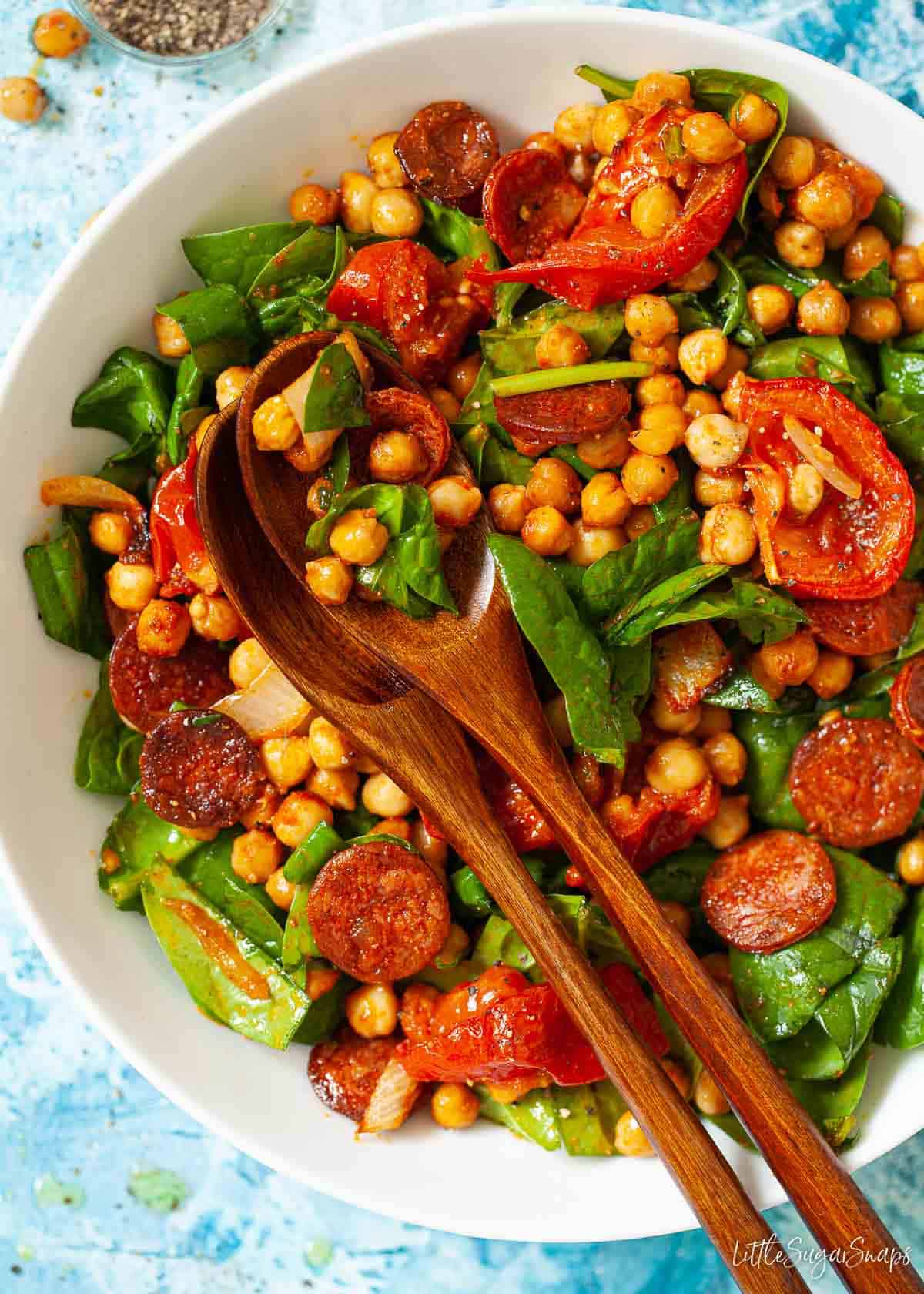 Why this roasted chickpea salad is worth making
Although there is cooking time involved in making this salad, hands-on time is minimal. For 10 minutes of your time expect:
Plenty of flavour from the blend of ingredients used
Contrasting texture – there's crunch from the legumes and chewiness from the chorizo
This salad is hearty enough for 2 to eat as a stand-alone dish or for 4 people to enjoy as a side serving. And since it's loaded with fibre and protein from the chickpeas your stomach should be satisfied until suppertime.
Why chickpeas are good for you
Whenever I post about salad I like to include a bit of nutritional information to tempt you onto my bandwagon. Today is no exception. It's time to give chickpeas their dues:
They are rich in soluble dietary fibre, which helps clear cholesterol out of the body, and stabilise blood sugar levels
They are also high in insoluble fibre, which helps to prevent digestive disorders
Eating chickpeas regularly can help lower cholesterol
They contain iron, phosphate, calcium, magnesium, manganese, zinc and vitamin K. All of these contribute to healthy bone structure and strength
And with a high iron content, these legumes can help boost energy levels
All in all, that seems like plenty of reasons to sink your teeth into this roasted chickpea salad.
Ingredients
This recipe uses tinned chickpeas. In other words, they are pre-cooked. Once out of the tin they need to be drained and rinsed briefly before using.
Use mild and sweet paprika rather than the hot version, which would over-power the other flavours in this salad.
Although chorizo is loaded with juicy flavour, it is, undeniably, a rather fatty meat. If this concerns you try swapping it for pan-fried bacon, some cashew nuts or some drained olives.
Step by Step Instructions
Chop the tomato and slice the onion. Drain & rinse the chickpeas then tip them into into a medium-sized bowl and mix in the tomatoes, onion, cumin, paprika, some salt & pepper and the olive oil
Spread onto a lined baking sheet and roast for 30 minutes. Once cooked remove for the oven and set aside to cool for 10 minutes (don't mix them with the spinach straight away as it will wilt)
Cook the chorizo in a dry pan until lightly browned. Remove and drain on kitchen paper to remove the excess fat
Make the salad dressing by whisking all ingredients together in a bowl. Then pour over the roasted vegetables & chickpeas, spinach and chorizo. Toss everything together briefly, using your hands or wooden spoons. Serve immediately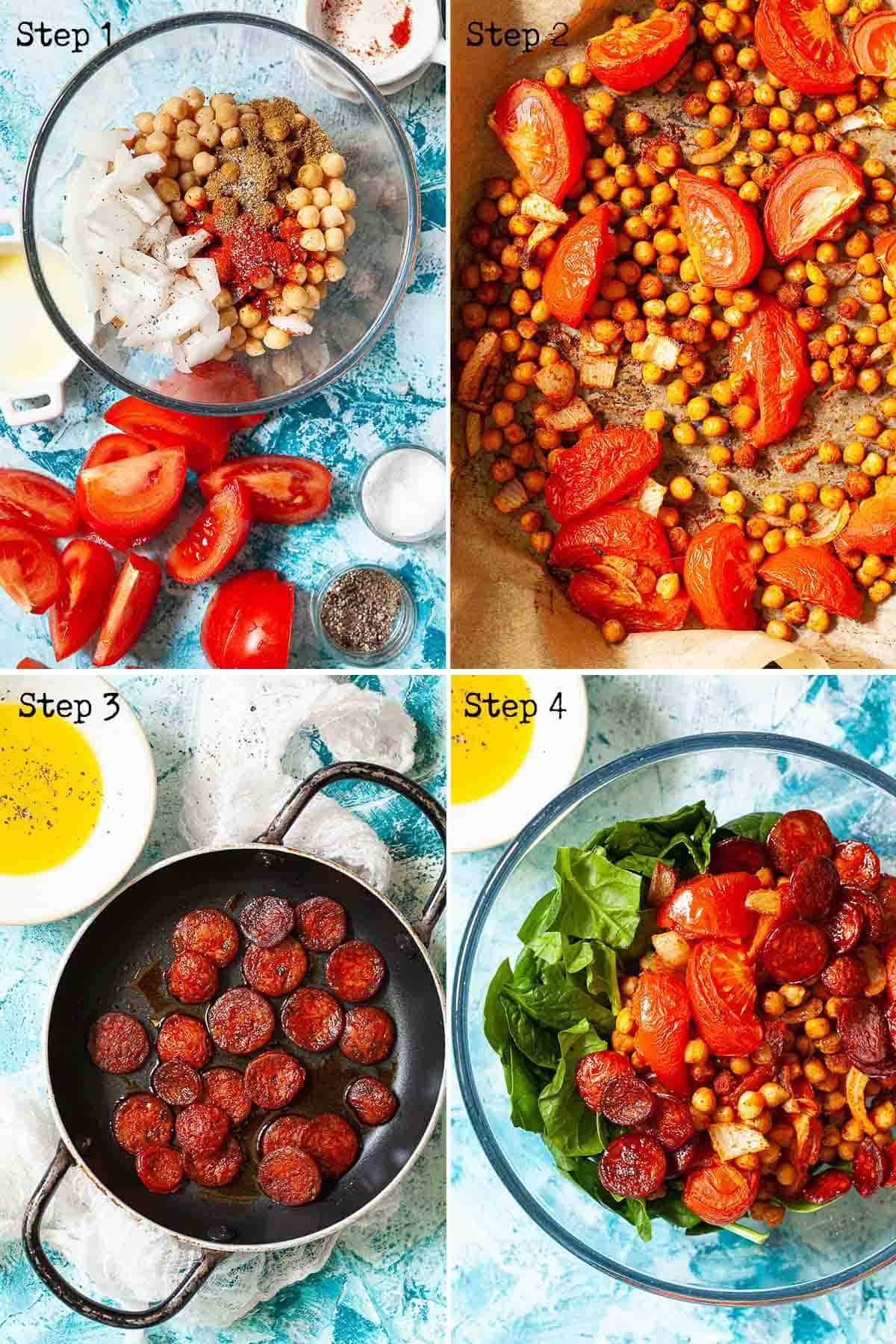 Expert Tips
Roast the chickpeas and vegetables for an additional 10-15 more minutes to turn them extra crunchy (just ensure the onion does not burn – remove from the oven if necessary)
To avoid the spinach wilting, remember to let the chickpeas, tomato and onion cool for around 10 minutes before adding them to it
Use your hands to toss the ingredients together with the salad dressing – this is the best way to keep the spinach leaves in prime condition
You can roast the chickpeas up to 24 hours in advance but they will loose their crispness over time (store at room temperature)
Make this roasted chickpea salad vegan by leaving out the chorizo and replacing either with a vegan-friendly chorizo substitute, vegan feta-style cheese or some artichokes marinated in oil
Make this meal more substantial by adding pitta bread or tortilla wraps
Or crush some tortilla chips over the top for an indulgent salty & crunchy hit of additional flavour
Frequently Asked Questions
Can I use dried chickpeas in this recipe?
Yes, you certainly can use dried chickpeas, however, it is essential to cook them before proceeding with this salad recipe. Follow the cooking instructions on your pack and ensure they thoroughly cooked before using.
Can I make this salad in advance?
If you want to make this salad in advance, it's best to prepare each element (the roasted chickpeas and vegetables, the chorizo and the salad dressing) and store them separately. Just toss them together at the point of serving.
How should I store the chickpeas?
If making them in advance or storing leftovers, the best way to store the roasted chickpeas is at room temperature. Just pop them in a bowl and cover loosely with foil or kitchen towel and use within 24 hours. They will soften a little but can always be re-crisped in the oven (try 5 minutes at 180C/ 350F/ Gm4)
Why have my leftovers have wilted ?
Salad leaves do have a tendency to wilt over time when mixed with dressing. There is nothing that can be done to stop this, so try to avoid leftovers by halving the recipe if necessary.

Note: once mixed with the dressing the chickpeas will also lose their crunch over time.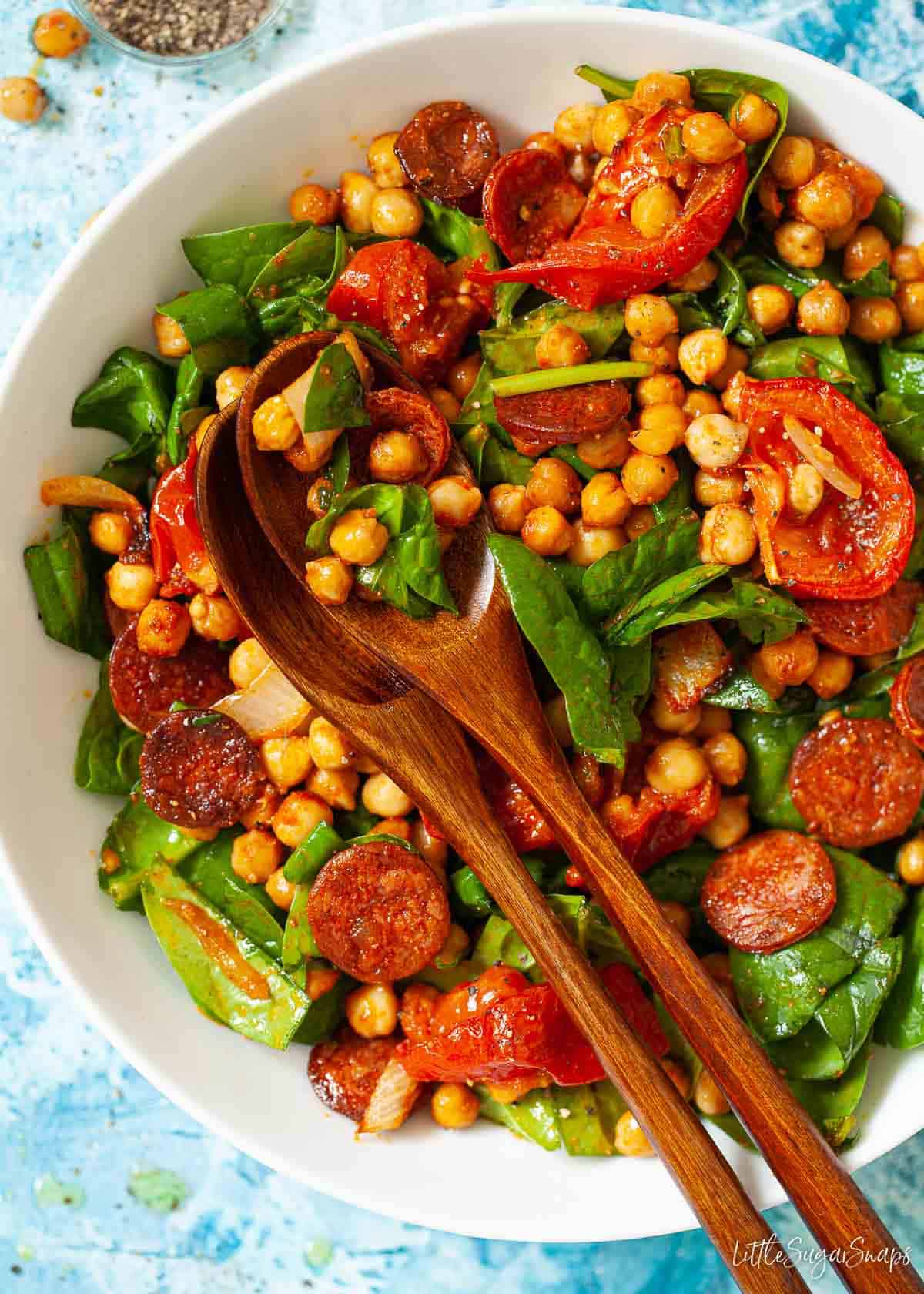 More salad recipes worth making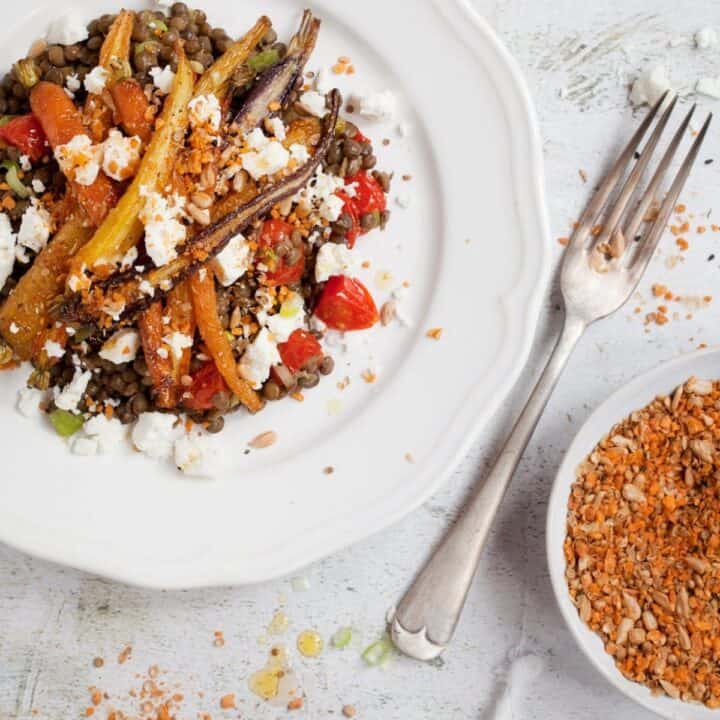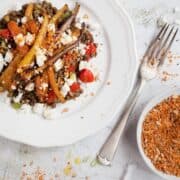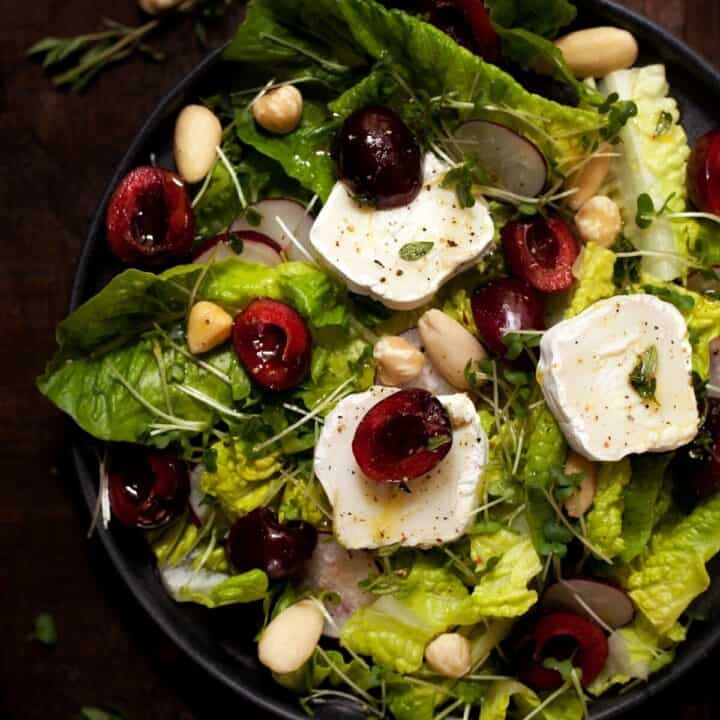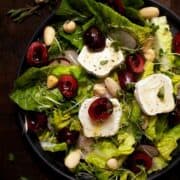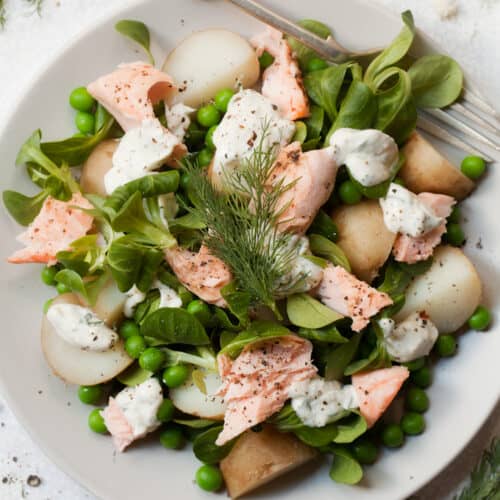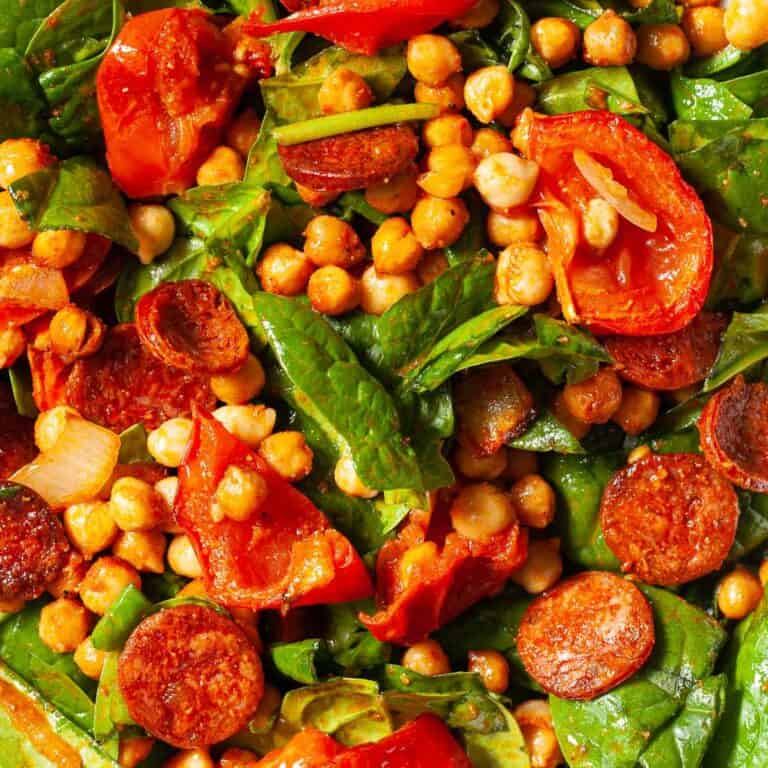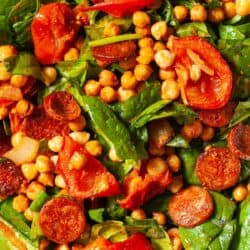 Roasted Chickpea Salad
Roasted Chickpea Salad: aromatic chickpeas, smoky chorizo, tangy tomatoes, soft fresh spinach & zesty lemon dressing. Easy & delicious.
Print
Pin
Rate
Ingredients
For the roasted chickpea salad:
400

g

Tinned chickpeas

¼

Onion

2

Tomatoes

1

tablespoon

Olive oil

¾

teaspoon

Ground cumin

¾

teaspoon

Smoked mild paprika

50

g

Spinach leaves

about 2 large handfuls

30

g

Chorizo

(mildly spiced) – sliced into rings approximately 2.5mm thick
For the dressing:
2

tablespoon

Olive oil

2

teaspoon

Lemon juice

Salt & pepper
Instructions
Preheat the oven to 180°C/ 350°F/ GM4 and line a baking sheet with baking parchment

Chop each tomato into 8 pieces and slice the onion into slim wedges

Drain & rinse the chickpeas. Pat dry with kitchen paper. Tip into a medium-sized bowl and add the tomatoes, onion, cumin, paprika, some salt & pepper and the olive oil. Mix thoroughly then spread onto the baking sheet and roast for 30 minutes (or 10-15 minutes longer if you want them crisper)

Once cooked remove for the oven and set aside to cool for 10 minutes – adding the chickpeas to the spinach straight away will cause the leaves to wilt

Cook the chorizo in a dry pan until lightly browned. Remove and drain on kitchen paper to remove the excess fat

To make the salad dressing, put all of the ingredients into a bowl and whisk vigorously until well combined. Alternatively, place ingredients into a small screw top jar, secure the lid and shake for 30 seconds until blended

Use your hands (or 2 wooden spoons) to toss the spinach, chorizo, roasted vegetables & chickpeas together with the salad dressing. Divide between 2 bowls and serve immediately
Notes
Roast the chickpeas and vegetables for an additional 10-15 more minutes to turn them extra crunchy (just ensure the onion does not burn – remove from the oven if necessary)
To avoid the spinach wilting, remember to let the chickpeas, tomato and onion cool for around 10 minutes before adding them to it
Use your hands to toss the ingredients together with the salad dressing – this is the best way to keep the spinach leaves in prime condition
You can roast the chickpeas up to 24 hours in advance but they will loose their crispness over time (store at room temperature)
Make this roasted chickpea salad vegan by leaving out the chorizo and replacing either with a vegan-friendly chorizo substitute, vegan feta-style cheese or some artichokes marinated in oil
Make this meal more substantial by adding pitta bread or tortilla wraps
Or crush some tortilla chips over the top for an indulgent salty & crunchy hit of additional flavour
Nutrition Per Serving (Approximate)
Calories:
378
kcal
|
Carbohydrates:
25
g
|
Protein:
11
g
|
Fat:
28
g
|
Saturated Fat:
5
g
|
Cholesterol:
9
mg
|
Sodium:
556
mg
|
Potassium:
667
mg
|
Fiber:
8
g
|
Sugar:
4
g
|
Vitamin A:
3821
IU
|
Vitamin C:
27
mg
|
Calcium:
93
mg
|
Iron:
4
mg
(Visited 612 times, 1 visits today)