This quick and easy Kale and Sprout Salad with Soft Boiled Egg makes a satisfying and healthy lunch. Ready in 15 minutes, this salad is packed with veggies and it is also gluten-free.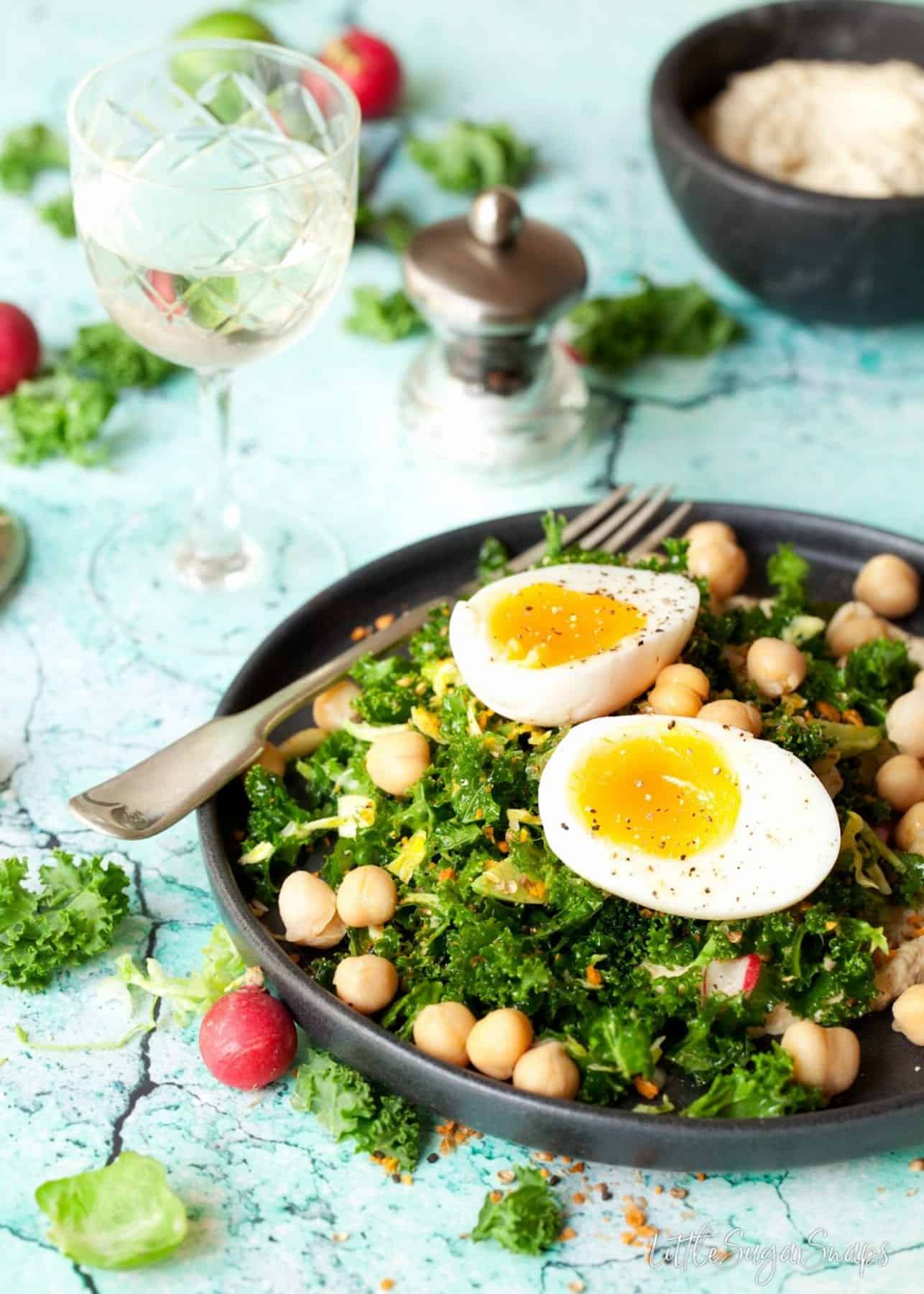 I used to enjoy eating kale around ten years ago. Then I suddenly went right off of it, labelling it in my mind as tough and hard to swallow. I don't quite recall how I fell out of love with kale. Perhaps I just had the bad luck of purchasing a couple of offensive packs on the trot.
Since I stopped eating kale, it seems to have grown impressively in popularity. Cookbooks and food blogs are loaded with salads, side dishes and mains based around kale. Not to mention an army of green smoothies laden with it too. That's just as well since this brassica is chock full of virtuous nutrients. But I've been watching this trend, from the sidelines, in wonder and amazement. Until recently…
This Raw Kale and Sprout Salad is the result of a sneaky trip I took to New York last November. Whilst there I re-developed a taste for kale because several of the meals I ordered on holiday were too tempting to pass up even though they featured kale. It turned out that raw or cooked, I still do enjoy plenty of these leaves to munch on.
Once home, I stocked up on a large bag of kale at the supermarket and set to work creating my very own kale recipe – there's always space for one more on the web.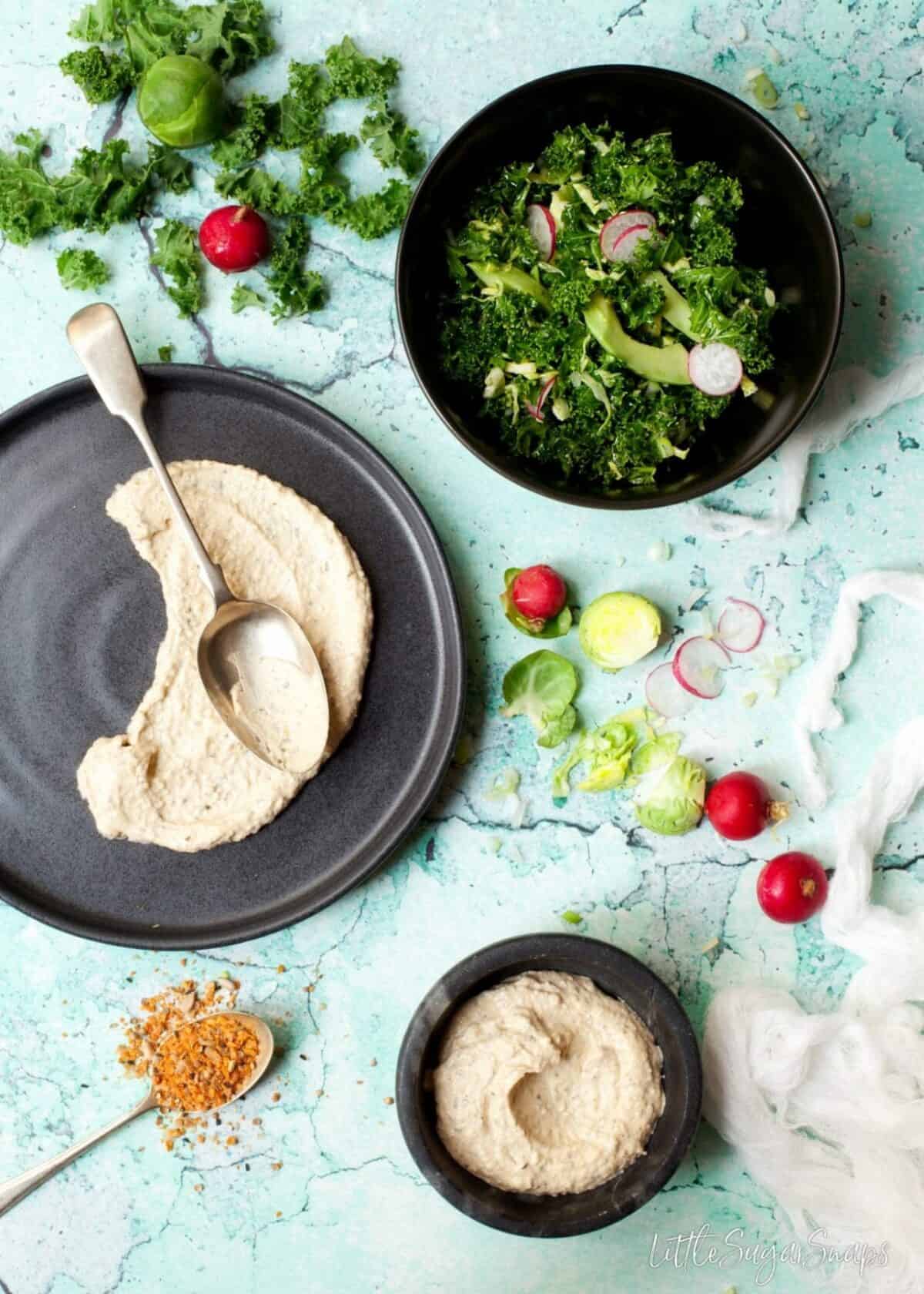 Here are a few things to know about this super healthy Kale and Sprout Salad:
the vegetables – kale, sprout, radish, spring onion and avocado – are all served raw
a generous slick of hummus adds an indulgent yet healthy creamy edge to the salad
dukkah gives crunchy bite and flavour
soft boiled egg adds protein and a little more luxurious creaminess
including a handful of chickpeas turns it into a more substantial lunch
As far as the hummus goes, use regular, lemon & mint or even beetroot. Either way, expect plenty of robust flavours and textures in this Kale & Sprout Salad. It is definitely a salad for the cooler months.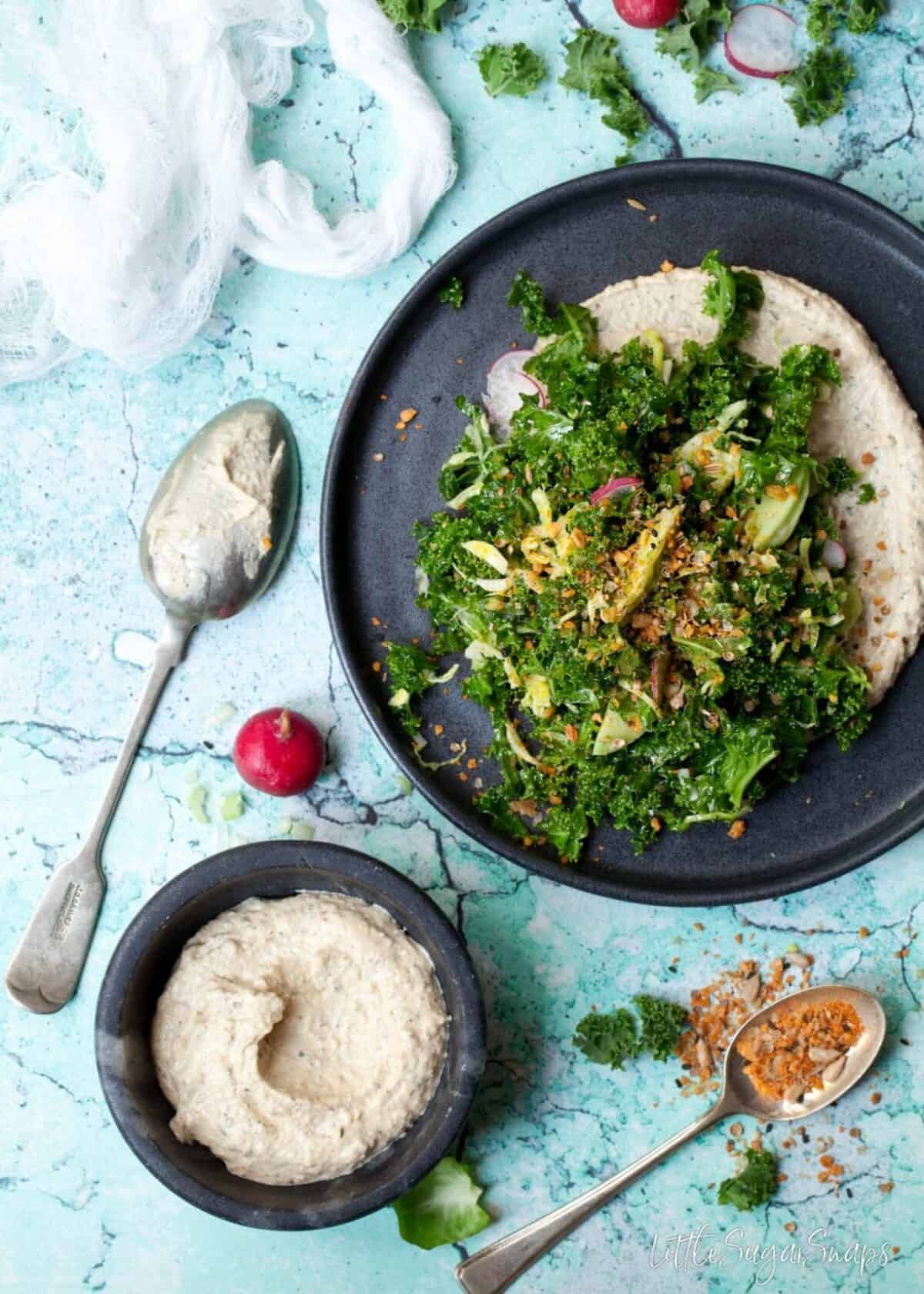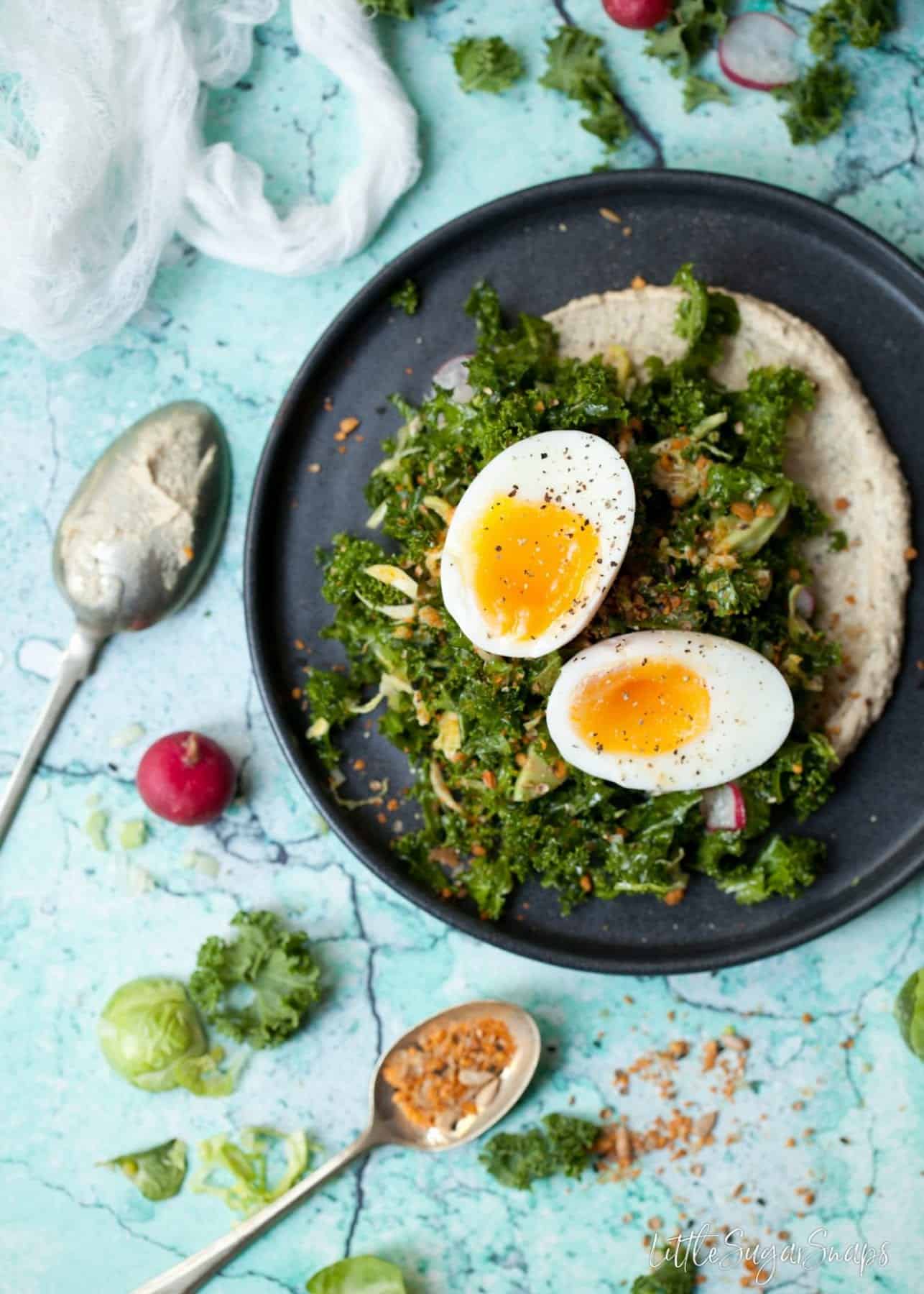 And here's a thing – the kale is massaged. That may sound fancy. Maybe even pretentious. But believe me when I tell you that massaged kale is the way to go for a salad. Gently rubbing the kale leaves between your fingers helps break down the tough fibres in the leaves. As a result, it will become more tender, shrink slightly and darken. Massaged kale is not tough or fibrous, but it is a delight to eat. I picked up that tip from my friend Christine from Mid Life Croissant, who I got the pleasure of meeting whilst in New York.
But like always in the kitchen, there are a few rules to abide by, even on the kale massaging front:
if your salad is going to sit in an acidic dressing for a while before serving, there is no need to massage – the acids will naturally soften the leaves
large leaves will need massaging longer than shredded pieces
be careful not to overwork the leaves – rubbery kale is just as hard to stomach as the fibrous stuff
baby kale is tender enough already – rubbing this variety is not necessary
For anybody feeling self-conscious about massaging a vegetable, relief is at hand. Just the briefest of finger work is required for this salad since the kale is chopped fairly finely.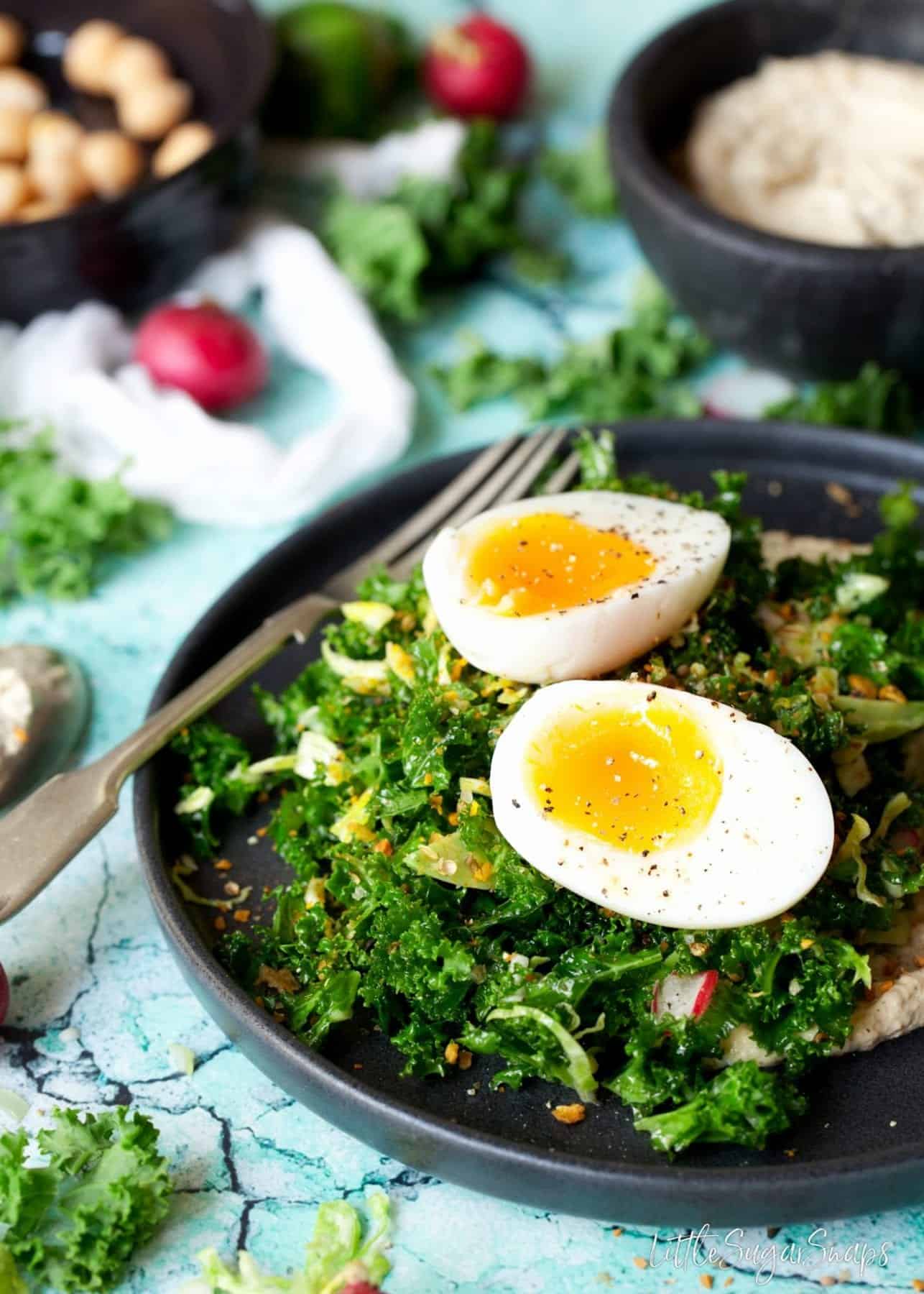 If you're after healthy lunch in a bowl perhaps try my salmon & rice bowls, my roasted chickpea salad or my egg Florentine pasta salad instead.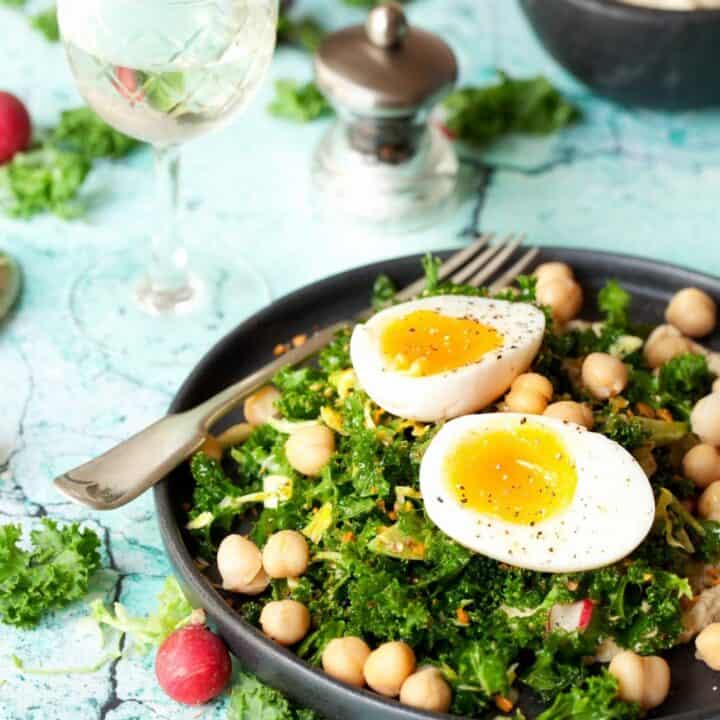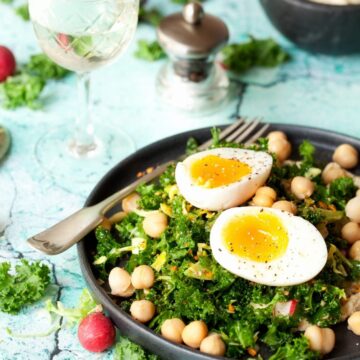 Kale & Sprout Salad with Soft Boiled Eggs
This quick and easy Kale and Sprout Salad with Soft Boiled Egg makes a satisfying and healthy lunch. Packed with veggies, this salad is also gluten-free.
Print
Pin
Rate
Ingredients
For the Salad
2

tablespoon

Hummus (plain or lemon & mint)

3

Handfuls kale

2

Brussel sprouts

2

Pink radish

1

Spring onion (salad/ scallion onion)

2

Eggs – large, free range

2

teaspoon

Dukkah

1

Avocado

4

tablespoon

Chickpeas from a tin – drained & rinsed (optional)
For the Dressing
2

tablespoon

Olive oil

1 ½

teaspoon

Lemon juice

Salt & Pepper
Instructions
Prepare the Kale
Strip any thick, fibrous ribs from the kale and disgard

Slice the remaining kale into thin strips and put into a medium sized bowl

Use your hands to massage the kale leaves for one minute. As you do this, the fibrous nature of the kale breaks down – the leaves will darken, shrink in size and become silky in texture
Make the Salad
Put the eggs into a small pan and cover with cold water. Set a timer for 10 minutes. Bring the eggs to the boil over a high temperature and continue to cook until the ten minutes is up. Immediately drain the hot water from the pan and allow a strong stream of cold water to run over the eggs in the pan for 20 seconds. Let the eggs sit in the cold water for 1 minute, then peel and slice in half. They should be perfectly cooked with a soft yolk

While the eggs are cooking prepare the rest of the salad

Remove the outer leaves from the sprouts, then thinly slice them

Top and tail the radish and slice thinly

Remove the outer layer from the spring onion and again, slice thinly

Make the dressing by whisking the oil and lemon juice together with a little seasoning. Taste and add more lemon juice if desired

Add the chopped sprouts, radish, and onion to the kale. Drizzle the dressing over and toss everything together

Remove the avocado from its skin and stone and slice into long, thin strips. Add to the salad and toss briefly to coat in the dressing

Plate up the salad by spreading the hummus over the serving plates and piling the kale salad across the top of this. Sprinkle the dukkah over the salads and place the egg halves carefully on the top

Serve immediately, with a few tablespoons of chickpeas scattered around the salads if desired
Nutrition Per Serving (Approximate)
Calories:
473
kcal
|
Carbohydrates:
29
g
|
Protein:
16
g
|
Fat:
36
g
|
Saturated Fat:
6
g
|
Cholesterol:
164
mg
|
Sodium:
165
mg
|
Potassium:
1160
mg
|
Fiber:
11
g
|
Sugar:
3
g
|
Vitamin A:
9129
IU
|
Vitamin C:
132
mg
|
Calcium:
193
mg
|
Iron:
4
mg
(Visited 496 times, 1 visits today)