Quintessentially English, Vanilla Poached Fruit is the perfect light dessert on a hot summer's day. Make ahead and keep on standby. Serve as they are, with cream or splurge and use them to top meringues. And as an added bonus, there's a refreshing drink for the taking – made from the leftover syrup.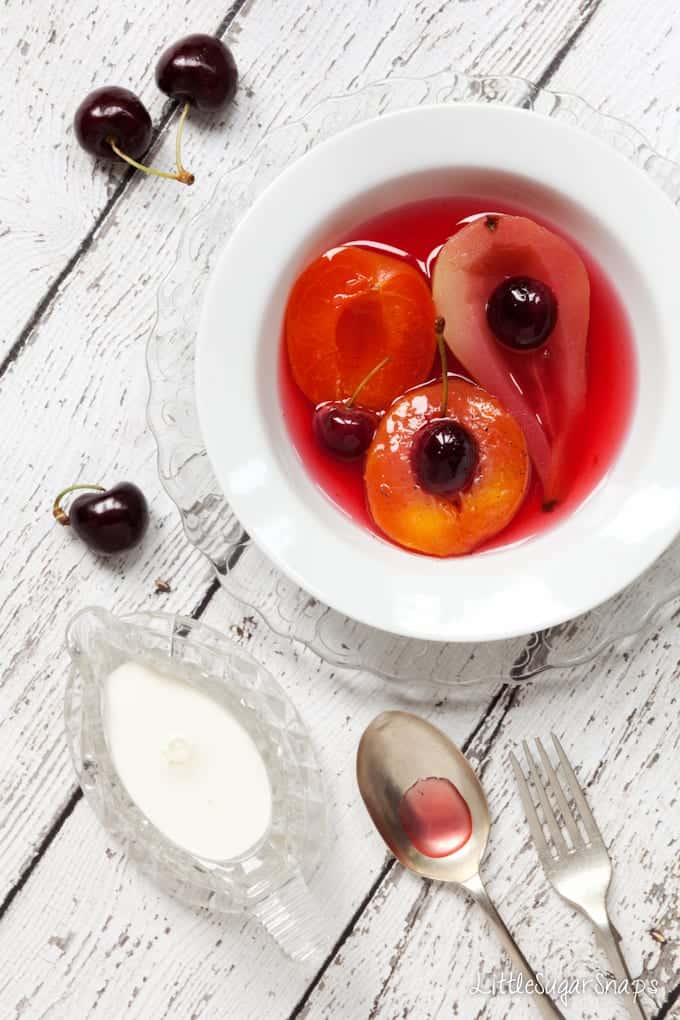 I really hate to start with a grumble, but where exactly is the British Summer? We've passed Mid-Summer's Day and, still, it continues to pour buckets. Seriously, I'm getting so hacked off with the lack of need for sun lotion that I'm considering putting a disclaimer in my About page to make sure you forgive me my moaning. All is not lost though, because I have a recipe for Vanilla Poached Fruit to talk about today. And I defy any weather-weary spirits not to be lifted when faced with a bowlful of vibrant summer fruits swimming merrily in sweet & mellow vanilla syrup.
Although Vanilla Poached Fruit can be made throughout the entire year, my favourite time to make it is in the summer-time. More specifically: summertime when it's cherry season.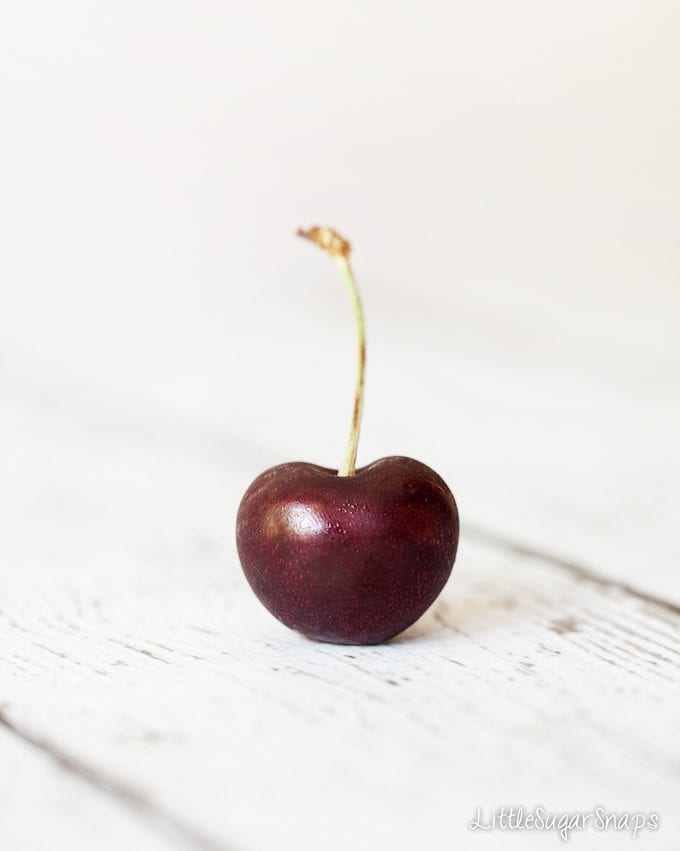 In my opinion, it's those fresh cherries that elevate this recipe from rather good to incredibly irresistible. Those dark, mysterious cherries gladly impart their sweet, blushing juices to the pan, adding a pinch of tartness to the syrup and a little blush. That flush of colour carries right on through to the pears, turning them a handsome shade of pale pink.
In truth, I'm in love with cherries and their deep, radiant blush.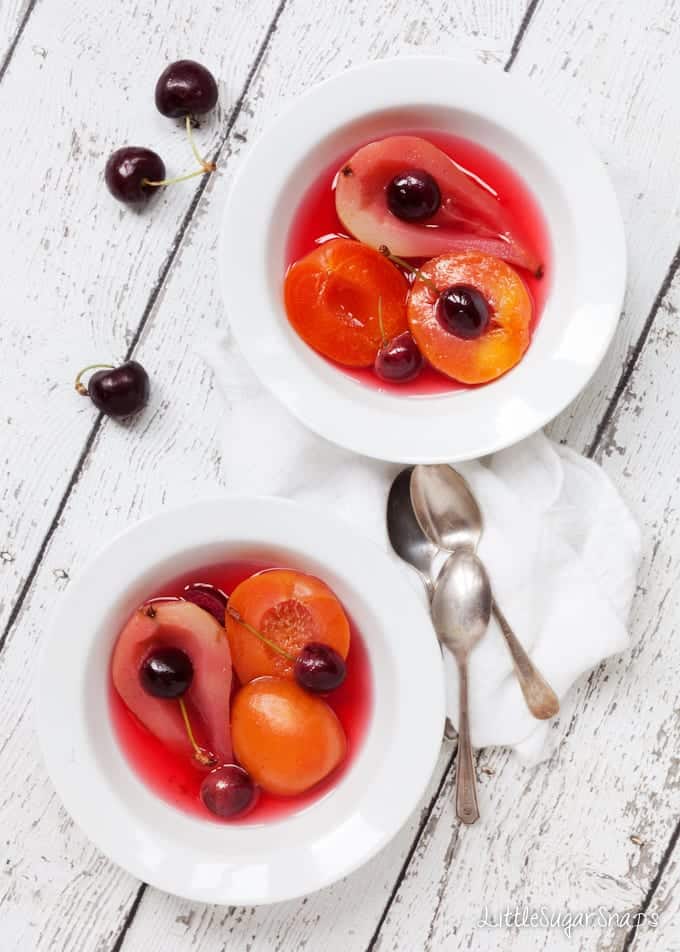 Vanilla Poached Fruit is extremely easy to make and incredibly versatile. When served just as it is, the heady vanilla syrup and intense stone fruit flavours are pure heaven on a hot summers day. With any luck, one such day will roll around very soon ….can you hear my fingers drumming….
If, however, you feel inclined to splurge, Vanilla Poached Fruit is also perfect when served:
with cream – be it single, double or, wait for it… clotted cream (sigh)
within an ice-cream sundae – I'm thinking layers of fruit, vanilla ice-cream, cream and chunks of vanilla sponge cake
with meringue – just imagine a gigantic Pavlova piled high with cream and these fruits then drizzled with that blushing vanilla syrup right before serving
sandwiched between layers of Victoria Sponge Cake. Lashings of whipped cream compulsory
crowning your weekend brunch of thick, fluffy American pancakes. or neatly folded into our British flatties
That should give you a few decadent ideas to ponder over. I think I'm leaning towards the giant Pavlova this weekend. How about you?
And as if Vanilla Poached Fruit weren't joy enough, there's a bonus too. You'll most likely end up with a little syrup left over. This syrup is the perfect base for making a long, cooling summer drink to sip on. Pour some over ice, add a few fresh cherries and top with water, soda water or lemonade. Dare I suggest slipping in a shot of vodka or gin? Whatever your choice, find yourself a comfy garden chair, sit back and soak up that summer sunshine.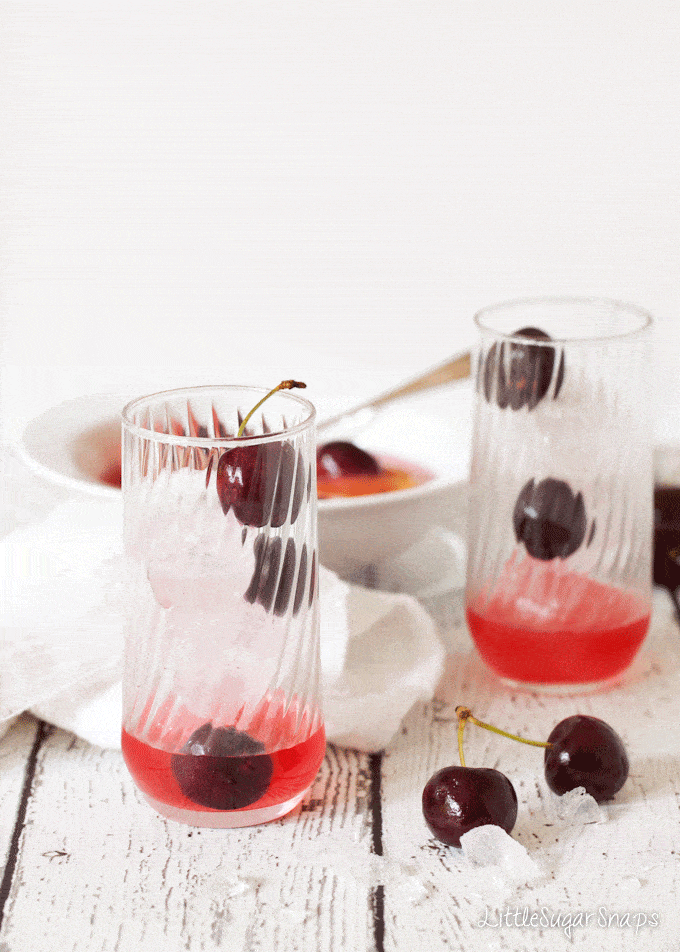 I said that this Vanilla Poached Fruit can be made at any time of the year. Pears can generally be relied upon for most of the year round but try replacing the apricots and peaches with the following combinations:
Autumn – grapes and pineapple
Winter – kiwi fruit and clementines
Spring – blood oranges and rhubarb
To add a splash of colour, drop in a few Maraschino cherries. You won't get a blushing syrup, but those cheeky cherries add a welcome burst of colour.
But for now, back to summer, hot sunny days, simple no-bake desserts and ice-cold drinks.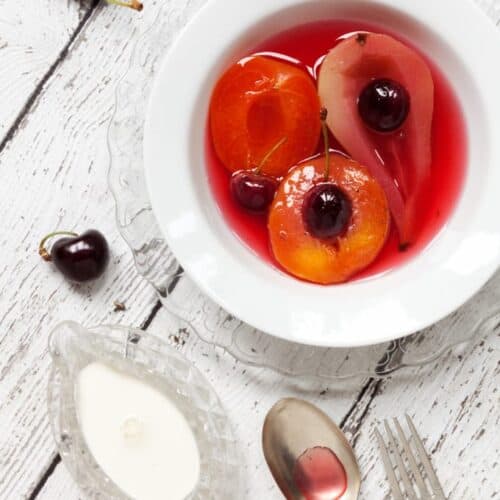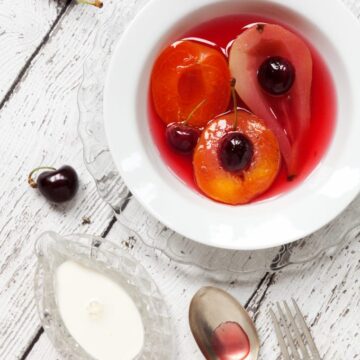 Vanilla Poached Fruit
If the stones from the peaches, apricots and cherries are difficult to remove when the fruit is raw, just leave in and cook – the stones will most likely fall away during the cooking process. Just be careful to remove the stones from the cooking liquid prior to serving
Print
Pin
Rate
Ingredients
2

Ripe pears

2

Ripe peaches

2

Ripe apricots

8

Cherries

500

ml

Water

6

teaspoon

White sugar

1

Vanilla pod

2

Strips lemon zest

Squeeze lemon juice
Instructions
Put the water, sugar, lemon peel and lemon juice into a medium saucepan

Split the vanilla pod horizontally and add to the pan. Place over a moderate heat to dissolve the sugar and heat until just simmering

Peel the pears, cut in half and carefully remove the cores. Add to the pan and let cook for 10 minutes

Cut the peaches and apricots in half and remove the stone if it will come away from the flesh easily. Add to the pan and cook for 5 minutes

Halve the cherries (leaving the stems intact), add to the pan and cook for 2 minutes

Take the pan off the heat and leave to cool completely

Remove any stones from the cooking liquid if necessary. Remove the vanilla pod, scraping any seeds back into the pan. If desired, remove the skins from the peaches and apricots – they will just slip off

Chill until required – remove from the refrigerator 30 minutes prior to serving.

Keeps, refrigerated, for up to 5 days
(Visited 827 times, 1 visits today)