Ready to trot into the oven in just 10 minutes these Blood Orange Drizzle Muffins with Chocolate Chips are an easy, sweet and seasonal breakfast win to enjoy.
I've been having a mini kitchen crisis over the last few weeks. The UK has supply issues. Unsurprisingly, given our climate, a large proportion of our modern-day fresh fruit and vegetables are imported during the cooler months. And our supermarket shelves have been suffering as a result of recent flooding and snow in Spain – one of our key sources of supply. In particular, our courgette and spinach shelves are bare. I use alot of these vegetables in my everyday cooking, so I've been missing my little green friends. Alot.
To cheer myself up, I decided to get myself a fix of blood oranges, which are usually in abundance at this time of year. Usually I say…
I did eventually get myself a handful last week, but it took me some time to track them down. I've just been rummaging around online and discovered that although Spanish crops of citrus fruit are fine, there may just be a slight problem with producers being able to reach their harvest due to the unusually nasty weather they are having to endure.
Although it's a tad annoying to be restricted in my shopping habits, it is a timely reminder that I live in fortunate times. It won't be long before our supermarket shelves are flowing properly again. And in the meantime, I'll take the opportunity to stretch my brain cells a little further to temporarily replace my courgette and spinach fetish in the kitchen.
Putting supply issues aside, shall I get to the Orange Drizzle Muffins?
Normally muffins are lower in fat, eggs and sugar than cake. They are often loaded up with fruit and frequently come un-adorned on top apart from a delectable crunchy crust. They are seemingly relatively healthy.
Not mine.
Not. Even. Close.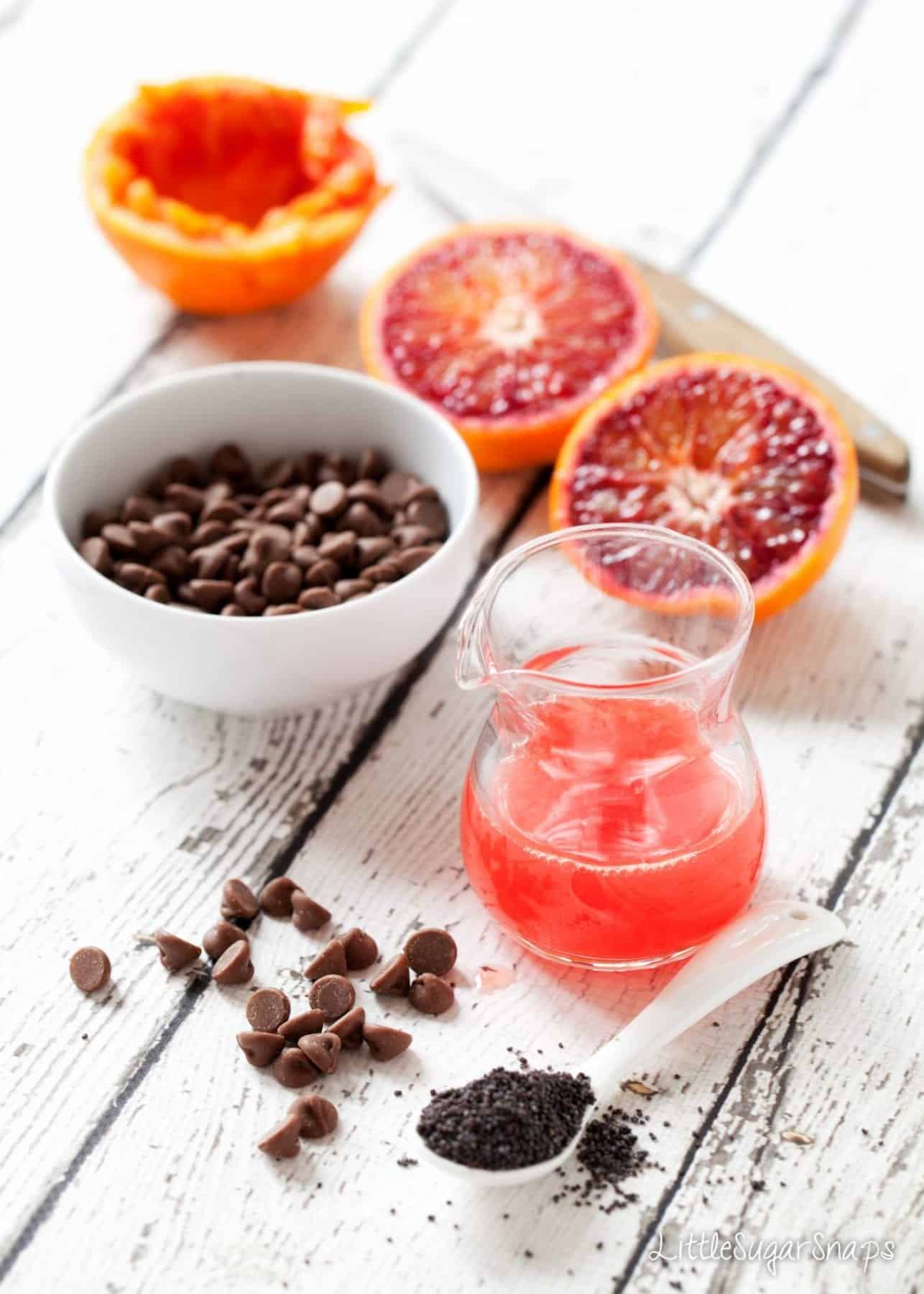 Forgive me, but I may have just ever so slightly ruined this seemingly healthier snacking option. You see, I wanted to make the most of blood orange season so I decided to splurge out. Yes, I put the blood oranges inside of the muffin, but then… and this is where it all goes wrong… I decided to top these almost innocent muffins with a gloriously citrusy blood orange drizzle.
Make no mistake: this drizzle is loaded with sugar. It is not remotely healthy.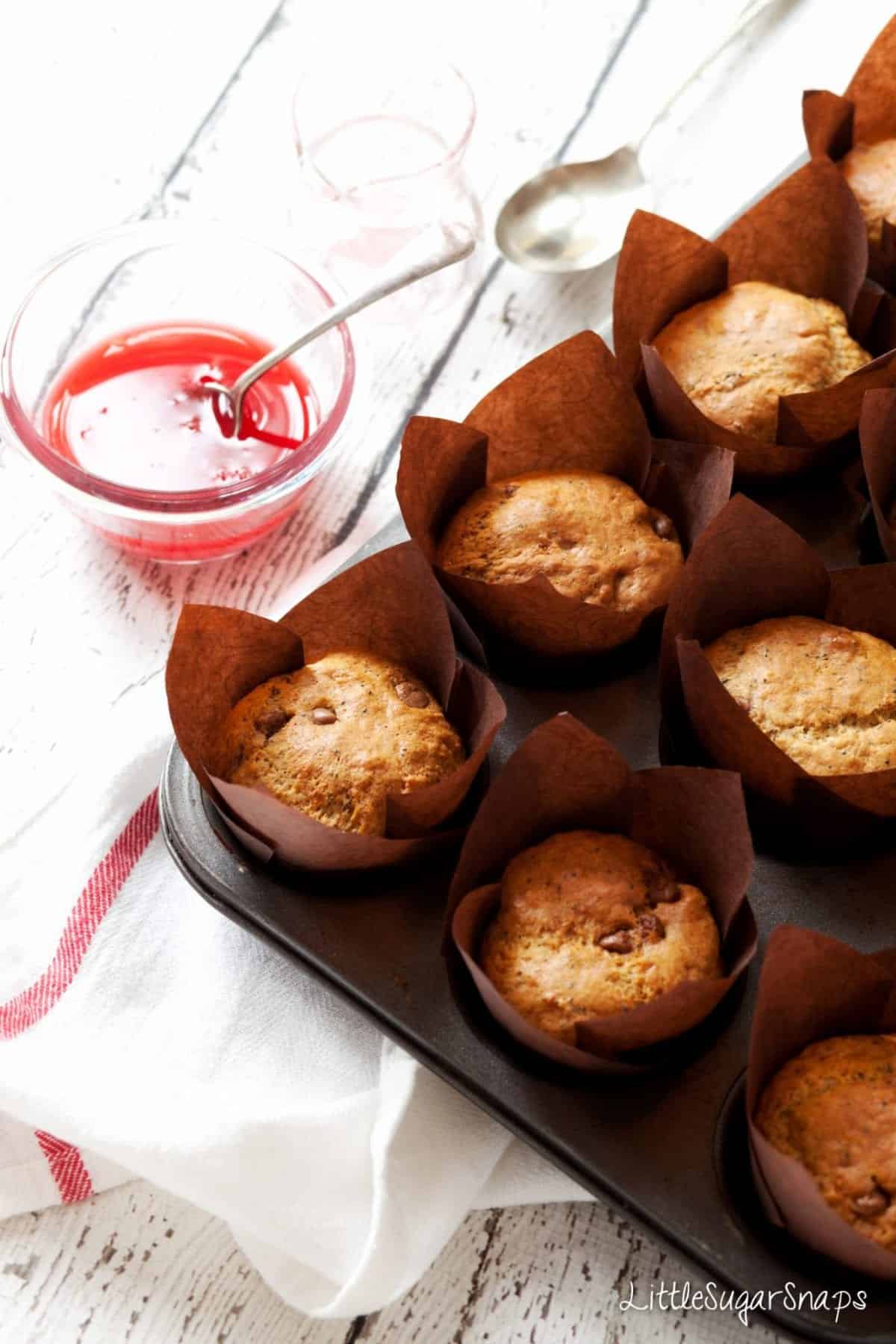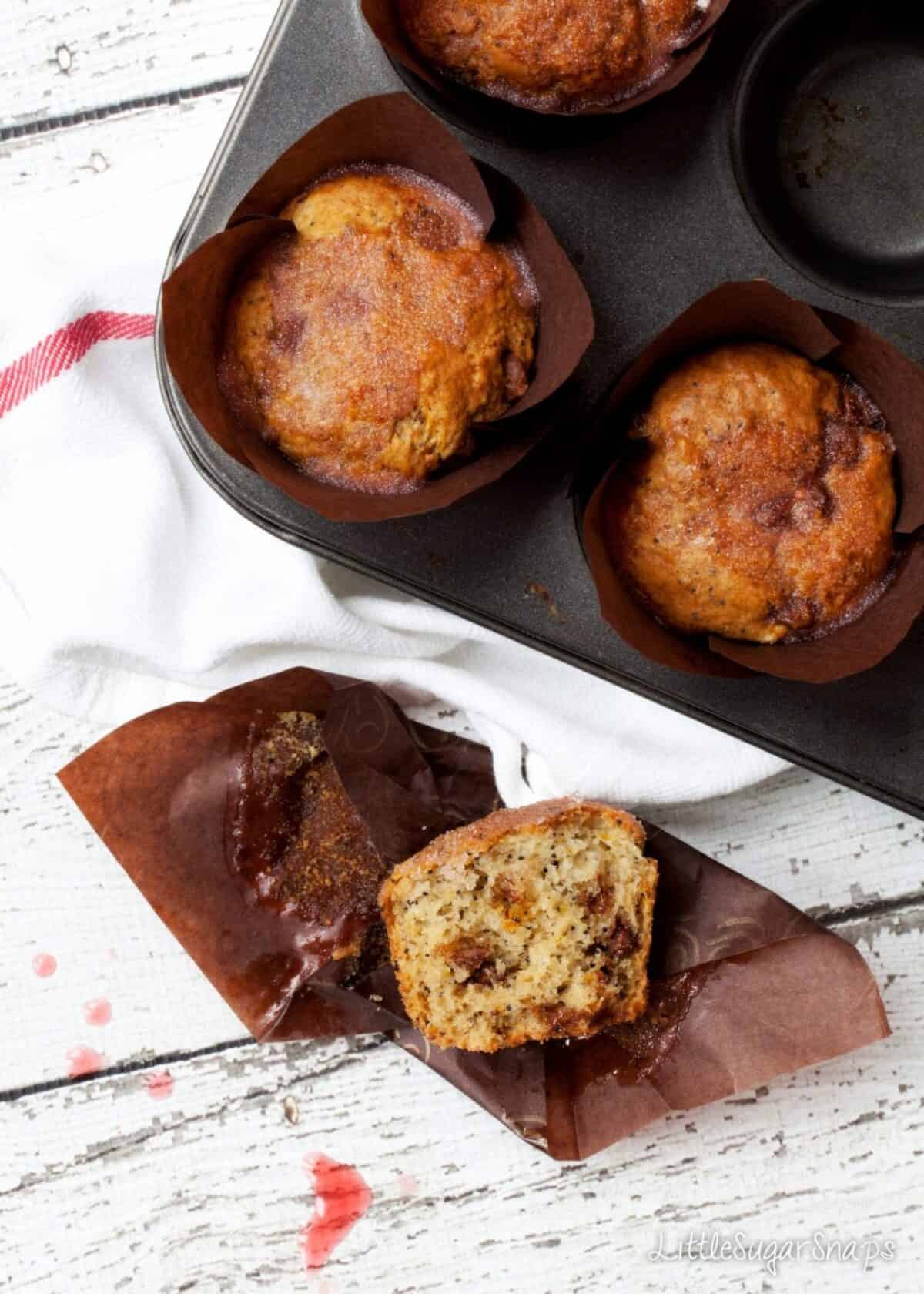 But it tastes so good.
These baked gems are bursts of spongy, bouncy, citrusy joy. Hidden inside of these Orange Drizzle Muffins are poppy seeds and chunks of chocolate along with a hint of sweet spice. Coupled with the crunchy, zesty orange drizzle, these little beauties are too good to pass over.
And I love the occasional fleck of red-orange flesh on top of the muffins. It makes my wintery heart sing with joy.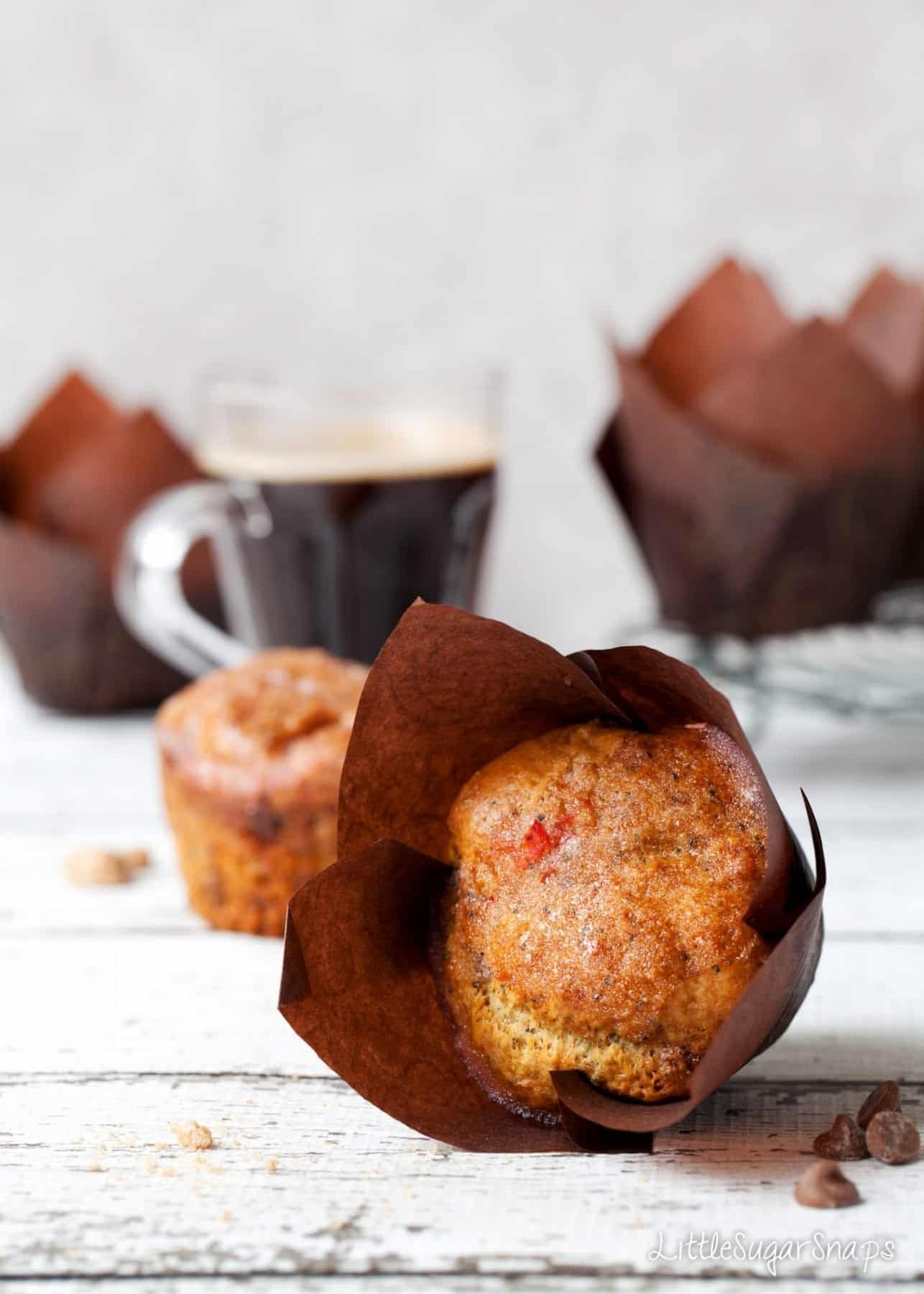 One of the beauties of these muffins is their simplicity to make. It's as simple as mixing the wet ingredients into the dry. They can be in the oven in ten minutes flat. And they can be in your mouth within a half hour.
No fancy techniques, knowledge, equipment or impatient waiting around is required.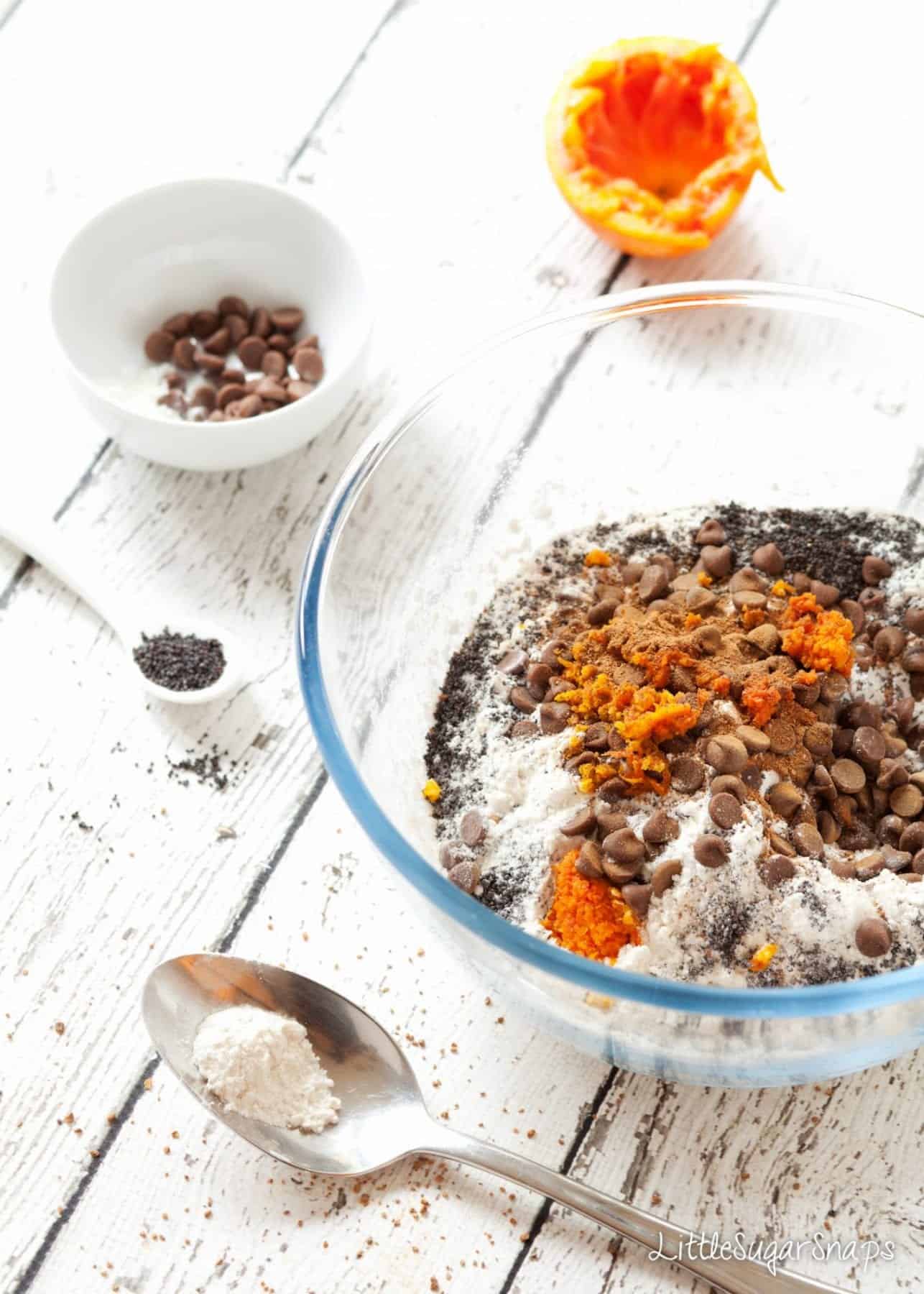 And of course, if you cannot lay your hands on blood oranges, these Orange Drizzle Muffins will turn out fine if you use normal oranges until normal service resumes.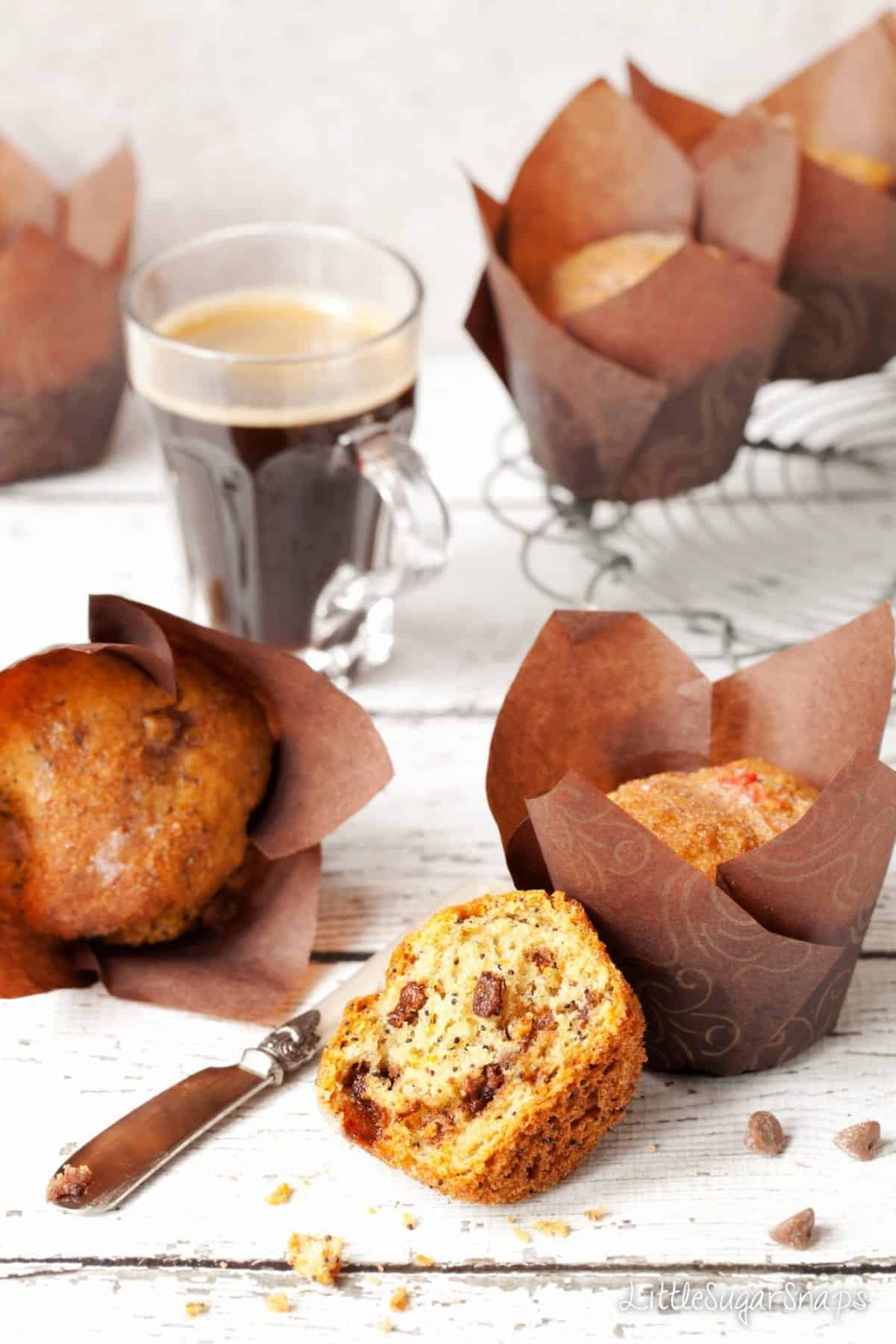 Fancy a harder-hitting blood orange recipe? Try my Blood Orange & Rosemary Martini.
And if you love drizzle toppings you'll be impressed by my Lemon and Poppy Seed Drizzle Cake with Thyme.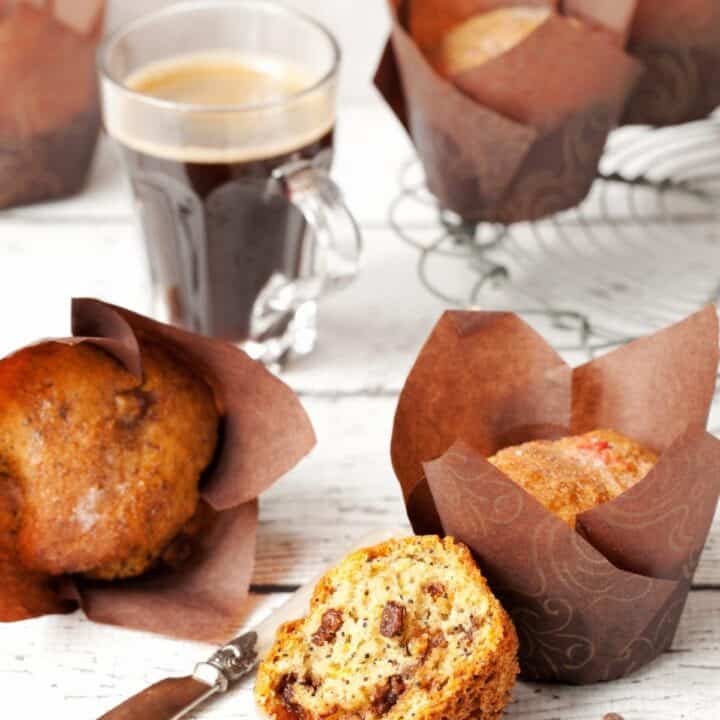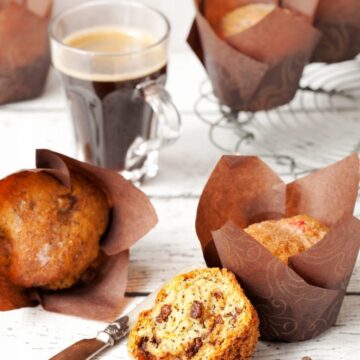 Blood Orange Drizzle Muffins with Chocolate Chips
Ready to trot into the oven in just 10 minutes these Blood Orange Drizzle Muffins with Chocolate Chips are an easy, sweet and seasonal breakfast win to enjoy. Best eaten the day they are baked.
Print
Pin
Rate
Ingredients
250

g/ 2 cups

Plain (all purpose) flour – or a 50:50 mix of plain and spelt flours

2

teaspoon

Baking powder

½

teaspoon

Bicarbonate of soda

75

g/ ⅓ cup

Caster sugar

¼

teaspoon

Nutmeg

½

teaspoon

Cinnamon

1

tablespoon

Poppyseeds

100

g/ ⅔ cup

Milk chocolate chips

1

Blood orange – zest and juice

100

ml

Whole milk – approximately

60

g/ ¼ cup / ½ stick

Butter – melted

1

Egg

1

teaspoon

Vanilla extract
For the blood orange drizzle
Juice 1 blood orange

100

g/ ½ cup

Granulated sugar
Instructions
Preheat the oven to 185C/370/ GM5 and line a muffin tray with 12 muffin cases

Weight the dry ingredients (flour, baking powder, bicarbonate of soda, sugar, spices, poppy seeds, chocolate chips and zest) into a medium mixing bowl

Pour the orange juice into a measuring jug and top up with sufficient milk to reach 150ml. Add the egg and vanilla extract and mix with a fork

Pour the liquid onto the dry ingredients along with the melted butter and stir until the batter is just combined (do not over-mix)

Divide the batter between the muffin cases and bake for approximately 20 minutes until well risen, golden and a skewer poked into the centre comes out clean

Mix the Orange juice and granulated sugar together and spoon over the muffins whist still warm

Once cool store in an airtight container and eat on the day they are made (see notes below)
Notes
These muffins are best eaten ON THE DAY THEY ARE MADE. If 12 is too much store in the freezer for up to 1 month (unglazed) – warm through in the oven and add the drizzle
(Visited 14 times, 1 visits today)