Frozen Gin & Tonic with Raspberries & Mint is a fun and refreshing twist on the classic G&T. It is fresh, fruity, bright, easy to make and incredibly thirst quenching.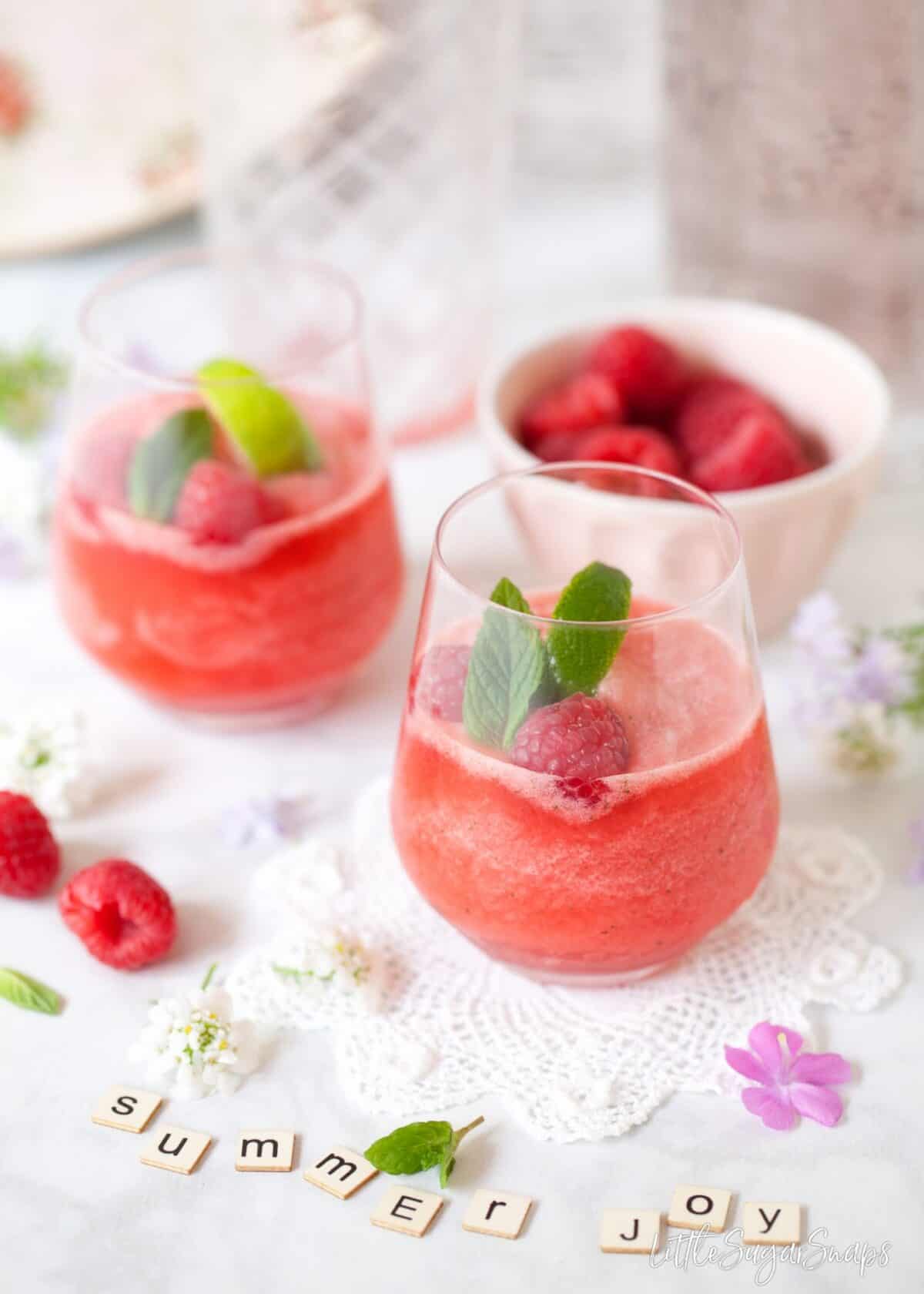 DISCLAIMER: I WAS SENT THE BERG INNOVATIONS 1500W BLENDER FEATURED IN THIS POST TO REVIEW. THIS POST CONTAINS AFFILIATE LINKS. I WAS NOT PAID TO WRITE THIS POST AND ALL OPINIONS ARE MY OWN
I'm so happy to share the recipe for this Frozen Gin & Tonic with you today. It's fresh, fruity, boozy and really rather fun. Just add a hot summer's day, a deckchair and a friend to share one or two with.
Before I tell you more about this icy gin libation, allow me to time-hop back to c1980 and Saturday mornings spent at the local leisure centre for swimming lessons. I recall not being too keen on my lessons, mainly due to not liking my instructor very much. But how I loved going upstairs to the cafeteria afterwards to wait it out while my older siblings completed their lessons. And by wait it out I mean chomp my way through a packet of Monster Munch (Pickled Onion. Every. Time.) and admire the slushies that were idly churning away behind the counter. I honestly can't remember if I was ever allowed one of these bright blue potions. But I can tell you that, much to my horror, my kids now are as enthralled by them as I ever was.
The good news today is that I've got an adult version of a slushie for you, in the form of this naturally colourful Frozen Gin & Tonic with raspberries and mint. And I'm also working up a tasty slushie recipe for my kids to enjoy this summer – it's not fair for the adults to have all the fun, right?
This Frozen Gin & Tonic is a fun and highly seasonal twist on the much-loved classic drink. The addition of fruit and mint adds a vibrant burst of colour and some seriously refreshing flavours.
You'll no doubt be pleased to hear that this drink is easy to make and takes just 5 minutes to pull together. But to make this drink at home, there are a handful of rules to follow. Observe my guidelines and you too can achieve top quality, perfectly blended frozen G&Ts.
How to Make A Frozen Gin & Tonic
The first trick is simple – all ingredients must be well chilled before blending. Pouring room temperature ingredients into the blender will dilute the ice too much. The result will be an inferior tasting drink that is thin and watery in texture. I suggest chilling everything well before you start.
Once the ingredients are well chilled, they can be loaded into your blender, ready for churning up. It is important to blend slowly to begin with and to use the pulse function. This allows the blades, as well as the motor to do the hard work of breaking down the ice initially. Once the ice is beginning to break up, the blender speed can be increased and run until the drink is smooth and slushy. Do, however, take care not to over process the drink and render it liquid.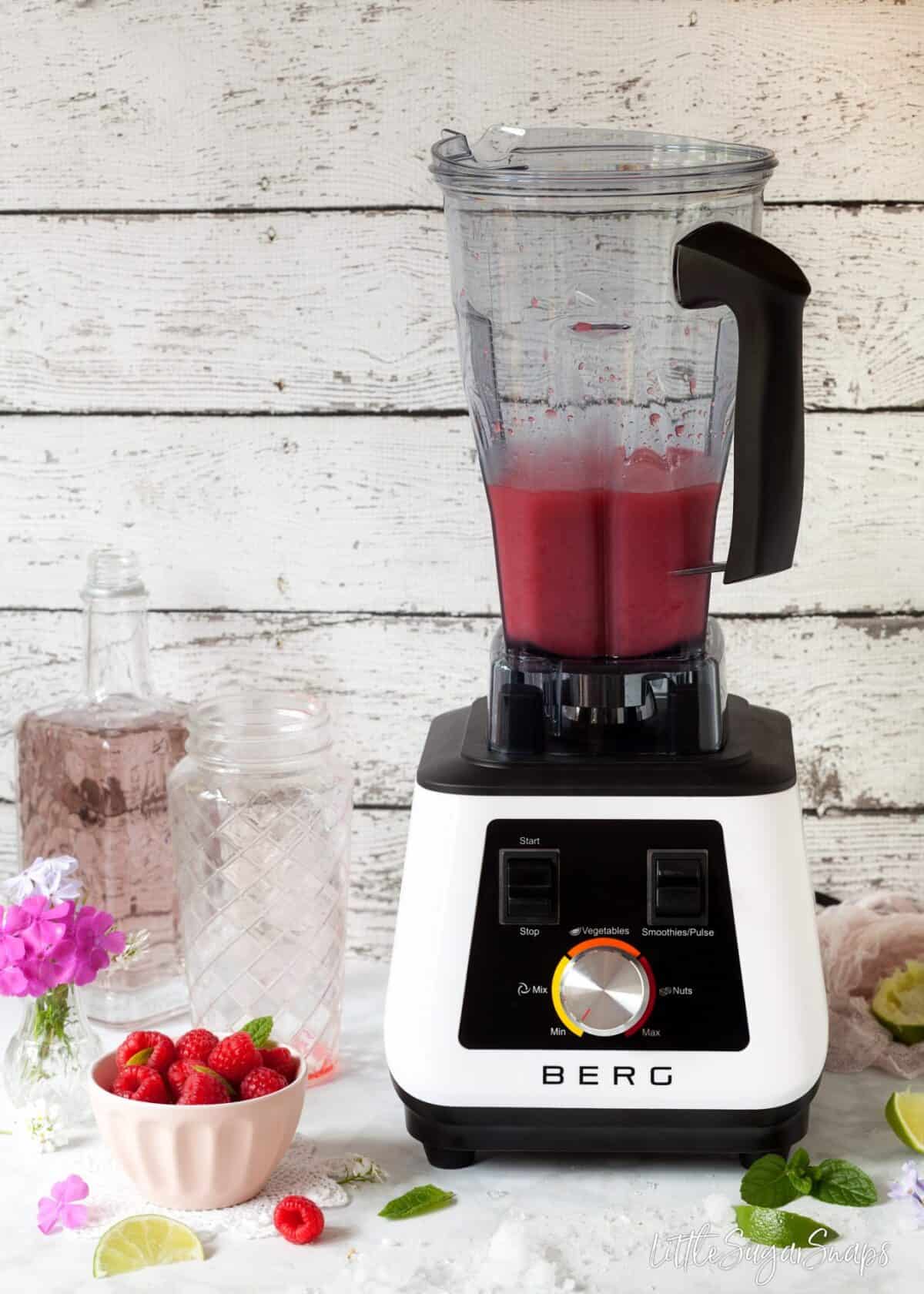 Finally, it is imperative to ensure that the blender you use is up to the job. Not all blenders are equal. Use a high powered blender to ensure that the ice can be efficiently processed into a smooth format. At best a low powered blender will deliver a lumpy drink with chunks of ice left floating around in it. But be aware that there is also a risk of burning out the motor if using a blender with insufficient power to cope with the ice. Personally, I would be doubtful of using any machine with less than 1000W, but do check your instruction manual for clarification.
I can't stress enough how important the power of the blender is in making this Frozen G&T. I used my Berg Innovations 1500W Blender to make these Frozen Gin & Tonic drinks and it created an iced drink that was smooth & delicious.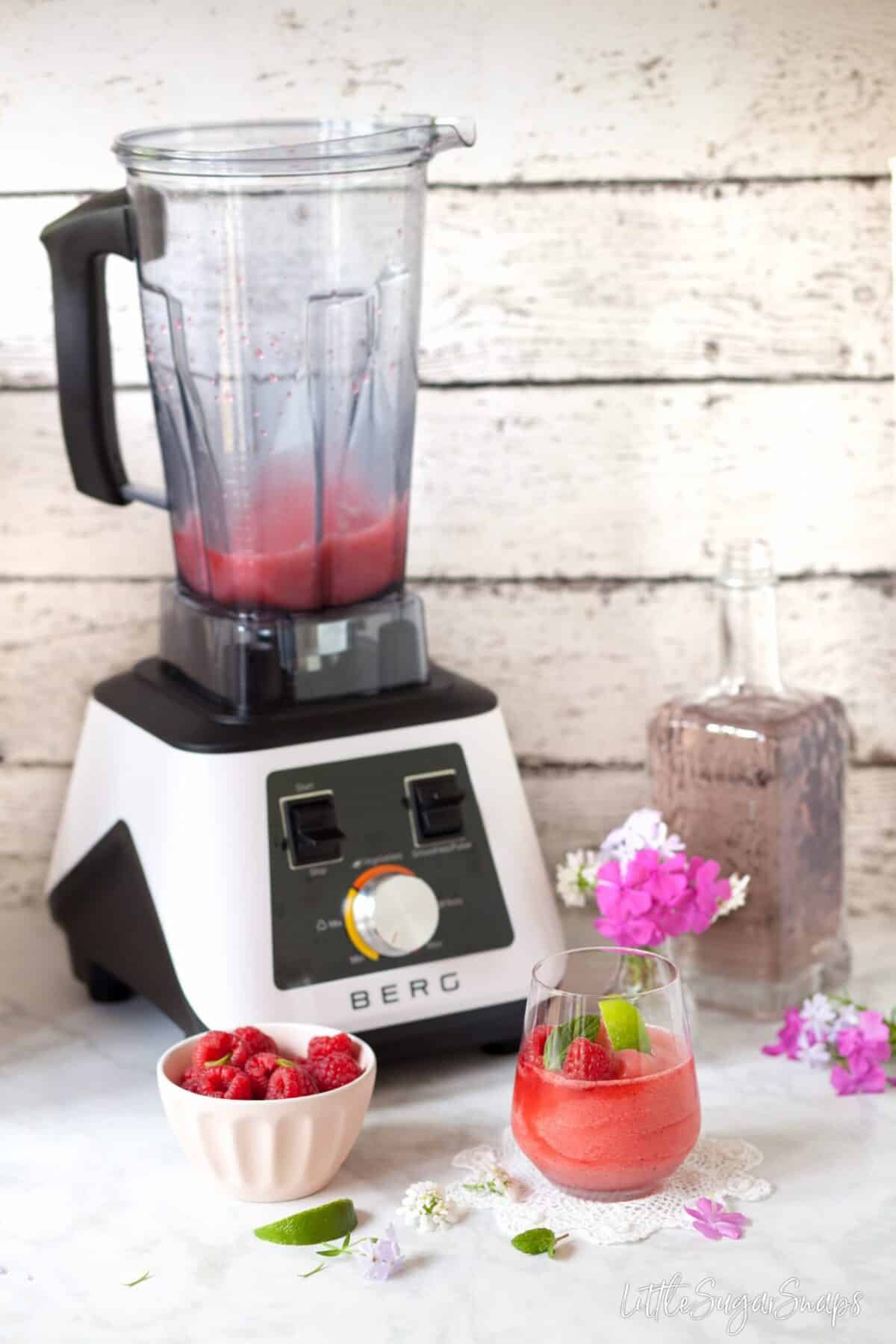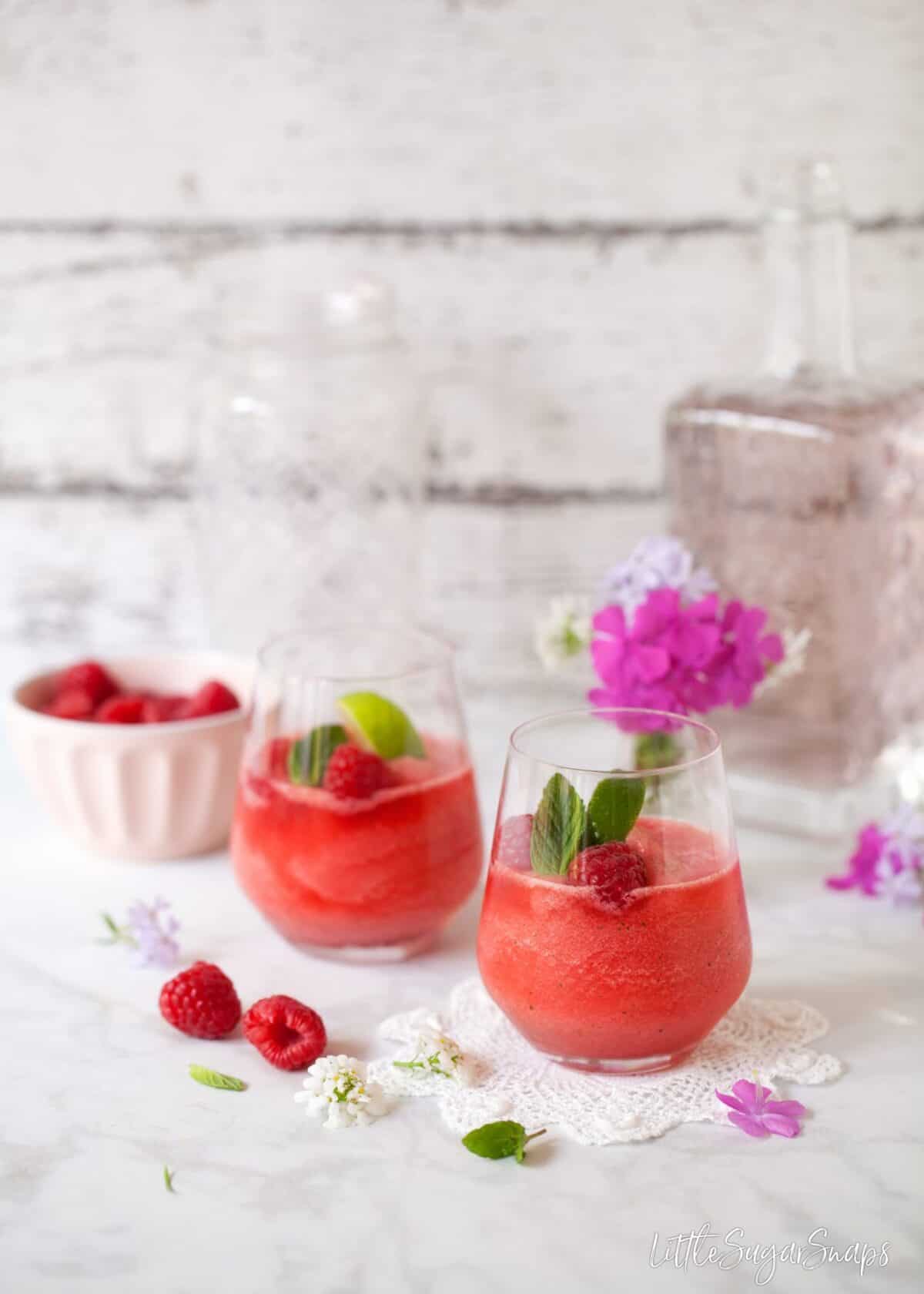 This machine is capable of a great many functions and has some impressive features:
This 1500W high powered blender comes with a 7 Year Limited Warranty
It has an over current / over temperature auto safety shut down function
It can make smoothies, hot soups, ice cream, baby food, crushed ice…
Frozen fruit, frozen yoghurt, ice, vegetable greens, ice cream and grains can all be effectively blended
Whole food – including skins, peels, seeds etc – can be pulverised, breaking down the cell walls in such foods and making them easier to digest
It can also operate as a food processor, chopper and ice crusher
It comes complete with a 2 litre BPA-free polycarbonate container which is strong and easy to clean (not even ice crushing scratches it)
Operation is easy – simply switch on and choose the speed. There is also a pulse function
I've never owned such a powerful blender before, but so far, I'm impressed by its capabilities. I have made smoothies, date shakes and soup in it. All have come out wonderfully smooth – even the smoothie with kale in it. I have used it to crush ice and of course, make my Frozen Gin & Tonic. It really is proving a great addition to my kitchen.
If it is time to upgrade your blender, I highly recommend this product. It is available in 3 colours (white, red and black) and can be purchased directly from Berg Innovations.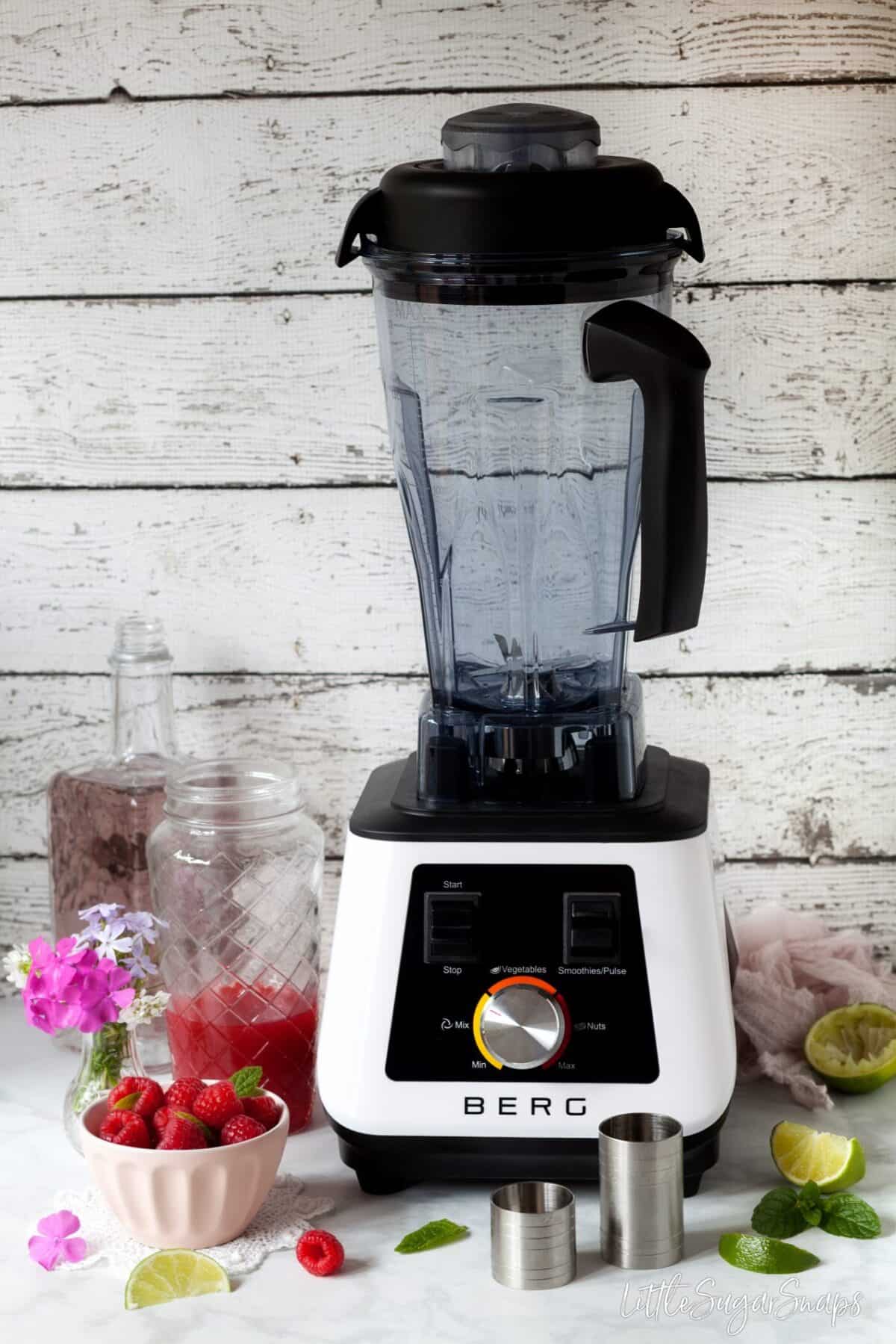 This quick & easy Frozen Gin & Tonic is the ultimate boozy cooler and it is perfect for those hot summer days we are all looking forward to again.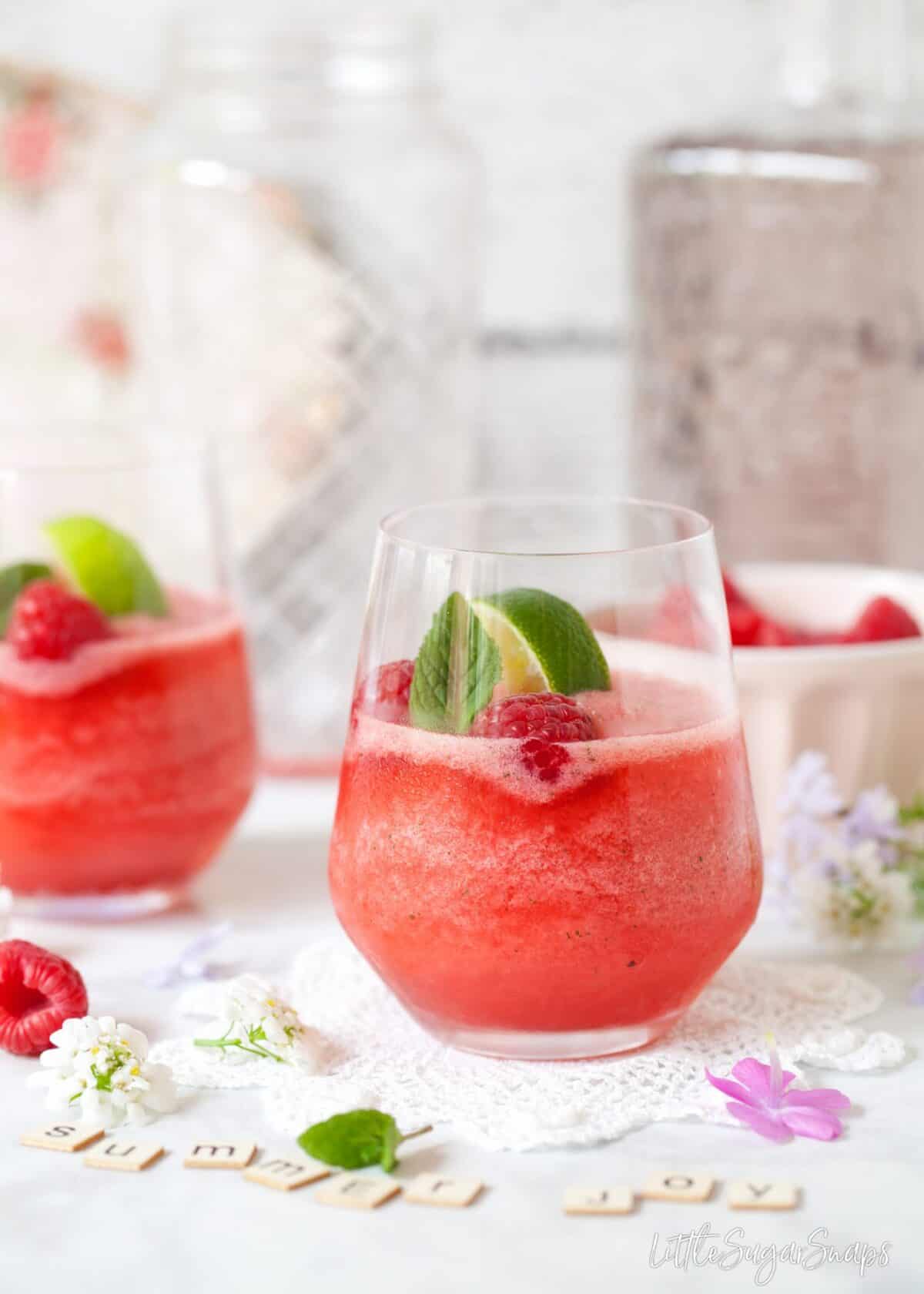 Have you seen my other G&T recipe? There are quite a few – you can see them all on my dedicated G&T page and take your pick.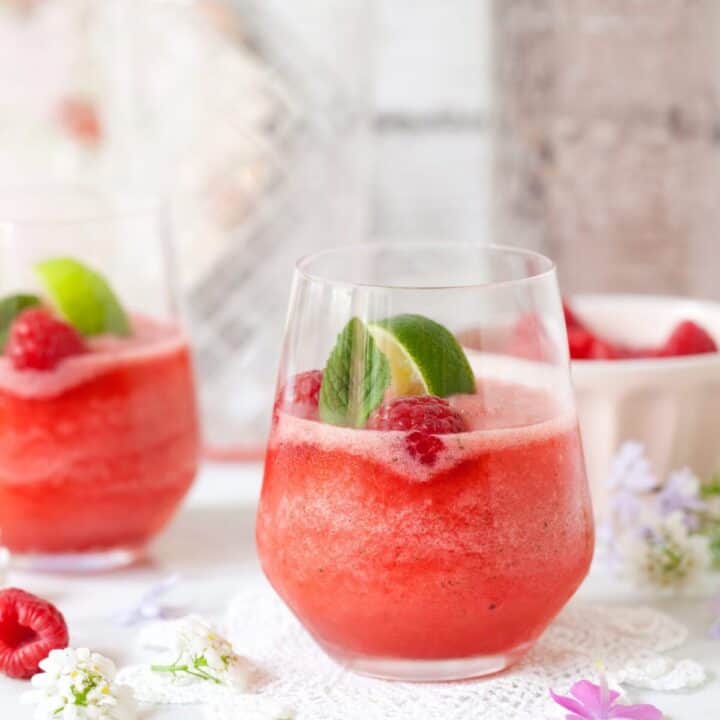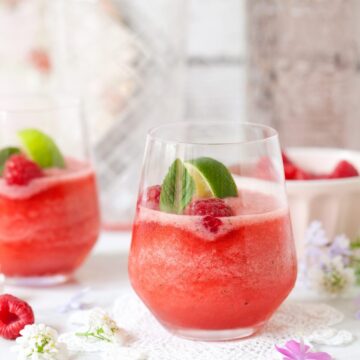 Frozen Gin & Tonic with Raspberries & Mint
ozen Gin & Tonic with Raspberries & Mint is a fun and refreshing twist on the classic G&T. It is fresh, fruity, bright, easy to make and incredibly thirst quenching.
Print
Pin
Rate
Ingredients
For best results ensure all ingredients are chilled before making
20

Fresh raspberries (chilled)

80

ml/ ⅓ cup

Pink Gin (ice cold – store in the freezer for several hours if you can)

try to find one featuring raspberries prominently

2

teaspoon

Tonic syrup (chilled)

4

teaspoon

Sugar cane syrup (chilled)

1 ½

teaspoon

Lime juice (chilled)

4

Mint leaves

300

g/ 10 ½ oz

Ice cubes

approx 16 standard sized cubes
Garnish
2

Mint leaves

6

Raspberries

2

Lime wedges
Instructions
Put the ice into your blender and add all remaining ingredients. (Do ensure your blender is powerful enough to work with ice – not all blenders are (see my notes)). Securely put the blender lid in place

Start your blender slowly, allowing it to begin the break down the ice. Pulse as necessary. Once the ice is beginning to break down increase the speed and continue to blender until the contents of the blender are slushy and no obvious lumps of ice or fruit remain

Pour into 2 glasses and use the additional mint, raspberries and lime wedges to garnish. Serve immediately
Notes
I used my Berg Innovations commercial grade blender for this recipe. It has a powerful 2HP/1500W motor running at 28000-32000 rpm. The blades are made of high grade, hardened stainless steel and are extremely sharp – ideal for coping with ice.
Do read the instruction manual of your blender if you are in any doubt about its ability to crush ice. I would love for you to enjoy this drink too, but not at the expense of breaking your blender.
(Visited 459 times, 1 visits today)