Spiced Fruit Compote is impressively healthy and deceptively sweet. Tasting luxurious, it makes a great healthier breakfast choice when paired with yoghurt or porridge. Stash some in the fridge and indulge, guilt free, all week long.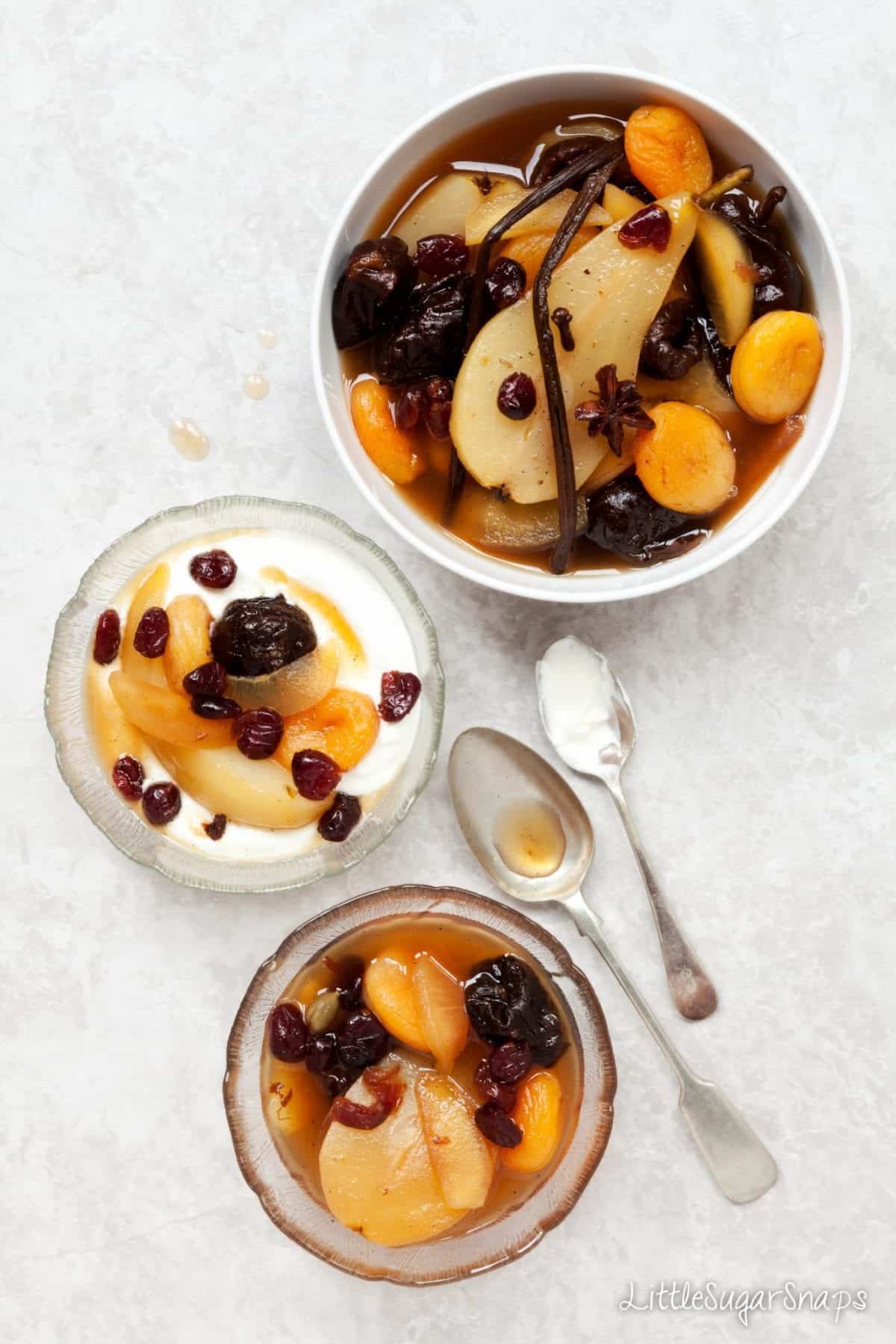 Hmm. I seem to have found myself a comfy fence on which to park my behind. You might recall that last week I ran through my top ten recipes from 2016, which revealed that my bakes and cocktails were way more popular than my healthy offerings last year. That discovery kind of blew my plans to share some more virtuous recipes in January right out of the water. But, since it's less than 2 weeks since I packed away the leftover Christmas chocolates it just seems plain wrong for me to wilfully lead you away from your best of intentions for January quite yet (I'll do that next week).
That left me with a dilemma. Should I be healthy or give in to popular demand. I couldn't decide and that's why I'm on the fence.
As a compromise, I'm handing you my Spiced Winter Fruit Compote. It is both a little bit virtuous and a teeny-tiny bit naughty.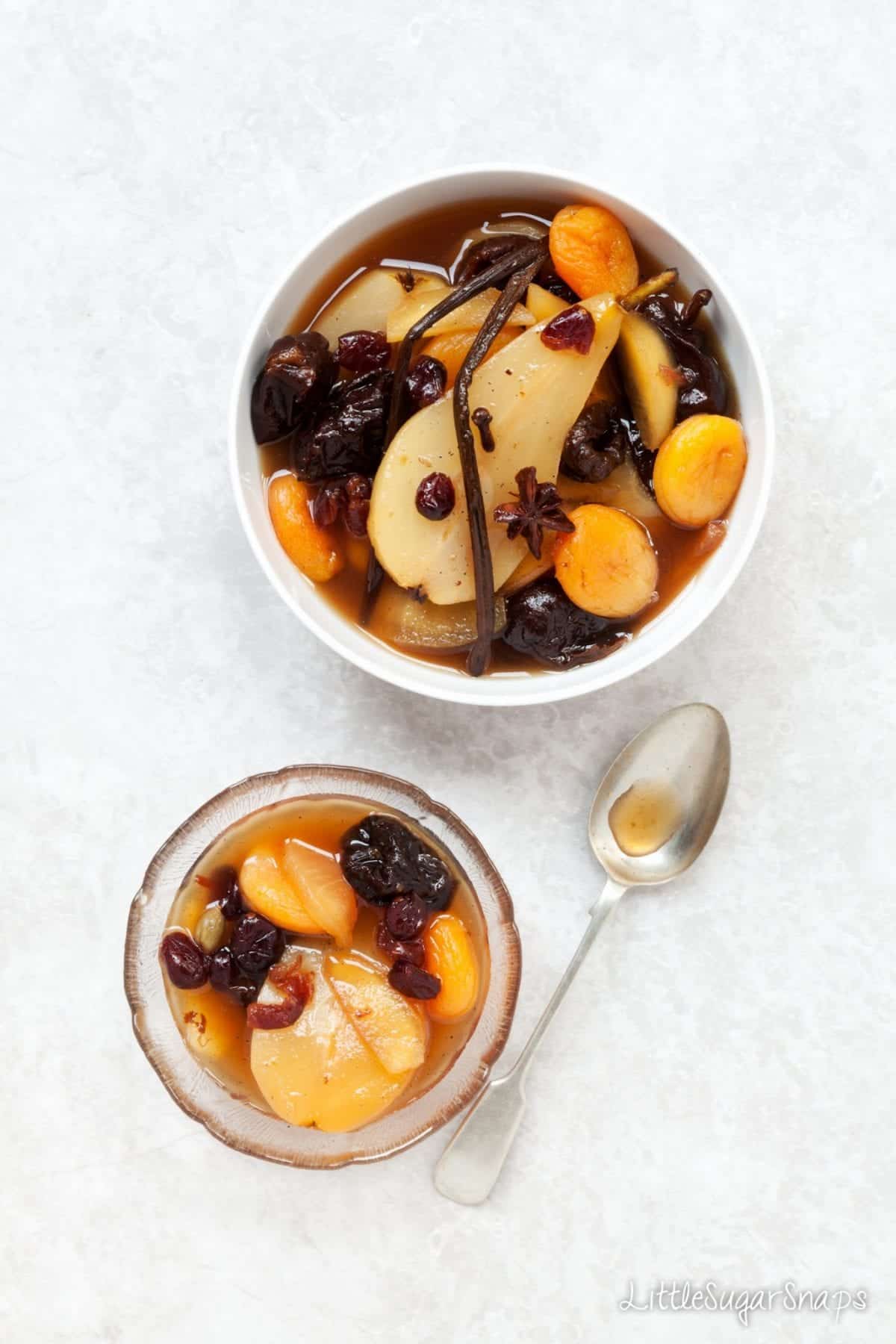 But not too naughty…
This Spiced Fruit Compote just about classes as healthy fodder in my book due to the abundance of fresh and dried fruits involved. And I've kept the refined sugar to a minimum. Into the mix I've added a selection of lovely spices that marry well with the fruits. Oh,  and I've steeped the whole lot in Earl Grey Tea – just for good measure.
What evolves is a sweet, yet tart blend that tastes far superior than the word compote could ever suggest. The subtle sweetness from the pears and prunes offsets the tart apples, apricots and cranberries wonderfully. The tea and spices impart a homely, comforting and seasonal boost to the fruity flavours.
Bliss.
I'll be honest; this Spiced Fruit Compote tends to appear on my breakfast table during the Christmas period. That's partly because it's exceptionally tasty, feels luxurious and is a real favourite with kids and adults alike. But it's also a sneaky way for me to get some wholesome goodness into my family in between the endless sausage roll and mince-pie munching.
On that train of thought it seems like the perfect solution to my recipe quandary. I give you something (almost) healthy, but you get something sweet and gloriously satisfying. We're all winners.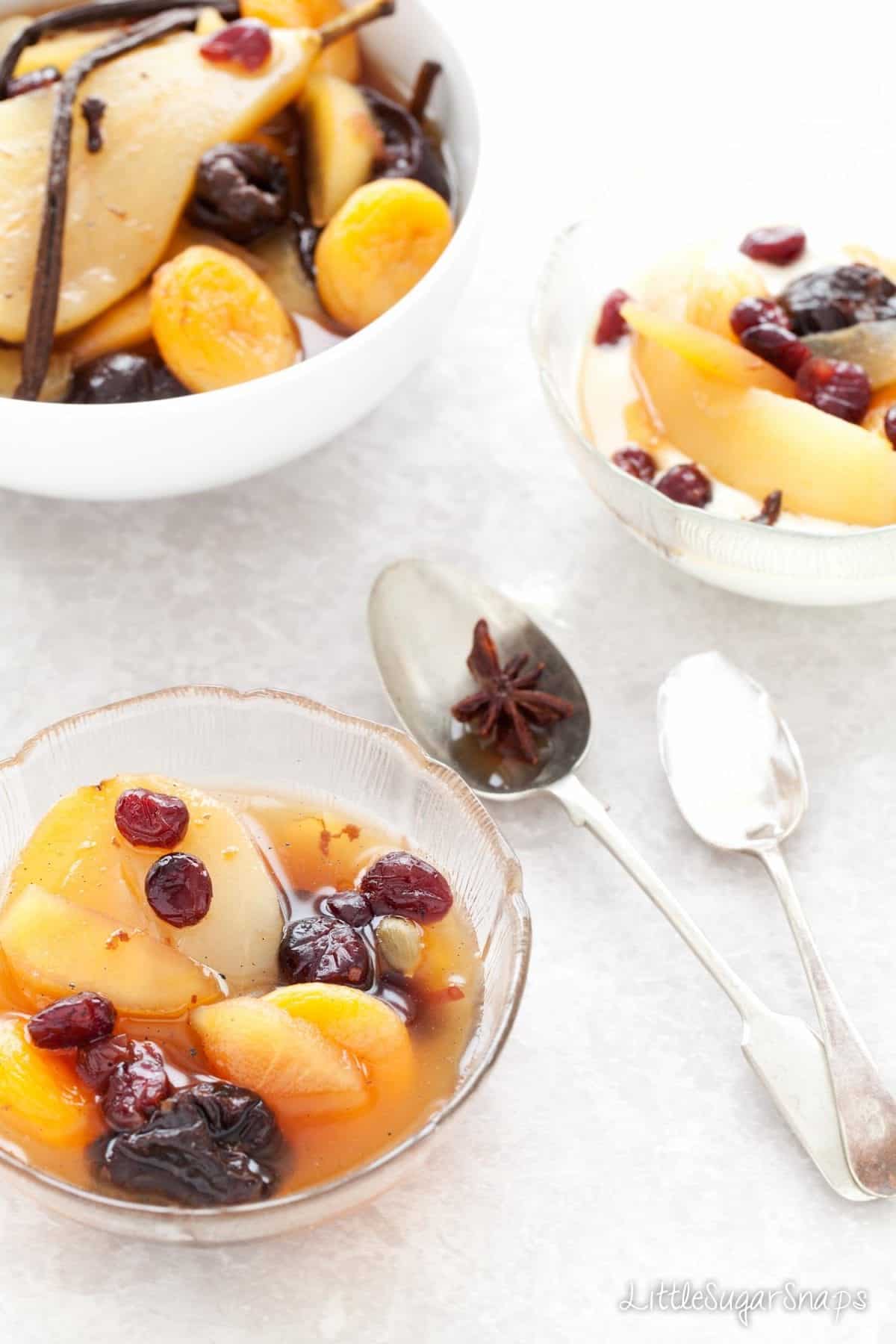 One of the things I like best about all fruit compotes is their versatility. You can chop and change the fruits and spices (within reason) to tailor the mix to your personal preferences. And you get to serve it how you like – there's no right or wrong. My personal preference is to serve this Spiced Fruit Compote with unsweetened Greek yoghurt at breakfast time with a spoonful or two of the gorgeous amber poaching liquid dribbled on top.
But why stop there? You could use this Spiced Fruit Compote to top:
Waffles
American pancakes
A bowl of steaming porridge oats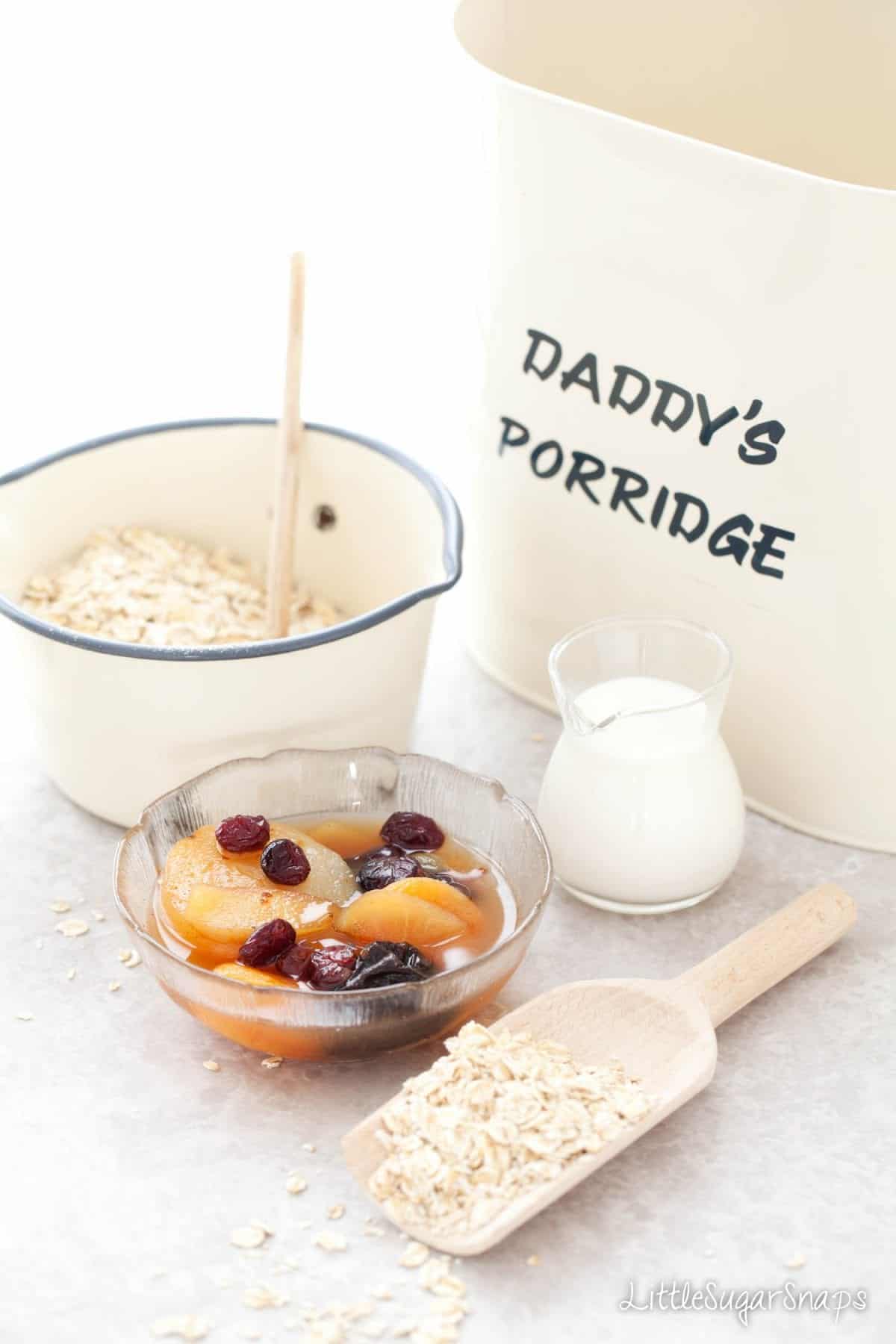 An you don't just have to save it for breakfast time. A bowl of Spiced Fruit Compote makes a great finale to supper any day of the week. But if you're feeling indulgent pair it with cream, custard, ice-cream or (gasp) meringue.
I'm leaving it there. Go enjoy…
Spiced Winter Fruit Compote
Ingredients
3

small-medium pears

1

eating apple

500

ml

water

juice 1/2 lemon

3

tbsp

honey

2

tbsp

white sugar

1

vanilla pod

1

cinnamon stick

(10cm/ 4 inches)

1

strip orange zest

1

strip lemon zest

4

cloves

1

star anise

4

cardamom pods

(split open)

1

Earl Grey teabag

12

dried apricots

12

dried prunes

1

large handful dried cranberries
Instructions
Put the water, lemon juice, sugar and honey into a medium saucepan. Put on a moderate heat and allow the sugar to dissolve

Peel the pears, cut in half and gently drop them into the saucepan

Split the vanilla pod lengthways with a knife and add to the pan along with the orange & lemon zests, cinnamon, cloves, star anise and the cardamom pods

Cover and poach, without boiling, for 10 minutes - carefully turn the pears in the water midway through cooking to prevent browning

Peel and core the apple and cut into thin slices lengthways. Add to the pan and cook everything for a further 5 minutes

Push a sharp knife into the pears - if they are soft with just a little bite still left remove the pan from the heat. If the pears are still quite firm continue to cook for another few minutes and test again

Off the heat add the teabag and leave to infuse for 15 minutes

Remove the tea bag and add the apricots, prunes and cranberries. Mix well and leave to cool

Remove the cinnamon, star anise, cloves and cardamom pods. Cover the fruit directly with clingfilm to prevent browning and store in the fridge until required

Best served at room temperature and eaten within 5 days
(Visited 315 times, 2 visits today)