Courgette Lime Cake (aka Zucchini Lime Cake) with pistachios and thyme makes a wonderfully moist and very pretty bundt cake. A light drizzle of zesty lime icing and a little sugared lime zest is all the decoration this cake needs.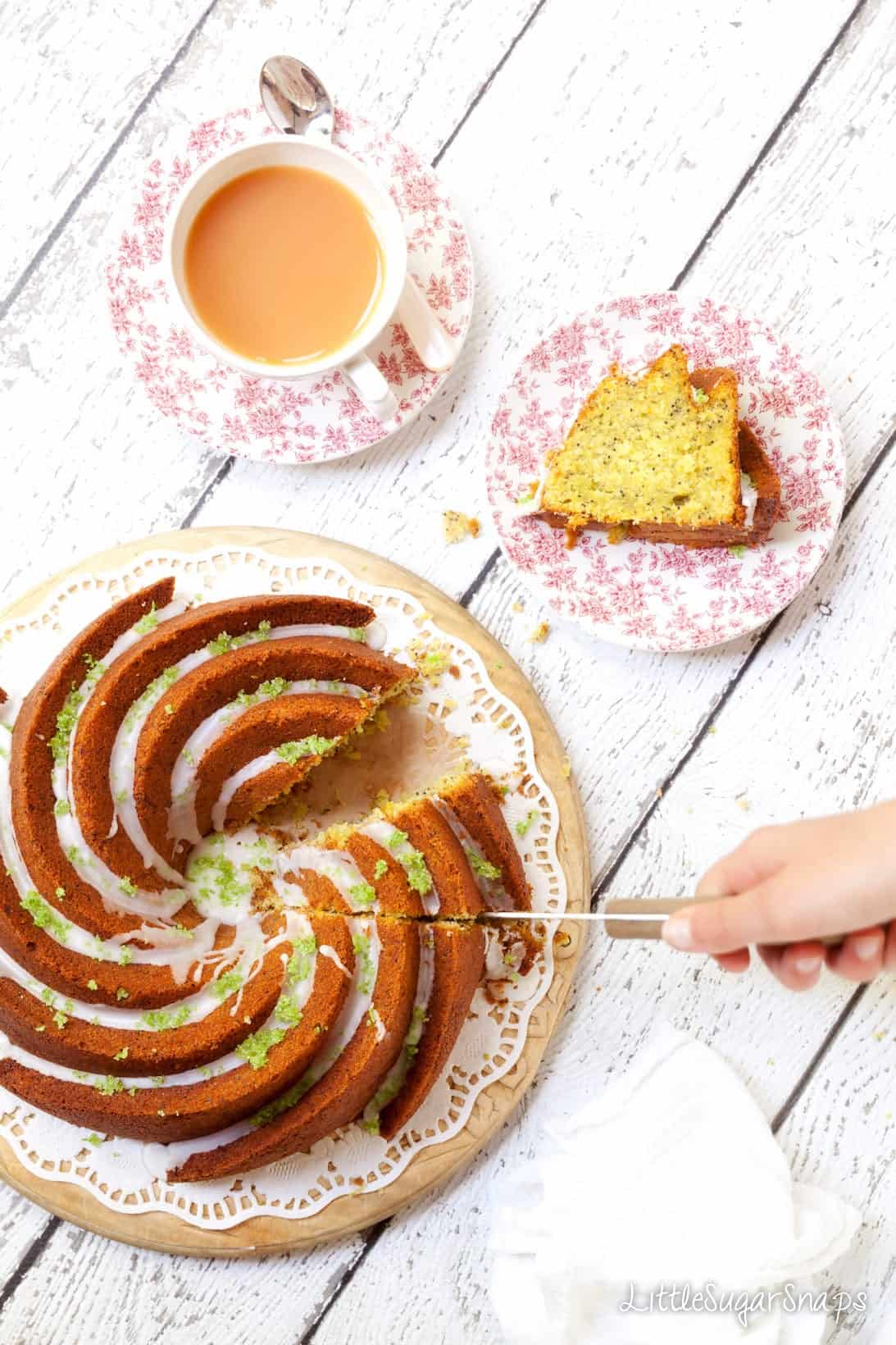 For the second week running I'm having language issues. I'm torn between talking about Courgette Lime Cake and Zucchini Lime Cake. It seems as if half the world talk about courgettes whilst the other half talk about zucchini. Being English, I'd like to stick with courgette, but I'm worried I'll be causing unnecessary confusion. If I say courgette will half the world think I'm baking with an unusual ingredient that is hard to get hold of (um… Hi there fiddlehead)?
Is courgette a universally understood name for zucchini? Or vice versa? I have no idea. But since this is one cake I don't want anybody to miss out on and life in the summer holidays is too short to ponder such issues, I've decided to flip between the two terms.
I like sitting on fences.
What would be ideal is if I could sit on a comfy fence, watching the sun go down with a slice of Courgette Lime Cake in one hand and a slice of Zucchini Lime Cake in the other hand.
Sometimes I can be a greedy fence-sitting pig. I'll admit it. But at least this cake, whatever it is called, contains vegetables.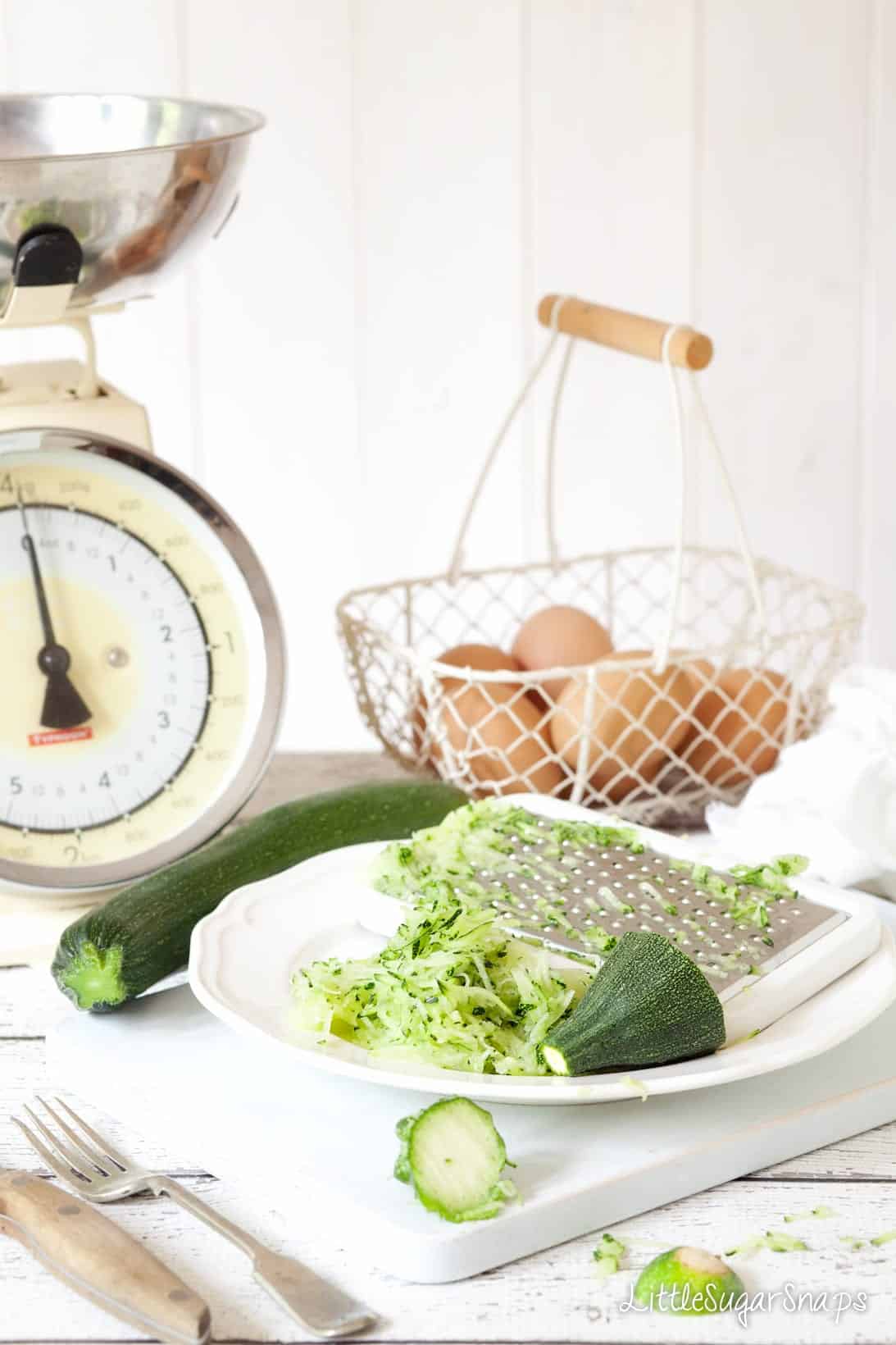 This Courgette Lime Cake is made wonderfully moist by the courgette itself. A few cunning additions – lime, pistachio and thyme – add extra elements to the flavour to make it one very special cake.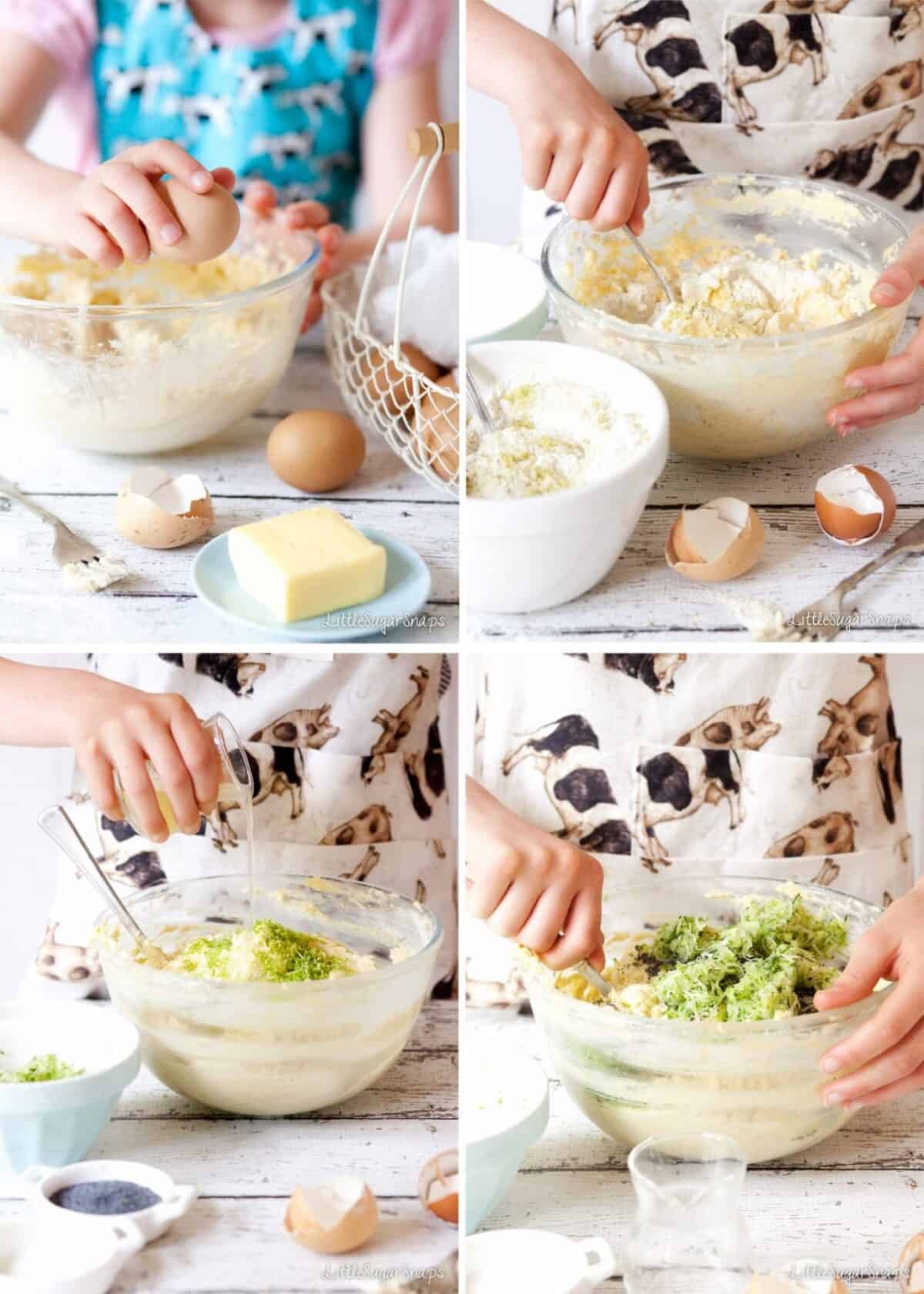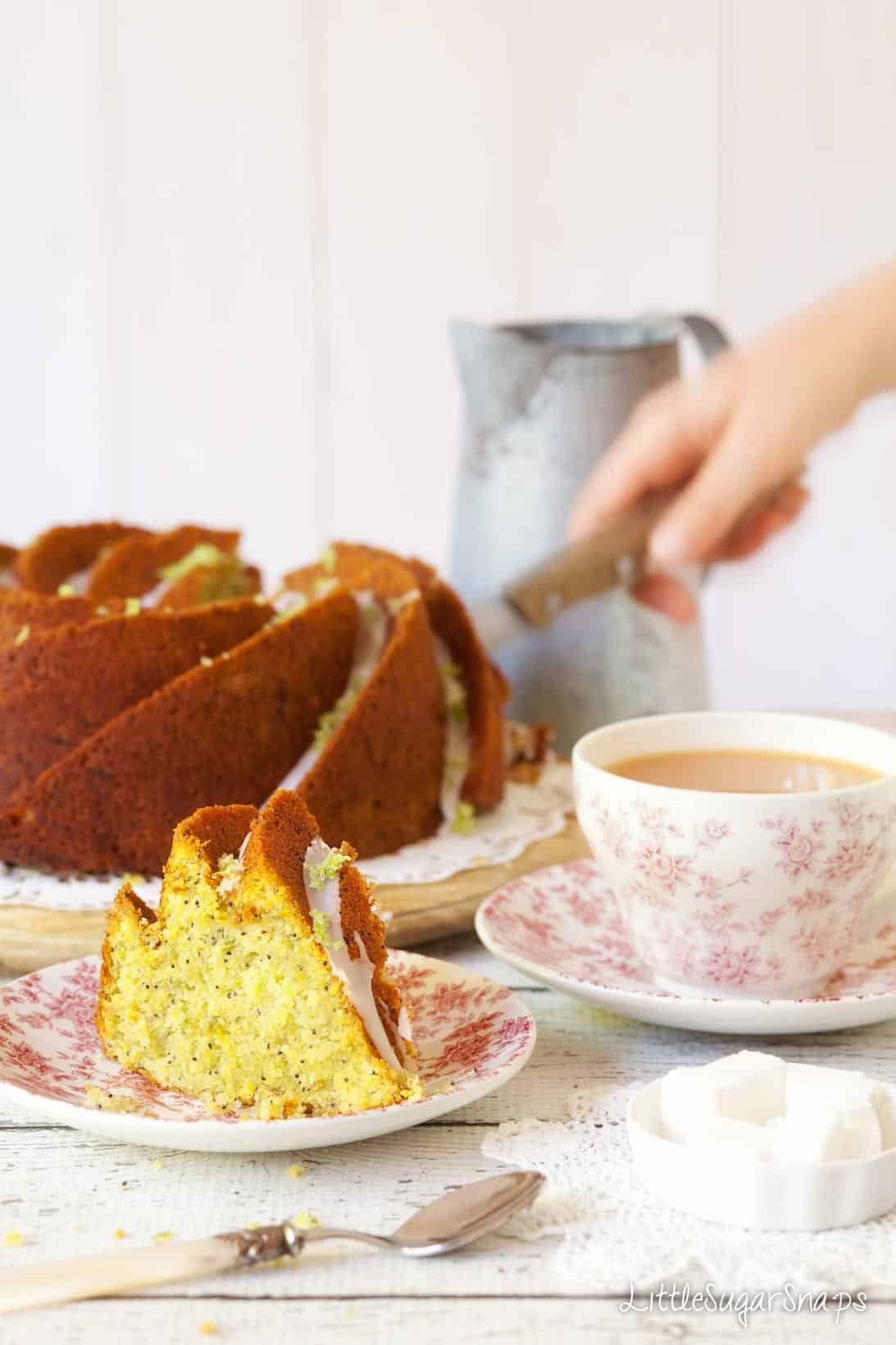 I knew I wanted to keep the decoration to a minimum on this cake so that the flavours could do the impressing. With this idea in mind, I baked the cake in a pretty bundt tin and dressed it simply.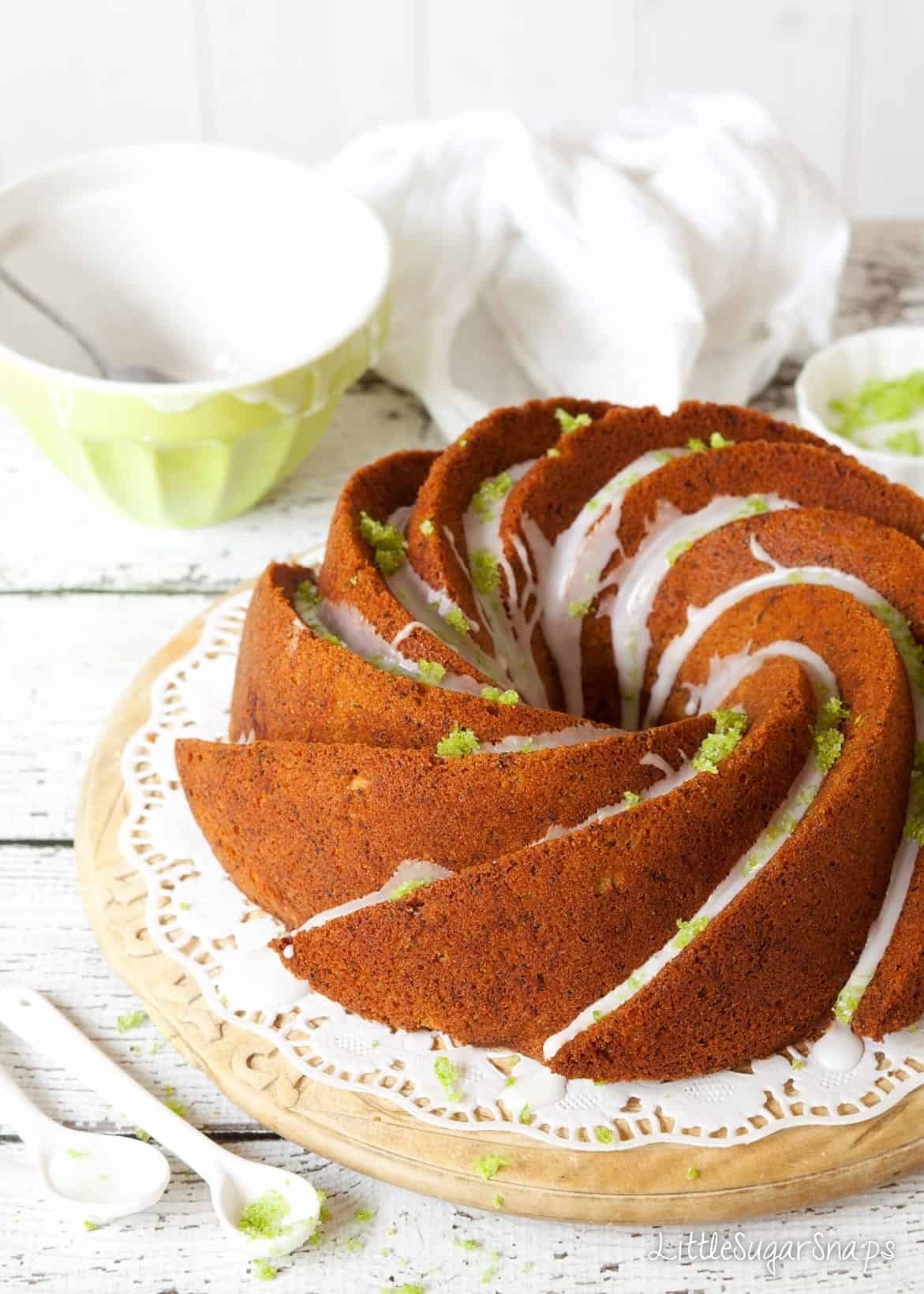 Talking of being impressive, I did not thrill myself last week when I baked this Zucchini Lime Cake with my girls and took all of the photos before I realised I'd forgotten to include the thyme.
Who agrees that a few sprigs of thyme blended into the cake and scattered on top would have taken the appearance of this cake up an extra level (Me! Me!)? However, the silver lining is that I now know that this cake tastes great whether thyme is included or not.
I've chosen to top this Zucchini Lime Cake with just a drizzle of fresh, zesty lime icing and some sugared lime zest. Of course, a few sprigs of thyme scattered on top would be beautiful if you plan to include it in the bake and don't forget to add it.
Some cakes are a joy to discover. This Courgette Lime Cake is one of them. It is wonderfully moist, zesty, slightly nutty and the sponge is a gloriously vibrant colour.
Can I get off the fence now?
Courgette Lime Cake (aka Zucchini Lime Cake)
Courgette Lime Cake (aka Zucchini Lime Cake) with pistachios and thyme makes a wonderfully moist and very pretty bundt cake. A light drizzle of zesty lime icing and a little sugared lime zest is all the decoration this cake needs.
Keyword:
bundt cake, courgette cake, courgette lime, courgette thyme cake, pistachio cake, thyme cake, zucchini bundt cake, zucchini cake, zucchini lime, zucchini thyme cake
Ingredients
250g/ 1 1/8 cup

butter - softened

250g/ 1 1/4 cup

caster sugar

4 eggs

large (free range)

2

limes

100g/ 1 cup

pistachio nuts

200g/ 7oz

courgette (zucchini)

220g/ 1 3/4 cup

plain (all purpose) flour

2 tsp

baking powder

1 1/2 tbsp

poppyseeds

1 tbsp

lemon thyme (or thyme)

4 tbsp

whole milk

100g/ 1 cup

icing sugar

extra sprigs

lemon thyme (or thyme)

1 tsp

granulated sugar
Instructions
Blitz the pistachio nuts in a processor or coffee grinder until reduced to a fine powder (similar in appearance to ground almonds, only green!). You may need to do this in batches if using a coffee grinder

Finely grate the zest and juice the limes and finely chop the thyme (if using)

Finely grate the courgette (zucchini) then give it a really good squeeze to remove most of the juice. This step is essential - adding wet courgette to your cake batter will result in a heavy, wet and dense cake. Yuck. Squeezing out the liquid will avoid this problem and result in a cake that is moist but not wet.

In a large bowl cream butter and sugar together using electric beaters until light and fluffy

Add eggs, one at a time, beating well between additions

Sieve the flour into a bowl then mix in the ground pistachios and baking powder. Stir half of this flour blend into the cake batter using a large metal spoon

Add the milk, stir well, then add the remaining flour blend and mix in until just combined

Reserve 1/4 of the lime zest and 2 tsp juice for the icing then stir in the remaining zest and juice, along with the poppyseeds and chopped thyme (if using)

Add the grated (and squeezed out) courgette (zucchini) and mix until evenly distributed

Spoon into the bundt tin, level slightly and bake for 45 minutes. Check that it is cooked through using a metal skewer (it will come out clean when inserted into a cooked sponge cake)

Once cooked, remove from the oven and let rest in the tin for 2 minutes. Carefully remove from the tin and let cool completely on a wire rack before decorating

When ready to decorate, mix the icing sugar with the reserved lime juice and a splash of water (if necessary) to make a thick, yet slightly runny icing. Carefully spoon the icing over the cake. Mix the reserved lime zest with the granulated sugar, rubbing it between your fingers until well blended. Use to garnish the cake, along with a few fresh sprigs of thyme if desired

Keeps in an airtight container for 3-5 days
Recipe Notes
I used a 2.4 litre / 10 cup bundt tin but this recipe should also bake in loaf tins - just adjust cooking times in line with you tin sizes.
P.S.
If you want to bake with fiddleheads head over to The Road to Honey for a Fiddlehead and Ricotta Tart.
If you want another bundt cake can I tempt you with a slice of Pumpkin Pecan & Coconut Cake?
Pin the recipe:

(Visited 1,243 times, 1 visits today)