These White Chocolate Pots with layers of crumbly biscuit and lemon curd are suitable for any time of year but when topped with a few mini eggs they make the ideal Easter dessert.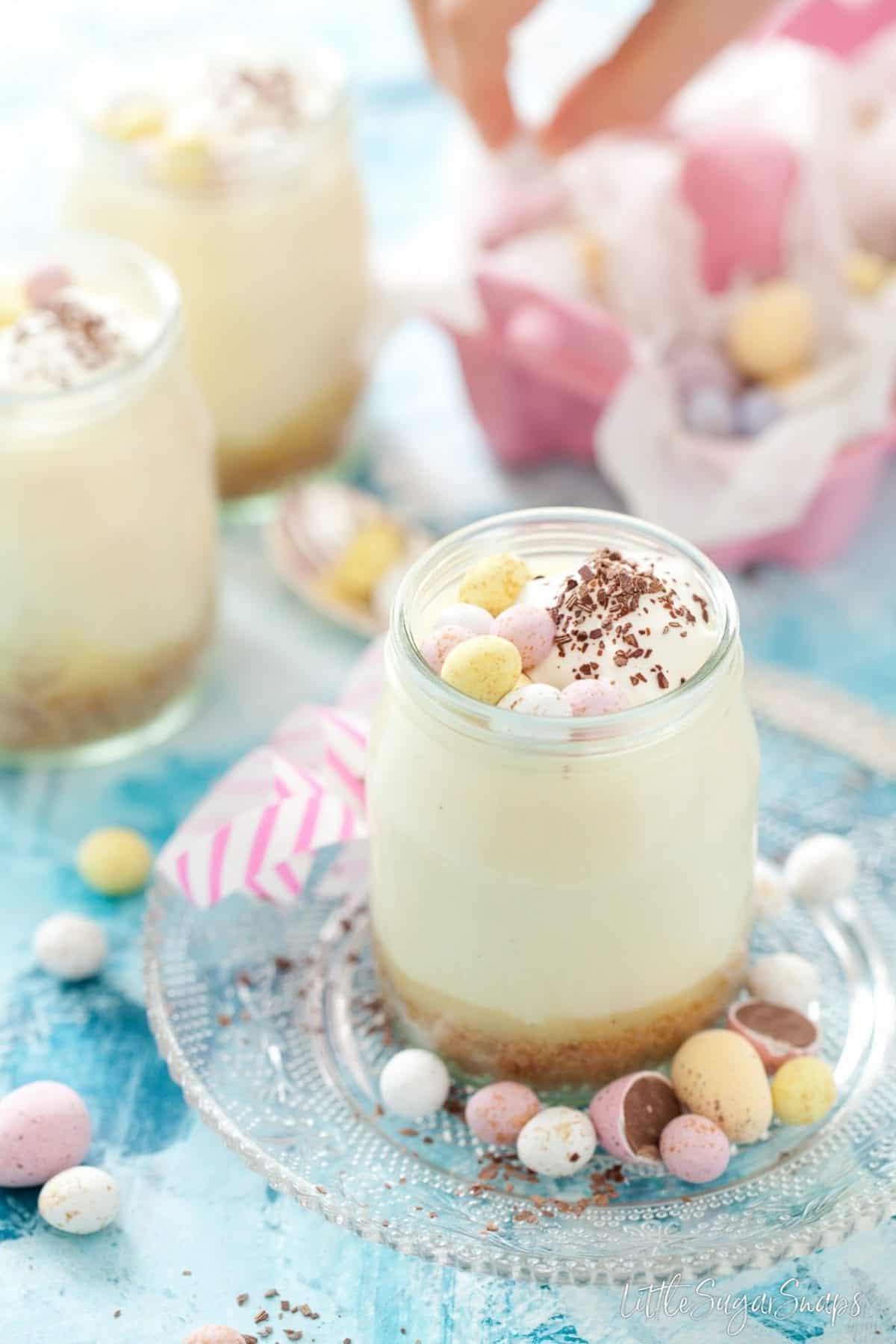 I'm sneaking in a little treat for Easter today. These dessert pots have been a while in the making, since I just missed getting them ready in time for Easter last year. Almost a full year later, I found myself making them again to re-acquaint myself with the flavours and bag some photos. #lifeisgood
Inside of each pot lies a crunchy layer of buttery biscuit crumbs, a fresh & tangy layer of Vanilla Lemon Curd and a generous serving of creamy, soft, mousse-like white chocolate cream. Truthfully, these dessert pots are suitable for any time of year, but when topped with a few Mini Eggs they make the ideal Easter dessert.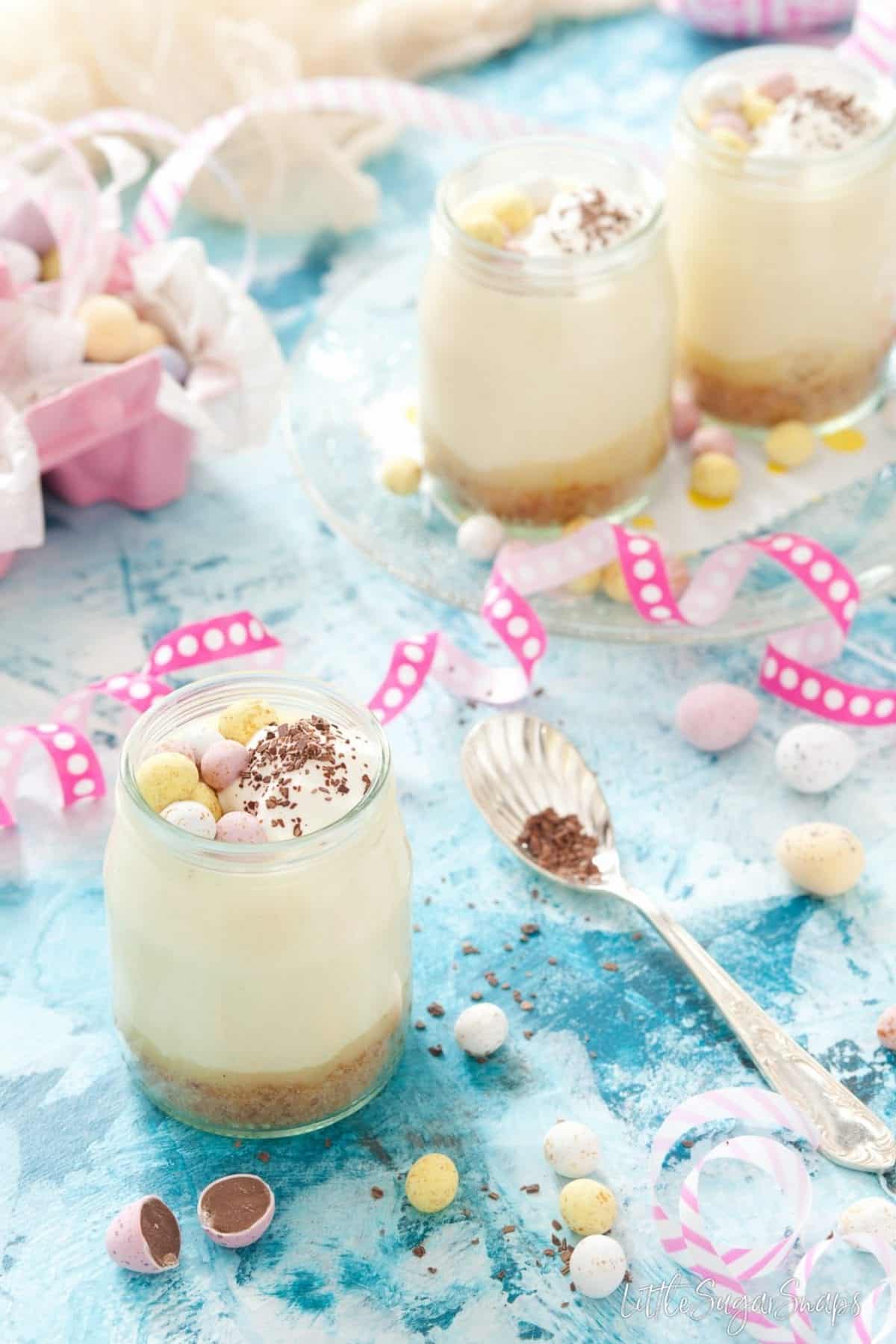 I've resisted my urge to call these White Chocolate Pots a mousse since, although the creamy white chocolate component is made just as a mousse is made, it is definitely softer and creamier than the average mousse. It is agreeably decadent, rather voluptuous and much more yielding than the average mousse. Granted, it's still a little bubbly, but I wouldn't want anybody hankering after a firmer set mousse to be disappointed. It is soft. Beautifully soft.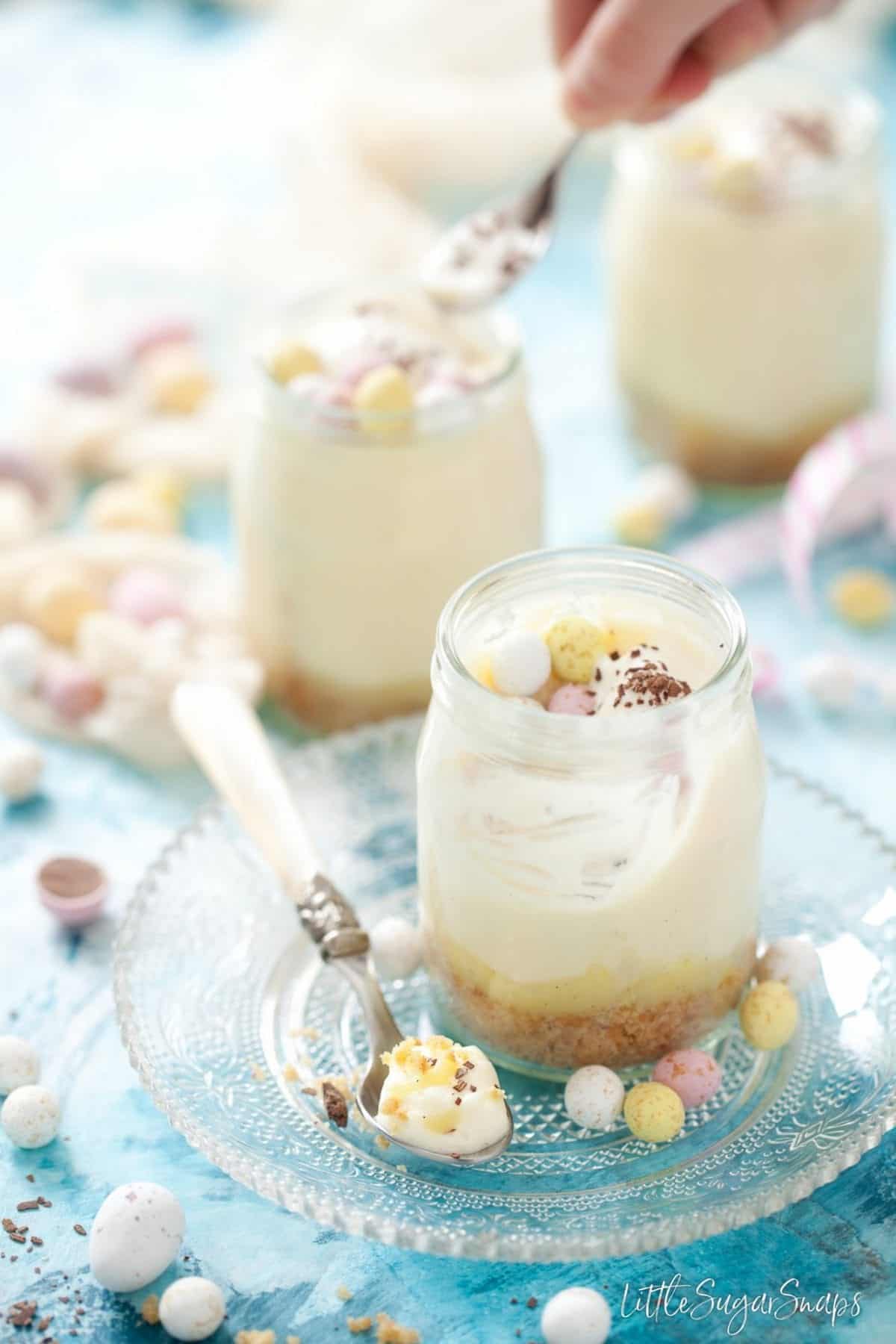 The white chocolate cream is a lovely flavour contrast to the tangy lemon curd whilst the soft & creamy texture is the ideal partner for the buttery, crunchy biscuit base. Similarly, the crisp sugar shell surrounding those Mini eggs is a welcome foil to the creamy aspects of this dessert too.
One positive of this recipe sitting in my files for 12 months is that over the course of the year I had time to monkey around with my base recipe. In my initial recipe, I used regular lemon curd, but with time on my hands to play around, I got swayed by the notion of tempering that bright, zesty lemon hit with creamy vanilla. It ties in with the white chocolate wonderfully well. And, since I've yet to see vanilla lemon curd available at the supermarket, my idea gave me the push I needed to get on and make my own curd. Click through for the recipe for my Vanilla Lemon Curd – it's small batch and ready in 15 minutes.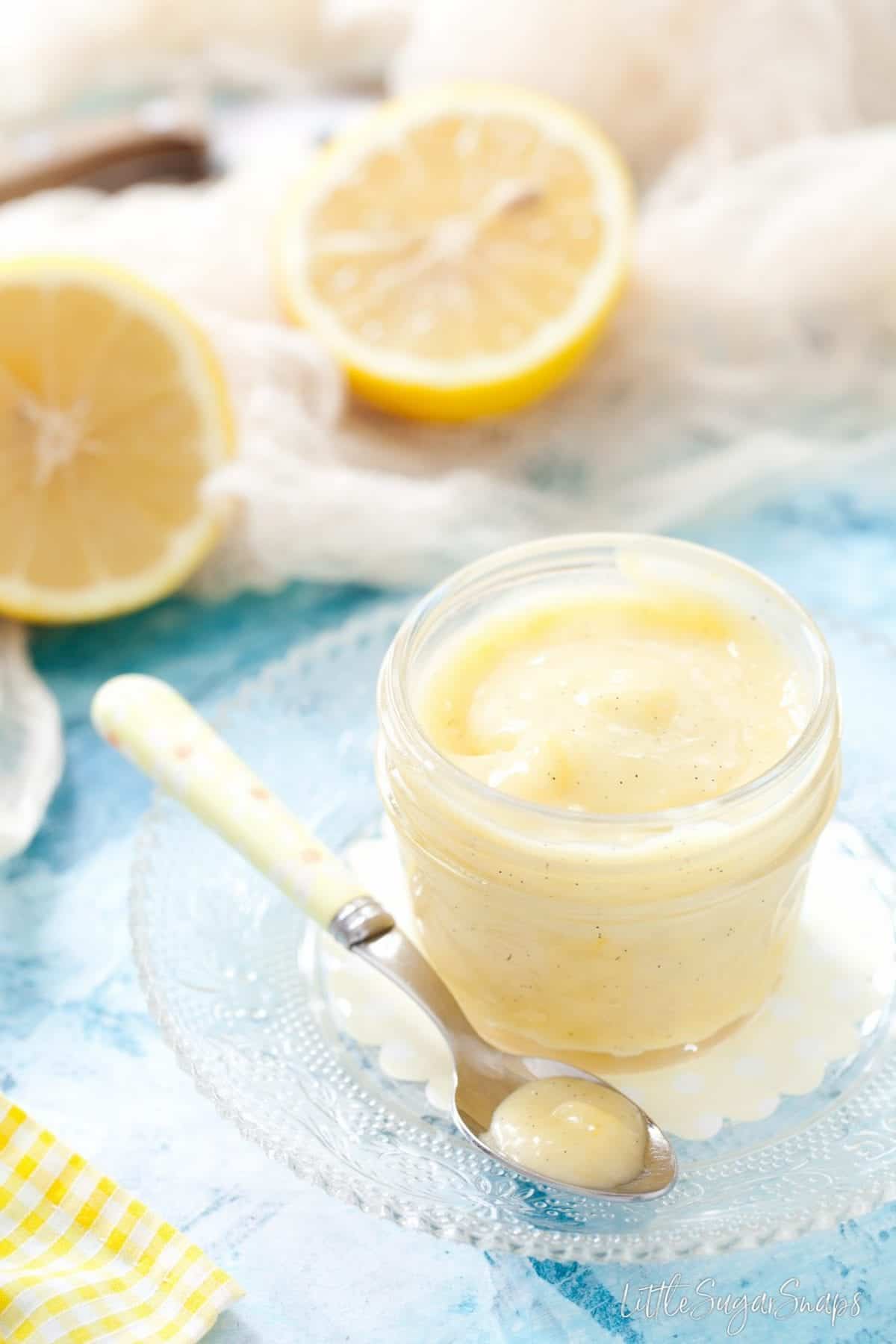 These White Chocolate Pots are quick and easy to make and require no baking. They can be made in advance and topped with decorations of your choice just before serving, whatever the occasion. But in my opinion, Easter definitely calls for Mini Eggs.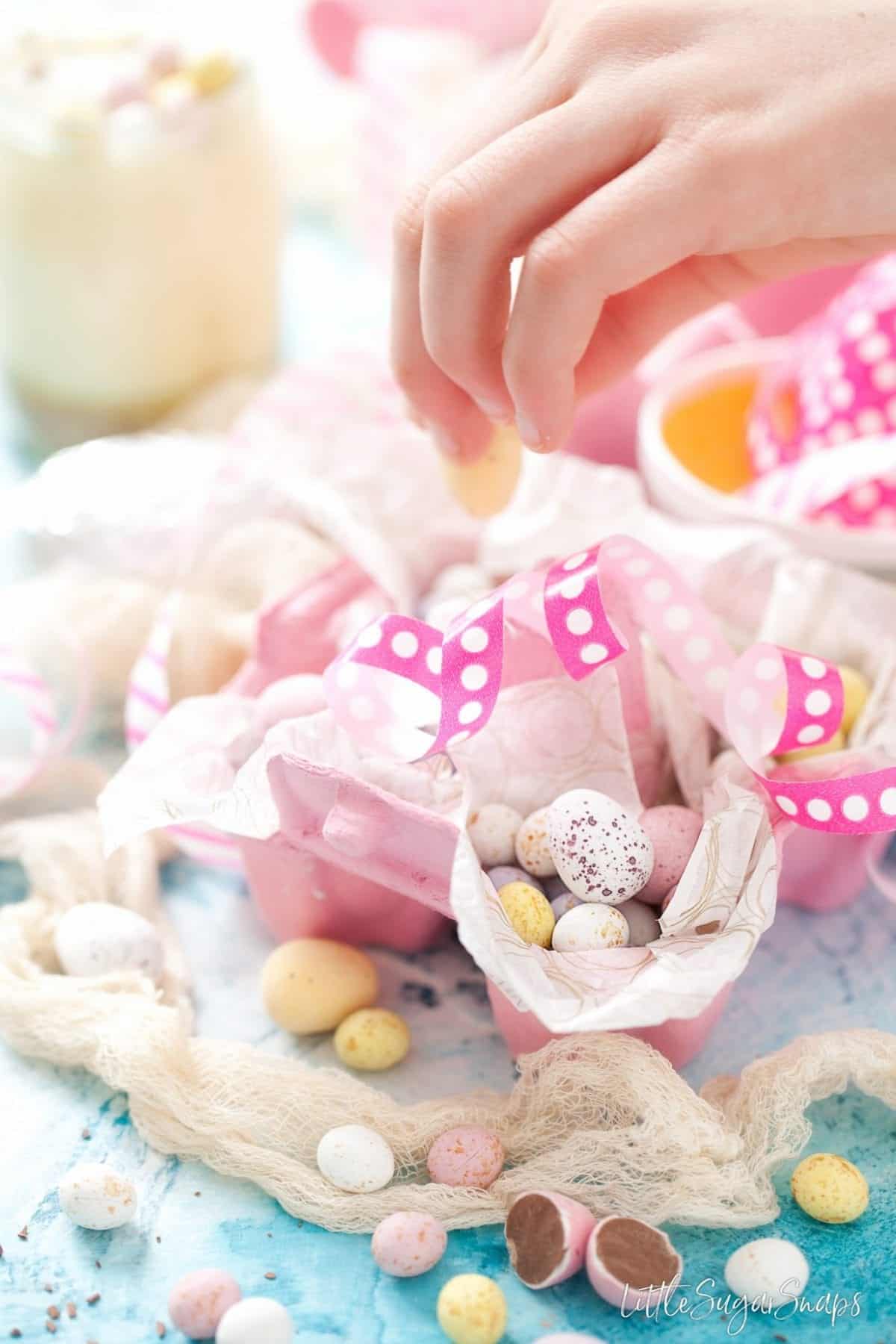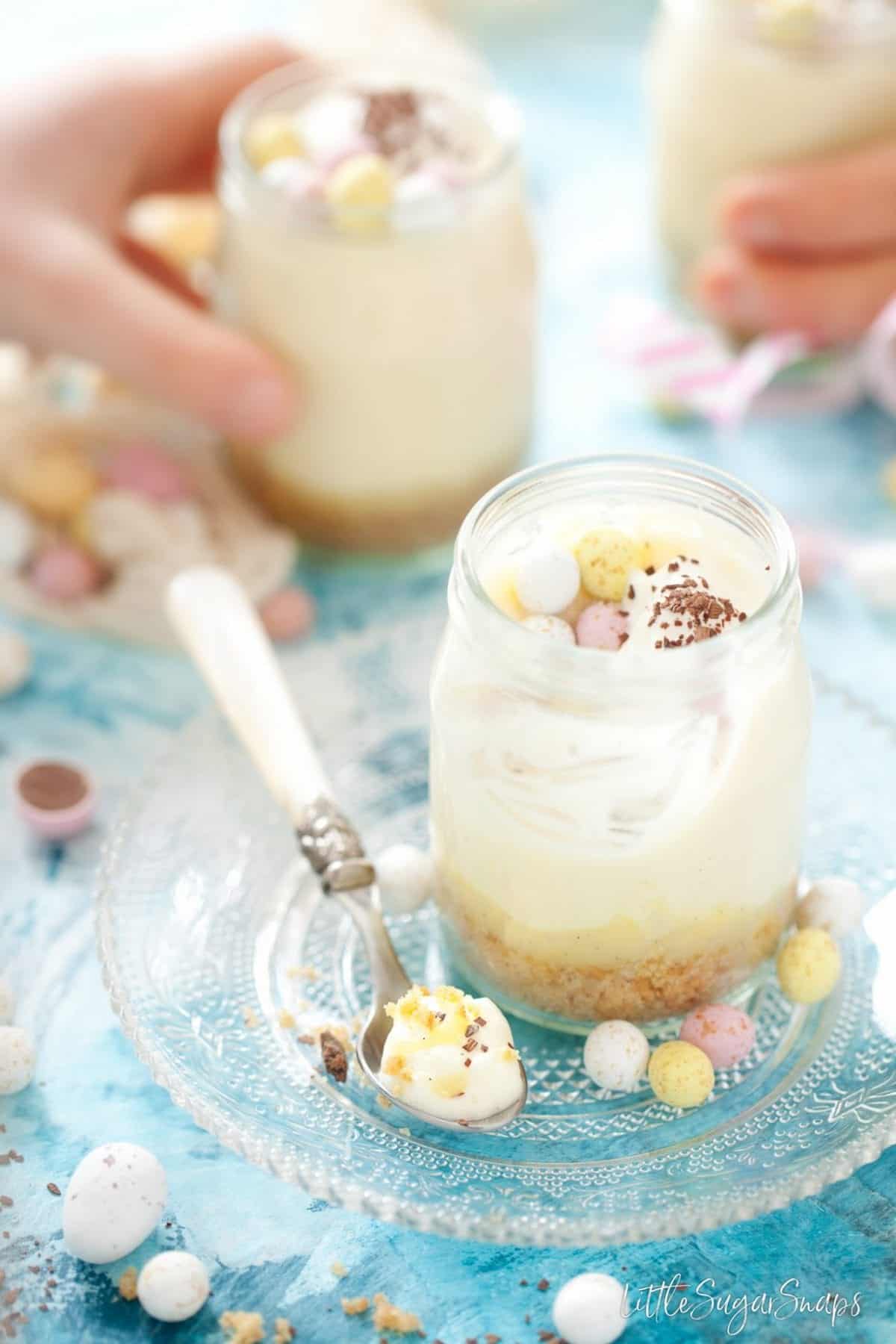 Easter White Chocolate Pots
Ingredients
For the Biscuit base
80g

/ 3 oz

Digestive biscuits (or Graham crackers)

30

g/ 1 oz

Butter
For the White Chocolate Layer
100

g/ 40z

White chocolate

100

ml/ 7 tbsp

Double (heavy) cream

3

Egg whites
Extras
3-4

tbsp

Vanilla lemon curd (or straight lemon curd)

Whipped cream

Chocolate flakes

Mini eggs
Instructions
Make the base
Crush the biscuits in a food processor or go old school and drop them into a plastic bag & crush with a rolling pin

Melt the butter in a small pan, tip in the biscuit crumbs and stir

Divide the mix between 4 glass jars and press down lightly with the end of a rolling pin. Let cool completely

When cool top each base with 2-3 tsp Vanilla lemon curd and spread it out
For the White Chocolate Layer
Chop the white chocolate finely and melt using a Bain Marie or the microwave. When the chocolate has melted, quickly stir in the double cream

Whisk the egg whites to stiff peaks. Roughly mix a spoonful of the whites into the chocolate ganache then gently fold in the remaining egg whites using a large metal spoon

When all of the whites have been mix in carefully spoon the moussy white chocolate into the jars, level and chill in the fridge for at least 6 hours (preferably overnight)

Just before serving, whip a little cream and pipe a swirl onto each dessert. Scatter with chocolate flakes and top with a handful of mini eggs
Pin these White Chocolate Pots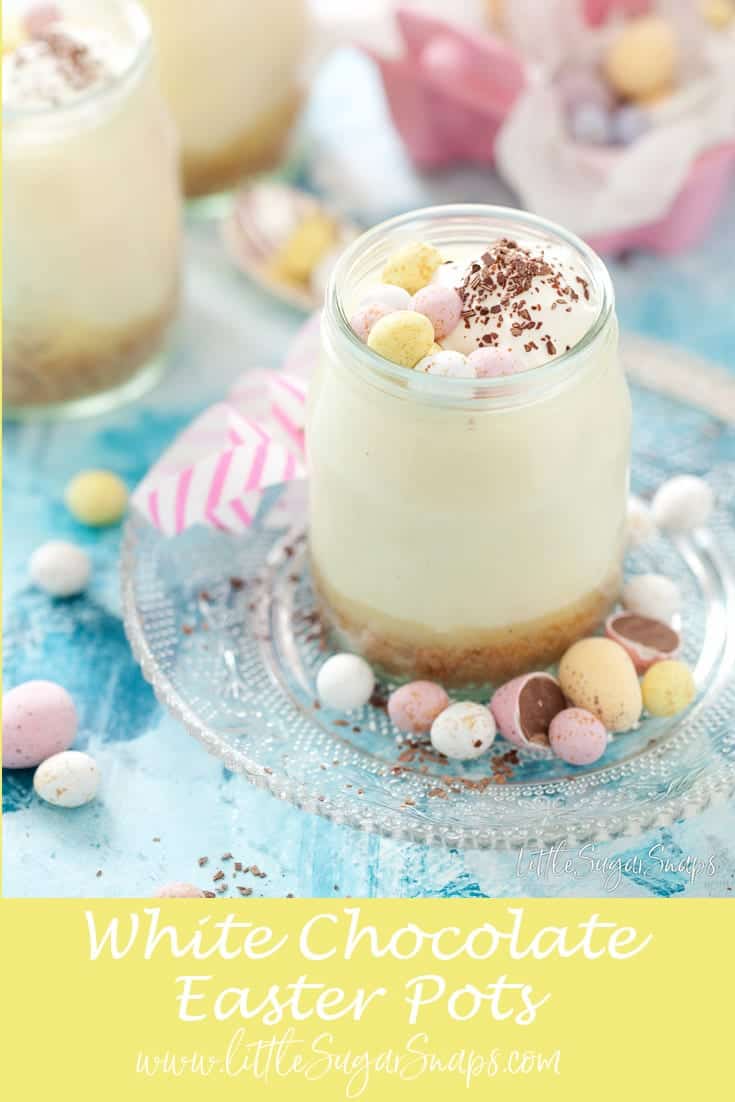 (Visited 289 times, 1 visits today)