These Prosecco Truffle Pots are rich, chocolatey & boozy. But there's more good news: this dessert is also super quick & easy to make.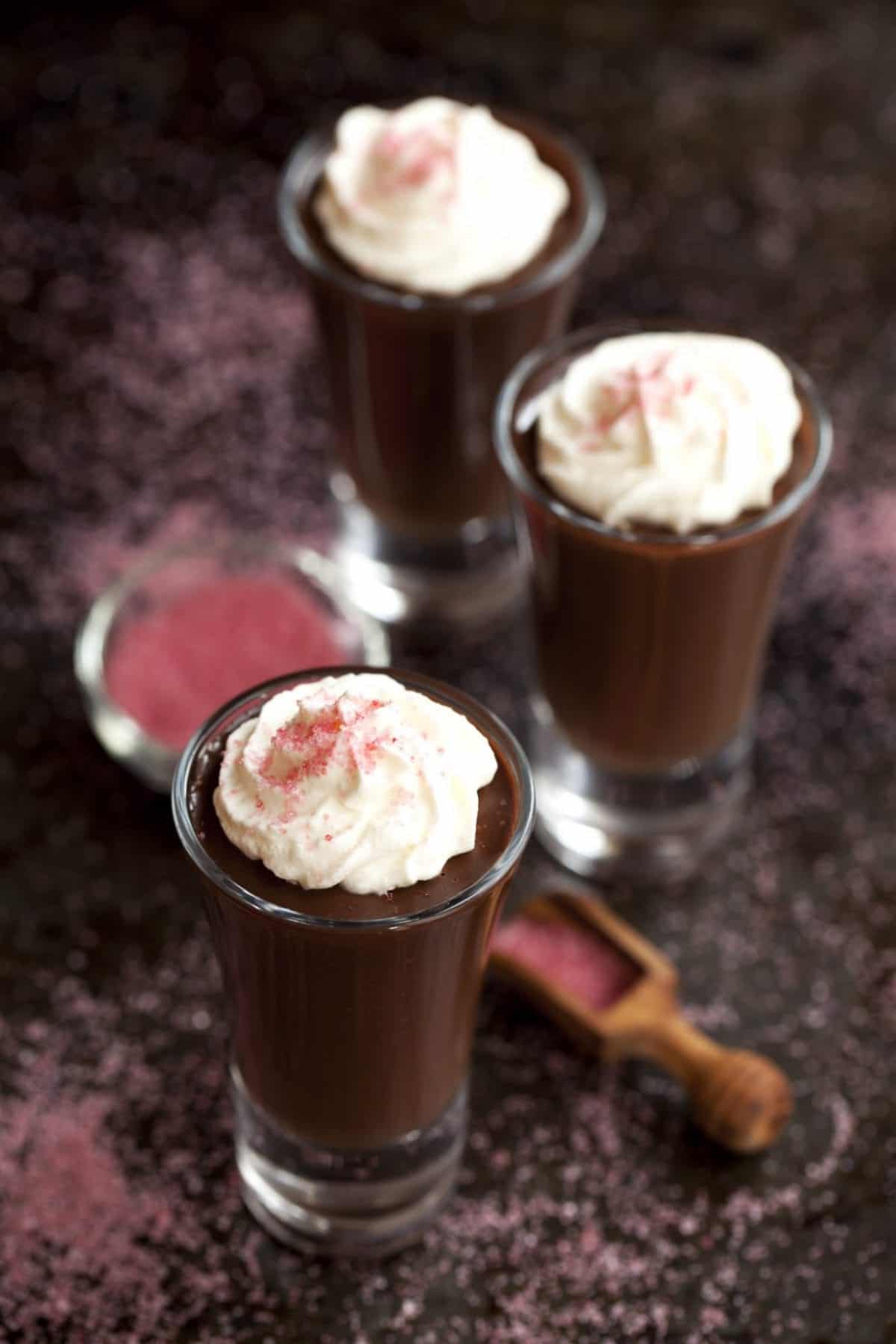 Okay, I have for you a dessert that is rich, chocolatey & boozy. Sounds good, doesn't it? But I have more good news: it's also really quick & easy to make. Easy as in: get out of bed, put on your favourite tune (Moby: Extreme Ways), mess about for 5 minutes in the kitchen – whilst dancing and/or singing at the top of your voice – slam it in the fridge and forget about it until supper time.
That easy – and all done in the comfort of your still warm and cosy PJs. Could dessert get any better?
I don't think so. Did I mention it is very chocolately?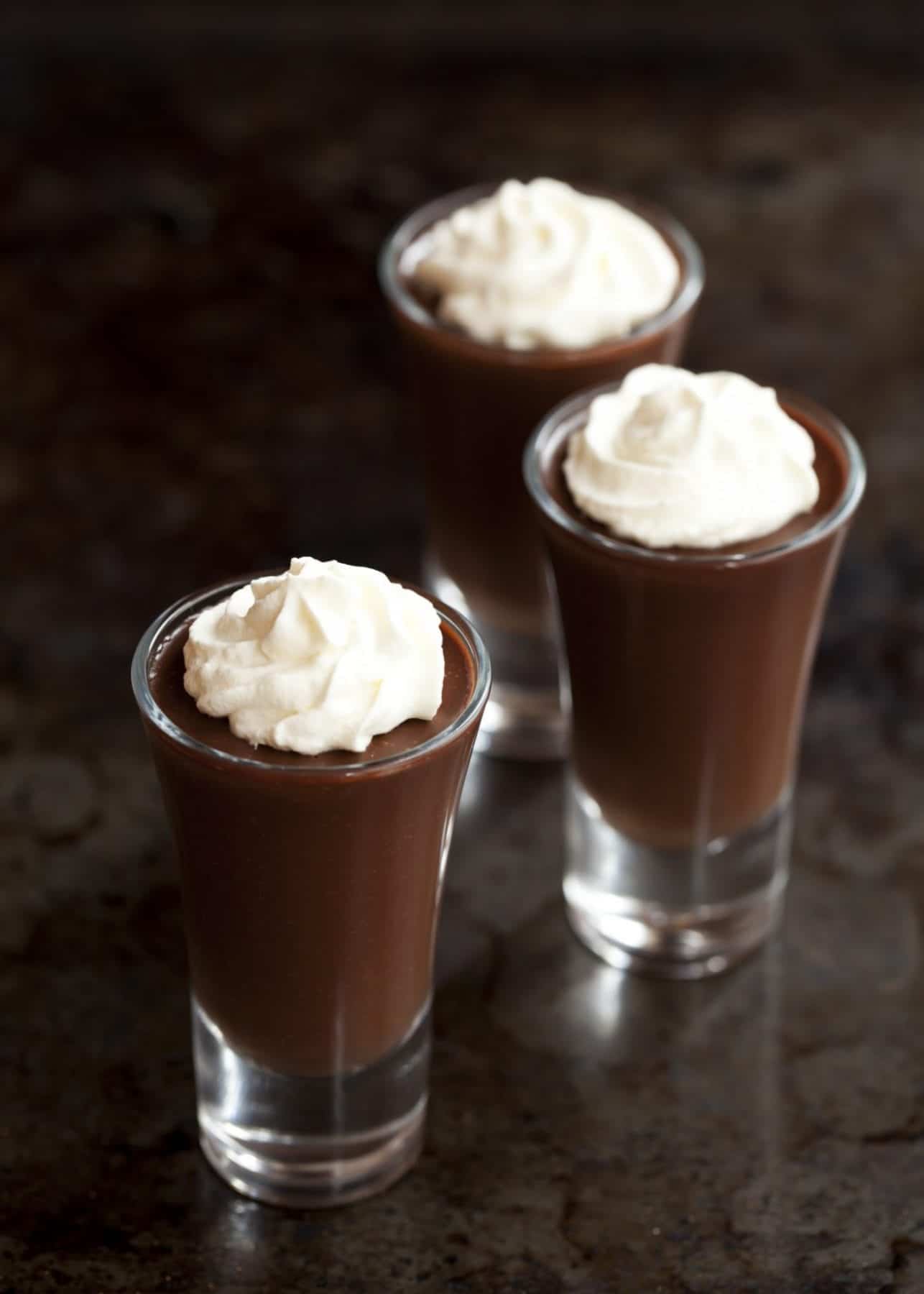 These Prosecco Truffle Pots evolved when I thought about making some truffles for Valentine's Day. I don't normally struggle when it comes to truffles, but this time I did (grrr). The first mix didn't have enough Prosecco flavour. The second mixture had too much. It was beginning to sound like a scene from Goldilocks & the Three Bears. I was beginning to get annoyed (still in PJs).
I contemplated taking a break and getting myself dressed, but then I began wondering what would happen if I forgot about the truffles and made an actual dessert instead.
Blow getting dressed.
I took what I'd learned from my failed attempts at the truffles and came up with these tiny pots of wonder – divinely satisfying, dark, velvety, dreamy and chocolatey. They are more akin to truffles than to a typical chocolate cream dessert due to a lower cream content and no eggs. They are soft and scoopable, but definitely firmer than a mousse or pannacotta style pudding. Just right.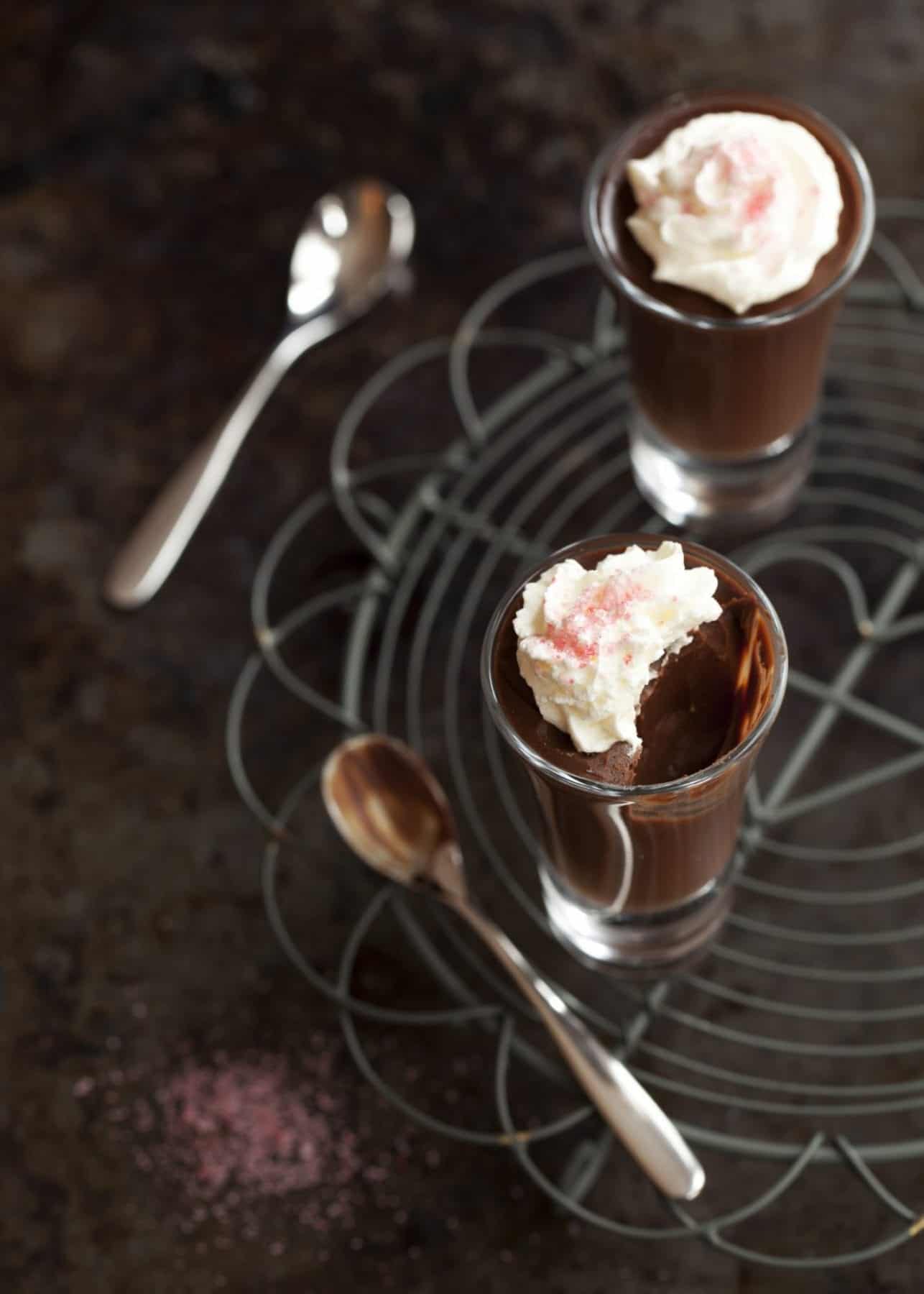 Yes, there are lots of chocolate desserts out there, but if one of these Prosecco Truffle Pots lands on my table on any night of the year, I'll be one happy diner.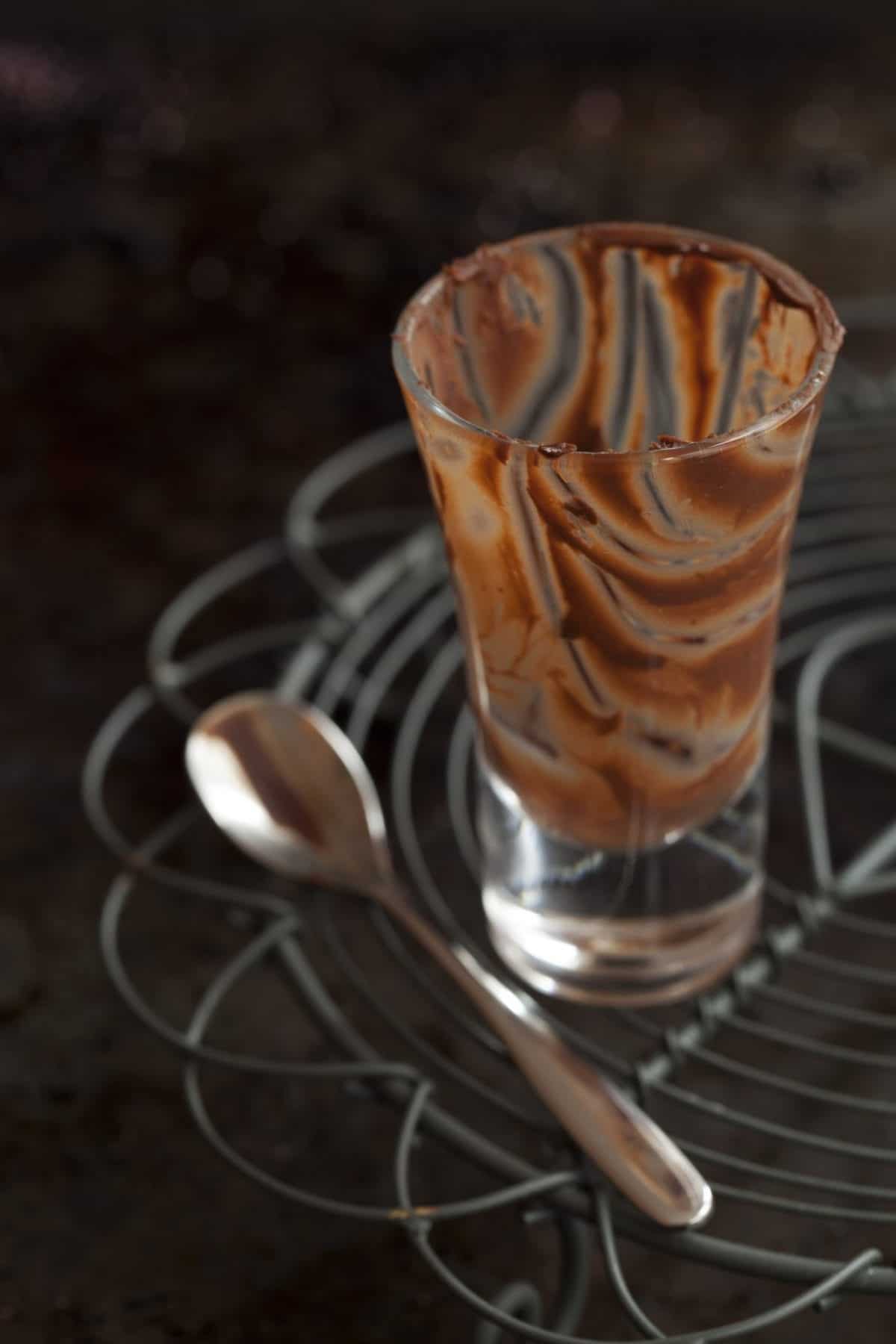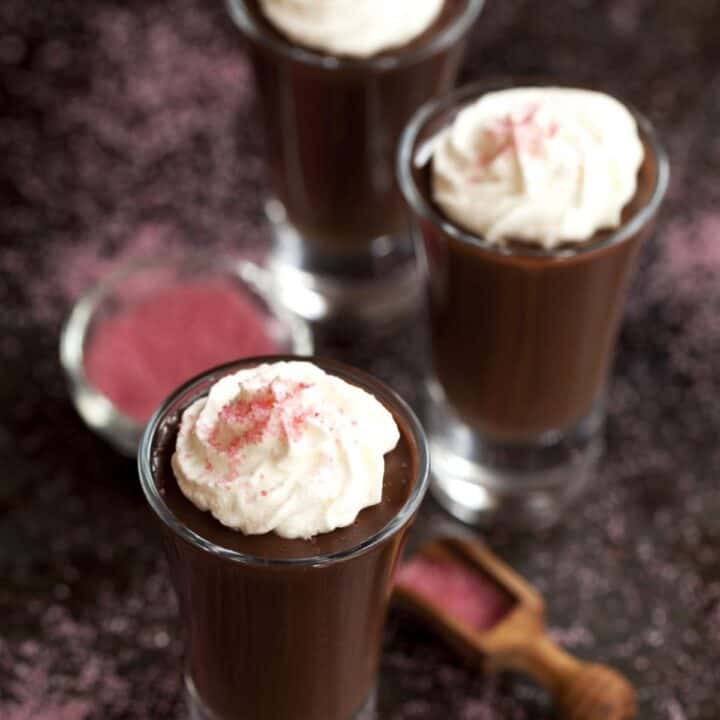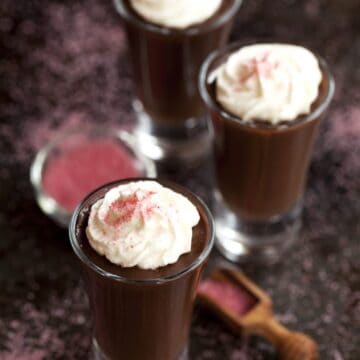 Prosecco Truffle Pots
These Prosecco Truffle Pots are rich, chocolatey & boozy. But there's more good news: this dessert is also super quick & easy to make.
Print
Pin
Rate
Ingredients
135

ml/ ½ cup plus 1tbsp

Double (heavy) cream

150

g/ 5 ½ oz

Dark chocolate – chopped really fine

¾

teaspoon

Light muscovado sugar

60

ml

Prosecco

15

g/ ½ oz

Unsalted butter – cut into small pieces
To serve
Whipped cream

Decorations of choice

(e.g. coloured sugar/ sprinkles, grated chocolate, cocoa powder)
Instructions
Heat the cream and sugar over a medium heat until the sugar has dissolved and the cream is just about to boil

Meanwhile, put the chocolate and butter into a heatproof bowl

Pour the cream over the chocolate & butter, then stir until the chocolate has melted and the mixture is smooth

Stir in the Prosecco

Pour into 4 small glasses or espresso cups. Place in the fridge to set (about 4-5 hours)

Take out of the fridge about 30 minutes before serving.

Right before serving, top with whipped cream and the decoration of your choice
Notes
This mixture would also be perfect drizzled over ice cream. Just make up half the quantity and pour over the ice cream after you have stirred in the Prosecco.
I made 4 desserts in glasses that each took approx 60ml of liquid. There was a little bit left over for um… me.
(Visited 263 times, 1 visits today)