This Bourbon Campari Amaro cocktail is big on flavour: mellow, well-rounded and simply delicious.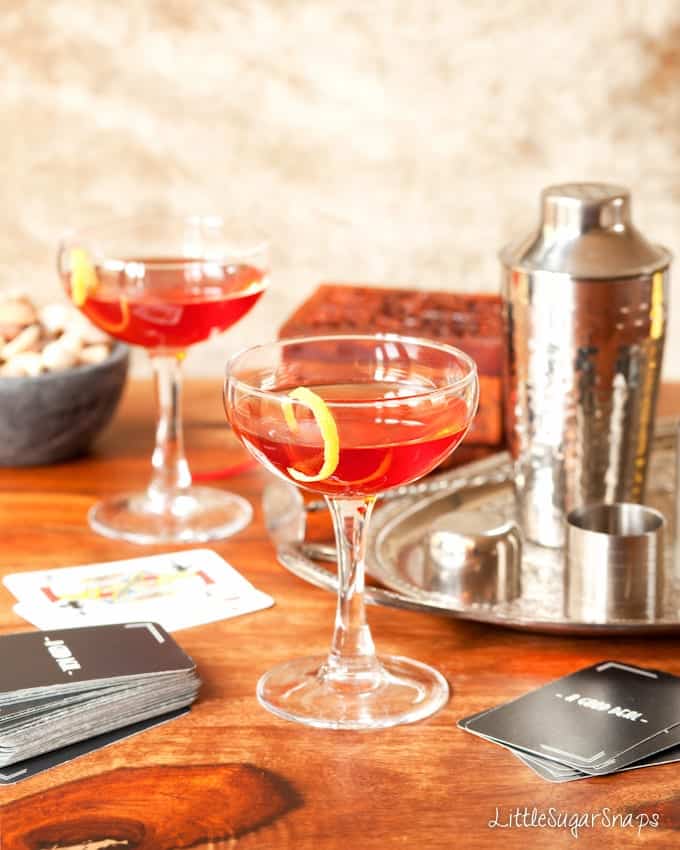 This post contains affiliate links. As an Amazon Associate, I earn from qualifying purchases.
Slowly but surely Britain seems to be adopting quite a few celebrations more commonly associated with America. Take Halloween as an example. When I was growing up, this October festival that is so massively anticipated and celebrated across the Atlantic barely got a mention in my neck of the woods. At best there might have been the odd pumpkin for us kids to carve out. But the idea of trick or treating? I'm sure that was never on the cards.
Then there's Black Friday. Yes – that day of sales that takes place on the Friday immediately following Thanksgiving. Although we do not celebrate Thanksgiving here in the UK, we do seem to have embraced Black Friday.
Two years ago I unwittingly decided to go Christmas shopping in London on Black Friday. I was unaware it was Black Friday. I'd never even heard of Black Friday. (Why would I have heard of it – surely without Thanksgiving there can be no Black Friday?)
Shopping in London on surprise Black Friday turned out to be hell on earth. I queued in every shop I entered, bought only 2 items all day, discovered what Black Friday was all about and vowed never to go near a shop on Black Friday ever again.
Along with Halloween, Black Friday seems to be here to stay in the UK. Perhaps it's one of the perks of Social Media. When we see what fun friends in different countries are having as they celebrate national holidays, traditions & festivals, we can't resist getting in on the act.
Thanksgiving is perhaps the most famous of America's national holidays. But today I want to mention Friendsgiving.
Friendsgiving vs Thanksgiving
Friendsgiving is new. It's quite simply the celebration of Thanksgiving with friends. It's a great idea for anybody unable or not keen to go home for Thanksgiving. Or for those people with amazing friends who are as good as family.
The rules of a successful & relaxing #Friendsgiving are simple:
It can take place before, on or after Thanksgiving.
Similarly, it can replace or be held as well as the traditional Thanksgiving
The host provides the Turkey but between them all other guests bring the rest of the feast (either pre-planned or total pot-luck)
You don't' have to stick to tradition – go crazy and move away from the standard side dishes
Everybody brings booze. Plenty of booze
Now this sounds like my kind of fun.
But what does Friendsgiving have to do with my Bourbon Campari cocktail, which I've called the Italian American?
Well, were I to attend a Friendsgiving (which, let's face it, is pretty unlikely given um… UK and no Thanksgiving) I'd go crazy and bring a sticky toffee pudding for dessert and the ingredients for a bittersweet Campari cocktail. This Bourbon, Campari & Amaro Cocktail to be precise.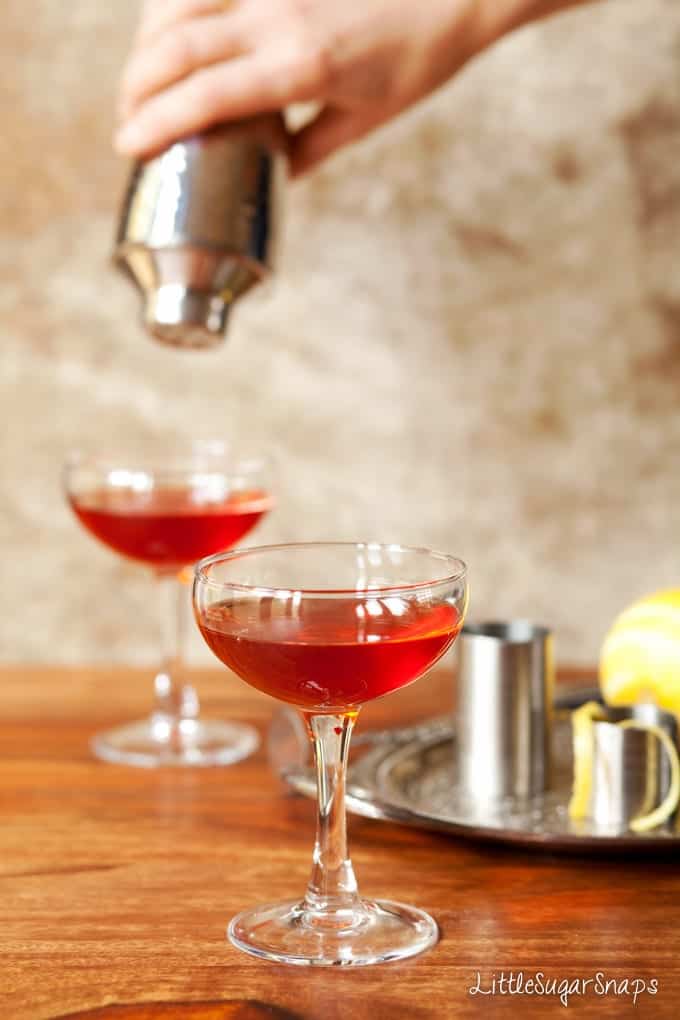 What is Amaro?
If you're new to Amaro, it is a bitter-sweet Italian liqueur often savoured as an after-dinner digestif. I prefer to mix it into cocktails since I tend to fall asleep if I drink this kind of thing neat.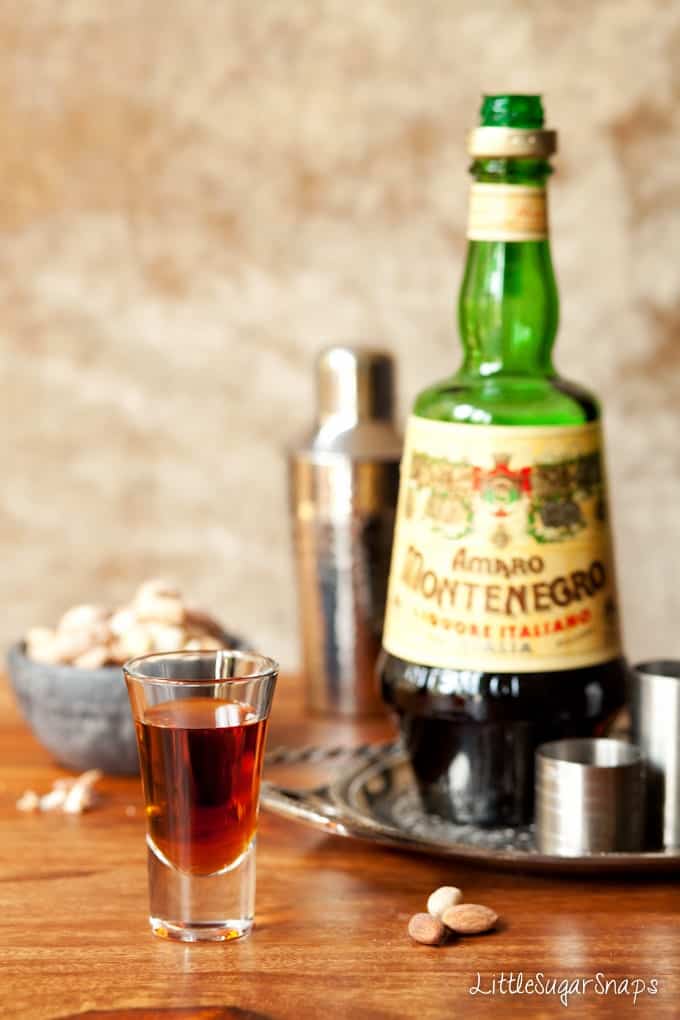 And if you like Italian bitters, don't miss my Averna cocktail.
Ingredients for this Bourbon Campari Amaro Cocktail
No surprises, this cocktail is a blend of good old American bourbon with classic Italian liqueurs (Campari & Amaro). But it also includes maple syrup and lemon juice.
The result is a Bourbon Campari Amaro Cocktail that is short, smooth, mellow and slightly bitter.
It's a drink to linger over with friends and it's a celebration of the fact that friendships can be formed anywhere – school, university, work, holidays, house shares (Hi Jo)… It doesn't matter where people live or how you met. What makes friendship is mutual respect, understanding and common ground. The Italian American cocktail celebrates this fact. It is a blend of 3 nations (America, Italy and England – because I created it) working harmoniously together, making it a great fit for my hypothetical #Friendsgiving.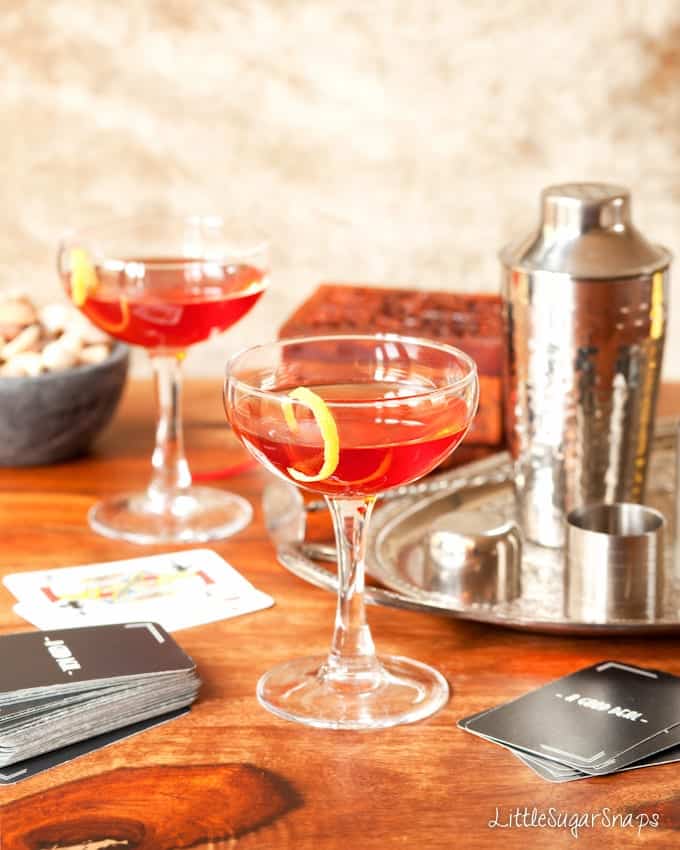 This little Campari Cocktail is also perfect for #Friendsgiving because it's very evolution came about as a result of a Trans-Atlantic friendship that I've made through blogging. I want to tell you a little about Christine, my first blogger friend. Christine heads up the brilliant blog MidlifeCroissant featuring plenty of healthy recipes and cheeky cocktails mixed in with saucepans full of natural wit. It's worth a look – you'll find yourself smiling before you leave.
Over the last 18 months, Christine has offered me support and encouragement at the highest and lowest points of my blogging life. Specifically, last autumn when my site was on its knees for a good three weeks. She was there pushing me on. Serving up hope. Basically making me feel like I must get things working again otherwise I'd be letting her down. I needed that push.
She's also introduced me to her network of blogging friends – a group of talented ladies who all encourage and drive each other on and enjoy talking about the things we have in common away from our blogging lives… food, wine, donkeys, more food, cats, allergies and um… cocktails.
Oh, and crucially, Christine is also the very person who introduced me to Amaro – the third vital ingredient in today's Italian American blend. She made me buy it to try out one of her cocktail creations.
I have a lot to thank Christine for.
Whatever you're celebrating – Thanksgiving, Friendsgiving or Black Friday minus Thanksgiving, ensure you grab the recipe for The Italian American so you can celebrate in style with an Amaro Cocktail at hand.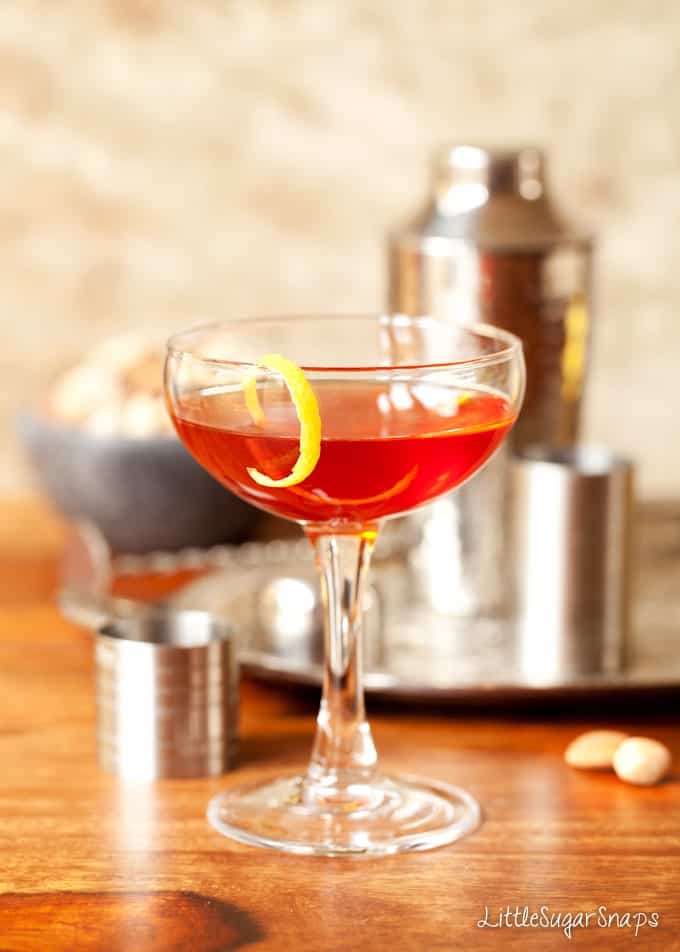 If you like bitter drinks you may also enjoy these Campari Cocktails: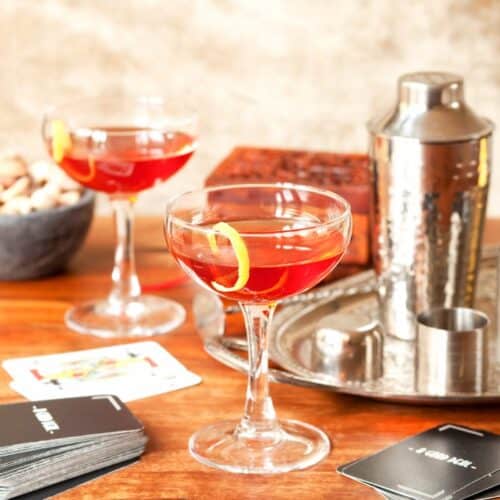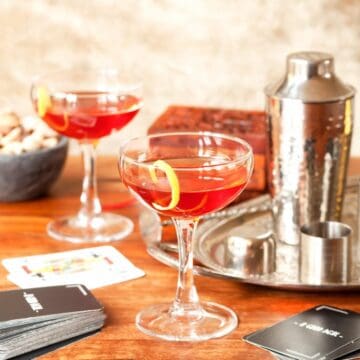 The Italian American – a Bourbon Campari Amaro Cocktail
The Italian American blends classic American ingredients with two classic Italian liqueurs. The result is a Bourbon, Campari & Amaro Cocktail that is big on flavour: mellow, well-rounded and simply delicious.
Print
Pin
Rate
Ingredients
30

ml/ 2tbsp

Bourbon

20

ml/ 4 teaspoon

Campari

10

ml/ 2 tsp

Amaro Liqueur

(I used Amaro Montenegro)

5

ml/ 1 teaspoon

Lemon juice

2.5

ml/ ½ teaspoon

Maple syrup

Twist fresh lemon peel
Instructions
Put the first 5 ingredients into a cocktail shaker with a handful of ice

Mix with a long spoon for 20 seconds

Strain into a cocktail glass, garnish with a twist of lemon and serve immediately
Nutrition Per Serving (Approximate)
Calories:
161
kcal
|
Carbohydrates:
11
g
|
Protein:
1
g
|
Fat:
1
g
|
Saturated Fat:
1
g
|
Sodium:
1
mg
|
Sugar:
5
g
|
Vitamin C:
2
mg
(Visited 6,720 times, 15 visits today)