These Rarebit Style Cheesy Leek Baked Potatoes are ultimate comfort food. They are easy to make, full of punchy flavours and freezable.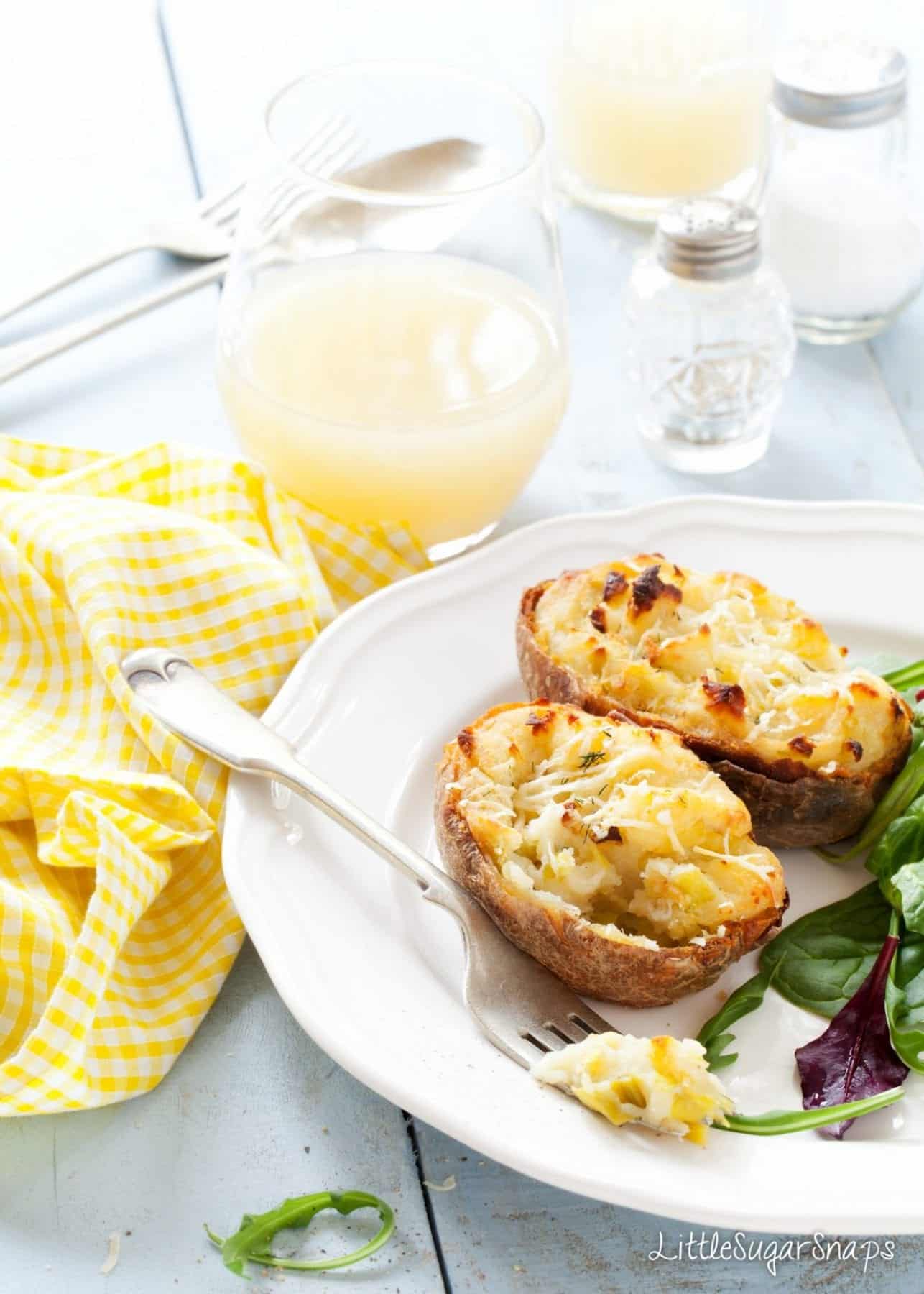 This post contains affiliate links. As an Amazon Associate, I earn from qualifying purchases.
We're only just edging towards spring, so I'm not feeling too guilty about posting a cheesy, buttery, substantial midday meal today.
Since childhood I've always been a big, big, fan of jacket potatoes. Especially when they come laden with butter and cheese. And I do mean laden. That may not be the healthiest option to top an innocent jacket spud with, but – in my mildly obsessed opinion – it's the best way to go.
These Cheesy Leek Baked Potatoes are really just that humble lunch made ever so slightly more fancy. Loosely based on Welsh Rarebit (Hi mustard. Hi Worcestershire sauce.), these twice baked potatoes are definitely worth the extra effort.
I've scooped and mashed the flesh from the potatoes using a potato ricer. Then I've added a few juicy extras:
fried leeks
cheddar cheese
butter
mustard
Egg yolks
Although the addition of egg yolk to mashed potatoes is typically associated with Duchess Potatoes, I liked the sound of creating wonderfully rich and creamy mash for these twice baked potatoes. So I plopped a couple of yolks in for good measure.
All that's left to do is pile this hearty fix back into the skins, scatter a little extra cheese on top and bake.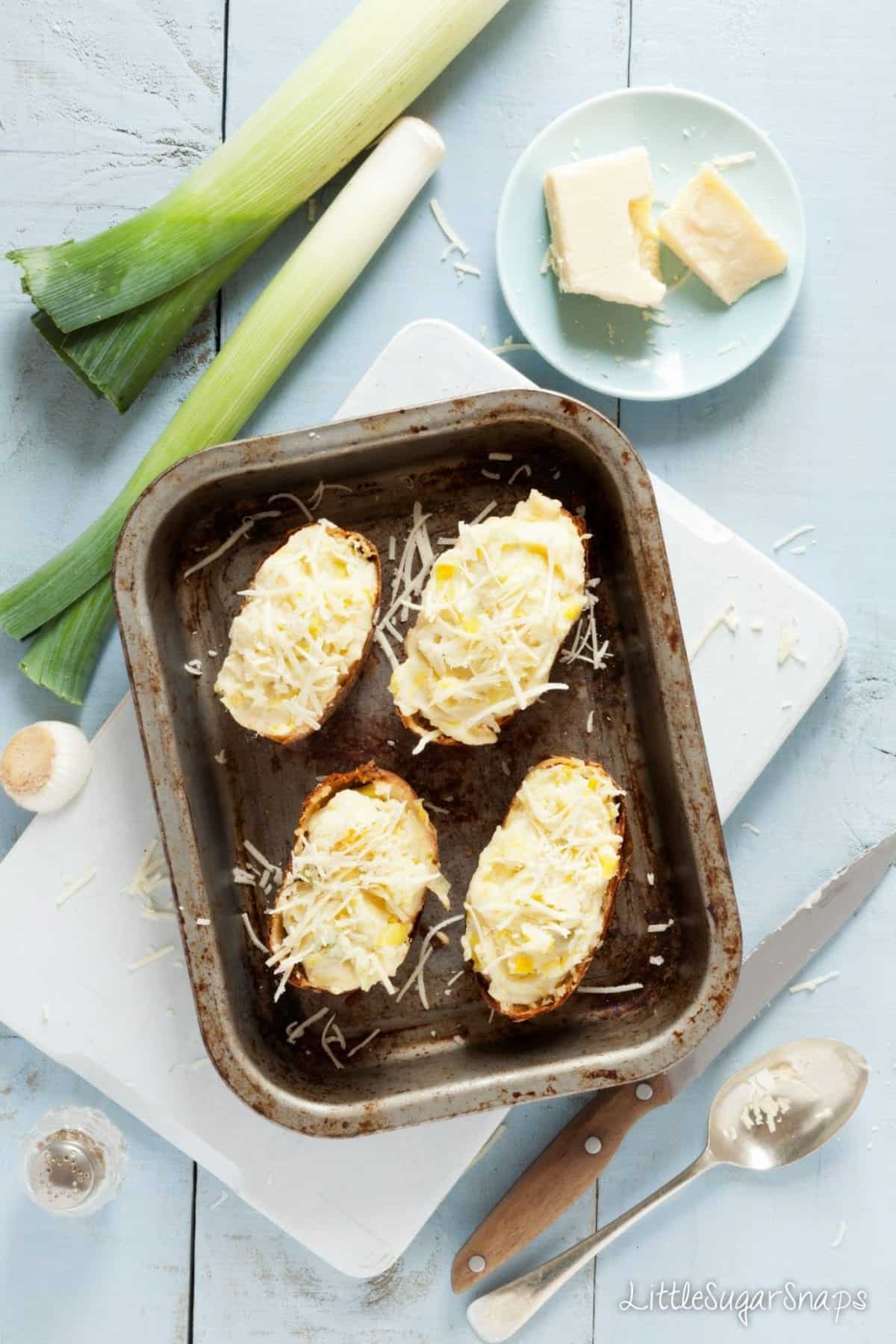 … Then wait patiently for them to cook and cool slightly before diving into silky, creamy, cheesy potato heaven with a slightly tangy kick from the Worcestershire Sauce and mustard.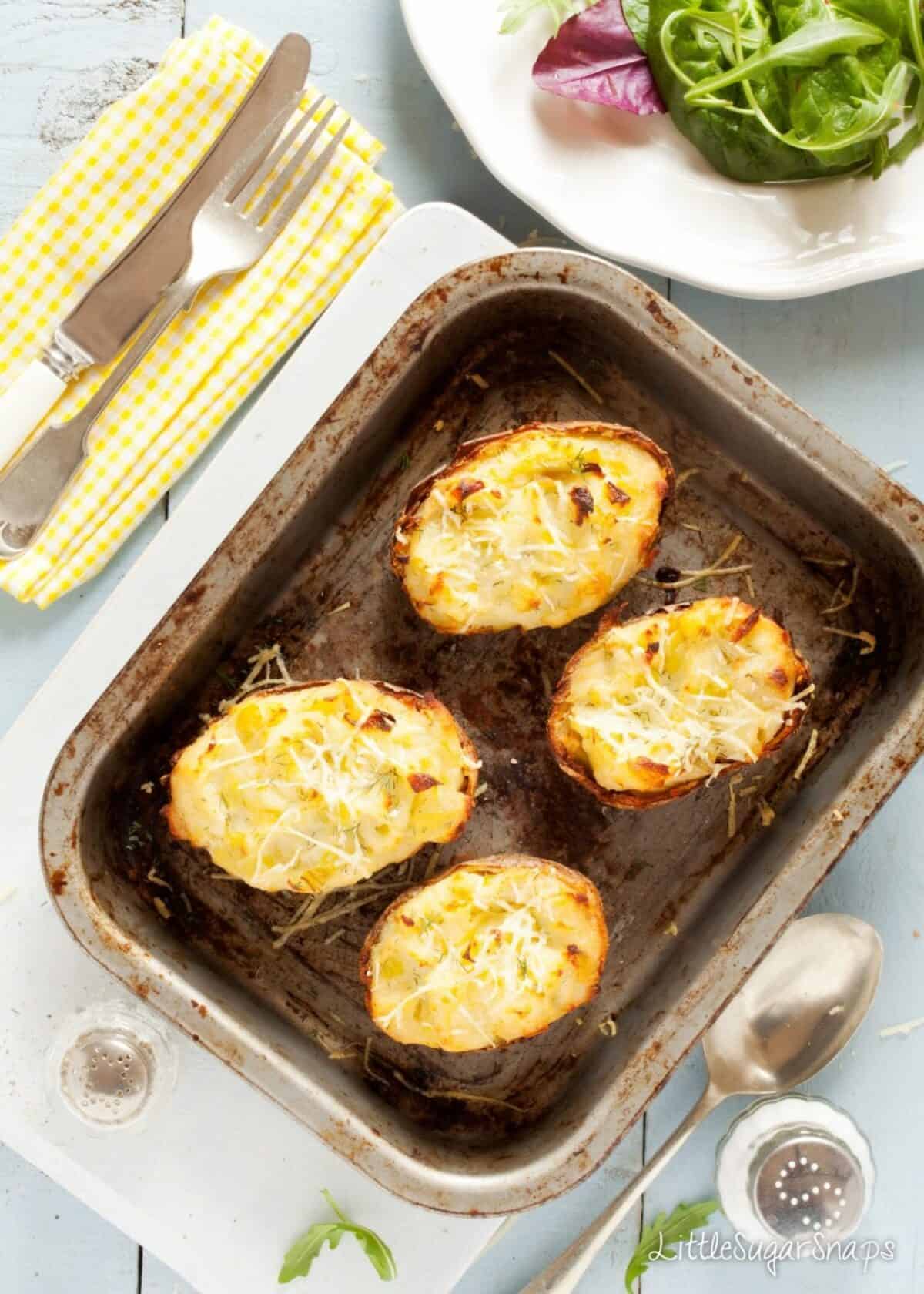 These Cheesy Leek Baked Potatoes are great to make in advance and have on standby. They not only store well in the fridge prior to the second bake but they can also be frozen. I like having comfort food like this in my freezer… lying in wait.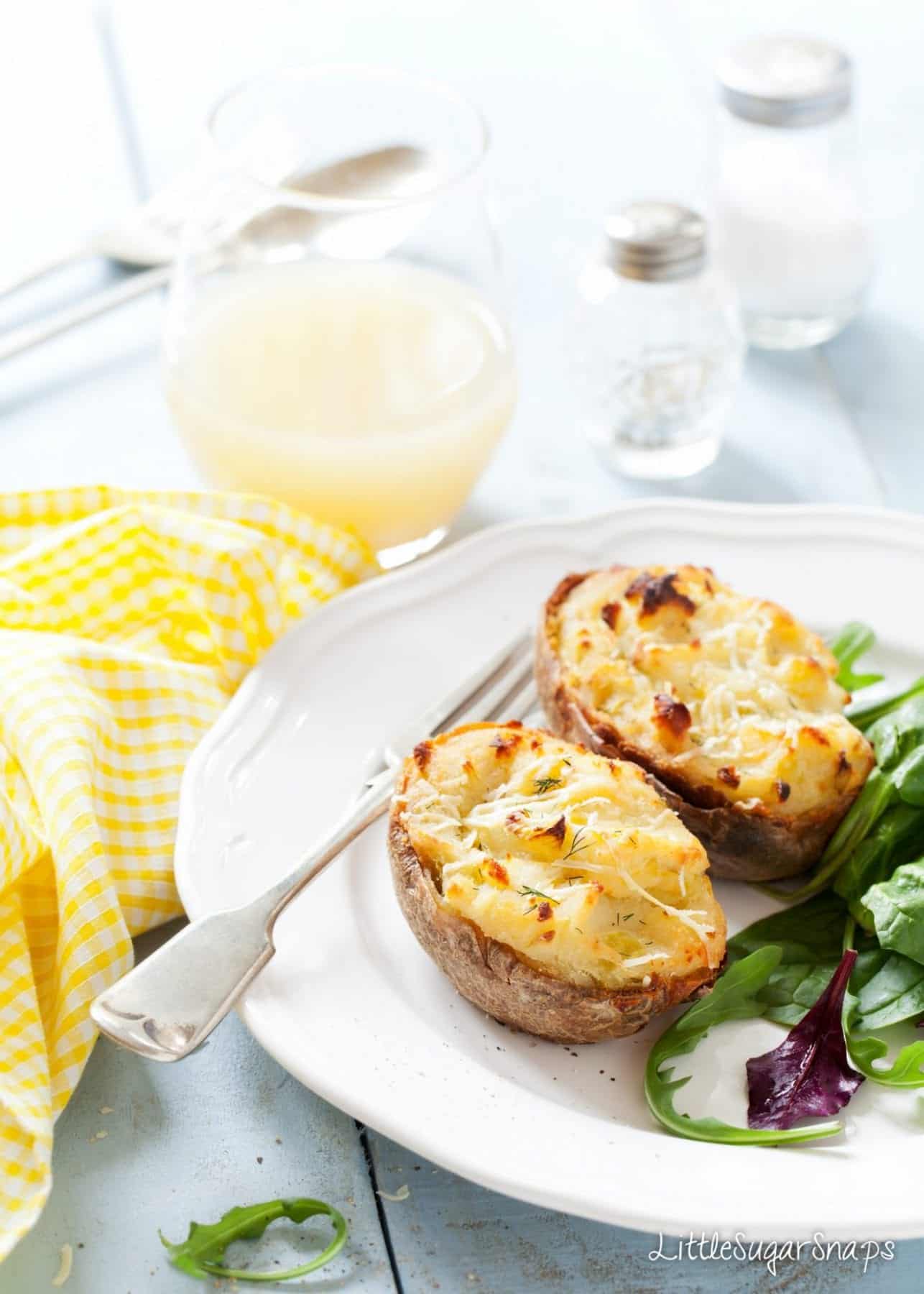 More Tasty Lunch Options: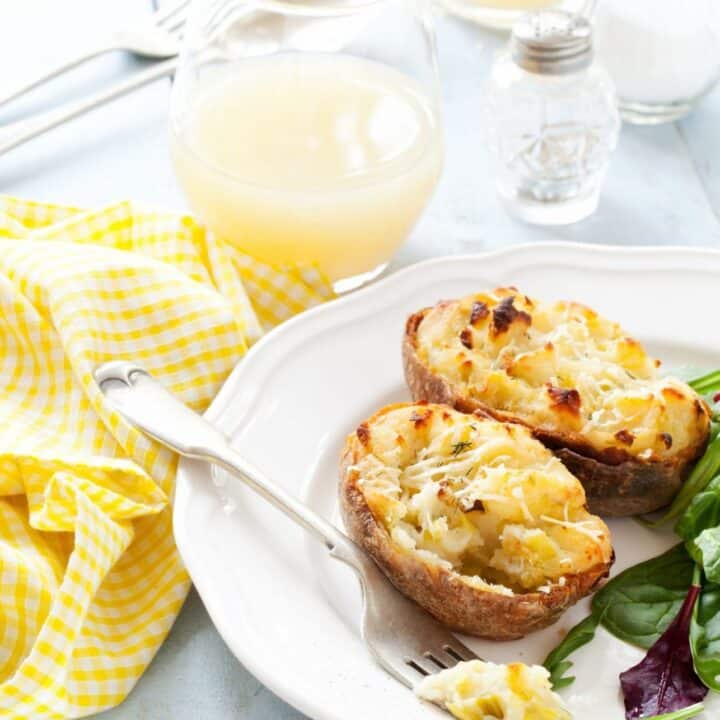 Cheesy Leek Baked Potatoes – Rarebit Style
If you're vegetarian don't be put off by the Worcestershire Sauce in this recipe. The original Worcestershire Sauce does contain anchovies, but there are numerous brands these days offering up a vegan alternative (Biona, Annie's Naturals…). Or you could make your own – try
this enticing recipe
from the Viet Vegan.
Print
Pin
Rate
Ingredients
4

Medium baking potatoes

(about 175g/ 6oz each)

225

g/ 8oz

Leeks

(outer skin removed and trimmed)

25

g/ 1oz

Butter

225

g/ 8oz

Strong (sharp) cheddar cheese – grated

1

teaspoon

English Mustard

2

teaspoon

Worcestershire Sauce

Salt & Pepper

2

Egg yolks
Instructions
Prick the potato skins in several places and bake for approx 1 hour 45 minutes at 180C/ 350F/ GM4 (until soft all the way through when poked with a sharp knife)

Remove from the oven and turn the heat up to 200C/ 400F/ GM6

Melt the butter in a large saucepan, slice the leeks thinly, add to the pan and cook over a low-medium heat for 5-10 minutes until soft. Stir frequently to prevent browning. Remove from the heat

Cut the potatoes in half, scoop out the flesh and mash until smooth – I used a

Add to the leeks along with the mustard, Worcestershire Sauce, and egg yolks

Also add the cheddar – reserving a handful to sprinkle over the potatoes prior to baking

Mix all ingredients together until fully incorporated. Taste and add salt & pepper as desired

Divide the mashed potato mix between the potato skins, scatter the remaining cheese on top and bake for 20 minutes until golden

Alternatively, let cool completely and store in the fridge until required then bake for 25-30 minutes.

See notes for freezing
Notes
These potatoes can be frozen. Let cool completely, then wrap each half individually in foil (minus the scattering of cheese). Label and freeze until required. Preheat your oven to 220C/ 425F/ GM7. Unwrap the potatoes , place on a baking sheet, cover with foil and bake for 40 minutes. Remove the foil, scatter with cheese and bake for a further 20 minutes. Alternatively, defrost completely, scatter with cheese and bake for 25-30 minutes at 200C/ 400F/ GM6
(Visited 715 times, 4 visits today)