Christmas Wreath Cookies are perfectly beautiful & super easy to make. They are full of spices and decorated with cranberries, white chocolate & pistachios. Go bake.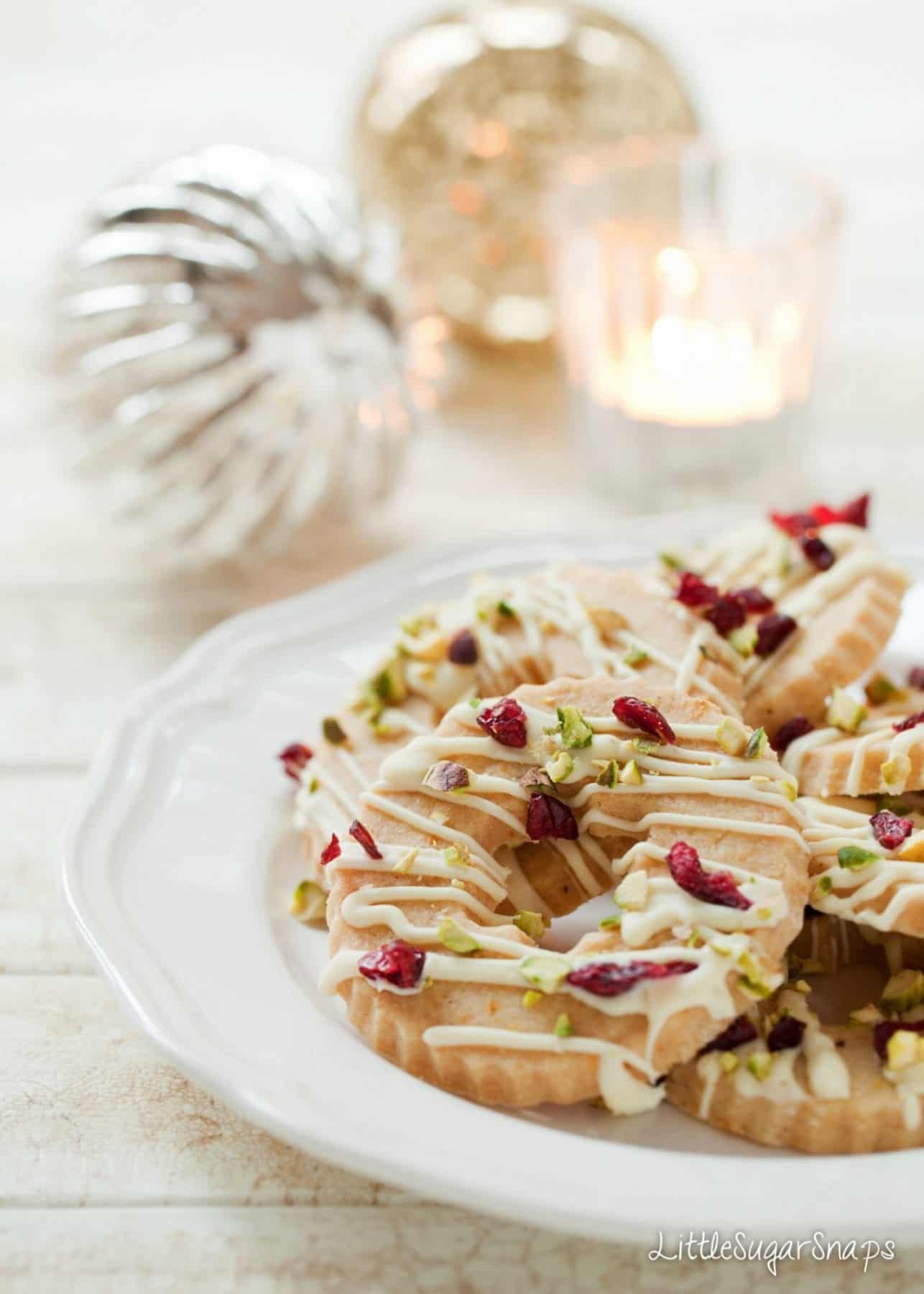 Have your children finished school already and are keen to help you prepare for Christmas? Get them making these wreath cookies for you. They will love the decorating part.
I've been getting my girls to help a lot this year. We made the Christmas pudding weeks ago. And last weekend we ticked off the mince pies – they're in the freezer ready to bake when we want them.
We've also been doing all the usual traditions associated with Christmas baking – making wishes as they stir the Christmas pudding, exclaiming 'erghh Mummy, that's gross' when I tell them that the original mince pie – made way back in the 13th century – would have included a mixture of meat, fruit and spices. Christmas baking is definitely great fun, especially when you can get others to take part with you.
Anyway, pudding done, mince pies frozen, all that's left to do is the sausage rolls. By tomorrow evening I'll have a batch safely stashed away in the deep-freeze. This feels weird – I'm never this organised.
However, I'm not one to knock a golden opportunity. And the opportunity is that I have enough time to make another batch of these Christmas wreath cookies to really get me into the Christmas spirit. They're not only full of Christmassy flavours (think spice, citrus, cranberries), but they also look beautifully festive.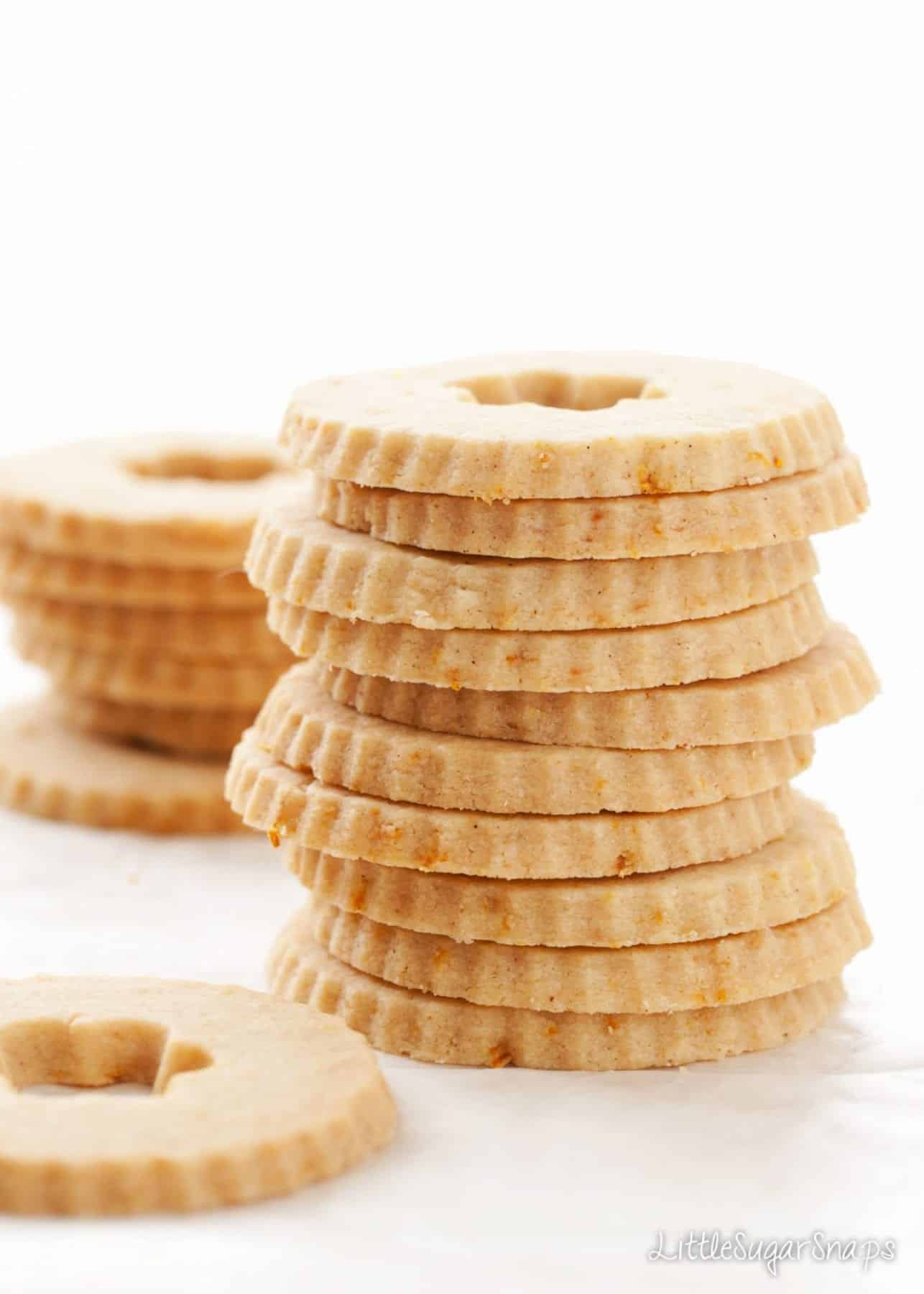 Top Tip for Making these biscuits
Secret: these wreath cookies are actually a bit of a whizz to make. Just don't tell anybody that bit when they are congratulating you for being so clever in the kitchen and wondering where you find the time to be so clever, especially at this time of year… shhhhh.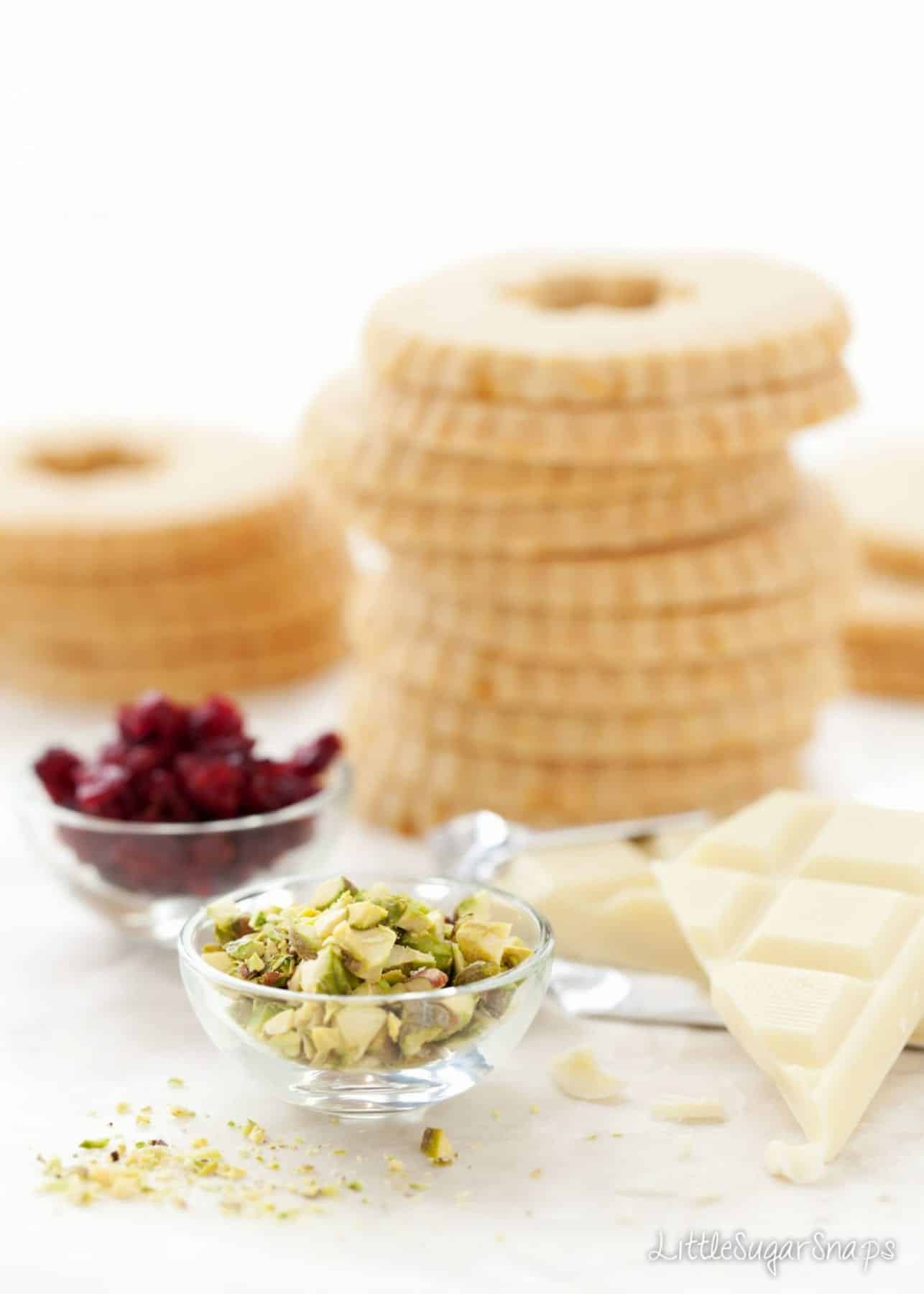 The way to perfection with these cookies is to chill them for 30 minutes after you cut them out. This helps them to retain a perfect shape rather than splodging out all over the place as they bake.
I love these Christmas Wreath cookies, as they are exceptionally crunchy and full of interesting flavours without being too over the top. The drizzle of white chocolate doesn't overpower the lovely buttery biscuit beneath it.
Even my lovely man agrees they are pretty good. And he normally likes his biscuits un-adorned (I got carried away zig-zagging the white chocolate and forgot to leave him a couple of naked biscuits).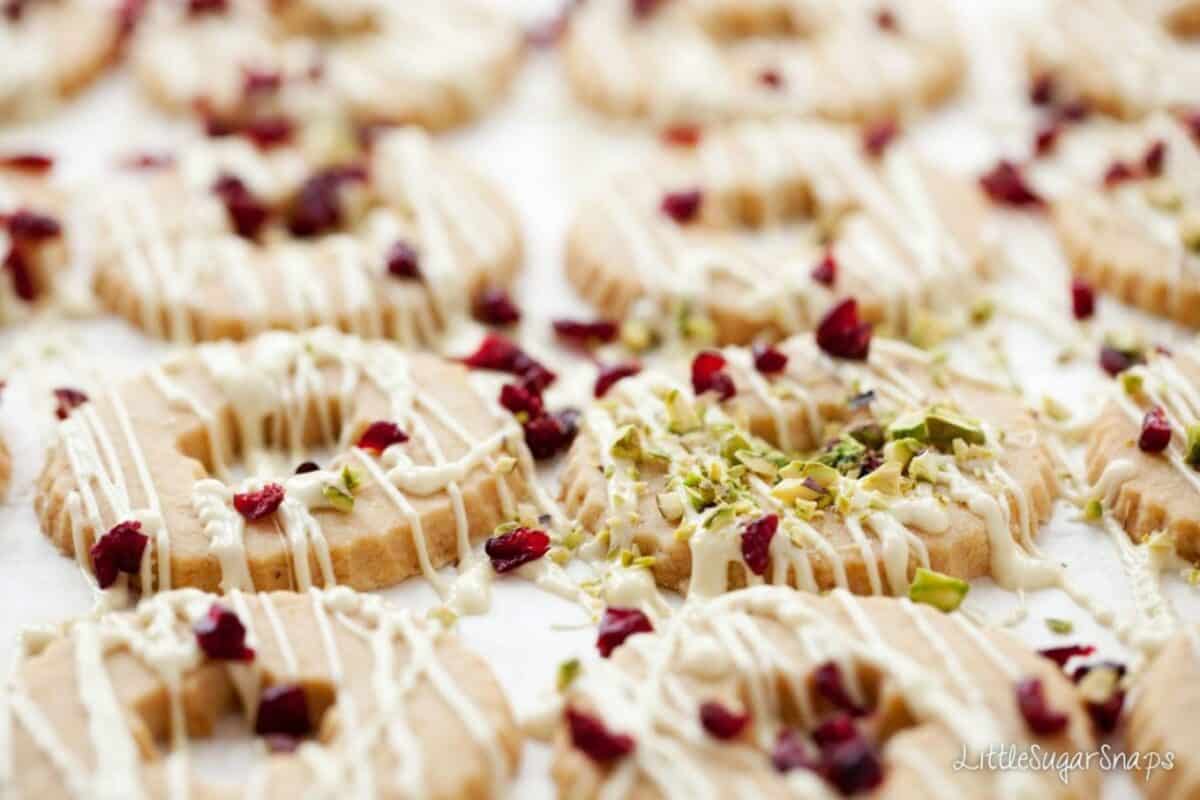 These wreath cookies keep well making them perfect for having on stand-by for unexpected guests or carol singers. Does anybody still get carol singers?
They also make a great gift too – that's if… if, if, if… you can bear to part with them.
More Fun Christmas Treats: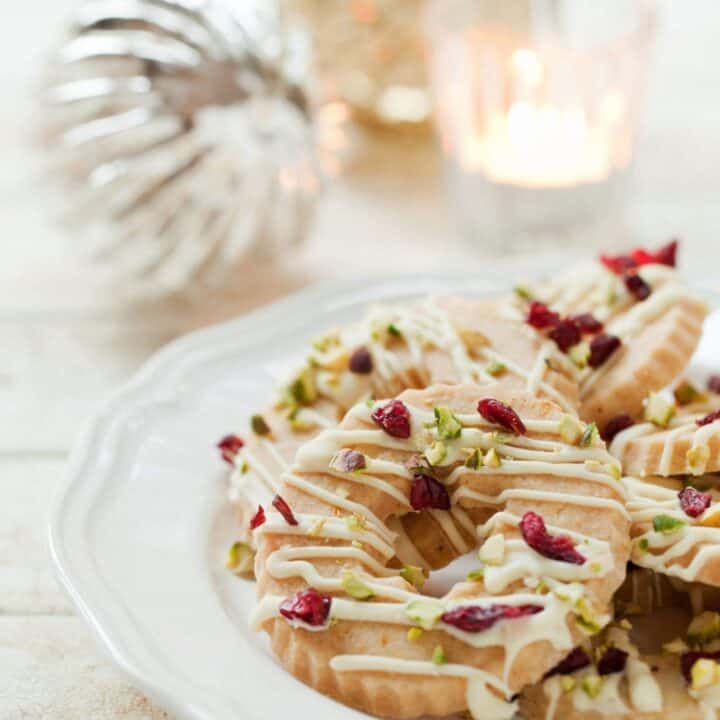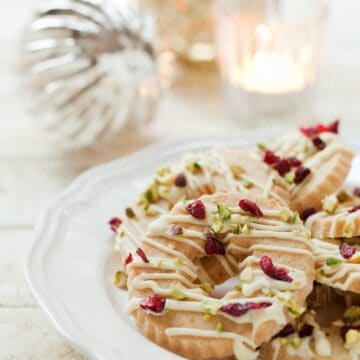 Christmas Wreath Cookies
Full of spices and decorated with cranberries, white chocolate & pistachios these Christmas Wreath cookies are perfectly beautiful & super easy. Go bake.
Print
Pin
Rate
Ingredients
75

g/ ½ cup

Rice flour

200

g/ 11/2 cups

Plain (all purpose flour)

225

g/ 1 cup

Unsalted butter – cubed

40

g/ ⅓ cup

Icing (confectioner) sugar

45

g/ ¼ cup

Vanilla caster sugar

1

teaspoon

Mixed spice

Finely grated zest of ½ an orange

Finely grated zest of ½ a lemon
Toppings
100

g/ ¾ cup

White chocolate – chopped & melted

40

g/ ¼ cup

Pistachio nuts – finely chopped

40

g/ ¼ cup

Dried cranberries – chopped small
Instructions
Put the flours, sugars, spice, citrus zests and butter into a bowl and rub together using your fingertips until the mixture first resembles breadcrumbs and then starts to bind together. Knead briefly and gently until the mixture forms a smooth biscuit dough

Roll out on a lightly floured work-surface to approximately ½ cm (¼ inch) thick. Press out circles of the dough using a pastry cutter with a diameter around 7cm (2 ½ inches). R-roll the dough once and cut out any extra biscuits that you can

Using a much smaller cutter* of around 2cm (¾ inch) in diameter, cut out the middle of the biscuits, then lay the biscuits on baking sheets and chill for 30 minutes before baking. Meanwhile preheat the oven to 140°C/ 275°F/ GM 1

Bake the biscuits for 25-30 minutes until very lightly golden – you are not looking for these biscuits to brown significantly – they are cooked long and low to get a nice crunch without a suntan

Once baked, allow to cool for a couple of minutes on the baking sheet then transfer to a wire rack to cool completely

Drizzle the melted white chocolate over the cooled biscuits, zig-zagging as you go. Finally, sprinkle the cranberries and nuts over the top. Once set, you may need to carefully poke any chocolate/ cranberries & nuts through the middle to reveal the hole
Notes
I know that you can get cutters designed to cut the middle out as well as the outer edge. Maybe I need to put one on my Christmas wish list, as I don't have one yet.
Nutrition Per Serving (Approximate)
Calories:
213
kcal
|
Carbohydrates:
22
g
|
Protein:
2
g
|
Fat:
13
g
|
Saturated Fat:
8
g
|
Cholesterol:
28
mg
|
Sodium:
95
mg
|
Potassium:
57
mg
|
Fiber:
1
g
|
Sugar:
10
g
|
Vitamin A:
322
IU
|
Vitamin C:
1
mg
|
Calcium:
19
mg
|
Iron:
1
mg
(Visited 442 times, 1 visits today)