Entertaining should never be a chore. When time is short try pulling together a simple appetiser platter of Baked Tomato and Goats Cheese with salami and olives. Serve with fresh bread to mop up the juices and follow on with an equally simple pasta dish for main.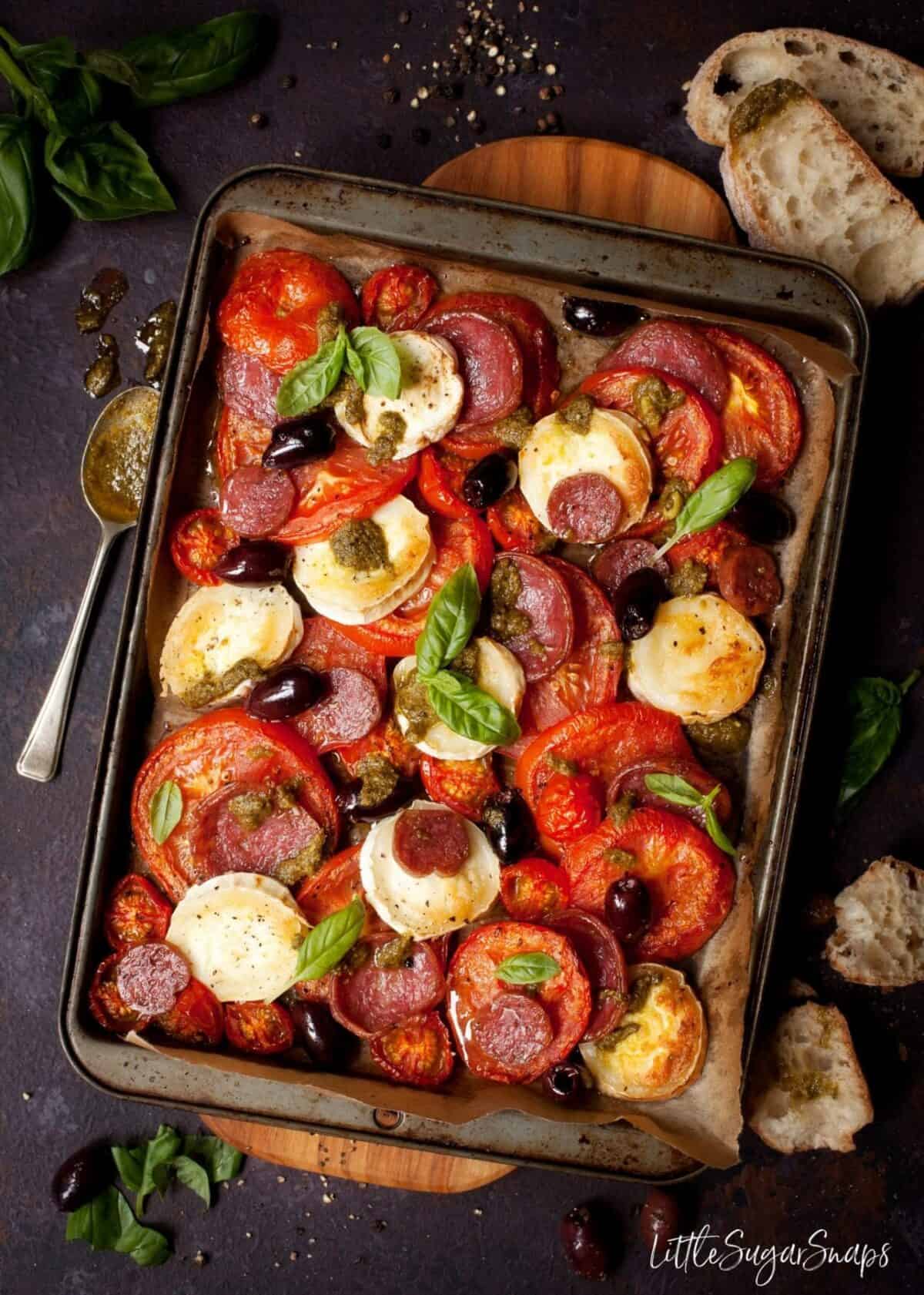 This post is sponsored by Fattoria la Vialla. All opinions and text are my own.
There is something wonderful about sitting around a table, enjoying great food with family or friends. But when life is hectic, the thought of providing a meal worthy of guests can begin to feel like a chore if we are not careful.
It's easy to fall into the trap of thinking that great food means slaving away in the kitchen for hours. But I have a couple of recipes to share today to prove that tasty food does not always take hours to prepare. They might not be Michelin star standard, but both dishes require minimal hands-on time and deliver hearty, flavoursome and comforting food that is very well suited to cool evenings, cosy fires and an informal gathering of friends around a table.
To kick things off I have a warm appetiser of Baked Tomatoes and Goats Cheese with salami, olives and pesto. The only preparation required is the slicing of the tomatoes, goats cheese and salami. After that, it's really down to the oven to transform these simple ingredients into a crowd-pleasing appetiser. This bake is a great recipe to knock up quickly and, once baked, it can be placed directly in the centre of the table for guests to help themselves. No fiddly plating up required.
A slice or two of fresh, warm bread, such as ciabatta, to soak up those juices is the perfect accessory.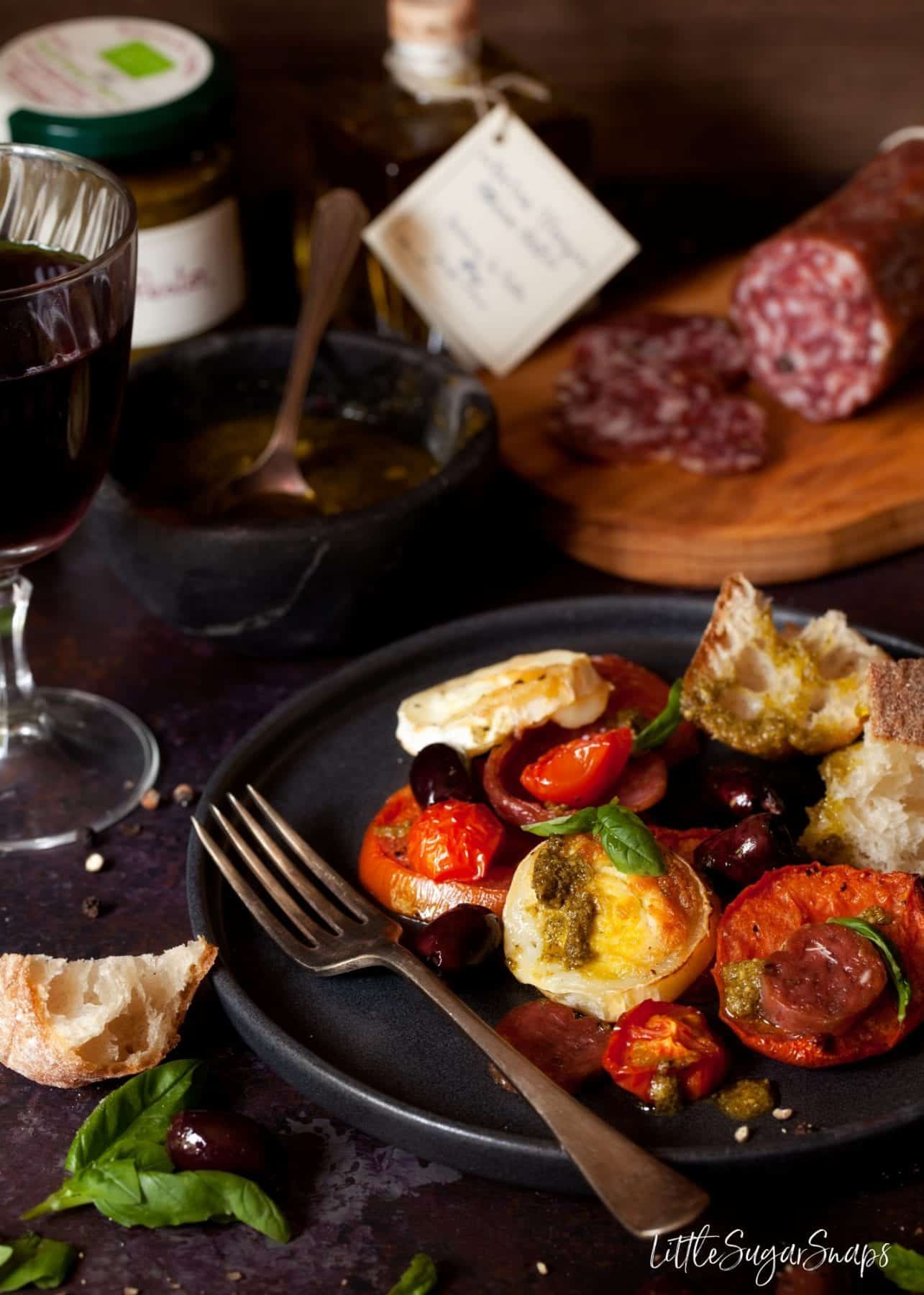 I recommend following on from this platter of bold, intense flavours with a simple, yet gratifying pasta dish.
Sweet & tangy slow roasted tomatoes and a swirl of sauce – just enough to coat the pasta – make an excellent partnership with peppery fresh rocket and creamy buffalo mozzarella. A little hard cheese such as pecorino or parmesan can be scattered on top, for an extra flavour dimension, but it's not essential.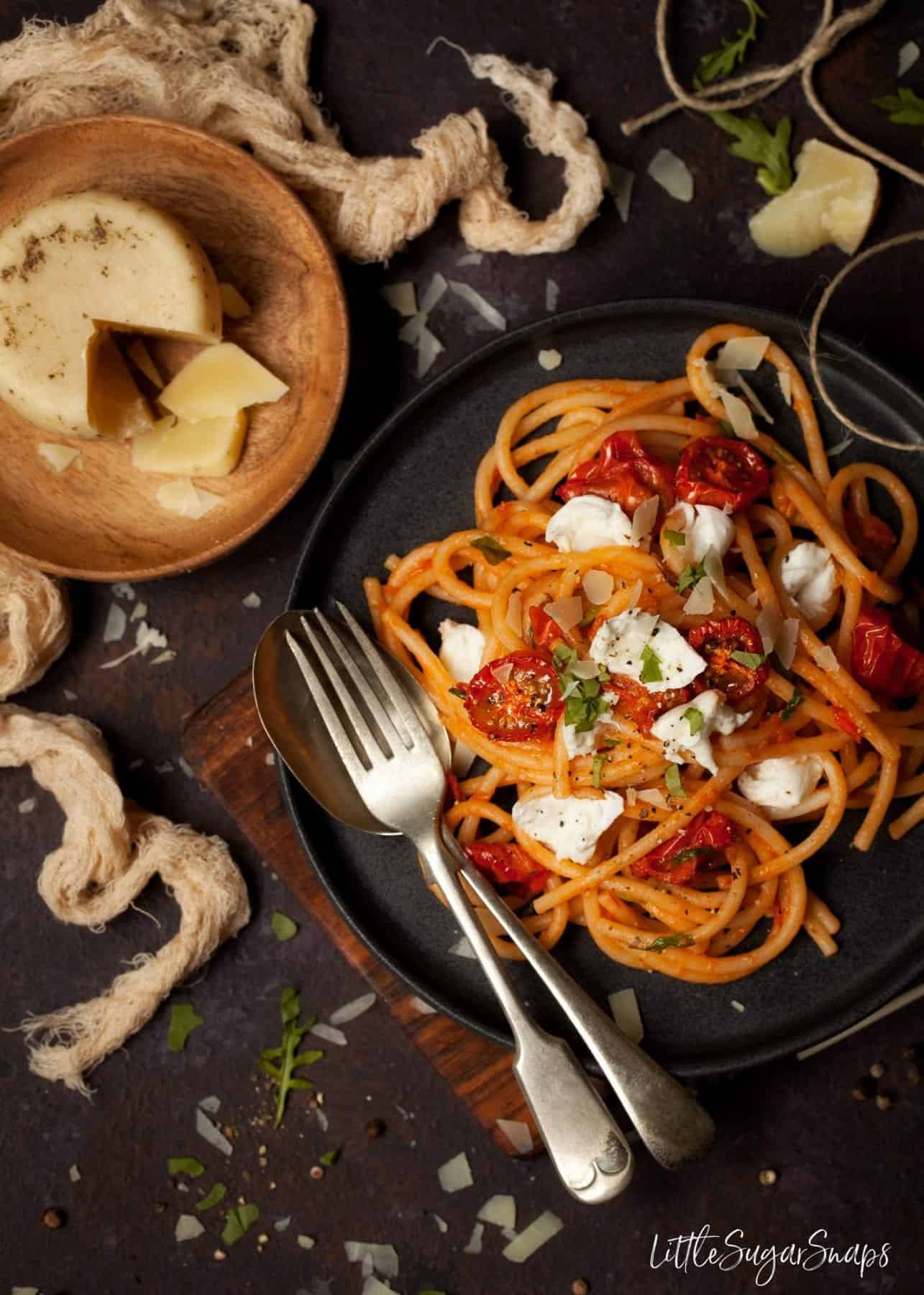 Again, there is very little work to do in the way of preparation and yet all of these simple ingredients blend together to create a dish that seems to add up to more than the sum of its parts. This pasta manages to be fresh tasting yet comforting at the same time. I think of it as food for the soul.
The key to both of these easy supper recipes are the ingredients. The best advice I've ever been given, as far as cooking goes, is to keep things simple but use quality ingredients. Both recipes I have today adhere to this philosophy entirely.
I was lucky enough to stumble across Italian food and wine producers Fattoria La Vialla around 8 years ago. This family-run, organic-biodynamic farm and wine estate in the heart of Tuscany produces all manner of produce, including: wine, pasta, flour, cheese, salami, jar sauces, olive oil, pesto, marinated vegetables, vinegars, jam, honey and sweet biscuits. Phew, you get the idea. It's basically an all-encompassing Italian deli on one farm. In the middle of Tuscany. Sigh.
And yes, I am fully appreciative of the fact that it's possible to buy alot of these products from the supermarket, but believe me when I tell you that products from Fattoria la Vialla are a notch or two up from their typical supermarket counterpart.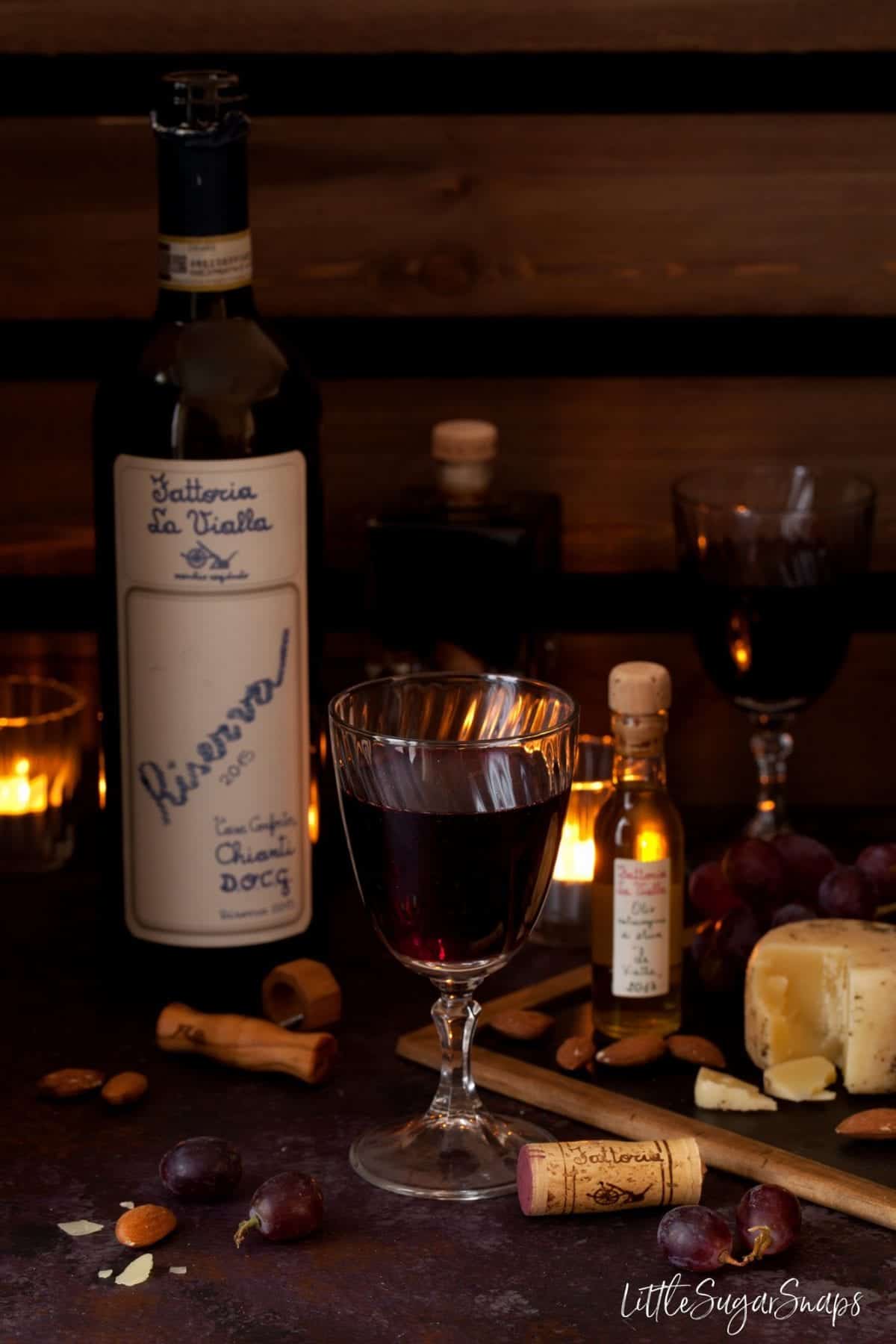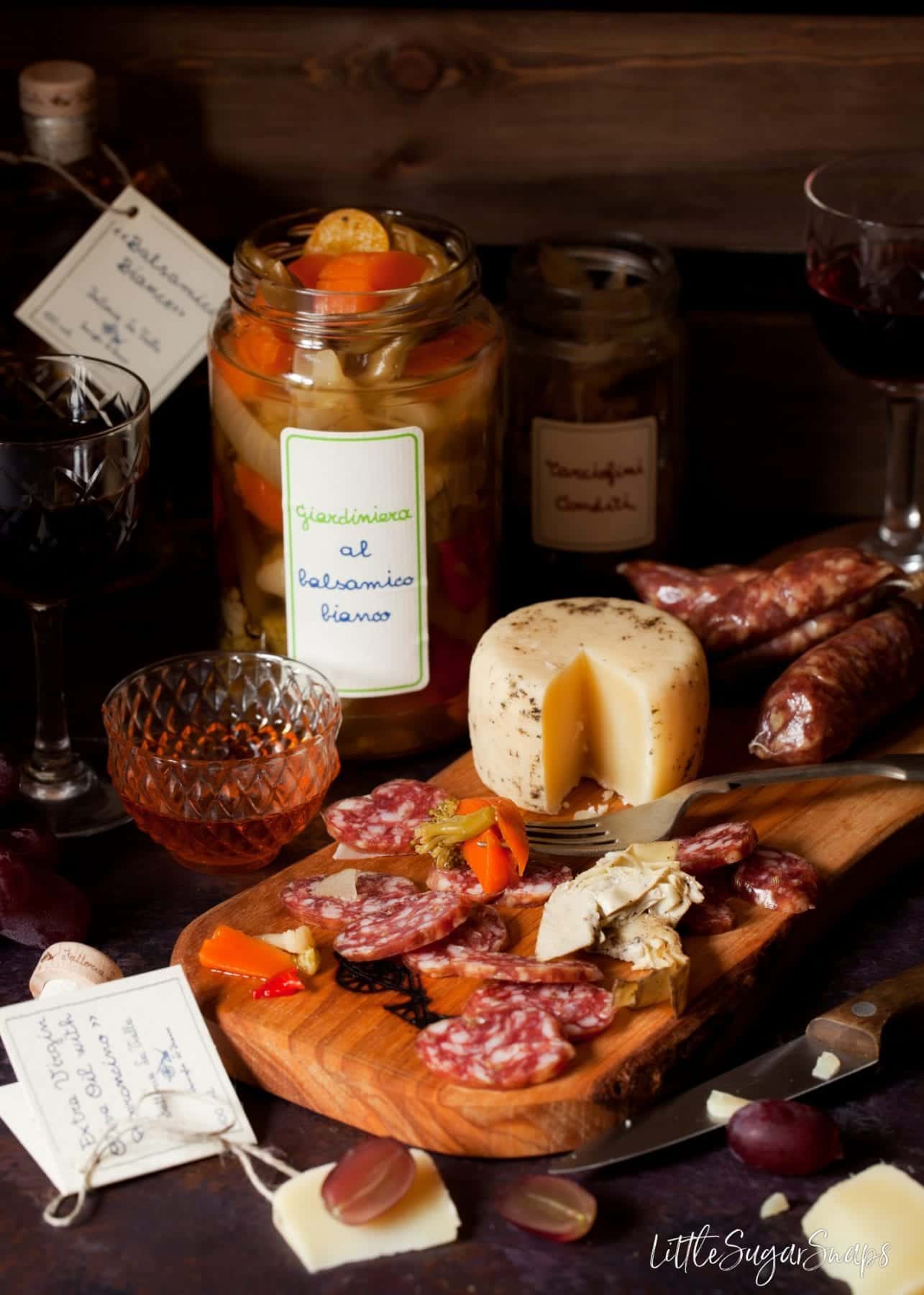 As a person who mainly likes to cook fresh, it takes some persuading for me to be drawn into buying jars of sauce. But Fattoria La Vialla achieved just that. Their range of ready to use sauces are wide-ranging and exceptional quality. Everybody has those nights that just don't work. When there is no time or energy left to cook properly. In my house, instead of reaching for the take-away menu, this is when I treat my family to some quality pasta and some Tuscan style ready-made sauce. From a jar. Yes, it's that good. Oh and if I happen to run out of their pesto, I don't bother buying a jar from the supermarket – nothing else has compared for the last 8 years.
For the Baked Tomato and Goats Cheese platter I used the following products from Fattoria La Vialla:
olive oil
salami enriched with fennel (Finocchiona)
mini Tuscan sausages
green pesto
I particularly like being able to cut my salami and sausage to the thickness I want and having some mini sausage slices thrown into the mix adds a little visual interest too.
For the Slow Roast Tomato Pasta I used the following from Fattoria La Vialla:
Spaghetti alla Chitarra
Olive oil
Rosmarina sauce (rosemary tomato sauce)
Pecorino
Spaghetti alla Chitarra is thicker than regular spaghetti. In fact, it actually has 4 sides, due to the tool used to make it and it's a great choice when paired with sauces since they stick to this pasta very well. It is an altogether more robust type of spaghetti and feels wonderfully rustic. In essence, it's the ideal choice for the type of informal dinner party my recipes today are aimed at.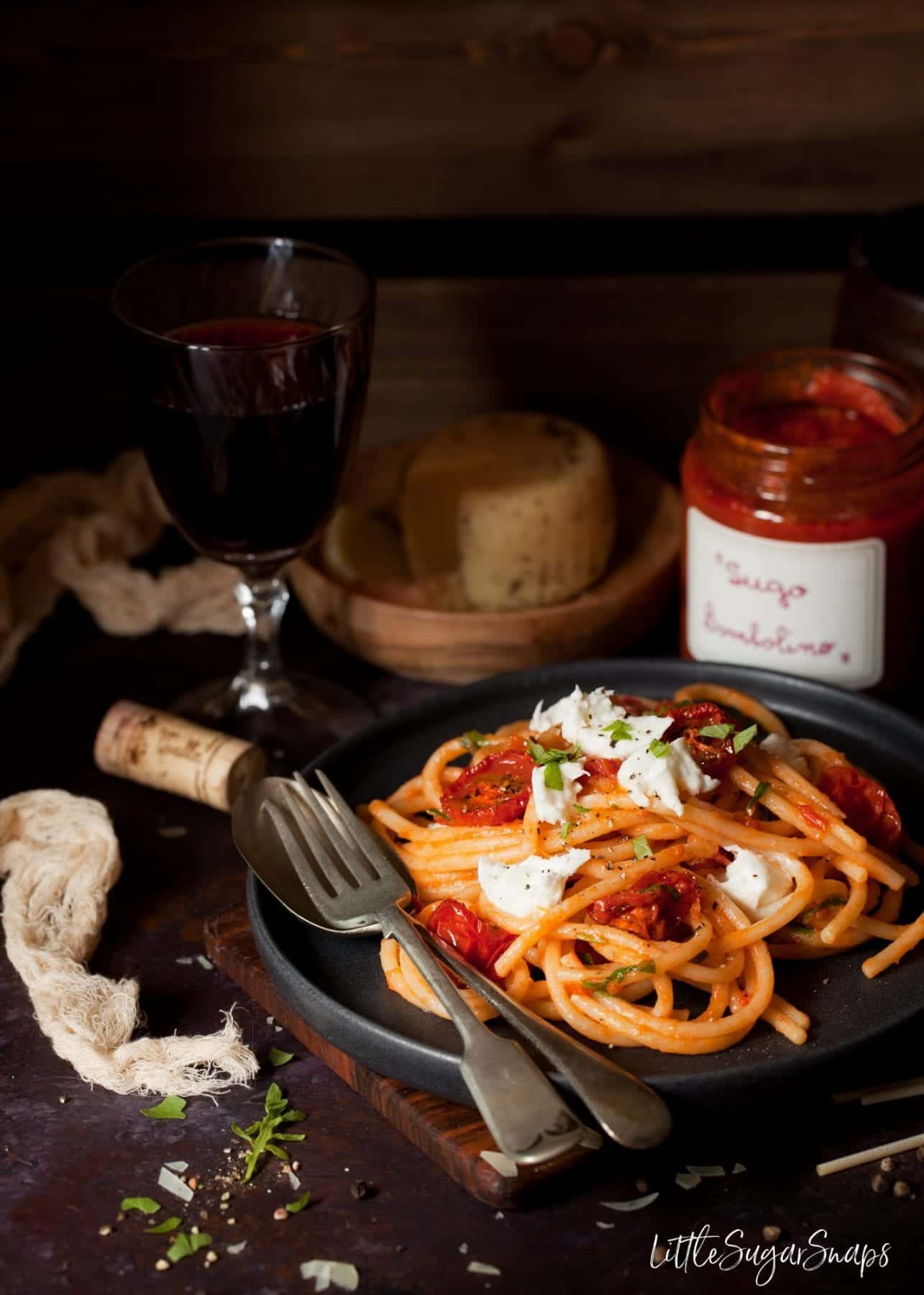 Produce from Fattoria la Vialla is available via mail order within Europe (including the UK). Delivery is free for orders over £75, otherwise, a £7.25 shipping fee applies. My advice is to stock up in bulk and/ or order with friends. For the US, delivery may still be possible, but restrictions apply – email the team at [email protected] for full details. All products come well packaged and (big bonus) not one scrap of plastic is used.
Take a look at all they have to offer and if you want my top choices to get you going, here are a bunch of my favourite products that I order on repeat:
Green Pesto
Red pesto
Artichokes in oil
Pappardelle all'uovo (egg pasta)
Rosmarina sauce
Suco Bombolino (spicy tomato sauce )
Mini Spumante (white grape juice)
Viallella fondente (hazelnut & chocolate fondant sauce)
Panetonne (Christmas only – order before week 49 – Monday 3rd December 2018)
Vernaccia di San Gimignano Riserva (white wine)
the sausage – try the Finocchiona
That's enough to get you started, but aside from the platter of Baked Tomatoes with Goats Cheese and the easygoing pasta recipe, I have more good news. After all, what is the point of a fantastically easy and delicious appetiser and main if there is no dessert? Stick around and I'll be adding to my easy entertaining banquet later this week for an equally manageable dessert and a little more about Fattoria la Vialla (hint: it has something to do with Christmas).
Update… dessert is ready. Hop over for some Honey Baked Pears with Chocolate, Hazelnuts and Cantucci.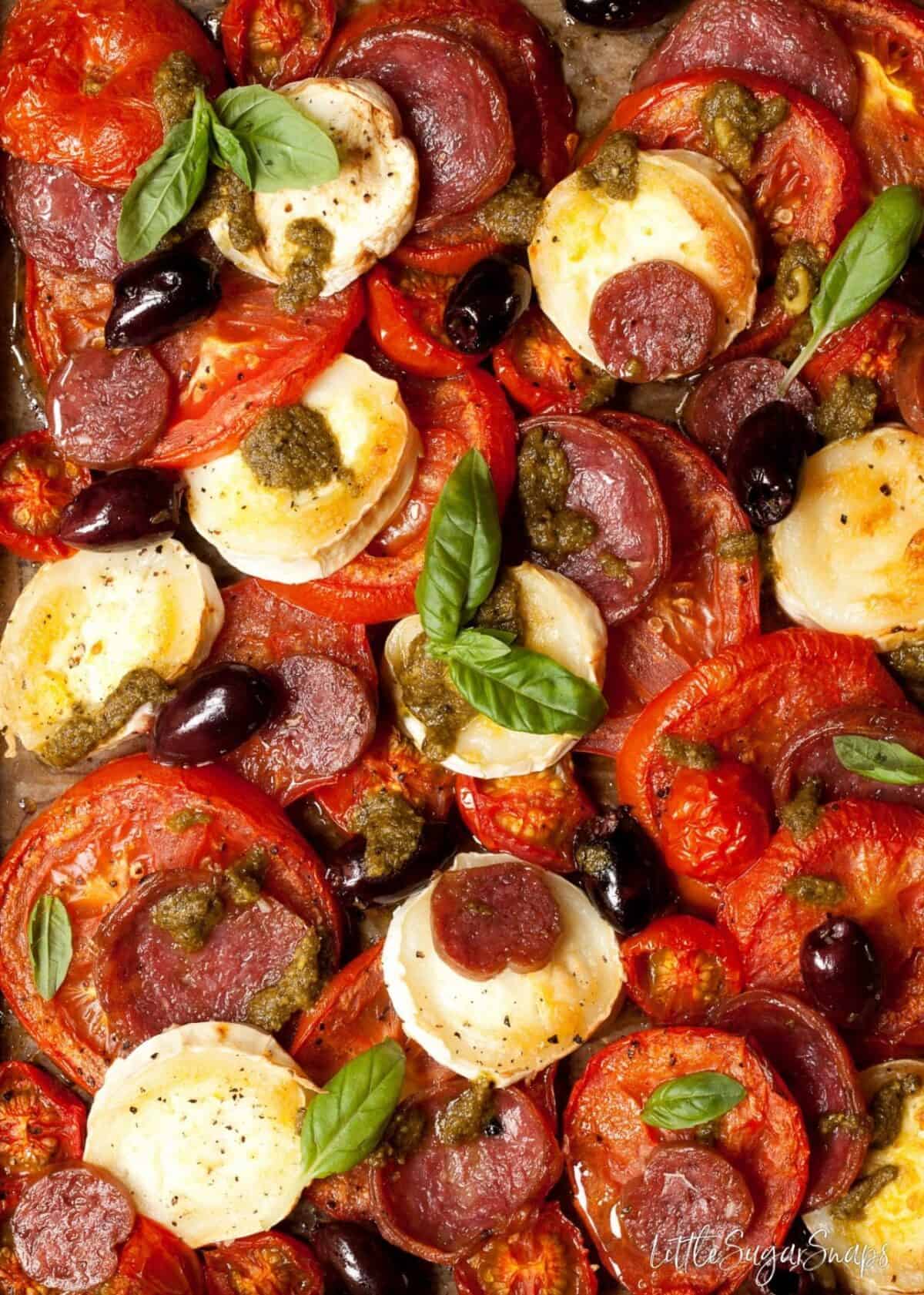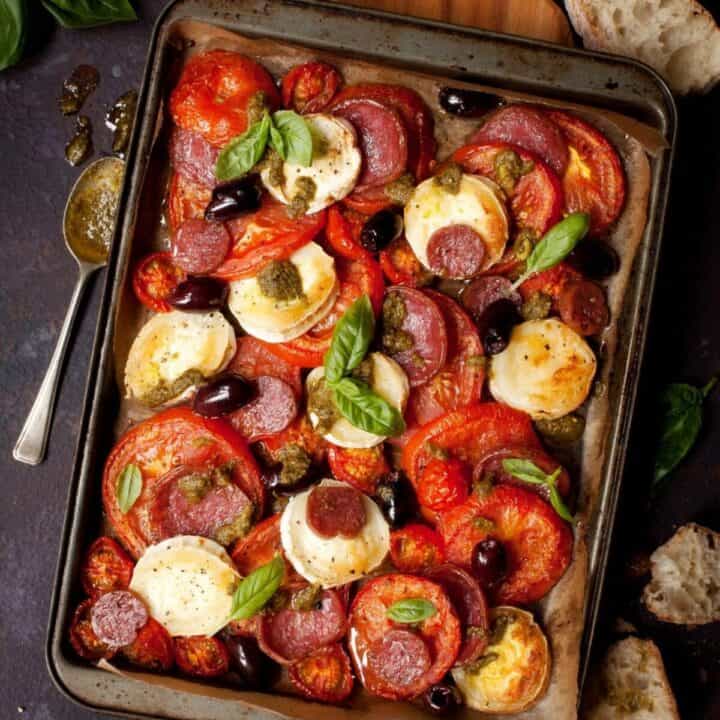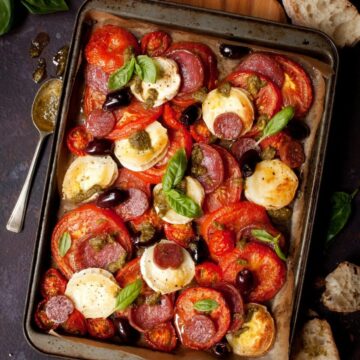 Baked Tomato with Goats Cheese
Entertaining should never be a chore. When time is short try pulling together a simple appetiser platter of Baked Tomato and Goats Cheese with salami and olives. Serve with fresh bread to mop up the juices and follow on with an equally simple pasta dish for main.
Print
Pin
Rate
Ingredients
2

Tomatoes

2

tablespoon

Olive oil

6

Cherry tomatoes

120

g/ 6oz

Goats cheese (with rind)

75g

3 oz

Salami

12

Black olives

1

tablespoon

Green pesto
Instructions
Heat oven to 180C/ 350F/ GM4 and line a lipped baking tin with baking parchment

Slice the large tomatoes into 6 rounds and cut each cherry tomato in half

Toss in the olive oil and season with salt then bake for 20 minutes

Meanwhile, slice the goats cheese into 3mm rounds

When the tomatoes have cooked, lay the goats cheese into the tin, lifting a few slices of tomatoes, to tuck the cheese partway underneath. Brush lightly with oil from the pan and season with pepper. bake for 10 minutes

Slice the salami into 2mm rounds and when the cheese has cooked for 10 minutes, dot the meat around the tin in a similar fashion

Scatter the olives over the top and bake for 5 minutes

When cooked drizzle with pesto and serve immediately with crusty bread to mop up the juices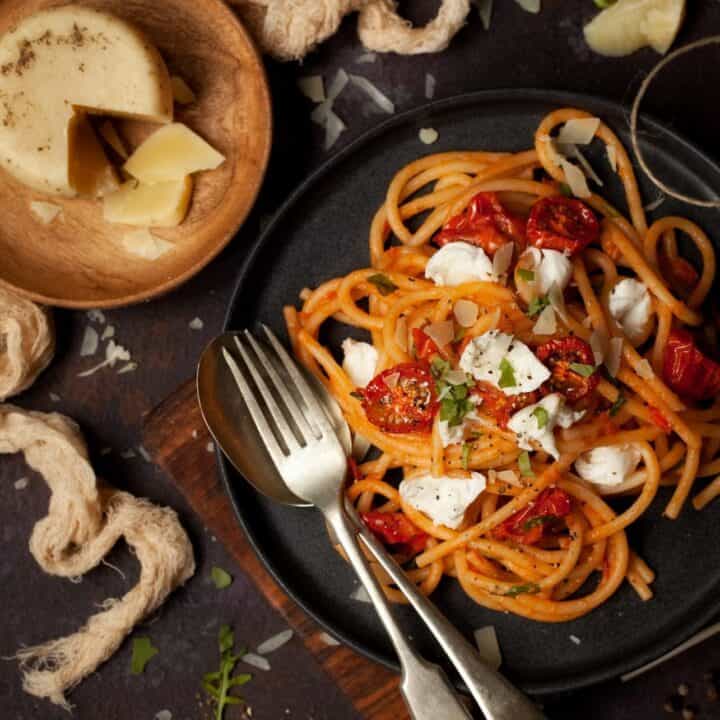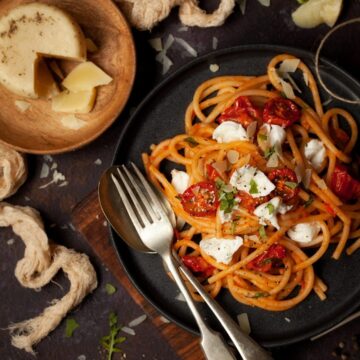 Slow Roasted Tomato Rocket & Buffalo Mozzarella Pasta
A simple yet satisfying blend of fresh ingredients to create the ultimate easy to prepare comfort food
Print
Pin
Rate
Ingredients
32

Cherry tomatoes

2

tablespoon

Olive oil

300

g/ 10 ½ oz

Spaghetti alla Chitarra (or spaghetti)

4

tablespoon

Rosmarina sauce (rosemary tomato sauce)

1

large handful

Rocket (arugula)

125

g/ 4 ½ oz

Buffalo Mozzarella
Instructions
Preheat oven to 150C/ 300F/ GM2 and line a baking tin with parchment

Cut the tomatoes in half, toss in the oil and season with salt and pepper. Lay face up on the tray and roast for 1 hour

When the tomatoes are almost ready, bring a large pan of salted water to the boil and cook the pasta according to the instruction on the pack – aim for al dente

Meanwhile, finely chop the rocket and rip the cheese into small pieces

When cooked, drain the pasta. Stir through the sauce, followed by the rocket and finally the tomatoes

Divide between 4 plates and scatter the mozzarella over the top.

Garnish with a little extra chopped rocket and serve immediately, with a little shave pecorino or parmesan if desired
(Visited 773 times, 1 visits today)