Lemon Meringue Swiss Roll is the ultimate summer dessert to serve. Filled with the flavours of summer, it is bound to be a hit.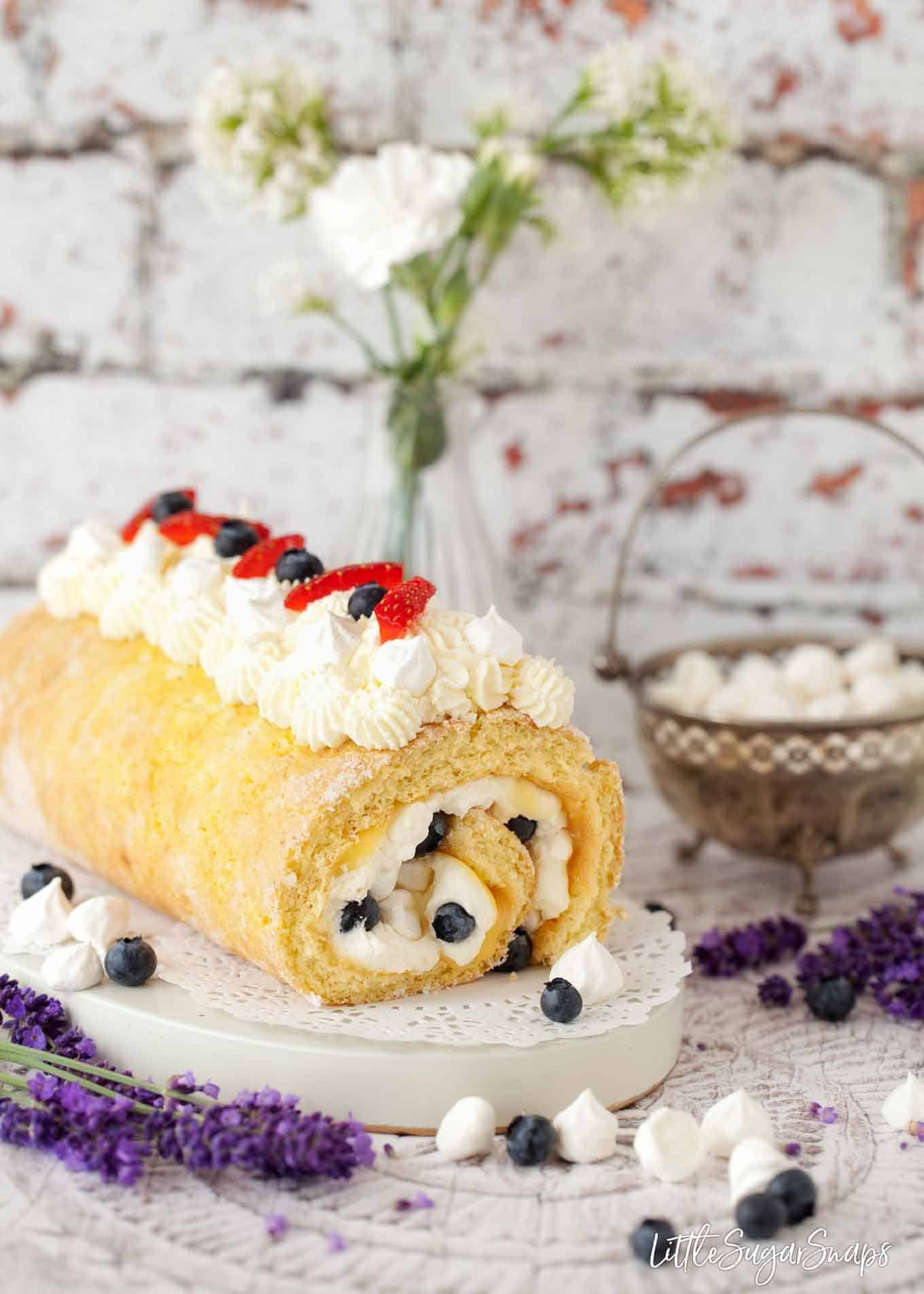 When I think of summer desserts, my mind immediately focusses on meringue-based concoctions.
Meringue partners lovingly with just about any summer fruit and of course, fresh, whipped cream piled high. The most famous pairing has to be the blend of strawberries, cream and meringue in the much loved Eton Mess.
Then, of course, there's lemon meringue pie. My Mum used to make a fantastic one when I was a child - it came with an enormous dome of fluffy meringue on top. I've never quite got over it.
My Swiss roll today is really a blend of those two classic desserts - Eton Mess and Lemon Meringue Pie - since I could not decide which one to favour and my homemade jury was not unanimous in their voting. In the end, I opted to combine the two. Nestled inside of the lemon-infused Swiss roll is:
tangy lemon curd
sweet chunks of meringue
lashings of cream
succulent strawberries
Oh and a handful of blueberries since they are such great friends with lemon. This Lemon Meringue Swiss Roll is fresh, summery and a winning combination.
Of course, it is possible to turn this Lemon Meringue Swiss Roll into an Eton Mess Swiss Roll by leaving the lemon zest out of the cake, replacing the lemon curd with strawberry jam and adding a few more strawberries in place of the blueberries. Both versions are delicious and won't hang about for long on your dessert table.
It's up to you whether to make your own meringue drops (recipe included) or to use store-bought meringues crumbled into pieces. Either are perfectly acceptable.
What's the difference between Swiss Roll & Roulade?
Whilst compiling this recipe I came across a very important question - am I making a Swiss roll or a roulade? That proved to be a good question:
a Swiss roll is a cylindrical cake made from a flat sponge cake (often fatless). It is usually filled with jam (and sometimes cream) and rolled up to create a spiral in the cross section
A roulade, however, is any dish - sweet or savoury - that has been rolled. So, technically, sushi or beef olives count as roulades
Of course, when I think of a sweet roulade, I think of rolled meringue and flourless cakes. They sound so much fancier than a Swiss roll, but in reality, a Swiss roll is also a roulade. Just not vice versa. So it seems that Swiss roll is special.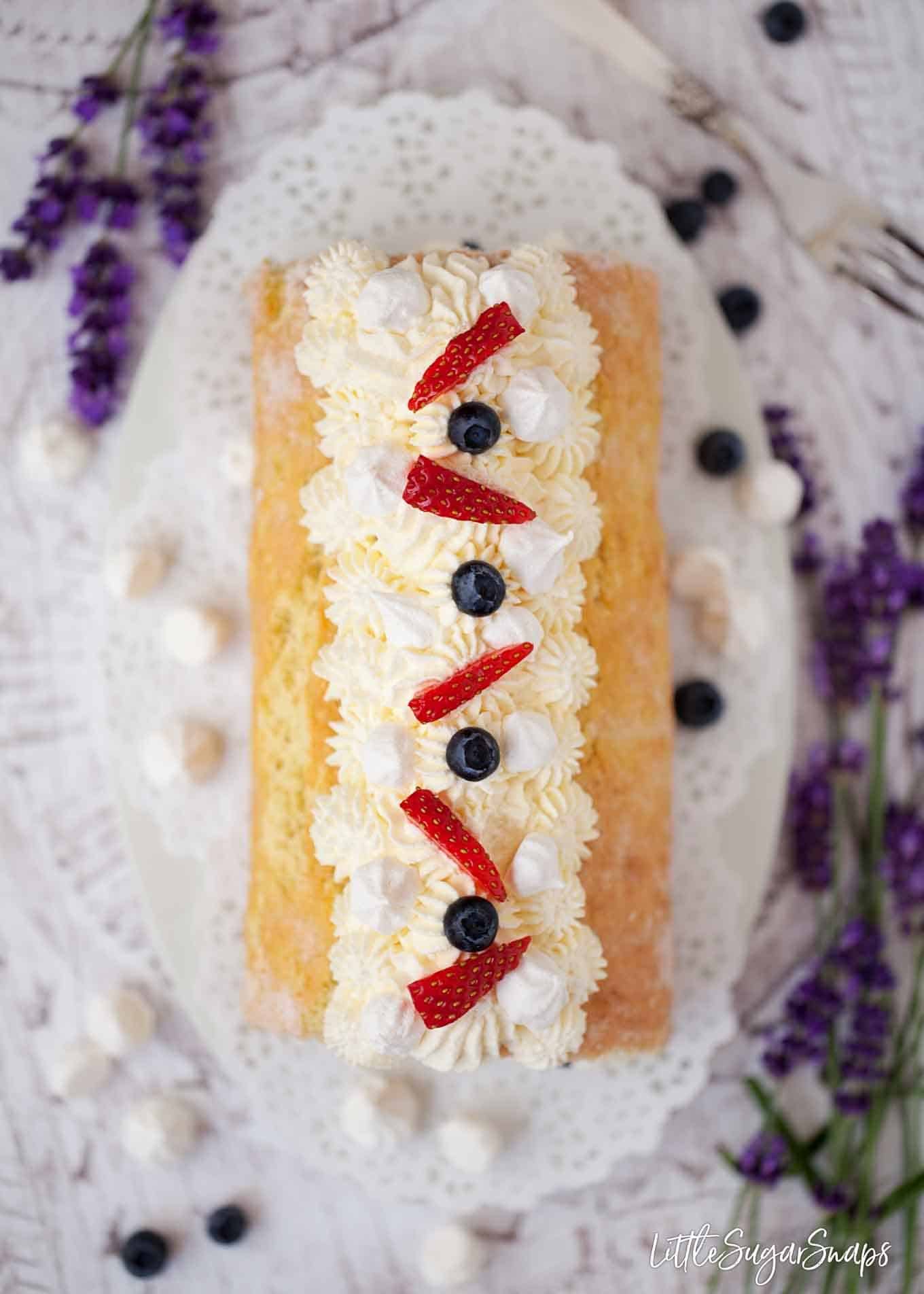 How to Make Lemon Meringue Swiss Roll
Making the sponge cake for this Swiss roll is fairly easy. Eggs and sugar are whipped together until the mixture is thick enough to leave a trail when the whisk is lifted out of the bowl. At this point, sifted flour & lemon zest are folded in very gently, to preserve those precious air bubbles that have just been whipped in.
It is essential to pour the batter into a Swiss roll tin that has been greased (sides and bottom) and lined (bottom only) with baking parchment. Ensure that the batter is spread evenly in the tin and reaches the corners.
The bake is quick. Just 10-12 minutes is typical. But it is important to bake this sponge to perfection:
underbaking leads to a dense and heavy cake
overbaking causes the cake to crack when rolled
Aim for a bake that is golden and firm.
The hardest part of making a Swiss roll is trying to visualise which way to roll it up. I could never quite work this out when I was a younger baker (pre-Google). In truth, either way will work, but rolling from the short edge will give much more impressive spirals.
Another question I also had in my inexperienced days was how best to roll it? There's alot of debate. The method I endorse is as follows:
prepare your worktop with a sheet of baking parchment dredged with caster sugar
once out of the oven run a sharp knife around the edge of the baking tin
swiftly invert the tin over the parchment
remove the tin
peel off the parchment from the cake
neatly trim the sides of the cake to remove any hard edges (helps this cake roll better)
score the cake 1.5 cm in along the short edge (see image) - do not cut all the way through. This score helps the cake roll into a tighter spiral
roll up the cake into a tight spiral, using the parchment to help you
set aside to cool completely on a wire rack
Work quickly and concisely and aim to roll the cake up whilst it is still warm since you will achieve a better roll this way.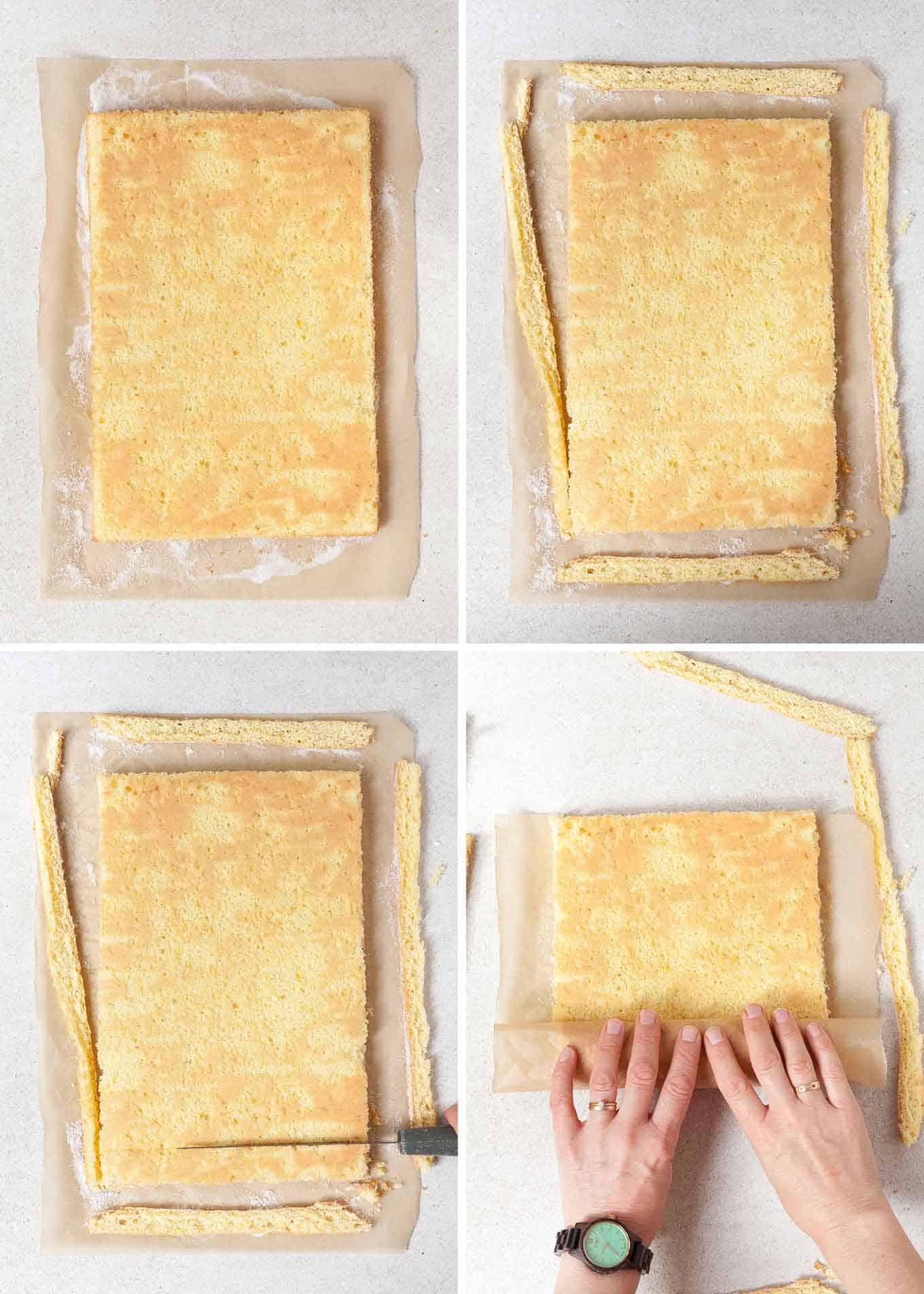 Once cool, unroll the cake, remove the parchment and fill with lemon curd, whipped cream, meringue pieces and fresh fruit. It's tempting to be over-generous when filling this cake, but show restraint. An overfilled cake will not re-roll well.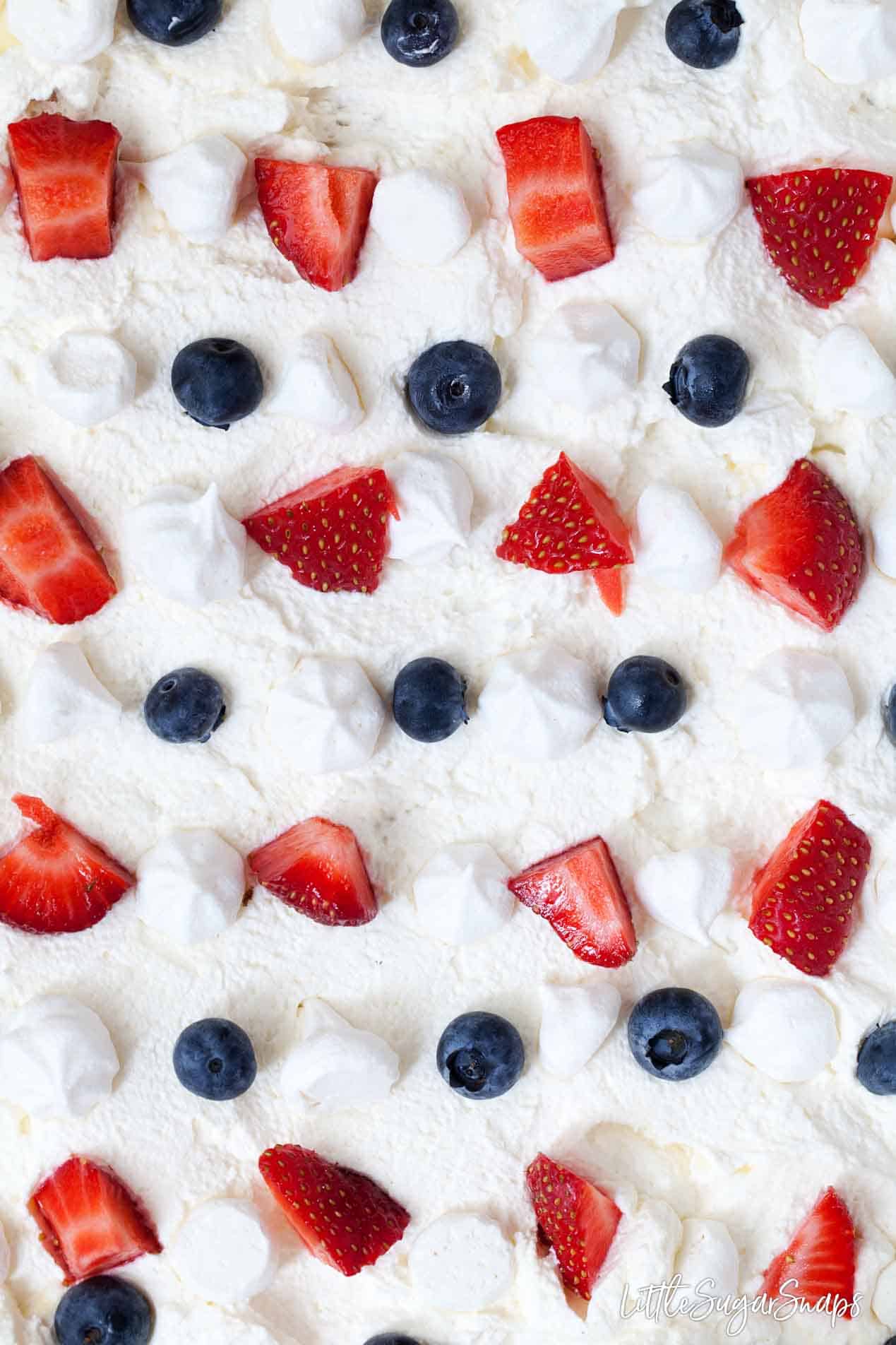 Finally, decorate as desired and eat within 24 hours. Since the sponge for this Lemon Meringue Swiss Roll is fat-free it does not have a long shelf life.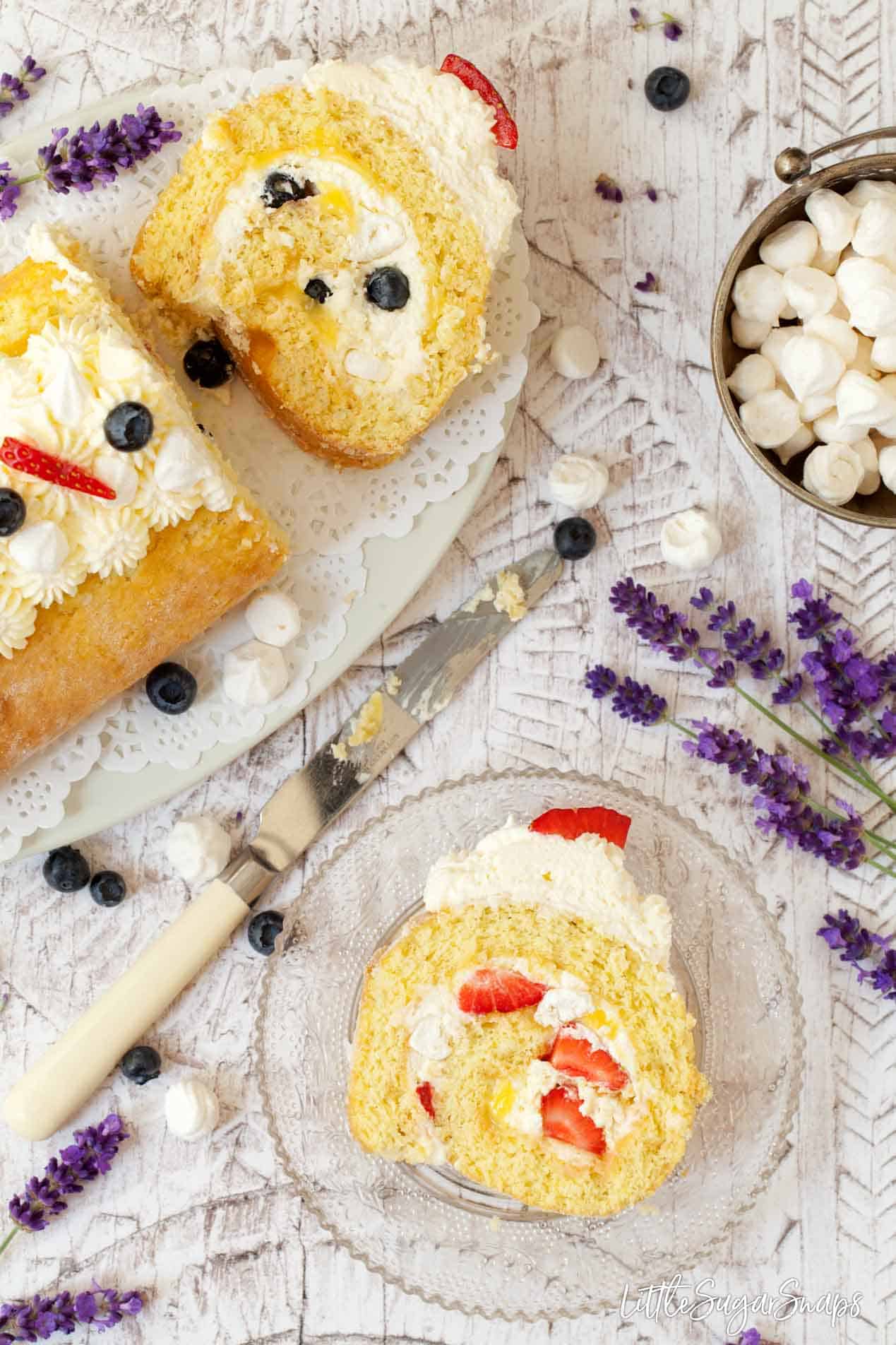 Are you tempted by the Lemon Meringue or the Eton Mess Swiss Roll? If you make either I would love to see - just upload a snap onto on Instagram and tag #littlesugarsnaps so I can see it too.
In the market for more summer desserts? Take a look at these: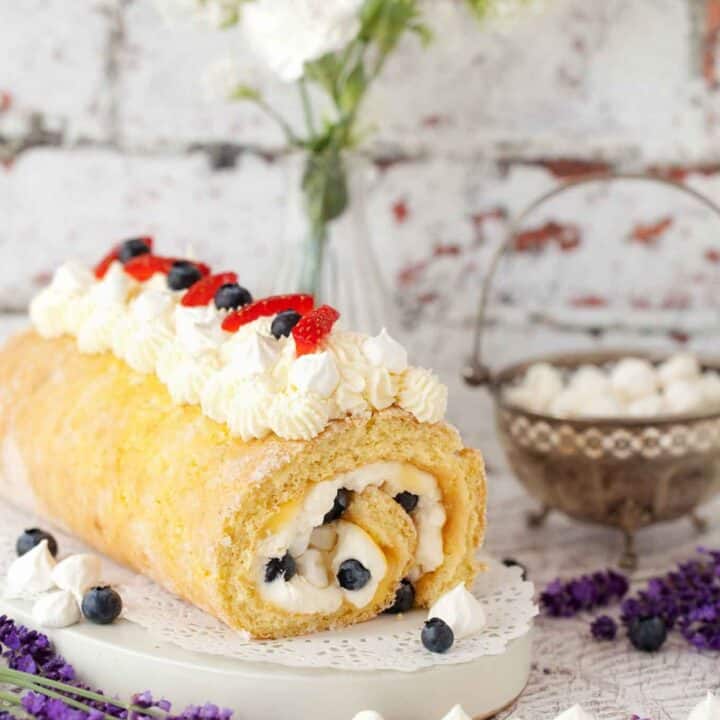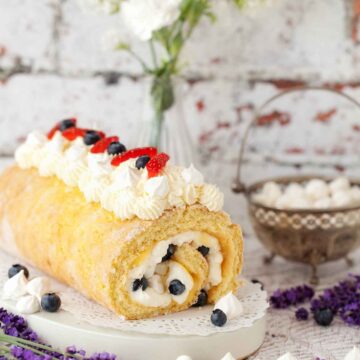 lemon Meringue Swiss Roll with Summer Berries
Lemon Meringue Swiss Roll is the ultimate summer dessert to serve. Filled with the dreamy, creamy flavours of summer, it is bound to be a hit. See recipe notes for converting this recipe to an Eton Mess Swiss Roll
Print
Pin
Rate
Equipment
1 Swiss Roll tin (20cm x 30cm)
Ingredients
For the Meringue drops
60

g/ 2 oz

Caster sugar

1

Egg white - large, free-range
For the Cake
75

g/ ⅓ cup

Caster sugar

100

g/ ¾ cup

Plain (all-purpose) flour

3

Eggs - large, free-range

1

Egg yolk - large, free-range

Zest of a lemon
For the Filling & Decoration
4

tbsp

Lemon curd

250

ml/ 1 cup

Double (heavy) cream

24

Blueberries

3

Strawberries
Instructions
Make the Meringue Drops
Preheat the oven to 110C/ 225F/ GM ¼ and line a baking sheet with parchment

Whisk the egg white, using electric beaters, in a small mixing bowl until peaks form

Add the sugar, a teaspoon at a time, continuously beating until all of the sugar is mixed in

Spoon into a piping bag fitted with a suitable nozzle and pipe small mounds of meringue onto the parchment (aim for ½ - ¾ cm drops)

Bake for 20 minutes and try to lift a few drops off the parchment. If they peel away easily, the meringues are sufficiently cooked and can come out of the oven. If not, continue to bake for another 10 minutes and try again

Once baked, let cool to room temperature
Make the Swiss Roll
Preheat oven to 180C/ 350F /GM 4. Grease and line (base only) a 20 x 30cm Swiss roll tin with baking parchment

Put the eggs and yolk plus the sugar into the bowl of a stand mixer and whisk for around 5 minutes until pale & thick enough to leave a trail when a spoonful is lifted out of the bowl and drizzled back in

Sift the flour and fold half into the batter using a metal spoon. Fold the remaining flour in, along with the lemon zest. Take care to fold in the flour very gently, so the air whipped in previously is not knocked out

Pour into the baking tin, spread out evenly and cook for 10-12 minutes until the sponge is golden and firm. Overbaking the sponge will increase the risk of the cake breaking up, so keep a close eye on the cake as it bakes

Meanwhile, lay a sheet of parchment onto a worktop and sprinkle with 1-2 tbsp caster sugar

When the cake is baked, remove it from the oven, run a sharp knife around the edges of the tin and then immediately invert the tin over the parchment. The cake should come out of the tin easily

Remove the parchment used to line the tin from the back of the cake and trim the edges to neaten

Score a line across the short edge of the cake about 1.5 cm in (do not cut right through the cake though) - this will help the cake to roll

While the sponge is still warm (but not piping hot), roll the cake up into a tight spiral - use the parchment to help. Let it cool completely on a wire rack
Filling the Cake
Reserve 4 blueberries and 1 strawberry (quartered) for decoration

Whip the cream until it holds its shape in firm peaks

Unroll the cake and spread the lemon curd over the base

Top with ⅓ - ½ of the cream and spread it out (don't overfill the cake or it will be difficult to re-roll

Dot meringue drops over the cake along with the remaining blueberries and the strawberries (chopped)

Carefully re-roll the cake and place seam down on a serving plate

Pipe the remaining cream onto the top and use the reserved fruit to decorate

Serve straight away or store in the fridge until ready to serve (allow to sit at room temperature for 1 hour before serving)

Best eaten within 24 hours
Notes
To make an Eton Mess Swill Roll do the following:
Omit the lemon zest from the cake batter. Add 1tsp vanilla extract in its place
Use strawberry jam in place of lemon curd
Replace the blueberries with 2-3 extra strawberries
Easy!
Nutrition Per Serving (Approximate)
Serving:
6
g
|
Calories:
383
kcal
|
Carbohydrates:
46
g
|
Protein:
7
g
|
Fat:
20
g
|
Saturated Fat:
11
g
|
Cholesterol:
171
mg
|
Sodium:
95
mg
|
Potassium:
97
mg
|
Fiber:
1
g
|
Sugar:
31
g
|
Vitamin A:
775
IU
|
Vitamin C:
4
mg
|
Calcium:
46
mg
|
Iron:
1
mg
(Visited 553 times, 2 visits today)