This Spiced Orange Rum Cheesecake is soft, velvety and lusciously creamy. The star ingredient is the triple helping of spices: ginger, cinnamon, & nutmeg. A very subtle hint of tropical orange & rum add a final dimension in this dreamy, creamy dessert.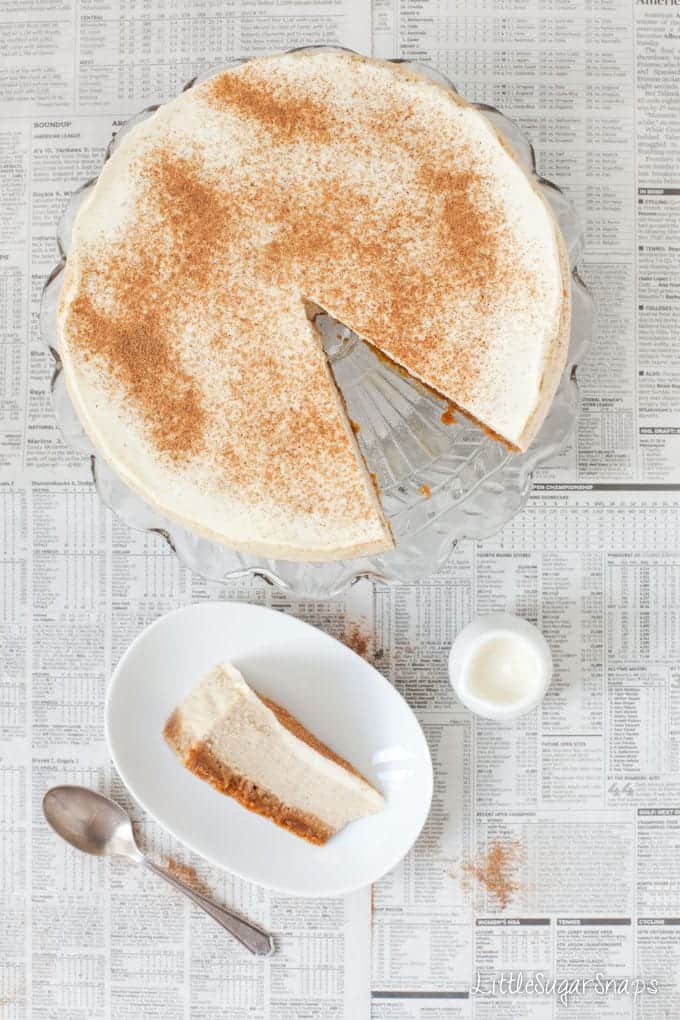 It's late spring and the weather here in the UK is just not getting the message that it needs to improve. When it's pouring with rain outside, I really don't feel like talking about salads, even though I've been holding back a lovely recipe for a few weeks now. Instead I'd like to chat about my Triple Spiced Orange & Rum Cheesecake, which is guaranteed to perk you up, regardless of the weather.
Inside this bad boy is ginger, cinnamon and nutmeg, with just a hint of orange juice & rum. Let's make no mistake, the star of the show is that triple helping of spices.
If you like gentle, sweet, warming spices and a subtle touch of citrus & tropical alcohol in your dessert, then I think this Triple Spiced Orange & Rum Cheesecake is on the same wavelength as you (and me). Exactly how perfect do all of those flavours sound together?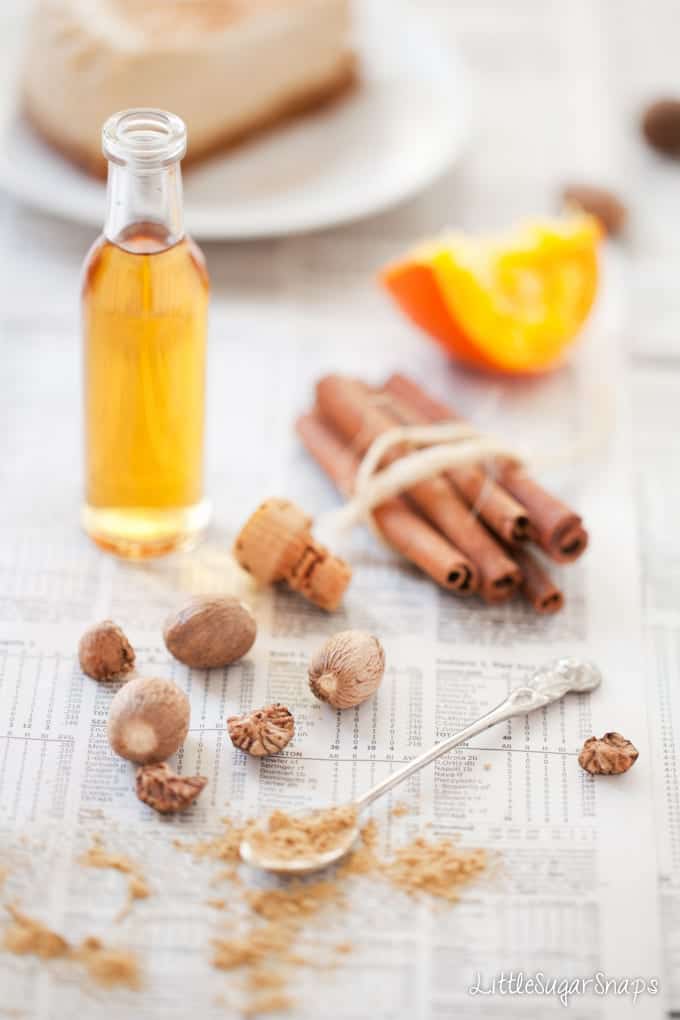 The base is made using ginger snap biscuits. When combined with the butter and then baked, these biscuits seem to melt; leaving you with a relatively soft biscuit base that is almost syrupy. It's a pleasing change from the traditional crunchy cheesecake bottom.
Then there are the toppings – a thin layer of soured cream is floated on top during the last few minutes of baking, then speckled with nutmeg. Visually, this cheesecake is a simple, yet stylish treat.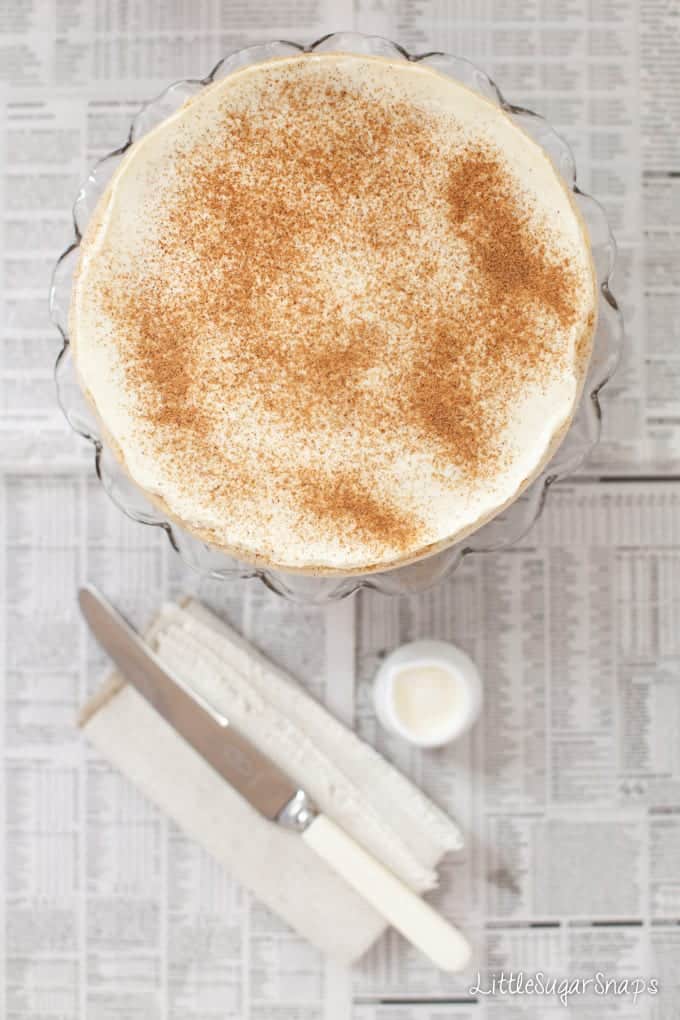 Aside from all of those flavours working harmoniously together and the base and the toppings, this rum cheesecake has a fabulous texture that is soft and velvety.
When I make a cheesecake it will always be of the baked variety rather than a chilled one. Baked cheesecakes tend to be denser & richer than chilled ones and when I have dessert, I do like to indulge thoroughly. 😉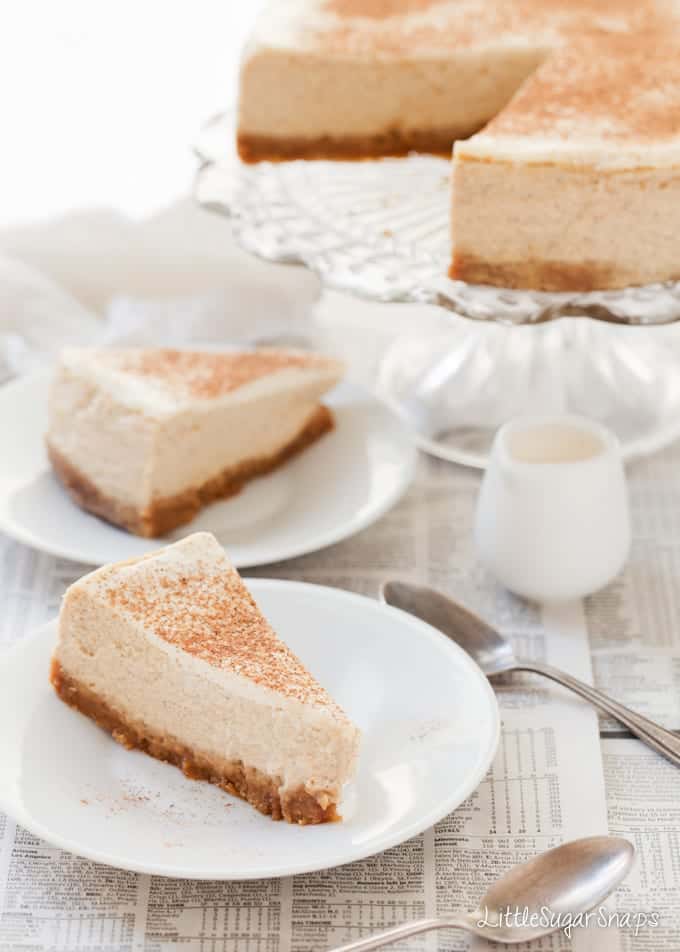 However, it is easy to mess up a cheesecake and end up with something that is overbaked, dry & crumbly and sometimes even cracked on top. In my time, I have baked plenty of those sad numbers (shhhhh….), but then I baked Nigella Lawson's 'London Cheesecake' from How to be a Domestic Goddess. I ended up with the most heavenly cheesecake I'd ever created and have not looked back since. I've gradually learned some tricks to ensure I get that velvet soft texture. Here are a few tips to help you achieve a perfect cheesecake:
Eggs as a whole act as a thickening agent in the cheesecake when they are baked. But it's the yolk that helps give the cheesecake that lovely smooth texture. For this reason, I always like to add 2 or 3 extra yolks to the mix
One of the main reasons a cheesecake cracks is when too much air gets incorporated into the batter when mixed. During baking, the trapped air expands and forces the cheesecake to crack. To reduce this risk, beat the cream cheese and other ingredients really well to remove any lumps before adding the egg. It's the egg that holds onto the air in the cheesecake batter. Once the egg goes in, mix enough to combine with the other ingredients thoroughly but do not over mix
Cheesecake needs to be cooked at a moderate temperature until the edges are firming up but the middle 3 inches are still wobbly. Follow your recipe instructions. Some recipes recommend removing from the oven once this stage has been reached. Others might suggest leaving it in the oven as it cools. Have faith – the cheesecake continues to cook as it cools down and will firm up nicely
Cheesecake batter is rather like custard – if cooked too quickly it will curdle and potentially crack. To help avoid these issues, I highly recommend baking your cheesecake in a water bath (method included in the recipe). The water bath keeps the air in the oven moist which stops the top of the cheesecake drying out. Meanwhile the temperature of the water allows the custard to cook steadily without curdling
Chilling the cheesecake once it has cooled is essential to ensure it sets properly. Leave it a minimum of 4 hours, longer if you can manage it. I like to remove my cheesecake about an hour before serving to take the chill off and to allow the flavours to come through
Please don't be put off by the idea of a water bath. It's actually very simple and the results are worth that extra 2 minutes effort. Your reward will be a slice of this creamy, indulgent, lusciously soft Triple Spiced Orange & Rum Cheesecake…. and maybe even a sneaky second slice if you don't invite too many people over to share it with.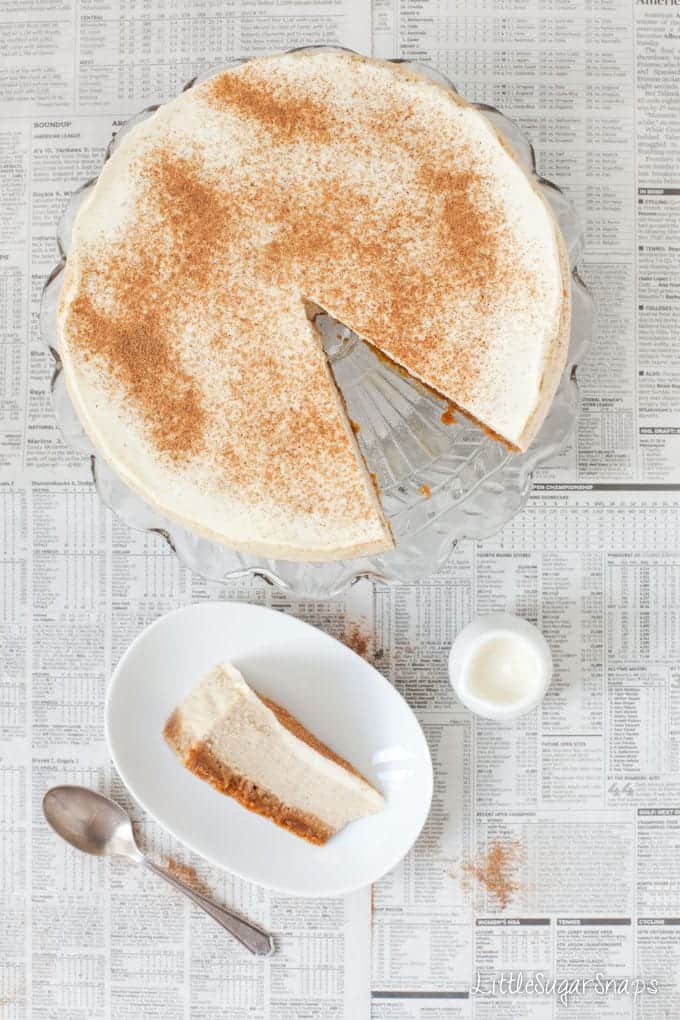 If you've enjoyed this post, please leave a comment or share it – you would make me very happy. You can also follow along to get notified of my future blog posts by email.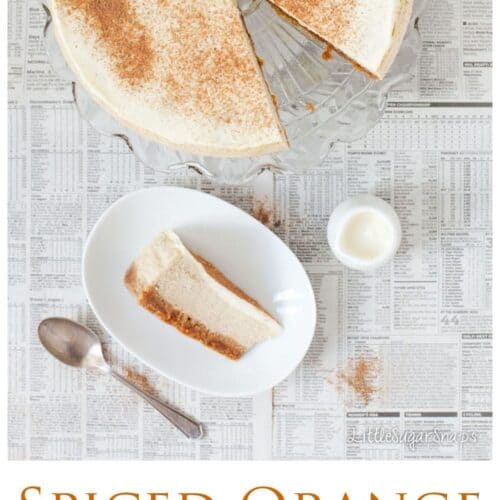 Triple Spiced Orange & Rum Cheesecake
This Spiced Orange Rum Cheesecake is soft, velvety and lusciously creamy. The star ingredient is the triple helping of spices: ginger, cinnamon, & nutmeg. A very subtle hint of tropical orange & rum add a final dimension in this dreamy, creamy dessert.
Print
Pin
Rate
Servings:
10
-12 servings
Ingredients
For the Base:
200

g/ 7oz

Ginger snap biscuits

(ginger nuts)

80

g/ 3oz

Unsalted butter
For the Cheesecake Layer:
500

g/ 17 1/2oz

Cream cheese

(full fat)

125

g/ 4 1/2 oz

Caster sugar

11/2

tbsp

Orange juice

11/2

tbsp

Amber rum

2

tsp

Cinnamon

3

Large eggs

2

Egg yolks
For the Topping:
150

ml/ 2/3cup

Soured cream

1

tbsp

Caster sugar

1/2

tsp

Ground nutmeg

(or freshly grated)
Instructions
Grease and line a 9 inch (23cm) deep sided, loose bottomed/ spring-form baking tin with baking parchment and prepare the tin for the water bath, following the steps outlined above

Pre-heat the over 180°C/ 350°F/ GM 4

Whizz the biscuits in a processor until you have fine crumbs. Alternatively, put the biscuits into a polythene bag and crush with a rolling-pin. Melt the butter and stir into the crushed biscuits. Press this mixture firmly and evenly into the base of the baking tin. Set aside to cool for 30 minutes

In a large bowl beat the cream cheese with the sugar and cinnamon until smooth. Add the orange juice and rum and mix well

Using a large metal spoon (or electric beaters on the slow setting), mix in the eggs and egg yolks until well combined

Pour the cheesecake batter onto the biscuit base and bake, in the water bath, for 45-50 minutes. The centre of the cheesecake will have a definite wobble to it.

Meanwhile, mix the soured cream and sugar together. Once the cheesecake has cooked, gently spread this mixture over the top of the cheesecake, covering it entirely. Allow to bake for 10 more minutes

Remove the cheesecake from the oven, take out of the water bath and remove the foil. Once completely cool, remove from the tin and chill in the fridge for at least 4 hours

Take out of the fridge 1 hour before serving and sprinkle with the nutmeg
Notes
Before heading into the recipe, here are some instructions for using the water bath method of baking: 1. Wrap the outside of the baking tin in a couple of layers of foil to prevent water from seeping through the cracks of the tin 2. Put the foil wrapped baking tin inside a deep a roasting pan 3. Fill the roasting pan with 2 inches of freshly boiled water and put it all in the oven 4. Once cooked, remove both tins from the oven carefully, then lift the baking tin out of the roaster and remove the foil
Disclaimer: This post contains Amazon affiliate links. Should you make a purchase through these links LittleSugarSnaps earns a small commission. However you pay the same price for the item (it does not increase). Thank you for supporting LittleSugarSnaps. I only promote and link to products I use and rate highly myself.
(Visited 174 times, 1 visits today)