Fancy a satisfying supper bowl of spicy, hearty goodness that is a cinch to prepare? Try this red Mulligatawny soup with chicken or paneer.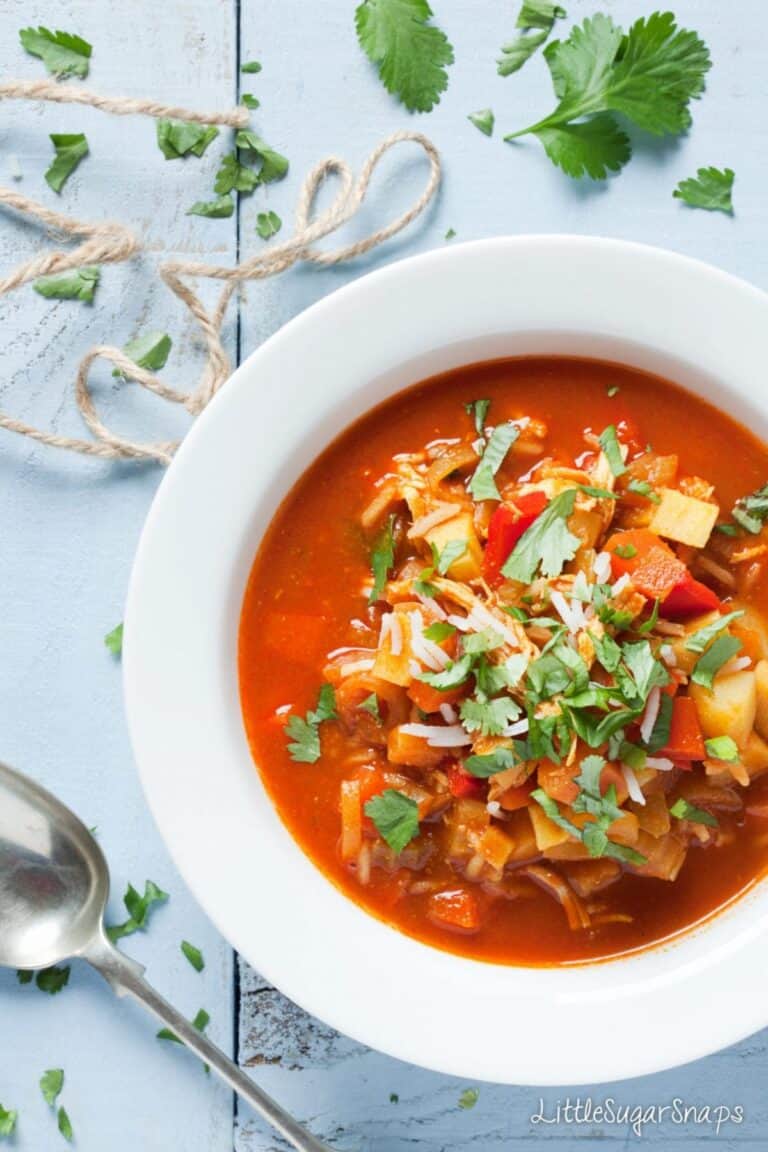 A bowlful of red and spicy Mulligatawny? If it's cold outside, I'm there. We're deep into a cold stretch of weather in the UK, with everybody talking about the likelihood of snow.  Nah, it'll never happen.  But snow aside, when it's this cold outside, soup is what I need to pull me through.
In my mind, Mulligatawny has always been a red soup. Don't know why. Maybe it's just because that's what I've been used to all these years. However, after writing up my split pea, chicken & rice soup recipe a while back and posting the photos all over the web, I came across numerous other yellow soups, similar to mine, but with the name Mulligatawny. First I was confused and spent a few minutes wondering if I was just dumb. How could I have been so wrong for so many years? And if the real Mulligatawny was my lovely yellow creation, had all my friends been just smiling politely as I served them up this red soup telling them it was, um, Mulligatawny? I felt dumb. Very dumb.
Then I googled the M word.
I discovered that Mulligatawny actually means a curry flavoured soup, derived from the Tamil words milagu (meaning pepper) and thanni (water). In a nutshell: curry soup, whatever the colour. That means that what I've always thought of as being Mulligatawny – the version here – can still be classed as Mulligatawny. Big phew. Total joy. The yellow version, involving turmeric, rice and pulses – often lentils – is just the more common type. So good news all around, I am not a total dumbo after all and – bonus – I'm fast approaching a rainbow of Mulligatawny soups for us all to enjoy.
I've made my soup with some homemade madras paste (recipe included). The smell as you make it is fab and it's also really quick (as in 5 minutes) if, like me, you use a coffee grinder to do the hard work. I've added 2 tablespoons of paste to my soup and it's definitely a warm and cosy medium rather than medium/mild.  Bought pastes work well too – just adjust the amount added to the soup according to the guidelines on the jar – 2 tablespoons of a super-hot vindaloo paste might just blow your head off. You. Have. Been. Warned.
My soup does not involve any pulses but it does include rice and potatoes which soak up all the fantastic curry flavours beautifully. It also includes carrot and parsnip and their underlying sweet notes just bounce off the spices delightfully. All in all, this is a large and satisfying bowl of red, soupy goodness. You'll also find that it's a  a cinch to prepare.  Enjoy.
After making this dish, I was browsing the supermarket cheese section and came across paneer, which I had totally forgotten about for a while. Since then, I've been wondering if this would be a good alternative to the chicken in this dish. I'm thinking: fry, then add to the pot along with the rice and potatoes to let the soupy-curry flavours at it. I'm going to have to give it a go asap as cheese is one of my closest friends, especially during winter, along with mulligatawny of all varieties. I think you've probably worked that out.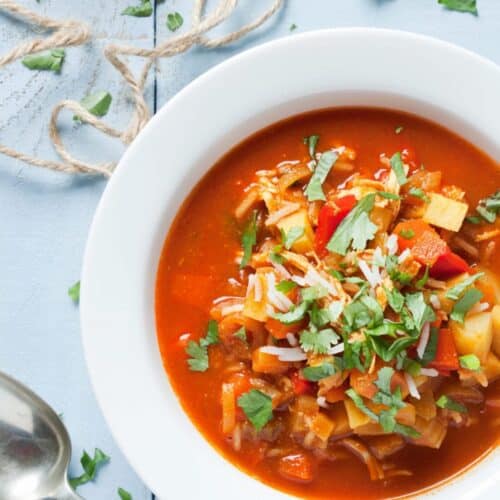 Red Mulligatawny
Fancy a satisfying supper bowl of spicy, hearty goodness that is a cinch to prepare? Try this red Mulligatawny soup with chicken or paneer.

If you make the curry paste, you will end up with more than enough for this recipe. It keeps well in an airtight container for up to 1 month in the fridge, ready to make a second batch of soup or try adding it to your favourite curry recipe.
Keyword:
healthy soup, Mulligatawny, spicy soup
Ingredients
Madras Paste
1

tsp

ground black pepper

1 1/2

tsp

chilli powder

(medium-hot)

1/4

tsp

ground cinnamon

1

tsp

garam masala

1

tsp

turmeric

1

tsp

brown mustard seeds

3

tbsp

coriander seeds

1 1/2

tbsp

cumin seeds

2

garlic cloves - finely chopped

1

tsp

crushed/ grated fresh ginger

3

tbsp

groundnut oil

(or any flavourless oil)

6

tbsp

distilled vinegar

(white)
Soup
4

shallots – finely diced

2

celery sticks - sliced

2

medium carrots - diced

2

medium parsnips - diced

1

red pepper - chopped small

2

tbsp

madras paste

(for medium-hot)

750

ml - 1 ltr (3-4 cups)

chicken stock

2

medium chicken breasts

400

ml/ 13/4

cups passata

100

g/ 4 oz/ 1/2 cup

cooked potato

(cubed)

100

g/ 4 oz/ 1/2 cup

cooked basmati rice

Optional garnish: fresh coriander leaves
Instructions
Madras Paste
Make the madras paste by grinding the coriander and cumin seeds in a pestle and mortar until reduced to a fine powder (or grind in a coffee grinder)

Add the other spices, then stir in the vinegar

Heat the oil in a small pan and gently cook the spice mix for 3 minutes, stirring frequently, until just beginning to bubble

Allow to cool, stir well and store in an airtight container in the fridge for up to 1 month
Soup
Fry the shallots and celery in a large saucepan over a gently heat until beginning to soften - about 5 minutes

Add the carrot and parsnip and fry for 3 more minutes. Stir in the madras paste and allow to cook for 1 more minute

Place the chicken in the saucepan and pour over 750ml/ 3 cups of the stock. Bring to the boil, cover and simmer for 30 minutes (or until the chicken is cooked)

Remove the chicken and allow to cool slightly, then shred using 2 forks to rip it apart

Add the pepper and passata to the soup, season to taste and bring to the boil. Cook for 5 minutes, adding extra stock to loosen the soup if needed

Return the chicken to the pan, along with the potato and rice. Heat through and serve, garnished with fresh coriander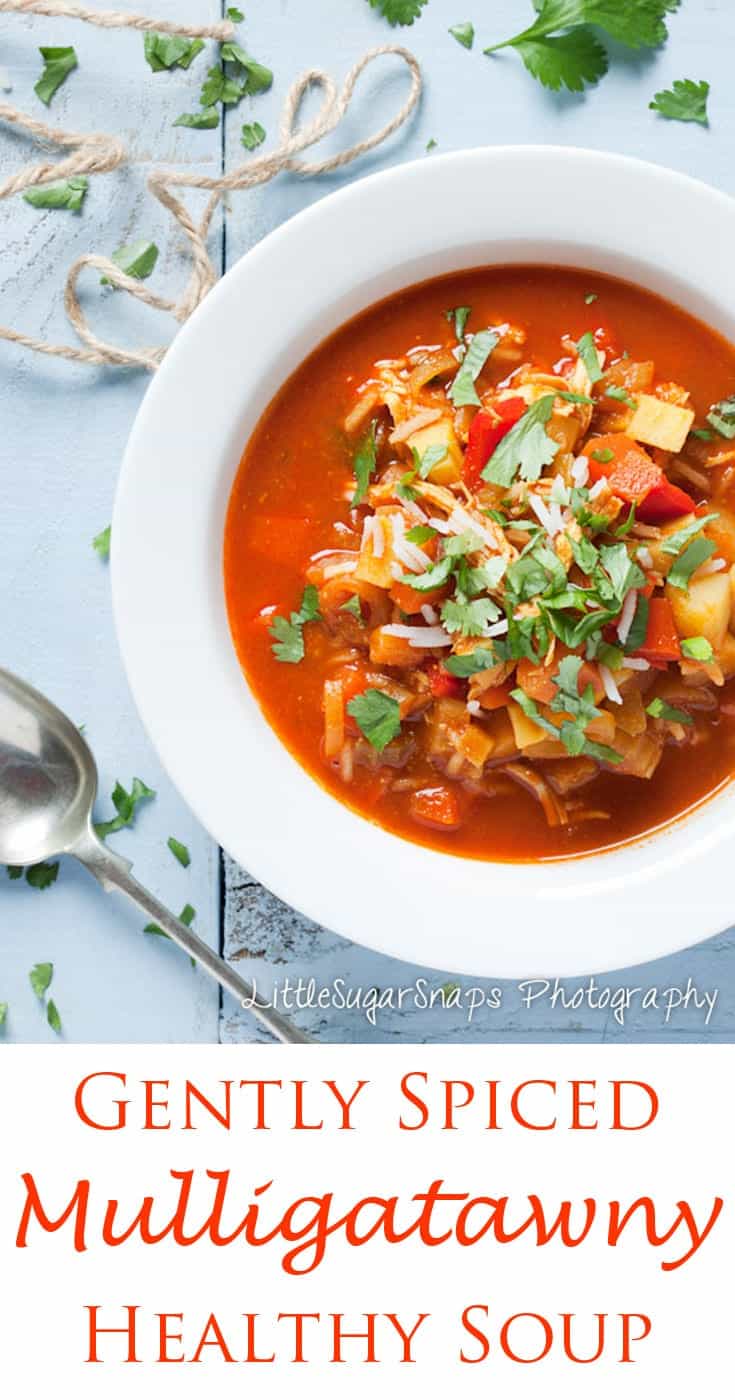 (Visited 141 times, 1 visits today)