This smoky vegetable soup with Carrot and courgette (zucchini) is a real family favourite. It is robust and satisfying enough to serve as a main meal with gloriously thick chunks of bread or equally well placed when served as an appetiser, dressed up with a few tasty garnishes. It has a deep, smoky paprika flavour and comes loaded with plenty of vegetables.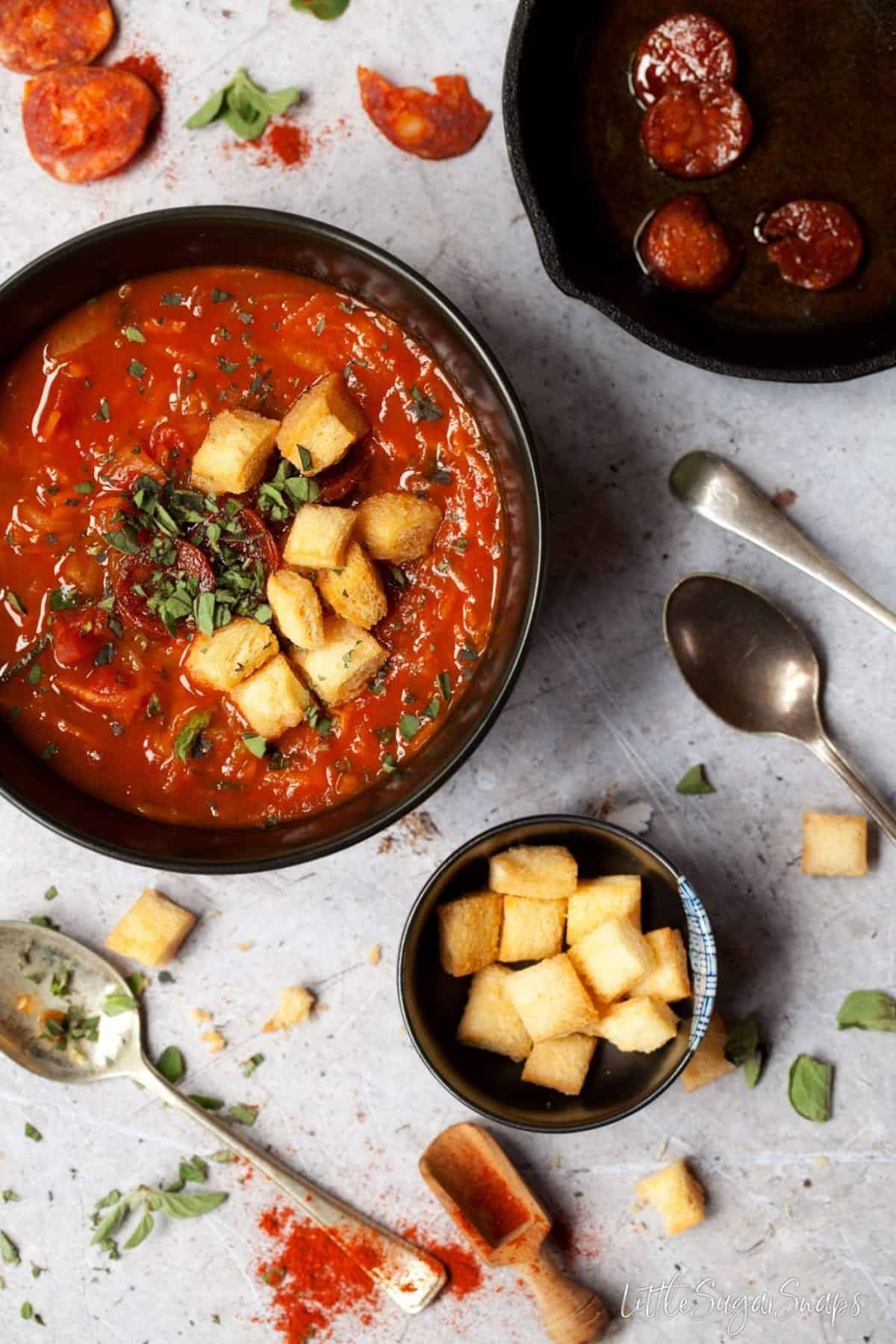 It was strangely humid around me yesterday, but today I definitely detected a whiff of autumn in the atmosphere. In fact, newsflash: I was vaguely cold today, for just a few moments. I've not been chilly in England for quite some time.
When we get to this time of year something changes in me. I know we are on a downhill and fastmoving track to December, but I don't mind. Before we get to the final chapter of the year, we get to enjoy all of the bounties that autumn brings our way.
Of course, I'm not just talking about stockpiles of apples or the vivid displays of colour that will appear on our trees very soon. Those, along with numerous festivities the world over, are all welcome autumn treats.
Unsurprisingly, I'm also thinking about the food options that the colder autumnal weather brings our way. It's time to break out the baking spices. It's time for pie and stews – with a few dumplings if I'm very lucky. And it's unquestionably time for soup. We have soup as our main meal at least once a week for most of the year. There are so many soups to make that it's a dish that my family never grows tired of.
Today's carrot and courgette soup with paprika, however, is one of our all-time favourites. Try serving it with a sandwich alongside for a substantial lunch – my favourites are egg mayo and cheese savoury or my chilli cheese toastie.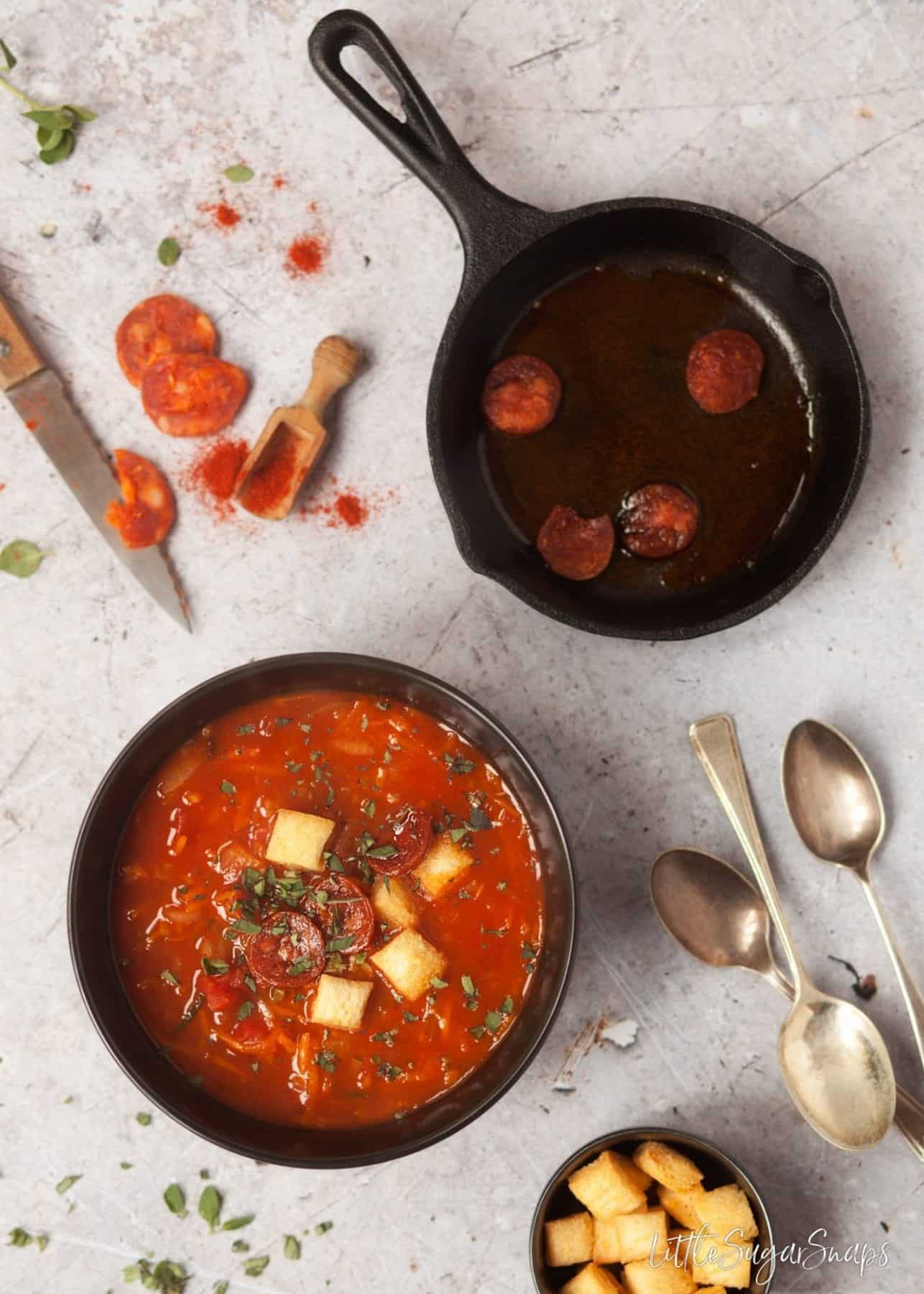 As is often the case with favourite recipes, they just evolve over time. Yes, you guessed it, this smoky vegetable soup with Carrots & courgettes (zucchini) is one such recipe. I've been ladling it out for years, but I never bothered to write down the list of ingredients for it until recently. And that is why this established favourite is only just taking the star turn on LittleSugarSnaps.
If you like soups involving courgette don't miss my tomato, courgette and fennel soup.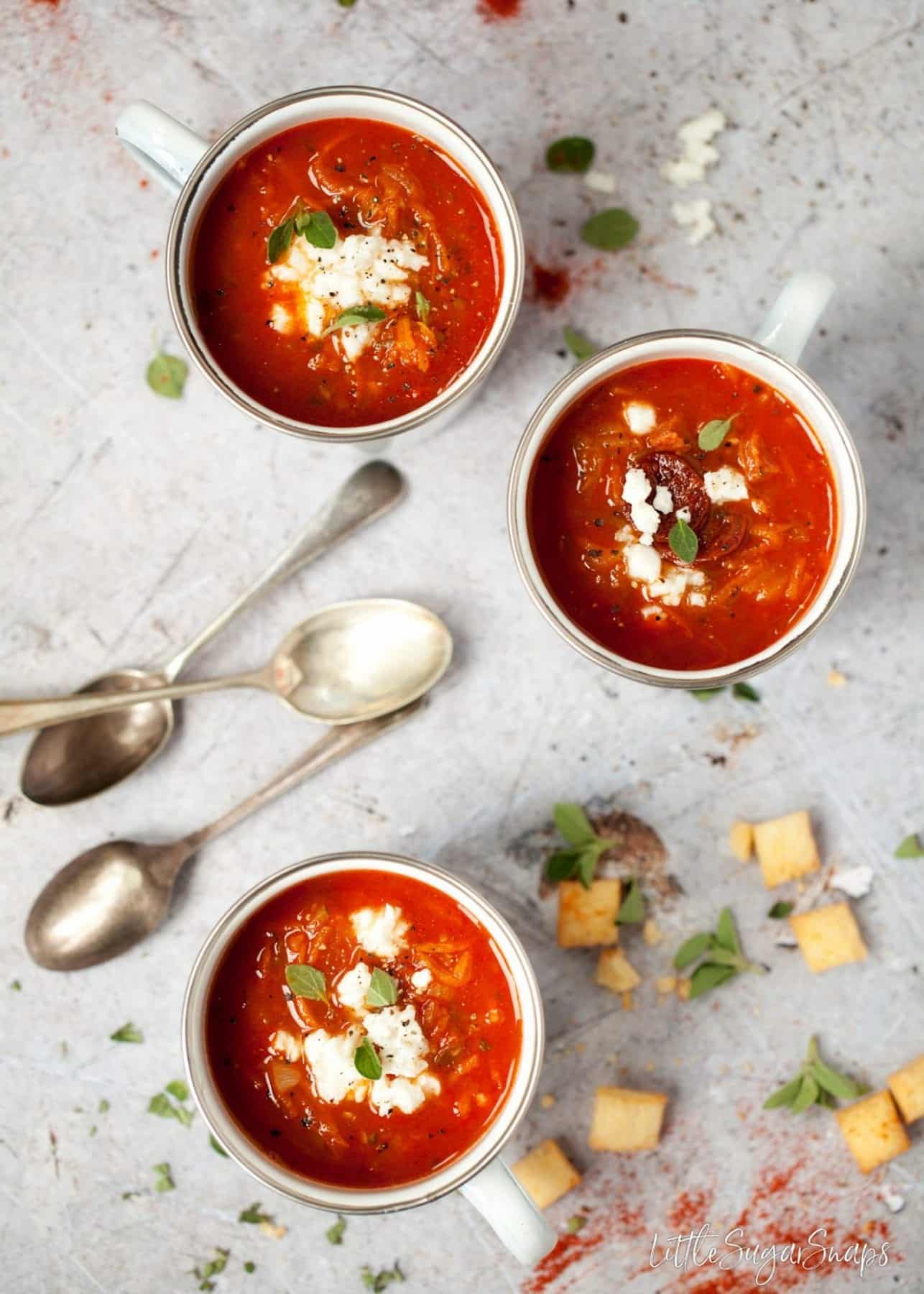 How to Make Carrot & Courgette Soup
As with most soups, this hearty carrot and zucchini soup is very easy to prepare:
fry some onion, garlic and chorizo
grate the vegetables in a food processor
add to the onion mix with a good dose of paprika & oregano and cook for a few minutes
pour in the stock and tinned tomatoes, season and simmer
It's really that easy. And because the food processor does most of the veggie preparation, this soup requires minimal hands-on time.
Serving Ideas for Carrot & Zucchini Soup
As for serving, we rather like mopping up this smoky vegetable soup with some homemade Cheesy Jalapeno Bread, but any tasty loaf will do. This soup is hearty with a deeply satisfying warmth from the paprika & chorizo and makes a great weeknight supper just as it is. Oh, and it can easily be made vegetarian – just omit the chorizo for a couple of handfuls of cooked black beans.
Should you be on the look out for a fancy appetiser this soup can cover your back too. Simply serve smaller portions and top each bowl with a few slices of thinly sliced fried chorizo, some crumbled feta or some croutons.
As autumn takes hold, and seasonal festivities arise, I'm looking forward to serving this smoky carrot and courgette soup al fresco – I'm daydreaming about enamel mugs with a spoon to hand and a front row position by a large bonfire.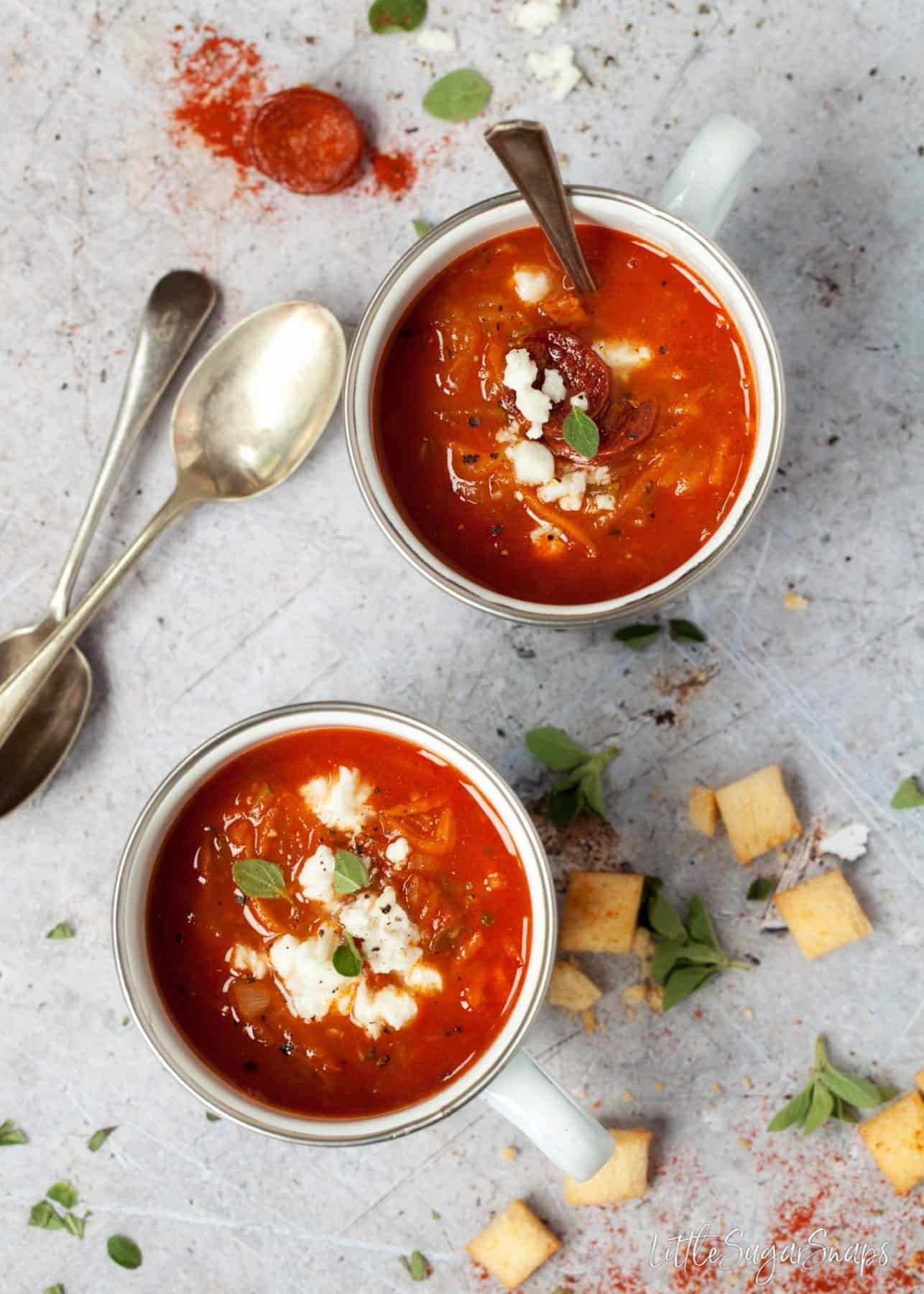 Have you tried my other soups?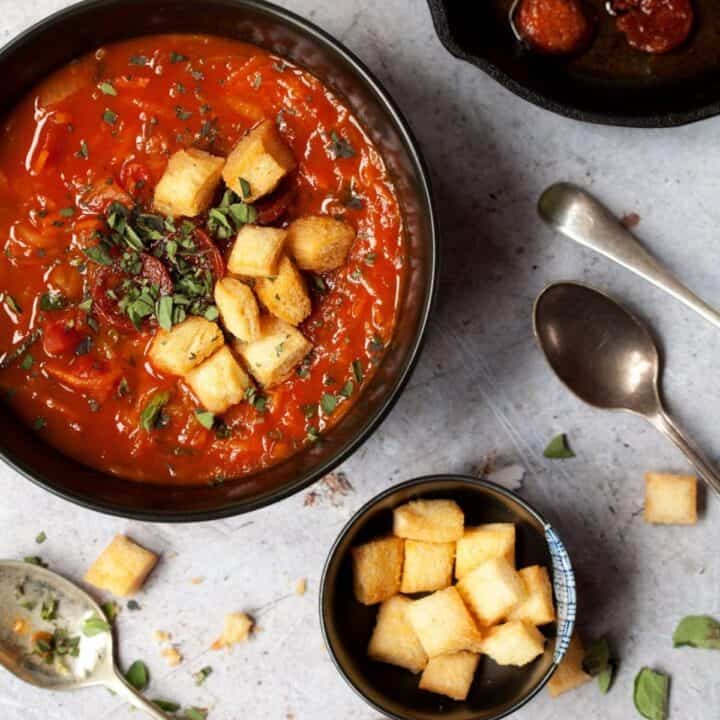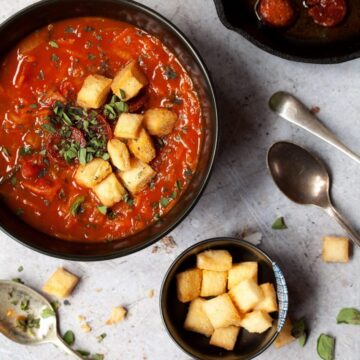 Paprika Soup with Carrot and Zucchini
This Hearty Paprika Soup with Carrot and Zucchini is a real family favourite. It has a deep, smoky paprika flavour and comes loaded with plenty of vegetables.
Print
Pin
Rate
Ingredients
1

White onion (medium)

2

Cloves garlic

300

g/ 10 ½ oz

Carrot

300

g/ 10 ½ oz

Zucchini

75

g/ 2 ½ oz

Chorizo

1

tablespoon

Paprika (sweet, mild)

2

tablespoon

Fresh oregano – finely chopped

1x

400g/ 14 oz

Tin chopped tomatoes

2

tablespoon

Tomato puree

1

lt/ 4 cups

Vegetable stock

Salt & pepper (to taste)
Instructions
Finely chop the onion & chorizo and fry in a large saucepan with 1 tablespoon olive oil until the onion begins to soften

Crush the garlic cloves and add to the pan

Grate the carrot and zucchini finely. (Using a food processor is the quickest and easiest way to do this). Add to the pan and cook for 5 minutes, until the vegetables begin to soften slightly

Add the paprika and oregano. Stir in

Next pour in the tinned tomatoes along with the tomato puree, the stock and some seasoning. Bring to a simmer, cover with a lid and let cook for 20 minutes

Taste and adjust the seasoning as desired

Serve immediately or let cool and store (covered) in the fridge for up to 3 days
Notes
To make this soup vegetarian, simply omit the chorizo in step 1 and replace with 2 handfuls of cooked black beans in the final few minutes of cooking to warm them through.
Nutrition Per Serving (Approximate)
Calories:
125
kcal
|
Carbohydrates:
16
g
|
Protein:
6
g
|
Fat:
5
g
|
Saturated Fat:
2
g
|
Cholesterol:
12
mg
|
Sodium:
289
mg
|
Potassium:
582
mg
|
Fiber:
5
g
|
Sugar:
7
g
|
Vitamin A:
13692
IU
|
Vitamin C:
21
mg
|
Calcium:
90
mg
|
Iron:
2
mg
(Visited 1,492 times, 1 visits today)