Crisp & sweet Brioche toast piled high with marinated strawberries, dripping with homemade balsamic syrup and topped off with vanilla Mascarpone. Make time over the weekend to linger over this lively breakfast/brunch.

Breakfast. I'm a big fan. In fact, it's my favourite meal of the day. I cannot leave the house without having had a cup of tea and something to eat. Despite it being my favourite meal, like so many other households, we eat the same cereal or toast combinations week in week out.
But I still love breakfast – with all of my heart.
I think it's natural to fall into the cereal and toast ritual during the week. There are things such as trains to catch or packed lunches and organisation of school bags that just have to happen. Weekday breakfast, for the majority of us, needs to be quick & simple. But when I do get the chance to dilly-dally over breakfast, then there is nothing more pleasant than starting the day with something a little different. Something worth relinquishing the duvet for. Balsamic Strawberries on Brioche Toast definitely fall into that category.
Let me explain…
I first discovered the sweet joy that is balsamic strawberries about 15 years ago. It's a dessert I have returned to time and time again. Though it is incredibly simple to prepare, the combination is an outright winner – one that has become a true classic in the cookery world. It's magnificent on it's own, but a scoop of your favourite vanilla ice cream works a treat if you want to elaborate.
If you've never had strawberries marinated in balsamic vinegar before, just imagine a bowl of fresh, ripe strawberries, gently tossed in sugar and balsamic vinegar and left to marinate for a short while (yup – that easy). During this time the sugar and balsamic work a little magic. Those pert little strawberries relax a little and give up a splash of their sweet juice. When serving time rolls around, the liquid that accompanies those strawberries is rich, tangy and fruity. The touch of sharpness from the vinegar is evened out by the sweetness from the berries and the sugar. It is simplicity in itself and yet the pairing of flavours is hard to beat.
It is so good.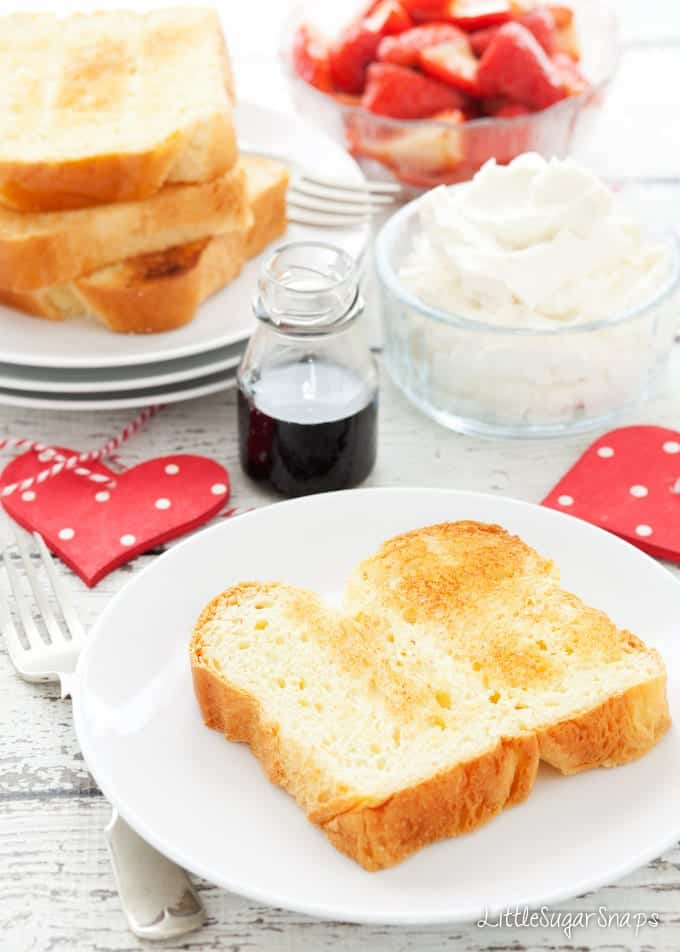 My Balsamic Strawberries on Brioche Toast basically turns this classic dessert into brunch. On top of sweet, toasty brioche there are marinated strawberries piled high & drizzled with a homemade balsamic syrup. All of this is crowned by sweet, vanilla Mascarpone cheese. If you're looking for a change from French Toast or pancakes, then look no further.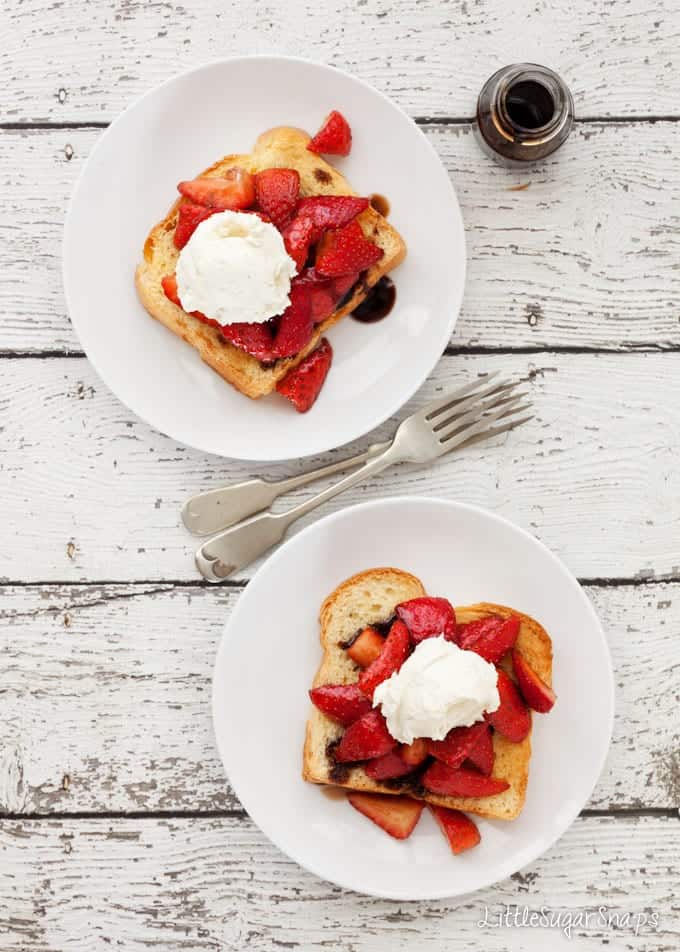 I did consider using French Toast as the base, but I really do think that crunchy toast works so much better – it adds a little texture to contrast with those soft, succulent balsamic strawberries and that creamy Mascarpone Cheese.
If you want to make somebody feel extremely special this weekend, then serve up some Balsamic Strawberries on Brioche Toasts. They are: bright, cheerful, and guaranteed to wake up even the sleepiest of taste buds. They are plate-lickingly-good.
Find More Exciting Breakfast and Brunch Ideas: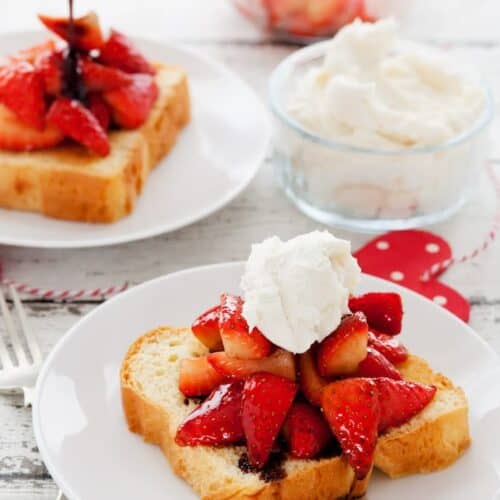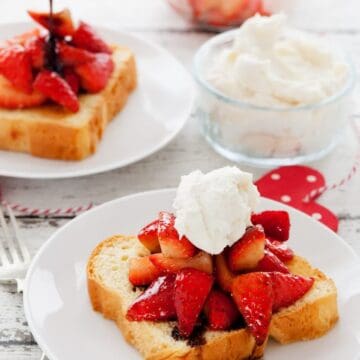 Balsamic Strawberry Brioche Toast
Crisp & sweet Brioche toast piled high with marinated strawberries, dripping with homemade balsamic syrup and topped off with vanilla Mascarpone. Make time over the weekend to linger over this lively breakfast/brunch.
Print
Pin
Rate
Ingredients
500

g/ 3 cups

Fresh strawberries

4

tablespoon

Vanilla caster sugar

3

tablespoon

Balsamic vinegar

250

g/ 1 ⅛ cup

Mascarpone cheese

2

tablespoon

Icing (confectioner's) sugar

½

teaspoon

Vanilla bean paste

4

tablespoon

Water

4

slices

Brioche bread
Instructions
Begin by removing the green tops from the strawberries and halving or quartering the fruit, depending on size. Put into a medium bowl

Sprinkle the vanilla sugar over the strawberries. Pour in the balsamic vinegar. Toss gently. Set aside for 15-20 minutes, stirring once

Meanwhile, beat the Mascarpone with the vanilla bean paste until smooth. Sieve the icing sugar into the bowl and mix well

After 20 minutes, put the 4 tablespoon of water into a small saucepan and drain the liquid from the strawberries into this pan. Set on a high heat and boil for 5-10 minutes until reduced by half and beginning to thicken. Remove from the heat

Toast the brioche, then pile the strawberries onto the toasts. Divide the balsamic syrup between the plates and top with a large scoop of the Mascarone

Serve immediately
Notes
1. Don't be alarmed by the small volume of syrup this recipe makes. A little goes a long way – each plateful should get 2-3 teaspoon of balsamic syrup. 2. The strawberries do not store well once marinated – serve within an hour. 3. If you want to serve the balsamic strawberries as a dessert just follow up to stage 2. After 20 minutes stir and serve (with all of the fantastic juice) in small bowls with a scoop of vanilla ice cream if desired.
(Visited 583 times, 1 visits today)