This basil gin cocktail is a great makeover of the classic Spring Feeling – a popular Green Chartreuse cocktail. My version is zesty, herbaceous, colourful and downright delicious. Pick up both recipes here.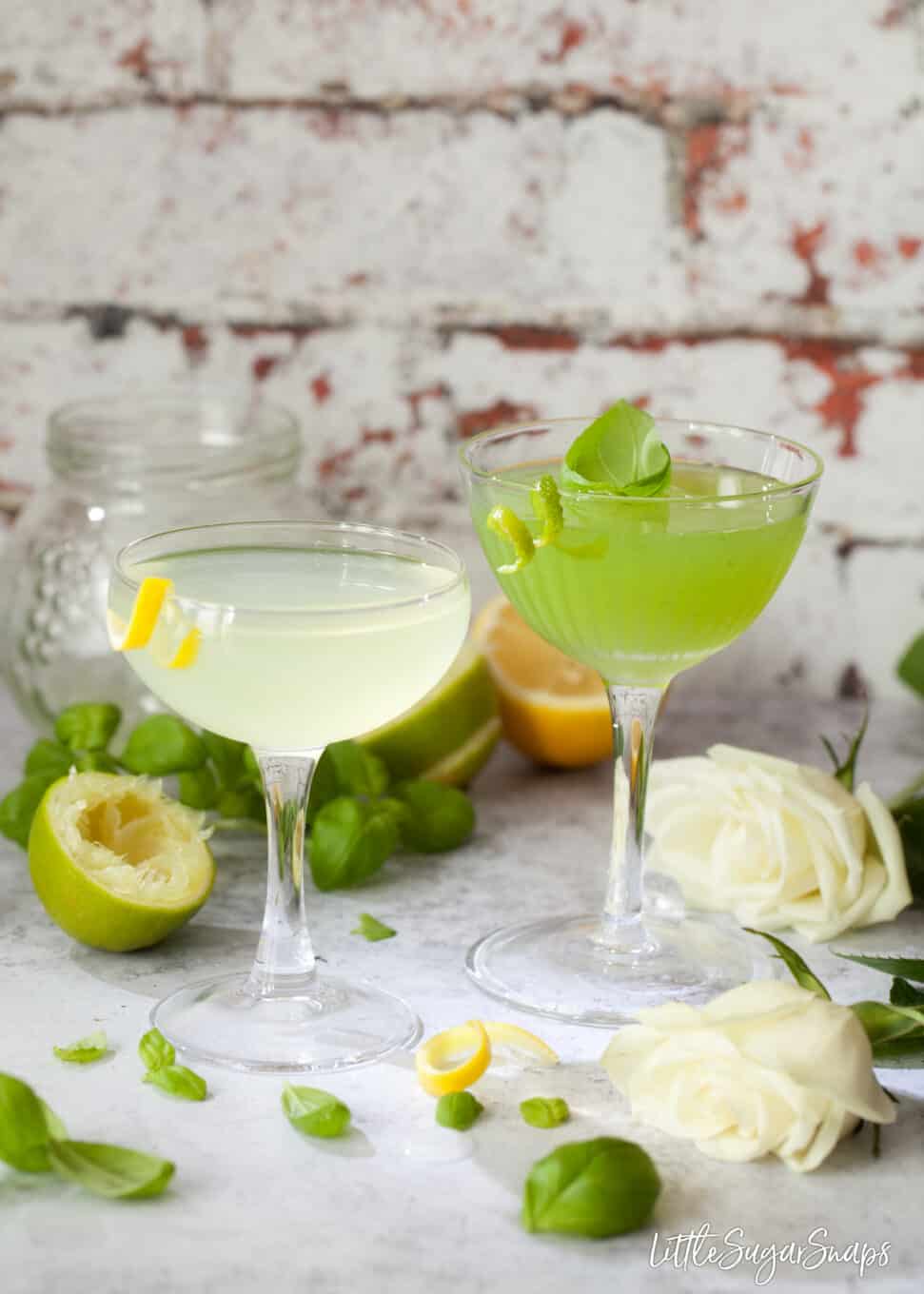 This post contains affiliate links. As an Amazon Associate, I earn from qualifying purchases.
I love exploring classic cocktails and coming up with a modern & fresh take on them. That's exactly how this basil cocktail I'm presenting here came about.
This vibrant, fruity, herbal and semi-dry gin and basil based cocktail is what happened when I took the classic Spring Feeling and started thinking of ways that I could push this Green Chartreuse cocktail a little further.
I'm sure you'll agree that the resulting drink is particularly eye-catching. And let me tell you, those flavours do not disappoint either.
Of course, it's on the whole, far easier to get ingredients such as basil than it was when the Spring Feeling was first invented. And that's my justification behind my tinkering – when old-world ideas meet commonplace modern-day ingredients, wonderful things can evolve.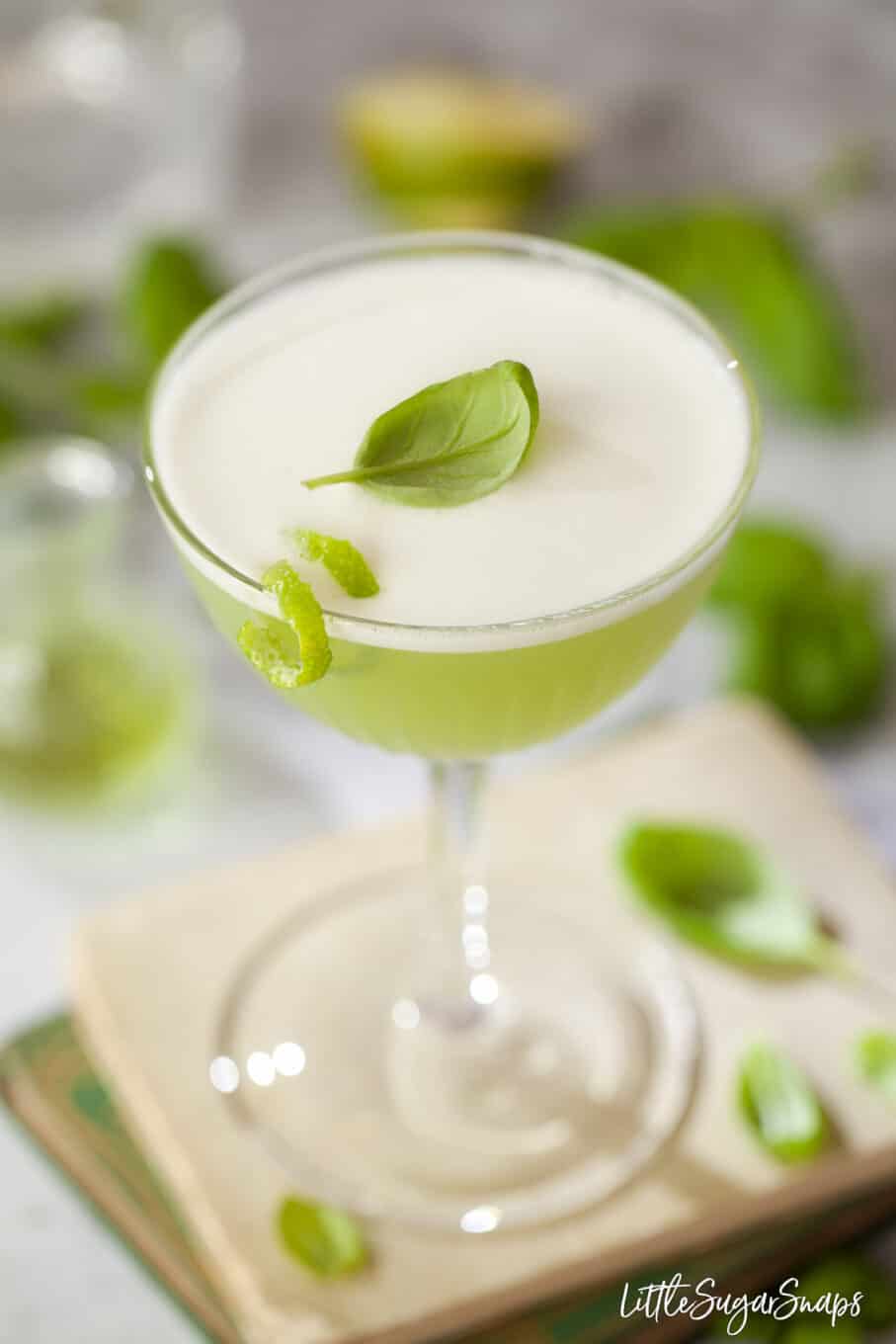 What is Green Chartreuse?
Distinguishable by its completely natural green colour, Green Chartreuse is a sweet, herbaceous liqueur that Carthusian Monks first started making in 1737.
Green Chartreuse started life as an elixir, encouraging long life but has evolved into a very versatile & sophisticated liqueur, frequently appearing in cocktails.
And the best way to drink this liqueur?
Serve it neat as a mellow after-dinner digestif
On the rocks for a crisp, refreshing sipper
Splashed into hot drinks
In a cocktail – it pairs remarkably well with gin & citrus
It is a strong (55% alcohol) and unique liqueur. Made from 130 plants and flowers, it is understandably difficult to pin-point exactly what Green Chartreuse does actuslly taste of. Suffice to say, expect a rather mysterious combination of sweet, herbaceous, refreshing and vaguely spicy flavours.
If you're wondering what else to make with this liqueur aside from my basil cocktail, try these alternative Green Chartreuse cocktails & drink recipes:
How to Make a Spring Feeling
The Spring Feeling cocktail rather classically pairs Green Chartreuse with citrus and gin – lemon juice and Plymouth gin to be exact.
Plymouth Gin is slightly less dry than London Dry Gins typically are. The flavour is undeniably smooth – the result of a higher than usual proportion of root ingredients, which bring a more earthy feel to the gin as well as a softer juniper hit.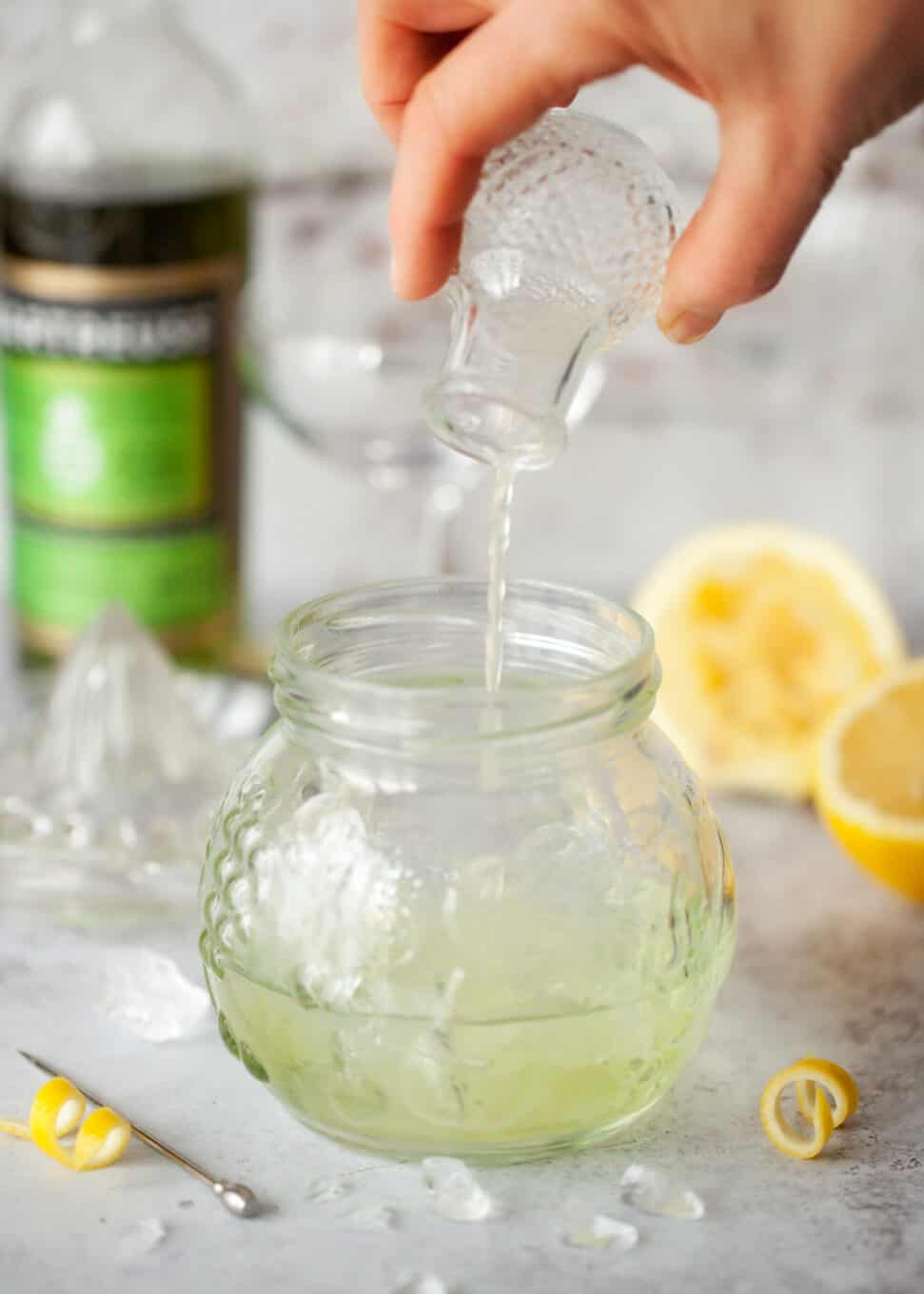 To make the Spring Feeling cocktail: add the following to a cocktail shaker filled with ice:
Plymouth Gin
Green Chartreuse
lemon juice
Put the lid on, shake vigorously for 30 seconds and strain into a cocktail glass. Serve immediately with a twist of lemon.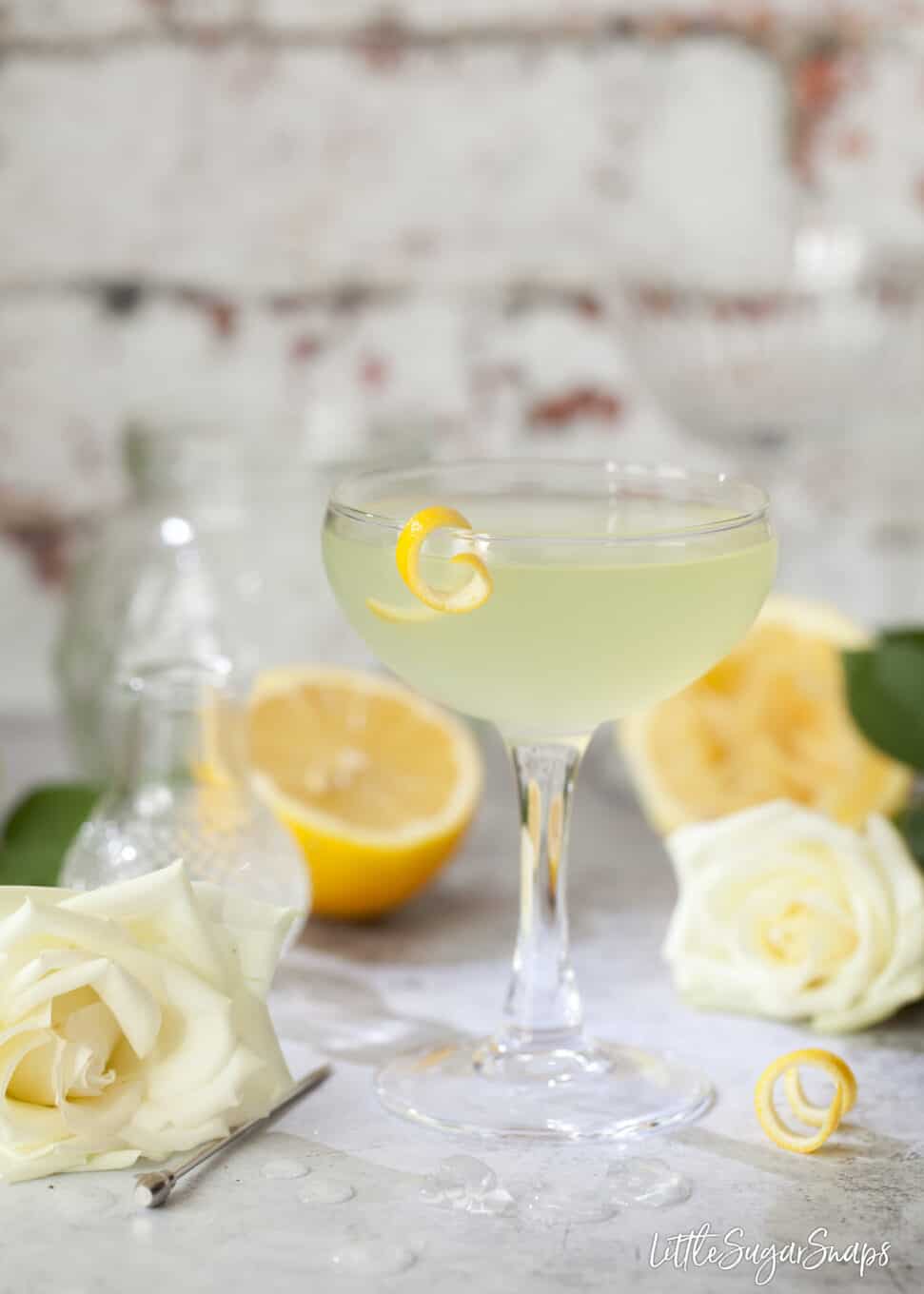 Ingredients for the Basil Gin Cocktail
My basil cocktail is really a riff on this prohibition era gin classic.
I've kept the Plymouth gin but I've swapped the lemon juice for lime and, you've guessed it, I've added a good dose of fresh basil to play with the herbal nature of the Green Chartreuse. I've also tempered the sharpness of the citrus by adding in a little sugar syrup.
There are 2 ways to serve my basil gin cocktail – with or without an egg white foam.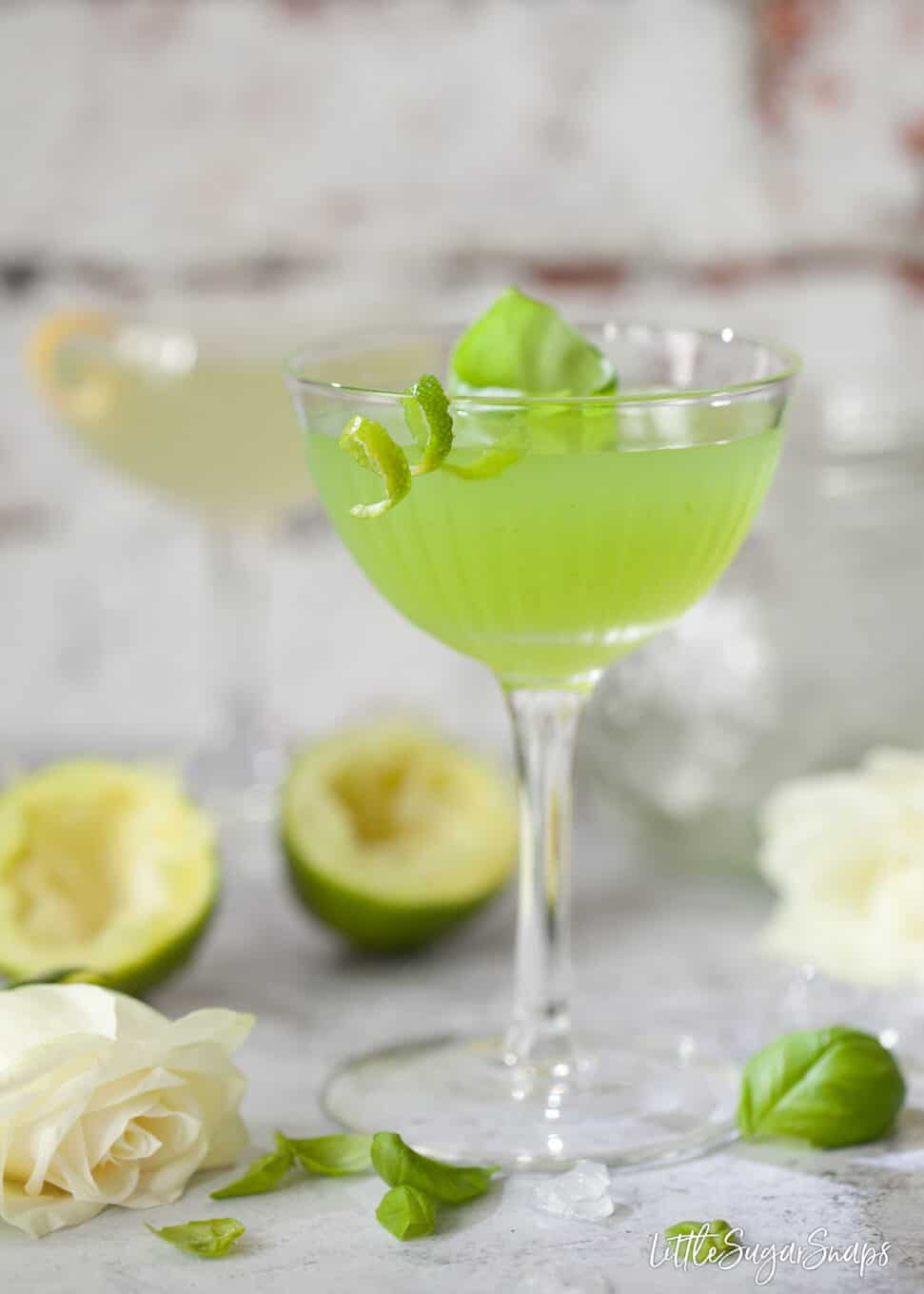 This drink is perfectly delicious, and rather pretty to look at without the addition of egg white, but I fully endorse throwing in the egg white because it transforms the texture of this basil cocktail splendidly. I also think it enhances the look of the drink significantly too.
Adding egg white to shaken cocktails gives the drink a rich, creamy texture and a beautiful presentation with a delicate foamy cap. Egg whites help to temper acidity and bind flavours together without altering the flavour of the drink (egg whites are virtually odourless and tasteless).
To make this basil cocktail:
Pour the Plymouth Gin, lime juice Green Chartreuse into a cocktail jug
Add basil leaves and use a stick blender to pulse the leaves for 3 quick bursts (1 second each time)
Strain the liquid through a fine-meshed sieve, squeezing out the liquid with the back of a small spoon
If making without egg whites: add ice to the cocktail shaker, pour in the liquid and add sugar syrup. Shake for 30 seconds and strain into a cocktail glass
If making with egg whites: put the liquid, sugar syrup and egg white into the cocktail shaker without the ice. Shake hard for 30 seconds, then add ice and shake for a further 30 seconds before straining into a cocktail glass
Either version of this basil cocktail looks wonderful served with a twist of lime and a fresh basil leaf. And they are great entry-level Green Chartreuse cocktails.
Tips for Making this Drink
If you don't own a cocktail shaker, don't despair, it's still easy to make this basil cocktail. Just find a large sturdy jar with a screw-top lid to use instead – like in my photos
If you don't have a stick blender, chop the basil leaves finely, add to the liquid and leave to infuse for 10 minutes. Muddle with a cocktail stick (or the end of a rolling pin, then proceed to strain through a sieve
And talking of straining, don't be tempted to skip this step. There is far too much basil leaf in the drink for it to be a pleasant sip unless it's strained
I'm happy to use a regular fine-meshed sieve for this part. But for ultimate clarity and smoothness, use a nut bag to strain the drink if you have one
Like most cocktails, and particularly due to the fresh ingredients involved in this basil cocktail, it is best consumed straight away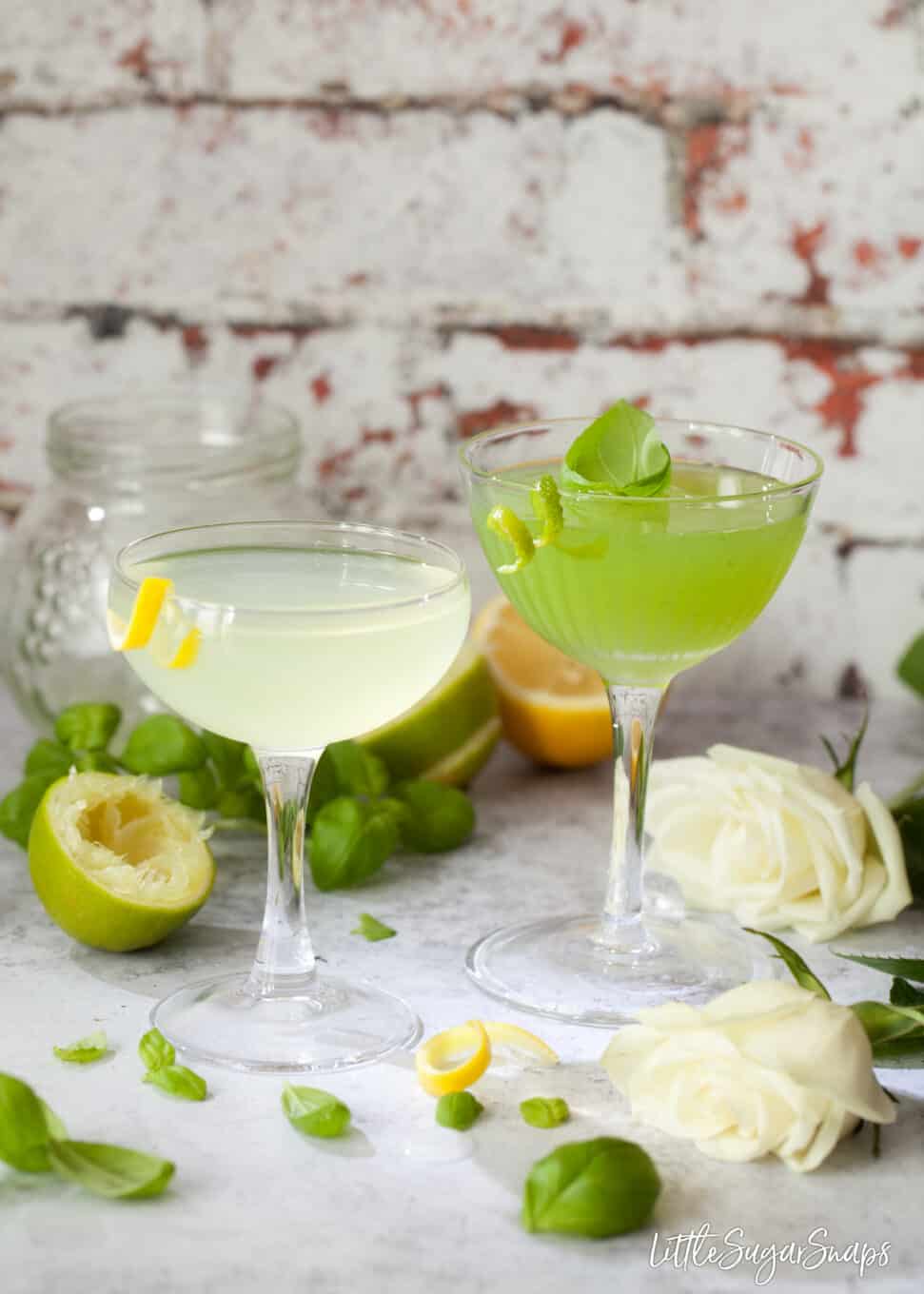 Find More Gin Cocktails to try: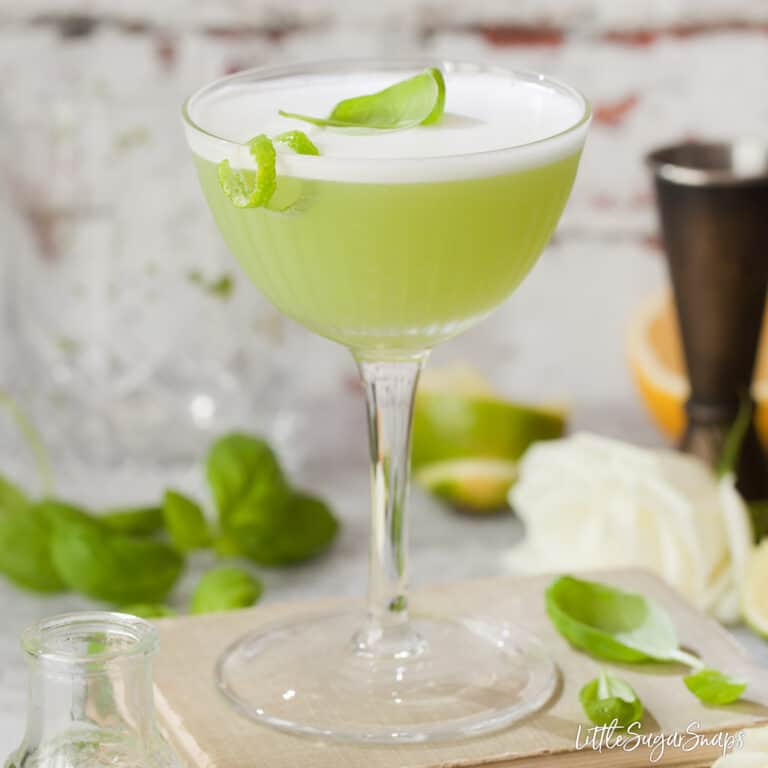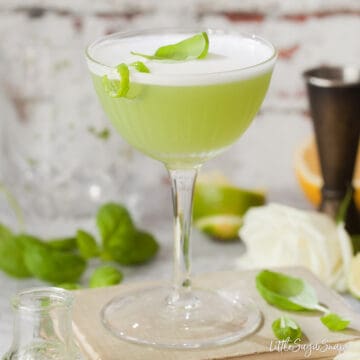 Basil Cocktail & Spring Feeling Cocktail
This basil cocktail is a great makeover of the classic Spring Feeling – a popular Green Chartreuse cocktail. My version is zesty, herbaceous, colourful and downright delicious. Pick up both recipes here.
Print
Pin
Rate
Ingredients
For the Classic Spring Feeling
80

ml

Plymouth Gin

40

ml

Green Chartreuse

40

ml

Lemon juice

fresh
For the Basil Cocktail
80

ml

Plymouth Gin

40

ml

Lime Juice

20

ml

Green Chartreuse

20

Basil leaves

fresh

20

ml

Sugar syrup

1

Egg white
Instructions
For the Spring Feeling
Fill a cocktail shaker with ice

Pour the gin, Chartreuse and lemon juice in

Secure the lid and shake hard for 30 seconds

Strain into 2 cocktail glasses, garnish with lemon zest & serve
For the Basil Cocktail
Pour the gin, Chartreuse and lime juice into a cocktail jug

Add the basil leaves and, using a stick blender, pulse 3 times (1 second each pulse) to break down the basil

Strain into a clean jug – push down gently on the leaves with the back of a small spoon to extract any lingering liquid

Put the green liquid into the base of a cocktail shaker and add the sugar cane syrup

If using egg-white: attach the lid to the shaker and dry-shake (without ice) for 30 seconds. Add a handful of ice then shake for another 30 seconds

If not using egg-white: simply add a handful of ice to the shaker, secure the lid then shake for 30 seconds

Once shaken strain the drink into 2 cocktail glasses and garnish with lime zest & a fresh basil leaf
Notes
Nutritional information is provided as a guide only and should not be relied upon. Worked out on the basis of the ingredients for the Basil cocktail
Nutrition Per Serving (Approximate)
Calories:
169
kcal
|
Carbohydrates:
13
g
|
Protein:
2
g
|
Fat:
1
g
|
Sodium:
32
mg
|
Potassium:
48
mg
|
Sugar:
12
g
|
Vitamin A:
211
IU
|
Vitamin C:
7
mg
|
Calcium:
7
mg
|
Iron:
1
mg
(Visited 3,948 times, 7 visits today)