The Daiquiri cocktail is a classic rum-sour drink. Fresh, zesty, tart yet sweet, it's a great short drink to sip upon, especially on hot days. This violet cocktail is a simple twist on the classic.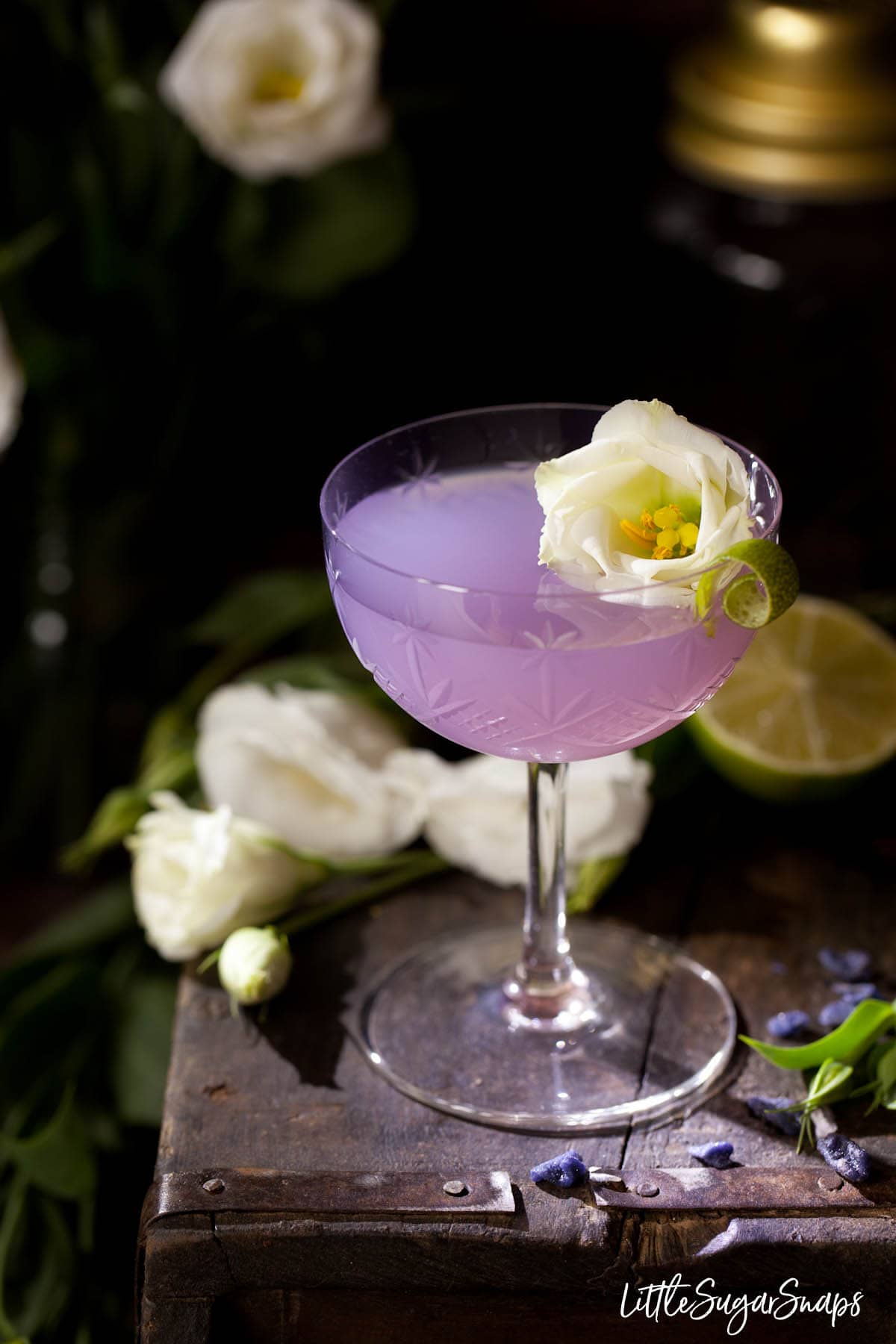 This post contains affiliate links. As an Amazon Associate, I earn from qualifying purchases.
If ever there was a drink designed for warm sunny days, the daiquiri cocktail is it. Fresh citrus juice bounces along beside punchy white rum and a subtle sweetness cuts through those sharp, boozy & sour flavours.
It really is liquid refreshment. And this drink takes mere minutes to make. What could ever be better on a sweltering day?
Of course, when a cocktail is so simple to make and so universally popular, it's hard for me not to tinker around and put a new spin on things.
Impossible, it seems, since I've come up with a violet daiquiri cocktail. With floral undertones and gorgeous purple colour, this drink is somewhat enchanting. It's also as easy to make as the classic.
What is a Classic Daiquiri Cocktail?
The daiquiri is a well-loved classic rum-sour drink, consisting of just 3 ingredients:
white Cuban rum
lime juice
sugar cane syrup
It is made in a cocktail shaker and garnished very simply – just a twist or wedge of lime will suffice. It's one on the easiest cocktails around.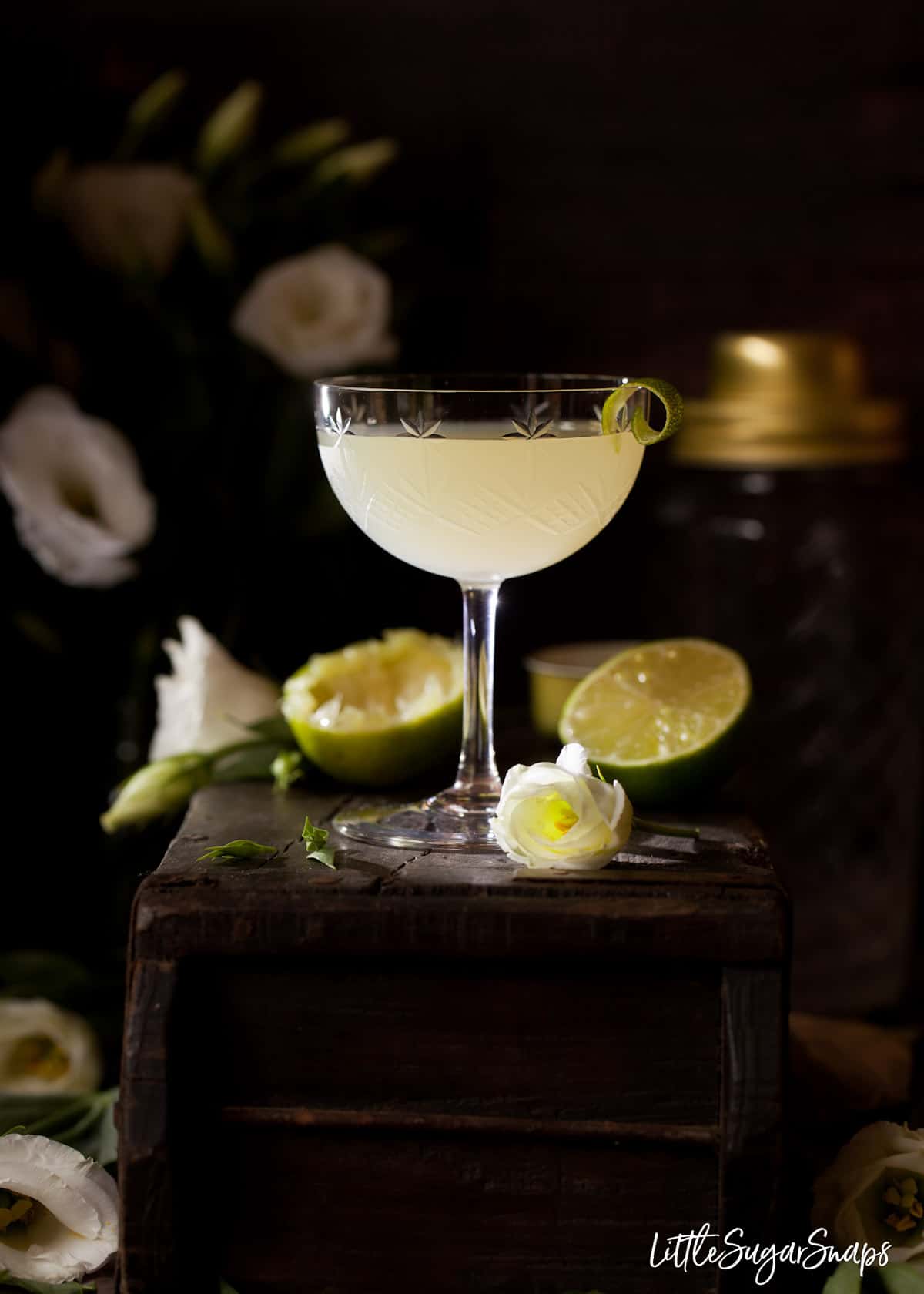 There are, of course, plenty of variations on this classic, pulling in a host of other flavours. And of course, there is also the frozen daiquiri – a regular daiquiri blended with ice to create a slushie style of drink.
Ingredients for a Violet Daiquiri Cocktail
My violet rendition of the daiquiri cocktail stays very close to the classic recipe. It too uses white Cuban rum and lime as the core ingredients. I have, however, swapped the sugar cane syrup for violet syrup.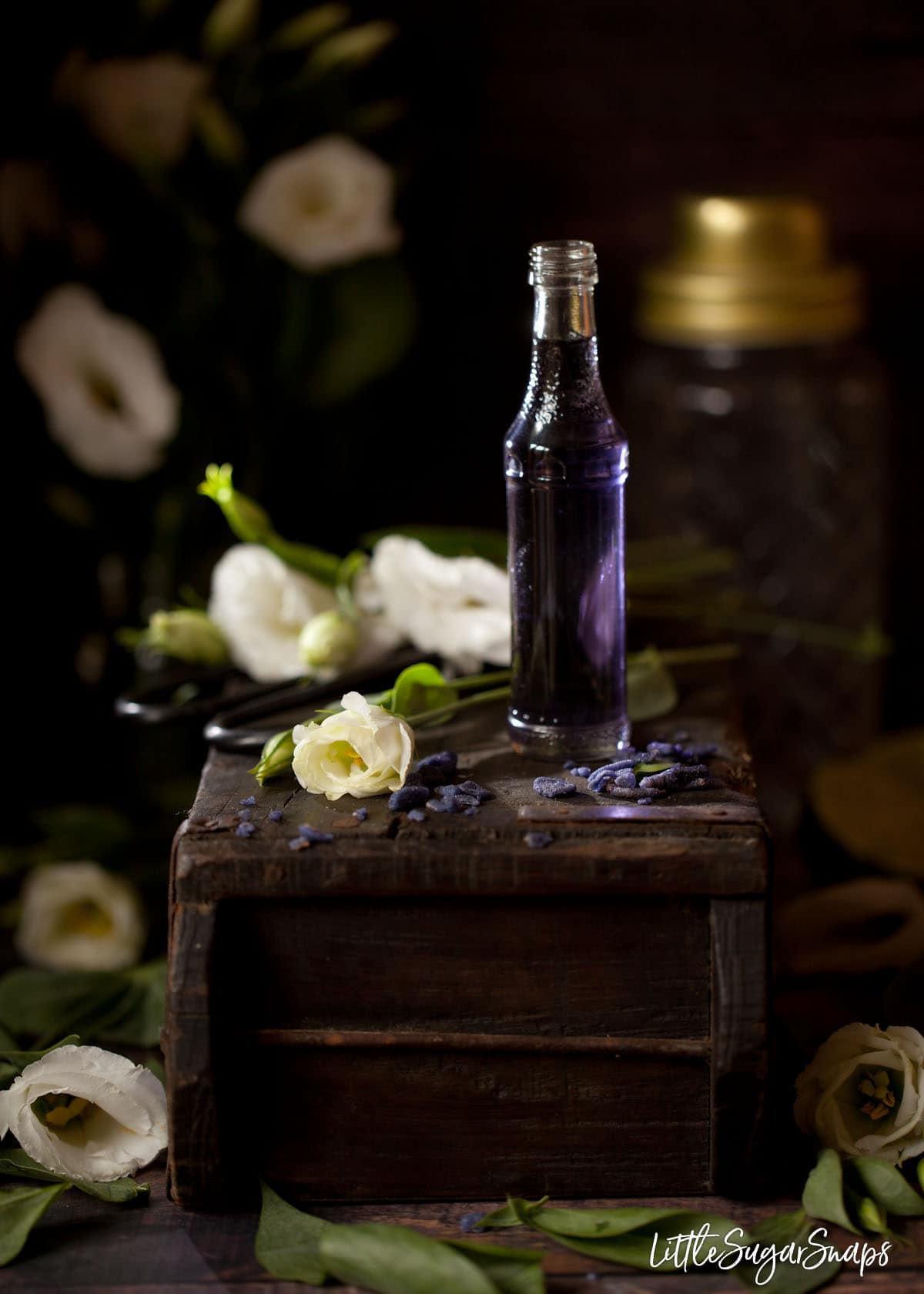 And there is one more ingredient in this drink – food colouring. I know. I'm sorry. But there is good reason.
Optional Ingredient
Use of the colouring gel is entirely optional.
I created this daiquiri cocktail with the intention of achieving a pretty purple hued libation. But, having mixed my ingredients, I found the slightly grey colour disappointing and slightly off-putting (grey is my least favourite colour).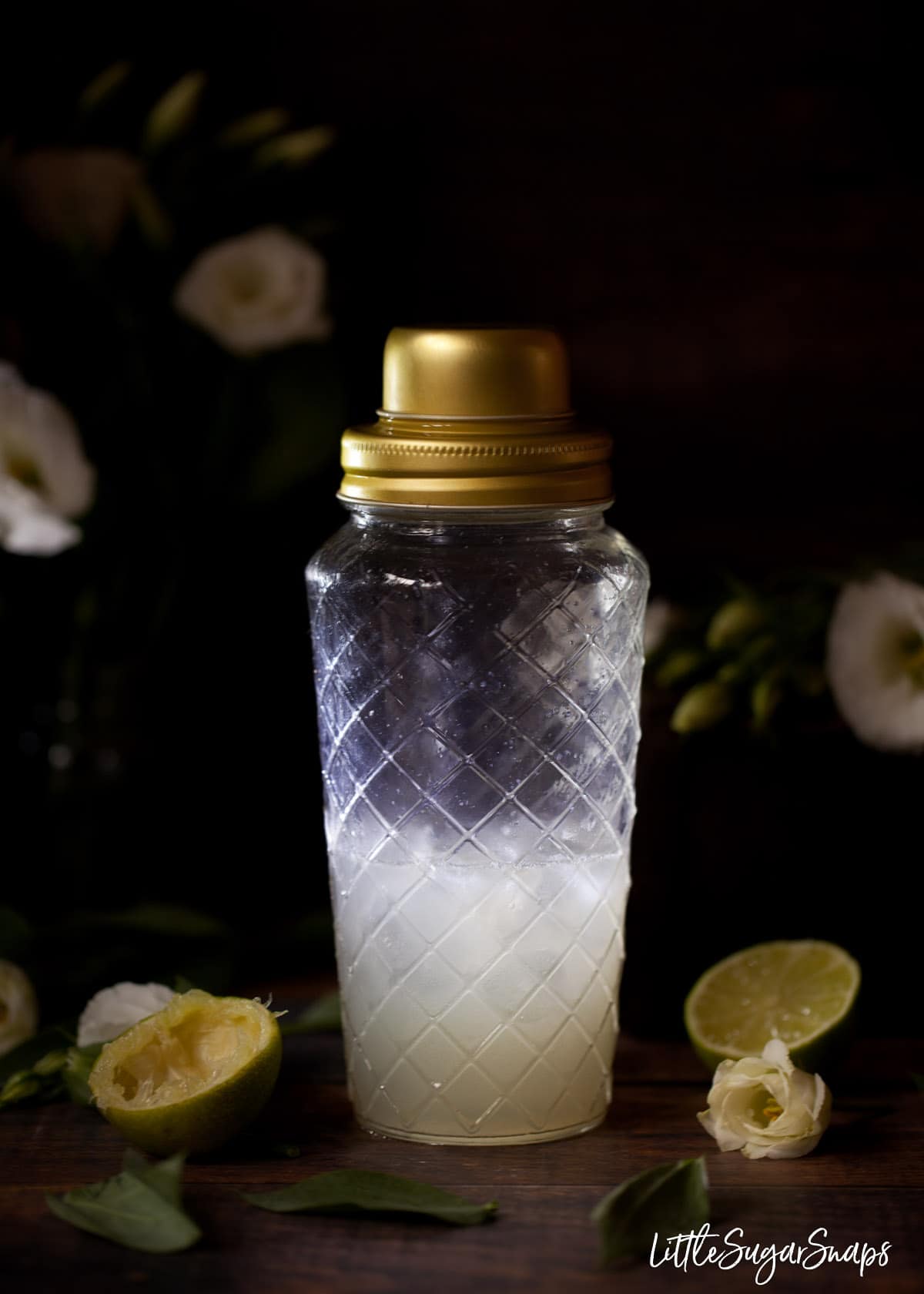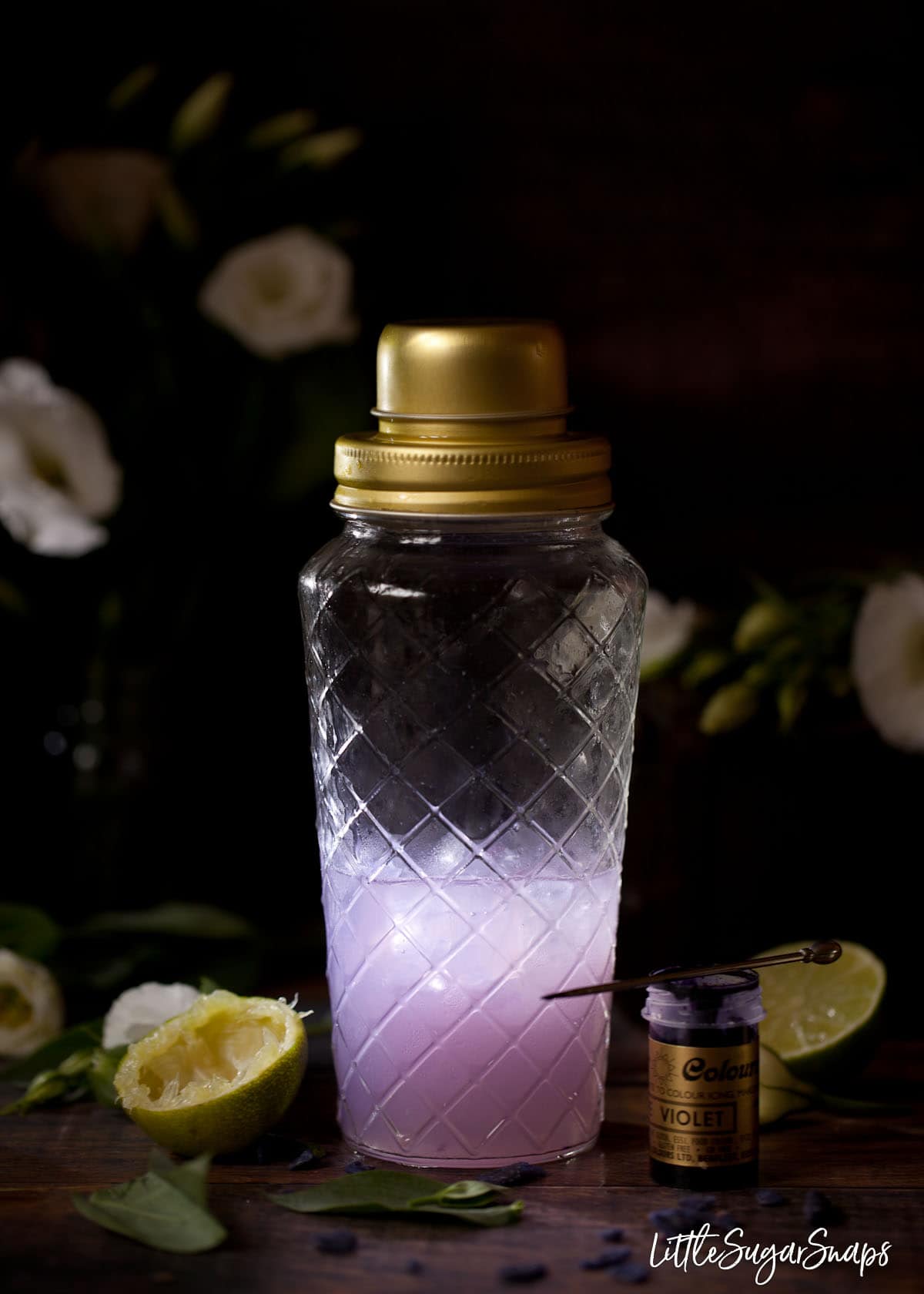 I rarely use artificial colourings if I can avoid it, I know that blueberries and blackberries can provide a wonderful hue to drinks.
But this time around I did not want any other flavours to detract from the flavours present in this violet daiquiri cocktail.
Rum. Lime. Violet. Straight up.
So that's why I cranked open my pot of colouring gel. But be warned, a tiny dab – on the end of a cocktail pick) is all that is needed to transform this cocktail to prettiness itself.
The food colouring is present in a very small quantity (barely there), so it does not affect the flavour at all. And that of course means that leaving it out entirely will not affect the final flavour of this libation.
Instructions
Making both the classic daiquiri cocktail and the violet variation is very straighforward and takes no more than 5 minutes:
Half fill a cocktail shaker with ice
Add the rum, lime juice and syrup
Optional step: add a tiny amount of violet/ purple food colouring gel – I find that dipping the end of a cocktail pick no more than ½ cm into the jar and then waving it through the liquid ingredients is sufficient (it's best to tread carefully and add in tiny amounts, since once in, the colouring cannot be removed)
Secure the shaker lid and shake hard for at least 30 seconds. Check that the colouring has dispersed evenly – shake a little more if necessary
Strain through a wire-meshed sieve into a suitable cocktail glass
Garnish with a twist of lime and serve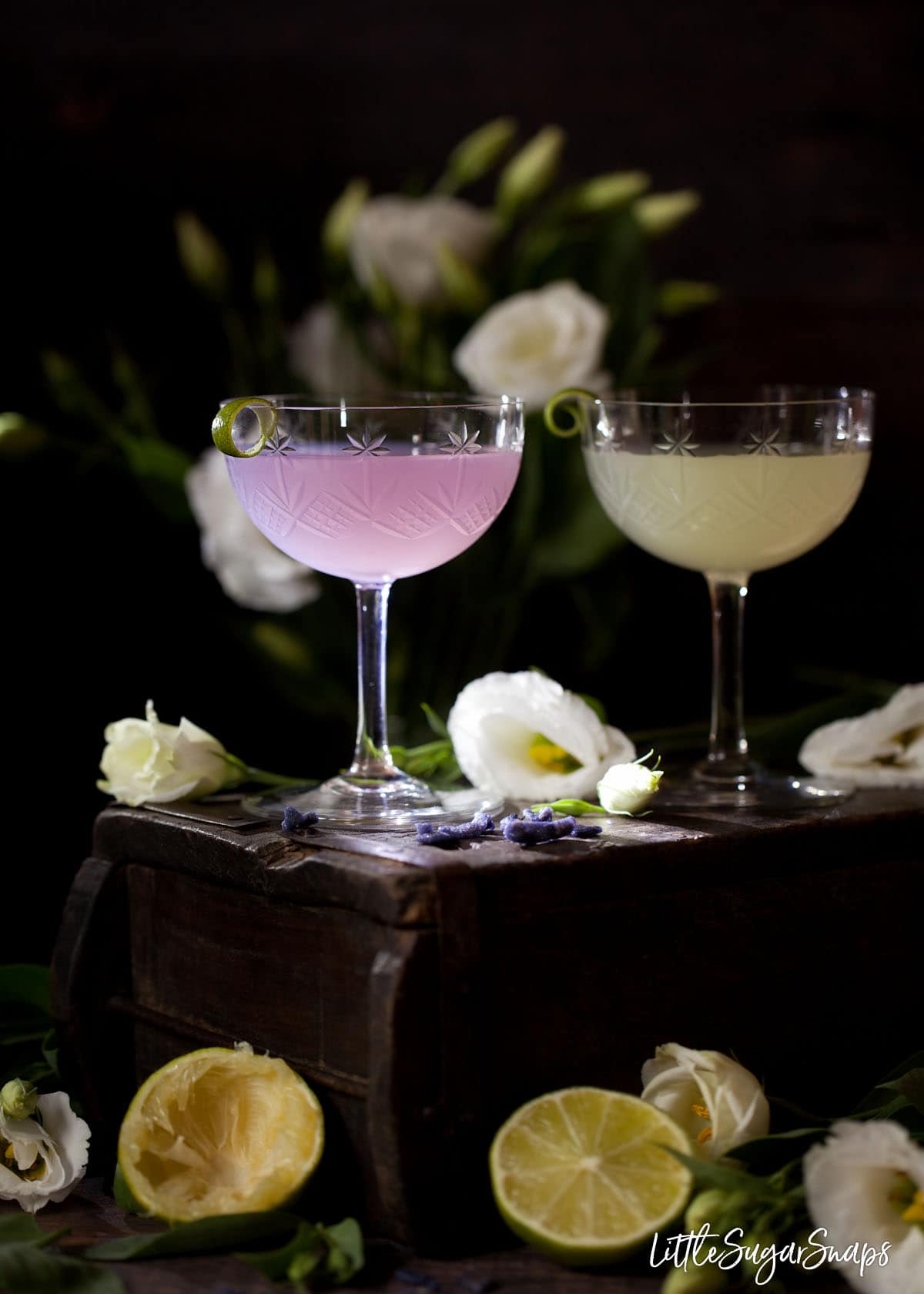 Can I make this violet cocktail in advance?
Yes, this daiquiri cocktail can certainly be made in advance.
In fact, if you are planning on using the colouring gel, I'd argue it is best made ahead of time. That way you won't get sidetracked by conversation and instead can give your full attention to carefully adding the colouring to avoid a purple overload.
As always with cocktails, I suggest shaking with ice right before serving, but by all means scale up the ingredients, mix really well (without ice) and decant into a bottle ready for easy pouring later on.
Pre-made, this violet daiquiri cocktail will be good for up to 2 days if kept chilled. Gently shake the bottle before pouring a measure into the cocktail shaker to ensure ingredients are fully blended in the bottle.
Note: It is still necessary to shake this drink with ice when it has been pre-mixed and chilled. The ice serves to further cool the drink and dilute the ingredients as it is shaken.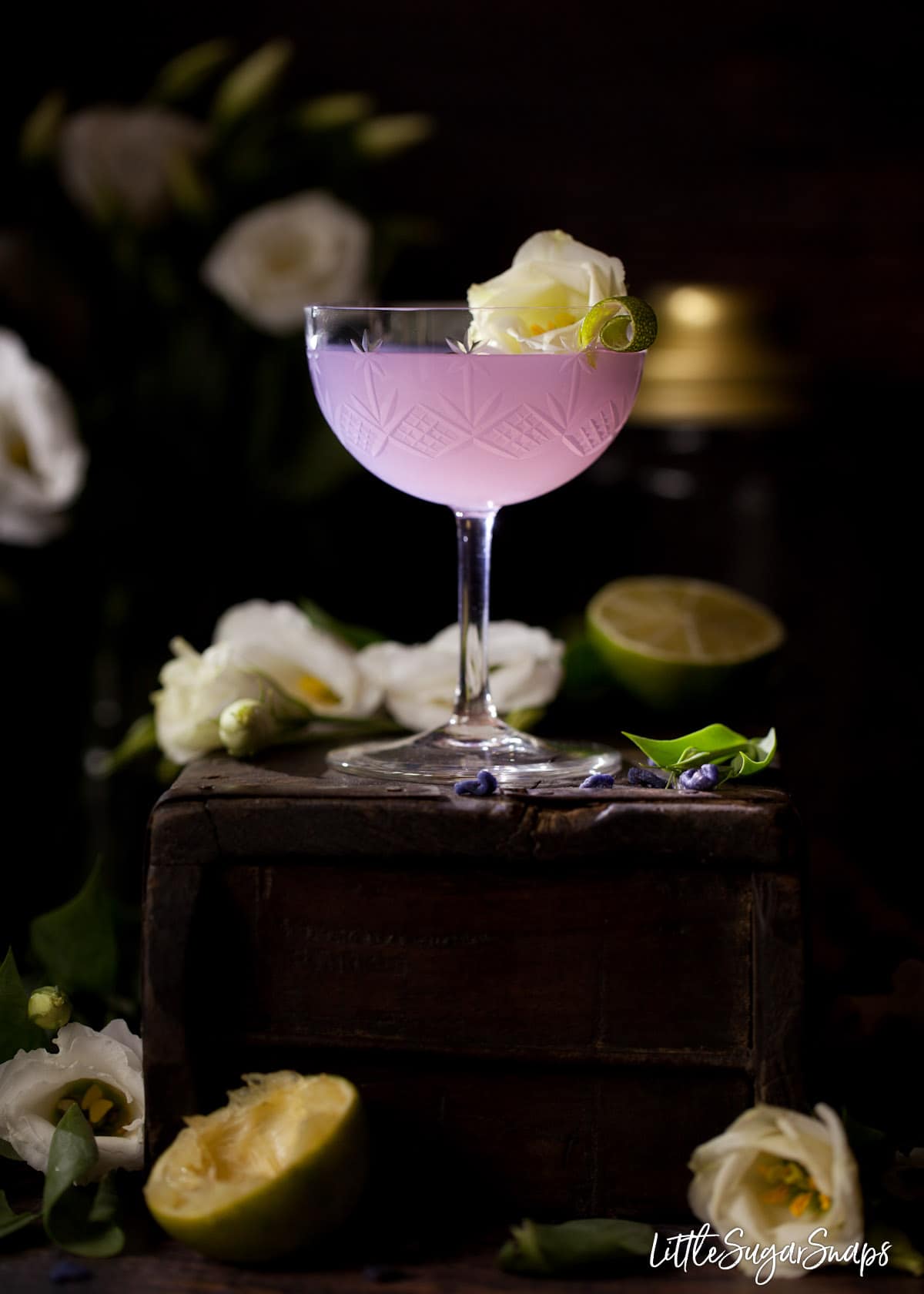 Other Cocktails you may enjoy:
(Visited 6,014 times, 9 visits today)