The Royal Hawaiian cocktail is a delicious summer sipper full of exotic tropical flavour with undertones of marzipan. Also known as the Princess Kaiulani cocktail, this gin and pineapple juice cocktail partners well with a little maraschino liqueur to lift the flavour profile further.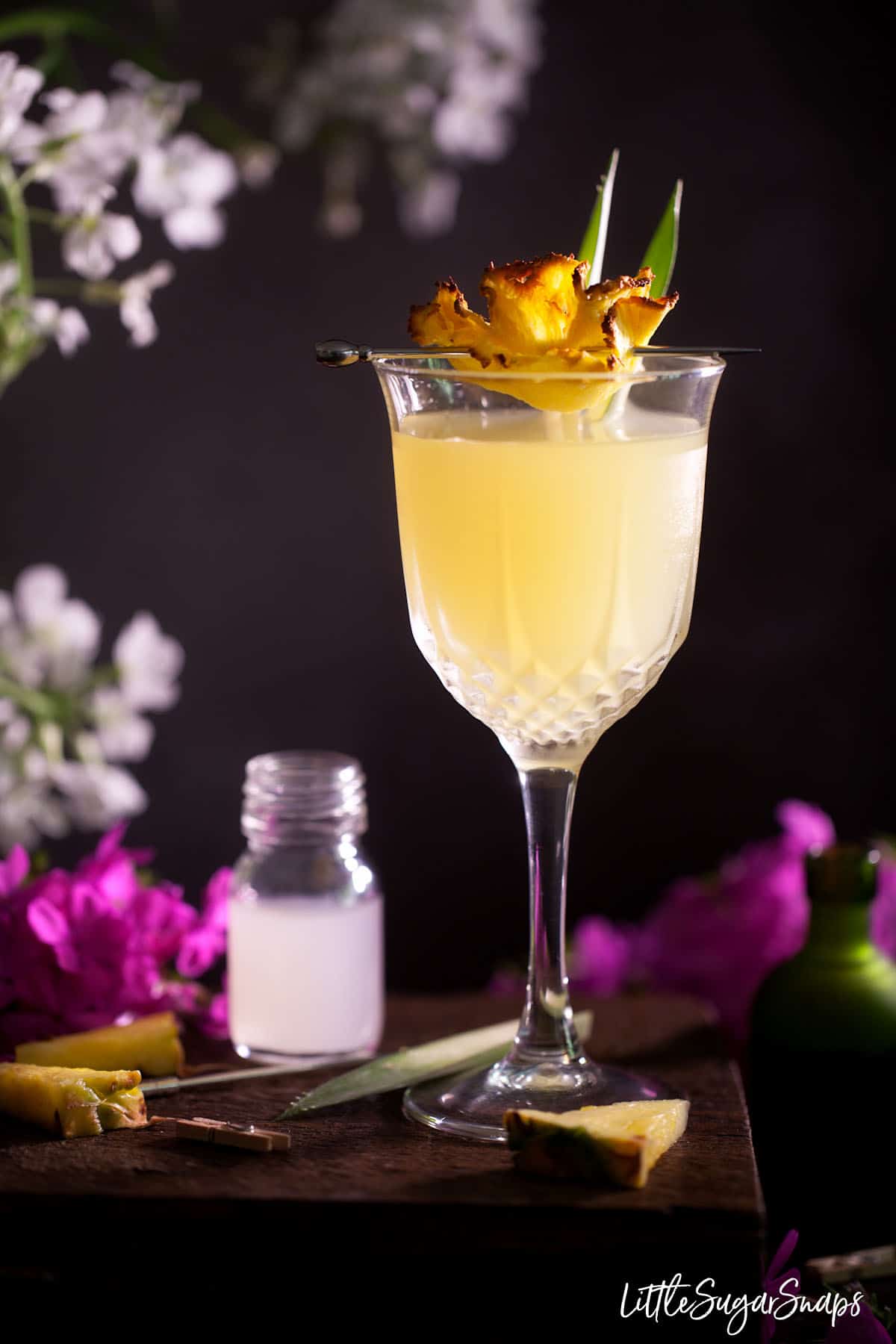 This post contains affiliate links. As an Amazon Associate, I earn from qualifying purchases.
I've been playing around with a few classic gin cocktails this year with the aim of putting my own twist to them. I recently gave the Royal Hawaiian cocktail some attention.
Made with gin and pineapple juice, the classic cocktail is full of lively tropical fruit flavour, cut through by fresh lemon and hints of sweet marzipan. It's undoubtedly less dry than my usual cocktail style, but this drink is seriously delicious.
Including a little cherry liqueur in this mix lifts the flavour profile yet further, adding whispers of Cherry Bakewell to proceedings.
Overall the sweet and tangy elements of this Hawaiian cocktail pair well with the gin to create a well balanced libation that is great for sipping, particularly on a hot day.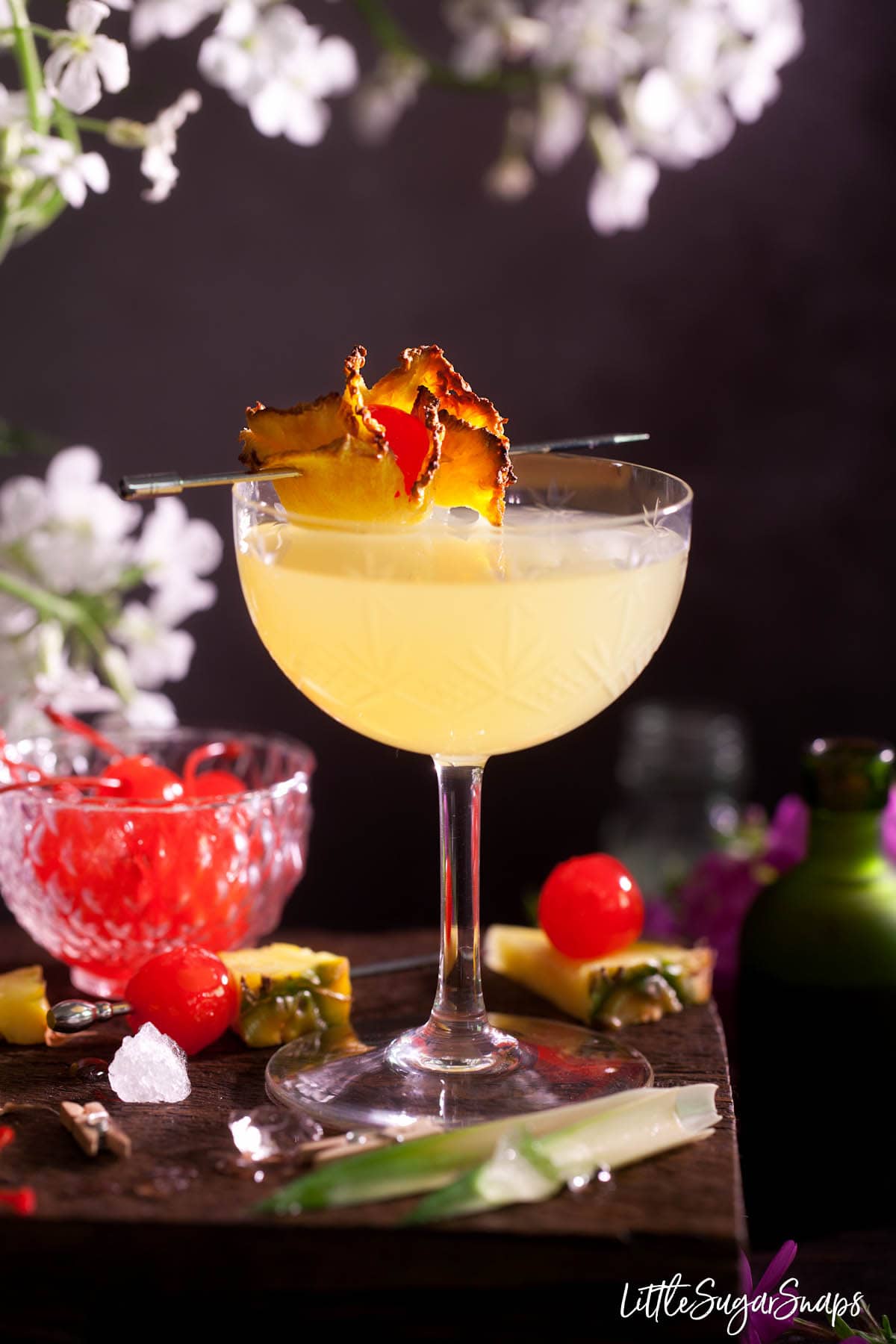 If fruity, tropical cocktails are your jam take a look at my passionfruit martini too.
Origin of the Classic Royal Hawaiian cocktail
The Royal Hawaiian cocktail started life under a different name in the opulent Royal Hawaiian Hotel on the island of Hawaii.
Initially known as the Princess Kaiulani cocktail, it was renamed as the Royal Hawaiian before becoming the resort's signature drink around 1950.
And just who was Princess Kaiulani? Born in 1875, Victoria Ka'iulani, was Crown Princess and heir to the throne of Hawaii. After the royal family was overthrown in 1893, she put up a valiant, yet unsuccessful fight to preserve the Hawaiian monarchy. She died young, at the age of just 23.
Knowing this, it seems rather a shame that the Princess Kaiulani cocktail was stripped of its historical name. It's still a remarkable tiki cocktail though.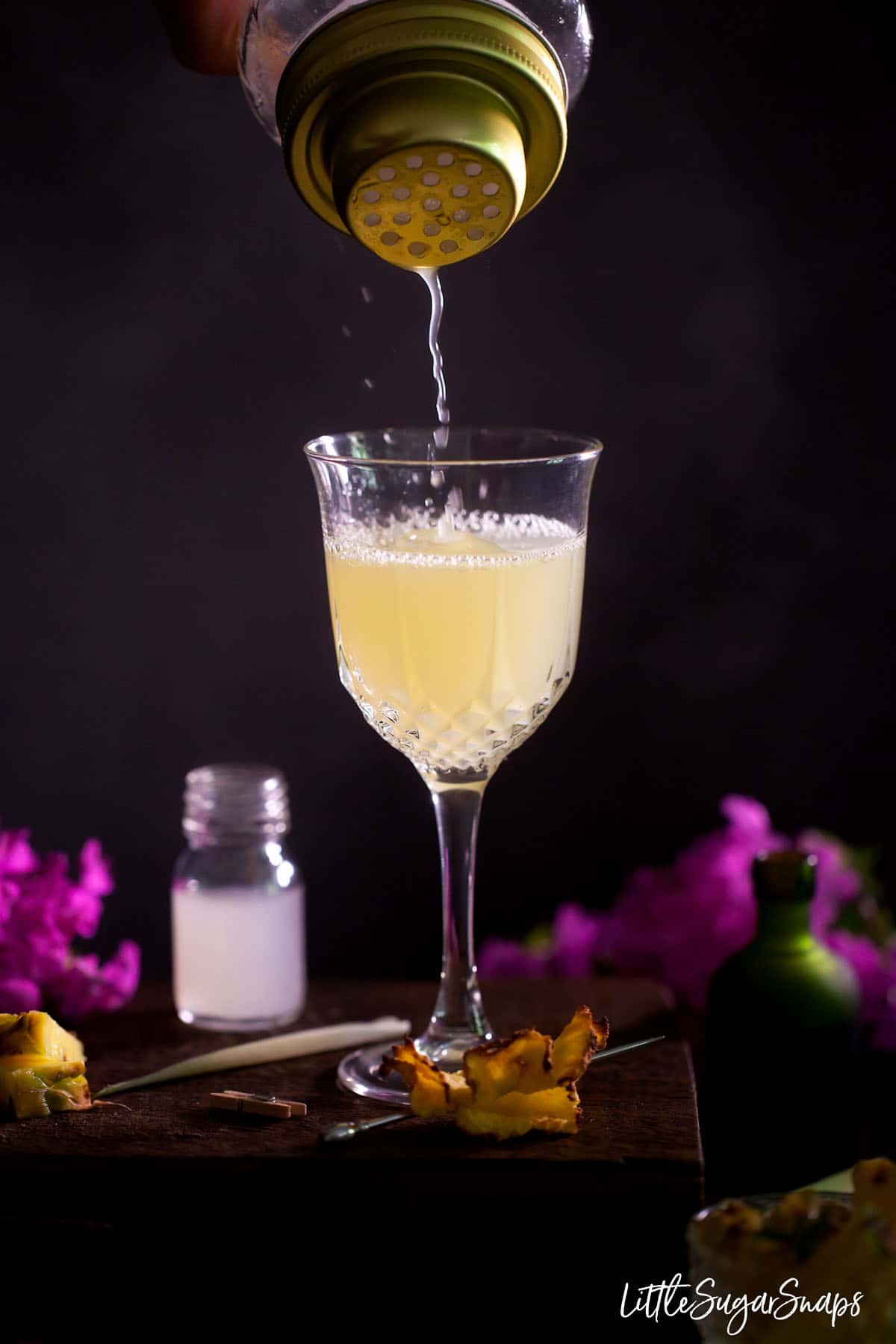 Ingredients
The classic version of this Hawaiian cocktail contains 4 ingredients:
gin
pineapple juice
orgeat syrup
lemon juice
Orgeat is a sweet syrup flavoured with almonds and rose water. Imagine liquid marzipan and you're on the right track.
Orgeat adds a sweet and somewhat exotic element to this libation. But the addition of lemon juice is vital in order to cut through the sweetness of the syrup and the pineapple juice.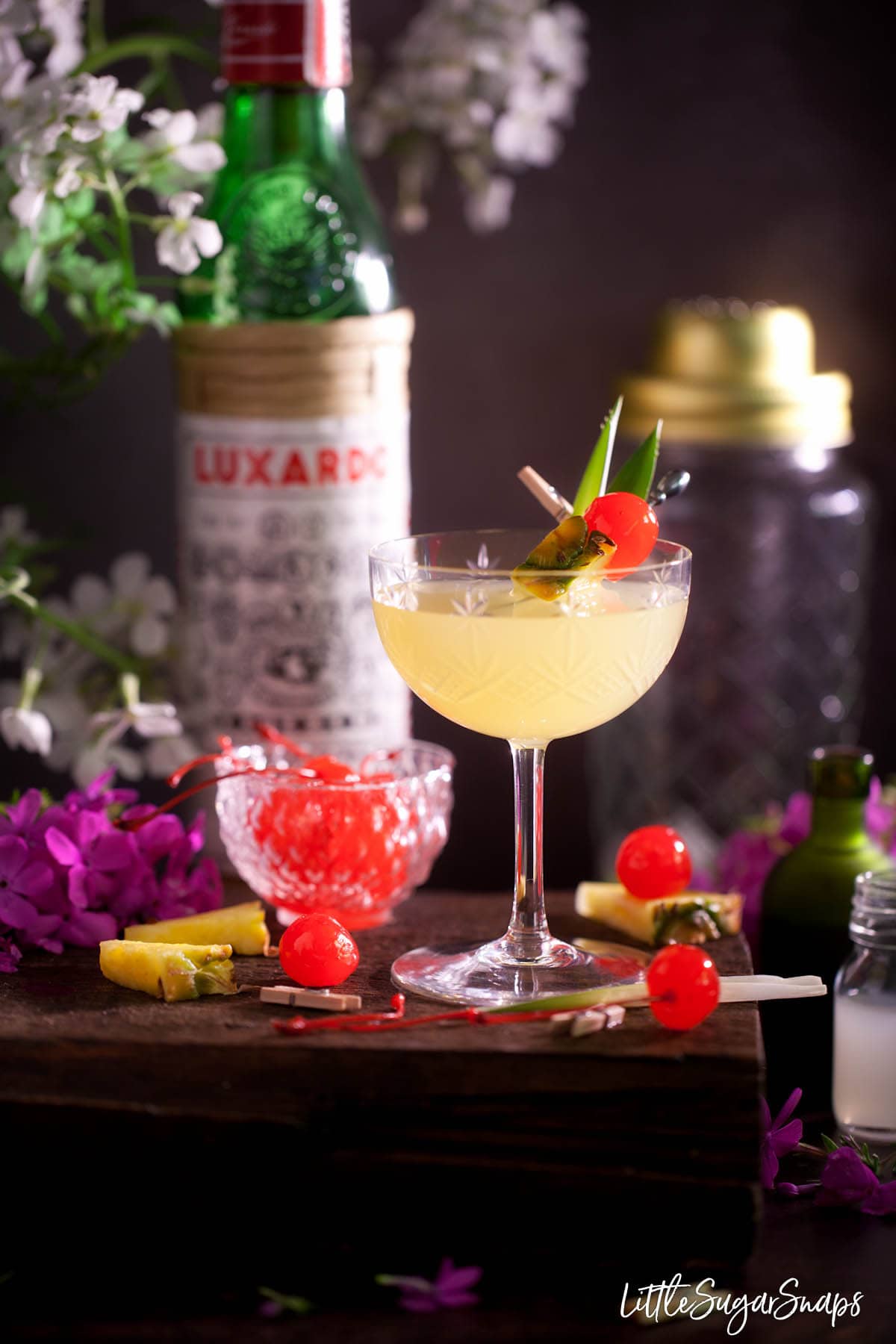 In my less classical version of the Royal Hawaiian cocktail, I've reduced the orgeat and lemon juice slightly to make way for a hint of maraschino cherry liqueur. The overall drink is really quite refreshing, with mildly sweet and mellow undertones and a captivating flavour profile.
Step-by-step instructions
Making both the classic and my cherry twist on this gin and pineapple juice cocktail is very straightforward.
Put all liquid ingredients into a cocktail shaker half-filled with ice cubes.
Secure the lid and shake hard for 30 seconds.
Strain into a suitable glass, garnish and serve.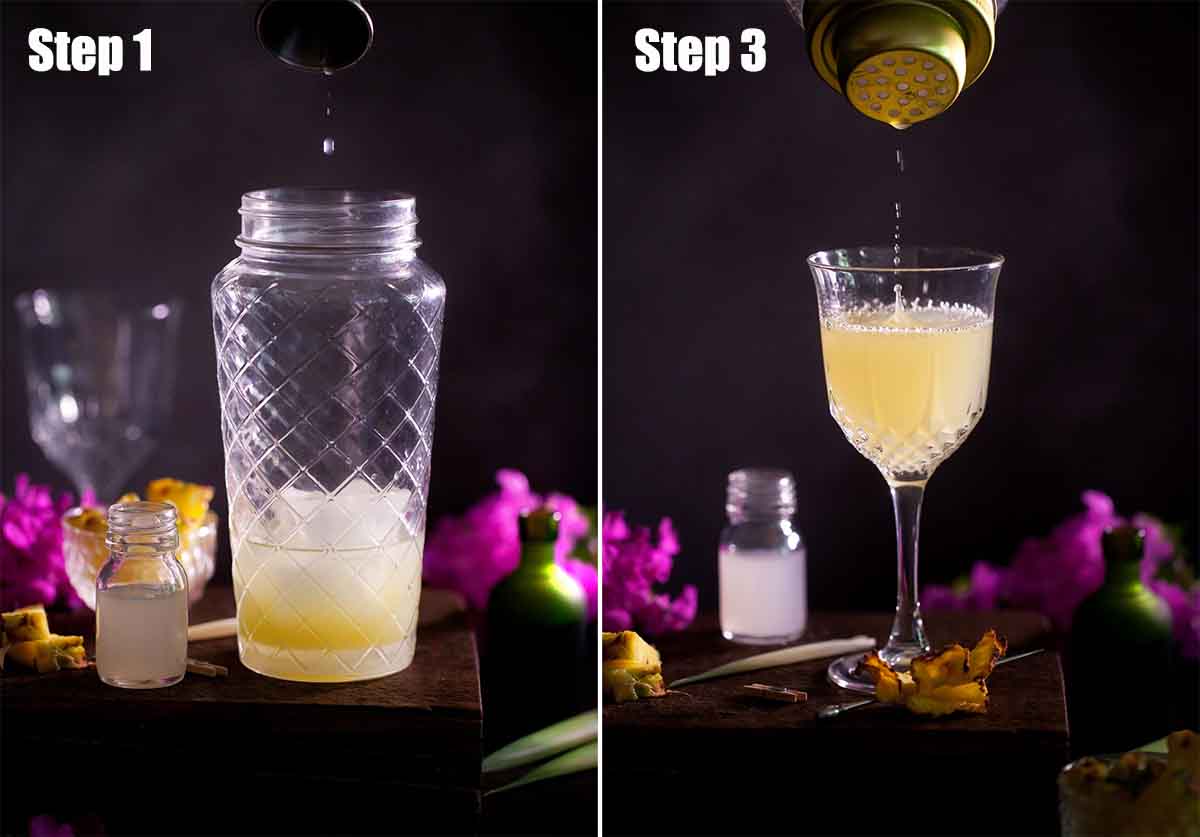 I like serving either version of this gin and pineapple juice cocktail in a Nick and Nora style glass, but as you can see from the images, a coupe glass is equally good. Go with glassware that suits your mood.
Expert tips
The best way to serve this cocktail is ice cold so pop your serving glass in the freezer 10 minutes before mixing the drink up.
Similarly, ensure that plenty of ice is included in the cocktail shaker and shake hard for 30-40 seconds until the canister feels ice cold all over.
Avoid using flavoured gins as they will alter the final taste profile of the drink significantly.
If you have a juicer feel free to use freshly pressed pineapple juice for the ultimate Royal Hawaiian cocktail.
Frequently asked questions
Can I make this drink in Advance?
Though there is very little in the way of preparation for this drink, it is possible to pre-mix the ingredients ready for shaking with the ice later on. It is best to shake with ice right before serving though, to ensure the drink is served gorgeously ice-cold.

Tip: shake no more than 2 servings in a full-sized cocktail shaker to ensure drinks are sufficiently diluted and chilled by the ice.
What can I garnish this drink with?
There are several ways to garnish this cocktail. For sheer ease and speed, just a maraschino cherry on a cocktail pick will suffice. A chunk of fresh pineapple and a few leaves are welcome additions too.

But if you really want to up your garnish game, try making your own pineapple flowers by oven drying some fresh pineapple. Though it is mainly a hands-off task, drying the pineapple does take several hours, so plan ahead.
I don't have Orgeat, can I use sugar cane syrup instead?
In all honesty, the almond flavour from the orgeat syrup is a major player in this cocktail. That gentle nutty flavour lifts the base ingredients up, shakes them around and delivers a striking flavour.

Technically you can substitute sugar cane syrup for the orgeat, but you might just be better off waiting to make the Royal Hawaiian cocktail until you have all of the ingredients.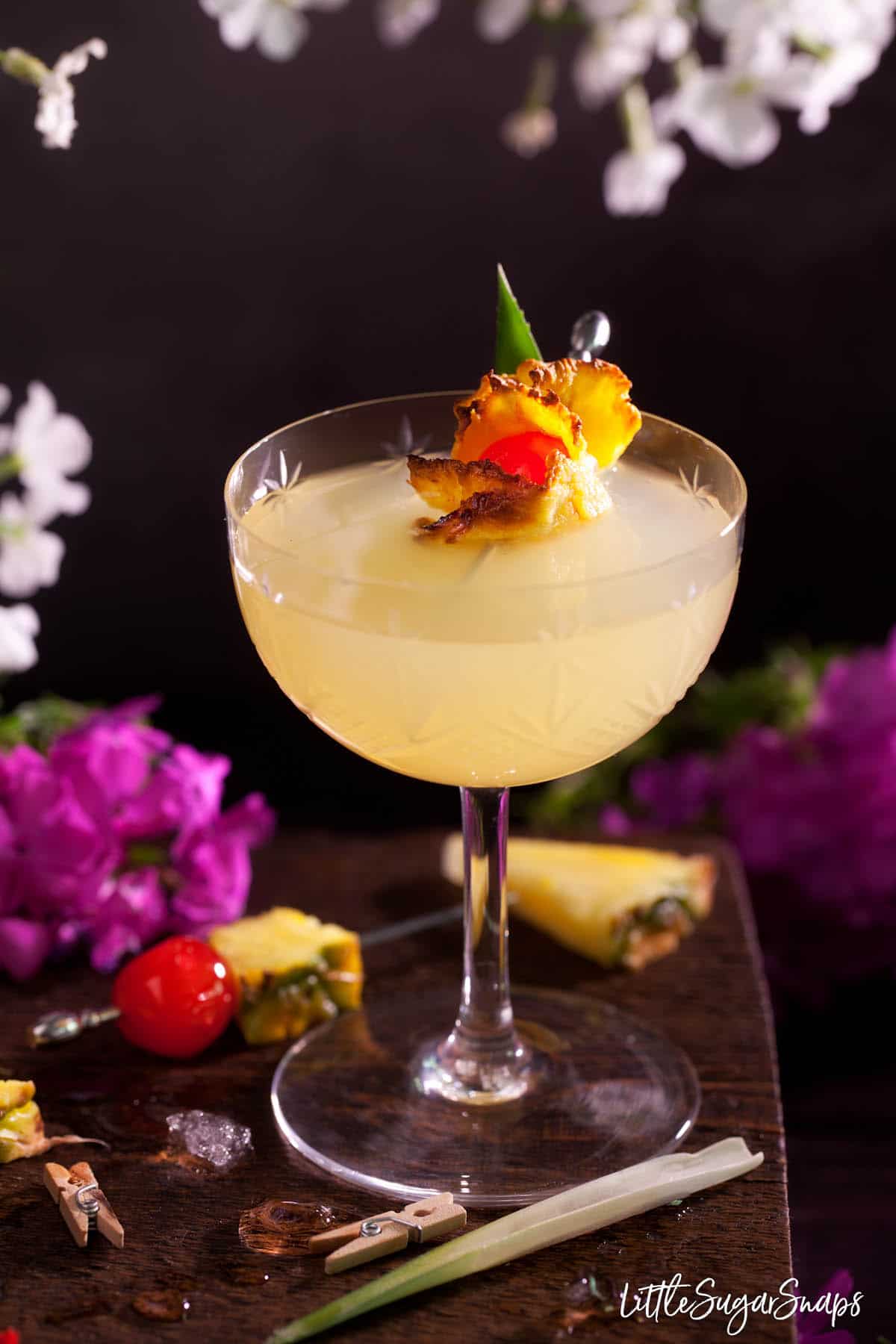 More tropical cocktails
The Royal Hawaiian is one of only a handful of gin-based Tiki drinks around. Others to consider are Trader Vic's Sling and Polynesian Spell.
Alternatively, take a look at my collection of other tropical fruit cocktails: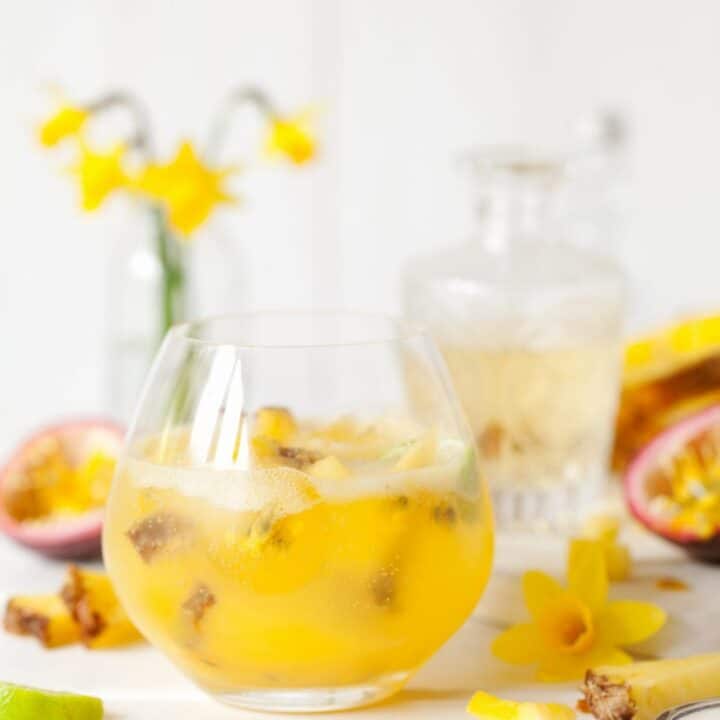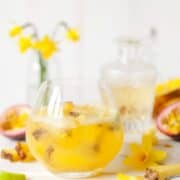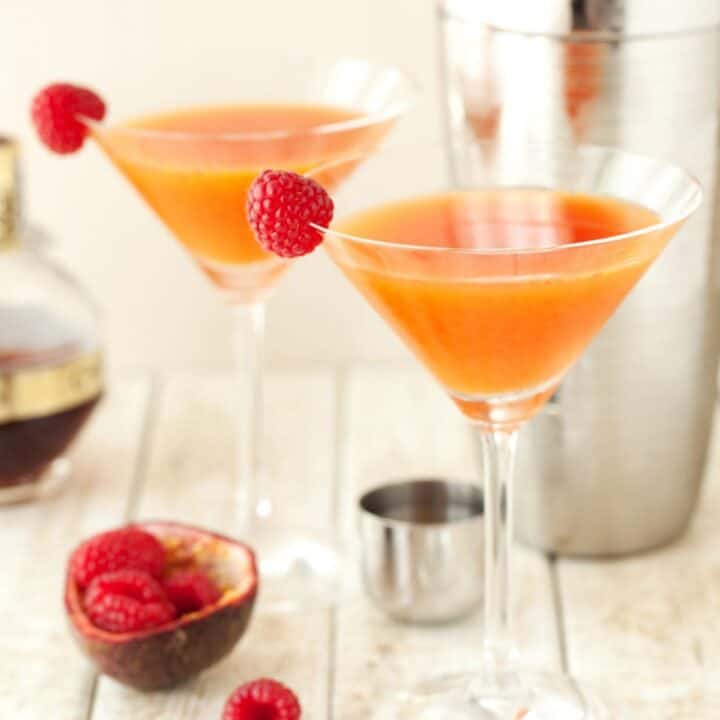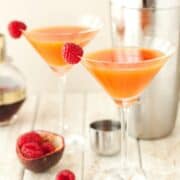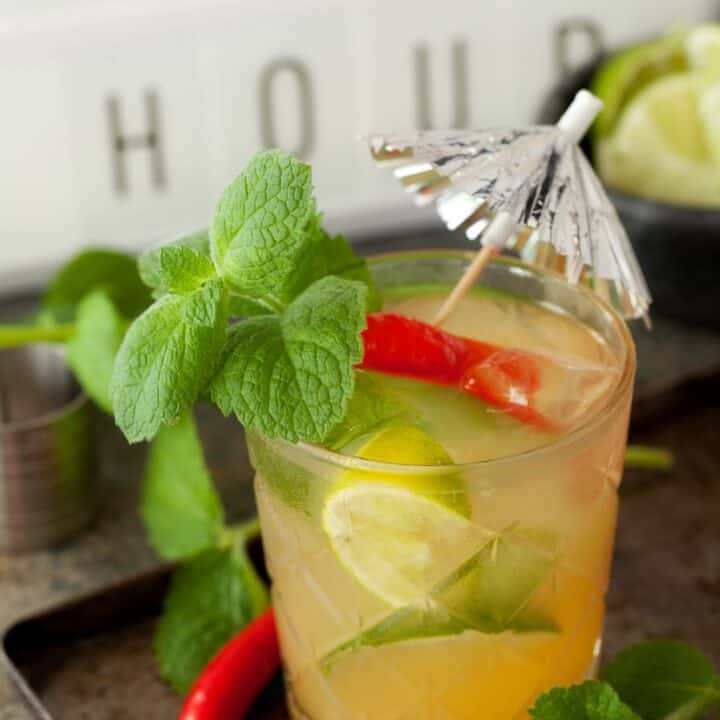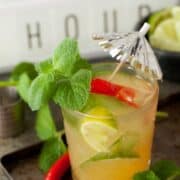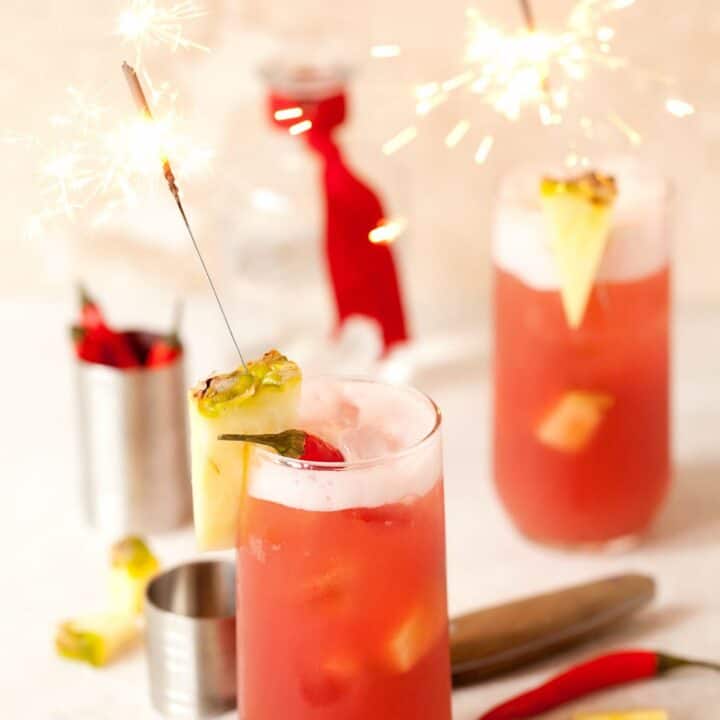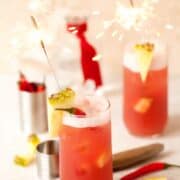 If you have tried this gin and pineapple juice cocktail recipe then please give it a rating or comment. I love to hear how you get along with my creations.
Want to keep in touch? Sign up to receive LittleSugarSnaps newsletters to hear when new recipes are published. You'll get a free welcome e-book with my top baking tips and 5 favourite cake recipes. Or stay in touch on Facebook, Instagram or Pinterest.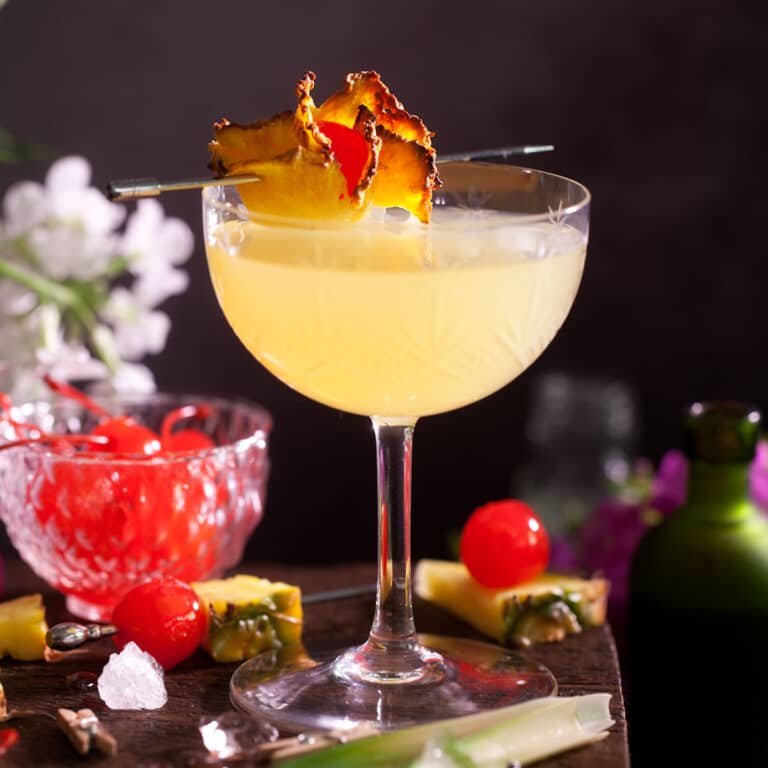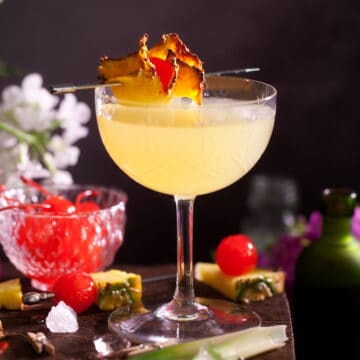 Royal Hawaiian Cocktail (aka Princess Kaiulani cocktail)
The Royal Hawaiian cocktail is a delicious summer sipper full of exotic pineapple flavour with undertones of marzipan. Also known as the Princess Kaiulani cocktail, this gin and orgeat based cocktail pairs well with a little maraschino liqueur to lift the flavour profile further.
Print
Pin
Rate
Ingredients
The Classic Royal Hawaiian
45

ml

Gin

1 ½ fl oz

15

ml

Orgeat syrup

½ fl oz

30

ml

Pineapple juice

1 fl oz

15

ml

Lemon juice

½ fl oz
The Royal Hawaiian with Maraschino
45

ml

Gin

1 ½ fl oz

10

ml

Maraschino liqueur

2 tsp

10

ml

Orgeat syrup

2 tsp

20

ml

Pineapple juice

4 tsp

10

ml

Lemon juice

2 tsp
Garnishes – any of the following
Oven-dried pineapple flowers

Fresh pineapple

Pineapple leaves

Maraschino cherries
Instructions
For Either cocktail
Half fill a cocktail shaker with ice cubes

Pour in the alcohol, pineapple juice, lemon juice and orgeat syrup

Secure the shaker lid and shake hard for 30 seconds until the drink feels well chilled

Strain into a serving glass and decorate with garnishes of choice
Notes
Adjusting the Sweetness in the Classic Royal Hawaiian
If you are into sweet drinks, consider adding a little more orgeat to the recipe. You could get away with another 5ml without ruining this drink.
Likewise, if you prefer drinks with a toned down sweetness, begin with 10ml of orgeat, then shake the cocktail up and taste it. Add a little more syrup if desired and shake again before pouring.
Note: the recipe for the Royal Hawaiian with Maraschino uses less orgeat to begin with. It is slightly less sweet than the classic drink, and to be honest, adding any less than 10ml of orgeat will make the almond flavour too weak.
Nutritional calculations were based on the Royal Hawaiian with Maraschino
Nutrition Per Serving (Approximate)
Calories:
170
kcal
|
Carbohydrates:
14
g
|
Protein:
1
g
|
Fat:
1
g
|
Sodium:
7
mg
|
Sugar:
13
g
|
Vitamin C:
6
mg
|
Iron:
1
mg
(Visited 6,444 times, 4 visits today)