The Spring Gin & Tonic is a twist on the classic G&T. Passionfruit, pineapple, lime and a dash of elderflower liqueur team up with gin & tonic to create a drink with a vibrant hue and a tropical, fruity bite.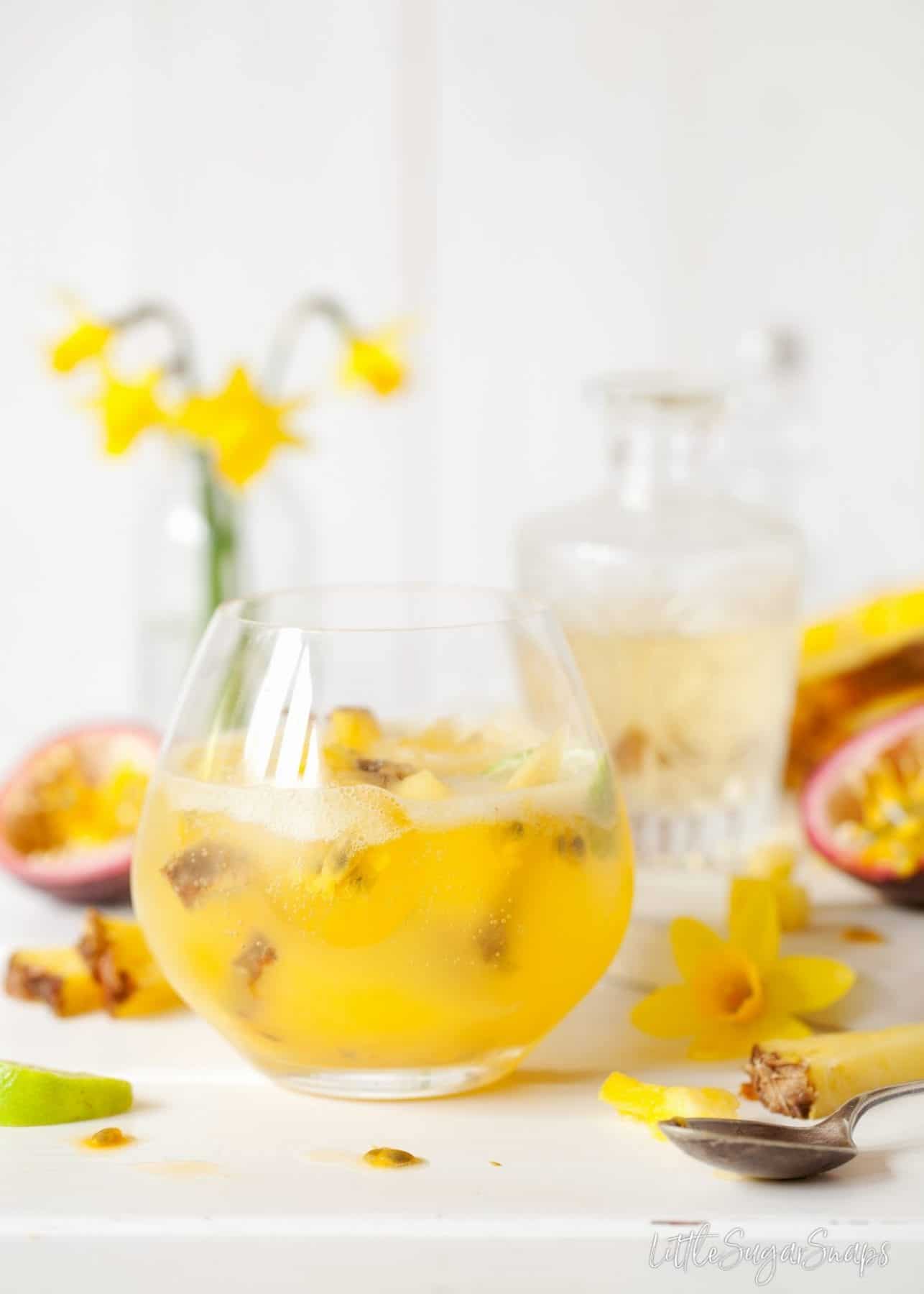 This post contains affiliate links. As an Amazon Associate, I earn from qualifying purchases.
Promises, promises! If you follow me on Instagram you'll recently have discovered that I break my promises rather too easily. Only yesterday I was pledging to write up a savoury pie recipe tonight and I really was looking forward to sharing that recipe. But today I took the photos for my Spring Gin & tonic and realised how wrong it would be for me to deprive you of a gloriously colourful, fruity and easy cocktail when we have the Easter Bank Holiday weekend coming up.
See, I only break my promises when there's good reason. Sorry pie.
I've been looking forward to creating a Spring Gin & Tonic for a while. My Winter Gin & Tonic proved popular, and even won an award, so that spurred my mind on to come up with a mini-series of Gin & Tonics. Yes, you can expect summer and autumn versions to appear later this year too. What can I say? It's a slowly evolving mini-series.
But for now, let's turn our attention to spring. It's been a long time coming. If I had to pick one item to represent spring it would be daffodils. Those cheery, brazen little scamps that are everywhere across Britain in March & April. So, it's little wonder that I've come up with an equally bold yellow drink as my Spring Gin & Tonic.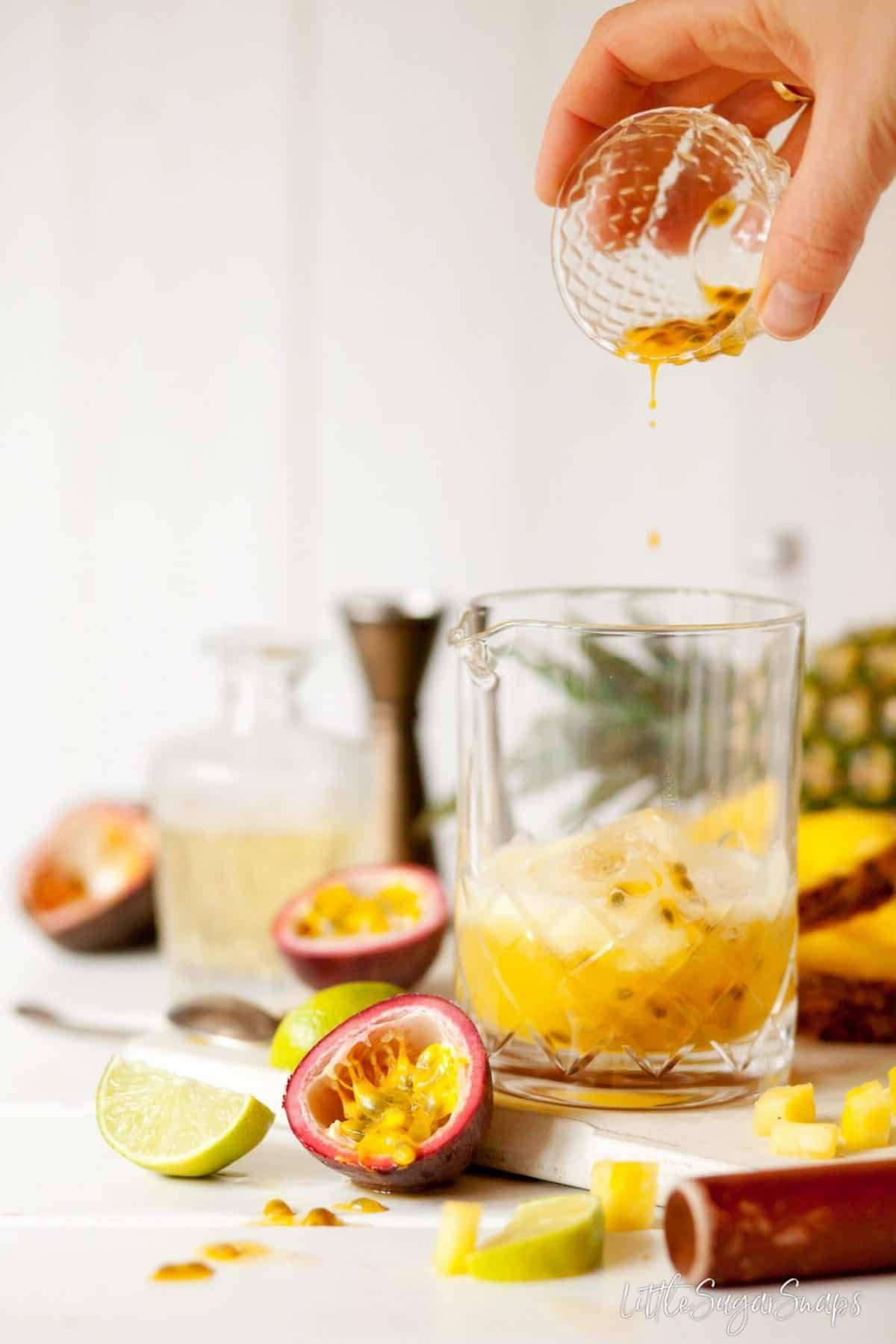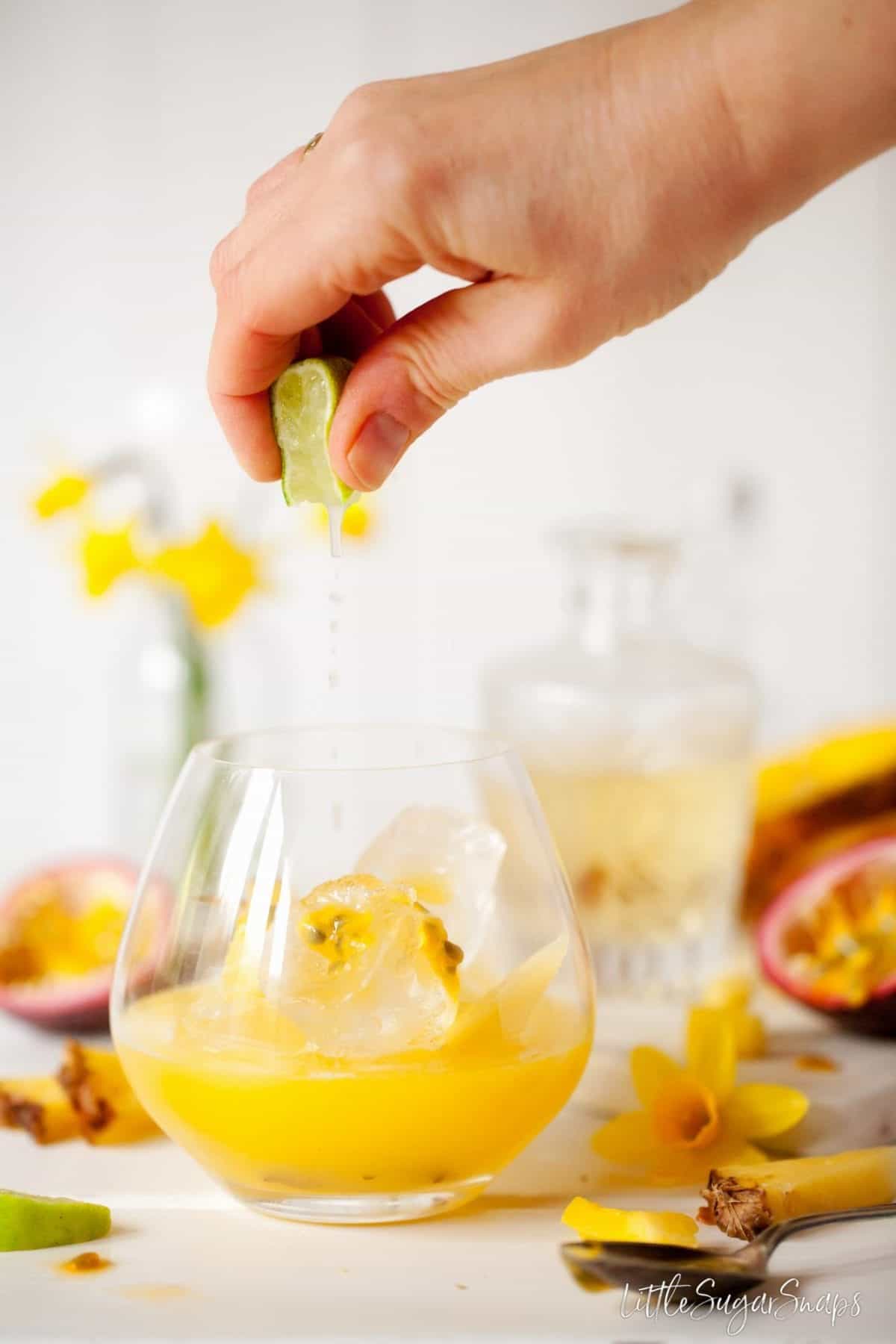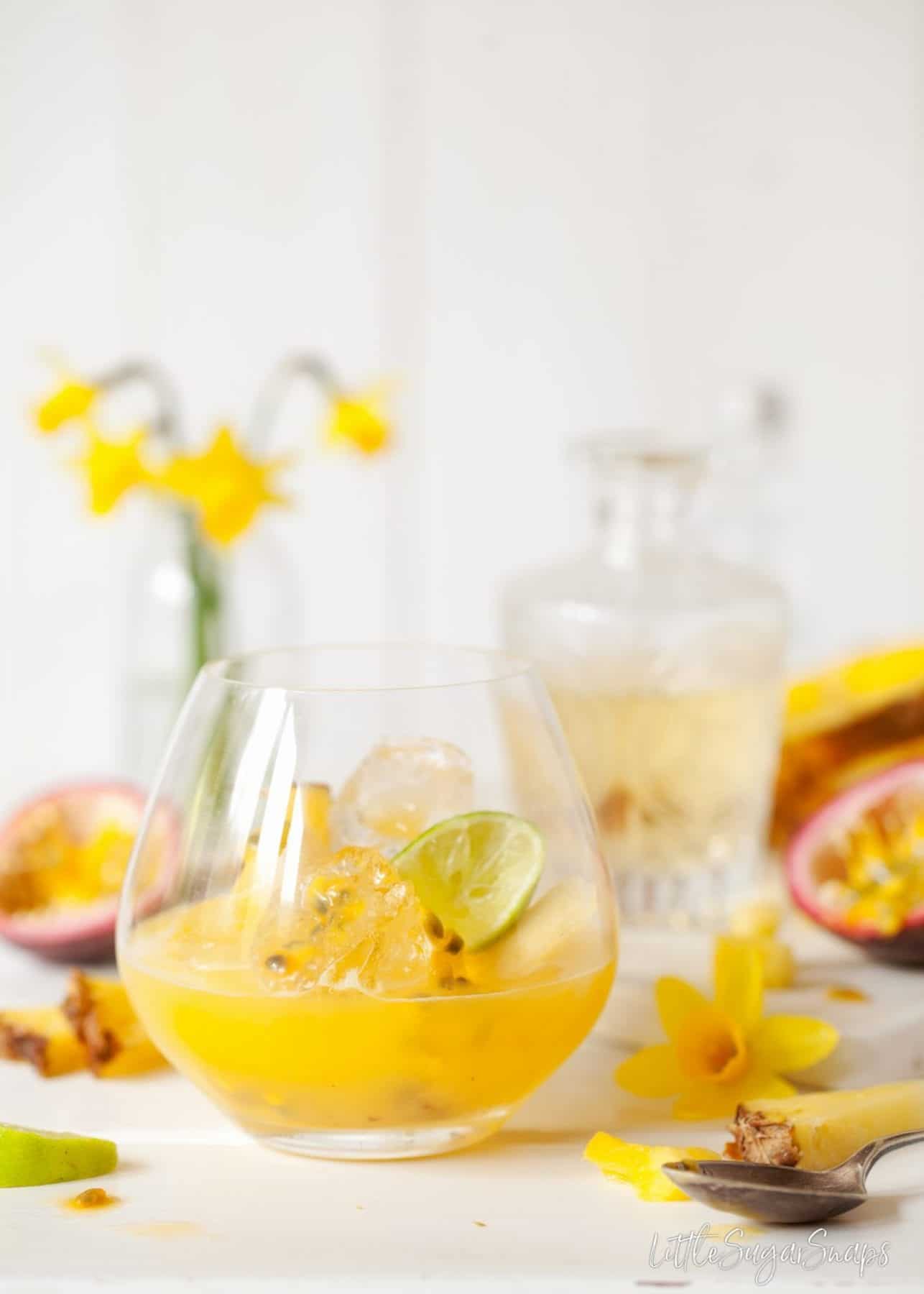 Daffodils might be prolific in Britain in the spring, but this drink is anything but typically British. I might have borrowed the yellow theme, but that is where the similarities end. Inside of each glass nestles a bunch of tropical fruity flavours. Fresh passionfruit and pineapple offer up deliciously tart and floral scents & flavours. A squeeze of lime enhances the zesty nature of the passionfruit and a dash of Elderflower liqueur heightens the flowery undertones that these tropical fruits serve up.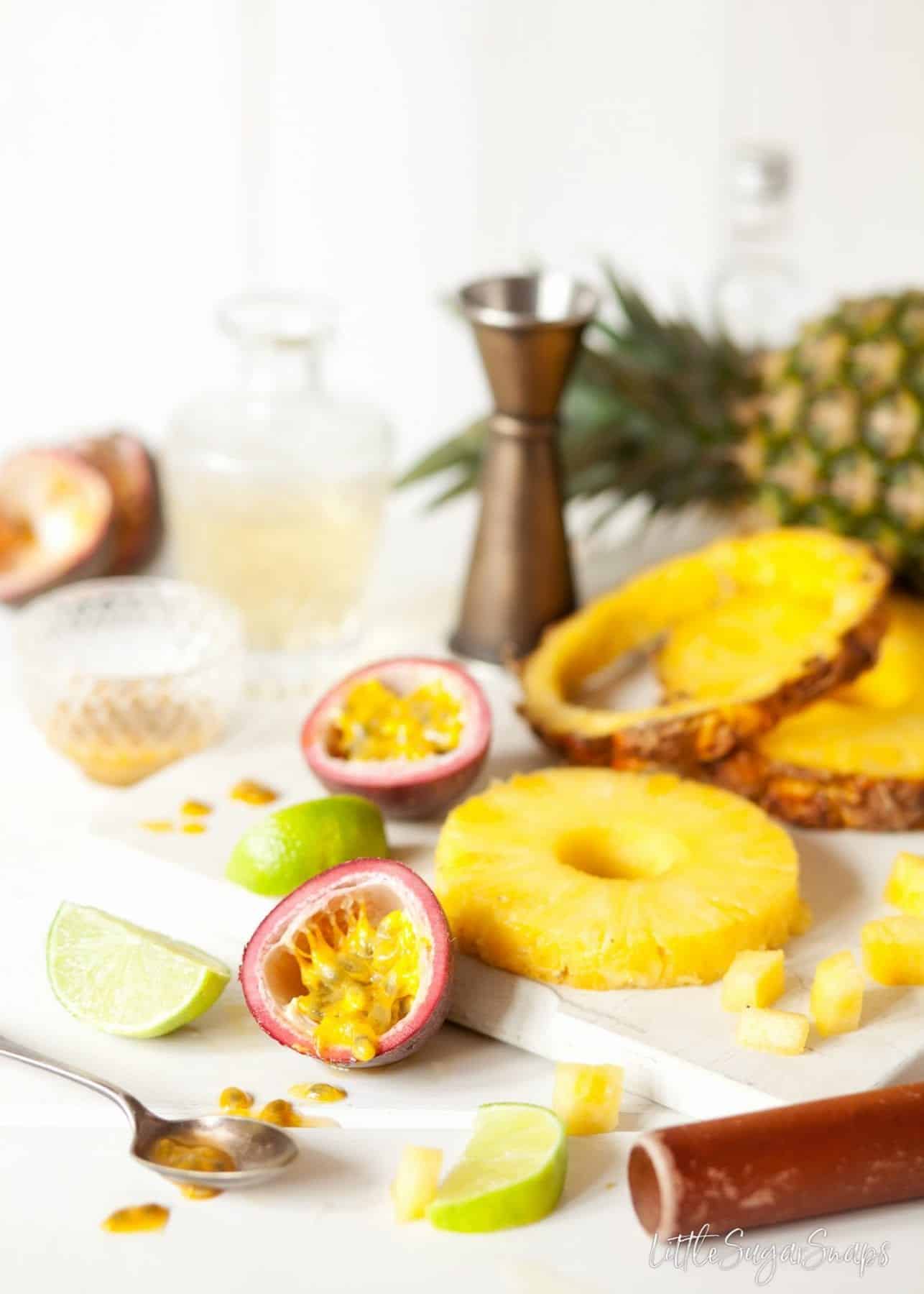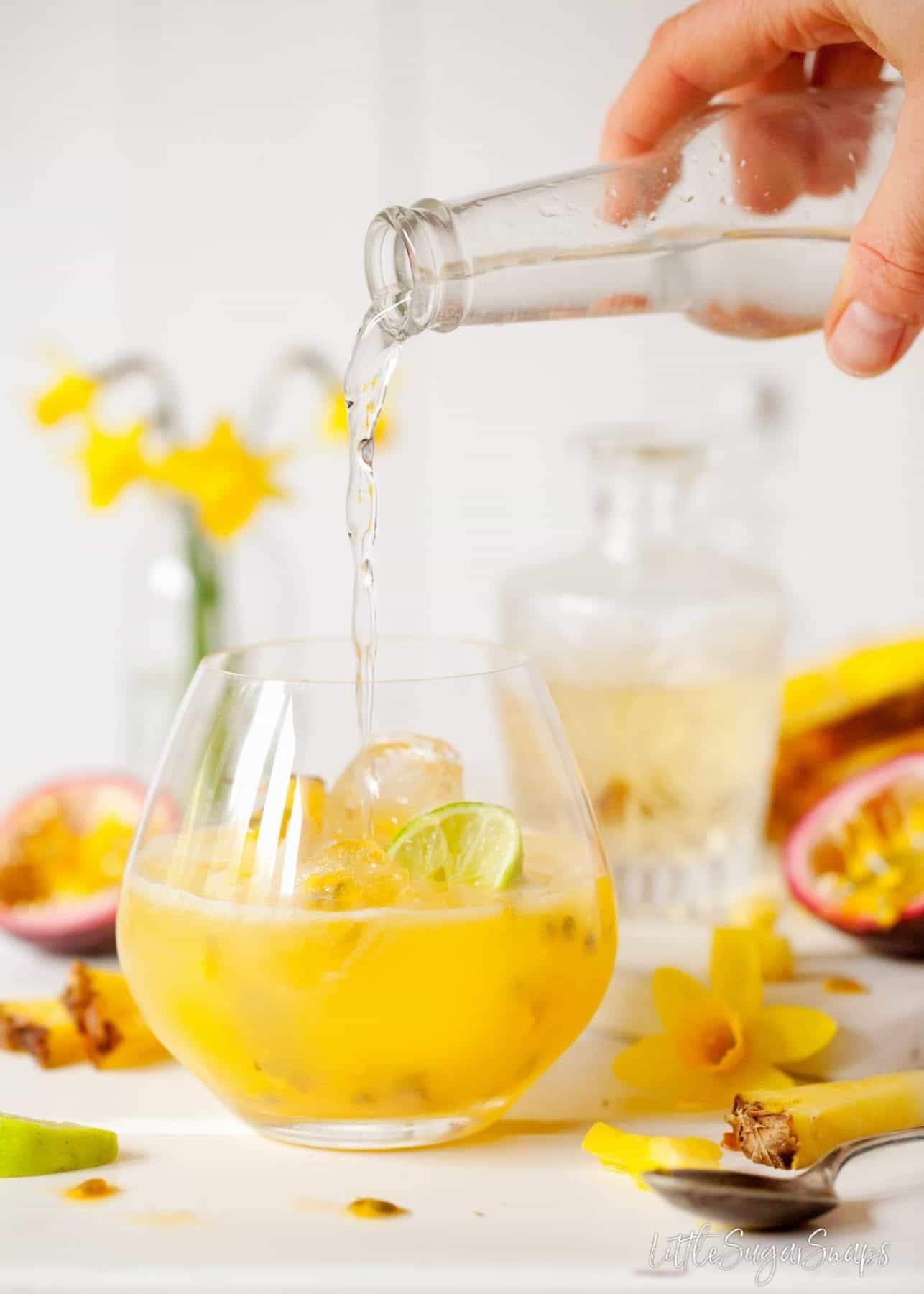 Okay, I suppose that, technically, elderflower is one more tick in the British box. But this Spring Gin & Tonic is mainly about tropical, floral notes mixed up with G&T. It needs a warm spring day and a sunny spot on the patio in the afternoon (sigh).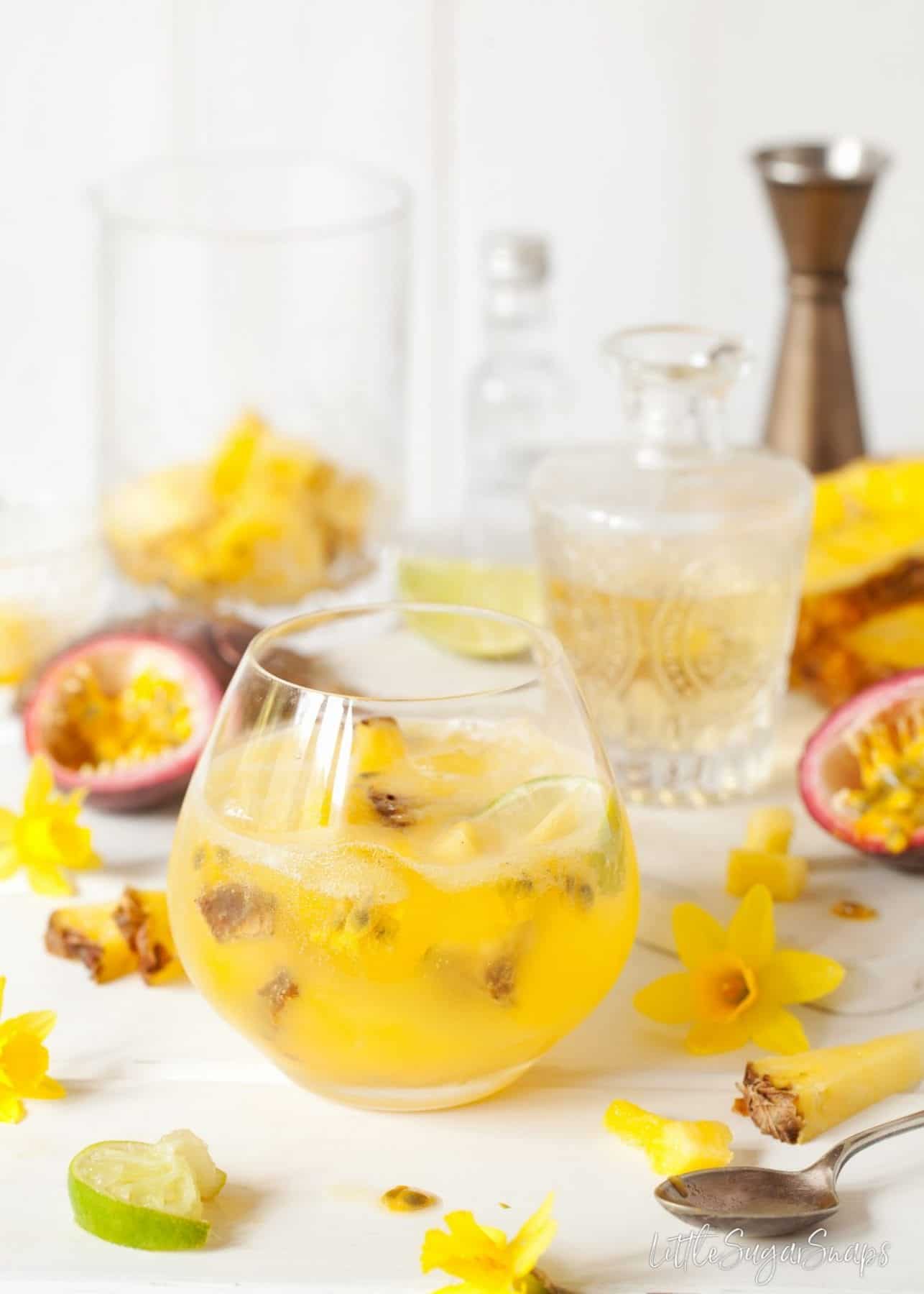 If you love gin and tonic the take a look at my full collection of Gin and Tonic recipes. There's definitely something for all seasons. And if passionfruit is your jam take a look at my passionfruit martini – it's bright, bold, zesty and beautiful.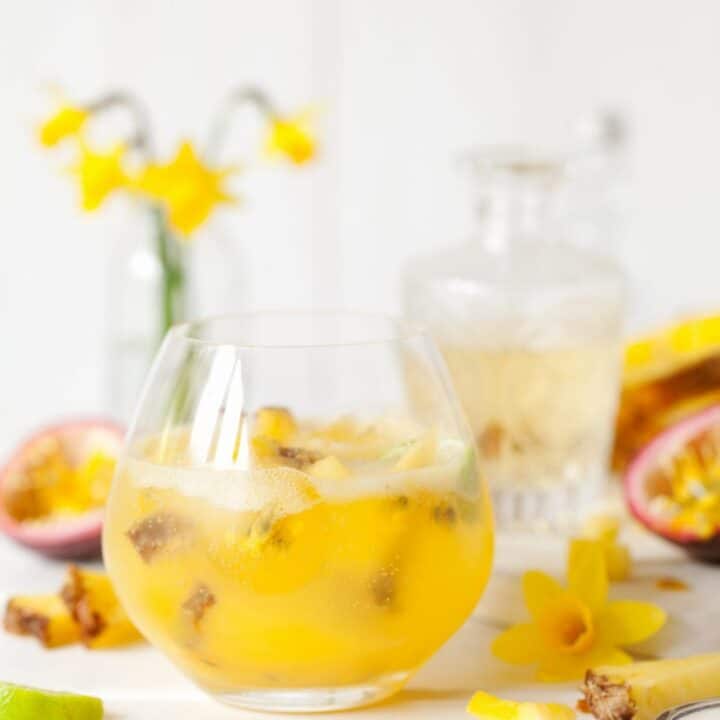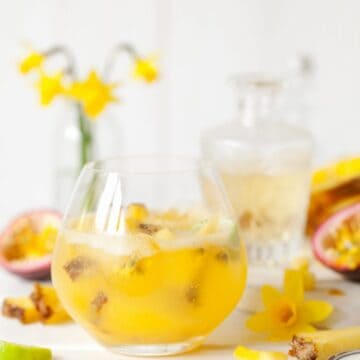 Spring Gin & Tonic with Passionfruit & Pineapple
The Spring Gin & Tonic is a twist on the classic G&T. Passionfruit, pineapple, lime and a dash of elderflower liqueur team up with gin & tonic to create a drink with a vibrant hue and a tropical, fruity bite.
Print
Pin
Rate
Ingredients
1

Passionfruit

1

Slice fresh pineapple (1cm thick)

1

Wedge lime (⅛th of a lime)

40ml

/ 1 part

Gin (Floral if you have one)

10ml

/ ¼ part

Elderflower liqueur

120ml

/ 3 parts

Tonic Water (Elderflower if you can get it)

Add more/ less to suit your tastes

Pineapple chunks (for garnish)

Optional
Instructions
Remove the skin and centre from the pineapple, roughly chop the flesh and drop it into a jug

Pour in the gin then blitz with a stickblender until the pineapple has broken down

Strain the liquid through a fine meshed sieve, using a small metal spoon to turn the fruit around and keep the juice flowing out. When drained, discard the fruit pulp

Add the seeds and flesh from the passionfruit to the liquid and stir well

Fill a Copa glass with ice and pour in the elderflower liqueur

Strain the fruity gin over the ice and squeeze the lime wedge over the glass, dropping it in at the end. Add a few of the passionfruit seeds to the glass if desired, along with several chunks of fresh pineapple

Slowing pour the tonic water into the glass and serve immediately
Notes
One part is any equal measure – think of it as one measure of your jigger. Essentially, one part is your starting point measurement and you will adjust the other ingredients from there.
For example, if you need 1 part, you would pour one full jigger. For ¼ part measure ¼ of your jigger and for 1 ¼ parts measure 1 jigger plus a further ¼.
In this recipe my jigger is 40ml (1 part) , so ¼ part is 10ml.
(Visited 1,146 times, 2 visits today)