These Custard Cream Biscuits come filled with jam and buttercream. They are buttery, crunchy, crumbly and have an authentic taste of custard about them.

This week I am sharing with you one of my household's favourite recipes: custard cream biscuits. These are fun to make and a joy to eat. I made them last week with my 2 little girls during their half term break. I love school holidays… and these biscuits.
We first made these cream biscuits about 3 years ago, back in the days when my youngest daughter was determined to do everything 'all by myself' – even though she was only 2. My older daughter (then 5) would just about fall off her chair laughing at the huge mess created by these attempts. Three years later, their baking skills are coming along nicely, but I can't say I've noticed any improvement in their ability to not make a mess. Good thing I don't mind.
Before I go off track about mess in bedrooms, which is another matter entirely, I'll get back to the biscuits. These biscuits are a far cry from any mass-produced custard creams available in the supermarket. They really are: buttery, crunchy, crumbly, and have an authentic taste of custard about them. They also have a hint of yellow in their appearance and are dangerously addictive – one is never enough. Oh, and my best friend is close to falling out with me because we made them at a time she was not due to visit.
How can I Adapt these Custard Creams?
You can customise these biscuits as you see fit:
use a cookie press to add a pretty pattern
if you're adding the jam, cut out the centres to reveal the middle
I like to think of this version as the ultimate Jammie Dodger (let's be honest, not adding cream to the original Jammie Dodger was a bit ridiculous).
This time we chose to add jam but they are sensational without it. The buttercream filling is rich – just look at the quantity of butter compared to the sugar. It's not too sweet and gives you a second hit of that fantastic custard flavour. Just superb.
These custard creams are, without a doubt, my favourite biscuit. This is partly due to them being totally irresistible. However, I know that when my girls have grown up and left home, baking these will bring back memories of many happy afternoons spent in the kitchen with two giggly little girls making a whopping big mess.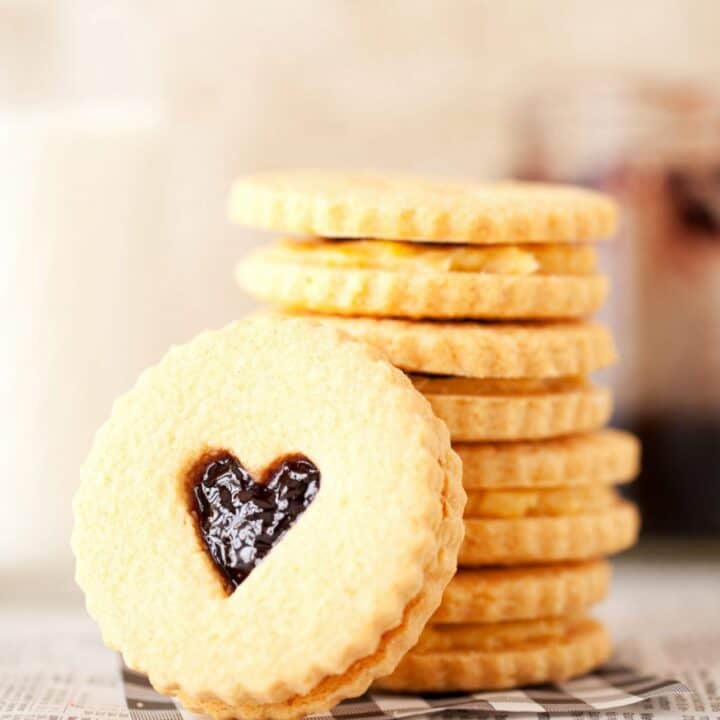 Custard Cream Biscuits
Custard flavoured biscuits with a custard cream centre are hard to resist. But why not go all the way and try them Jammie Dodger style, with a cut out centre.
Print
Pin
Rate
Total Time:
1
hour
10
minutes
Ingredients
For the Biscuits
150

g/ 2/3 cup

Unsalted butter (softened)

Pinch of salt

150

g/ 2/3 cup

Caster sugar

75

g/ 2/3 cup

Cornflour (cornstarch)

75

g/ 2/3 cup

Plain (all purpose) flour

100

g/ 3/4 cup

Custard powder (such as Birds)

150

g/ 1 cup

Ground almonds

1

Egg - large, free range
For the Filling
125

g/ 1/2 cup

Unsalted butter (softened)

50

g/ 1/2 cup

Icing (confectioners) sugar

1

tbsp

Custard powder

1/4

tsp

Vanilla extract

Optional: raspberry or blackberry jam
Instructions
Make the Biscuits
Preheat the oven to 150°C/ 300°F/ GM 2

Sieve the sugar, cornflour, plain flour, custard powder, salt and ground almonds into a large mixing bowl

Cut the butter into cubes, add to the dry ingredients and rub in using your fingertips, until the mixture looks like sand or breadcrumbs. Make a well in the centre

Crack the egg into a small bowl, beat lightly, then pour into the well

Using a blunt knife, pull it through the egg mix about 20 times, so that it starts to mix into the dry ingredients. Give the bowl a quarter turn and slash the knife another 20 times, then use your hands to gently bind the rest of the ingredients together into a ball

Tip out and knead gently on the worktop until the dough is smooth. Flatten slightly, wrap in clingfilm and chill for 30 minutes

On a lightly floured surface, roll the dough out to about 5mm (1/4 inch) thick. Cut out pairs of biscuits using cutters around 6-7cm/ 21/2 inch diameter (see notes). Re-roll the leftovers and cut again. You should end up with about 40 biscuits (20 pairs)

If you are cutting out the centre of the biscuits, remember to do this on half of them only - the bottom of each pair should be whole, only the tops should have the cut-out

Put the biscuits onto non-stick baking sheets (line with baking parchment if they are not non-stick), leaving a small space between each biscuit. Cover loosely with clingfilm and chill for 20 minutes, then bake for 20-25 minutes until the biscuits are beginning to brown

Remove from the oven, let rest for 2 minutes, then transfer the biscuits to a wire rack to cool completely
Make the Filling
Put the butter and vanilla extract into a mixing bowl, then sieve the icing sugar and custard powder into the bowl

Once the biscuits are cool, pair them up into tops and bottoms and divide the custard cream across the bottoms

Spread the cream out, using a blunt knife

If you are using jam, put a small blob (about 1/3 tsp) into the centre of each biscuit, spreading out slightly, so that any of the top biscuits with a cut out will appear to be filled with jam

Add the top biscuit, pressing down lightly to sandwich the 2 halves together

Store in an airtight container for up to 5 days
Notes
You can keep the biscuits plain, cut out the centre of the top biscuit in each pair (perfect if you are using the jam) or use a biscuit stamp to imprint a pattern or words onto your biscuits.
Pin this Recipe: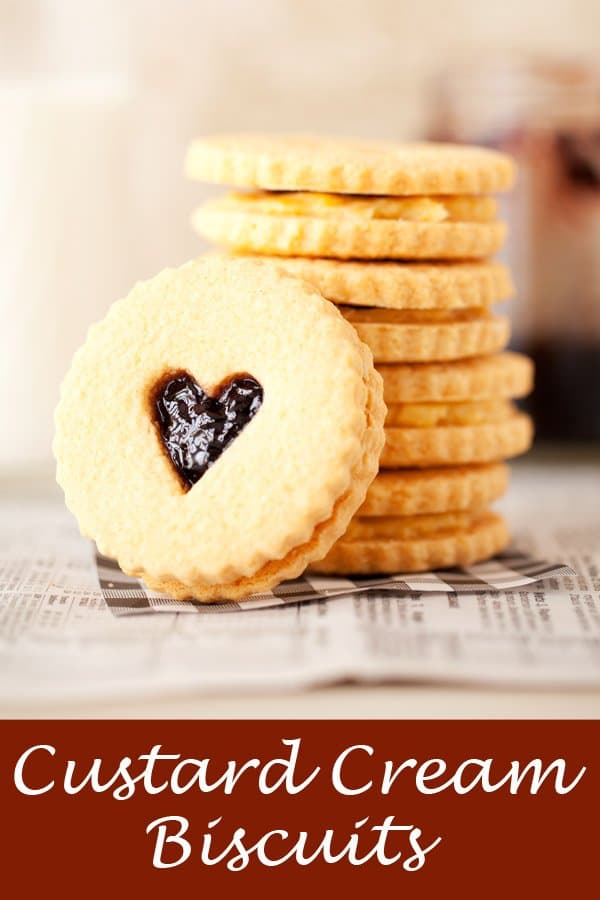 (Visited 939 times, 1 visits today)