The classic Linzer Cookie gets a makeover. Almond, Orange, Caramel & Cinnamon combine to create a stunning break from tradition. These Orange Caramel Linzer Cookies are a delicious modern take on Valentine's Day Baking, but perfect any time of year.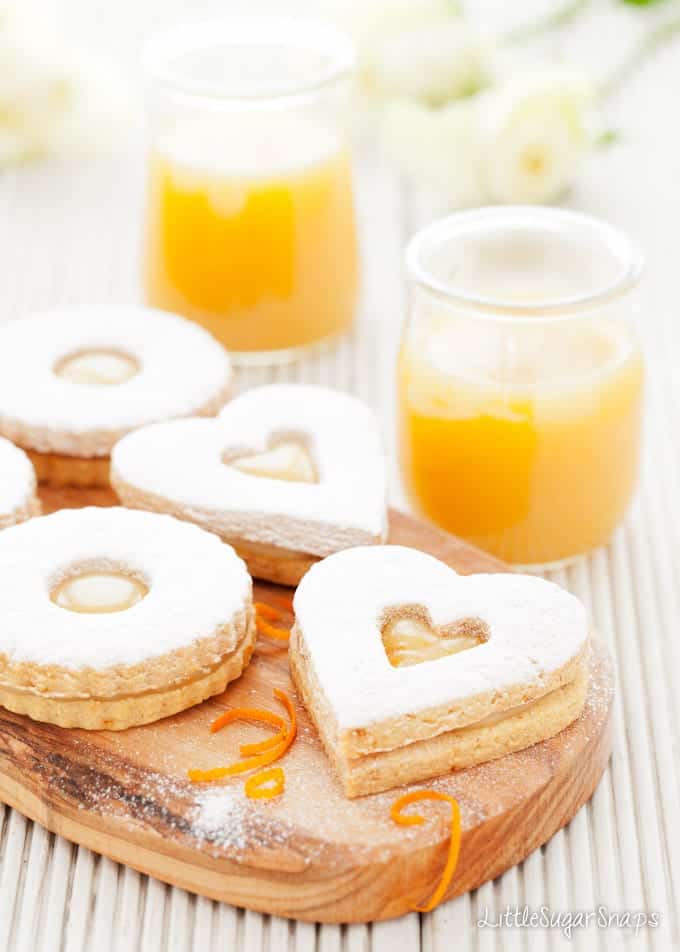 Valentine's Day. Love it or loath it, February 14th is just days away. I'm almost reluctant to admit it, but this year I'll be bypassing St. Val.
My problem isn't with Valentine's Day itself. It's just that we haven't yet got through the stash of sweet things gifted to us at Christmas. So when I started seeing all of the red-foiled heart-shaped edible gifts in the shops a few weeks back I began to feel a little shame-faced at the thought of buying yet more treats to add to our stash.
Also, it was my birthday a few days ago and Milly made me a most delicious Mint Choc-Chip birthday cake (like this one). In my eyes, there's really no contest between shop bought confections or homemade cake. Especially when that cake has been made by my excessively kind, lovely and rather excited to be baking 'all-by-myself', youngest child. Move aside Valentine sweeties, we need to do cake-justice and polish it off.
So for those two reasons alone, it's little wonder that a few days ago I was part a conversation that went like this:
Chris: So… err…. um… Are we doing Valentines Day this year…. um?
Me: Nah…. let's eat mint cake.
Chris: Finally.
Fortunately, neither of us gets hung up on needing gifts or cards to feel loved. Obviously, I'm always extremely grateful for any unexpected gifts that land in my lap though .
OK. The cookies. I know that just because I have a pantry groaning with sweet stuff it doesn't mean the rest of you do. But wait, some of you with bare cupboards are big Val fans – right? But on the other hand some of you abhor it with a passion – right again?
And that's where these Orange Caramel Linzer Cookies come in handy. These cookies are perfect for a modern take on Any Day/ Valentine's Day baking.
If you're feeling the love: cut out hearts
If you don't want to be overtly romantic or want to do away with love connotations completely: make them any shape you like – apart from hearts. Circles & stars look fab
Or for those of you who can't decide and are sitting primly on the fence: make a mixture of hearts & circles
Simple.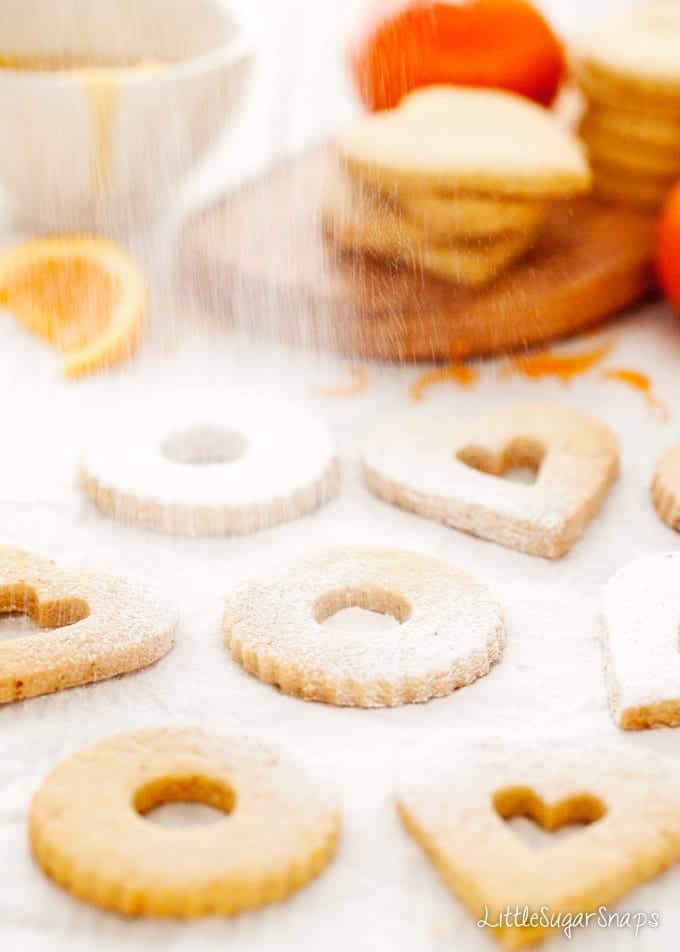 And to thrill anybody who is also vetoing St Val, I've made a couple more deviations from traditional St Valentine's trends:
In place of love red raspberry jam I have filled these cookies with my luscious

Spreadable Orange Caramel.

It's orange. Not red. You don't say…

And there's not a scrap of chocolate in sight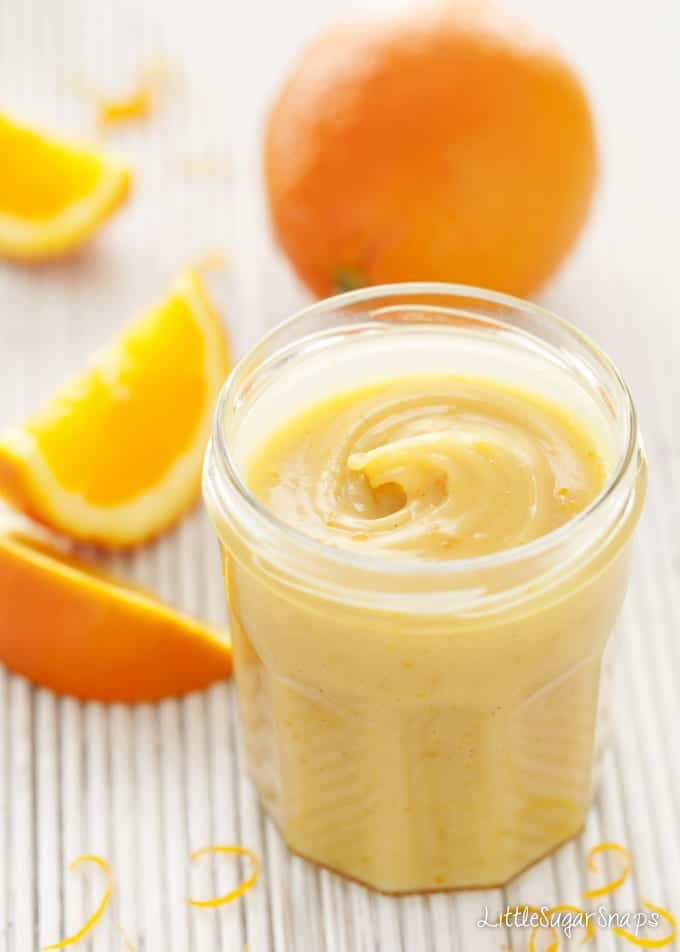 So if you just want to gift something beautiful, that's not a heart-shaped cliché, these Orange Caramel Linzer Cookies should please you no end. On any day of the year.
My cookie base is rooted firmly with tradition. The classic Austrian Linzer Cookie is flavoured with almonds, cinnamon and lemon. I've just switched the lemon for orange since almonds, orange and caramel are such good culinary buddies.
The actual cookie is not too sweet. And since it holds a generous scoop of sweet, oozy orange caramel, that's no bad thing. The caramel is rich, smooth, creamy, tangy and wonderfully extravagant. It is the perfect partner to those crunchy, crumbly almond cookies.
Orange Caramel Linzer Cookies are a breeze to make and impressive to eyeball. That delicate layer of confectioner's sugar gives these cookies a dream-like guise. And then that caramel. Just peeping through its little window calling you in.
You've got to love them.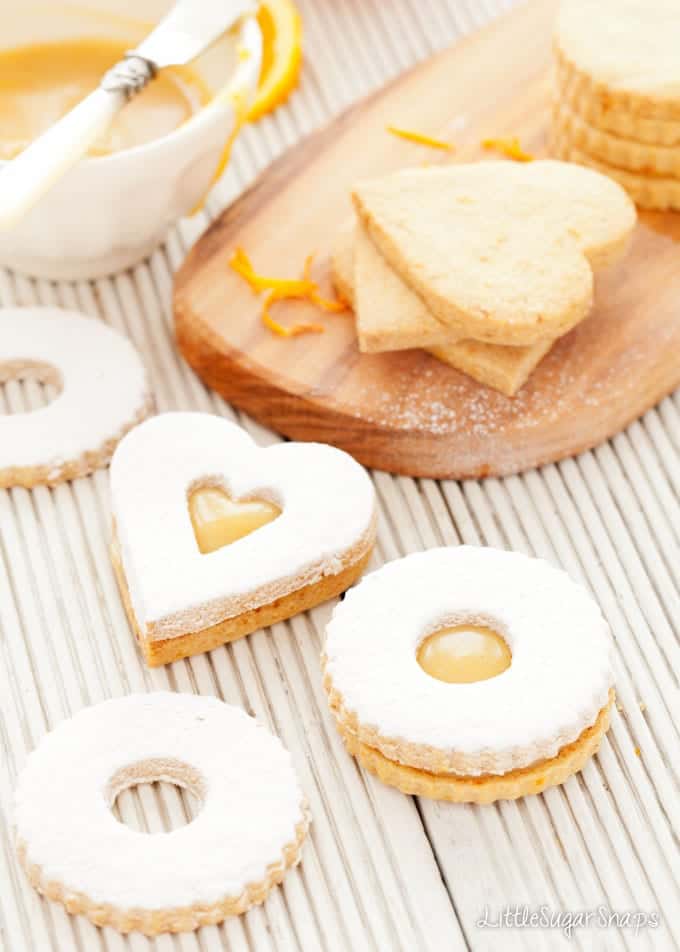 Are you going to make these Orange Caramel Linzer Cookies? Here's the recipe for my spreadable orange caramel.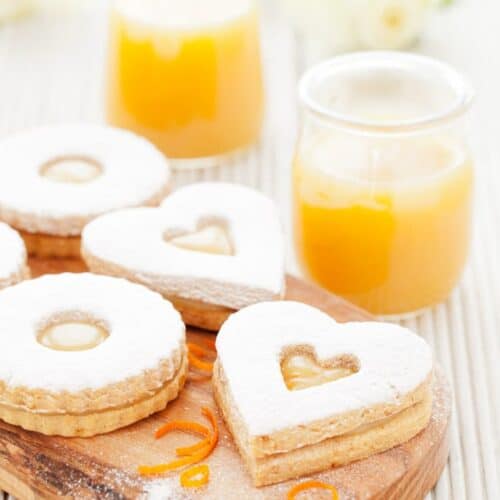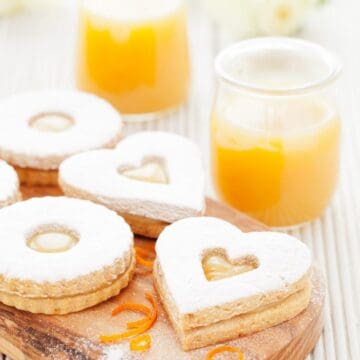 Orange Caramel Linzer Cookies
The classic Linzer Cookie gets a makeover. Almond, Orange, Caramel & Cinnamon combine to create a stunning break from tradition. A delicious modern take on Valentine's Day Baking, but perfect any time of year. You'll need a batch of my spreadable orange caramel to fill these cookies
Print
Pin
Rate
Ingredients
For the Cookies
225

g/ 1 cup

Unsalted butter – softened

150

g/ ⅔ cup

Caster sugar

2

Egg yolks

250

g/ 1 ½ cups

Plain (all purpose) flour

150

g/ 1 cup

Ground almonds

1

teaspoon

Ground cinnamon

Zest of 1 orange
Decorating & Filling
Icing/ confectionary sugar

A batch of my Spreadable Orange Caramel
Instructions
Make the Cookies
In a medium bowl cream the butter and sugar using electric beaters until light and fluffy

Beat in the egg yolks

Add the flour, almonds, cinnamon and orange zest. Beat until the mixture begins to stick together and resembles wet breadcrumbs (it may take a few minutes)

Use your hands to gentle knead the mix into a soft dough. Wrap in clingfilm and rest in the fridge for 30 minutes

Meanwhile preheat the oven to 170°C/ 325°F/ GM 3 and grease & line 2 baking sheets (or use non-stick)

Roll the dough out thinly (2mm) and cut out an even number of cookies – hearts, circles and stars all look amazing. Re-roll the dough once and cut out more. Aim for around 40 cookies in total (approx 6cm diameter)

Use a mini cutter to remove the centre from half of the cookies

Place on the baking sheets 1-2cm apart and bake for 12-15 minutes until beginning to turn golden. Let cool on the baking sheet for 2 minutes, then transfer to a wire rack to cool completely
Assembling the cookies
Once completely cold dredge the cut-out cookies liberally with icing sugar

Spread a teaspoon of orange caramel over the whole biscuits, then top with the cut-out biscuits, pressing down gently
Notes
1. Make up a batch of my Spreadable Orange Caramel and store it in your fridge. There will be plenty left over once you have made these biscuits. Use to top toast, pancakes or ice-cream. 2. In warm weather I suggest filling these cookies just ahead of serving since the caramel may become a little too fluid in the heat.
(Visited 370 times, 1 visits today)