Chocolate Caramel Spread is as good as it sounds. A dreamy caramel concoction, thick enough to spread and laced with a generous hint of milk chocolate. Go all out and add a kick of salt to turn it into Chocolate Salted Caramel Spread.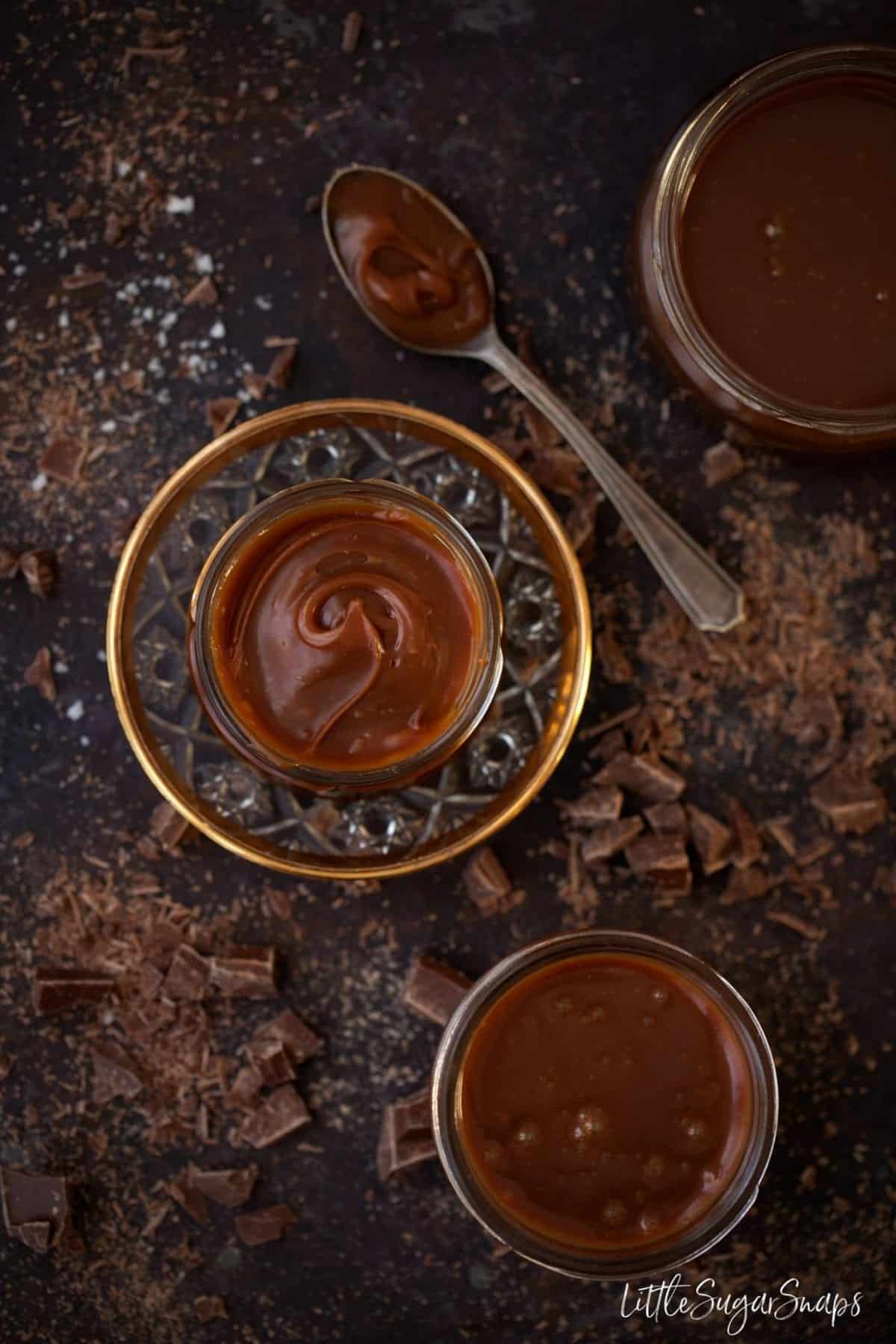 Decisions decisions. All day I've been debating whether to bump a winter salad recipe and, you guessed it, in the end, I couldn't resist. That means I have something savoury and healthy to present next week, as a light interlude, before it's full steam ahead on the treats front until January.
But enough of what's to come, this Chocolate Caramel Spread is begging for our full attention today. The first thing to note is my decision to call this a caramel spread. Caramel is 100% the star of the show here with chocolate as a secondary flavour. This spread is rich and buttery, with a texture that is most definitely that of caramel – smooth, silky and gloriously thick. So really, it is quite different to chocolate spread on many levels.
This gem of a recipe has been idling its time away in my notebooks for a number of years. But last week one of my kids politely requested I make it again soon. Okay, she begged me to make it. So I did – yesterday. I knew straight away that it should make it's way onto LittleSugarSnaps at the earliest possible moment, so I snapped the pictures today and poor Mr Lentil Salad got banished to oblivion for a week.
As it happens, I'm pleased I held fire on publishing the recipe for this Chocolate Caramel Spread for a while. It originally started life as a Chocolate Salted Caramel Spread. But really, it works just as well as regular caramel without the salt. But here's the best bit – it is customisable:
If you feel like going the whole hog, add some extra salt to the recipe to turn the whole batch into Chocolate Salted Caramel Spread
If you are sitting on the fence, keep the recipe plain, but scatter a few tiny flakes of sea salt onto the caramel spread as it is served as and when your salty mood arises
That should cover all caramel mood bases that could overcome us.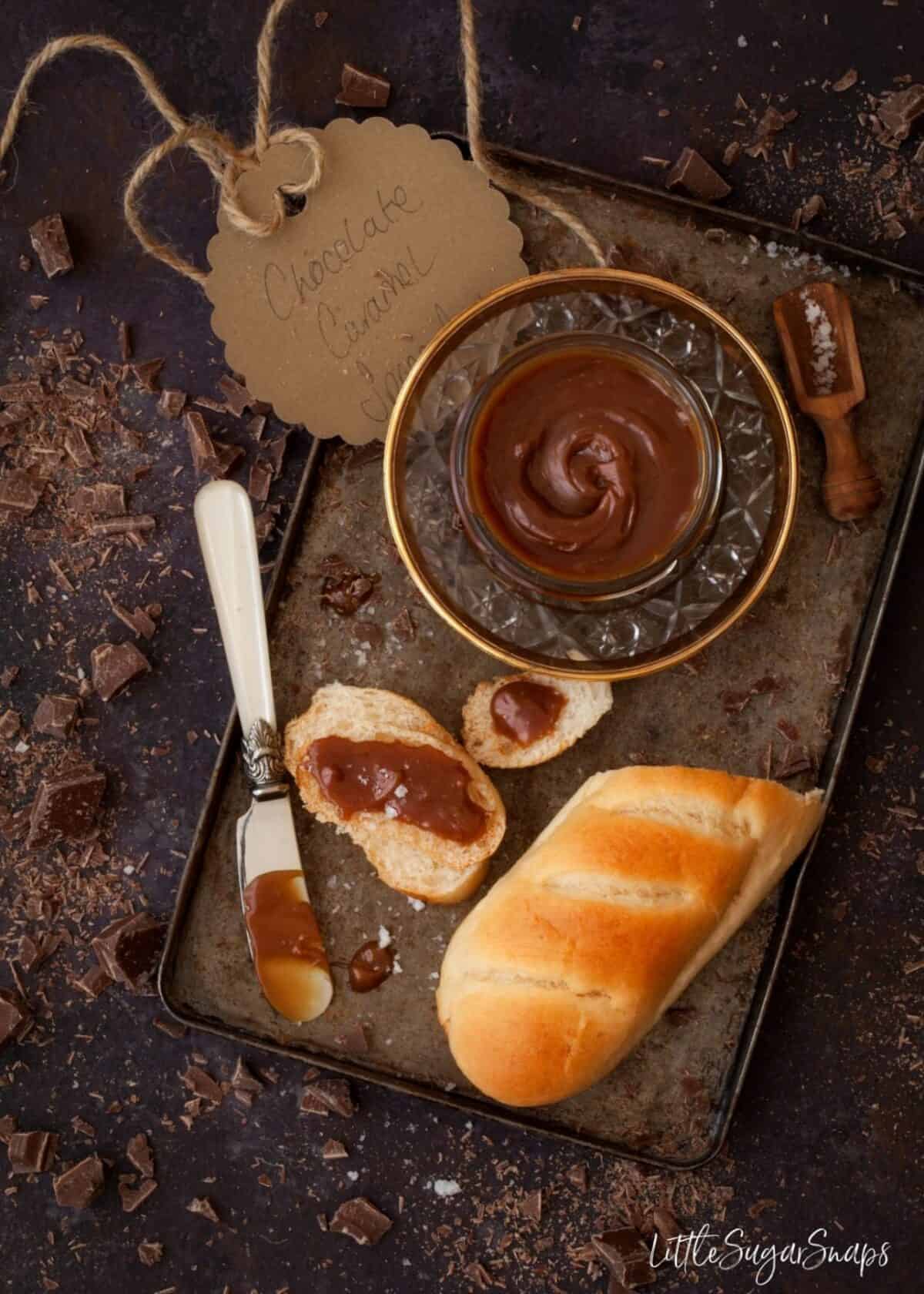 When it comes to cooking the caramel, as ever, I recommend not rushing it. Let the caramel take its sweet time and turn a beautiful shade of amber. And for this, I have a culinary analogy. I think of caramel as I would a steak. It can be cooked to varying degrees:
rare (very light amber)
rare-medium (light amber)
medium (mid amber)
medium-well done (dark amber)
well done (very dark amber)
For this Chocolate Caramel Spread, I recommend cooking the caramel to between medium and medium-well done (aka mid-dark amber). Keep your eye on the pan and do not let the caramel get too dark, else the spread will display unpleasant bitter notes when eaten.
This caramel can be eaten straight from the fridge but it is better after it has sat at room temperature for 20 minutes. Serve with:
toast & crumpets
brioche & croissants
sandwiched in a sponge cake
on pancakes
as a dip for apple wedges or plain biscuits
And if you can handle parting with a jar or two, decant into small jars for a thoughtful foodie gift.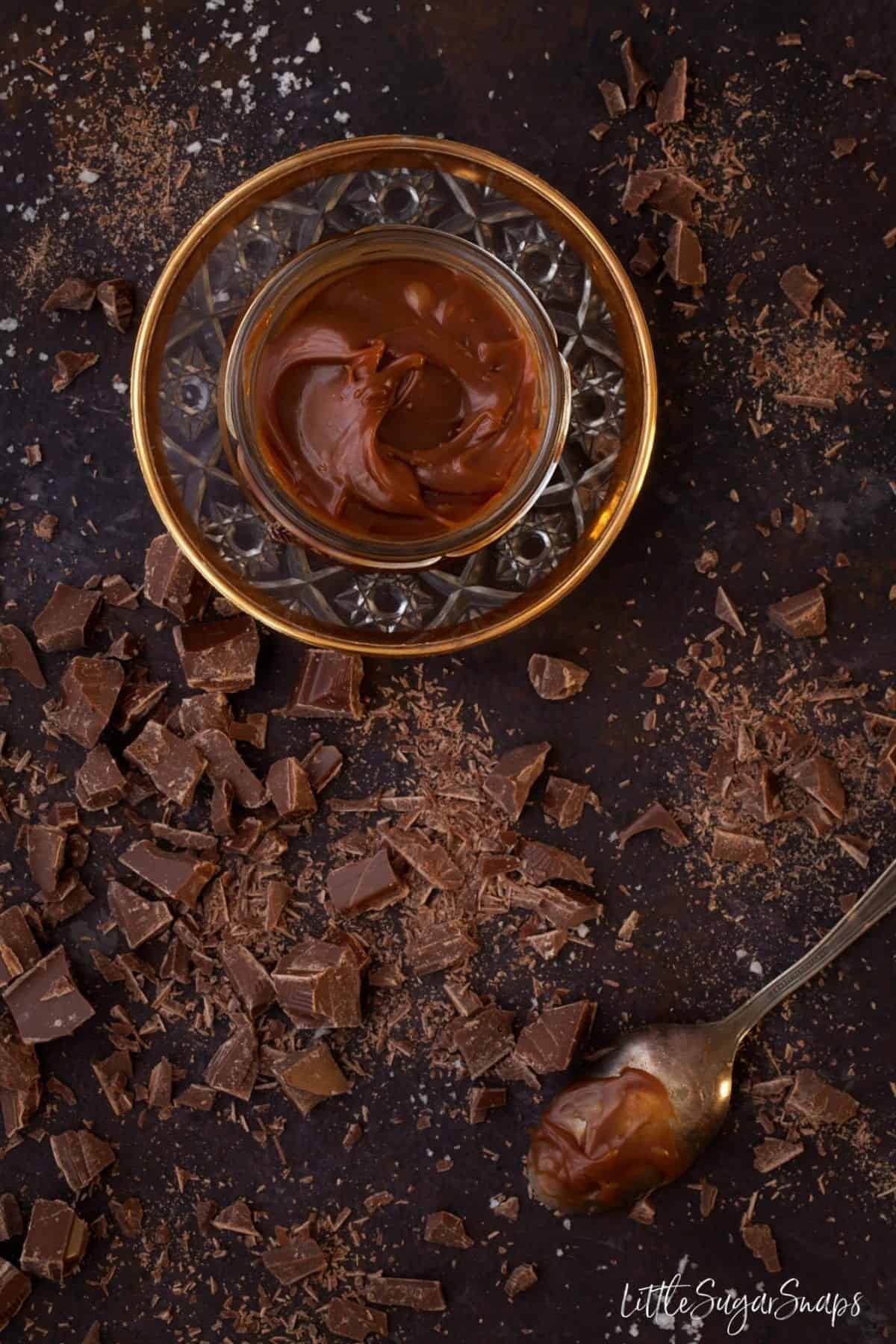 Find more delicious spreads to try out: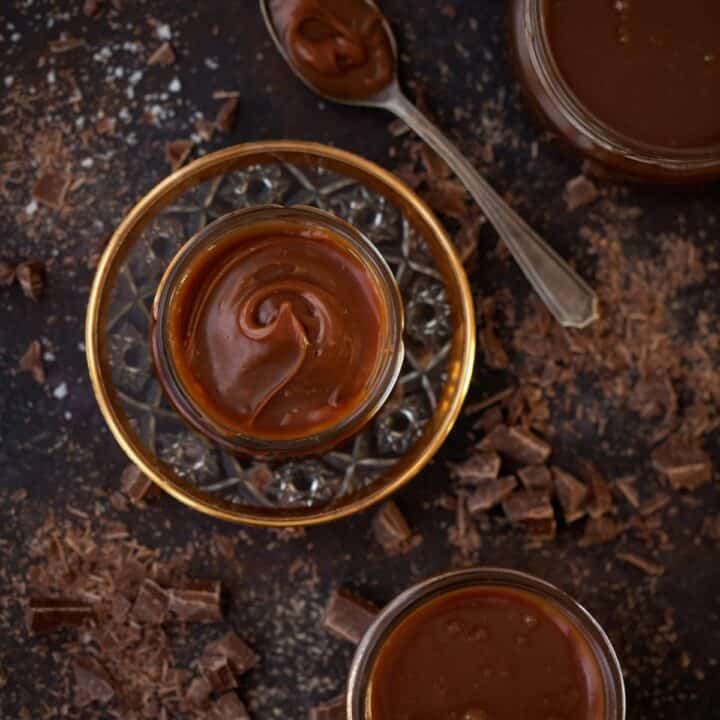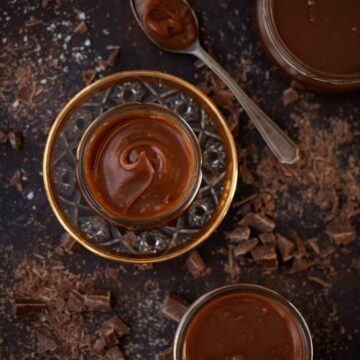 Chocolate Caramel Spread
Chocolate Caramel Spread is as good as it sounds. A dreamy caramel concoction, thick enough to spread and laced with a generous hint of milk chocolate. Go all out and add a kick of salt to turn it into Chocolate Salted Caramel Spread.
Print
Pin
Rate
Ingredients
225

g/ ⅝ cup

White sugar (I used caster)

100

ml/ ⅓ cup + 4 tsp

Water (cold)

120

g/ ½ cup

Butter

150

ml/ ⅔ cup

Double (heavy) cream

¼

teaspoon

Sea salt crystals

add an extra ½ teaspoon for salted caramel

½

teaspoon

Vanilla extract

80

g/ ½ cup

Milk chocolate – finely chopped
Instructions
Put the sugar into a heavy based saucepan and pour the water over it. Cook over a low-medium heat to allow the sugar to dissolve (5-10 minutes)

Meanwhile, cube the butter

Once the sugar has dissolved, turn the heat to medium and allow the caramel to continue to cook until it reaches a rich amber colour – another 5-10 minutes (but be careful not to let the caramel burn and turn bitter)

Take off the heat and add ⅓ of the butter, mixing with a mini balloon whisk – it will rise and splutter a little, so be careful. Add another ⅓ butter, mix and then add the remaining butter. Mix again

Pour in the cream, vanilla extract and the salt (either ¼ tsp or ¾ tsp depending on your preference for regular caramel or salted caramel). Mix

Add the chocolate and beat with the balloon whisk until melted

Pass the caramel through a metal sieve, using a metal spoon to push the sauce through. This will ensure the caramel spread is lump free

Decant into small jars, let cool, then seal and store in the fridge

Let sit for 20 minutes before using
Notes
If the caramel cooks for too long, there is a chance the caramel will be too stiff to spread. If so, heat in the microwave on a low setting in short 10-second bursts until a spreading consistency is reached. Do not blast it at full power, else the spread will return to liquid form.
Alternatively, reheat the entire batch gently, to melt, and stir through a little extra cream – 1 or 2 tbsp, depending on how thick the spread is – then let it reset.
(Visited 701 times, 1 visits today)