Spreadable Cinnamon Apple Caramel makes a welcome change from regular caramel. Keep a jar in the fridge for pancakes, toast, ice-cream and crumpets. It also makes a great foodie gift.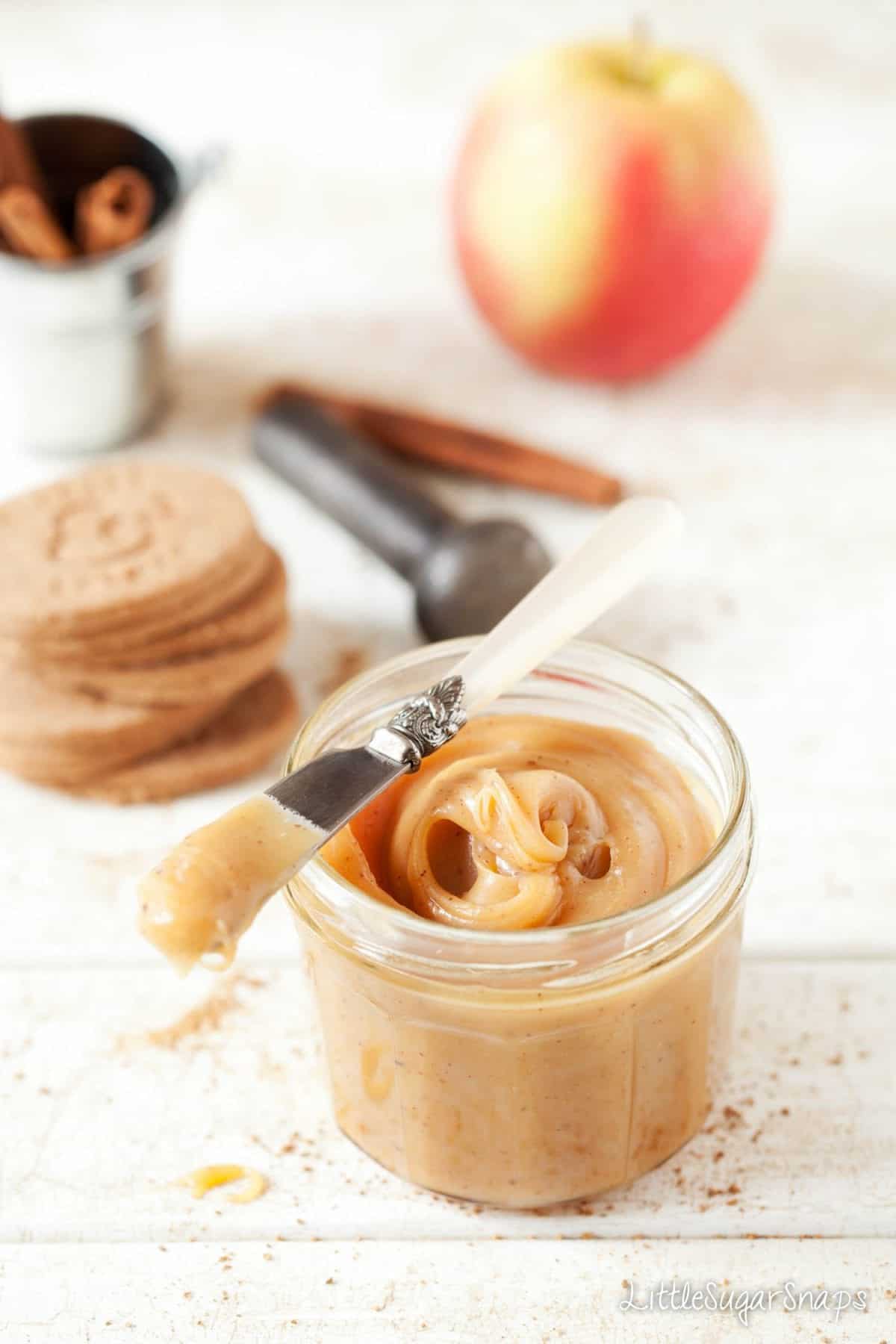 It's been a full 87 days since I last posted a recipe focused on caramel. That's almost a quarter of a year, which is perhaps something of a record for me. Caramel is a frequently occurring theme in my house. And, as I'm sure you've noticed, it makes a regular appearance on this very blog.
Following on from the popularity of my Spreadable Orange Caramel last winter, I fully intended to get around to sharing another spreadable caramel on here before 2016 was out. However… somehow, between the round of recipes following on from my Italian holiday and my Chai Masala bender, before I knew it Christmas and a brand new year rolled up to my front door and refused to be ignored.
But last week, inspired by the findings in my Top Ten Recipes of 2016, I set to work on creating a brand new spreadable caramel to keep you going through the rest of this winter.
Cinnamon Apple Caramel is pure, sweet indulgence. It is caramel laced with a hint of apple and a generous shake of cinnamon spice.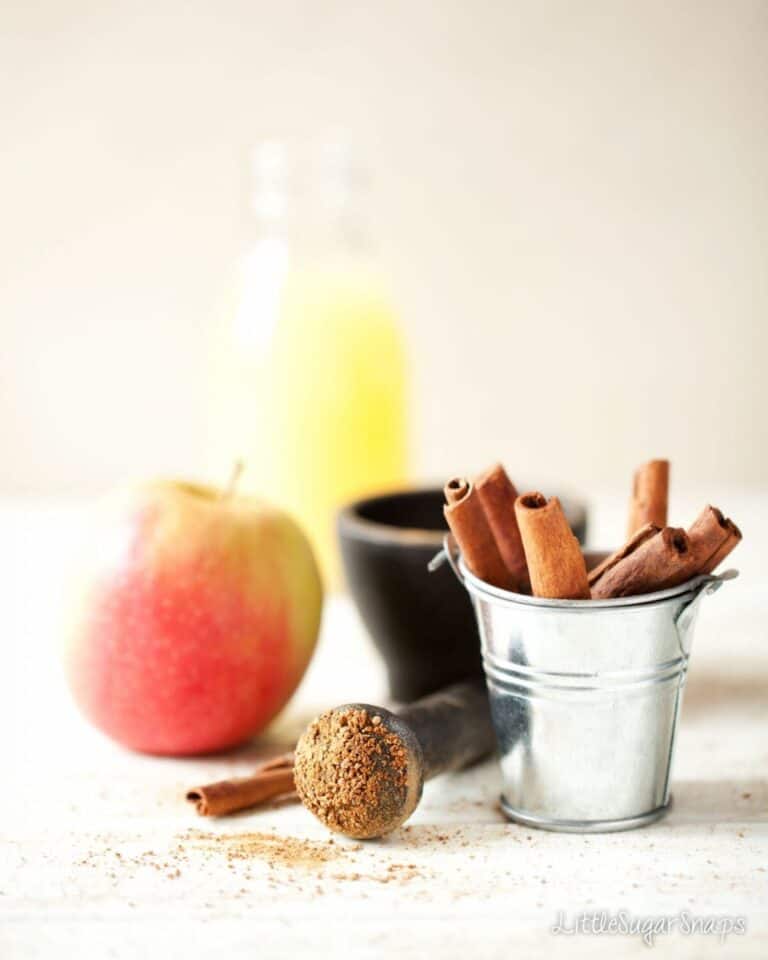 Apples and caramel are the notorious perfect couple. But let me tell you, sweet-tempered cinnamon is a welcome third-party to this caramel house party. It kicks the flavours up a notch very nicely indeed. If you're finding regular caramel old hat and want a change from salted caramel, give this Cinnamon Apple Caramel a go. It's a great extension to your caramel repertoire.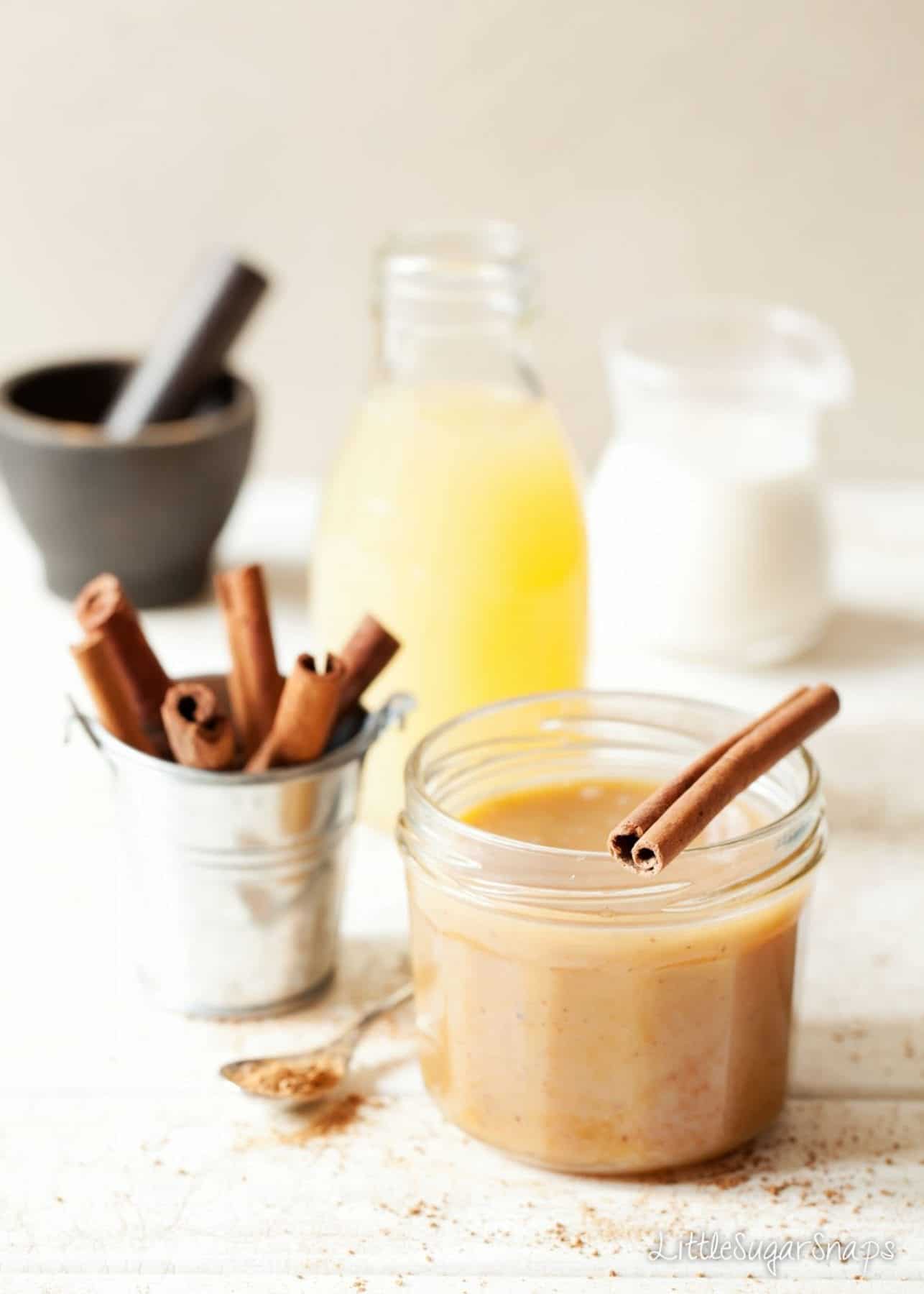 And….
It is also spreadable.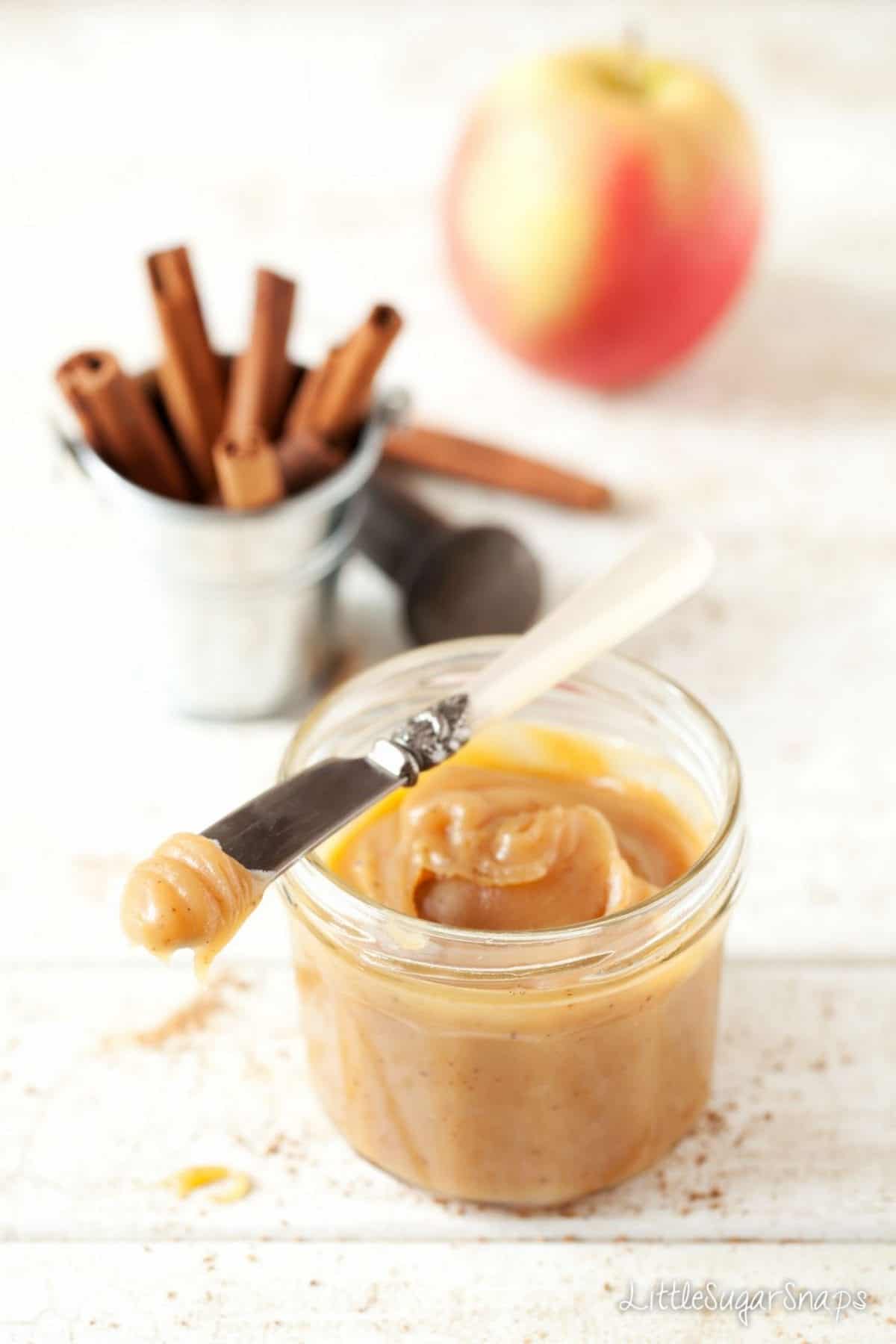 Just like its orange counterpart, Spreadable Cinnamon Apple Caramel can be enjoyed in a multitude of ways:
On pancakes or waffles (try serving with some butter fried apple slices and a little whipped cream)
Warm, drizzled over ice cream and topped with nuts
Perched on top of poached apples and pears
On toast or brioche
Warmed and poured over vanilla cheesecake at the last moment
Whipped into buttercream and used to sandwich/ top cakes
Crowning meringues and cream
To sandwich linzer cookies together
As a dip – serve with fresh apple slices, breadsticks or cookies
Straight from the jar (I have

never

done that)
And my favourite:
Melting into warm and toasty crumpets – oh me, oh my….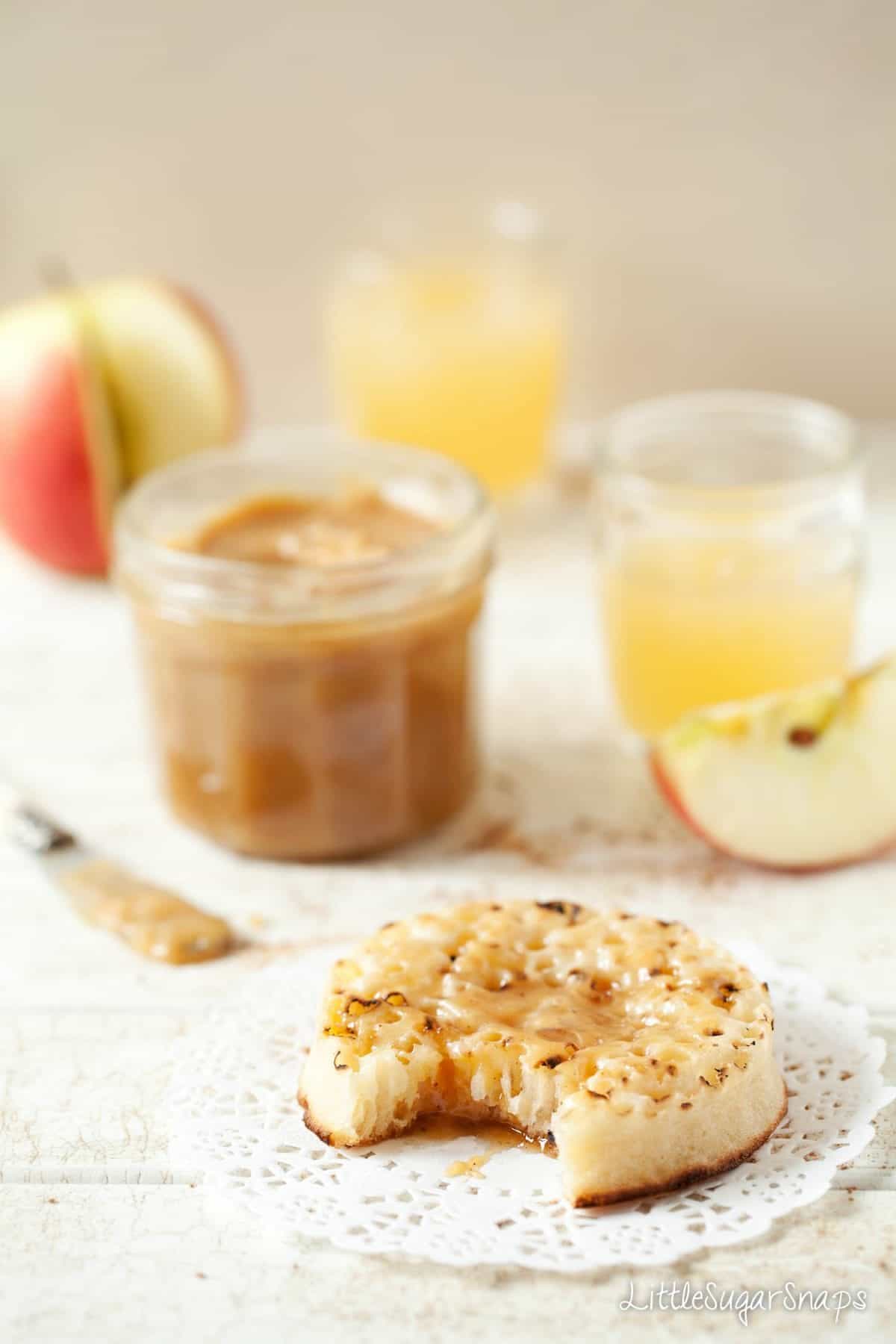 Having very recently eaten one for a late morning snack, I can wholly recommend you do the same.
I was going to suggest that you make yourself a jar of Spreadable Cinnamon Apple Caramel to re-ignite your passion for breakfast, elevenses or dessert. However, unsure whether elevenses was a term understood world-wide, I decided to google it. Oh joy. It seems that although we Brits enjoy a cup of tea and a biscuit around 11am certain countries (Hello America) have been known to consume a swift nip of whisky for their elevenses. Um… way to go?
That was back in the early 19th century though, so I'll reserve judgement. But I do love history and the random things it throws our way.
Tea, biscuits and whisky aside, you could alternatively fill 2 small jars with this Spreadable Cinnamon Apple Caramel. Keep one for yourself and gift one to someone special. Valentines Day is not far away now.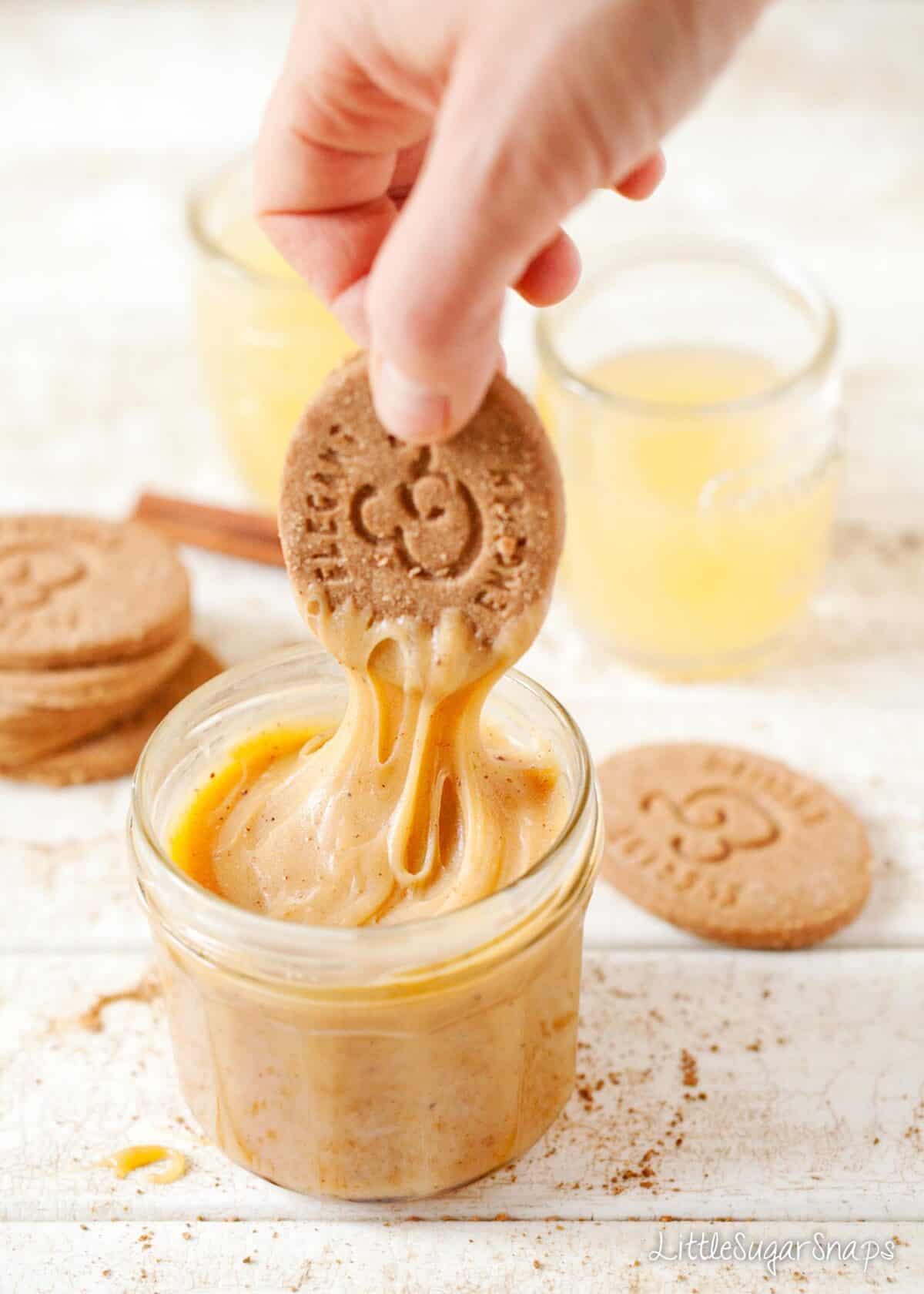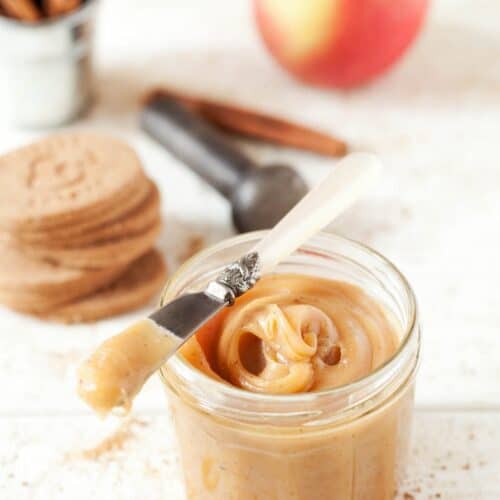 Spreadable Cinnamon Apple Caramel
Spreadable Cinnamon Apple Caramel makes a welcome change from regular caramel. Keep a jar in the fridge for pancakes, toast, ice-cream and crumpets. It also makes a great foodie gift.
Print
Pin
Rate
Ingredients
225

g/ 1 cup

Caster sugar

100

ml/ 1/3 cup + 2 tbsp

Apple juice

120

ml/ 1/2 cup

Double (heavy) cream

120

g/ 1/2 cup

Unsalted butter - cubed

1/8

tsp

Sea salt flakes

3/4

tsp

Ground cinnamon

Small pinch ground nutmeg

(optional)
Instructions
Begin by putting the sugar and apple juice into a small heavy based saucepan and stir it. Put the pan over a medium heat and allow the sugar to dissolve without stirring any further (swirl the pan a few times to ensure even cooking though)

Turn up the heat slightly and let the sauce bubble until it begins to caramelise and turn mid-amber in colour (not too dark). It will take 10-15 minutes to get to this stage

Turn the heat back down to medium. Add 1/4 of the cream to the pan, stir well, then add another 1/4 and stir. Pour in the remaining cream and stir again (adding the cream in small amounts reduces the amount the caramel splutters and spits)

Add the butter in 3 or 4 batches. When all of the butter is melted allow the caramel to cook for a further 2-3 minutes stirring constantly

Take the pan off the heat and stir in the salt, cinnamon & nutmeg (if using). Let cool for 30 minutes before decanting into a jar

Once completely cool store in the fridge for up to 2 weeks
Notes
I ground my own cinnamon in a coffee grinder. It's slight coarser than store bought ground cinnamon. If you let the caramel cook for too long in the final stage it may be quite firm straight from the fridge. But don't panic. Just let it soften for 20 minutes at room temperature and it should spread well. Alternatively give it a 10-15 second blast in the microwave on MEDIUM heat. Be careful not to overheat it, else it will return to liquid form.
(Visited 21 times, 3 visits today)