These Espresso, Hazelnut & Nutella Thumbprint Cookies are well dressed cookies that exquisitely combine Nutella, coffee, extra hazelnut & white chocolate.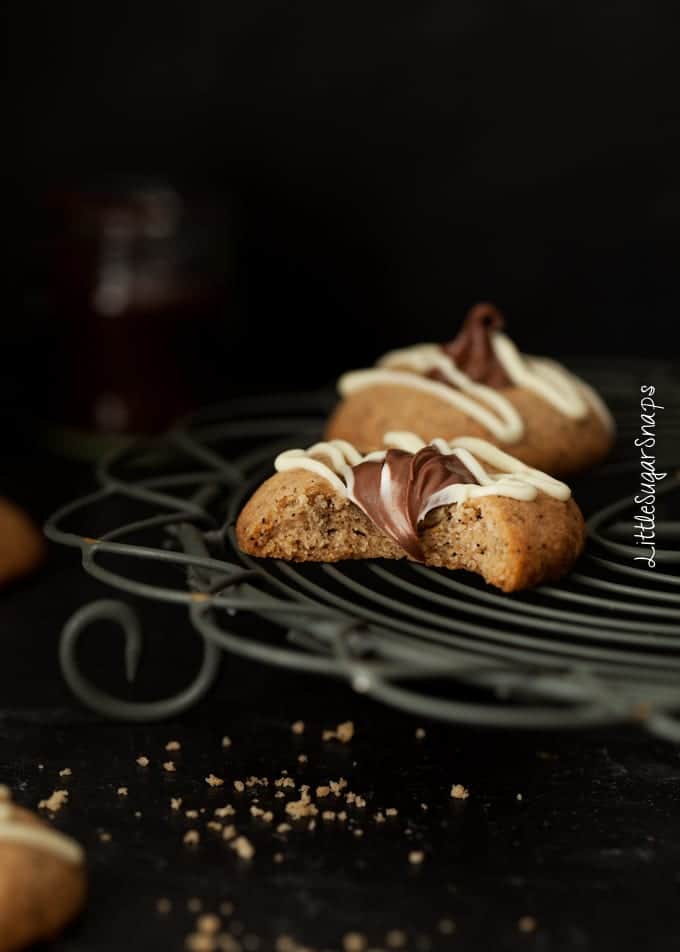 I live in a house where three quarters of the residents love Nutella. I created these Espresso, Hazelnut & Nutella Thumbprint Cookies to win over the final quarter who can take or leave Nutella without a second thought. That person is definitely not me.
What I came up with was this well-dressed cookie that combines Nutella with coffee and a touch more hazelnut. Oh, and a teeny bit of white chocolate to make it look irresistible. Given that there are now only two of these Espresso, Hazelnut & Nutella Thumbprint Cookies left in the biscuit tin, I think we can assume 100% of the household fell for them.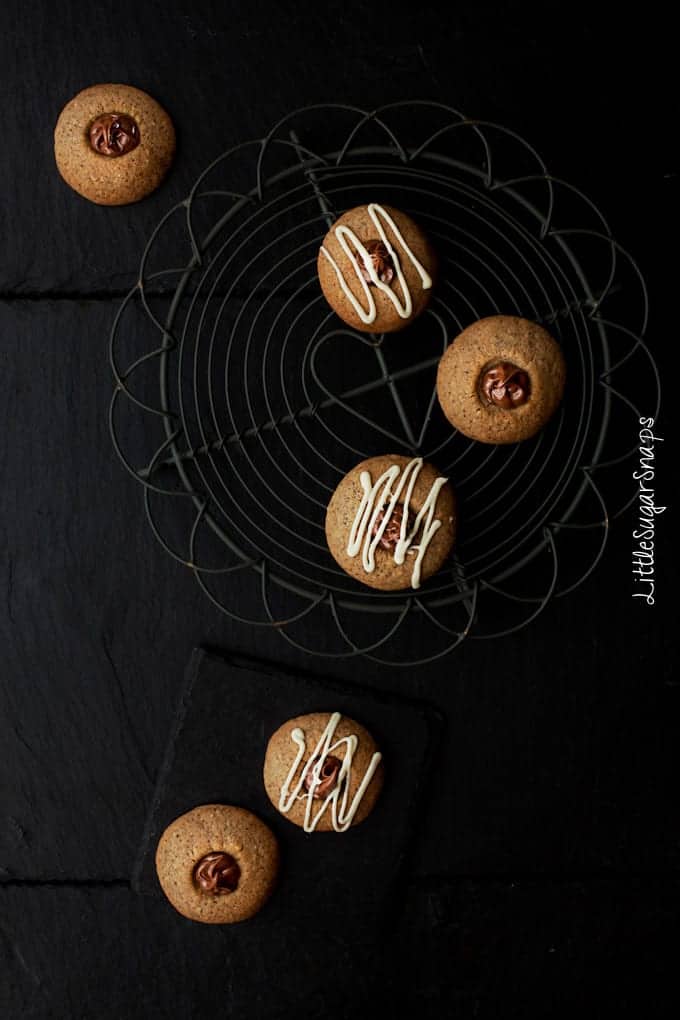 I've always loved Nutella. So have my daughters. We reserve it for the weekend and our holidays. Especially our holidays. We have developed a tradition whereby I purchase the big jar just so that we have to make Nutella hot chocolate on the last day to use it all up (I ♥ traditions).
Whilst writing today's post, I've discovered that every year there is a World Nutella Day. Where have I been? How has this vital piece of information been passing me by? I may have already missed this year's day 🙁 but next year's date is already in my diary 🙂 (Friday 5th February 2016).
I also didn't know, until right now, that we have Napoleon to thank for Nutella. Apparently, in 1806 Napoleon tried to freeze British commerce. This limited the supply of cocoa and forced the price to rise. In response to this problem, some resourceful Italians started adding hazelnuts to their cocoa to make their limited supply stretch further. Clever.
History repeated itself in World War II. This time chocolate became scarce & expensive largely due to rationing across Europe. Again, the Italians added hazelnuts to the mix. This time the combination stuck. Several decades & recipe tweeks later, Nutella, as we know and love, was born.
Um, can you tell I have a background in economics and a liking for history? If you want some more Nutella facts, you can read up on Mental Floss. There's even been a Nutella Heist.
Anyway, back to my Espresso, Hazelnut & Nutella Thumbprint Cookies.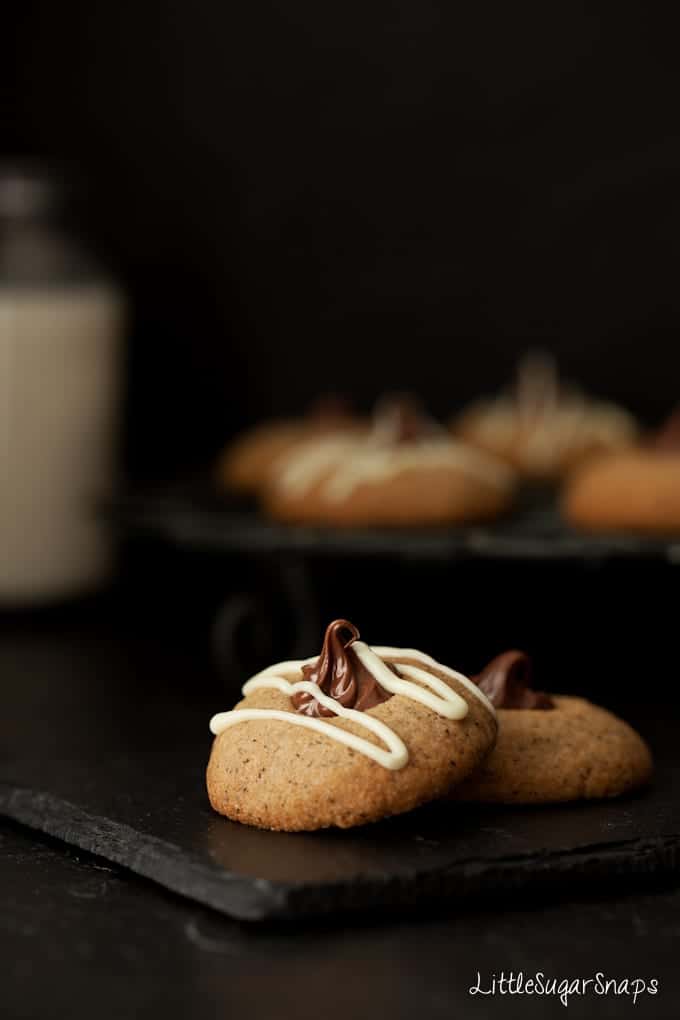 Coffee and chocolate is clearly an obvious, and winning, formula. The intensity of the espresso compliments the thick, creamy, chocolatey heaven that is Nutella superbly. Including ground hazelnuts in the cookie dough enhances those beautiful, delicate, nutty tones evident in the Nutella too. The cookie is light and crisp – the perfect partner for that soft Nutella centre.
Aiming to win over Chris (the errant quarter of my household not devoted to Nutella) I wanted to make these Espresso, Hazelnut & Nutella Thumbprint Cookies look irresistibly enticing to adults. That called for a neat and tidy finish, so I carefully piped the Nutella into the thumbprint holes.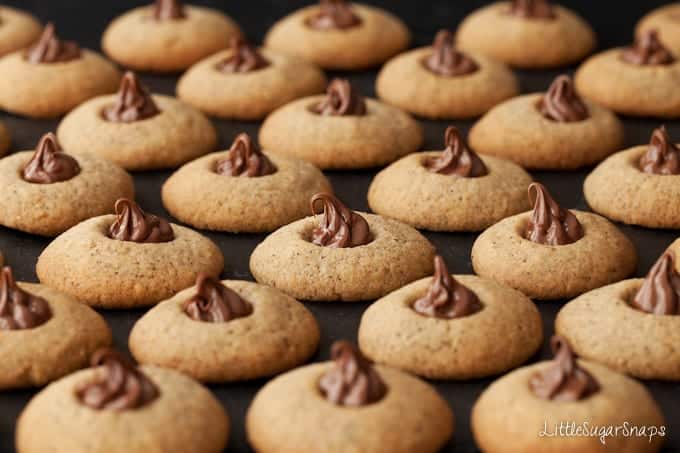 I particularly love the droopy curve as the Nutella peek topples over….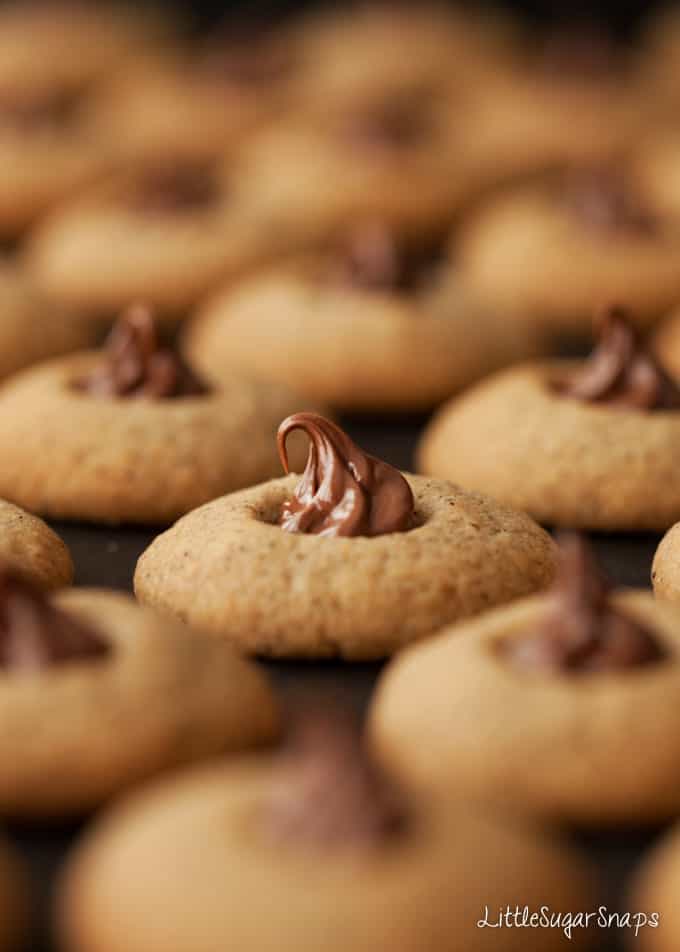 Lastly, to give visual contrast and a finishing flourish to the final appearance, I drizzled a little white chocolate over the cookies.
The Espresso, Hazelnut & Nutella Thumbprint Cookie is one smart cookie.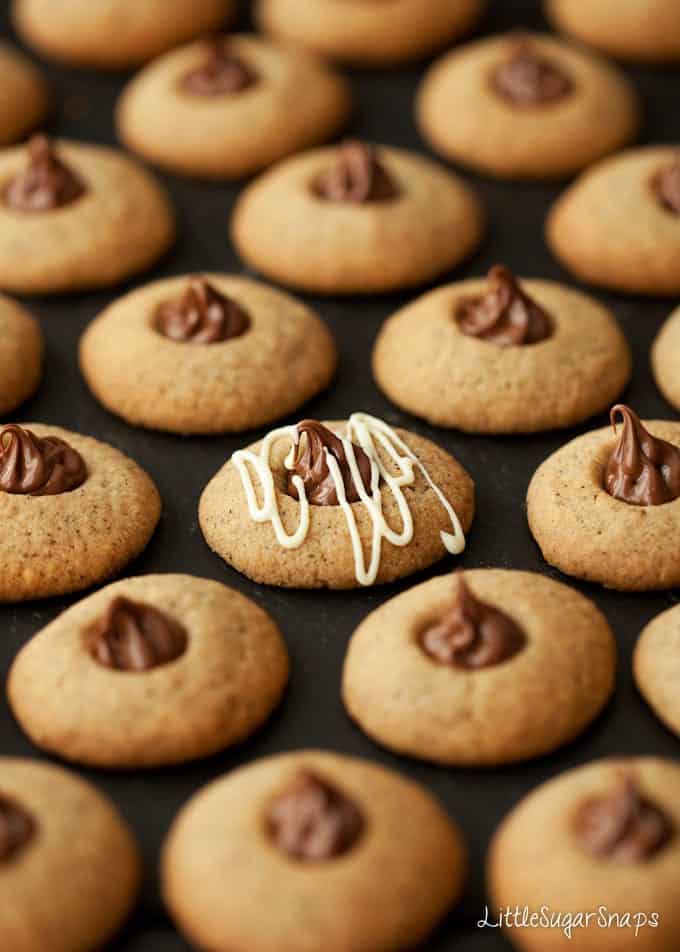 Okay, this is a bit awkward, but I have a major confession that I must tell you about before you bake these cookies. It involves my thumb…
Problem: my thumb is too wide.
Without wishing to introduce any um… thumb prejudice… my thumb is too broad to make decent thumbprint cookies.
I discovered this fact a few weeks back when I baked these Espresso, Hazelnut & Nutella Thumbprint Cookies for the first time with Hannah. We had fun using our thumbs to create the craters that are meant to hold the Nutella. Once baked though, it was evident that my thumb was too thick. The craters had virtually disappeared. We ended up sandwiching pairs of cookies together with the Nutella. Although they were scrummy, it wasn't really the chic look that I had been aiming for.
I tried again and used the end of a wooden spoon. This created a much deeper cavity for the Nutella to sit in. Hoorah.
Unless you have a super skinny thumb (who are you and exactly how small are you?), I would suggest you use either a wooden spoon, your little pinky finger or the thumb of a small child to create those craters.
So there we have it, these are not actually thumbprint cookies after all. Thanks wide thumb.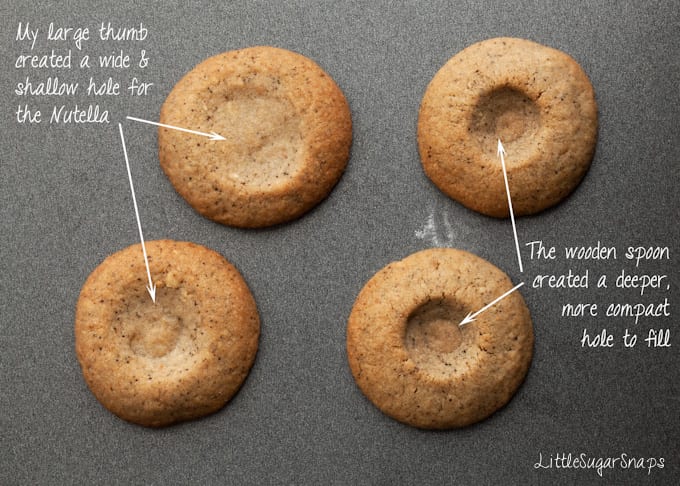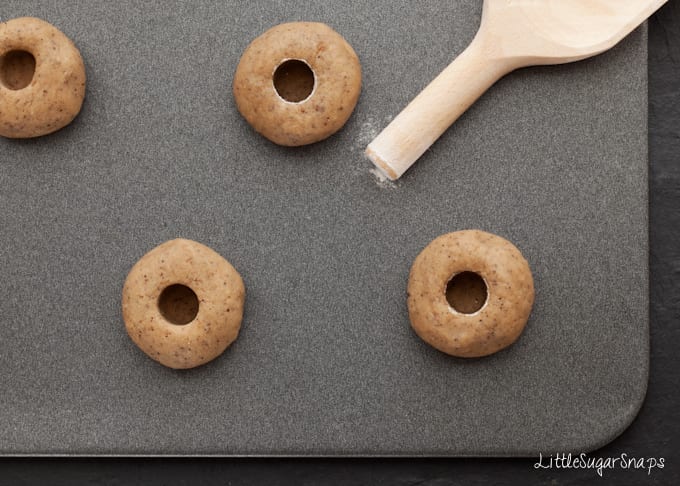 Also, don't be tempted to miss out chilling the cookies before baking them. Letting the dough firm up does improve the neatness of that Nutella hole and will give you a smarter cookie.
History lesson, cookery tips (and wooden spoon) in hand, you're all set to bake these exquisite Espresso, Hazelnut & Nutella Thumbprint Cookies. Enjoy with a hard-hitting espresso, an iced coffee or a glass of cold milk.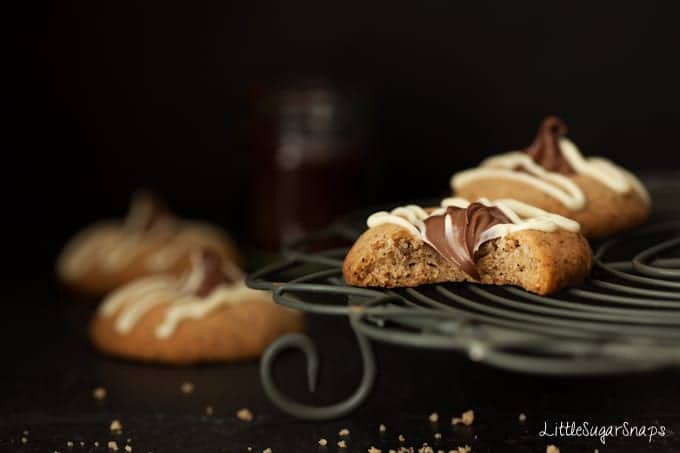 If you've enjoyed reading this post, please leave a comment or share it with friends – you would make me very happy. If you'd like to get notified of my future posts you can also follow along by email – I'm currently giving away a guide to food photography with a DSLR to new subscribers.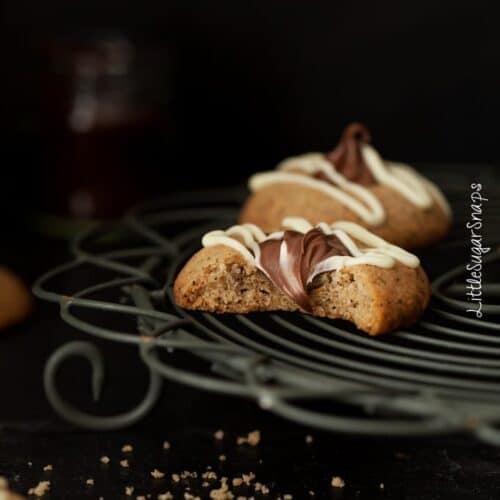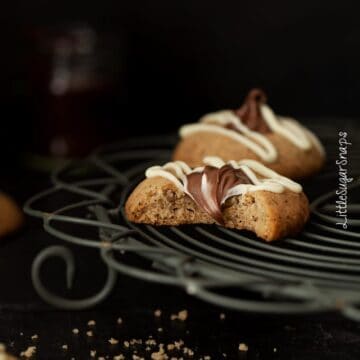 Espresso, Hazelnut & Nutella Thumbprint Cookies
These Espresso, Hazelnut & Nutella Thumbprint Cookies are well dressed cookies that exquisitely combine Nutella, coffee, extra hazelnut & white chocolate.
Print
Pin
Rate
Ingredients
180

g/ 61/2oz

Unsalted butter

(soft)

180

g/ 61/2oz

Caster sugar

75

g/ 3oz

Ground hazelnuts

250

g/ 9oz

Plain (all purpose) flour

4

teaspoon

Espresso powder

1

teaspoon

Vanilla extract

1

Large egg

Nutella

(about 3 tbsp)
Optional:75g/ 3oz white chocolate – chopped small
Instructions
Begin by grinding the hazelnuts, if necessary

Grease & line several baking sheets with baking parchment

Next, put the butter and sugar into a large bowl and mix with electric beaters until pale and fluffy

Add the espresso powder, vanilla extract, ground hazelnuts and the egg. Using the beaters mix until everything is incorporated

Sift the flour into the bowl. Using a large, metal spoon, fold in the flour in until thoroughly combined

Form around 50 balls from the dough (each ball should weigh approx. 15g). Place the balls onto the baking sheets, leaving around 4cm between each ball (they spread a little during cooking)

Using your little finger, the end of a wooden spoon or the thumb of a small child 🙂 make a deep hole in the centre of each ball. You may need to dip the utensil into some flour to prevent it sticking to the dough

Put the baking sheets into the fridge to chill for 11/2-2 hours. Meanwhile, preheat the oven to 180°C/ 350°F/ GM 4

At the end of the chill time, bake the cookies for around 12 minutes until beginning to turn golden

Allow to cool on the tray for a moment, then transfer to a cooling rack and allow to cool completely

Fill the hole with Nutella. You can either carefully spoon the Nutella in, using a very small spoon, or, like me, pipe it in for a neater finish.

(optional) Gently melt the white chocolate then drizzle it over the filled cookies. Allow the chocolate to set

Store in an airtight container for up to 1 week
Notes
Ground hazelnuts are difficult to come by in the shops. You can make your own by blitzing them in a food processor or a coffee grinder. Go steady as it is easy to overdo it and end up with a clumpy, moist mass of ground nuts. If your processor has a pulse setting, then pulse for a second, then stop, assess the progress and pulse again if necessary. I had the best results when I processed the nuts in three batches of 25g in my coffee grinder. Aim for the consistency of ground almonds.
(Visited 341 times, 1 visits today)