Easy raspberry brownies with peanut butter frosting are a decadent and gooey chocolate treat not to be missed. Use a fork or expect to get messy fingers.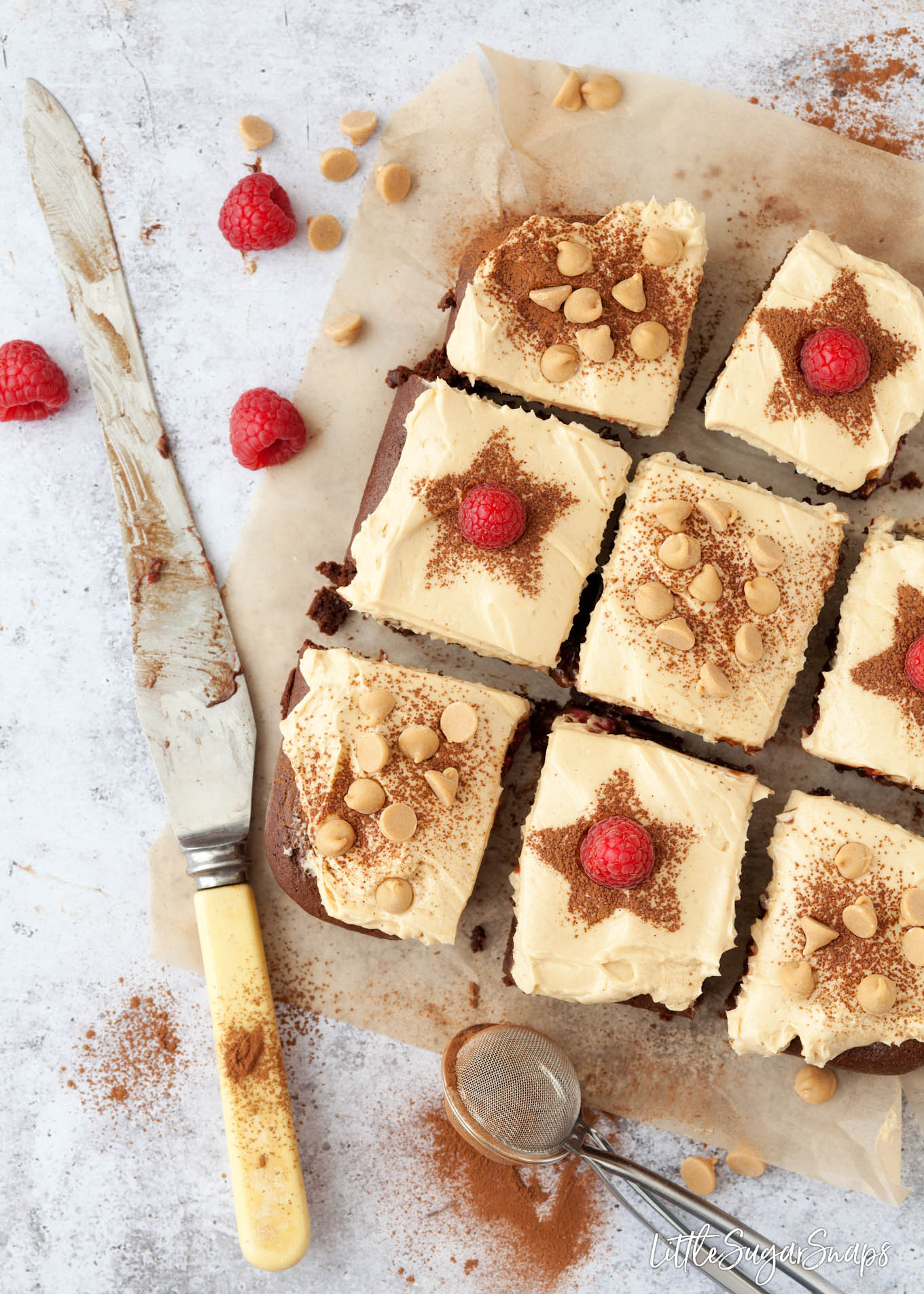 I may have been overly ambitious when I cut my first batch of these easy raspberry brownies into just 9 squares. Each square may not have looked excessively large but they did pack a mighty hit of indulgent, rich and gooey chocolate. Learn from my mistake - bake these brownies but cut them into 12 portions and enjoy them all the more for it.
Back when I was a kid the idea of a chocolate dessert managing to be so rich that it should be eaten in small portions was an alien concept to me. I could eat... and eat... and eat all of the chocolate desserts. I had no off button. I was proud of myself.
These days, my off button kicks in far too early in my opinion. I wish I could still eat dessert the way I used to. However, less is more as the saying goes. And in the case of these brownies, dainty portions are definitely the way forward.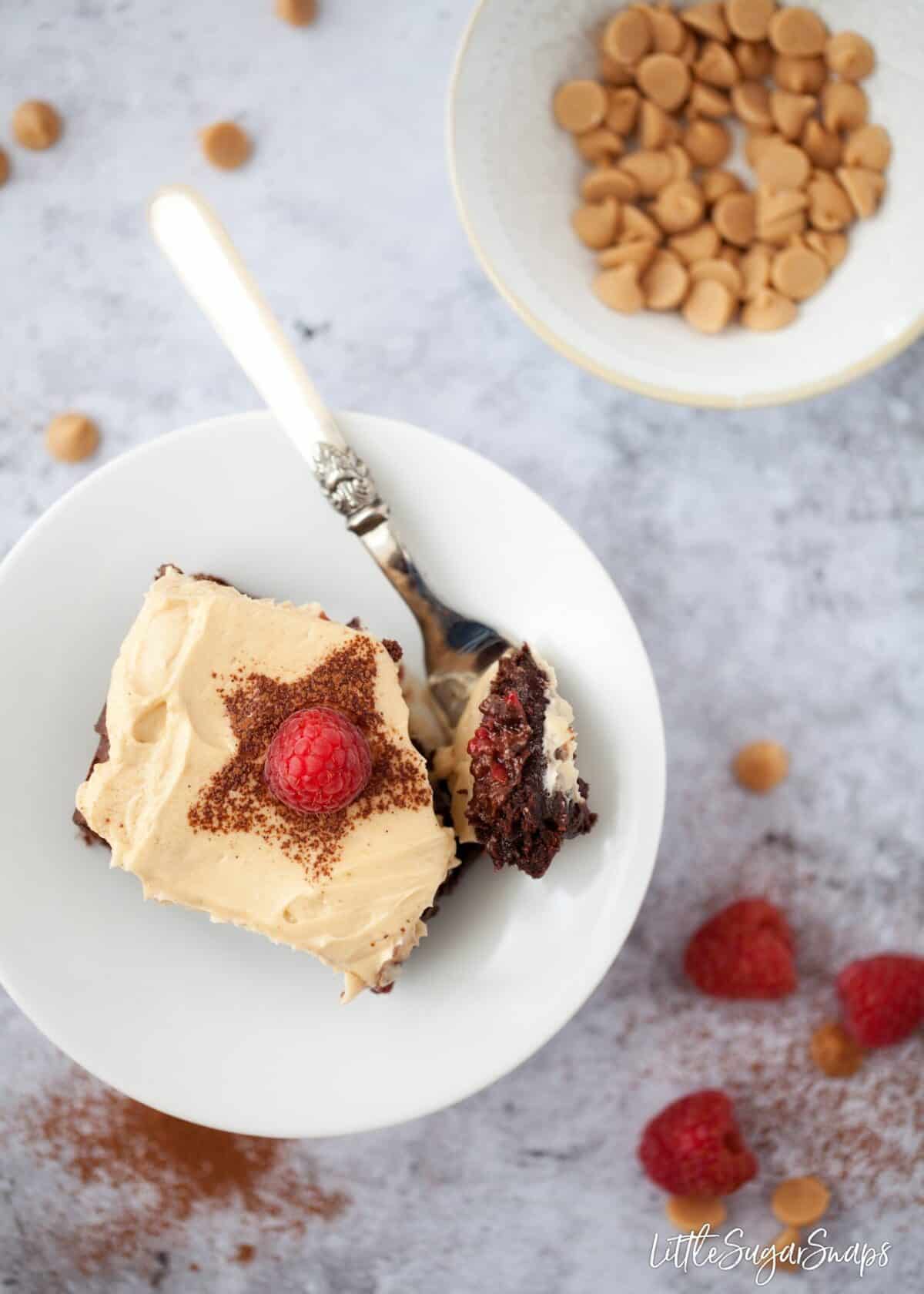 These raspberry brownies are supremely rich, squidgy and gooey. The brownie itself is deeply delicious with a pleasing kick of tart berry about it. But on top of that, each square comes topped with a slick of creamy and delicious peanut butter frosting made with mascarpone cheese. All in all, these easy raspberry brownies are a roguish and extravagant chocolate treat.
How to make raspberry brownies
One thing I love about brownies is how simple they are to assemble:
the chocolate and butter are melted together
sugar is then mixed in, followed by the eggs
Flour & cocoa powder are gently stirred in
Then the batter is poured into a tin and baked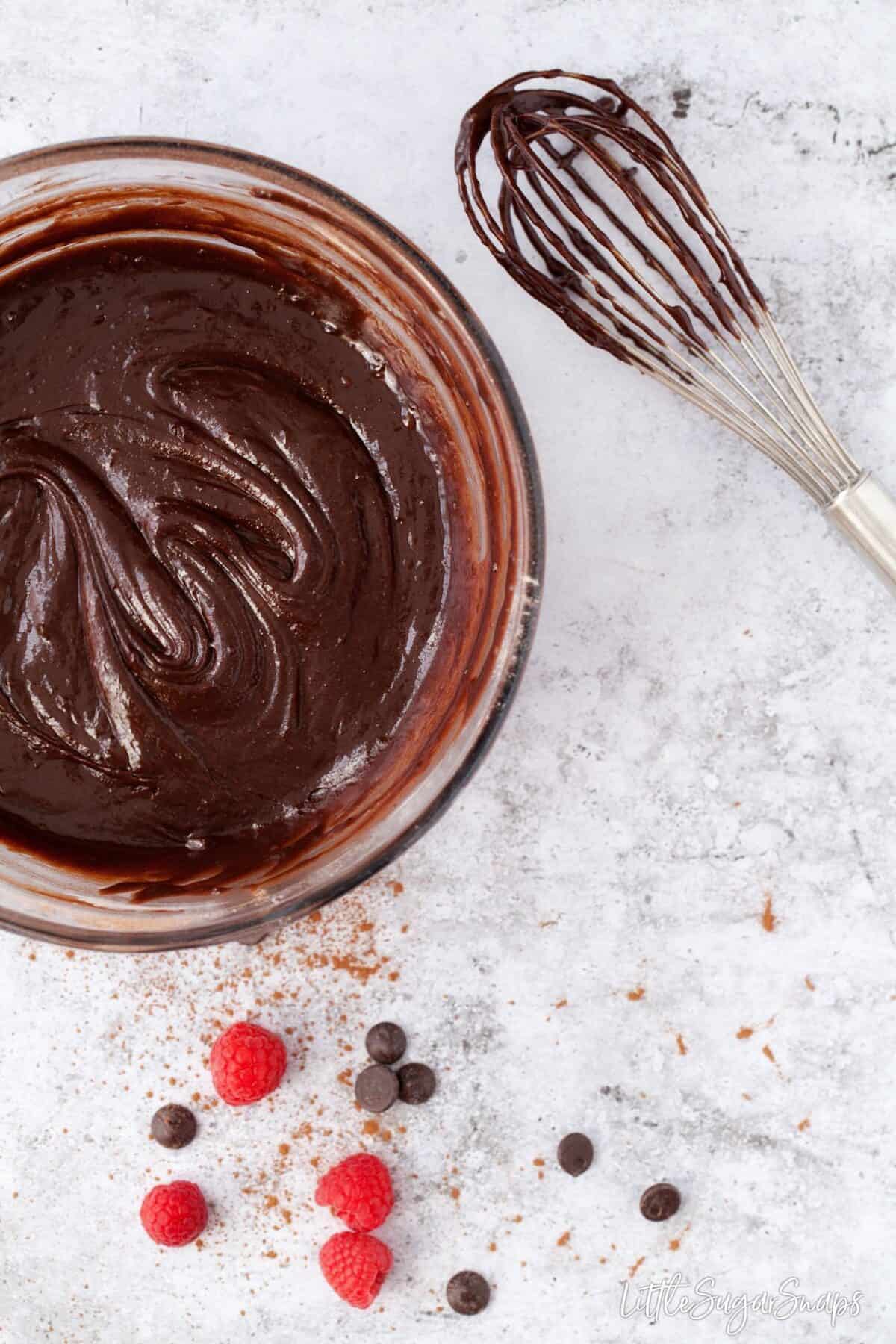 Yep. Brownies really are easy to throw together.
These raspberry brownies require one more step - and that is to wedge a few of those blushing berries into the batter before it is baked. This is such a simple twist to the basic chocolate brownie, but one that should repeated every now and again.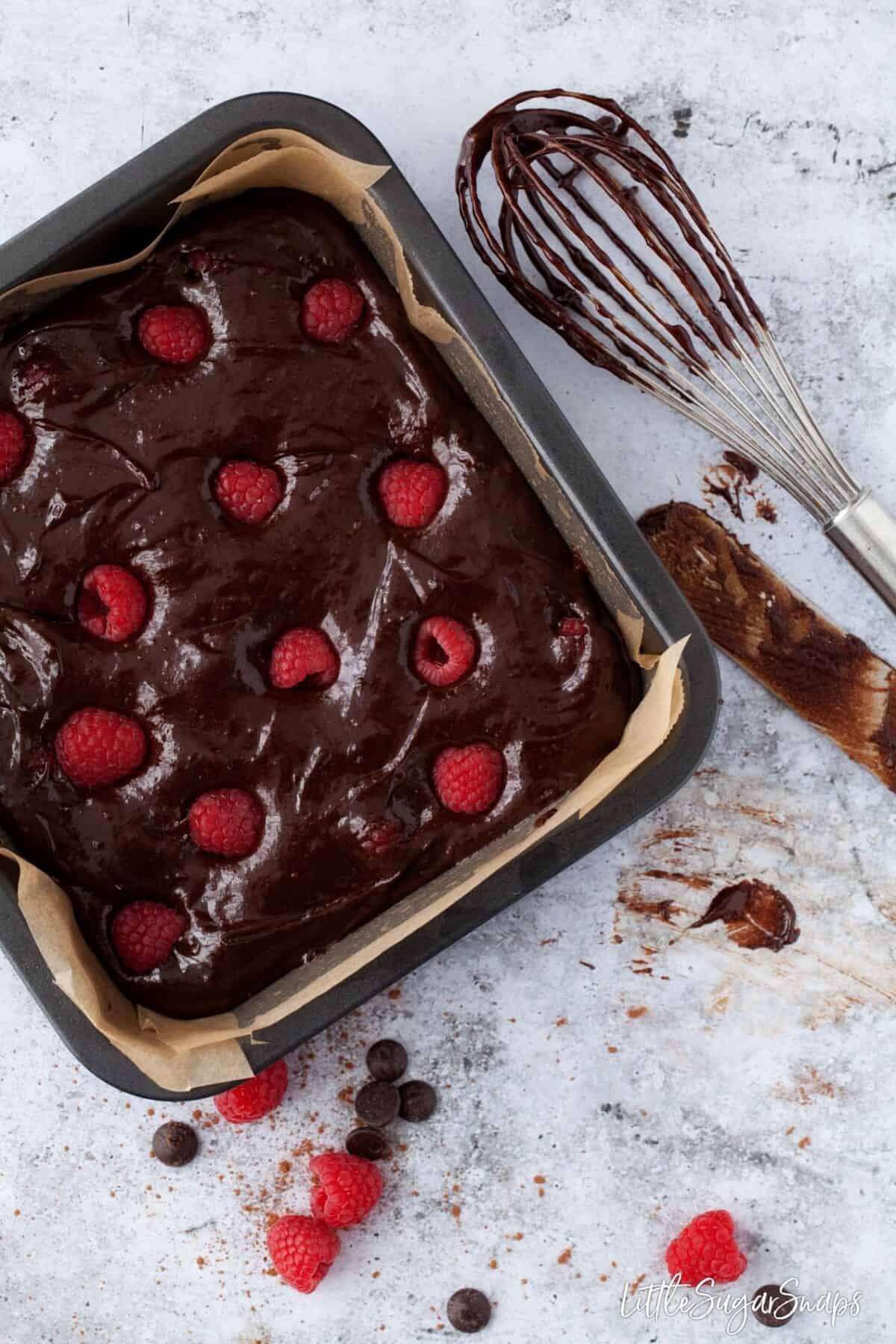 It's your choice how to decorate chocolate brownies - I couldn't decide so I went for a mixture of fresh raspberries and peanut butter candy chips.
And if buttercream frostings are not your thing, then leave it off and instead serve these beauties with a scoop of creamy vanilla ice cream alongside. I call this sheer dessert heaven.
How to store chocolate brownies
Most brownies can be stored out of the fridge, provided they are in an airtight container. When stored like this, they should be good for 3-5 days.
These easy raspberry brownies can be stored in the same way provided they have not been iced.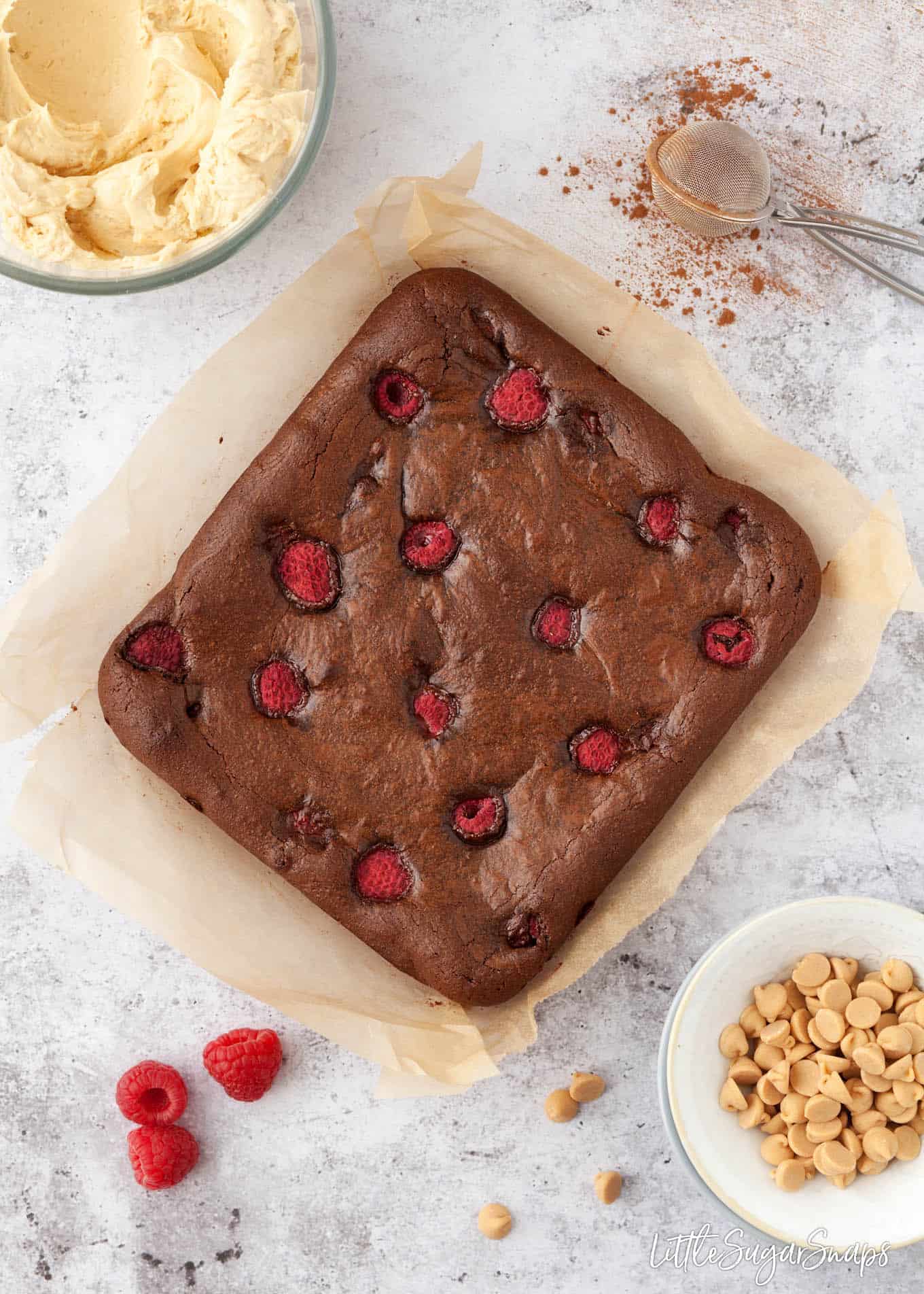 Once that mascarpone peanut butter frosting goes on, they then do need to be refrigerated. Just ensure that the brownies are allowed to come to room temperature before eating.
Incidentally, should 12 squares prove too much in one sitting, then these brownies and the frosting can be frozen. Defrost at room temperature and do not be tempted to blast them in the microwave, since the frosting will not withstand this kind of heat.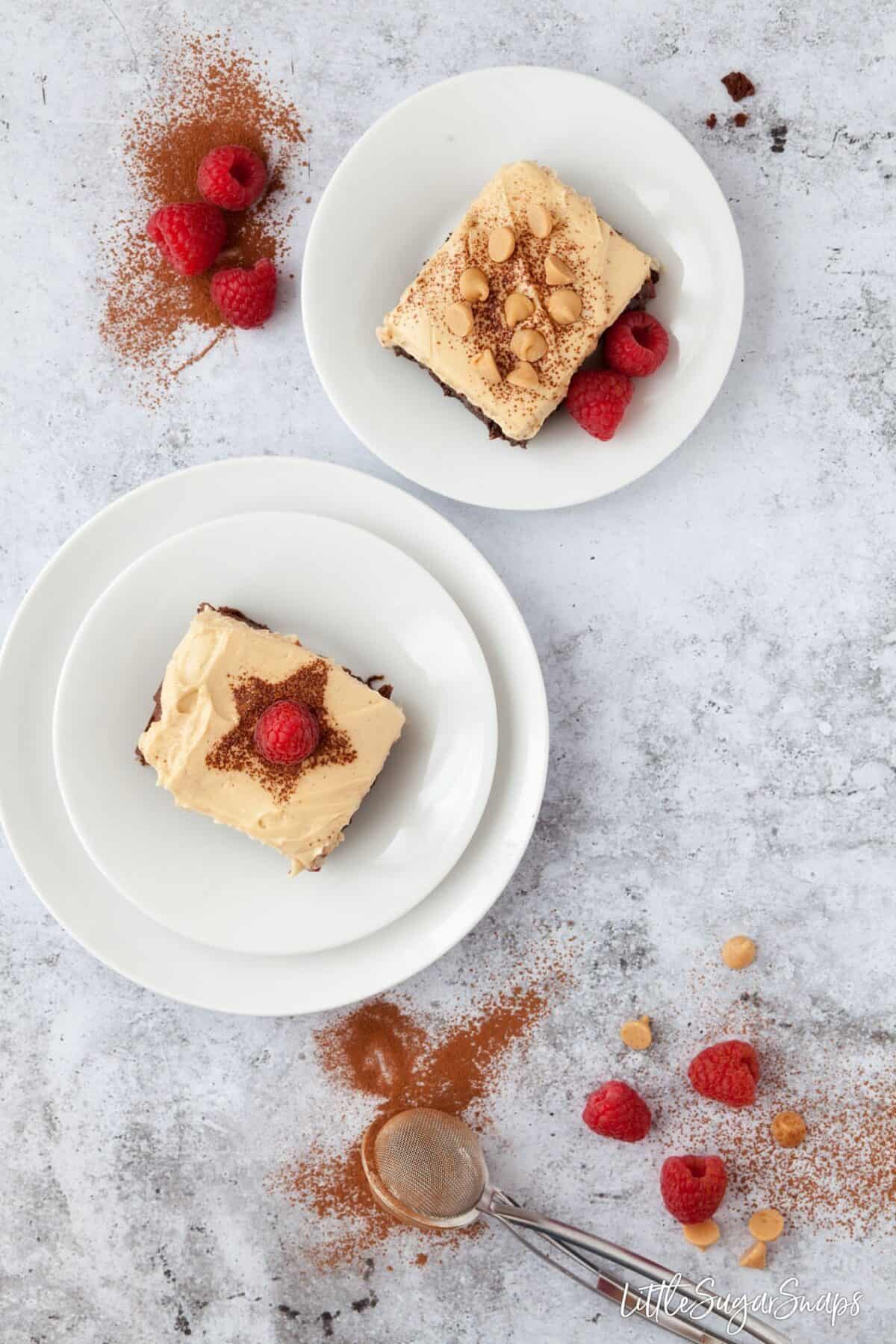 Have you made these brownies? How did you decorate them? Show me by posting a picture on Instagram. You'll make my day if you tag #littlesugarsnaps so I can see it too.
Looking for more brownies? Try my Mini Egg version.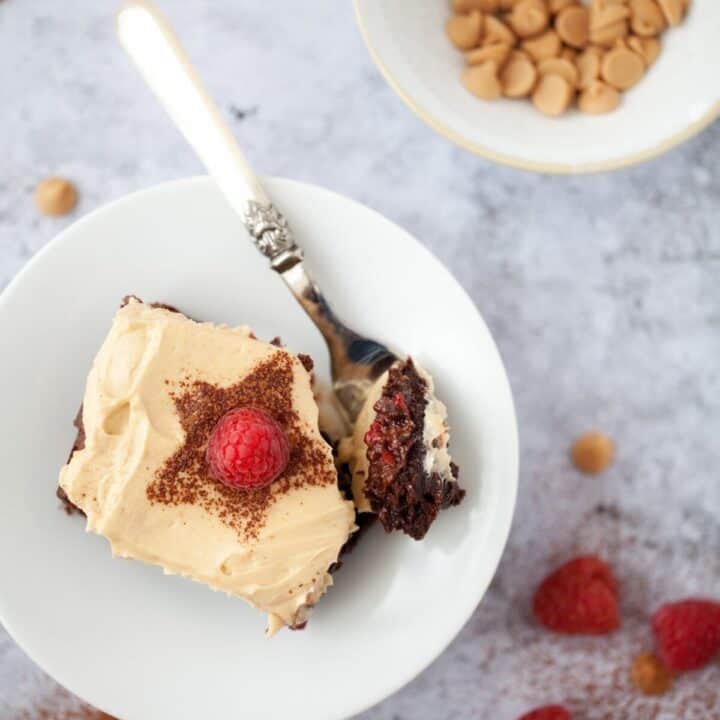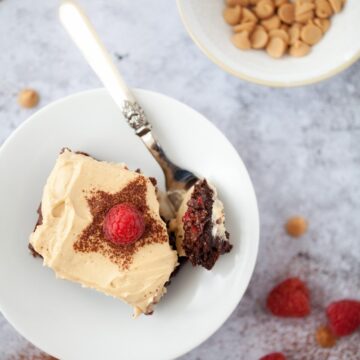 Easy Raspberry Brownies with Peanut Butter Frosting
Oh so gooey, these fruity chocolate brownies are a rich and indulgent chocolate bake. Topped with a creamy mascarpone peanut butter frosting, they are dangerously addictive.
Print
Pin
Rate
Ingredients
For the Brownies
120

g/ ½ cup/ 4 ¼ oz

Butter (unsalted)

170

g/ 1 cup/ 6 oz

Dark chocolate

100

g/ ½ cup / 3 ½ oz

White sugar

110

g/ ½ cup/ 4oz

Dark Muscovado sugar

2

Eggs (large, free range)

2

Egg yolks (large, free range)

¼

teaspoon

Salt

30

g/ 1 oz

Cocoa powder

85

g/ ⅔ cup/ 3 oz

Plain (all purpose) flour

125

g / 5 oz

Fresh raspberries
For the Frosting
75

g/ ⅓ cup

Butter

75

g/ ⅓ cup

Mascarpone cheese

3

tablespoon

3 tablespoon Peanut butter (smooth)r

¾

teaspoon

¾ teaspoon Vanilla extract

75

g/ ⅔ cup

Icing (confectionary) sugar
Garnishes - all optional
Cocoa powder

Fresh raspberries

Peanut butter baking chips
Instructions
Make the Brownies
Preheat (fan) oven to 180C/ 350F/ GM4 and line a 7x 7 inch baking tin with butter and parchment

Weigh out the sugar and break down any lumps in the muscovado sugar using your fingers

Melt the butter and chocolate together in a bain marie. Once melted, mix until smooth

Add the eggs & yolks and beat to just combine using a handheld balloon whisk

Sieve the flour, cocoa and salt into the batter and mix until just combined and no streaks of dry ingredients remain

Pour half of the batter into the prepared tin and poke half of the raspberries into it. Top with the remaining batter, level and poke the remaining berries into the batter.

Bake for 22 minutes. At this point test with a toothpick - insert it into the centre of the brownie - if raw batter is evident on the stick continue to back for another 2-3 minutes and test again. Continue until the toothpick comes out with no raw batter clinging to it.

Take the tin out of the oven and let the brownie cool completely in the tin
Make the Frosting
Beat the butter until it is light and fluffy


Add the mascarpone and continue to beat until a smooth consistency is reached again - it may split at first, but keep on beating and it will come back together

Mix in the vanilla extract and peanut butter. Beat again

Sieve the icing sugar and gradually beat in - a spoonful at a time. Continue to beat until the frosting is smooth and creamy
Decorating
Let the brownie cool completely then spread with the buttercream

Cut into 12 small squares

Decorate with a dusting of cocoa powder, fresh raspberries or peanut butter candy chips

Store in an airtight container in the fridge and bring to room temperature before serving
Nutrition Per Serving (Approximate)
Calories:
402
kcal
|
Carbohydrates:
40
g
|
Protein:
6
g
|
Fat:
26
g
|
Saturated Fat:
15
g
|
Cholesterol:
101
mg
|
Sodium:
210
mg
|
Potassium:
218
mg
|
Fiber:
3
g
|
Sugar:
28
g
|
Vitamin A:
582
IU
|
Vitamin C:
3
mg
|
Calcium:
47
mg
|
Iron:
3
mg
(Visited 32 times, 1 visits today)