Caramel Shortbread with fruit & nuts is really classic Millionaire's Shortbread with a twist. Buttery shortbread is topped with raisins, cranberries & nuts, covered in thick, smooth caramel & topped with chocolate. Bliss.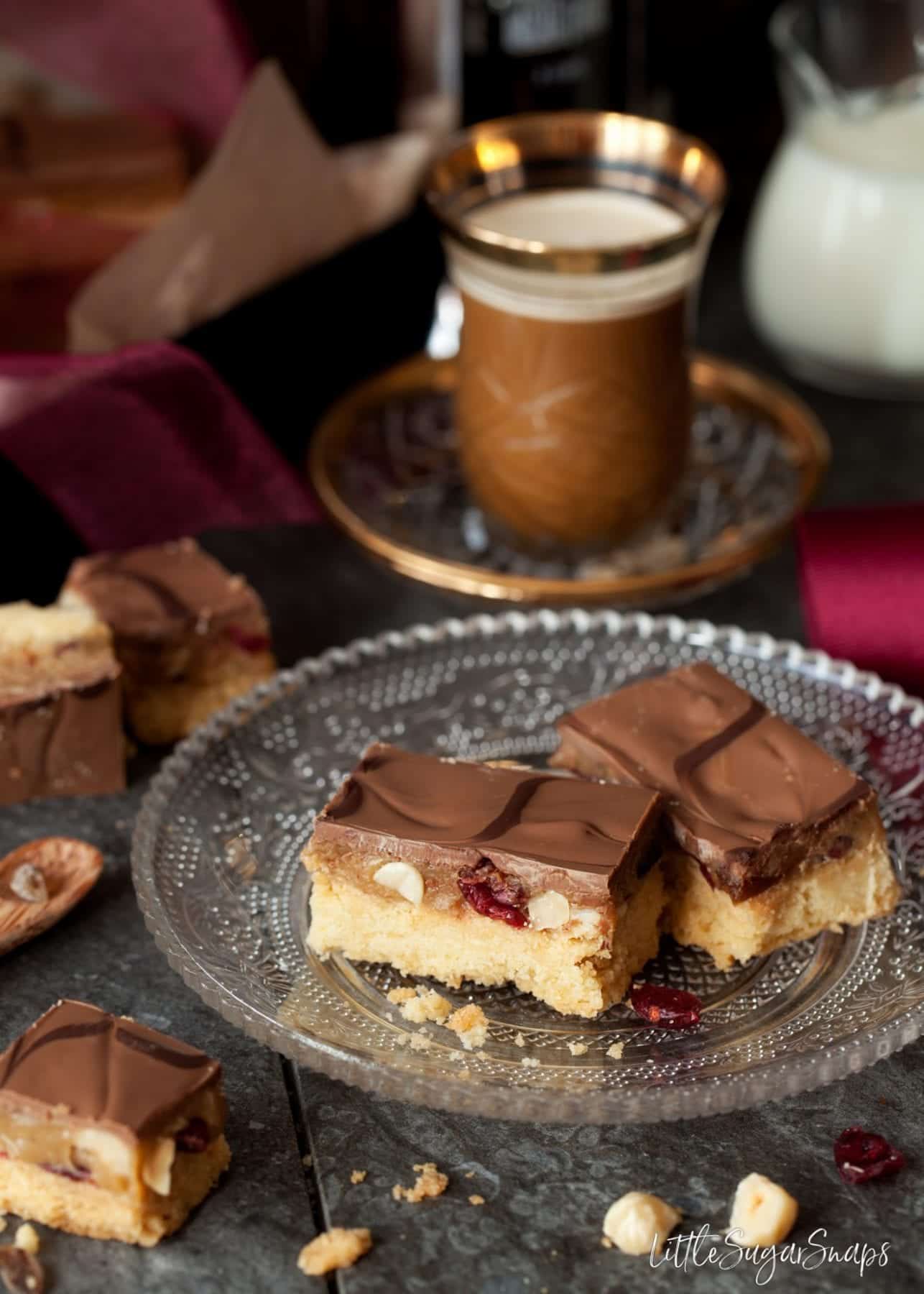 If you don't live in the UK, you might not have heard how cold it is over here at the moment. We are in the midst of a prolonged period of sub-zero temperatures even though it is the end of February and spring should be on the horizon. Not many people are happy about this – only the kids who have enough snow for school closures and are able to take to the nearest hill with a sledge. However, extended winter does mean we are entitled to a little more comfort baking, so I'm rolling out these this millionaire's shortbread with fruit and nuts today.
Hand on heart, I can tell you that I have yet to meet anybody who professes to not liking this bake. But, since there are already plenty of recipes out there for caramel shortbread, I've come up with an alternative: millionaire's shortbread with a twist. The simple addition of dried fruit and chopped nuts tunes this already decadent bake up a notch further.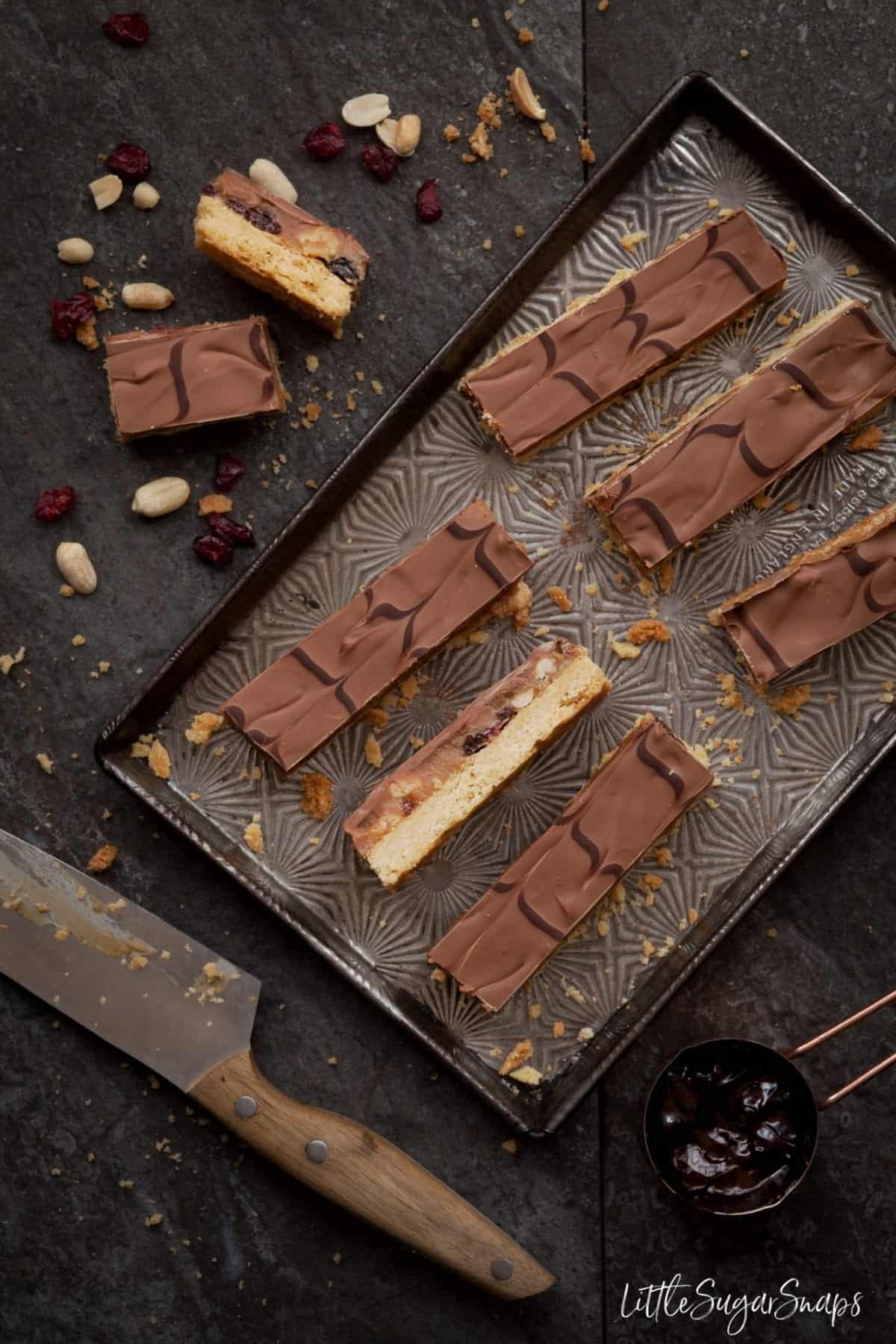 What is Classic Millionaire's Shortbread.
Caramel Shortbread and millionaire's shortbread are the same thing and these treats seem to have been universally popular since time began.
Traditionally, millionaire's shortbread consists of 3 layers:
rich, buttery and crisp shortbread on the base
a layer of thick, smooth caramel in the middle (usually made with condensed milk)
a thin layer of chocolate (usually milk or dark)
As for why is it called millionaire's shortbread – presumably, this decadent bake got its name because all of those indulgent layers stack up to quite a rich treat – rather like a millionaire.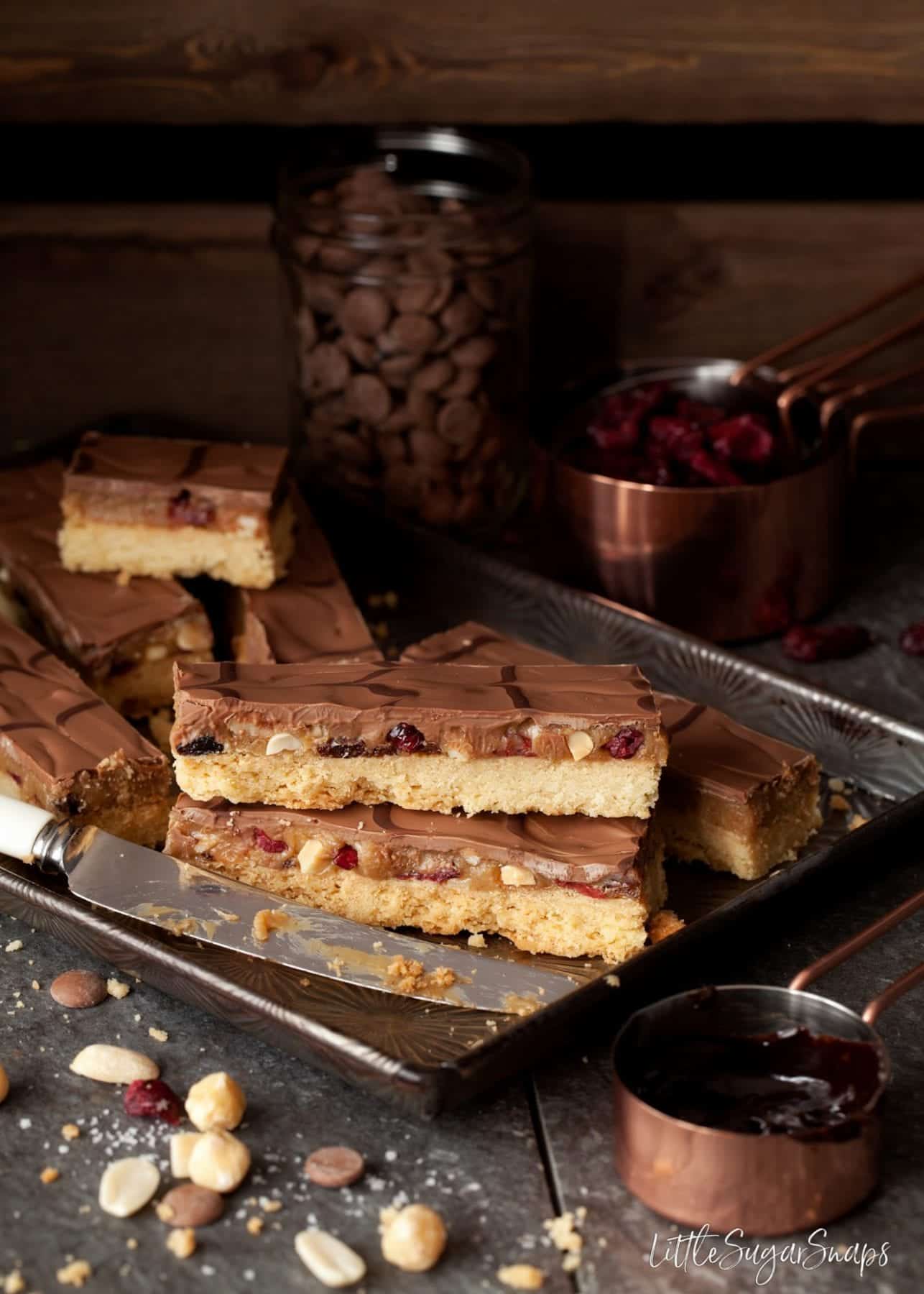 My millionaire's shortbread with a twist doesn't stray too far from this classic base. It's the same delicious layers of buttery, crumbly shortbread, silky smooth, golden caramel and chocolate, but with a few additions. For me, those extras were:
Dried cranberries
Raisins
Hazelnuts
Peanuts
All of these were scattered on top of the shortbread before the molten caramel was drizzled on top. Oh, and I also added a touch of sea salt since salt, nuts and caramel are all best buddies.
Of course, you can leave out the salt if desired and make substitutions. Almonds and macadamia nuts would work very well in this recipe too.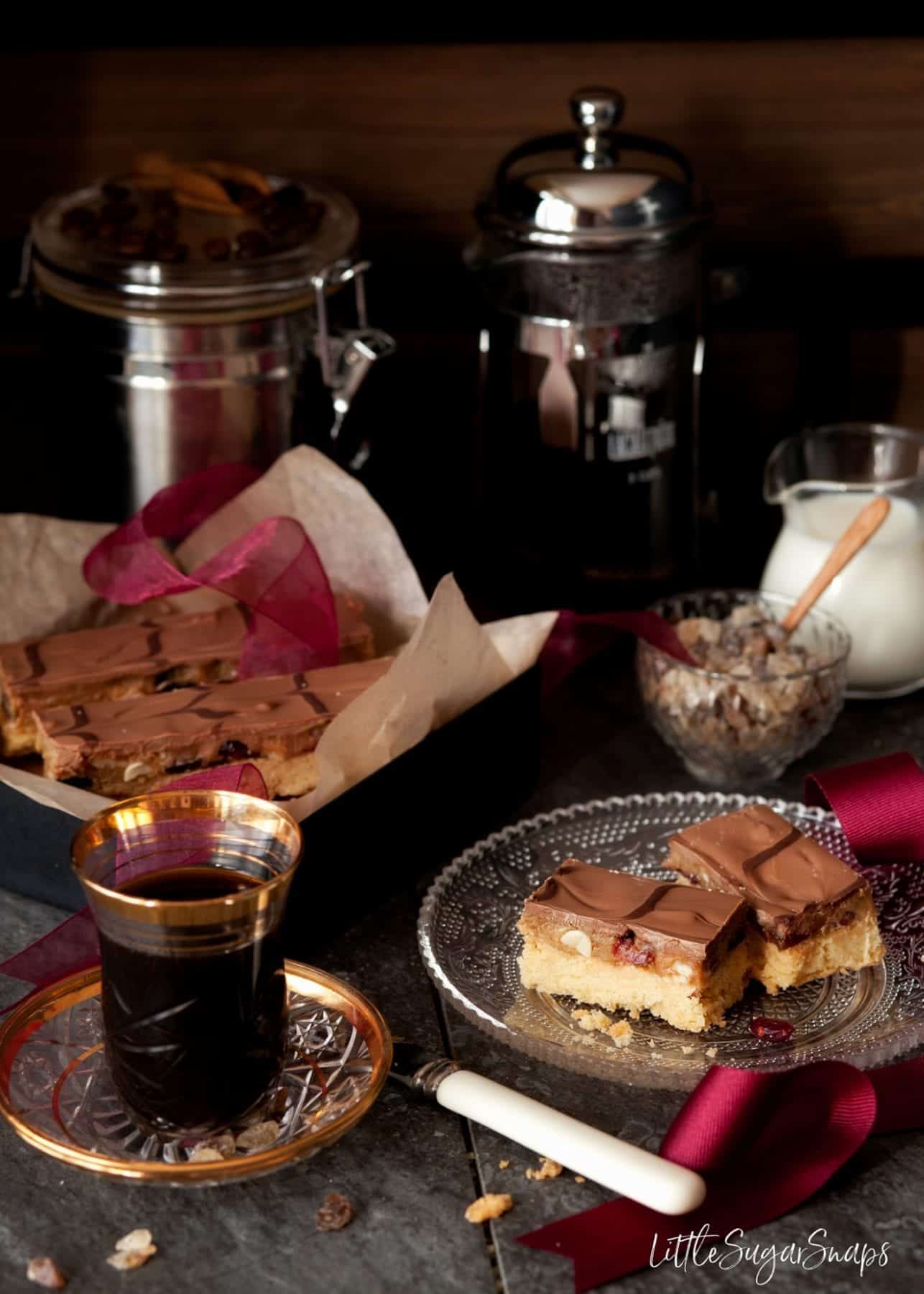 How to Cut Millionaire's Shortbread Without the Chocolate Cracking
There are few things that irritate me more in the kitchen than preparing a beautiful bake just for its perfect appearance to be ruined at the point of consumption. I used to plunge my knife straight into caramel shortbread and watch the neat layer of chocolate splinter left, right and centre. It was so disappointing.
These days I use a knife that I have warmed in hot water and dried. It makes the cutting process a much neater job. I tend to check my knife after a few cuts and re-warm as necesssary.
Can I freeze Millionaire's Shortbread?
As with the majority of Millionaire's Shortbread recipes, my fruit & nut variation makes a generous about of bars – I blame the size of the condensed milk tin. Ensure that you have plenty of people to help polish off these bars since they are more or less impossible to resist.
These bars will, however, last around 4 days if stored at room temperature in an airtight tin.
It is also possible to freeze millionaire's shortbread. The whole batch can be frozen before cutting or bars can be wrapped individually in clingfilm/ foil or parchment and stored.
Keep in the freezer for up to 1 month and defrost the shortbread fully before consumption.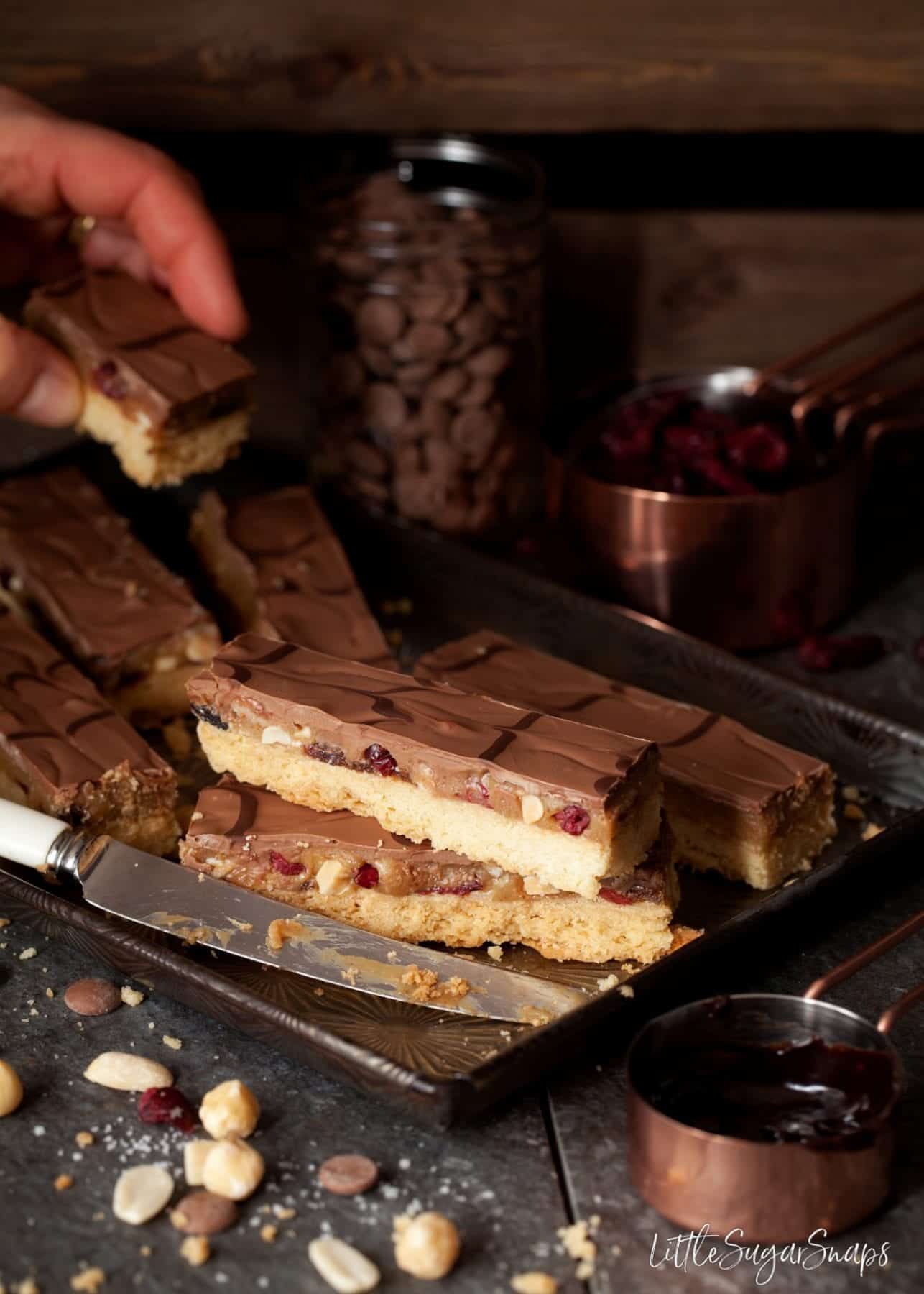 P.S. These bars make a lovely homemade gift.
More Caramel Recipes: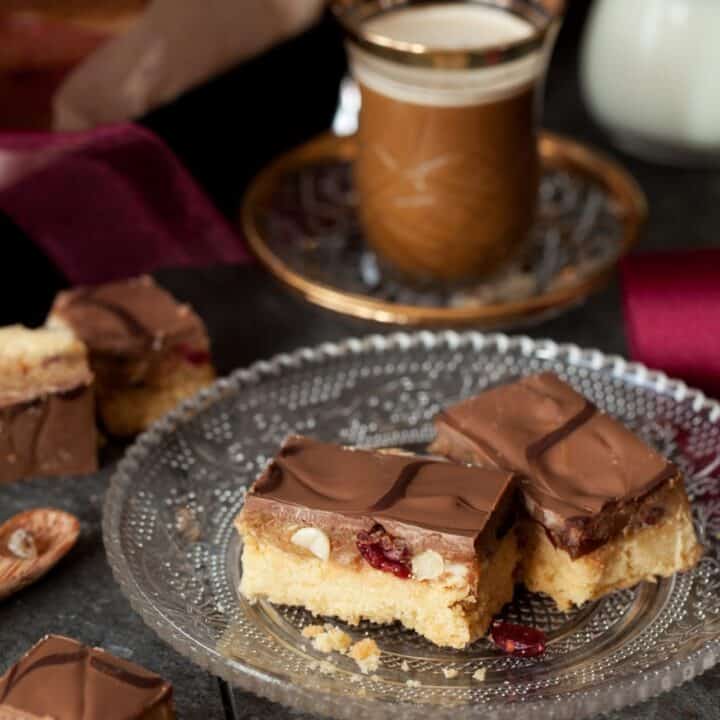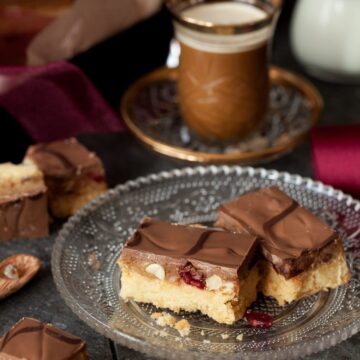 Fruit & Nut Caramel Shortbread
Fruit & Nut Caramel Shortbread is a simple twist on classic Millionaire's Shortbread. Rich & buttery shortbread biscuit is topped with raisins, cranberries and nuts, then covered in thick, smooth caramel and a thin layer of milk chocolate. These bars are a real treat.
Print
Pin
Rate
Ingredients
For the Shortbread
120

g/ ⅝ cup

Caster sugar

225

g/ 2 sticks

Butter, unsalted (softened)

250

g/ 2 cups

plain (all purpose) flour

100

g/ ½ cup

Semolina (fine)

Pinch

Salt
For the Fruit & Nuts
2

tablespoon

Dried cranberries

4

tablespoon

Raisins

2

tablespoon

Peanuts (unsalted, shells removed)

2

tablespoon

Hazelnut (unsalted, blanched)
For the Caramel
1 tin

(397g/ 14 oz)

Condensed Milk

110

110g/ ½ cup

Dark brown sugar

85

g/ ¾ stick

Butter (unsalted)

2

tablespoon

Golden syrup

½

teaspoon

Sea salt flakes (optional)
For the Chocolate Topping
200

g/ 1 ⅓ cups

Milk Chocolate

40

g/ ¼ cup

Dark Chocolate
Instructions
Make the Shortbread
Preheat oven to 150C/ 200F/ GM2 and line a 30cm x 20cm baking tin (at least 2.5 cm/ 1 " deep) with baking parchment

Put all ingredients into a large mixing bowl and rub the butter into the dry ingredients. At first it will resemble breadcrumbs but keep on rubbing in until it comes together in a dough

Spread the dough out evenly into the base of the baking tin, press down firmly and evenly. Prick all over with a fork and bake for 30-40 mins until golden
Add the Fruit & Nuts
Roughly chop the hazelnuts and peanuts then scatter over the cooled shortbread

Likewise, scatter the cranberries and raisins over the shortbread
Make the Caramel
Grind the sea salt using a pestle and mortar

Put all of the caramel ingredients (except the salt) into a heavy based pan set over a medium heat. Stir frequently until the sugar has dissolved

Turn up the heat slightly, and allow to boil gently until the temperature reaches 112°C – 115°C (234°F – 240°F). This is the soft ball stage. If you do not have a sugar thermometer, you can test for readiness by dropping a small amount of the caramel into some chilled water – it should form a firm ball that does not flatten when removed from the water, but squishes when squeezed

Once the caramel is ready, take the pan off the heat, add the salt, then stir thoroughly. Plunge the bottom of the pan into cold water to stop the cooking process. Set aside and allow to cool for 5 minutes

Stir well, then pour over the shortbread, fruit & nuts. Set aside for at least 2-3 hours to firm up and cool completely
For the Chocolate Topping
Melt the milk chocolate and the dark chocolate and spread over the caramel layer

Working quickly, pour the milk chocolate over the caramel and spread it out to cover it entirely. Pipe or drizzle thin lines of dark chocolate over the milk chocolate and drag a cocktail stick through the chocolate to create a feathered effect

Allow to cool and set before cutting into squares (tip: if you can be patient, using a warm knife to score through the chocolate helps to stop the chocolate cracking in all directions and gives you neater squares).

Keep in an airtight container for up to 4 days
Nutrition Per Serving (Approximate)
Calories:
453
kcal
|
Carbohydrates:
53
g
|
Protein:
5
g
|
Fat:
26
g
|
Saturated Fat:
15
g
|
Cholesterol:
48
mg
|
Sodium:
248
mg
|
Potassium:
168
mg
|
Fiber:
3
g
|
Sugar:
28
g
|
Vitamin A:
553
IU
|
Vitamin C:
1
mg
|
Calcium:
25
mg
|
Iron:
2
mg
(Visited 590 times, 4 visits today)