A Hearty Beef Stew and dumplings is pure comfort on a cold winters night. Simple to prepare and slow-cooked, it's a crowd-pleasing meal to serve up. This version, with the addition of pickled walnuts and blue cheese, is a little more exciting than most.
Not much can beat a bowl of hearty beef stew and dumplings when it comes to comfort food in the dead of winter. Succulent chunks of beef, cooked slowly until meltingly tender, alongside plenty of winter vegetables and rich, thick gravy. Yes, stew is a one-pot meal that is easy to make and deeply satisfying. Magic.
But despite how flavourful a classic beef stew is, life would be boring if we always followed a traditional recipe. Sometimes it's good to ring the changes.
By adding some finely diced pickled walnuts and topping this already hearty beef stew with blue stilton dumpings a transformation can be made.
It's classic stew with a little bit more attitude. The walnuts add an extra zip of subtle flavour to the stew and also partner with those fluffy blue cheese dumplings perfectly.
What are Pickled Walnuts?
Pickled walnuts are a traditional English pickle, made from walnuts. To be precise, they are made from soft green walnuts that have been soaked first in brine, to soften them, and then in a pickling solution to flavour them.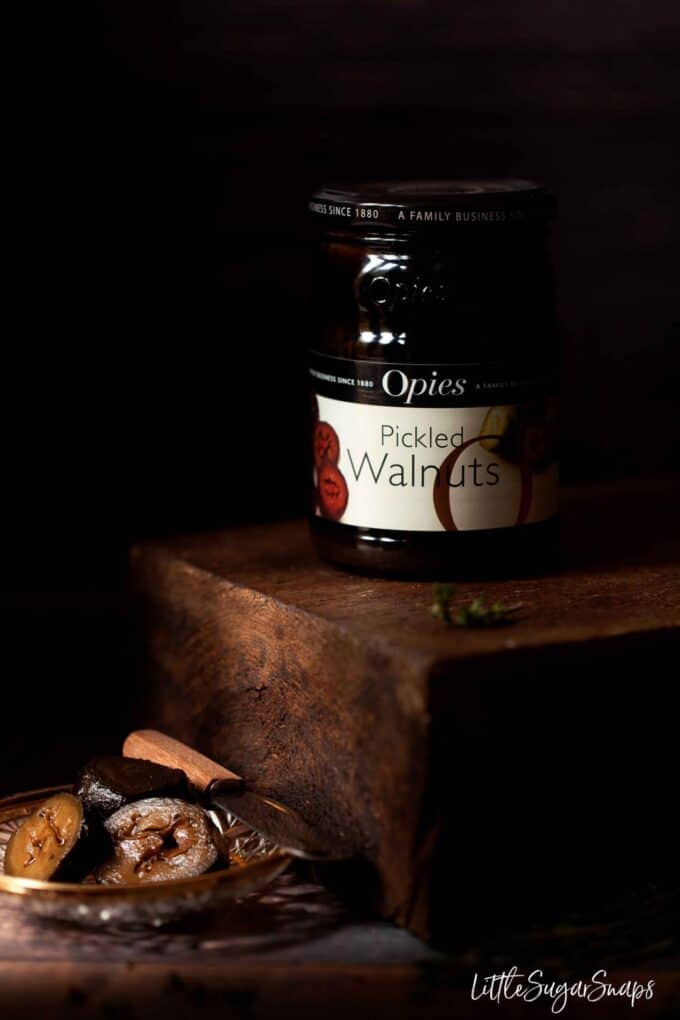 Pickled walnuts are soft, salty and tangy. They are commonly found on cheeseboards, especially at Christmas and they pair particularly well with blue cheese and cheddar.
Pickled Walnuts are an integral ingredient in this stew, adding a little pizazz to the flavour profile. The walnuts are chopped finely and stirred in so that the flavour penetrates the entire dish, perking it up with a subtle hint of tanginess.
But they have many other uses too. Aside from adding them to a rich beef stew, try pickled walnut recipes with venison too. And they are fantastic in a meat pie.
For a lighter option, try them in a salad, alongside cold cuts of meat or with gnocchi. There are plenty of pickled walnut recipes around if you go looking for them.
I used Opies pickled walnuts in this hearty beef stew. Opies are a well established UK company with a solid reputation for producing high-quality pickles and preserves.
Their pickled walnuts are stocked in all major supermarkets including Tesco, Sainsbury's, Morrisons, Asda, Waitrose etc... They can also be picked up online in many other countries.
How to make this Hearty Beef Stew
Making this hearty beef stew and dumplings is very easy. Follow these simple steps to a pan loaded with the ultimate winter comfort food:
Begin by browning the beef in a large oven-proof casserole pot
Next fry the onion, celery, garlic and bacon until soft
Stir in the flour and then let the red wine evaporate in the pan
Add the allspice, black pepper and bay leaves along with the baby onions, mushrooms, pickled walnuts and thyme
Return the browned meat to the pan and pour in stock
Stir everything together, pop on the pan lid and cook for 2 ¾ hours
Add the potatoes, carrots and Jerusalem artichoke to the pan and cook for a further 45 minutes
Make the dumplings when there is 10 minutes cooking time left: Put the flour, baking powder, suet, cheese and thyme into a small mixing bowl. Add enough milk to form a soft but not sticky dough. Roll into equal-sized balls
Top the stew with the dumplings, cover and cook for a further 30 minutes – removing the lid after 20 minutes for a crisper finish to the dumplings if preferred
The total cook time is around 4 hours, but hands-on time is only 30 minutes. This is an absolute steal for such a flavourful culinary reward. This is perfect low maintenance food to serve to a hungry family or house guests.
Tips for Making Really Good Beef Stew
It's fairly hard to completely mess up a classic beef stew and dumplings, but it's easy to elevate a good stew into a wonderful stew if you bear the following points in mind:
Pick your meat wisely. A slow-cooked stew needs beef with some fat, so avoid the pricier lean cuts and plump for the tougher, fattier cuts. Use chuck steak, round steak, blade steak, topside, silverside or skirt steak. Alternatively, pick up your butcher's dedicated stewing/ braising steak. All of these cuts benefit from the slow cook time a stew dictates. They break down and become really tender
Browning the meat is the first step in building up a rich & deep flavour profile in your stew. Heat the pan to very hot before adding the beef and turn the meat frequently to allow it to brown on all sides
Always brown your meat quickly and in small batches. Don't be tempted to add all the meat in one go. Overcrowding the pan with meat means that the heat is reduced and more moisture is released from the meat than can be evaporated quickly. The result is a layer of steam which prevents browning
Don't rush it. Recipes vary, but stews can take between 3-4 ½ hours to cook on a low heat. It's this slow cooking that helps tenderise the meat
Add a little more stock to the pan if necessary. Stews need a rich, thick gravy, so don't be afraid to top up if too much liquid evaporates during cooking
Add the vegetables partway through the cooking process to avoid them turning mushy. Chop root vegetables chunky and go for 1- 1 ½ hours in the oven. Smaller vegetables such as peas will only need a few minutes at the end of the cooking time
At the point of serving, add a pop of colour using fresh herbs - it livens up the presentation no end
Can I Freeze Beef Stew?
As for leftovers, these can be stored in the fridge and reheated gently within a few days. I personally do not recommend freezing this stew since the texture of potatoes changes significantly afterwards and not in a good way.
If you do decide to freeze and eat at a later date, perhaps pick out the potatoes beforehand. Defrost fully at room temperature and then reheat gently. Serve alongside some freshly boiled potatoes, or better still, some creamy mashed potato.
Find More Hearty Main Meals:
This post was written in association with Opies Foods and their Pickled Walnut Christmas Competition 2019 - it won first prize! Use #pickledwalnutrecipe on social media to find more pickled walnut recipes.
Hearty Beef Stew with Pickled Walnuts and Stilton Dumplings
A Hearty Beef Stew is pure comfort on a cold winters night. Simple to prepare and slow-cooked, it's a crowd-pleasing meal to serve up. This version, with the addition of pickled walnuts and blue cheese dumplings, is a little more exciting than most.USE THE TOGGLE BUTTON AT THE BOTTOM OF THE INGREDIENTS LIST FOR U.S. MEASURES
Print
Pin
Rate
Ingredients
3

tablespoon

Olive oil

600

g

Braising steak

1

Large white onion

2

Celery stalks

2

Rashers streaky bacon

1

Garlic clove

1 ½

tablespoon

Plain (all-purpose) flour

60

ml

Red wine

12

Baby onions/ shallots

4

Allspice berries

2

Bay leaves

¼

teaspoon

Ground black pepper

60

g

Pickled walnuts

500

ml

Beef stock

200

g

Chestnut mushrooms

400

g

Carrots

250

g

Baby potatoes

250g

Jerusalem artichokes

10

g

Fresh thyme
For the Stilton Dumplings
120

g

Plain (all-purpose) flour

½

teaspoon

Baking powder

50

g

Beef or vegetable suet

30

g

Blue Stilton cheese

(or other strong blue cheese)

4-5

tablespoon

Whole (full-fat) milk
Instructions
Make the hearty Beef Stew
Preheat oven to 160C/ 320F/ GM 2 ½

Chop the beef into 1-1.5 inch cubes if necessary, and season

Heat a large casserole pan and add ½ the oil then fry ½ of the beef, turning frequently until the meat is browned all over. Remove from the pan and fry the remaining meat in the same way. Set all meat aside

Finely dice the large onion and celery sticks and add to the pan along with the remaining oil. Fry for 2-3 minutes. Crush the garlic clove and chop the bacon then add to the pan and continue to cook until the vegetables are soft

Split the allspice berries open using a pestle and mortar or the end of a rolling pin. Sprinkle into the pan with the bay leaves and black pepper

Stir in the flour and cook for 1 minutes, then deglaze the pan with the red wine. Allow the liquid to evaporate

Peel the baby onions and wipe the chestnut mushrooms. If the mushrooms are large chop in half. Place in the pan and then return the browned meat to the pan. Dice the pickled walnuts and scatter into the pan with a few sprigs of fresh thyme

Pour the stock over everything, give a good stir, cover and cook for 2 ¾ hours, stirring midway through

Just before the cooking time is up, peel and chop the carrots and Jerusalem artichoke into thick pieces. Add to the pan with the potatoes and cook for a further 45 minutes

Make the dumplings when there is 10 minutes cooking time left: Put the flour, baking powder and suet into a small mixing bowl. Strip approx 1 tablespoon thyme leaves from their stems and crumble the cheese. Add both to the bowl and stir then add just enough milk to form a soft but not sticky dough. Using floured handles roll into 8 equal-sized balls

Top the stew with the dumplings, cover and cook for a further 30 minutes - removing the lid after 20 minutes for a crisper finish to the dumplings

Check and adjust seasoning as necessary, then serve straight away with a sprig of thyme to garnish
Nutrition Per Serving (Approximate)
Calories:
1096
kcal
|
Carbohydrates:
79
g
|
Protein:
45
g
|
Fat:
67
g
|
Saturated Fat:
23
g
|
Cholesterol:
129
mg
|
Sodium:
625
mg
|
Potassium:
2239
mg
|
Fiber:
10
g
|
Sugar:
21
g
|
Vitamin A:
16906
IU
|
Vitamin C:
33
mg
|
Calcium:
229
mg
|
Iron:
10
mg
(Visited 591 times, 1 visits today)