Bright and cheerful, with a light, sweet, nutty crumb. These Pistachio Cupcakes come adorned with a rich & creamy, only just sweet topping. The fanciest of cupcakes is yours for the taking.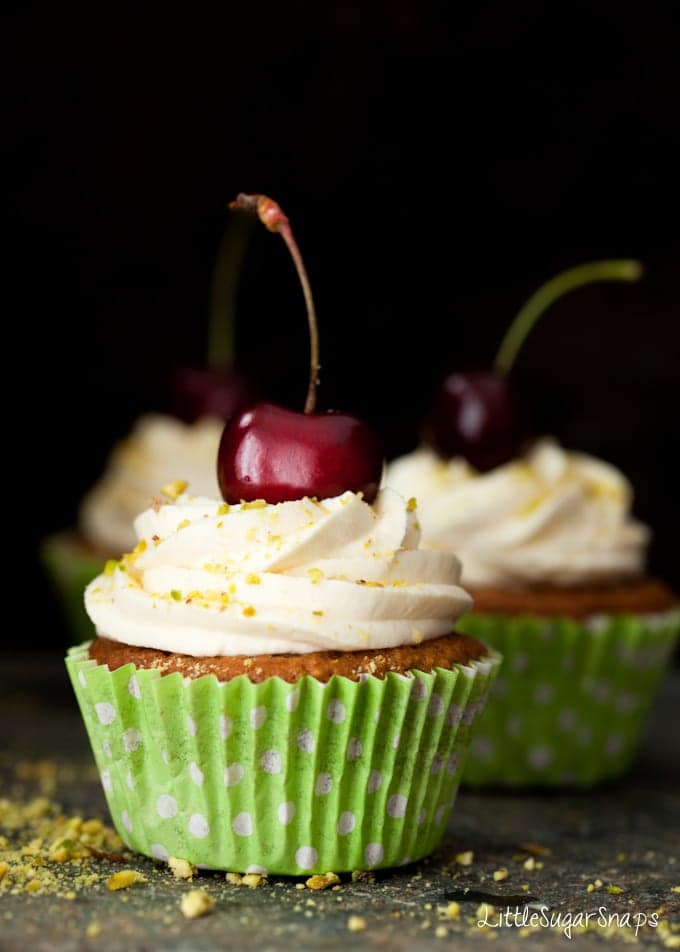 I'm a sucker for a good cupcake. And no, I'm not talking about the ones that have been given the kid friendly makeover with a mountain of sweet buttercream on top (though, in truth, I'd be hard pushed to decline one). Nope, I'm talking about cupcakes with interesting flavours and a much more subtle topping, like these Pistachio Cupcakes that come delivered to you with a barely sweet Mascarpone cream topping.
The mix for these Pistachio Cupcakes started life as a layer on a birthday cake for one of my daughters earlier this year. The cake – a spin on Neapolitan ice cream consisted of three layers – hibiscus, white chocolate and pistachio. It was good… very good. But whilst we all enjoyed this cake, it was the pistachio sponge that got everybody talking. As it was so popular, I decided I really should create some cupcakes from the recipe, because it's not everyday of the week I can justify baking a triple layered cake for the four of us.
And here they are. These Pistachio Cupcakes are cheerful individuals, with a sweet, nutty taste and texture. The crumb is light, with a little added depth and bite due to those vivacious little nuts.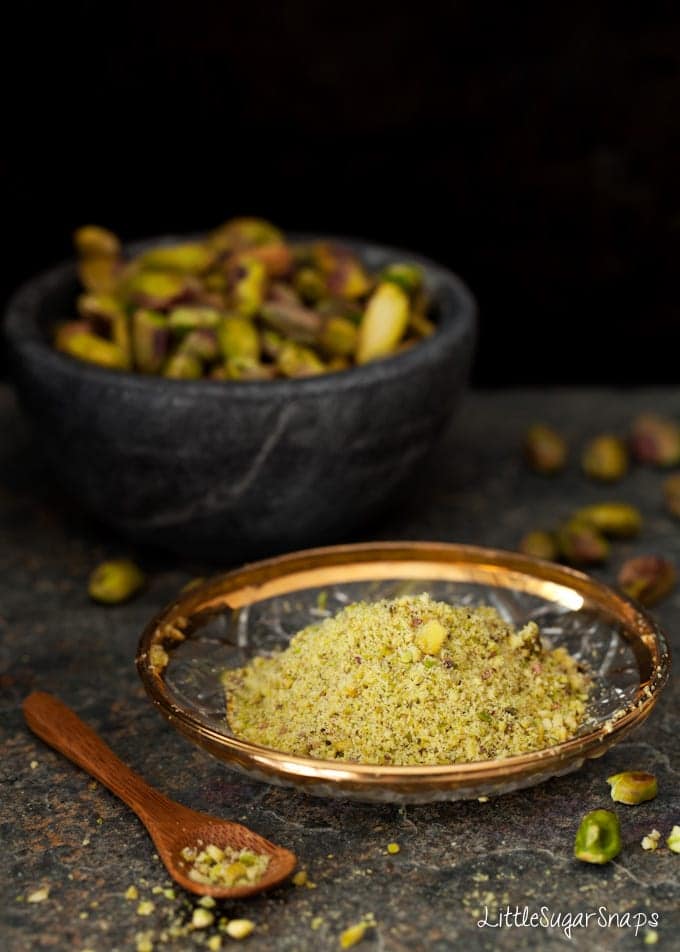 I love a bit of colour when I'm cooking, so I boosted the hue of these cupcakes with a tiny dab of green food colouring, but that is entirely optional – they will look just fine au naturel.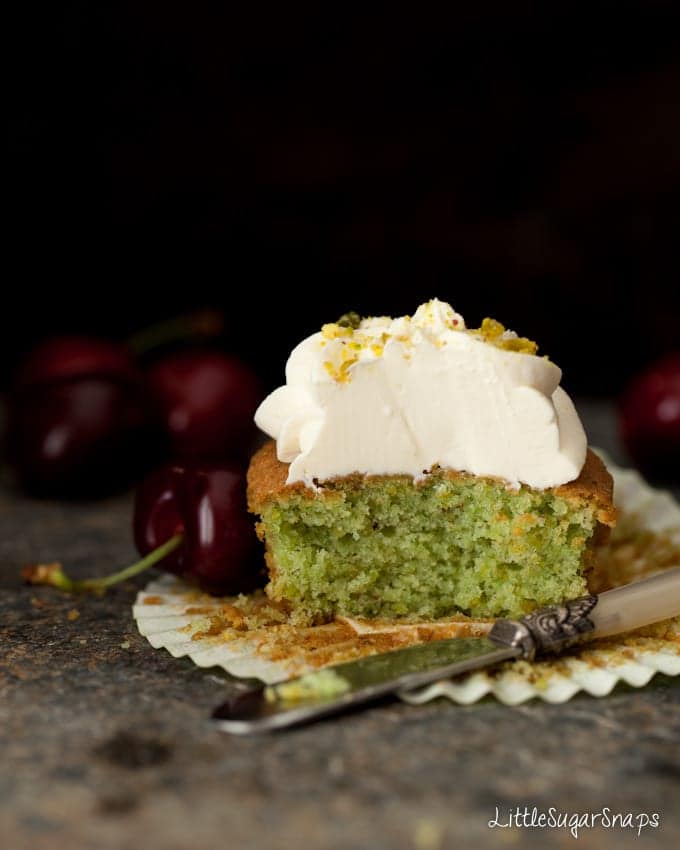 Since I wanted the pistachio to be star of the show, I've deliberately kept the topping simple. It is creamy and rich, yet it has only a slight sweetness to it. Just a scattering of chopped or ground pistachios is all that is really needed.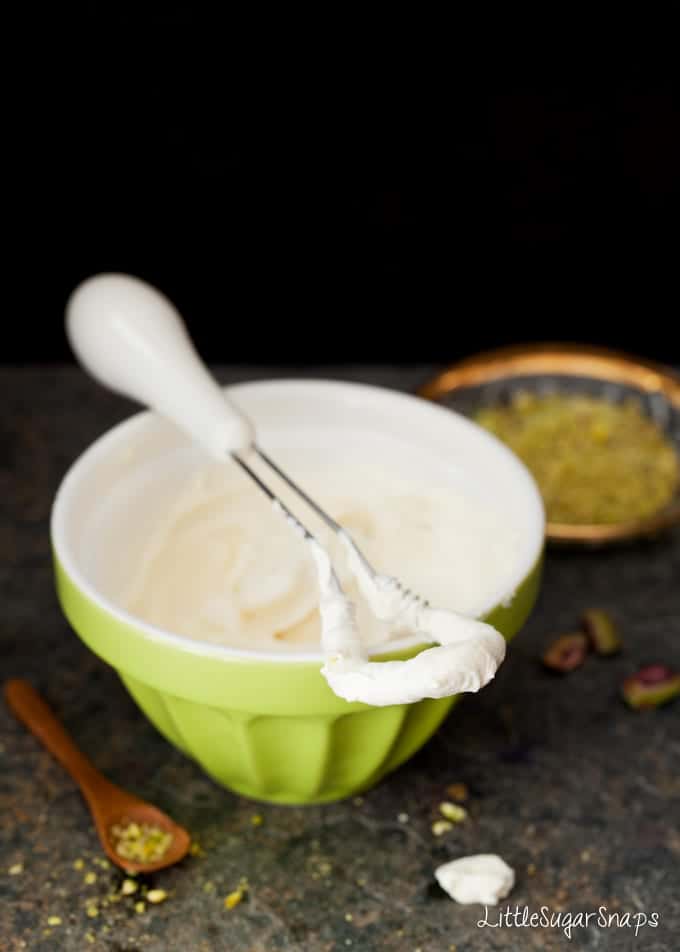 I hadn't planned on topping my cupcakes with cherries, but I caught sight of them in the fruit-bowl at the point of piping on the creamy topping and I knew, instantly, that it was the only way I should go.
You should know by now that
cherries
and me belong together all summer long.
It's no secret.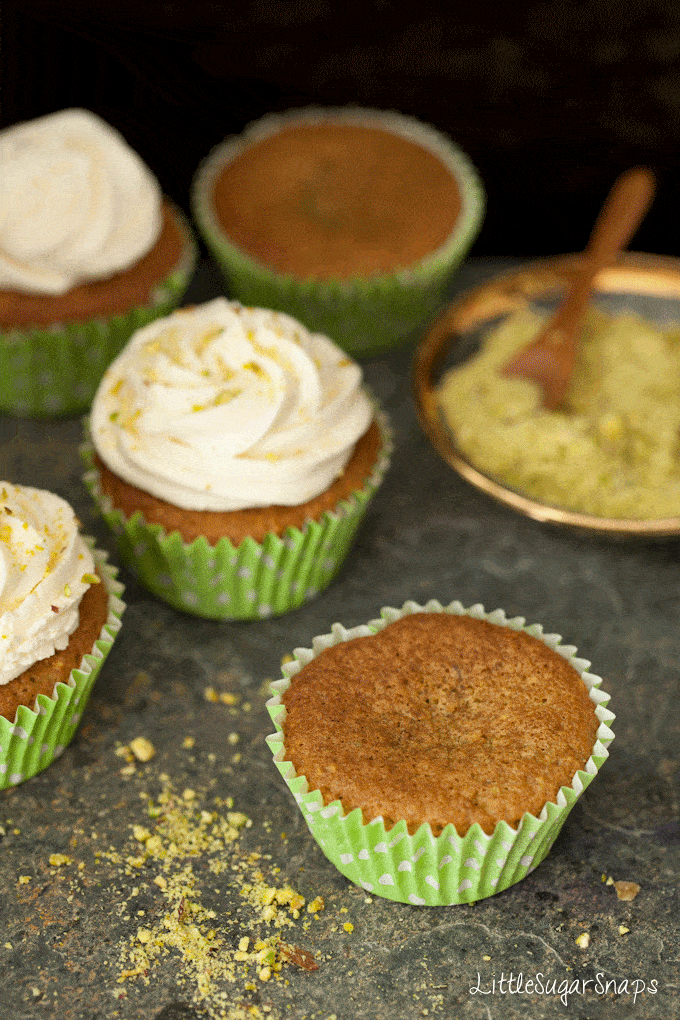 I'm by no means knocking regular cupcakes, my friends, but if you fancy baking something bright, colourful and delightfully flavoursome, then give these Pistachio Cupcakes a crack. It wasn't just the adults wowing over the pistachio sponge cake.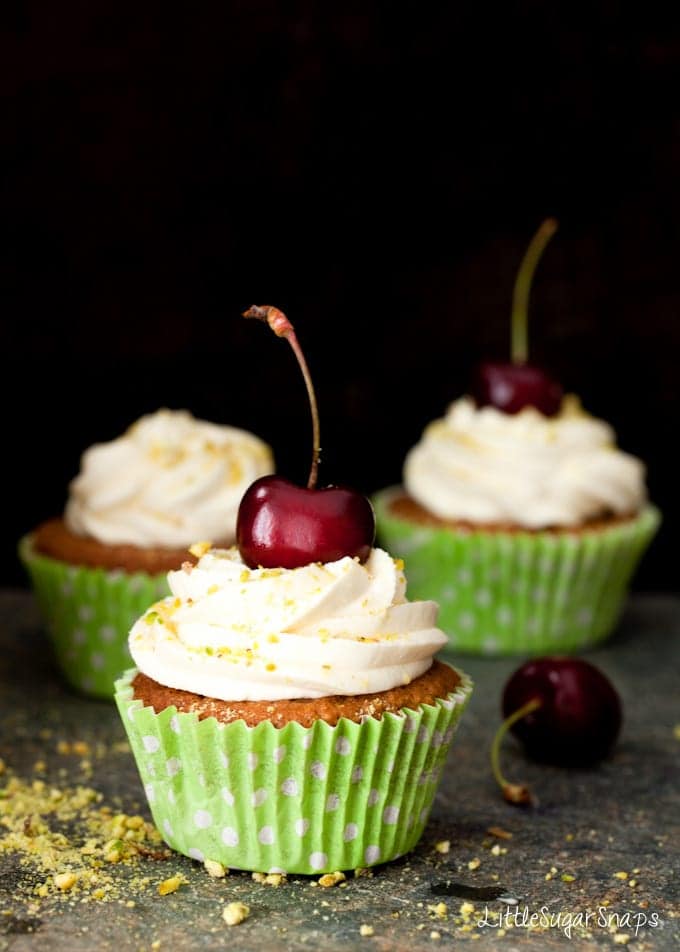 Looking for another interesting cupcake – how about Carrot, Coconut & Spelt?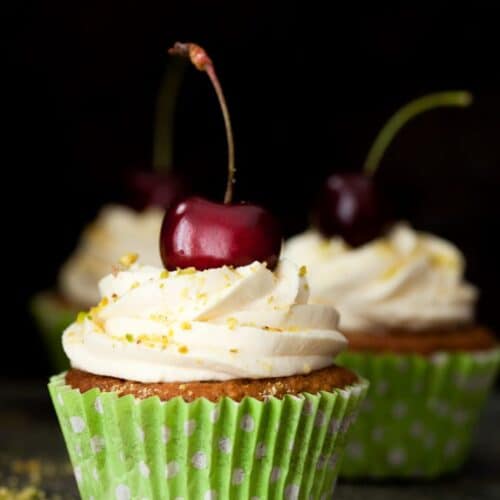 Pistachio Cupcakes
Bright and cheerful, with a light, sweet, nutty crumb. These Pistachio Cupcakes come adorned with a rich & creamy, only just sweet topping. The fanciest of cupcakes is yours for the taking.
Print
Pin
Rate
Ingredients
100g/ 3 1/2oz

caster sugar

100g/ 3 1/2oz

butter - softened

100g/ 3 1/2oz

plain

(all purpose) flour

1 tsp

(level) baking powder

60g/ 2oz

ground pistachio nuts

2

large eggs

2 tbsp

milk

green gel food colouring

(optional)
For the topping
250g/ 9oz

Mascarpone Cheese

400ml

double

(heavy) cream

3 tbsp

Icing sugar

1 tsp

vanilla extract
To Garnish
Chopped/ ground pistachio nuts

12

fresh cherries

(optional)
Instructions
Preheat the oven to 170°C/ 325°F/ GM3 and line a 12-cup cupcake/muffin pan with cupcake liners

Sieve the flour and baking powder into a small bowl. Add the ground pistachio nuts and stir briefly to combine

In a large bowl beat the sugar and butter together until pale and fluffy

Add the eggs, one at a time, beating well between each addition

Beat in the milk and a little green colouring (if using) with a spoonful of the flour mixture

Mix in the remaining flour mix

Divide between 12 baking cases

Bake for 17-20 minutes until well risen and a cocktail stick inserted into the centre comes out clean

Allow to cool completely
Make the topping
Beat the mascarpone cheese until smooth

Add the double cream, vanilla extract and the icing sugar and beat again until the icing holds a firm, but gentle peak

Spoon into a piping bag and pipe the cream onto the cupcakes using a 1 cm star nozzle

Scatter a few chopped pistachios on top and garnish with a cherry
Notes
I used a coffee grinder to grind my pistachios. If your food processor has a small bowl attachment, this would work well too. Grind in short bursts until medium fine - a little bit of texture is good. Don't overwork the nuts else they will end up moist and clumpy rather than fine and dry.
I recommend decorating these cupcakes just before serving since the icing contain so much cream and Mascarpone cheese. Once iced, any leftovers can be stored in the fridge - just bring out 30-45 minutes before serving to take the chill off the sponge cake
Un-iced cakes can be stored in an airtight container for up to 3 days.
Pin these Pistachio Cupcakes: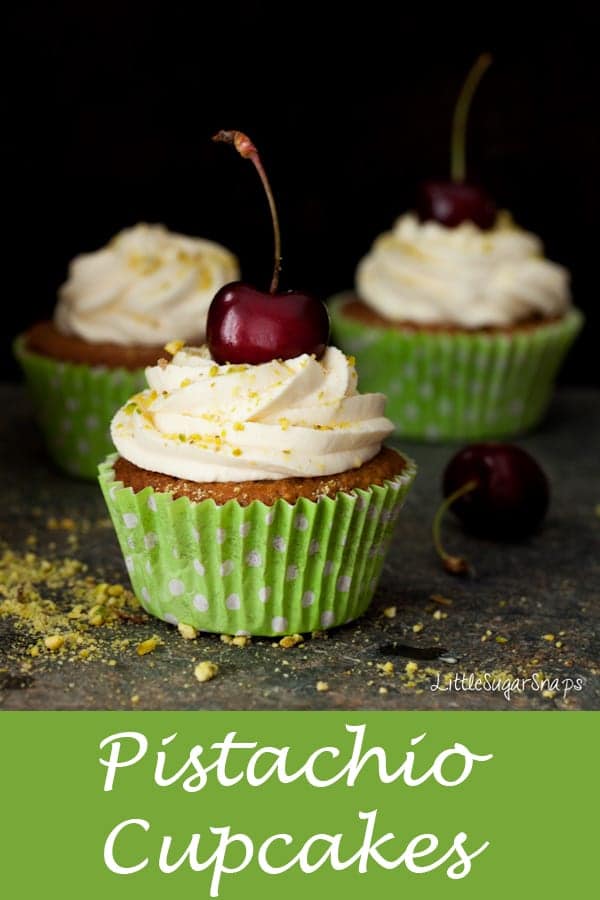 (Visited 215 times, 5 visits today)