Pistachio Lemon Battenberg Cake is a fantastic twist on a longstanding British tea-time favourite. Zesty lemon and sweet, nutty pistachios are a match made in homemade pistachio marzipan heaven.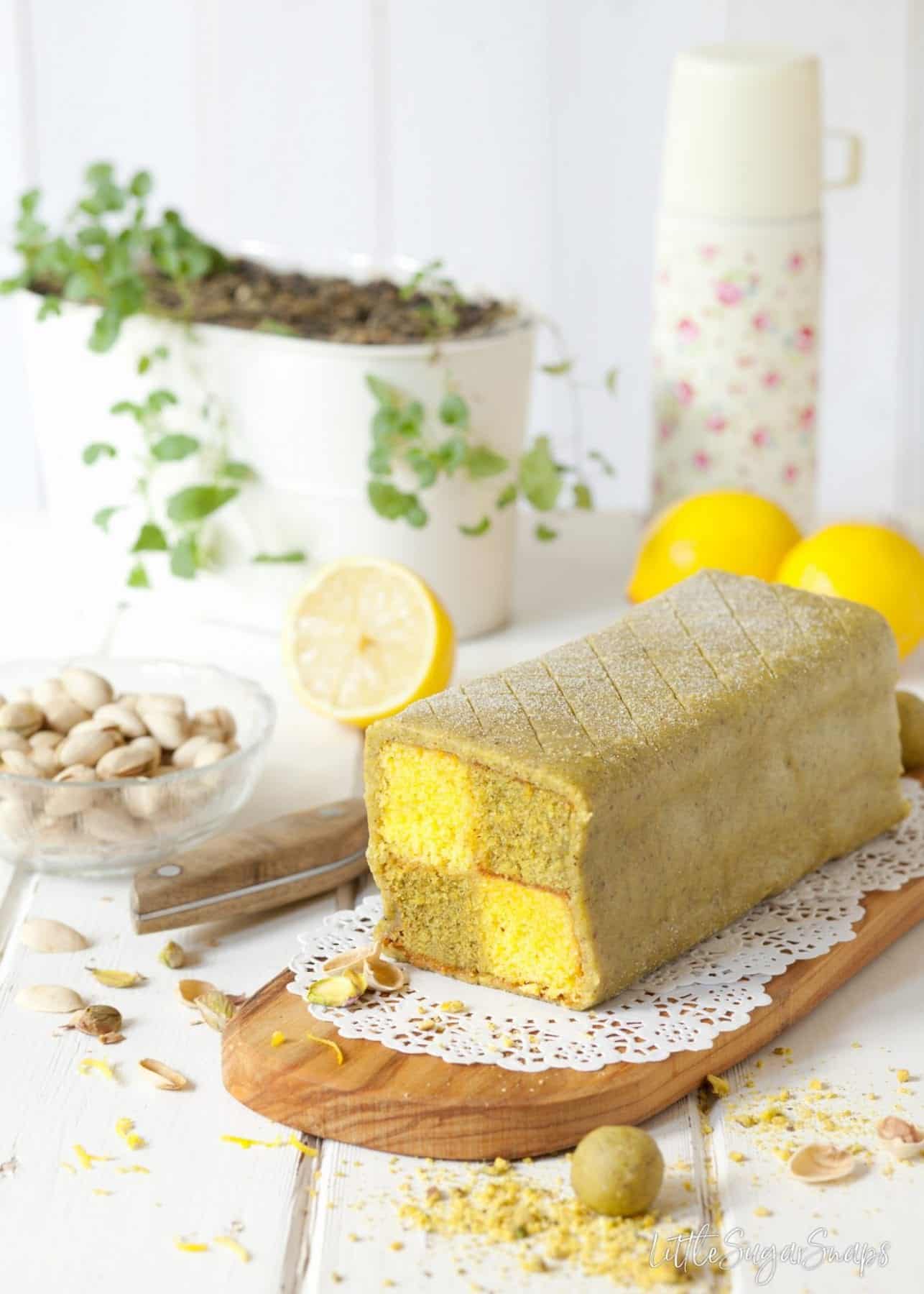 This post contains affiliate links. As an Amazon Associate, I earn from qualifying purchases.
Well today I learned something new. Several things actually. Since my recipe today is for Battenberg Cake I thought I'd better get the spelling right. I was 90% certain it was Battenburg cake, but, as I'm 100% wrong on that count, I'm so pleased I checked before publishing my recipe today. Now I've cleared my spelling issues up let's say hi to my version of this distinctive cake: Pistachio Lemon Battenberg complete with homemade pistachio marzipan.
One of the perks of blogging (and having to check certain spellings) is that every so often, recipe related research leads on to the discovery of interesting facts. Okay, most of these facts may be trivia, but a stash of trivia knowledge is always handy for winning pub quizzes. Or embarrassing the kids in front of their mates. So here goes…. did you know:
The Battenberg Cake originated in England
Alternative names for it include: Domino Cake; Neapolitan Roll and Church Window Cake
The cake was supposedly named in honour of the marriage of Princess Victoria, granddaughter of Queen Victoria, to Prince Louis of Battenberg in 1884
Battenberg is a town in Hesse (Central Germany) and the seat of the aristocratic family known in Britain as Mountbatten. Ah yes, the Mountbatten family…
… Prince Philip adopted the name Mountbatten, when he became a naturalised British subject. Mountbatten is an Anglicised version of his mother's family name Battenberg
And that, my friends, explains the link between our Mountbattens and Battenberg Cake that has been at the back of my mind since forever.
Enough with the trivia, let's get to the Pistachio Lemon Battenberg Cake itself. What could be more tempting that distinctive green pistachio and yellow lemon sponge squares held together with zesty lemon curd in a chequered pattern and wrapped up in a soft & sweet layer of homemade pistachio marzipan? This is a modern twist on the classic Battenberg Cake that has been a longstanding and much loved teatime treat in Britain. I'm hoping that my lemon & pistachio flavours will encourage you to have a go at baking your own Battenberg Cake.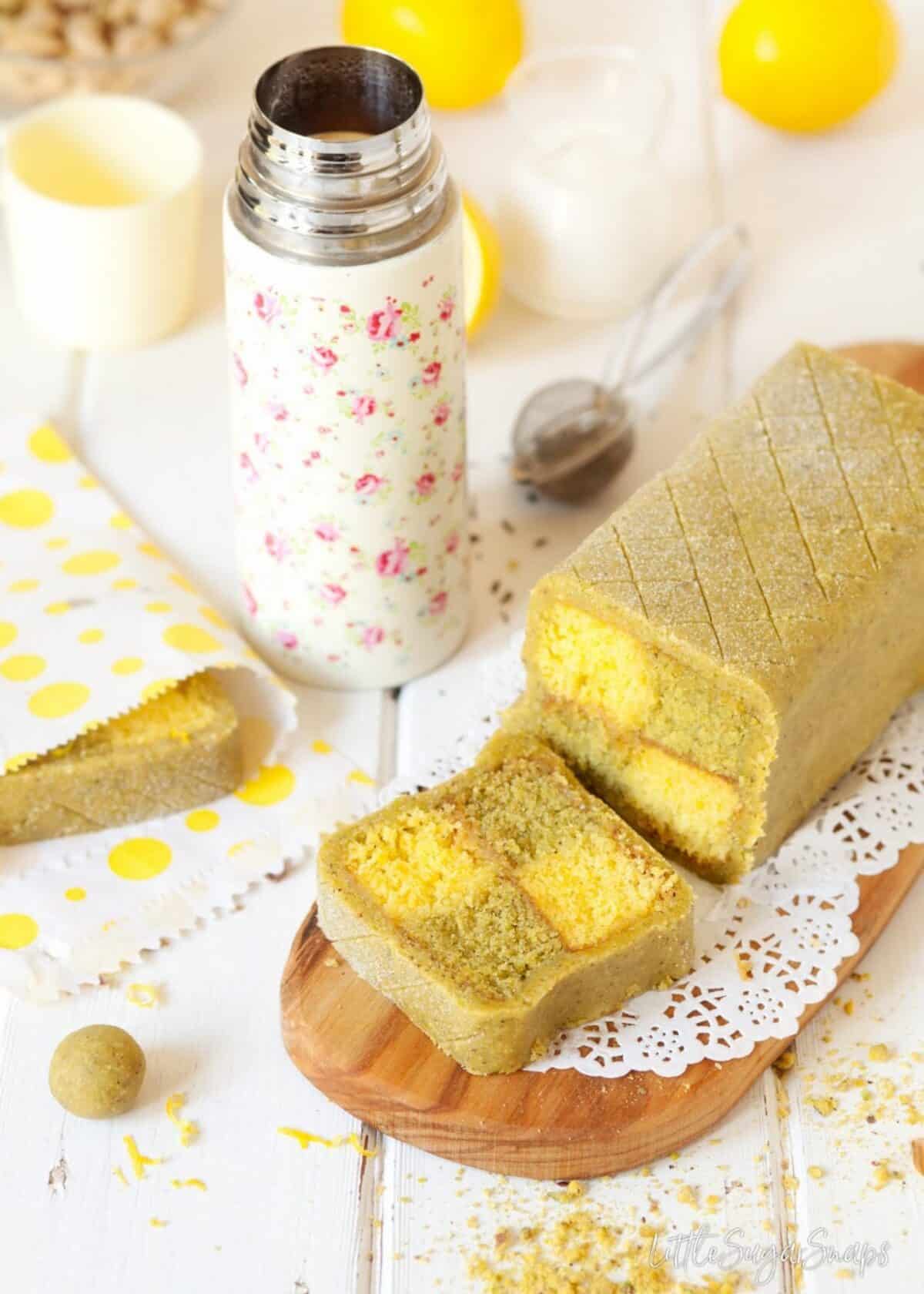 The good news is that making a Battenberg Cake at home is easier than you might think. Especially if, like me, you happen to own a baking tin designed for just this purpose. The recipe I list is just sufficient for this tin which measures 8″ x 6″. Check the dimensions of your tin and adjust the recipe if required. Oh, and if you do not own such a tin, pop one on your birthday/ Christmas list ASAP. In the meantime, here's a quick tutorial from Mary Berry & Paul Hollywood on how to bake the cake using a regular cake tin.
The first time I made this cake I used just pistachio nuts in the marzipan. I found the result to be a little on the heavy side. Second time around I used a blend of pistachios with almonds which gave a much more agreeable marzipan. Nutty, sweet and utterly moreish. When it comes to rolling out the marzipan I draw a rectangular template onto a sheet of baking parchment and use it as a rolling out guide. It's really easy to misjudge the size of the rectangle needed and end up with a partially covered cake. Using a correctly sized template helps ensure success.
This Pistachio Lemon Battenberg Cake makes a great addition to afternoon tea or it can be sliced and wrapped ready for lunchboxes or transporting on a picnic when Spring emerges.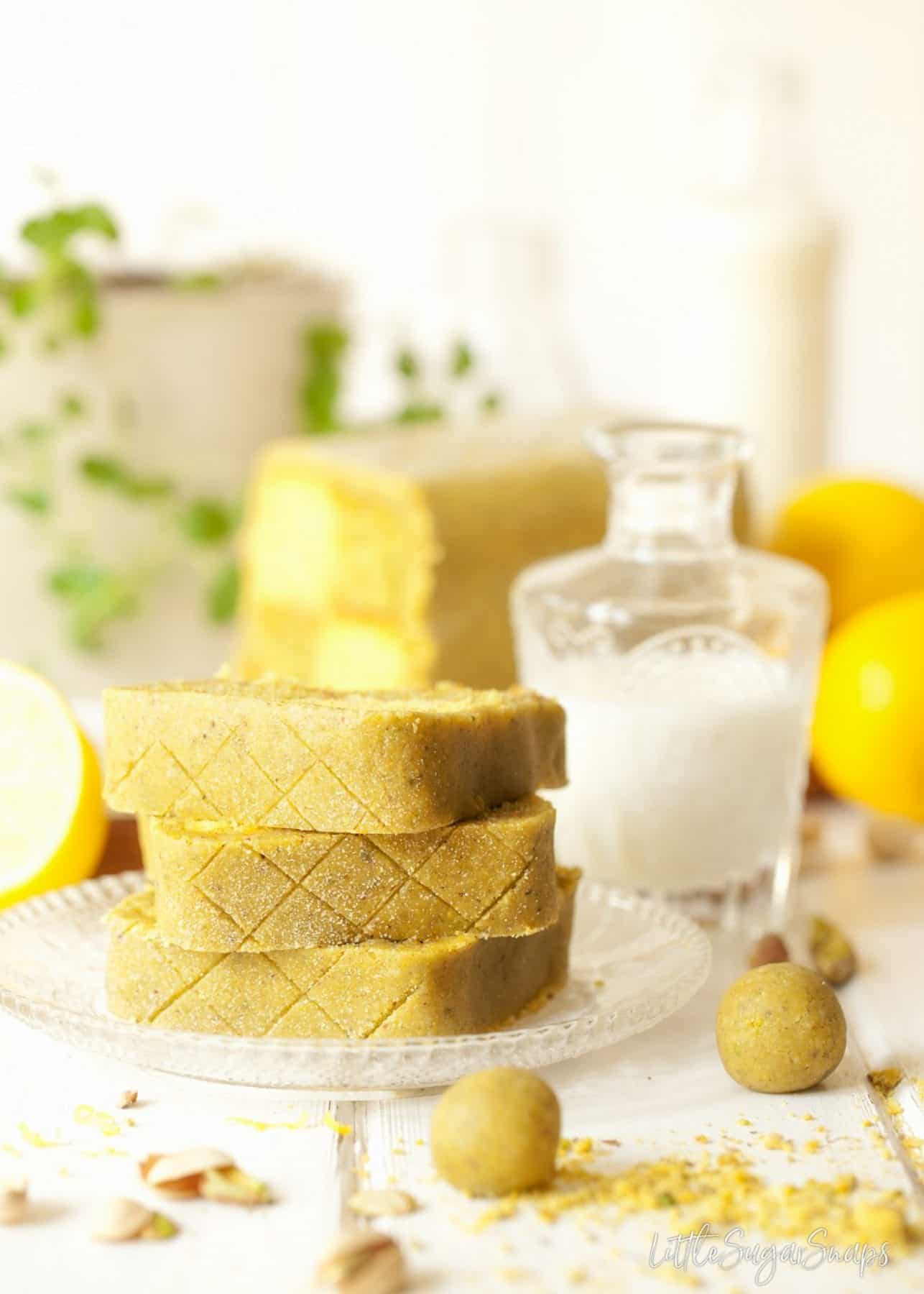 More Special Cake Recipes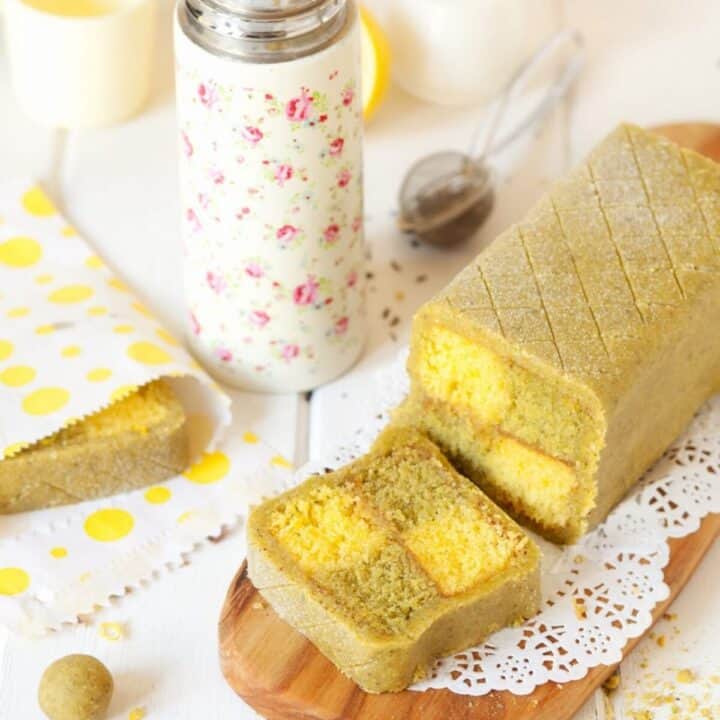 Pistachio Lemon Battenberg Cake with Pistachio marzipan
The quantities listed are JUST sufficient to fill a 8″ x 6″ cake tin and to cover the resulting cake. If your tin is bigger adjust the measurements accordingly
Print
Pin
Rate
Ingredients
For the Lemon Cake
75

g/ 3oz

butter (softened)

75

g/ 3oz

Caster sugar

1

Large egg

1

tablespoon

Lemon zest

1

tablespoon

Lemon juice

75

g/ 3oz

Plain (all purpose) flour

½

teaspoon

Baking powder

Yellow food colouring gel (optional)
For the Pistachio Cake
75

g/ 3 oz

Butter (softened)

75

g/ 3 oz

Caster Sugar

1

large egg

1

tablespoon

Whole (full fat) Milk

45

g/ 1 ½ oz

Plain (all purpose) flour

30

g/ 1 oz

Pistachio nuts (out of shell, unsalted)

Green food colouring gel (optional)
For the Pistachio Marzipan
100

g/ 3 ½ oz

Icing (confectionary) sugar

90

g/ 3 oz

Caster sugar

1

Large egg

100

g/ 3 ½ oz

Pistachios (out of shell, unsalted)

75

g/ 3 oz

Almonds (blanched)

1

teaspoon

Lemon juice
Assembly
3

tablespoon

Lemon curd

1

teaspoon

Caster sugar
Instructions
Preparation
Preheat oven to 180C/ 350F/ GM4

Grind the nuts (separately) in a coffee grinder or a food processor until finely milled and powdery. Take care not to grind for too long else the nuts will start to release oils and become 'wet'

If using the 8" x 6" Battenberg tin grease it well (including the removable dividers and line the base of the pan neatly with baking parchment

If using a regular oblong cake pan check the measurements. If it is larger than 8" x 6" you will need to scale up this recipe accordingly (any leftover batter from scaling up can be made into cupcakes). Grease & line the sides and base of the pan then divide in the middle of the tin with a thick folded piece of foil lined greaseproof paper (click for a video tutorial)
For the Lemon Cake
Beat the butter and sugar together with electric beaters until pale and fluffy

Crack the egg into a jug, beat with a fork, then add to the creamed butter & sugar a little at a time, beating well between additions. This helps to prevent curdling

Once the egg has been incorporated stir in the lemon zest & juice and a small dab of yellow colouring if using

Sieve the flour and baking powder into a bowl, then fold half into the cake batter, followed by the remainder. Fold into the flour until fully blended, but take care not to overmix the batter

If using the specialist Battenberg tin, divide the lemon cake batter between 2 sections

If using the regular oblong tin, divided in the centre with parchment, spoon the batter into one half of the tin
For the Lemon Cake
Beat the butter and sugar together with electric beaters until pale and fluffy

Crack the egg into a jug, beat with a fork, then add to the creamed butter & sugar a little at a time, beating well between additions

Once the egg has been incorporated stir in the milk and a small dab of green colouring if using

Sive the flour, ground pistachios and baking powder into a bowl. Again, fold half into the cake batter, followed by the remainder

Use this batter to fill the remaining section(s) of the cake tin you are using
Baking the Cakes
Bake the cake for 25-30 minutes until it is springy to the touch. Remove from the oven and let the cake cool in the tin

When cool, slice away any excess sponge that has risen above the tin using a serrated knife. Carefully remove each section from the tin (if you have used a regular baking tin you will need to slice both cakes in half lengthways to give 4 strips of cake in total
Make the Marzipan
Fill a sink 3 inches deep with cold water

Put the sugars and egg into a medium sized heatproof bowl and place over a pan of barely simmering water

Using electric beaters whisk the mixture for around 10 minutes until the temperature registers 50-60C/ 125-140F and the mixtures falls into ribbons than do not blend straight back in when the beaters are lifted out

Put the bowl into the sink for 2 minutes to stop the mixture cooking further

Remove from the sink and beat in the lemon juice. Continue to whisk until the temperature has dropped to 25C/ 75F and the mixture has thicken further

Add the ground pistachio nuts & ground almonds, along with a small dab of food colouring (if using) and stir in

Tip onto a work surface and knead briefly until an even colour is attained throughout. Add a little extra icing sugar (sieved) if the mixture is too sticky. You are aiming for a soft, but not sticky consistency, similar to pastry
Assemble the cake
Brush lemon curd along the length of 1 piece of lemon cake and join a length of pistachio cake to it. Repeat with the reaming cakes. Brush the top of the first pair of cakes with more lemon curd and top with the remaining cakes to create a chequered pattern

Draw a template to aid rolling out the marzipan. Mark it on baking parchment, flip it over and use this as a rolling out guide (ensure you turn the parchment over so the ink does not colour your marzipan. For a cake made in the 8″ x 6″ pan draw a rectangle 8″ x 12″

Roll the marzipan out on the parchment. There is sufficient marzipan to cover the cake, but there will be very little spare (don't be tempted to nibble). Take your time and roll until the template is filled to ensure the entire cake is covered.

When ready to cover the cake, brush the long sides of the cake with marzipan (don't cover the chequered ends though). Lay onto the marzipan, lining it up with one edge. Using the parchment to guide the cake and marzipan carefully wrap the marzipan around the cake as tightly as you can. Turn the cake over so that the edge where the marzipan meets is on the bottom

Trim the ends of the cake to neaten, then score a diamond pattern onto the top of the cake using a sharp knife. Scatter with a teaspoon caster sugar and consume within 2 days
(Visited 752 times, 1 visits today)