Fruity yet floral, this Salted Watermelon Mint Cooler is a wonderfully refreshing, adventurous and healthy drink to sip on throughout summer. A touch of salt works wonders to bring out the flavours in this drink without overpowering it.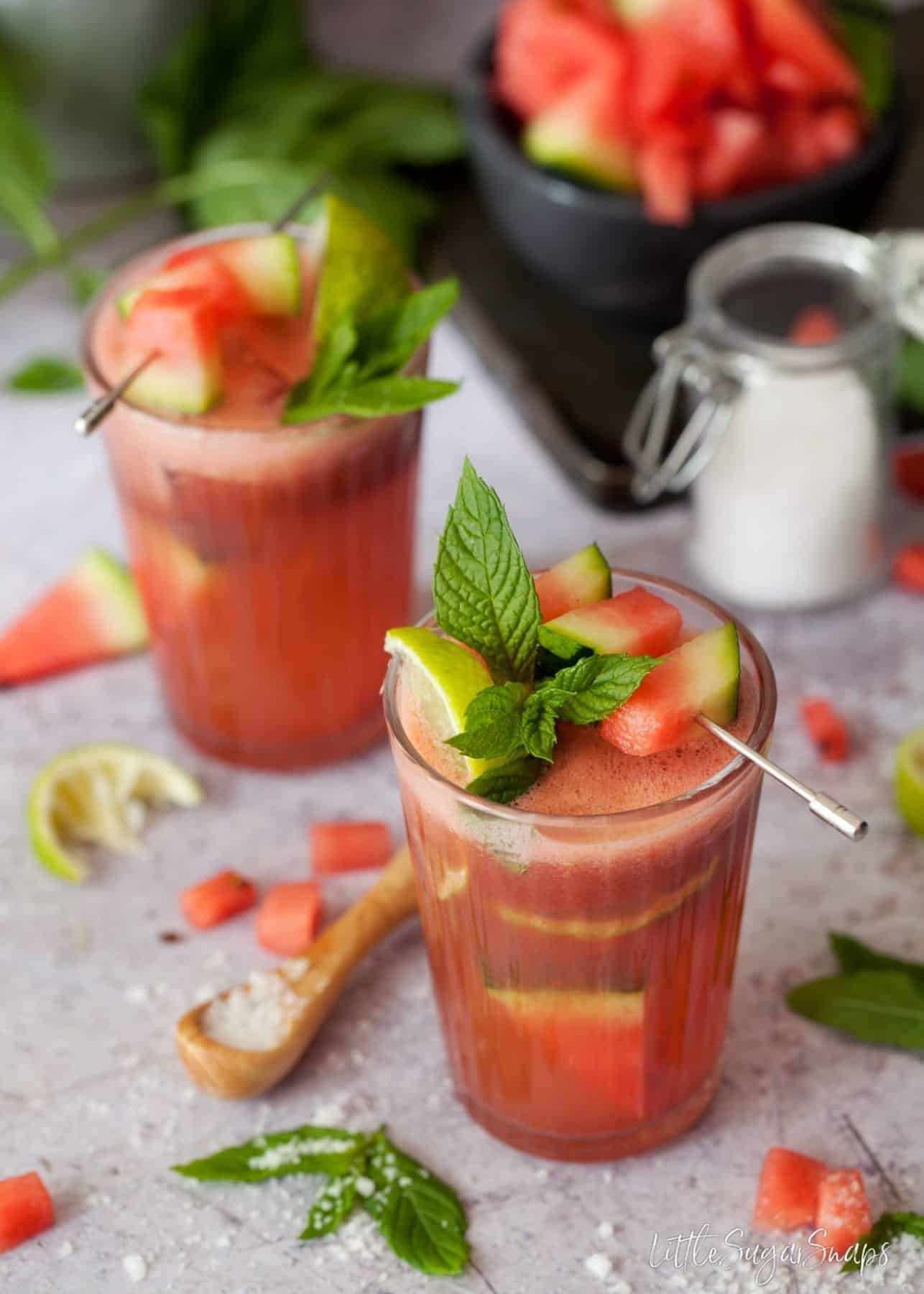 This post contains affiliate links. As an Amazon Associate, I earn from qualifying purchases.
Do you ever dine out and know as soon as you first taste something that you will have to recreate the recipe at home because it's just so good? That happens a lot to me, especially where drinks are concerned. But for once, it was not a cocktail that got my attention recently. I visited Indian cafe/ informal restaurant Dishoom in London a few months ago with my family. I quickly got stuck into the cocktail menu but my designated driver (Chris) & the kids each ordered a fruity concoction from the menu. They got so excited on their first sips that they were all willing to let me take a taste and wow, I could understand exactly why they were so happy with their drinks.
One of those drinks was a Watermelon Sharbat. It was not only alcohol-free and utterly delightful, it was also healthy. At least, I'm 99% sure it was healthy. My version definitely is.
My Watermelon Mint Cooler contains nothing but plenty of freshly prepared fruit juice, a generous helping of fresh mint and a tiny touch of salt to liven things up. There's no refined sugar added and not one drop of fizz either.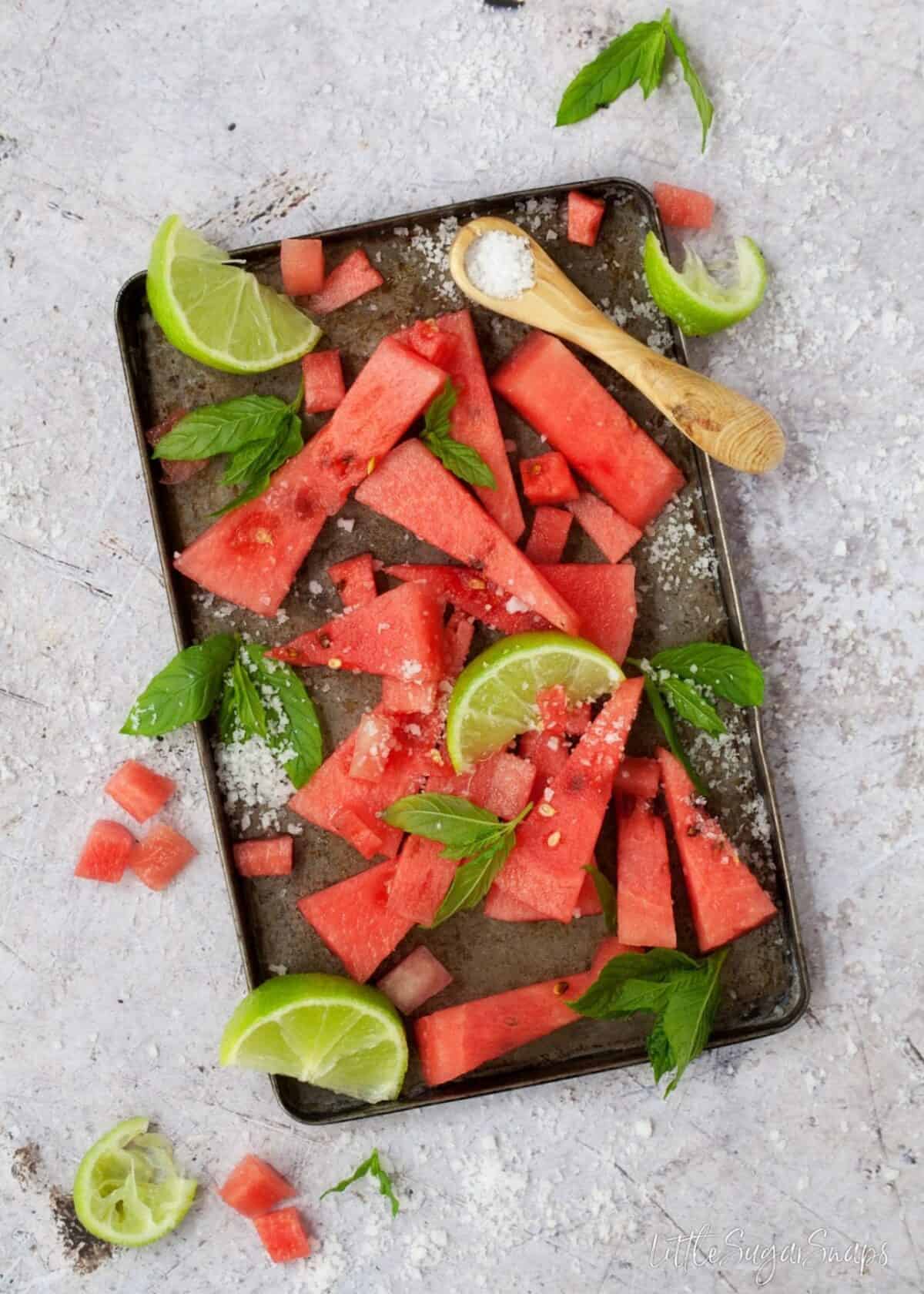 Since watermelon is at it's best between May and September, this Watermelon Mint Cooler is great to sip on and stay refreshed all summer long. I'll admit that removing the seeds from the watermelon is a little time consuming and fiddly, but this drink is well worth the effort. The floral, gently fruity flavour of watermelon is ramped up by a mightly twang of lime juice and cool, sweetly herbaceous mint.
Adding salt to a fruity drink may sound slightly weird, but it really does balance those fruity-floral-tart flavours out to perfection. If you're struggling to trust me on this point (I forgive you) just leave the salt out and take a taste. Then add perhaps ⅓ of the salt I recommend and taste again. Add another ⅓ and re-taste… you'll be amazed at how well this Salted Watermelon Mint Cooler stacks up in the end. The salt seems to bring all of the flavours together and stops the drink being bland. I urge you not to leave the salt out.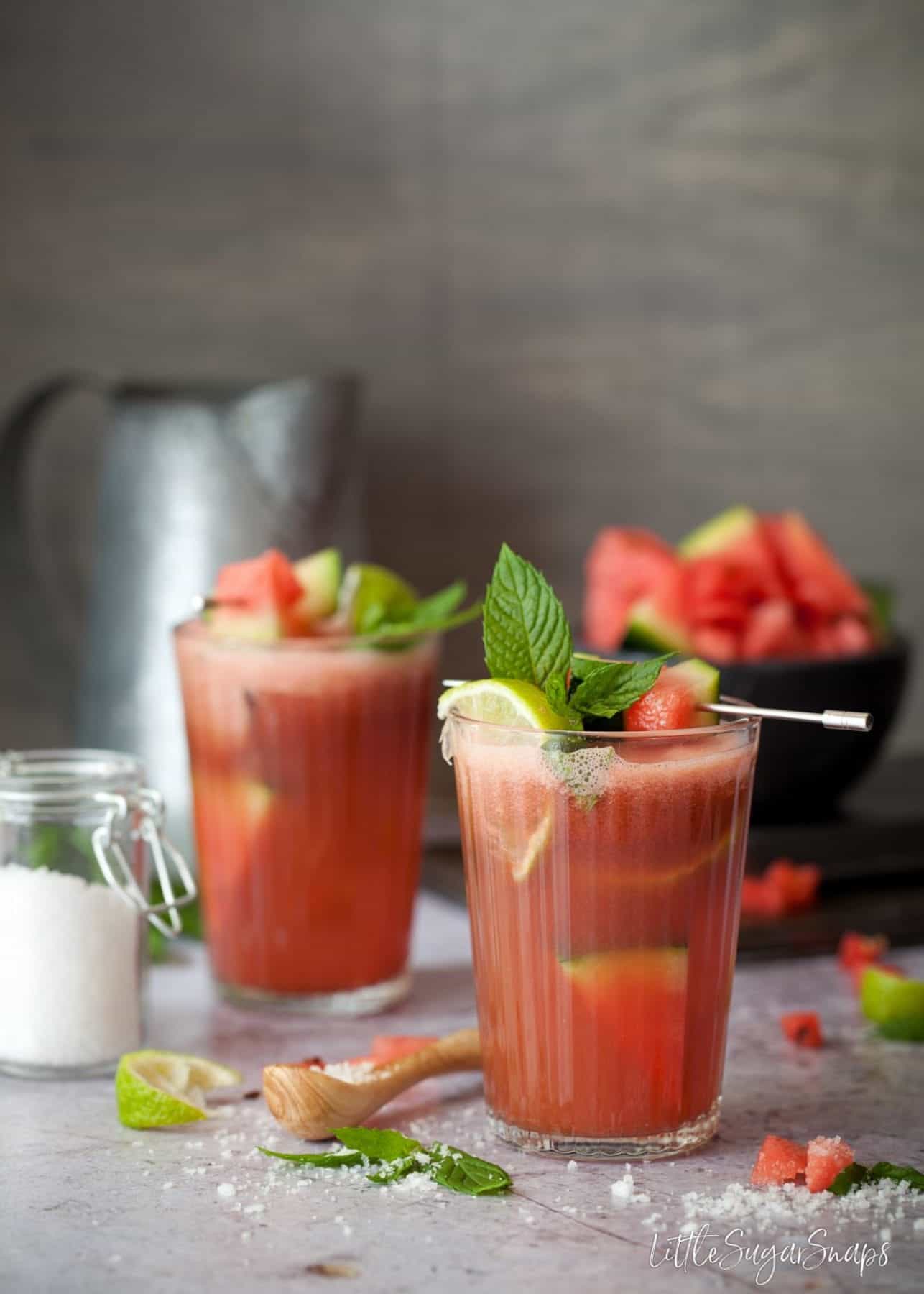 Having perfected this recipe a few weeks ago, last weekend we decided to recreate the Dishoom restaurant experience at home. Dishoom is a great place for sharing lots of dishes. That's perhaps why we enjoy it so much as a family. This style of dining gives our girls the chance to explore tastes and textures without any pressure.
I have high hopes that Dishoom will bring out a cookbook, but, in its absence, last weekend I served up a variety of sharing dishes from a cookbook I stumbled upon in my local bookstore recently – Made in India. I've been desperate to tell you about this book for a few weeks now and it just ties in nicely with my recipe theme today. This book is loaded with exciting, different and achievable recipes stemming from the Indian family kitchen of the author, Meera Sodha. I went crazy and ended up making about 7 different dishes from it on Saturday. They all came out brilliantly… I may have left the washing up to somebody else though.
So that's it. You're armed with fun restaurant and cookbook recommendations along with a healthy, thirst quenching and deliciously colourful Watermelon Mint Cooler to keep your senses happy all summer long. Bring on the sunshine.
Have you tried my Apple Lemon & Mint Cooler yet?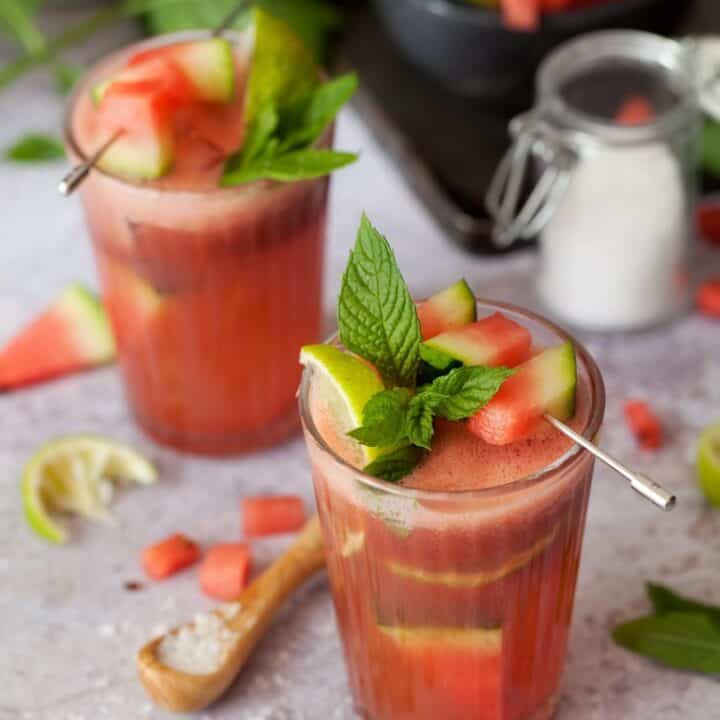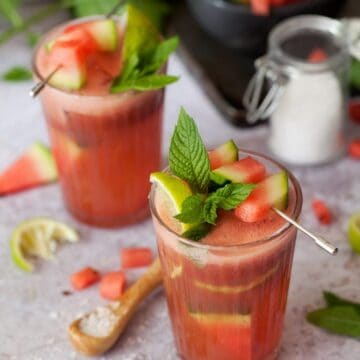 Salted Watermelon Mint Cooler
Fruity yet floral, this Salted Watermelon Mint Cooler is a wonderfully refreshing, adventurous and healthy drink to sip on throughout summer. A touch of salt works wonders to bring out the flavours in this drink without overpowering it.
Print
Pin
Rate
Ingredients
1400

g/ 3lb 1 oz

Watermelon (skin removed prior to weighing)

30

g/ 1oz

Fresh Mint

160

ml/ ⅔ cup

Lime juice (from approx 4 limes)

1

teaspoon

Sea salt flakes
Instructions
Cut the watermelon into small chunks and remove the seeds. Do this over a bowl so any juice is caught

Tip the flesh and juice into a blender along with the mint leaves and lime. Blitz for 1-2 minutes

Strain the liquid through a fine-meshed sieve, collecting all of the juice in a jug. Use the back of a metal spoon to press down on the pulp to extract as much liquid as possible. Discard the pulp

Put the liquid back into the blender, add the salt and blitz again for 30 seconds.

Serve over ice garnished with mint sprigs, lime wedges and chunks of watermelon.

The cooler can be stored in the fridge for up to 48 hours. Just be sure to shake prior to serving to redistribute all ingredients.
Notes
Feeling nervous about the salt? Try tasting the cooler prior to adding salt, then add it little by little. You'll be amazed how it livens up the drink without leaving an unpalatable taste behind. I urge you not to leave it out.
(Visited 1,711 times, 1 visits today)