Loaded with goodies such as nuts, shortbread, coconut & cherries these easy No-Bake Rocky Road Krispie Treats are a chocolate lover's dream come true. Dig in.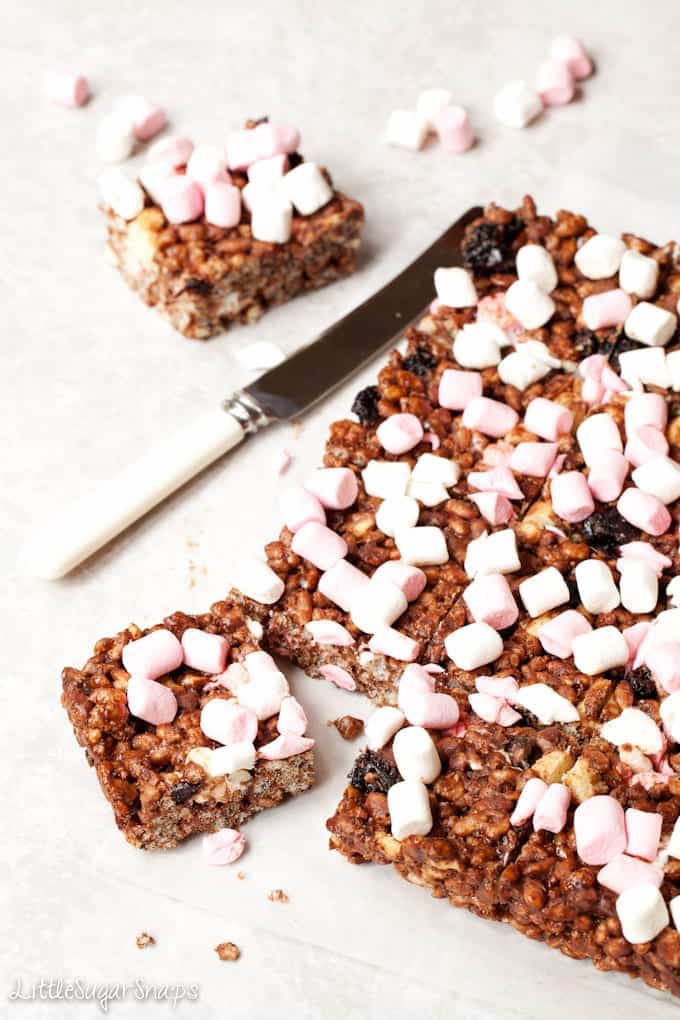 These Rocky Road Rice Krispie Treats need little in the way of introduction. Quite simply they are a combination of two childhood classics: Rice Krispie Treats and Rocky Road Bars. As expected, they are:
Sweet
Chocolatey
Extravagant
These little squares are the ultimate fantasy for anybody with a hankering for the sweet, indulgent and, some might say, over-the-top, little pleasures in life.
I could rest my case right here. But I'm not going to do that. I have a little more to say.
Confession: I have an inability to create a recipe without first researching my facts to ensure I'm spot on before I label something. I blame this little habit of mine on my former life as an Economist.
So when I started to think about creating these Rocky Road Krispie Treats, I decided to just confirm what exactly Rocky Road was since it wasn't exactly high on the café menu when I grew up.
Ingredients for Rocky Road Krispie Treats
Unsurprisingly, the world over, Rocky Road typically consists of marshmallow and chocolate. But here's where it gets interesting. Rocky Road also contains a multitude of scrumptious extras, which vary depending whereabouts in the world you happen to live. Roughly speaking, the difference can be broken down into 3 geographical areas:
America
Australia
United Kingdom
The bonus goodies most commonly present in Rocky Road in each of these locations are:
America: almonds or walnuts
Australia: coconut, cherries, peanuts and Turkish Delight (oh boy)
United Kingdom: biscuits
Having discovered this little snippet of information, I felt a bit foxed. I couldn't decide which version to go with. In the end, I decided to take my favourite parts of each one and create the ultimate stack of Rocky Road Rice Krispie Treats. These International squares come laden with
Almonds (Hello America)
Coconut, cherries and peanuts (Hello Australia)
Shortbread biscuits (Hello United Kingdom)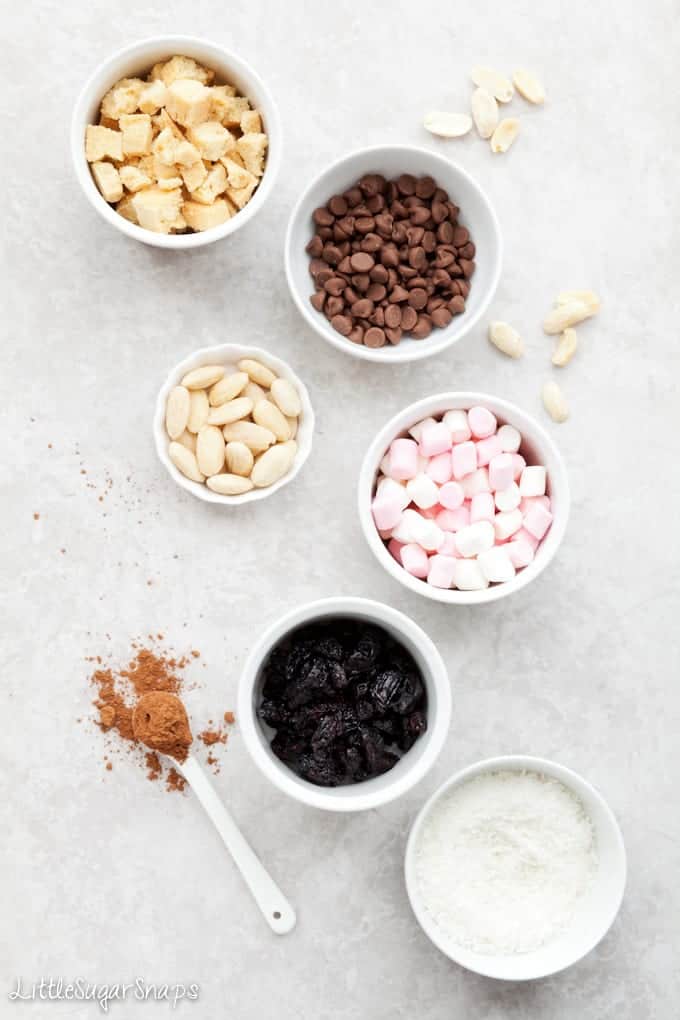 Having made the decision to go crazy and add a fair few extras (5 to be precise), I really wasn't sure if I may have overdone things. Heck, I wasn't even sure it would all hold together.
But it's good news all around. These loaded chocolate krispie treats do stick together just like regular Krispie Treats. Even the topping of mini marshmallows politely stays put.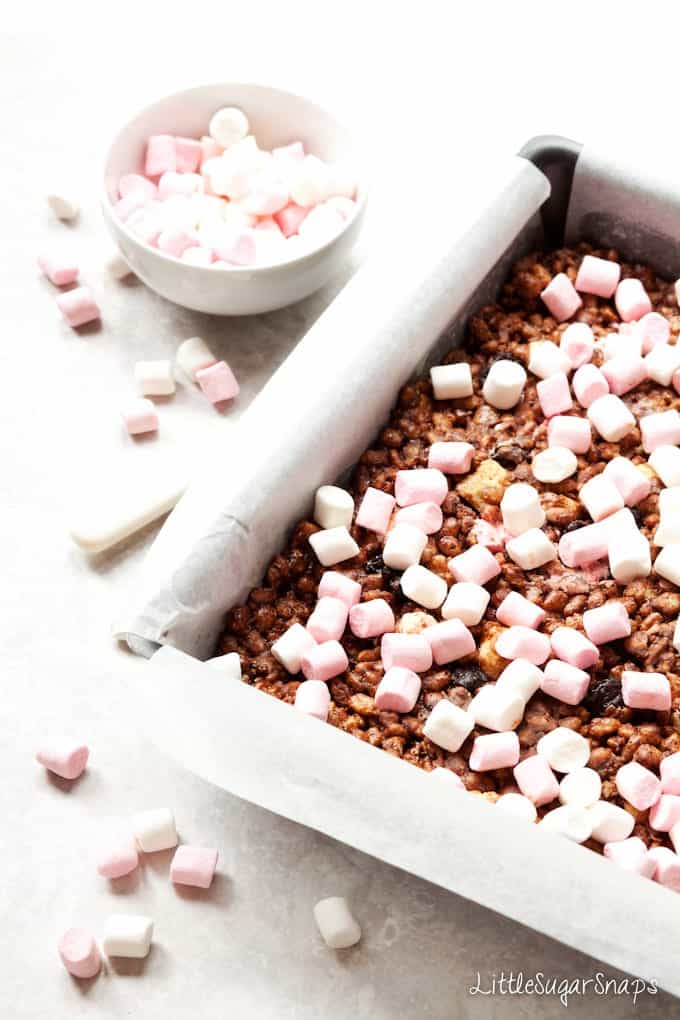 Tastewise, the nuts and the coconut add a savoury edge to the blend, which tempers the sweetness of the other ingredients beautifully. The shortbread adds a delicious crunch to the mix and those dried cherries add a nifty little burst of zingy, fruity freshness.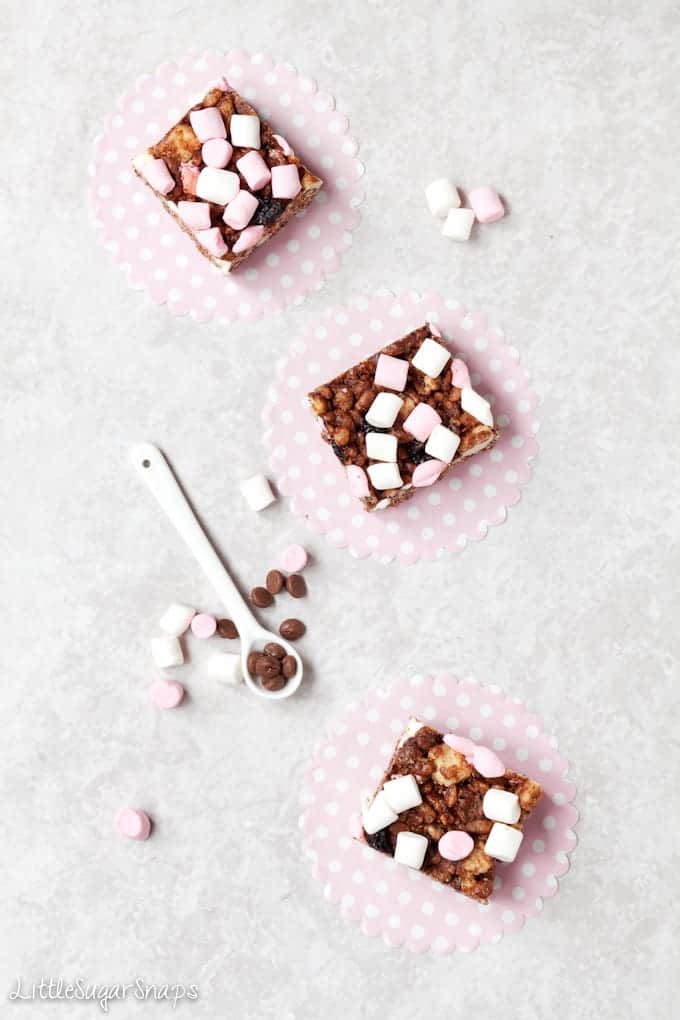 These chocolate krispie treats are simple to make and incredibly fun. They've even passed the ultimate test in my house – my husband's taste buds. My man is not a massive chocolate fan. He leans more towards caramel and fruity flavours. And have I mentioned that he can be extremely critical? Some people have been known to call him picky. This means that whenever I want his opinion on something chocolatey, it really has to impress to get his seal of approval.
Unlike the rest of my household, Mr Picky wasn't jumping up and down with excitement when I revealed these Rocky Road Krispie Treats. However, one bite and he revised his assessment. Like me, he thought the nuts went superbly well with the rest of the ingredients. And Mr P was delighted to discover that although these squares are sweet, they are not excessively so. Huge hit. Big win.
And now I rest my case.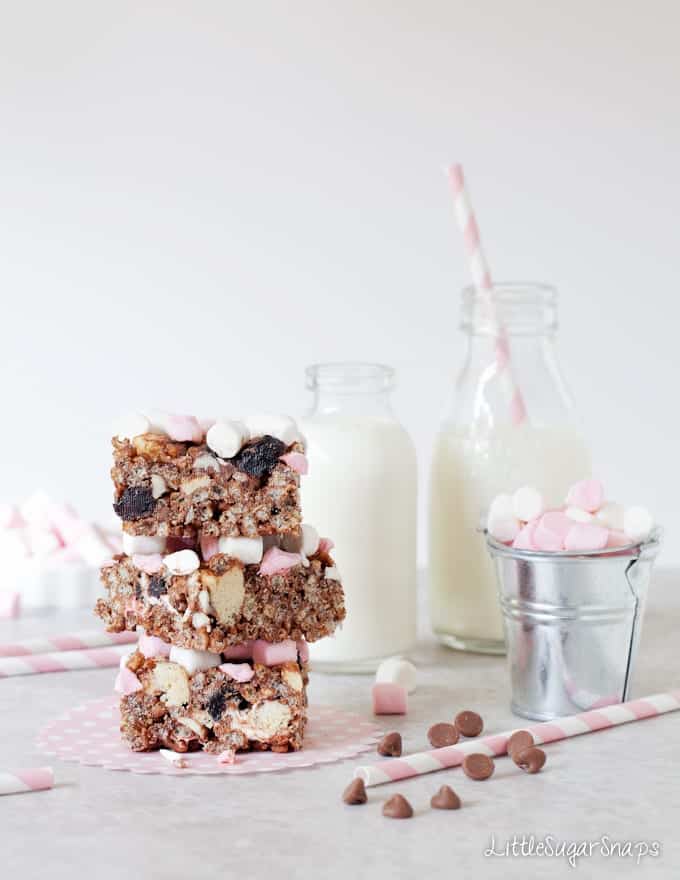 If you are majorly into Rice Krispie Treats have you seen my other recipes?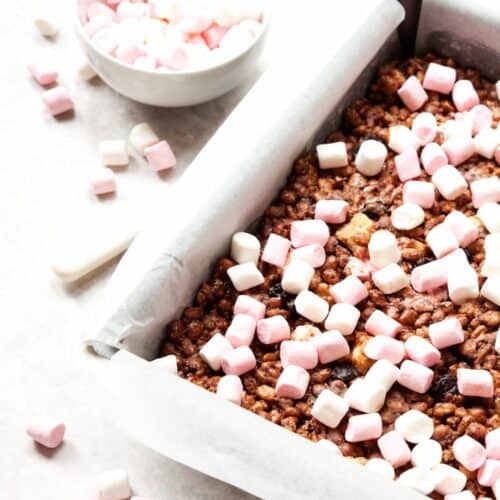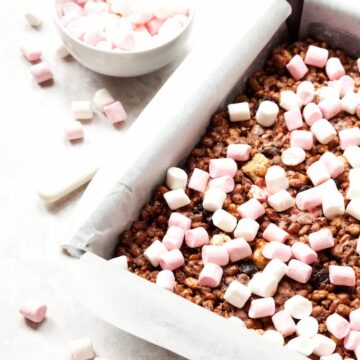 Rocky Road Rice Krispie Treats
Loaded with goodies such as nuts, shortbread, coconut & cherries these easy No-Bake Rocky Road Rice Krispie Treats are a chocolate lover's dream come true.
Print
Pin
Rate
Ingredients
50

g/ 2 oz

Butter

180

g/ 6.5 oz

Marshmallows

90

g/ 3 oz

Rice Krispies

3

tablespoon

Cocoa powder

3

tablespoon

Dessicated coconut

3

tablespoon

Milk chocolate chips

80

g/ 3oz

All butter shortbread

(shop bought or homemade)

50

g/ 2 oz

Dried cherries

25

g/ 1oz

Unsalted peanuts

25

g/ 1oz

Blanched almonds

75

g/ 3oz

Mini marshmallows
Instructions
Preparation – see notes
Grease and line a deep 20cm x 20cm tin with baking parchment

Sieve the cocoa into a small bowl

Roughly chop the nuts & shortbread and put into a separate small bowl along with the coconut

Chop the cherries in half and put into another bowl along with the chocolate chips and the Rice Krispies

Split the mini marshmallows into 2 bowls – one containing 25g, the other containing 50g
Begin to bake
Start by putting the butter and large marshmallows into a large, heavy based saucepan, put onto a moderate heat and alow everything to melt, stirring frequently to prevent burning

Once the marshmallows have melted and are thoroughly combined with the butter tip in the sieved cocoa and stir with a wooden spoon, until mixed in (if any lumps remain give a quick beat with a mini hand whisk)

Working quickly as the mix will begin to set, tip in the nuts and coconut. Stir briefly

Add the Rice Krispies, cherries, shortbread and chocolate chips. Stir until well mixed

Add the 25g bowl of mini marshmallows and stir through

Tip the mix into the baking tin and press it firmly down, so that it spreads into all of the corners and you get a compact, level surface. (I find I can spread the mixture well if I use the cellophane wrapper from the marshmallows)

Once level scatter the reaming 50g mini marshmallows onto the top and press them down with your hands to help them stick

Set aside for 30-45 minutes until completely cold then cut into 16 squares

Store in an airtight container for up to 5 days
Notes
The mixture does set quickly. I weigh out all of my ingredients before I start to cook so I can add them quickly to the rice krispie mixture and transfer to the pan while it is still soft enough to spread out.
Nutrition Per Serving (Approximate)
Calories:
171
kcal
|
Carbohydrates:
27
g
|
Protein:
2
g
|
Fat:
7
g
|
Saturated Fat:
3
g
|
Cholesterol:
8
mg
|
Sodium:
94
mg
|
Potassium:
53
mg
|
Fiber:
1
g
|
Sugar:
14
g
|
Vitamin A:
574
IU
|
Vitamin C:
4
mg
|
Calcium:
14
mg
|
Iron:
2
mg
(Visited 1,790 times, 2 visits today)