These Spinach Ham Pastry Rolls are are large, crisp, golden, flaky pastry rolls stuffed full of chunky ham, spinach, sweet peppers and mozzarella cheese.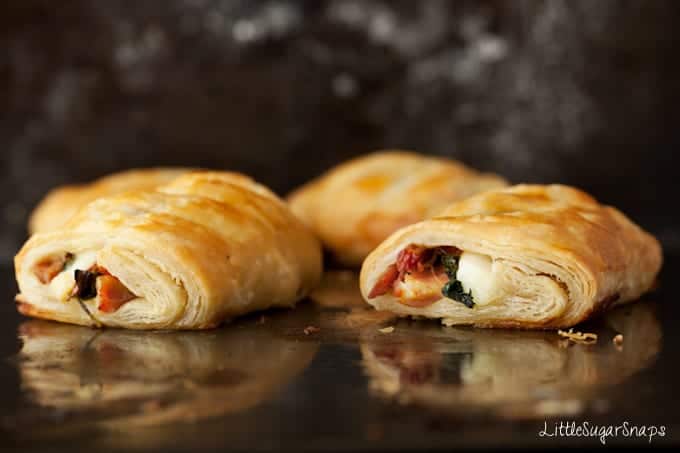 The English Summer has finally, definitely arrived. Temperatures are sky-high and most people are mentioning phrases like 'too hot' or 'when will this heat end'. It's the classic case of English people complaining about the weather again – but this time armed with smiles & ice creams, which has to be a bonus. Since my workroom is unbearably hot, this week I'm treating you to a short write-up about these Spinach Ham Pastry Rolls. I simply need to get out of this sauna of a study room and back outside a soon as possible.
These Spinach Ham Pastry Rolls are the ideal choice for anybody wanting to deviate from the classic sausage roll. The combination of crunchy, flaky rolls of pastry stuffed full of goodies is a winner for me. They are a great addition to any party buffet or picnic but are equally delightful served as a light lunch served alongside salad.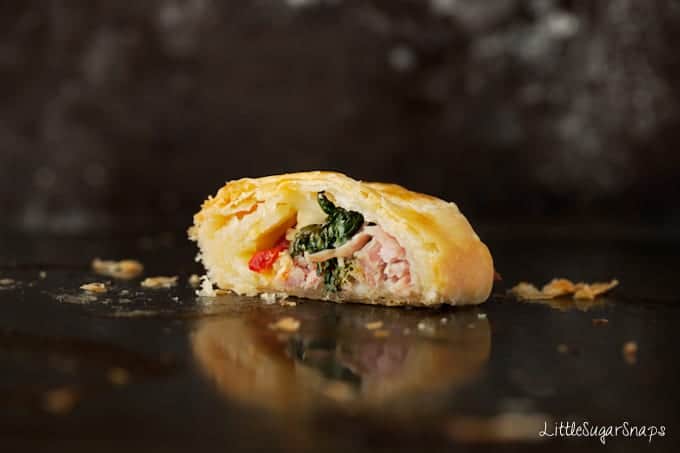 I love sausage rolls. In fact, it would be fair to say that I have a nostalgic soft spot for them. Sausage rolls were the rather unexpected, unhealthy and extensive obsession of mine during my pregnancy with Hannah, my first-born. Up until that point in my life, I'd honestly believed pregnancy cravings were utter claptrap. How wrong I was.
Confession: During this sausage roll phase I did once conduct a frantic 30-minute search of my work neighbourhood trying to find a warm sausage roll at 8am. Yes: 8AM. Yes: I really was frantic. I failed. I was heartbroken. I am deeply ashamed.
Based on this track record, it's fair to say that any pastry roll that can get me to deviate from this nostalgic love of mine must be special. The combination of flavours in these Spinach Ham Pastry Rolls do take them up to that superior level.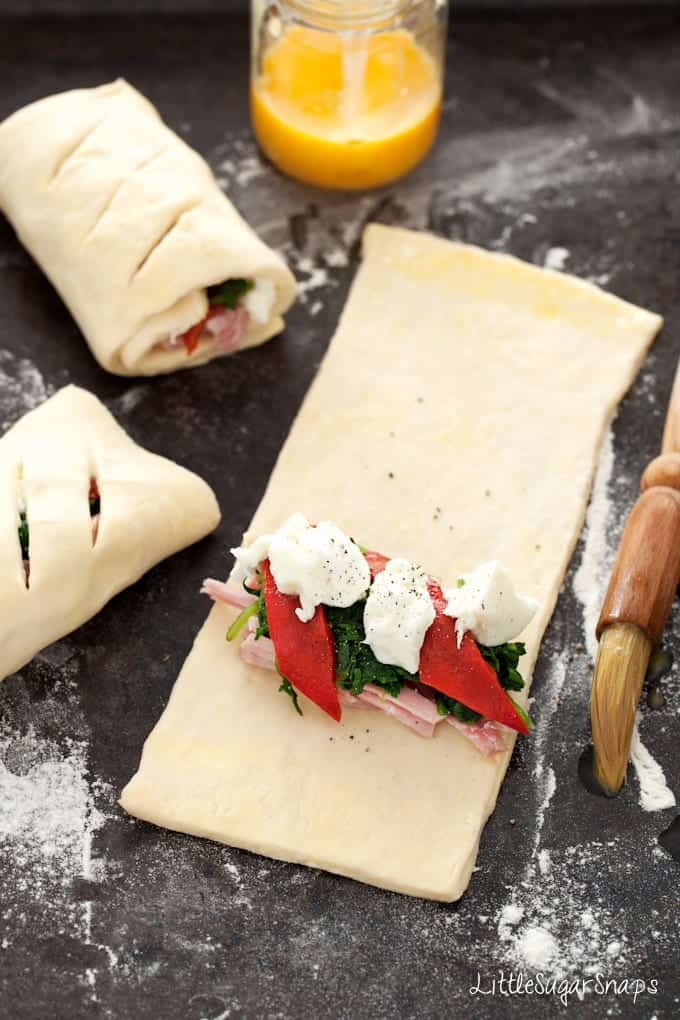 I absolutely love to make pastry, so I've used homemade rough-puff in this recipe. I know that pastry making is a bit like Marmite though – you either love it or you hate it. But it's okay, I won't dis-own you if you decide to use shop bought. This rough-puff pastry is light, golden, crispy and flaky.
Hidden inside of each roll is: • Chunky ham • Wilted spinach • Sweet roasted peppers • Buffalo Mozzarella The saltiness from the ham and the cheese combined with the sweetness from the peppers and the spinach make these a joy to bite into.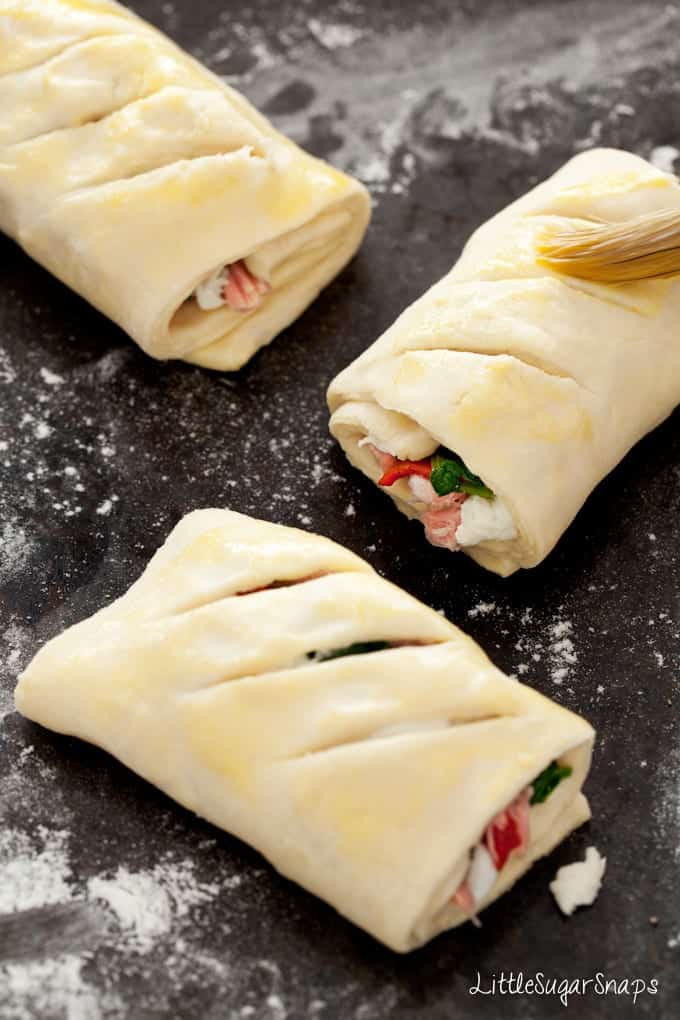 My preference is to eat these Spinach Ham Pastry Rolls barely warm. The ham and cheese are still slightly soft at this temperature and all of the ingredients really stand out. They are also great served hot and at room temperature too. I won't deny it: I did immensely enjoy conducting this particular taste test.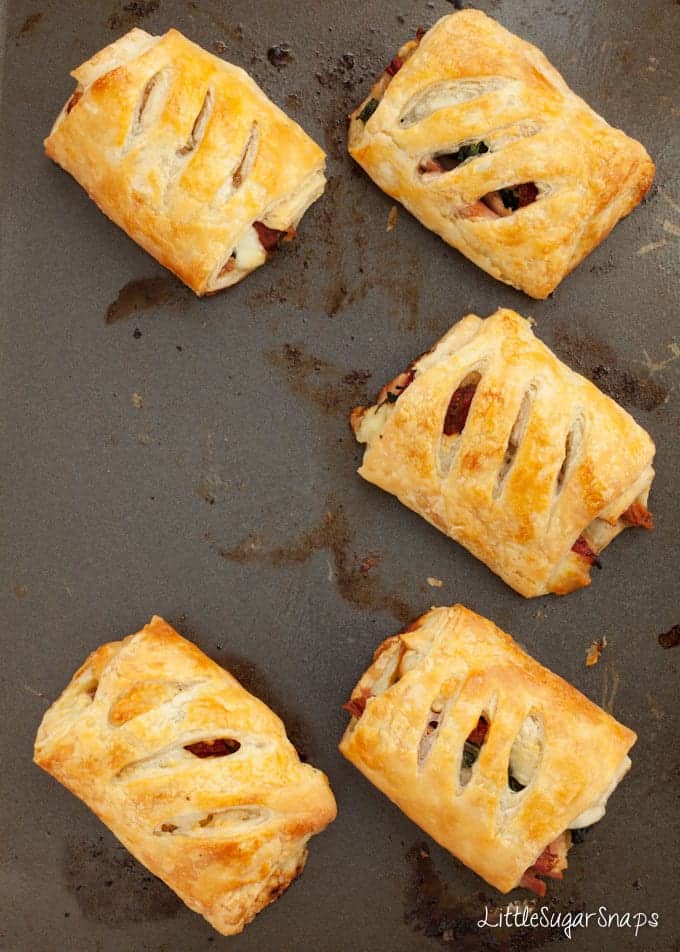 If you need to bake them in advance, do bring them out of the fridge to come to room temperature. There's not much worse than chilled savoury pastry (big crime). Whether you enjoy your Spinach Ham Pastry Rolls hot, warm or cold, I recommend a refreshing glass of cider to accompany them.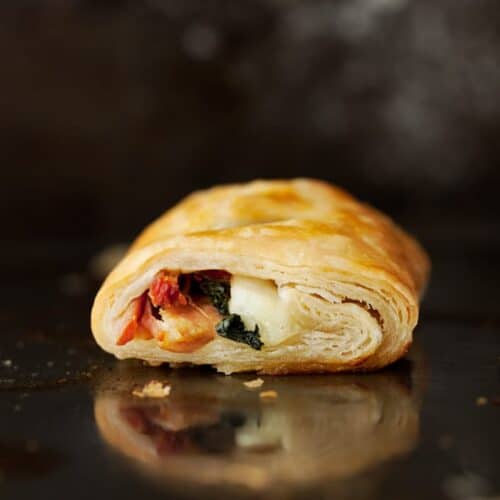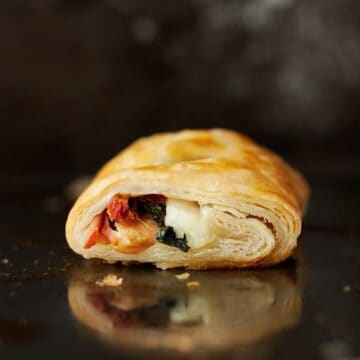 Spinach & Ham Picnic Rolls
These Spinach Ham Pastry Rolls are are large, crisp, golden, flaky pastry rolls stuffed full of chunky ham, spinach, sweet peppers and mozzarella cheese.

This recipe calls for a thick chunk of ham that you can rip up with your hands to create strands and chunks rather than slices. Ask your local deli to cut a thick (2cm) chunk so that you can do this. Alternatively plan a meal involving a joint of ham (gammon) so that you can reserve a thick chunk to make these picnic rolls. As the pastry is rich and buttery, alot of fat is released during the baking of these rolls – I try to remember to line the bottom of my oven with foil to make it easier to clean. Also, take care not to burn yourself on this hot fat when removing the baking sheet from the oven.
Print
Pin
Rate
Ingredients
For the Pastry:

250

g/ 9oz

Plain (all purpose) flour

¼

teaspoon

Salt

200

g/ 7oz

Unsalted butter (cubed)

Juice of ½ lemon plus enough cold water to make 175ml/ ¾ cup

For the Filling:

100

g/ 4oz

Spinach

Knob of butter

250

g/ 9oz

Cooked ham

60

g/ 21/2oz

Buffalo mozzarella

50

g/ 2oz

Roasted red peppers from a jar

(sweet, rather than fiery hot))

Grind of pepper

1

Small egg – beaten
Instructions
Make the Pastry:

Put the flour and salt into a large bowl

Cut the butter into 1cm cubes and add to the bowl. Toss with the flour

Add 150ml of the lemon & water mixture and stir with a blunt metal knife, incorporating all of the flour as you mix. If it is too dry add more water as necessary. The dough should come together to form a soft ball, but it should not be 'wet' or sticky.

Dust the worktop & your rolling pin with flour, then roll out the pastry dough to form an oblong about 2cm thick. Lift one short edge of the pastry and fold it over the middle, then do the same with the other edge of the pastry to make three layers. Turn the pastry 90 degrees, then re-roll.

Repeat this process three more times then wrap the dough in clingfilm and chill in the fridge for 45 minutes

Prepare the fillings:

While the dough is chilling prepare the spinach. Melt a knob of butter in a medium saucepan, then add the spinach. Stir until it just wilts (about 1 minute). Remove the spinach from the pan and allow to cool slightly, before squeezing out the excess liquid. Set aside to cool completely

Next rip the ham into shreds and chunks using your hands

Drain the peppers from the jar liquid and blot dry. Slice into strips

Drain the mozzarella and rip into small pieces

Preheat the oven to 200°C/ 400°F/ GM6

Assembling the Picnic Rolls:

Flour a clean worktop and roll out the pastry to a large rectangle approximately 60cm x 20cm

Cut the pastry into 6 rectangles measuring approximately 20cm x 10cm. Lay the rectangles side by side, with the short edges facing you.

Begin to load up the fillings. Start 5cm from the short edges nearest to you, share the ham out across the six rectangles. Next add the spinach, followed by the pepper strips and finally the buffalo mozzarella. Grind a little black pepper over each pile of fillings. There is no need for salt as the ham and pastry are already sufficiently salty.

Brush a little beaten egg along the opposite short edge of the pastry, then fold the short edge that is closest to you over the filling and roll them up towards the opposite end.

Lay on a baking sheet (lined with baking parchment). Brush the tops and sides of each roll with more egg, then make three diagonal slits across the top of each roll

Bake for 25-30 minutes until golden and crisp.

Remove the baking sheet from the oven, taking care with the hot fat. Slide the rolls onto a wire rack to cool

Either eat whilst still warm or store in the fridge until ready to be eaten. Remove 1 hour before serving to come up to room temperature. Keeps in the fridge for 2 days
(Visited 34 times, 1 visits today)