Kick off your evening in style with these crisp, crumbly, savoury Cheese Palmiers. They are great as an informal appetiser for a romantic evening or as a crowd-pleasing party nibble.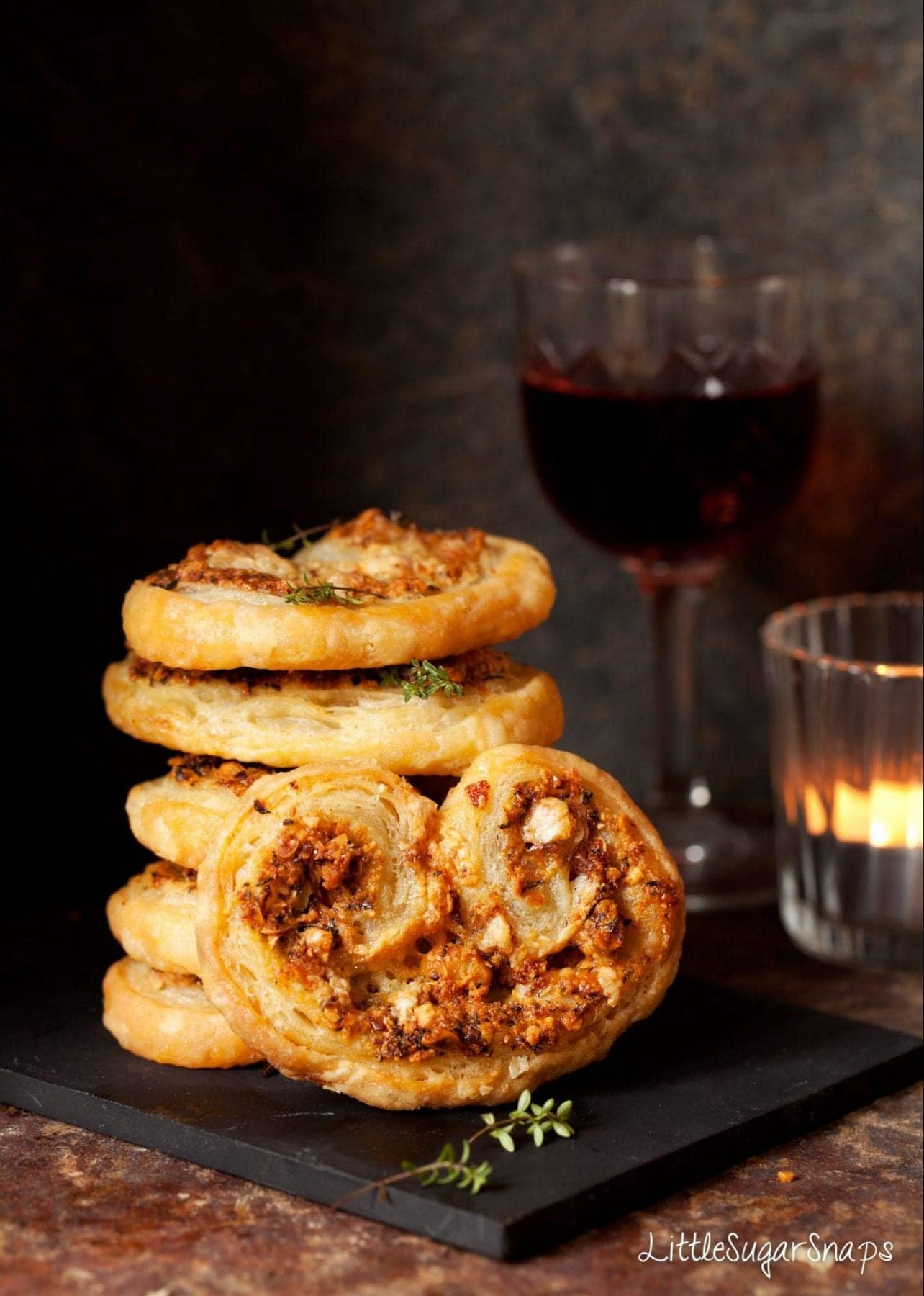 This is a sponsored post, written by me on behalf of Woodwatches by JORD. The content and opinions expressed here are all my own.
I'm very excited today. Not only have I got some crispy, crunchy, flaky, savoury pastries to talk about, I've also got a little competition for you to enter.
First up, I'll delve into the pastries. I've been wanting to put together these Hazelnut & Taleggio Cheese Palmiers for quite some time. Now that Valentine's Day is just around the corner I have the perfect excuse.
Many people liken palmiers to pig's ears or elephant's ears. Not me. I think they resemble love hearts. Admittedly, love hearts that are so stuffed full of goodies that they are fit to bursting point. And perhaps they are ever so slightly mis-shapen, due to their full load. But the heart shape is definitely what my eyes see. Who cares if it's not perfectly formed?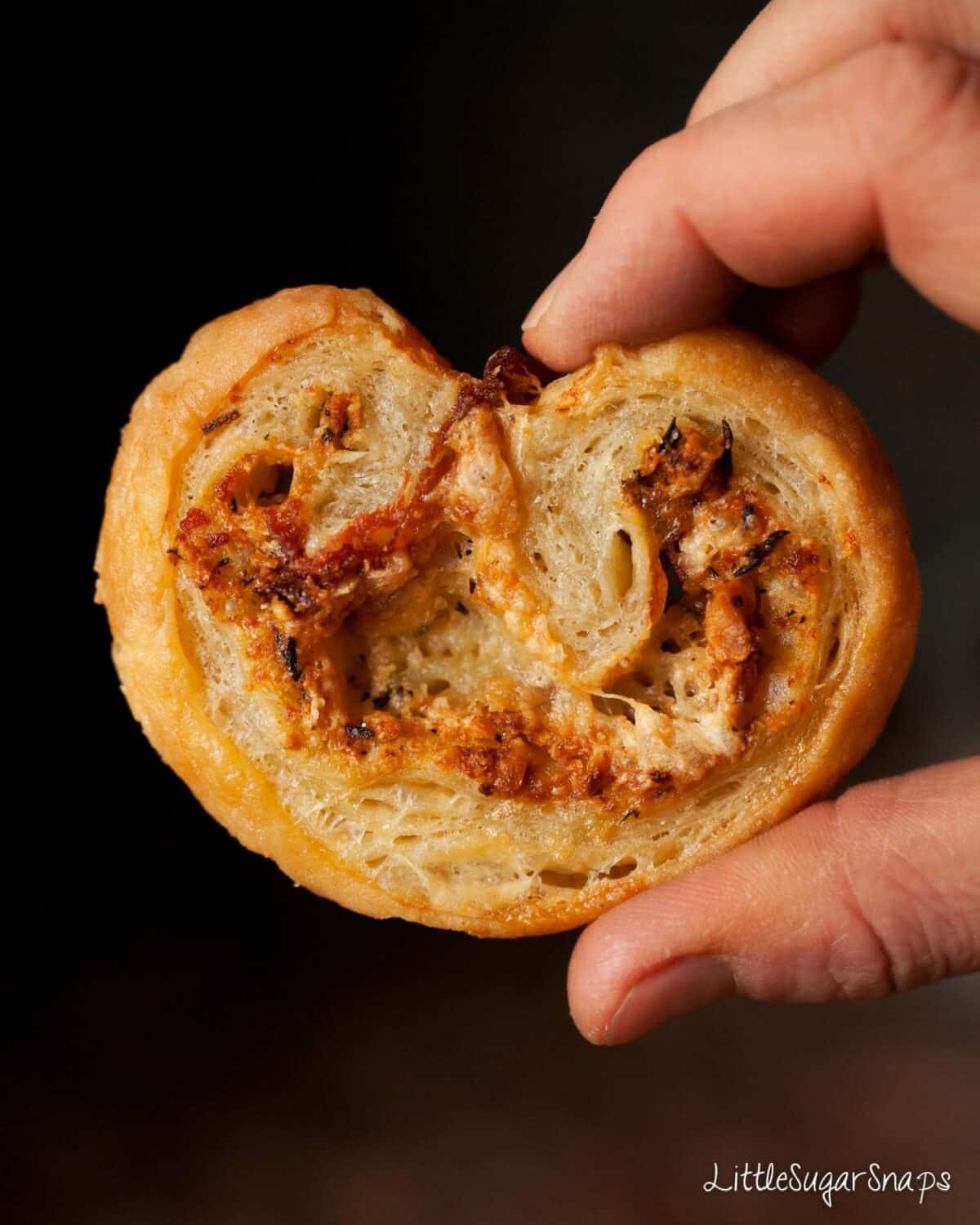 Now, the way to my man's heart is definitely to feed him up on savoury treats. So these Cheese Palmiers are ideal for his Valentine's Day treat.
These Cheese Palmiers are laden with homemade Hazelnut & Thyme Pesto, Taleggio cheese and prosciutto ham. The flavour combination is divine. The buttery, almost sweet hazelnut flavours mix with the savoury thyme, mellow Italian cheese and the salty ham seamlessly. Coupled with rich, buttery, melt-in-the-mouth pastry; these little bites are perfect for a cosy night in with a bottle of red wine and a glowing fire. Alternatively, they'll feed a crowd if a romantic evening for two is not what you're planning.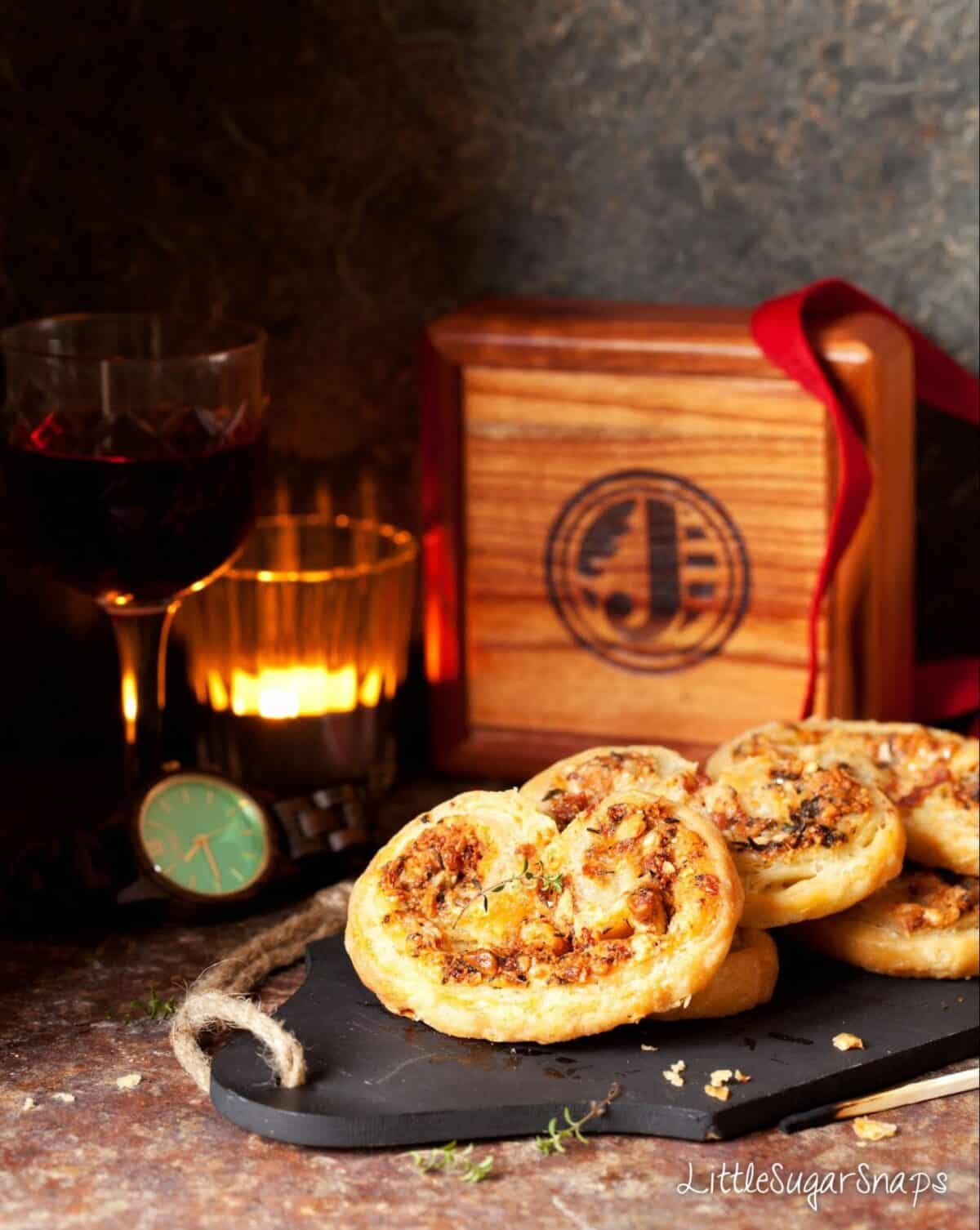 Getting down to the technical details, I'd like to touch on a couple of things.
First up: the pastry. Although I've used homemade rough puff pastry in my recipe you can easily substitute:
ready-made puff pastry (can't fault you)
proper homemade puff pastry (oh you hard-working, lucky, lucky devil)
And if you want to make these Cheese Palmiers vegetarian, just leave out the prosciutto – they will still be extremely tasty.
Moving right along, I need to talk about the competition now.
You may have spotted a rather unusual watch in a few of my pictures today. It's a beautiful wooden watch from JORD. Now, I'm not a natural person for jewellery. In fact, I've told my husband that I have enough jewellery and he needn't buy me any more. To be clear, I have:
1 old watch
my engagement ring
my wedding ring
and my Gran's eternity ring
I wear these 24 hours a day. Every day. I'm done. I need no more sparkle.
I am the perfect Valentine.
I'm also a sucker for wood. So when I got the opportunity to work with JORD watches, I did get a little excited. Perhaps it was time to replace that battered old watch of mine, after all?
JORD offer a stunning collection of elegant and truly unique wooden watches that I'd encourage you to check out. Whether you're thinking of treating yourself or that special somebody in your life (um… think Valentine's gift), JORD have a fantastic array to suit both men and women.
Bonus: Although JORD are based in the U.S. they do ship internationally for free. There may just be a small customs charge to pay depending where the watch is delivered.
Personally, I couldn't resist going for the Frankie 35 since it comes in dark sandalwood with a striking blue-green mint face. Given my love of all things green, especially mint, that's perhaps not such a surprise.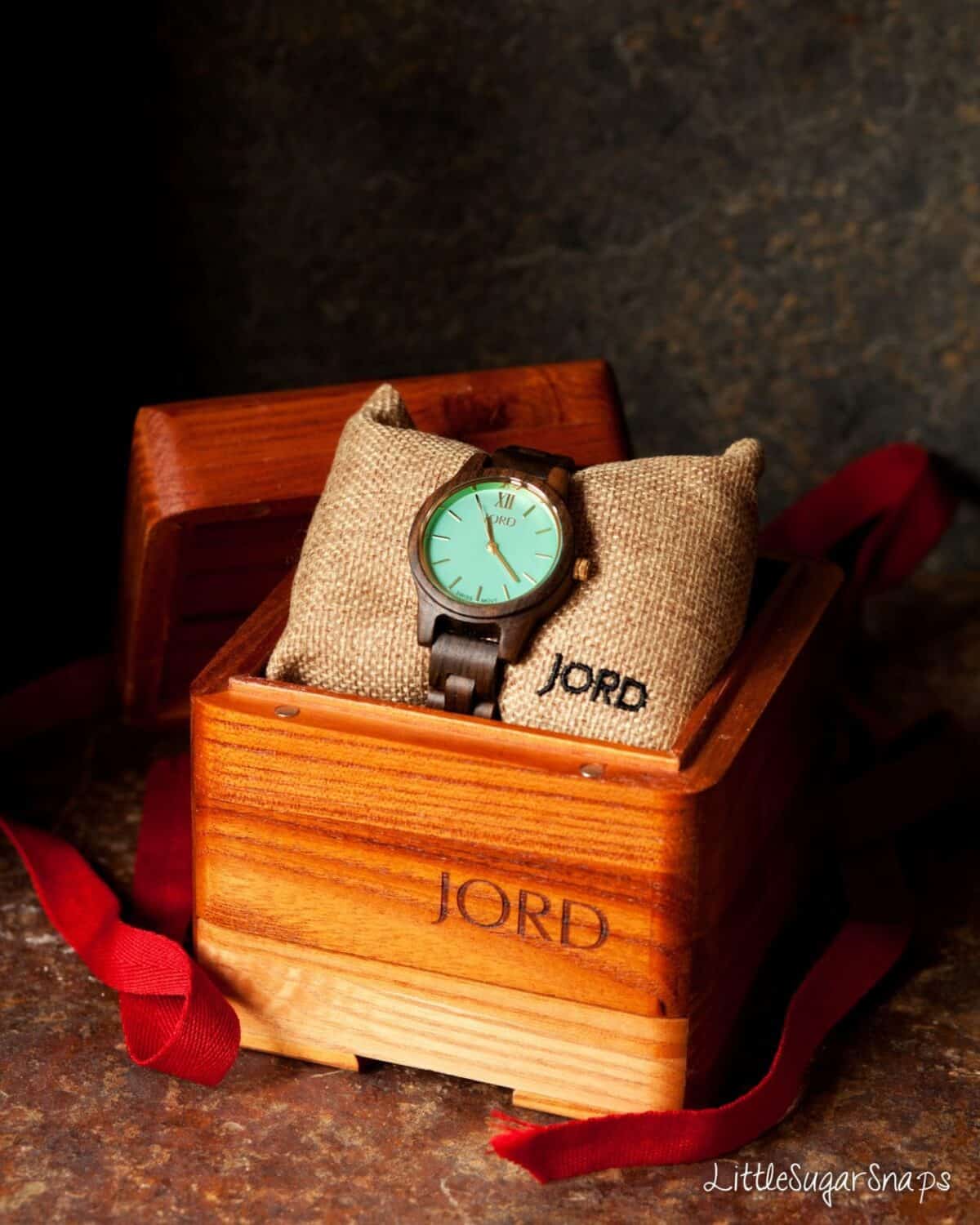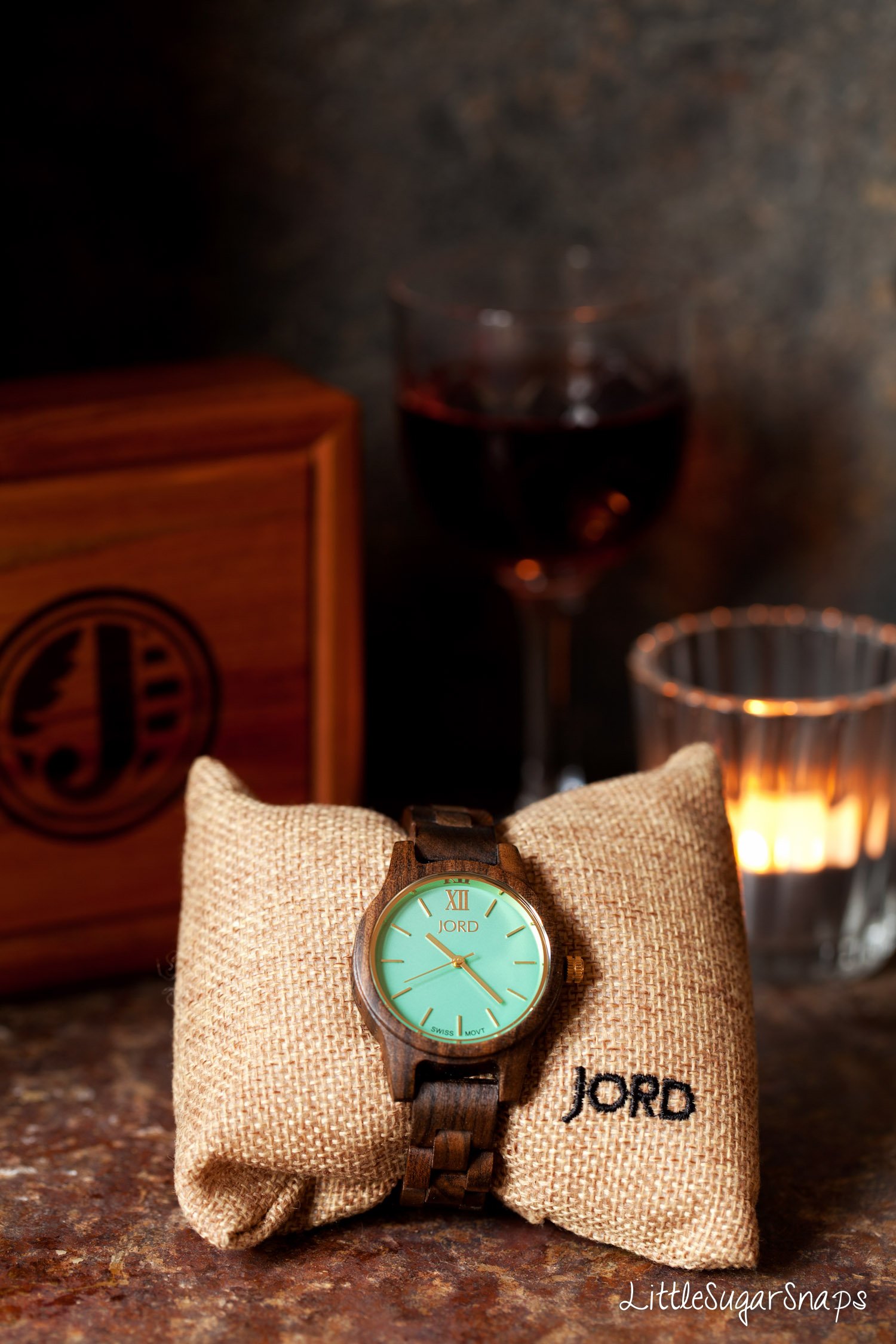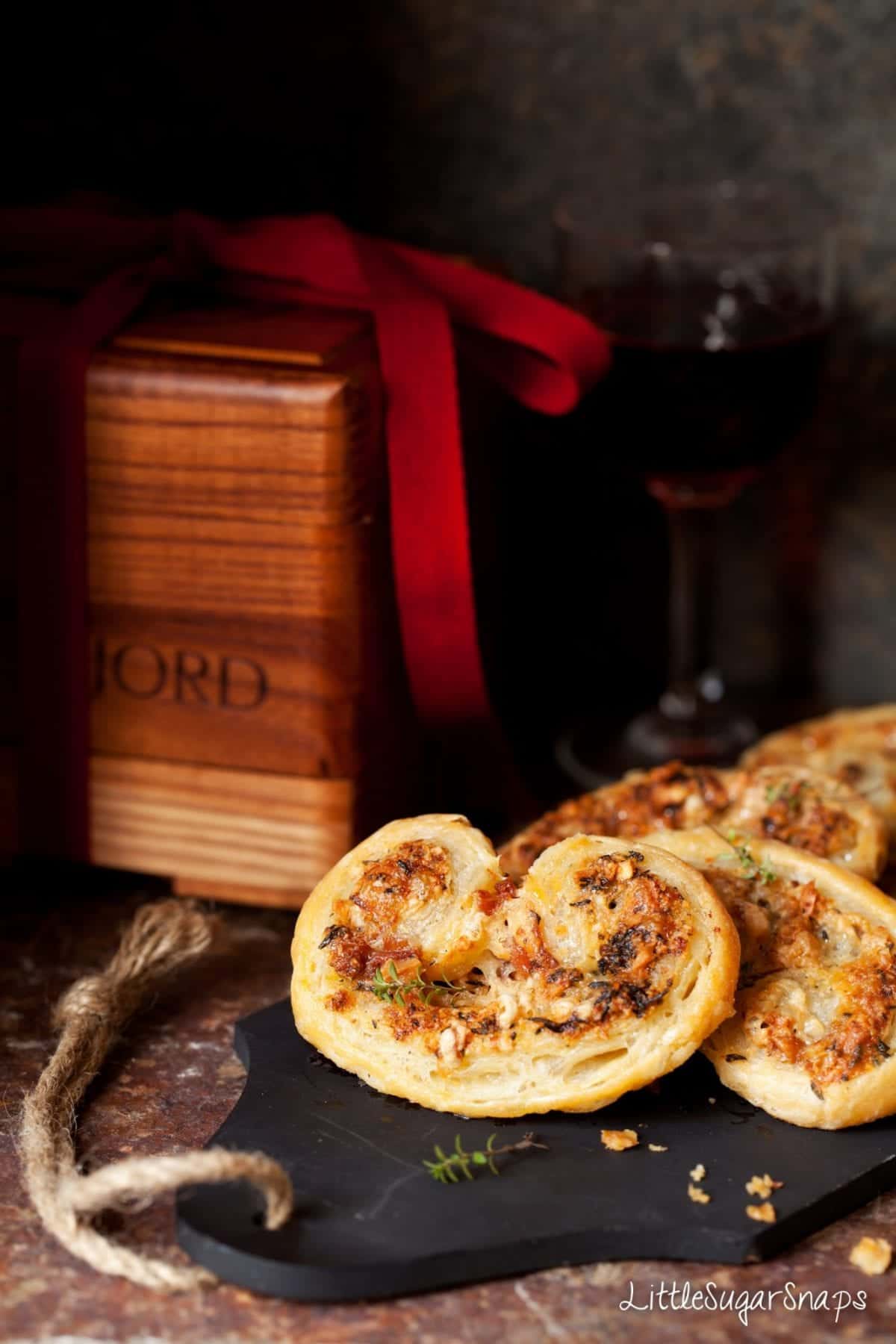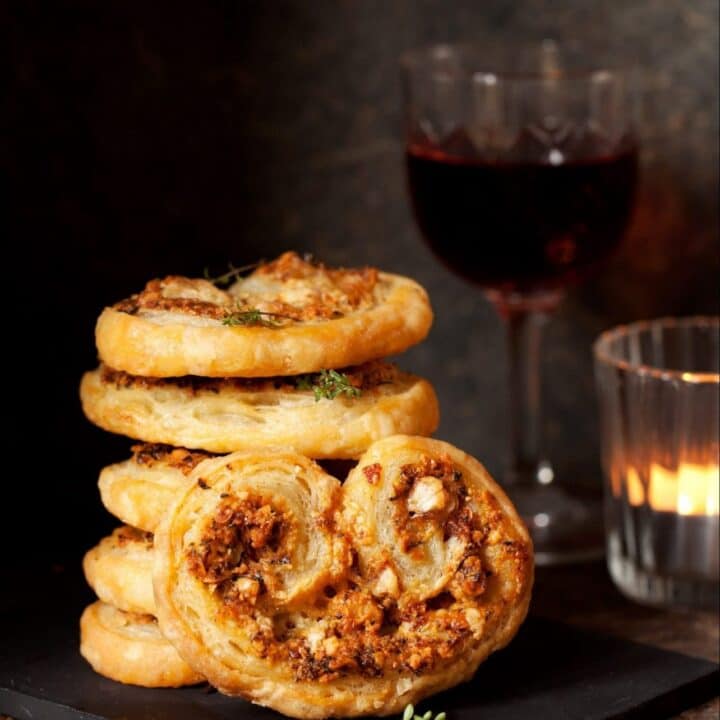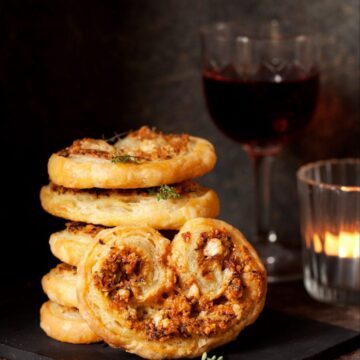 Hazelnut Taleggio Cheese Palmiers
Buttery, flaky puff pastry envelopes hazelnut pesto, taleggio cheese and prosciutto ham. It's a winning combination. Frozen or homemade puff pastry can be used in place of my rough-puff pastry. You'll need to make a batch of my hazelnut pesto for this recipe.
Print
Pin
Rate
Ingredients
For the Rough Puff Pastry
250

g/ 9oz/ 2 ¼ cup

Plain (all purpose) flour

¼

teaspoon

Salt

200

g/ 7oz / ⅞ cup

Unsalted butter

(cubed)

Juice of ½ lemon

175

ml/ ¾ cup

Cold water
For the Filling
1

Batch Hazelnut Pesto

120

g/ 5oz/ 1 ¼ cup

Taleggio Cheese – coursely grated

3

slices

Wafer thin Prosciutto ham

1

Beaten egg
Instructions
Make the Pastry
Put the flour and salt into a large bowl

Cut the butter into 1cm cubes and add to the bowl. Toss with the flour

Add the lemon juice and ¾ of the water. Stir with a blunt metal knife, incorporating all of the flour as you mix. If it is too dry add more water as necessary. The dough should come together to form a soft ball, but it should not be 'wet' or sticky.

Dust the worktop & your rolling pin with flour, then roll out the pastry dough to form a long, thin oblong. Lift one short edge of the pastry and fold it over the middle, then do the same with the other edge of the pastry to make three layers. Turn the pastry 90 degrees, then re-roll

Repeat this process three more times then wrap the dough in clingfilm and chill in the fridge for 20 minutes

Remove from the fridge and repeat the rolling process 3 more times. Wrap again and chill for a further 20 minutes

Repeat the rolling process again and chill for a final 20 minutes
Making the Palmiers
Remove the pastry from the fridge and roll out into a neat rectangle approximately 30cm x 40cm. Trim any edges if very wonky

Stir the hazelnut pesto and spread out over the pastry

Top with the grated cheese

Finally, rip the prosciutto ham into thin strips and lay on top of the cheese

Starting from one of the long edges, roll the pastry up tightly to the middle of the pastry, tucking in the filling as necessary. Repeat from the other side of the pastry, so that the pastry rolls meet in the middle. Chop the ends to neaten

Wrap and chill for 30 minutes, pre-heat the oven 180C/ 350F/ GM4 and line several baking sheets with baking parchment

Remove the filled pastry from the fridge and slice into rounds approximately ½ cm thick – aim for 24-26 palmiers

Lay the palmiers onto the baking sheets, leaving a 3 cm gap between each one to allow them to expand as they cook

Brush the top of the palmiers with a little beaten egg and bake for 20-25 minutes until crisp and golden

Allow to cool on a wire rack
Notes
These palmiers can be frozen prior to cooking. Once sliced, open freeze on baking sheets and transfer to a freezer bag until required (up to 3 months). Cook from frozen, allowing a few extract minutes in the oven
(Visited 463 times, 1 visits today)