The JH Hibiscus Margarita blends enticing, dark hibiscus syrup with Cointreau, lemon, lime and tequila. Tangy. Fruity. Strong. It's a beautiful hibiscus cocktail.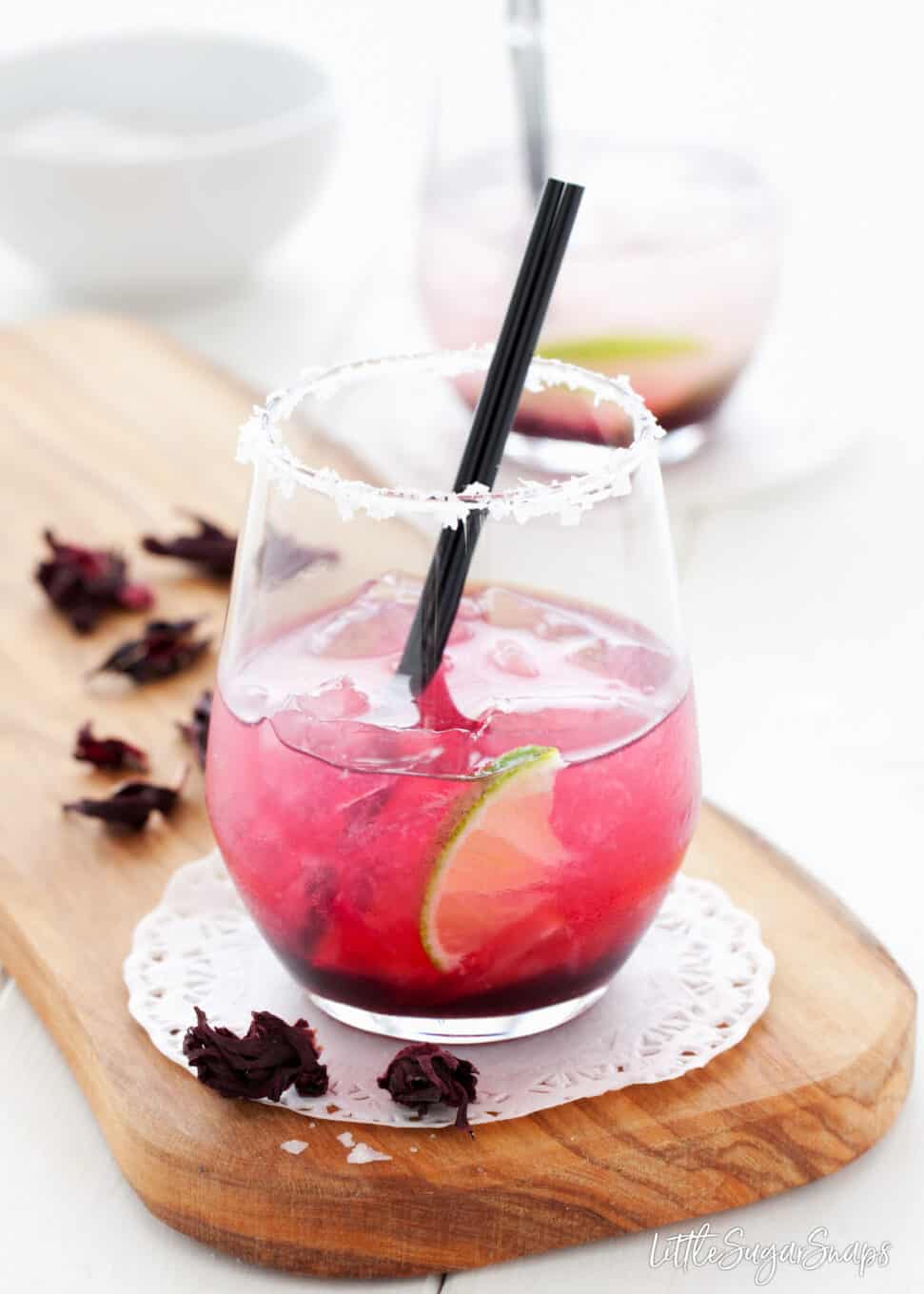 THIS POST CONTAINS AFFILIATE LINKS.AS AN AMAZON ASSOCIATE I EARN FROM QUALIFYING PURCHASES.
One year ago today I flew off to Chicago for a short break with my best friend. Whilst there, I had a stunning hibiscus margarita in the Signature Room of the John Hancock Center. It was a blend of hibiscus syrup, Cointreau, lemon, lime and tequila. It was tangy, fruity and strong. Just how I like my cocktails.
After my first sip of the Signature Room hibiscus cocktail I knew instantly I would be attempting to make my own at home. This hibiscus cocktail is my re-creation of that drink.
I'm not normally a tequila kind of girl, but it was the mention of hibiscus that drew me in and made me order a margarita. I like to try unusual flavours. It did not disappoint.
What is Hibiscus?
Hibiscus is a flower that is commonly dried and used in herbal tea. It tastes floral and fruity. It is quite punchy and delivers juicy cranberry & raspberry flavours. That's why it teams up so well with the lemon & lime in this Hibiscus Margarita.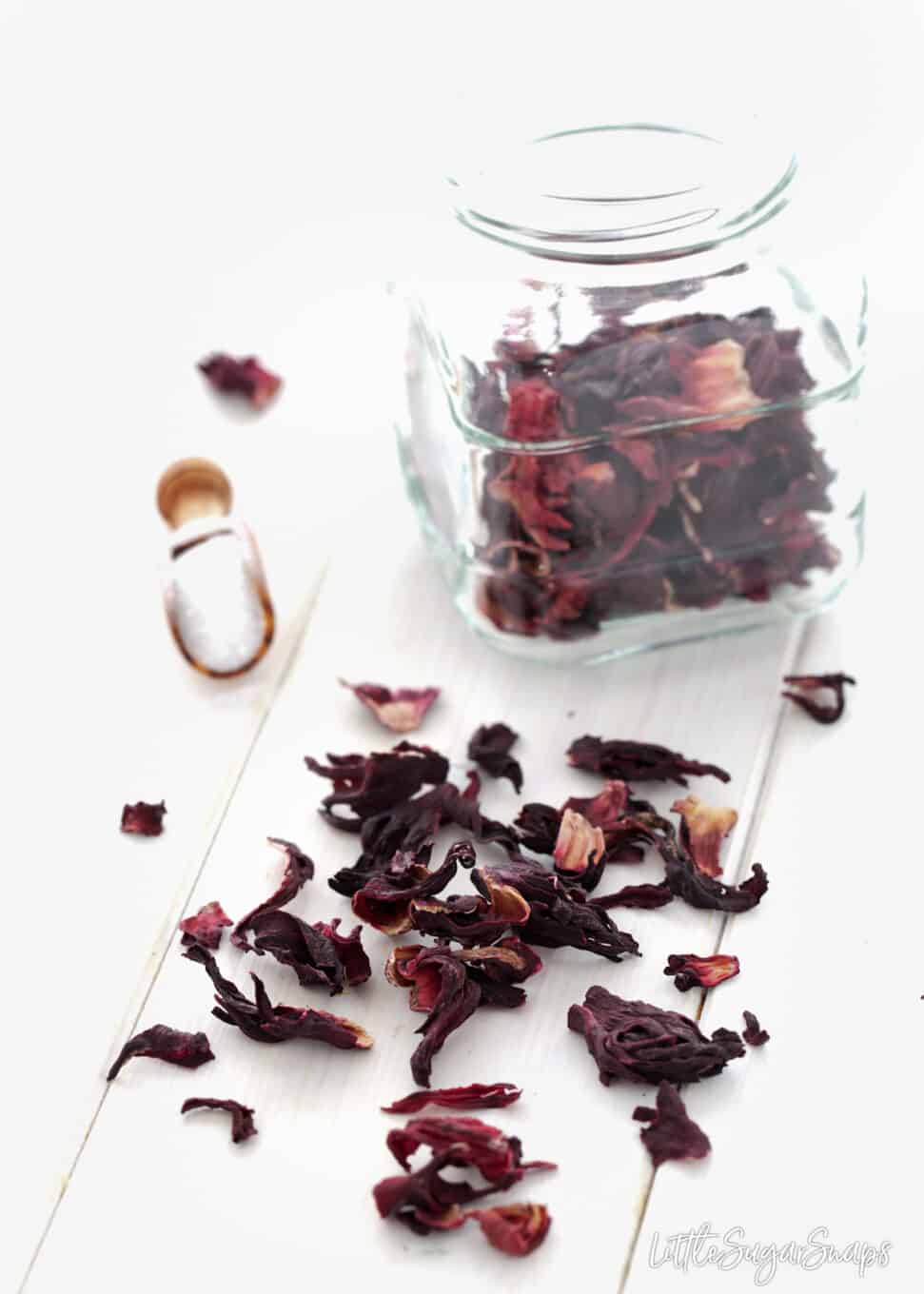 How to Make a Classic Margarita
A classic margarita cocktail is made from tequila, Cointreau (or Triple Sec) and lime juice:
Salt the rim of your glass by taking a wedge of lime, running it along the rim of the glass, then dipping the glass into salt. Drop some ice cubes into the glass
Add some ice to your cocktail shaker, pour in the liquid ingredients and shake vigorously for 30 seconds
Strain the cocktail into the prepared glass
Garnish with a lime wedge and serve
Simple! The tangy lime blended with sweet orange liqueur and the punchy hit of tequila is a long-standing winning combination.
How to Make The Hibiscus Version
I, however, like to mix things up. Just like all good Margarita recipes, my version also includes:
Tequila (silver or blanco is ideal)
Cointreau (Triple Sec is fine instead)
Lime juice
A salt-rimmed glass
But it also contains hibiscus syrup and lemon juice. The additional citrus is there to counterbalance the sweetness that the syrup imparts and to draw out the floral and fruity nature of the syrup.
Once the hibiscus syrup is made, it is just as easy to make this version of the drink than it is the classic – simply add the syrup to the cocktail shaker when pouring in the other ingredients.
This hibiscus drink recipe is a walk in the park, even for amateur cocktail makers.
How to Make Hibiscus Syrup
It's very easy to make hibiscus syrup. Just put dried hibiscus flowers, sugar and water into a saucepan and heat gently until the sugar dissolves, then bring to a gentle simmer and cook for 10 minutes. Take off the heat and let the mixture steep for 10 more minutes, then strain the syrup through a sieve and let it cool.
For such little work your reward will be a bottle of hibiscus syrup that is:
Thick
Dark
Fruity
Mysterious
It really is something special.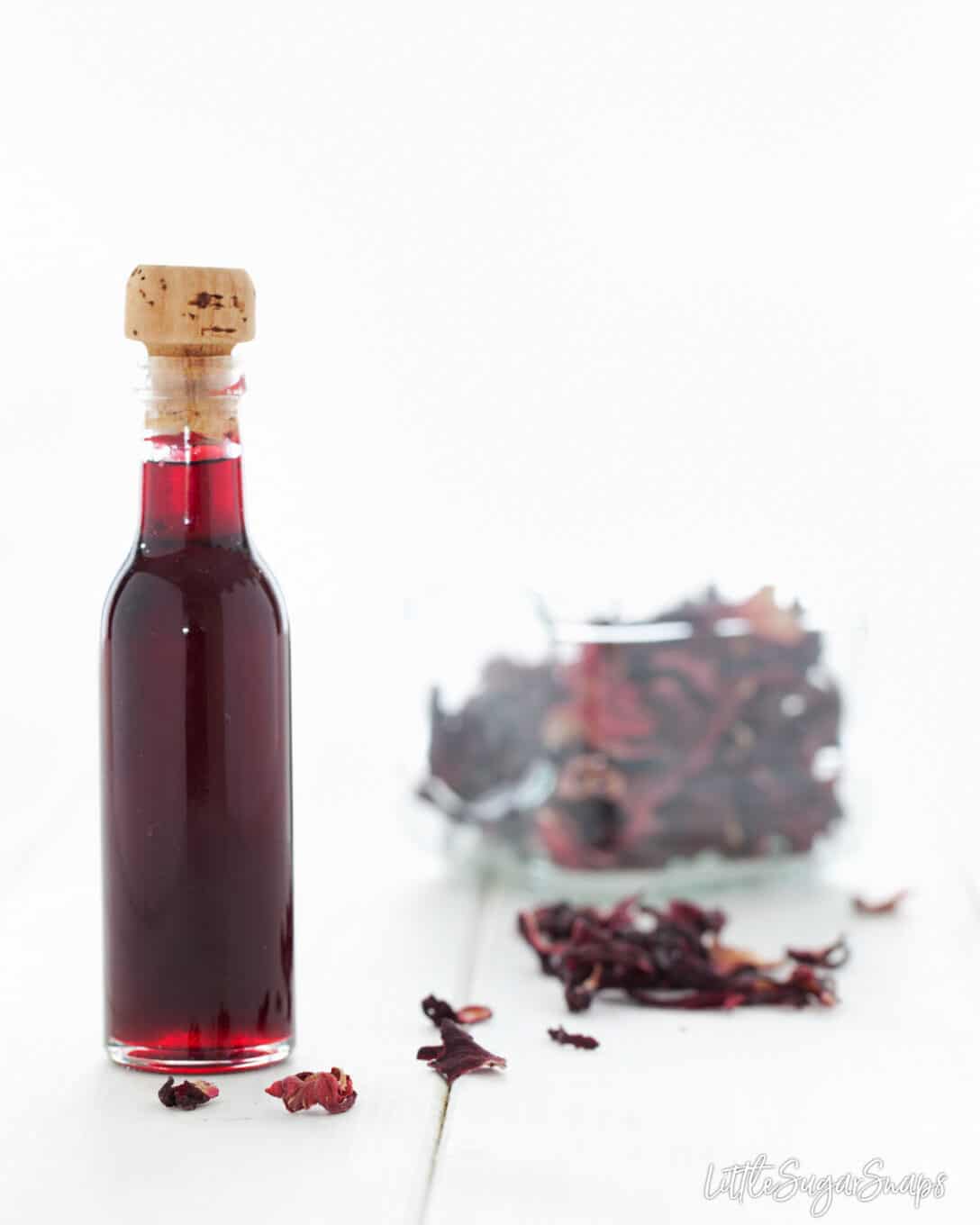 And what I really can't get enough of in this hibiscus drink is that vibrant, sweet, tangy hibiscus syrup followed by a strong, hearty lick of tequila.
Where Can I Find Dried Hibiscus Flowers?
You can buy ready-made hibiscus syrup, but it is relatively expensive. I recommend making your own for a fraction of the price in less than 30 minutes. You'll also get to enjoy watching the ingredients turn into that gorgeous, deep ruby coloured syrup.
I picked my pack up from Amazon but I daresay you can find dried hibiscus flowers in plenty of health and wholefood stores too.
Is There a Non-Alcoholic Hibiscus Drink Recipe?
Forgive me for getting carried away, but well, the hibiscus syrup is simply too gorgeous to keep solely for the drinkers. For the non-drinkers and children amongst us, I've also created a Hibiscus & Raspberry Soda drink recipe. It's divine:
Layer ice, lime wedges and raspberries to the top of two tall glasses
Pour 15ml of the syrup into each glass (admire how beautiful this looks as it trickles down the ice)
Top up with lemon-lime soda and serve with a straw or a stirrer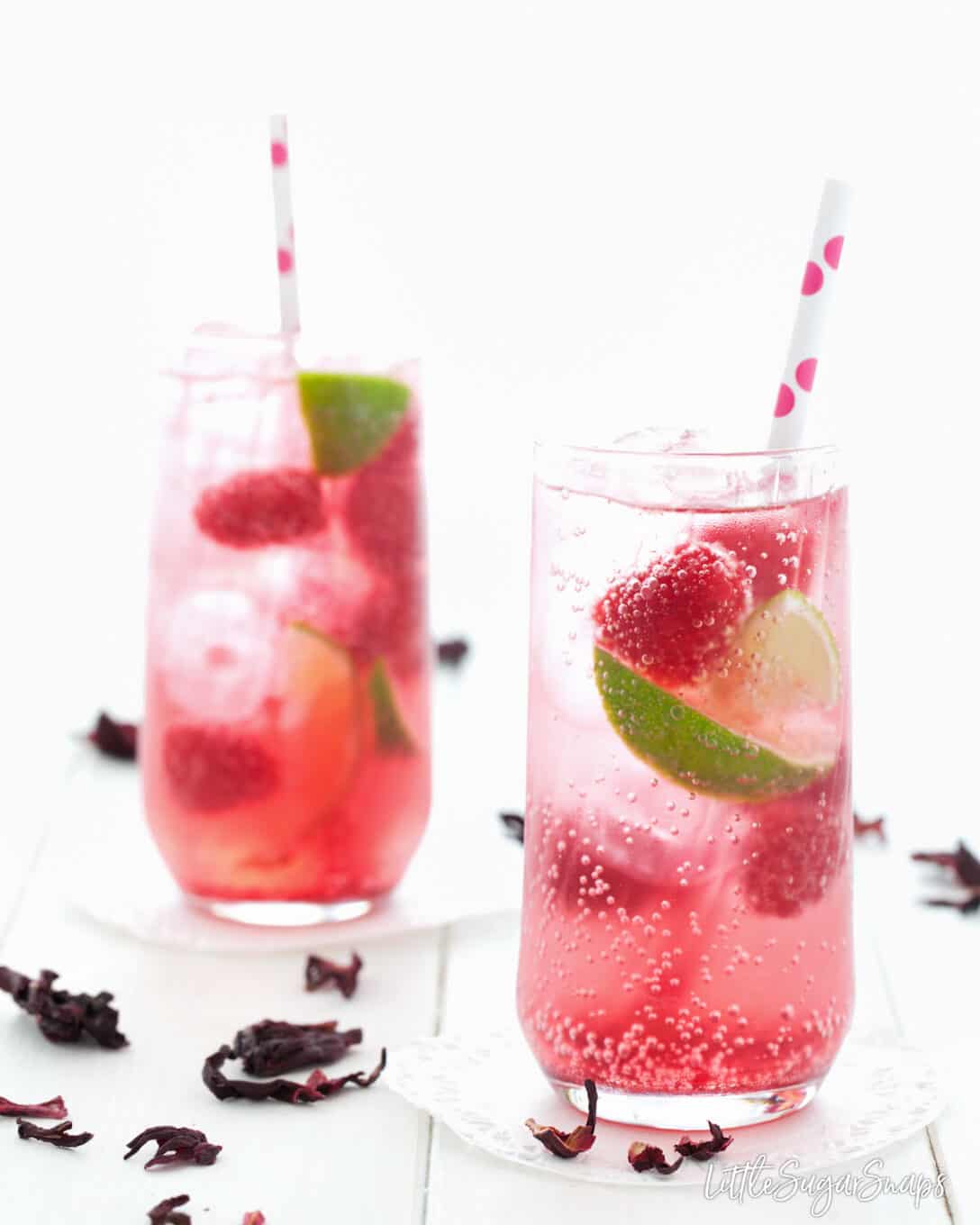 More Hibiscus Cocktail Recipes:
Fun in Chicago
Anyway, Chicago. Why was I there? Well, last year I had a significant birthday – 40 (arrgggghhh). So did my best friend.
So, we decided that we would accept the inevitable barrage of age reminders and the age-related jokes in good faith. We also hatched a plan to celebrate in style by skipping off to Chicago for a long weekend.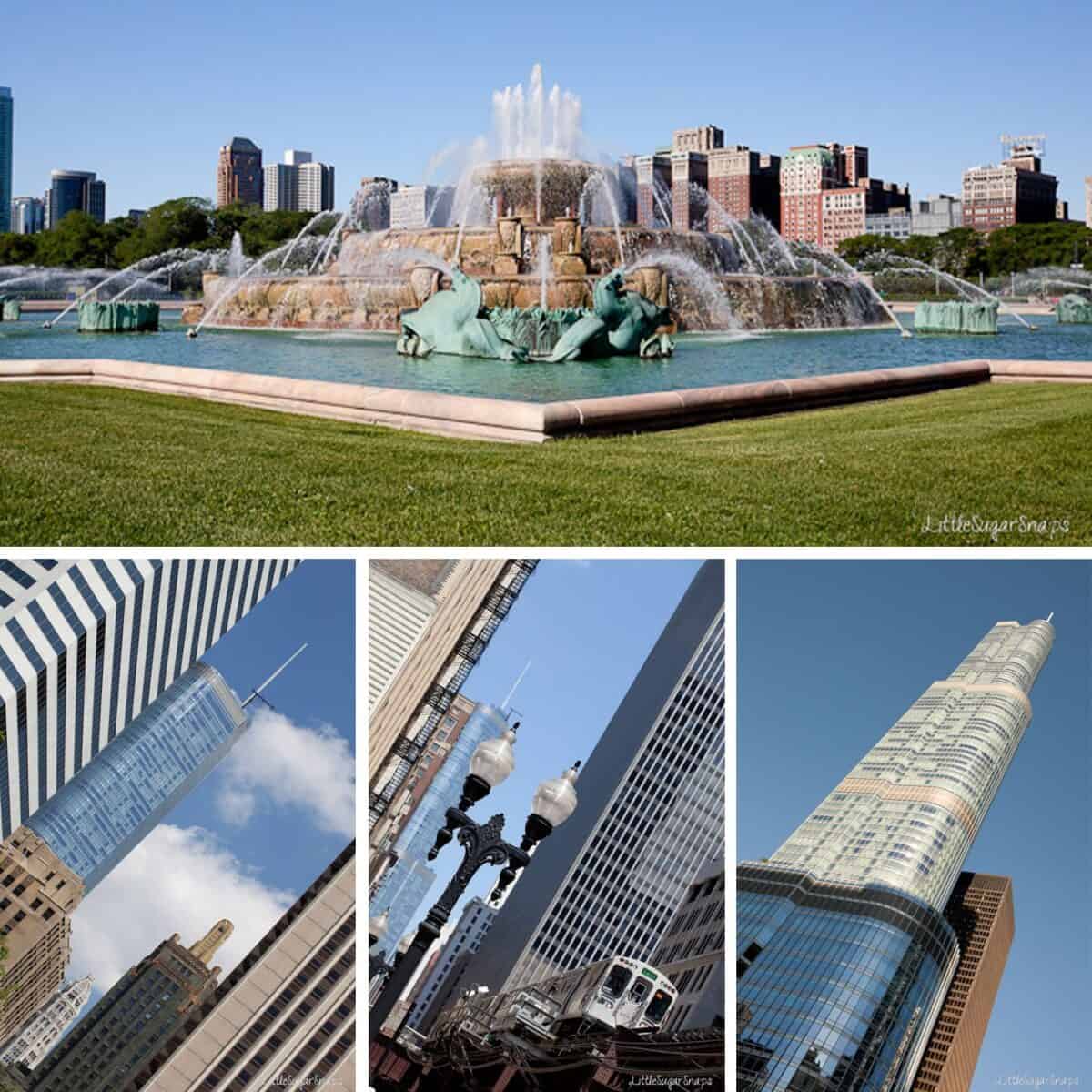 We had 4 days of fun in this fabulous city, wandering around just gawping at the scenery & architecture (plenty of that in Chicago).
I got slightly obsessed by The Bean (aka Cloud Gate) and trying to squeeze a Toy Story Hamm Piggy Bank into my suitcase for Hannah. Plus, since we are both huge ER fans, we got ourselves onto a bit of an ER related trail, complete with a 'quote from the show' game that lasted the entire length of the holiday. Should I ever be admitting that? Probably not.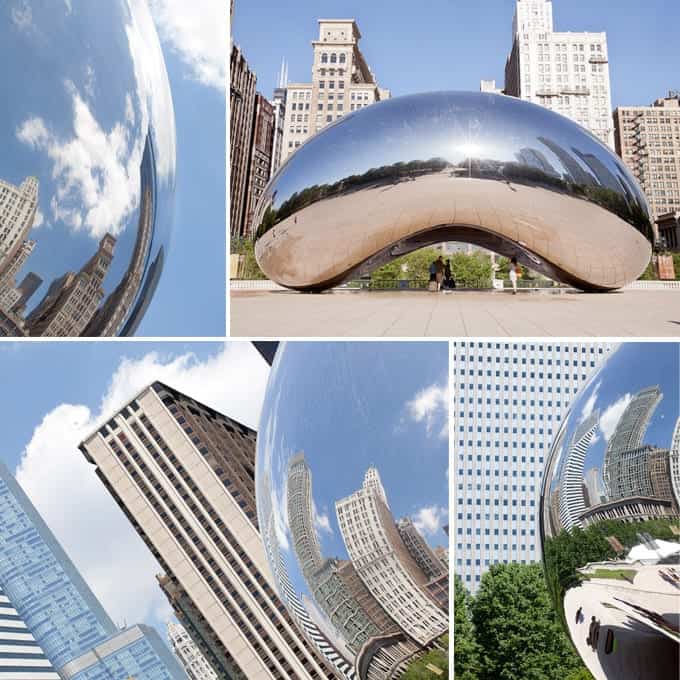 I do wish that I had been blogging one year ago. Then I would have taken more notice of the eateries we visited and told you about them.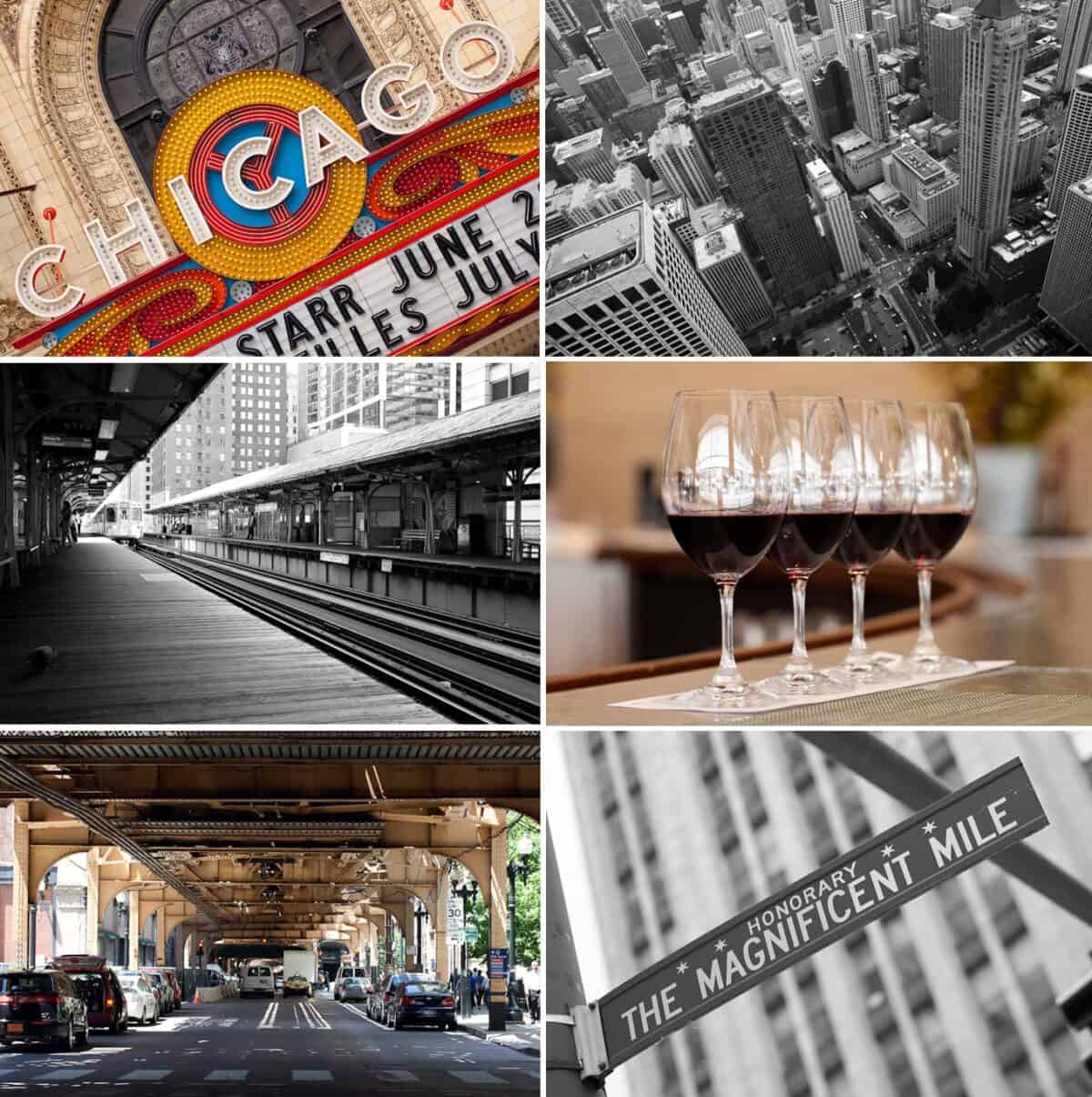 Of course, bagging a window seat in the Signature Room, slowly sipping a well made cocktail like the hibiscus margarita and taking in the far-reaching views was a hard to beat highlight.
I generally find it hard to come up with names that are interesting, appropriate and not totally ridiculous. This time I have cracked it though in this hibiscus drink recipe the words hibiscus & margarita tell you exactly what you can expect. But here's the best bit – JH are not only the initials of the place I first savoured this drink. They are also those of my best friend, whom I was with when I dived into this drink, high up in Chicago. The JH Hibiscus Margarita. I suddenly feel like a genuine genius. Cheers JH.
Try My Other Fruity Cocktails:
If you've enjoyed reading this post, please leave a comment or share it with friends – you would make me very happy. If you'd like to get notified of my future posts you can also follow along by email.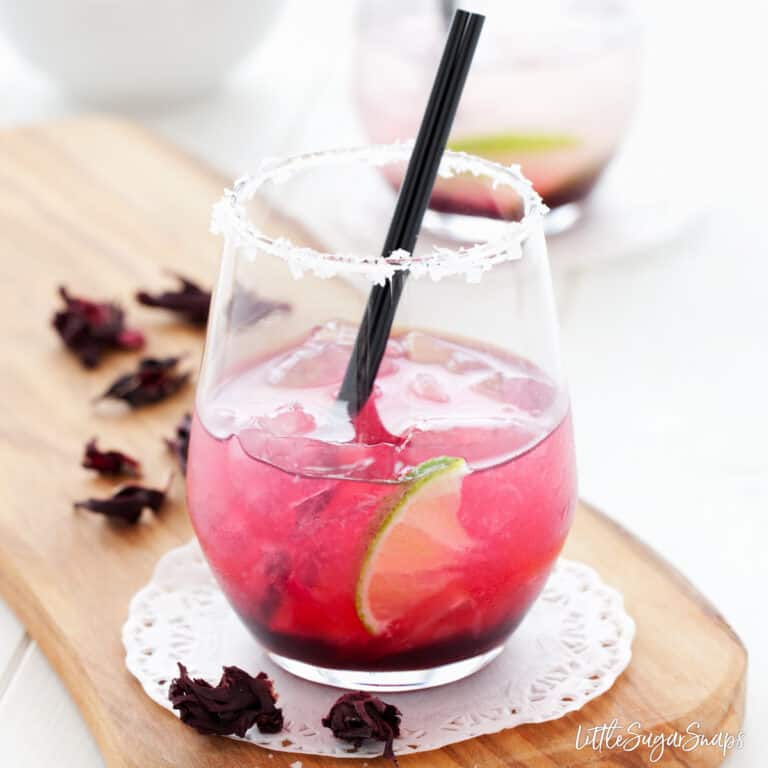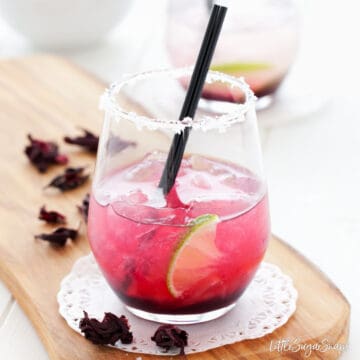 The JH Hibiscus Margarita
The JH Hibiscus Margarita blends enticing, dark hibiscus syrup with Cointreau, lemon, lime and tequila. Tangy. Fruity. Strong. It's a beautiful cocktail.
Print
Pin
Rate
Ingredients
For the Hibiscus Syrup:
25

g/ 1oz

Dried hibiscus flowers

240

ml/ 1 cup

Water

250

g/ 1 cup

Caster sugar
For the JH Hibiscus Margarita:
30

ml/ 2 tbsp

Hibiscus syrup

20

ml/ 4 tsp

Lime juice

20

ml/ 4 tsp

Lemon juice

20

ml/ 4 tsp

Cointreau

80

ml/ ⅓ cup

White tequila

(or silver tequila)

Ice

Lime wedges

Salt crystals
For the Hibiscus & Raspberry Soda (makes 2 glasses):
30

ml/ 2 tsp

hibiscus syrup

12

raspberries

Lime wedges

Ice

Lemon-Lime Soda

(such as Sprite or 7-UP)
Instructions
Make the Hibiscus Syrup
Put the hibiscus flowers, sugar and water into a saucepan. Heat gently, stirring frequently until the sugar has dissolved. Bring to the boil, then turn the heat to low and simmer for 10 minutes

Take off the heat and let the mixture steep for 10 more minutes. Strain the syrup through a sieve, bottle and, once cool, store in the fridge (it will keep well for 1 month)
Make the JH Hibiscus Margarita
Begin by salting the rim of the glasses: pour the salt onto a small plate. Rub the rim of the glass with a wedge of lime and then upturn the glass and dip the very tip of it into the salt. Try not to press the glass in too deeply – just a light covering of salt is all you are after

Add ice cubes to a cocktail shaker and pour in the tequila, Cointreau, lime and lemon juice and the hibiscus syrup. Shake hard for 30 seconds

Strain into the prepared glass and top with a wedge of lime
Make the Hibiscus & Raspberry Soda:
Layer the ice, lime wedges and raspberries to the top of two tall glasses

Pour 15ml of the syrup into each glass (admire how beautiful this looks as it trickles down the ice)

Top up with lemon-lime soda and serve with a straw or a stirrer
Nutrition Per Serving (Approximate)
Calories:
168
kcal
|
Carbohydrates:
15
g
|
Protein:
1
g
|
Fat:
1
g
|
Saturated Fat:
1
g
|
Sodium:
6
mg
|
Sugar:
11
g
|
Vitamin C:
7
mg
(Visited 246 times, 1 visits today)