Winter Spiced Negroni is a stunning seasonal twist on the classic Negroni, featuring festive spices & charred orange. It's not to be missed.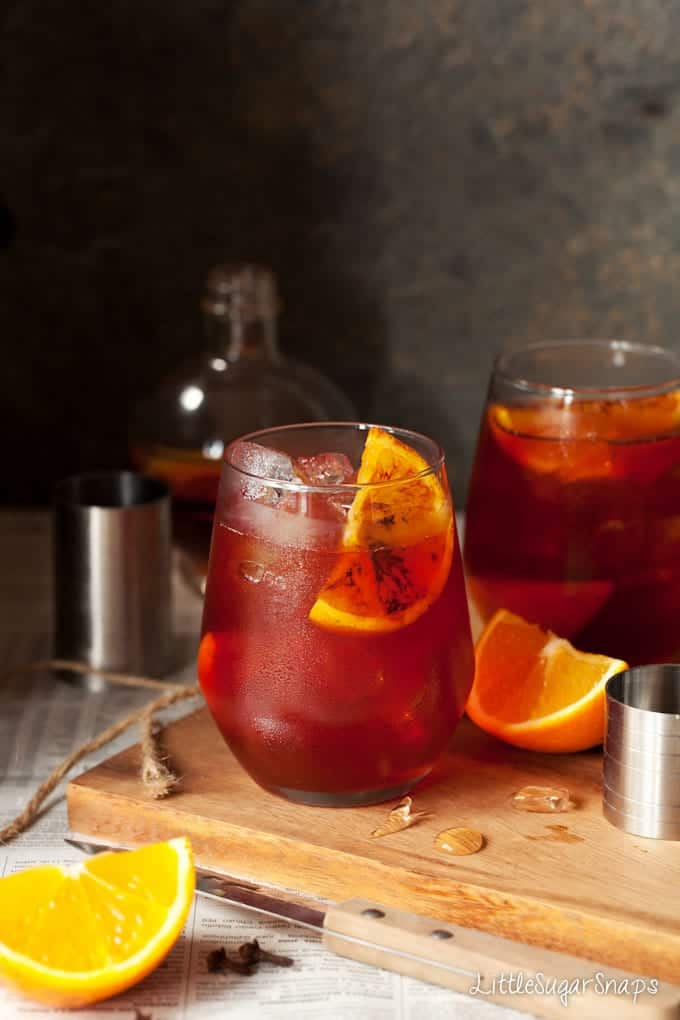 Short & to the point. That's what I'm going to be today. Just like this little Winter Spice Negroni of mine.
This week has been my busiest week so far this year. I knew I was over-stretching myself a week ago, but I ploughed ahead and took on too much. But good news, by this evening, the week will be behind me. And I'll have a Winter Spice Negroni by my side as I put up our Christmas tree.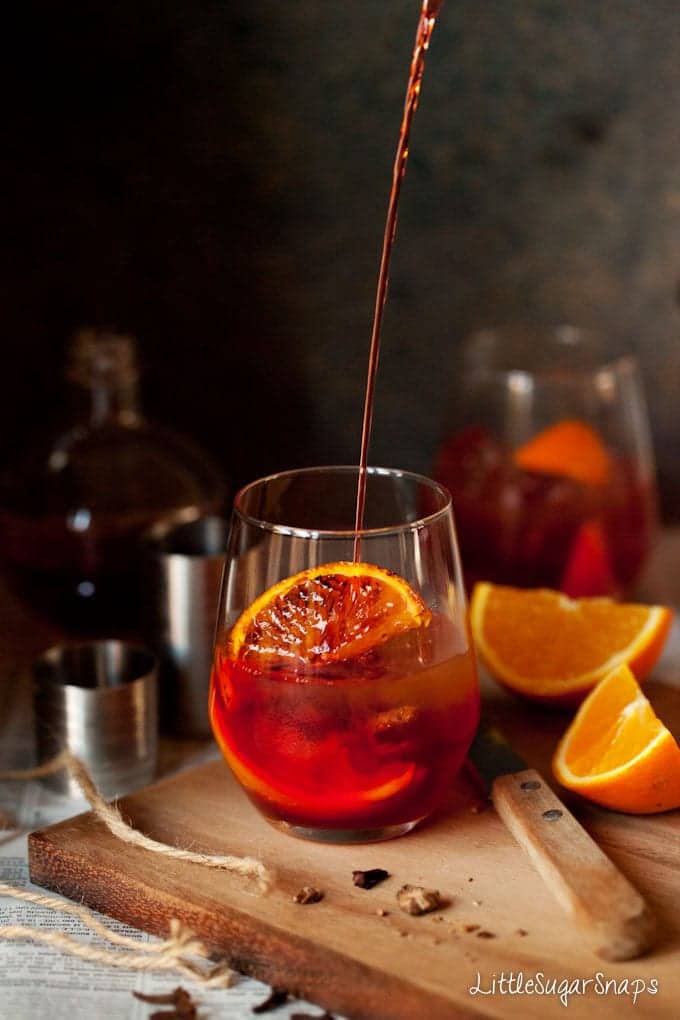 There's that word. Christmas. The reason you are probably all having a week as busy as mine.
Despite being in a level of chaos I'm not fond of, I refuse to leave our tree in its box while I get on with some of those outstanding (yawn) jobs. Today is the first Friday in December and in our house that means decorations go up. If not, then I will have failed to uphold the most important of our family traditions: embracing the pre-Christmas excitement of our ever-growing children. If that ever happens, you'll find me hiding; shame faced in the garden shed… forever more.
So tonight I'll be transforming our house into a winter wonderland with a Winter Spiced Christmas Negroni to guide me along the way. It's fruity, spicy & bitter – a true friend of mine.
I tried a version of a spiced Negroni last December at one of our favourite restaurants, Polpo. Regular readers will know that whenever I taste an impressive cocktail at a restaurant or bar, it becomes my mission to make one just as good at home.
Mission accomplished.
What is a Winter Spiced Negroni?
A classic Negroni is a blend of gin, sweet vermouth and Campari. It is bittersweet and very boozy.
To create a more festive Negroni I've tinkered with the classic recipe two ways.
At the heart of my rendition is a spice-infused gin featuring star anise, cinnamon, nutmeg and clove. This gin brings a bounty of tempting, toasty spice notes into the Christmas Negroni equation
The Polpo version included an abundance of fresh orange wedges, which really worked, so I've added several charred orange wedges to the mix too.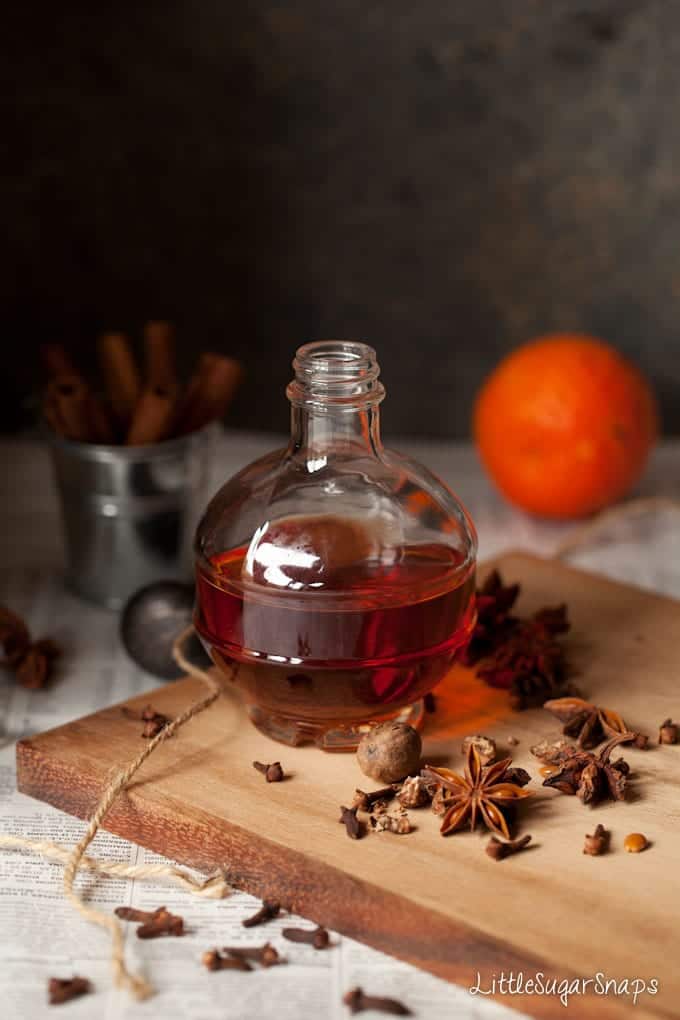 And if you like bittersweet cocktails take a look at my amaro Averna cocktail, my Amaro, Campari & bourbon cocktail and my white Negroni. All three are exquisite.
How to Enjoy a Negroni Cocktail Properly
I've heard that the best way to enjoy any cocktail is to use as many of your senses as you can. So, before you dive headlong into this Winter Spiced Negroni do these three things:
Use your eyes: admire that beautiful, lush, seasonal red with scorched orange segments muddled in – you've got to adore it
Use your nose: inhale those intoxicating citrus aromas mixed in with festive spices
Use your tastebuds: savour your first sip – those gorgeous toasted spice & charred citrus flavours unite very nicely indeed with the bitterness of the Campari & the sweet vermouth
This Christmas Negroni is a stunning seasonal twist on the classic. Knowing I have one of these waiting for me tonight is all the incentive I'll need to get some the Christmas party music on the go and get those decorations up.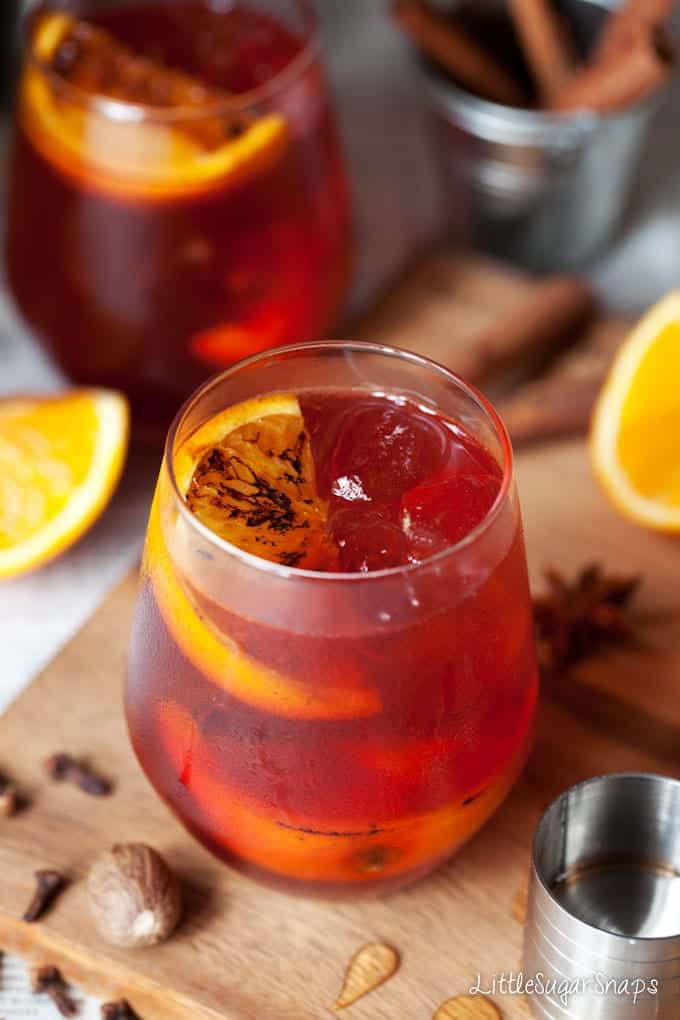 Try more Campari recipes: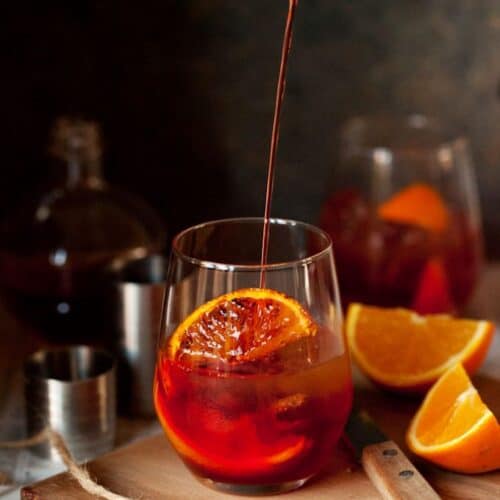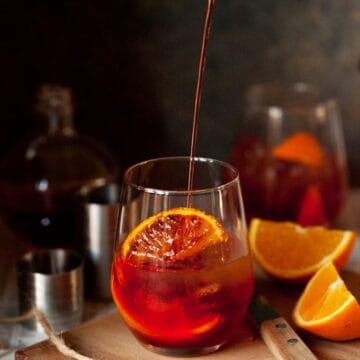 Winter Spice Negroni
Winter Spice Negroni is a stunning seasonal twist on the classic Negroni, featuring festive spices & charred orange. It's not to be missed.
Inspired by the specials board at Polpo (www.polpo.co.uk)
Print
Pin
Rate
Ingredients
Spiced Gin
500

ml

Gin

1

Star Anise

2

Cloves

nutmeg

2

cinnamon sticks

(each approx 7.5cm/ 3 inches in length)

15

cloves
Winter Spiced Negroni
30

ml/ 1 fl oz gin

60

ml/ 2 fl oz red vermouth

60

ml/ 2 fl oz campari

2

chunky segments of orange

Sunflower oil

(or other tasteles oil)
Instructions
Make the Spice Gin
Roughly smash up the spices using either a pestle & mortar or the end of a rolling pin

Put the spices into a dry (un-oiled) frying pan and heat gently for 1-2 minutes to release their aromas

Tip the spices into a large screwcap jar, pour over the gin and seal. Store for 5 days giving the jar a gentle shake every day or so

After 5 days strain the gin through a muslin cloth to remove the spices.

Store the strained gin in a glass bottle for up to 3 months
Make the Winter Negroni
Put an un-oiled frying pan over a high heat while you brush the orange segments lightly with the oil. Place both segments flesh side down in the pan and cook for 1-2 minutes until beginning to char. Flip over and cook the other side in the same way. Remove from the pan to cool

Put a few ice cubes into your glass, add one of the charred orange wedges and top with a little more ice

Pour the gin, red vermouth and Campari over the ice. Stir briefly. Add the remaining orange segment & serve immediately
(Visited 1,736 times, 21 visits today)