Subtle milk chocolate and punchy blackberry sauce team up in this Nutella Ice Cream to provide candy for your eyes as well as your tastebuds. Dive in. Sit back. Chill.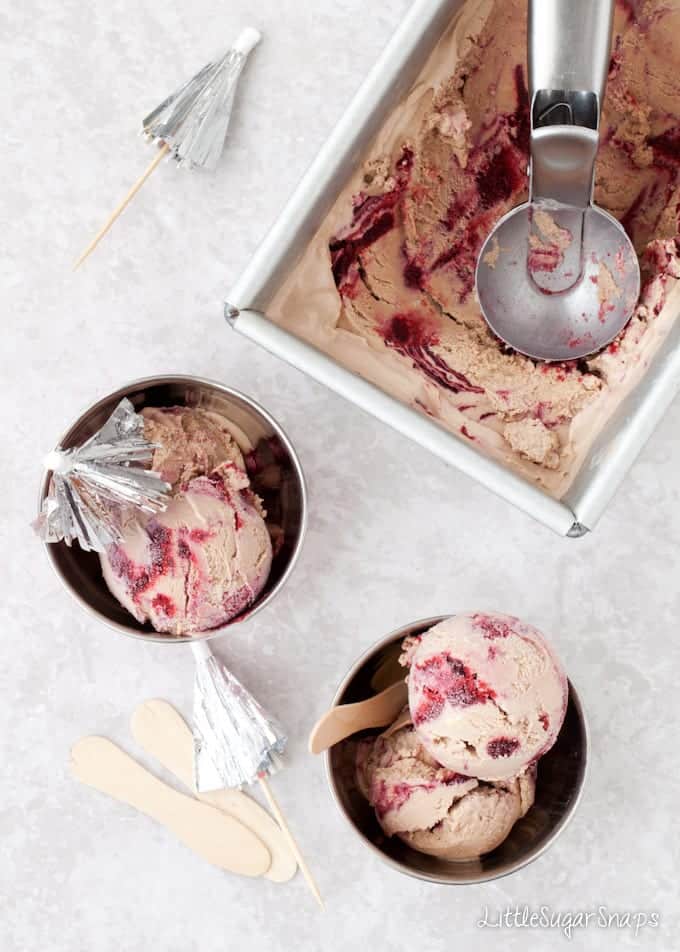 I'm feeling rather smug. After berating the lack of summer for weeks, I finally decided to post my recipe for Nutella Ice Cream with a Blackberry Swirl and well, let's just say it couldn't be more perfectly timed. Summer has finally arrived. It is sunny. It is warm. I have finally thrown my jeans aside in favour of my long-lost summer skirts and legs. And… and, and, and….. I have a freezer stocked with this glorious ice cream.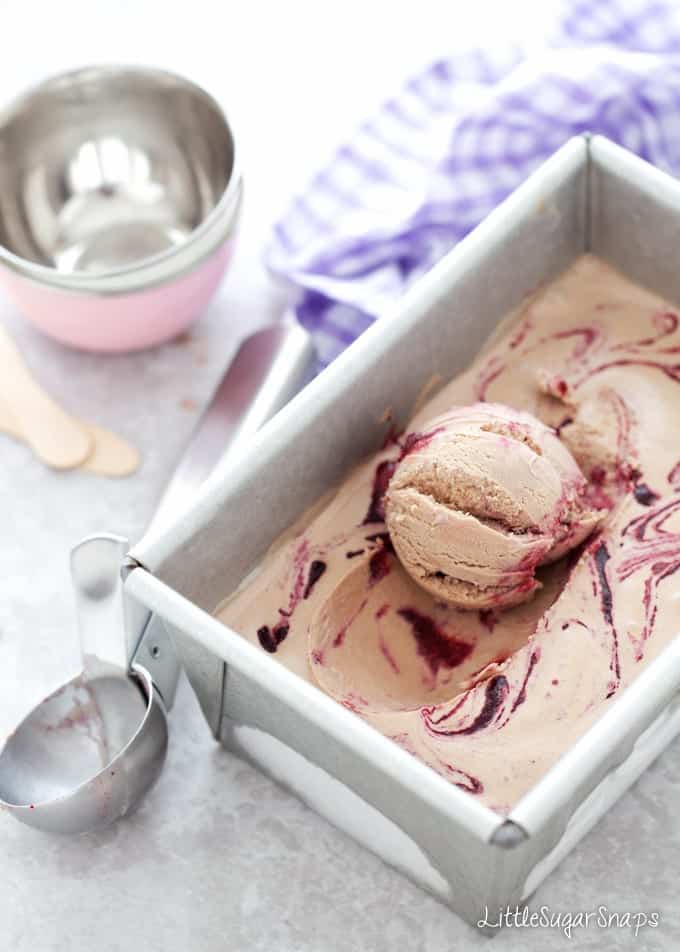 I've spent my life loving sweet food. As a child, I was never happier than when I was allowed to bake a cake… I could make a chocolate bar last for hours… I was the kid who took 30 minutes to decide which sweets to buy in the sweet shop on pocket-money day… every week.
I've not changed much as an adult. I do have a more varied baking repertoire but I've continued to be indecisive when it come to treats. I often struggle to decide between the desserts on offer when eating out or just what to bake at home.
Sad Truth: I'm sorry to say that I've reached that point in my life where sometimes I struggle to eat an entire dessert without feeling overloaded. I think that point is called middle age. But let's not dwell – I'll still give dessert my best attempt.
The good news is that my ability to consumer ice cream has not waned. If anything, it is the treat I am most likely to go for these days since it is cool, sweet and creamily luxurious without being over the top.
My Nutella Ice Cream is all of those things and more. Using Nutella in place of straight chocolate means that this ice cream isn't too chocolatey. It's brazenly easy-going – think of the subtlest, milkiest chocolate and you'll be on track.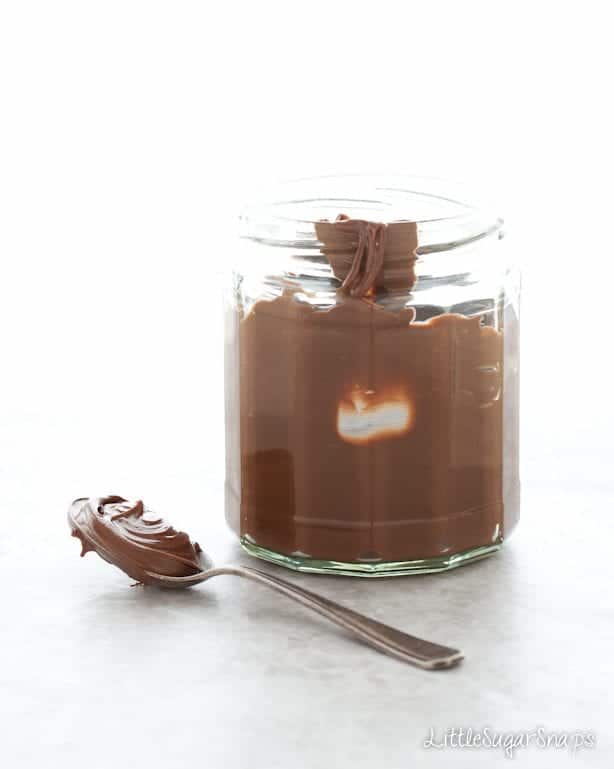 Rippled through this lovable chocolate base is a sweet, sharp & refreshing blackberry sauce. That dark & fruity purple streak also makes this Nutella Ice Cream especially easy on the eye. I like to think of it as the perfect sidekick to that cheeky Nutella Ice Cream.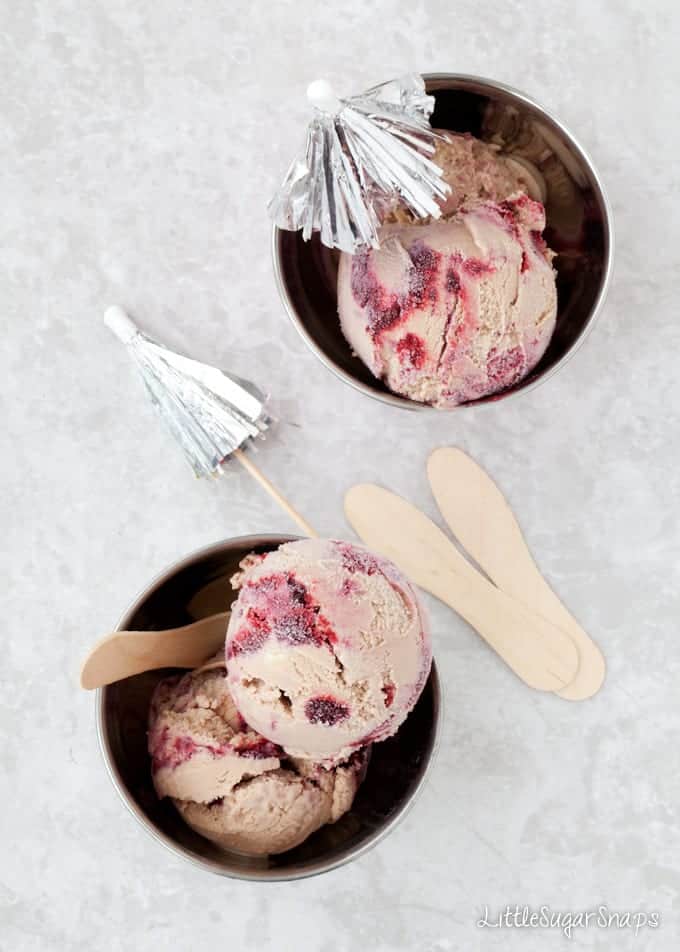 To really boost the creamy nature of this Nutella Ice Cream, I whipped some clotted cream into the custard base (sigh).
Confession: I have certain food obsessions, which I'm sure regular readers are beginning to identify. Clotted Cream is one of them. It is extremely thick with a wonderfully rich & decadent flavour. Clotted Cream is not remotely healthy, but…. give me a potful and some strawberries to scoop it up with and I'm in dairy heaven. You can use double cream for a slightly less rich ice cream if you prefer.
This ice cream is fun, yet sophisticated, with a flavour no right-minded adult or child could refuse. Treat yourself to a scoop of Nutella Ice Cream with a Blackberry Swirl and head to your favourite sunny spot.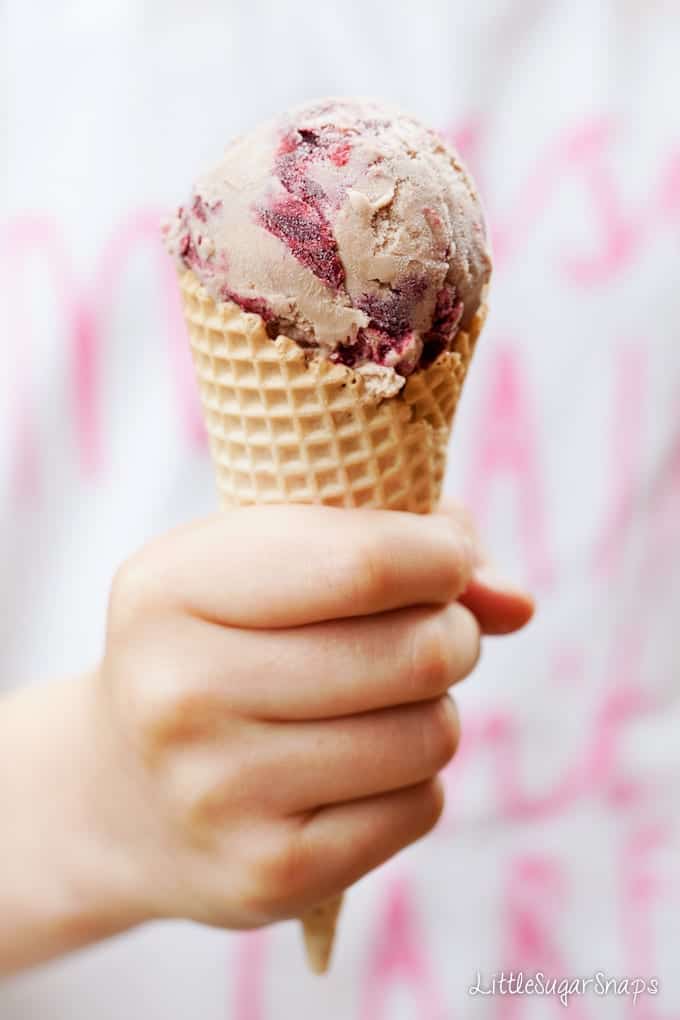 Jane Saunders
Yields 6
Nutella Ice Cream with Blackberry Swirl
30 minCook Time
30 minTotal Time
Ingredients
For the Blackberry Sauce
200g/ 8oz fresh blackberries (frozen work fine too - just let them defrost)
2 tbsp caster sugar
1 tbsp water
For the Nutella Custard Base
300ml/ 1 1/4 cups whole milk
4 egg yolks
50g/ 2oz caster sugar
100g/ 4oz Nutella (or similar chocolate hazelnut spread)
225g/ 9oz Clotted Cream (or sub in 225ml/ 1 cup + 2 tbsp double (heavy) cream)
Instructions
Make the Blackberry Sauce

Put all of the ingredients into a small saucepan and cook gently - stirring frequently - until the blackberries begin to break down. Add a little more water if necessary
Push the sauce through a sieve to remove the seeds
Allow to cool completely, then cover and chill

Make the Nutella Custard Base

Put the milk into a medium saucepan and heat to just below boiling
Meanwhile beat the sugar and egg yolks with an electric beater until pale and thick (about 3 minutes)
Gradually pour the hot milk onto the egg mixture, beating constantly
Pour the custard into the saucepan and cook on a low heat, stirring constantly until thickened. It is vital to heat slowly and stir constantly to avoid the custard splitting
Once the mixture coats the back of a spoon, take off the heat and beat in the Nutella
Cover with a layer of clingfilm (to stop a skin forming), let cool, then chill for 4 hours (or overnight)

Making the ice cream using an ice cream maker

Beat in the clotted cream (or double cream) until relatively smooth - a few small lumps don't matter
Pour the custard into the ice cream maker and churn until the ice cream is the consistency of soft serve
Working quickly, transfer 1/3 of the ice cream into a freezer-proof container and spoon 1/3 of the blackberry sauce on top. Add another 1/3 of the custard & blackberry sauce and then a final layer
Use a skewer or a blunt knife to swirl the ice cream and sauce together to achieve a rippled effect
Cover with clingfilm and freeze until set
Remove from the freezer 15 minutes before serving

Making the ice cream by hand

Beat in the clotted cream (or double cream) until relatively smooth - a few small lumps don't matter
Pour the ice cream into a suitable freezer-proof bowl, cover and put it in the freezer for 1-1 1/2 hours. The sides should be beginning to freeze, but the centre will be soft and slushy
Remove from the freezer and, working quickly, use electric beaters to beat the ice cream until the ice crystals are uniform. Cover and place back in the freezer
Repeat this process 2-4 more time at 1 - 1 1/2 hour intervals. Once the ice cream has reached the soft serve consistency you are ready to swirl through the blackberry sauce
Spoon 1/3 of the ice cream into a clean container and dollop 1/3 of the blackberry sauce on top. Add another 1/3 of custard followed by another 1/3 blackberry sauce and then a final layer
Using a skewer or a blunt knife swirl the ice cream and sauce together to achieve a rippled effect
Cover with clingfilm and freeze until set
Remove from the freezer 15 minutes before serving
7.6.7
46
https://www.littlesugarsnaps.com/2016/07/19/nutella-ice-cream/
(Visited 17 times, 1 visits today)