These Salted Caramel Ice Cream Bars are ultimate summer luxury – the crisp and crunchy chocolate shell hides a smooth and creamy, flavourful ice cream. Customise with dark, milk or white chocolate and add almonds or peanuts if desired.
What could be better than salted caramel ice cream?
Salted caramel ice cream frozen on a stick and covered in crisp & crunchy chocolate of course.
Back when I was growing up the selection of ice cream bars on offer was relatively limited. Choc ices or mini milks were generally the order of the day. Only if I was on a particularly lucky run would I manage to swindle a Cornetto out of my parents. As for making our own ice pops? That ritual consisted of freezing fruit cordial and water. With somewhat dubious success… One suck and all the fruit concentrate would be in your mouth, leaving a stick of faintly coloured ice left behind on the stick.
Fast forward a couple of decades and there seems to be an ever expanding choice of ice cream bars popping up in shops. And my skills in the homemade department have thankfully improved.
Armed with plenty of shop-bought inspiration, I decided it was time to give homemade Ice Cream Bars my full attention. At the heart of these Ice Cream Bars is my salted caramel ice cream which I shared with you just a couple of weeks ago. Whether you choose to go with dark, milk or white chocolate to smother your bars in is your choice. And they are delicious with or without chopped nuts mixed into the chocolate.
My preference is for a dark chocolate shell. The richness from the chocolate seems to balance the sweet yet salty flavour of the ice cream perfectly. And I also loved the extra crunch and savoury element the chopped almonds provides.
My advice is to make the full recipe, fill your moulds and then enjoy the remaining ice cream just as it is. But if you insist on showing restraint, then I've included a scaled down version below. It's suitable for 5 or 6 ice cream moulds, dependent on their size.
Talking of moulds, for years I've struggled with plenty of awkward plastic ones. The type that have to stand up in the freezer whilst the filling sets. The ones that have those plastic lids (with the sticks attached) that fly off as soon as you try to move the contraption to the freezer. And don't get me started on trying to remove those frozen treats from the moulds. You probably know the type of mould I'm on about.
Well, this year I invested some birthday money in some new silicon moulds by Silkomart. They are a revelation. By far the easiest moulds I've worked with. They lay flat, do not have fiddly lids and the ice cream unmoulds easily from them.  I bought the regular sized moulds, which these Ice Cream Bars are made in and the mini moulds, with are dinky but great for when you want to vaguely behave.
Once unmoulded, I was surprised at how easy it was to cover the ice cream bars in chocolate. I honestly thought I would end up in a melted-ice-cream-mingled-with-chocolate kind of mess, but I did not. There's a touch of oil added to the melted chocolate, which helps the chocolate shell set hard and fast. I chose to spoon the chocolate over the bars, but using a shallow bowl and dipping the bars into it would also work well. Once set this shell is crisp and crunchy. It is the perfect contrast to the smooth and creamy ice cream lurking inside.
So here's to summer and plenty of ice cream.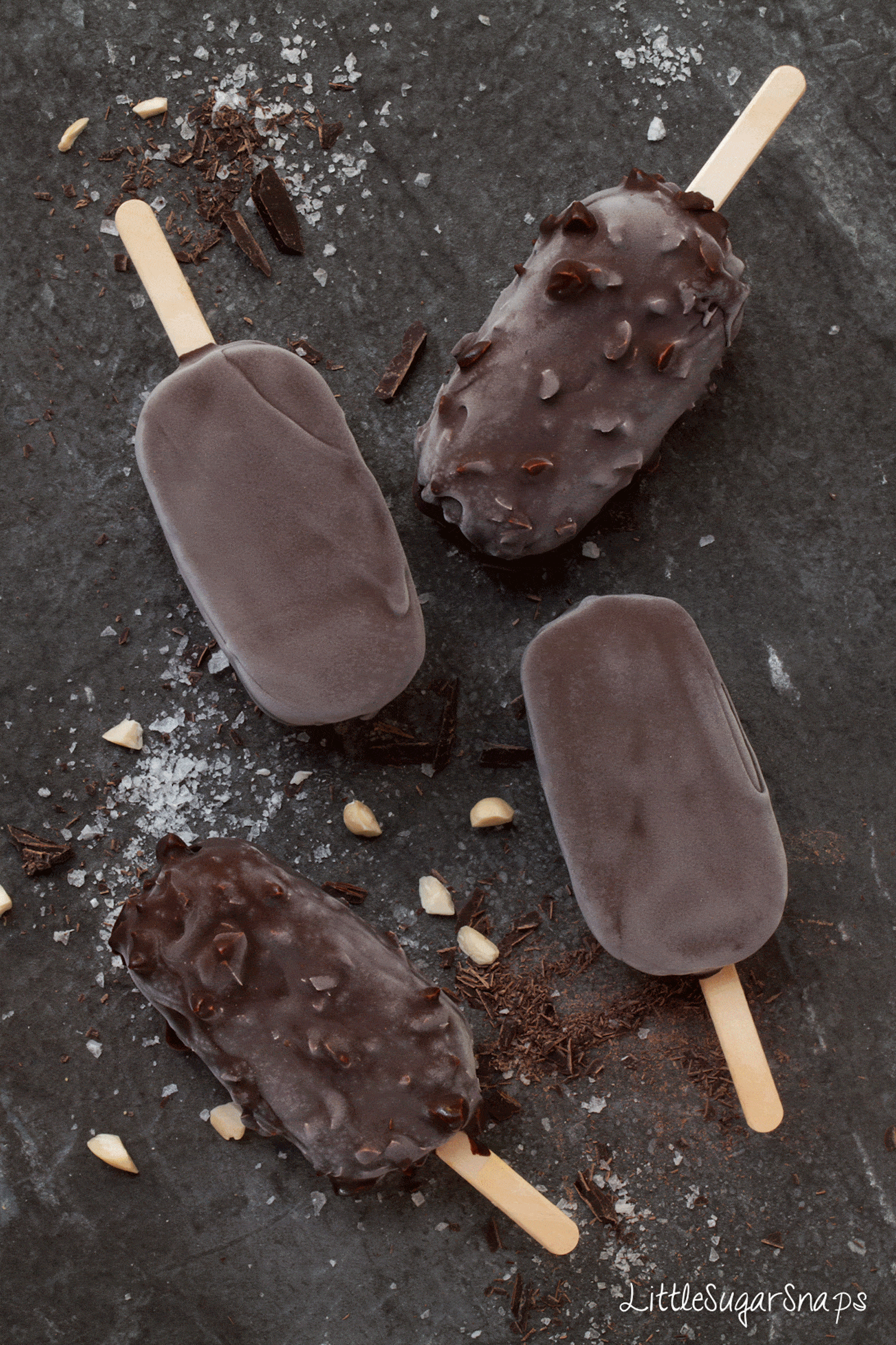 Disclaimer: This post contains Amazon affiliate links. Should you make a purchase through these links LittleSugarSnaps earns a small commission, however you pay the same price for the item (it does not increase). Thank you for supporting LittleSugarSnaps. I only promote and link to products I rate highly myself.
Chocolate Dipped Salted Caramel Ice Cream Bars
Servings
:
5
-6 Ice Cream Bars (depending on size of moulds)
Ingredients
100

g/ 1/2 cup

Caster sugar

4

tsp

Eater

200

ml/ 3/4 cup + 5tsp

Double (heavy) cream

200

ml/ 3/4 cups + 5tsp

Whole milk

4

Egg yolks

1/2

tsp

Vanilla extract

1

tbsp

Caster sugar

3/4

tsp

Sea salt crystals
To Cover
300

g/ 2 cups

Chocolate - chopped

(I used dark but milk or white would also be fine)

1 1/2

tbsp

Favourless oil

(such as groundnut)

50

g/ 1/3 cup

Almonds or peanuts - chopped

(optional)
Instructions
Make the Caramel Sauce
Put the water into a heavy based saucepan. Spread the sugar on top in an even layer

Set the pan over a medium heat and allow the sugar to gradually melt. As it melts you can gently swirl the pan a couple of times to ensure the caramel cooks evenly, but do not stir it

Meanwhile put the sea salt into a pestle & mortar & crush lightly

Once the sugar has melted, the caramel will begin to darken. Continue to let it cook until it reaches a lovely mid amber colour - but keep a close eye on the caramel as it can burn easily. Let it go darker for a more intense, almost burnt flavour

Add 1/4 of the cream and the salt, taking care as it can bubble up and is extremely hot. Mix with a small handheld whisk until fully incorporated. Add another 1/4 cream, stir well then add the remaining cream, whisking until thoroughly blended

Remove from the heat
Make the Custard Base
Put the milk into a medium saucepan and heat to just below boiling

Meanwhile beat the sugar, vanilla and egg yolks with an electric beater until pale and thick (about 3 minutes)

Gradually pour the hot milk onto the egg mixture, beating constantly

Pour the custard into the saucepan, along with the caramel and stir well. Cook on a low heat, stirring constantly until thickened. It is vital to heat slowly and stir constantly to avoid the custard splitting

Once the mixture coats the back of a spoon, take off the heat, cover with a layer of clingfilm (to stop a skin forming), let cool, then chill for 4 hours (or overnight)
Making the ice cream using an ice cream maker
Pour the custard into your ice cream maker and churn according to the manufacturer's instructions

Carefully transfer the ice cream into your moulds and place in the freezer until hard
Making the ice cream by hand
Pour the ice cream into a suitable freezer-proof bowl, cover and put it in the freezer for 1-1 1/2 hours. The sides should be beginning to freeze, but the centre will be soft and slushy

Remove from the freezer and, working quickly, use electric beaters to beat the ice cream until the ice crystals are uniform. Cover and place back in the freezer

Repeat this process 4-8 more times at 1 hour intervals - the better the texture will be the more the process is repeated

When ready, transfer the ice cream into your moulds and leave for several hours to finish freezing
Dipping in Chocolate
Melt the chocolate and oil in a heatproof bowl suspended over a pan or barely simmering water. Ensure the water does not touch the base of the pan

Once melted, remove from the heat, stir in the nuts (if using) and let cool for 10 minutes

Line a baking tin or board that will fit inside your freezer with baking parchment

When the chocolate is ready, remove the ice cream bars from the freezer. Unmould one bar and, working quickly, dip the ice cream into the chocolate to coat it completely (or use a large spoon to pour the chocolate over the ice cream. Allow any excess chocolate to drip back into the bowl before laying the bar onto the greasproof paper

Repeat this process until all bars are covered

Return to the freezer to firm up for an hour, then wrap each bar in greaseproof parchment until ready to eat

Eat within 2 weeks
Recipe Notes
The exact number of ice cream bars this recipe makes will depend on the size mould you use. I used Silkomart Silicon Moulds which take approximately 85ml (1/3 cup) per mould and got 6 bars out of the mix Any leftover chocolate can be stored in a jar and reheated to pour over ice cream
Pin these Ice Cream Bars:

(Visited 285 times, 2 visits today)